24 January
10 Best Newsletter Examples to Inspire You in 2019
In our previous post, we showed how to make your first email campaign successful and how to improve current ones in 10 simple steps. Today, we're going to show you the best email newsletter examples (in our opinion) for your inspiration.
1. Brighton
Subject line: Handbag Trade-In: It's Time To Give & Get
Every email newsletter made by this company is a masterpiece. Elegant, beautiful, appeal to bright emotions. Yet, this email is an example of social marketing.
Quite important to remind people that it's good to have and good to share. The headline of the email convinced us to share. Besides, Brighton made it clear that customers not only give, but also get some money back.
The most emotional part of this best email newsletter design is photos of women who would get those used bags — without them, the campaign wouldn't be that successful.
When you see real people, when you get to know them closer, you are more likely to share.
Its unique feature: photos.
2. Tom Raffield
Subject line: Guess where we're going.
In one of our previous posts, we already described this email as an example of the best newsletters design. Indeed, it is. For at least three reasons:
for its sophisticated design and elegant colors;
for embedded interactive elements;
for new ways of engaging with recipients.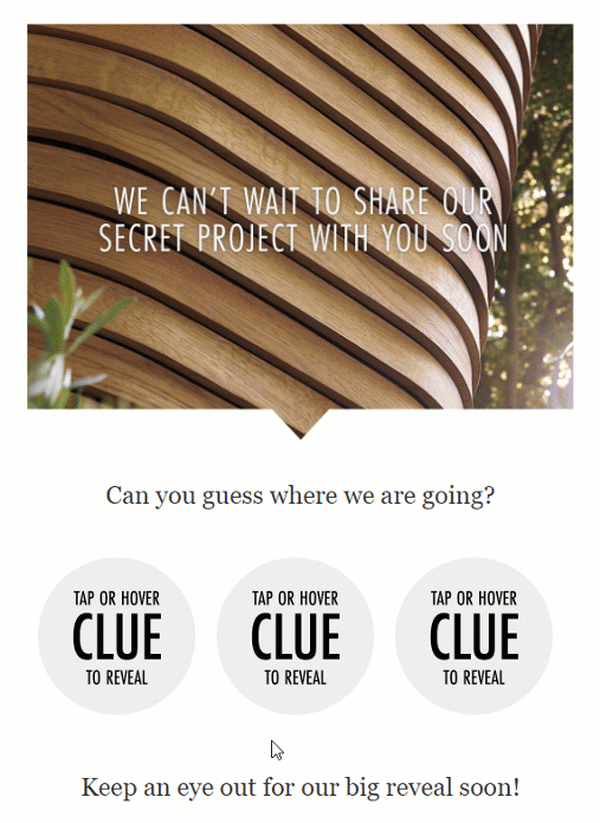 Not only did they puzzle their subscribers with the question "Guess where we're going", but managed to "hide" the keys to the answer behind the images.
Only in the following email, they revealed their secret.
Its unique feature: a new way of using interactive emails.
3. Chubbies
Subject line: Don't tell my boss, please.
We all are familiar with Chubbies and their newsletters. Some love them for their style, some find it weird. But once you got to know this brand, it will not leave you indifferent.
Every time, after a new email campaign, most attendees of forums for marketers share and discuss Chubbies newsletter samples.
But this email just exceeded all expectations:

This email is so not trivial. Quite the opposite — it's kinda shocking. I kept reading and reading. I was astonished, confused, amused — all these emotions kept alternating. But I could not stop reading as I wanted to find out what was in the end.
I do not expect to see tons of such emails in 2019. But definitely would love to read some 😀
Its unique feature: weirdness. Chubbies are never afraid to try something new, to be weird. This makes them special.
4. M&M's
Subject line: Did you forget something?
You won't believe it but adults love choco, too. Or is it just me?
Must confess, I was extremely glad when finally got to subscribe to this brand. Every email I receive from them is filled with happiness, joy, and promo of choco. Their emails are a great example of how to combine TV ads, Social media ads, and email marketing. All these channels complement each other.
Yet, I wanted to say a few words about this great abandoned cart email: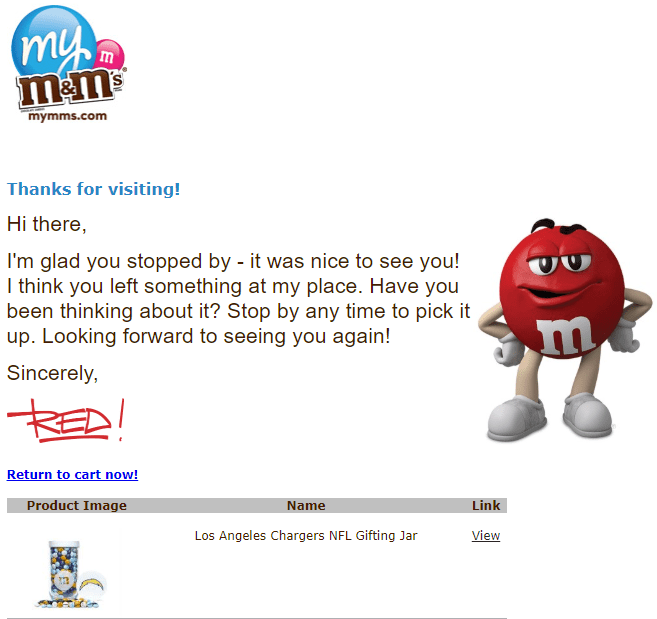 First of all, they thanked me for visiting. Second of all, the photo of Red made the email less official and less commercial. The text was written in a friendly-like manner. They did not try to convince a recipient to buy. They just inquired if it was me and reminded that I can stop by at any time that is convenient to me.
And the image of the item I left in the cart goes last. It is small.
I didn't feel like I was forced to do something. I just felt grateful they reminded me about my abandoned cart.
Its unique feature: kind, warming, design, and the manner they talk to recipients — M&M's do not force to buy.
5. Monica Vinader
Subject line: Spotted on the Duchess of Cambridge!
You don't need to be a gossip girl to be willing to know what it's all about. Now that Kate Middleton is one of the most popular people when the Times magazine announced her as one of the 100 most influential people in the world and finally when the Duchess of Cambridge is the style icon, who wouldn't like to know what was spotted on her? This is a great email newsletter idea to let everyone know that famous people prefer your brand.
We need to know what's in trend 😀
Others would love to possess the same things that the Duchess wears. Either for status or for the love and devotion to the royal family. The reason does not really matter. All that matters is that this is a perfect way to boost sales and to take your brand name to a new level. Photos of famous people make the best newsletters even better.
Its unique feature: sharing photos of famous people using or wearing their products.
6. Grammarly
Subject line: Your weekly progress report.
I'm pretty sure you have heard about Grammarly and their brilliant reports.
They are one of the greatest tools to check grammar and spelling. Oh yes, they do that too — not only reports.
But makes their emails so great? Why do we all keep talking about Grammarly?
Because they were first to implement this kind of hyper-personalization. They gathered users' data like activity, mistakes, missing dots, the number of words that have been checked and the quantity of rare words used.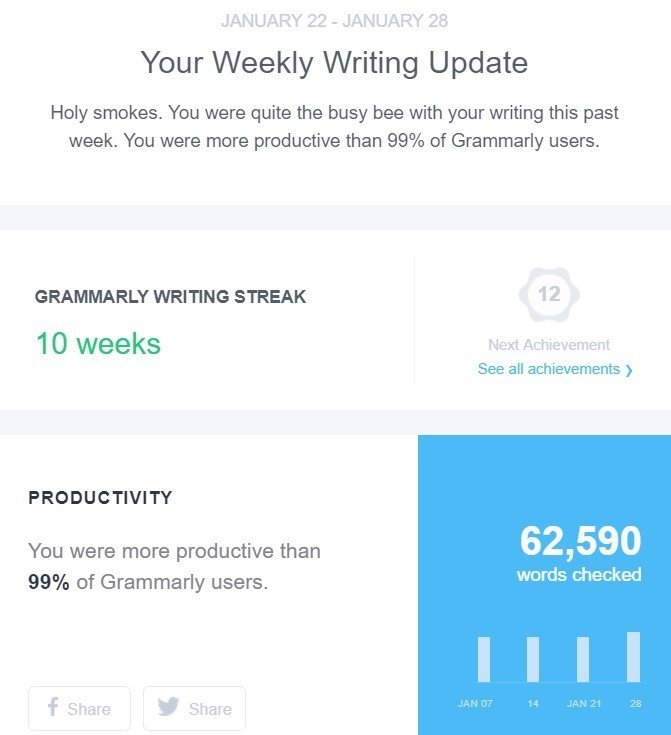 For users, it is a great chance to track their activity, progress, they know what particular units in grammar they need to work on. For email marketers, it is a great example of what a hyper-personalization can be; it is also the source for new ideas to implement to better communicate with customers.
Its unique feature: a new level of hyper-personalization. Yet, the virality of this campaign was growing slowly, step by step.
Be prepared — new features added in your newsletters won't boost sales grossly at once.
7. Hubspot
I love HubSpot for their blog. Always news topics, new investigations. And I used to open their emails with joy. But now that they started using interactive elements in newsletters — I literally anticipate every newsletter.
Not only send they a compilation of recent blog posts, but also interact with us, make our brains work by asking as some questions right in emails.
What they do is a short quiz on a general topic. They provide you with 4 answers. Once you place the cursor over a wrong answer, it gets highlighted with red. Once you choose the right answer, it is highlighted with green.
What is really important: once the answer is highlighted, at the bottom of the quiz they specify whether the answer is correct or incorrect. This is a great example of email accessibility, which is a must for 2019.
Its unique feature: engaging and puzzling recipients, email accessibility.
8. Everlane
Subject line: 10 tips to reduce plastic waste.
I was pretty convinced — and mentioned it in some previous posts — that promo emails should be emotional (certainly, good emotional). But I would expect to receive emails of this kind from Green Peace. Everlane took me by surprise. They are worried about our environment — and they said it in an email newsletter.
Their first email of this sequence stated that "A million plastics bottles are made while you are reading this email".
Sounds pretty scary.

In their next email, they said they use plastic bottles for producing apparel. Amazing.
And they made a commitment to eliminate plastic from their supply chain by 2021.
Wanna join them? I do…
In this email, they provide us with tips on how to reduce plastic waste.
Their final thought: "I'm just one person" — 7 billion people" convinced me 😀
Its unique feature: consistency. It was not a one time campaign to promote new products.
You can make a single email everyone will love and share. Or you can make an entire campaign people will talk about.
9. Litmus
Subject line: Take the 2019 state of email survey.
Litmus is one of the few reliable sources when it comes to email marketing and its technical component. Their blog posts and conclusions are always based on thorough research.
Quite often, we receive emails with reports on innovations, on the use of new elements, on how to fix or avoid some problems connected with email coding. But all these reports are based on real data.
This January, I received an email with a request to take the survey to help this company operate with up-to-date data. The call was just brilliant: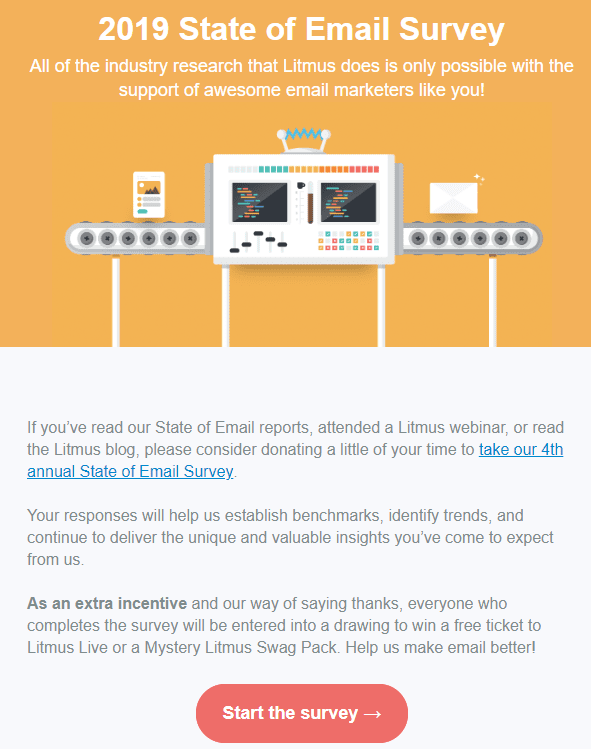 They appealed to my sense of gratitude. And driven by this feeling, I rushed to take the survey, no matter how long it was.
Its unique feature: appealing to human feelings.
Tip: don't be afraid to come to this trick if you, like them, ask for a favor. But be careful here: it won't work if you make people feel ashamed. You can appeal to other feelings like joy, happiness, sweet memories.
It can be even something like "Look, what we've been through" and offer photos of the recipient when he or she was in your cafe. Travel agencies can make a compilation of photos of the countries recipient visited last year.
10. Porsche
Subject line: We are bringing our vision to the road: Mission E becomes Taycan.
We all love to be engaged, to be curious about upcoming events, especially when you are a motor enthusiast or just love to know what's new happening in the world.
Porsche knows how to add some shade of mystery to their campaigns.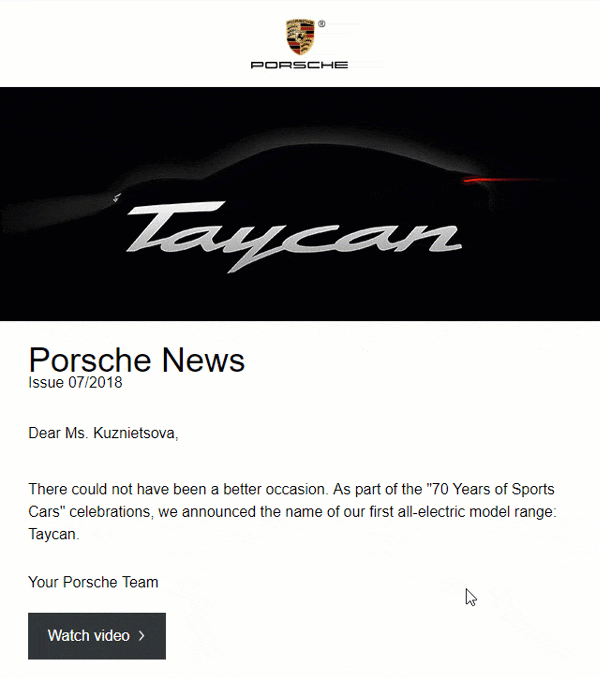 When reading this email, the recipient feels really curious and anxious to see what Taycan will look like. Personally, I hurried to watch the video. But the car in it was also hidden behind some fabric.
Now recipients are more likely to anticipate every new email and rush to open it when they see one in their inbox. This email is a perfect source of newsletter design inspiration for those who wanna make their next campaigns even more anticipated.
Its unique feature: a great example of a great teaser email.
Final thoughts
Remember to add intriguing subject lines.
The design matters. Make it suit the mood of the entire campaign.
Engage customers with interactive emails. They double conversion by the way.
Reach out to all subscribers — make your emails accessible.
Surprise recipients to make your emails awaited and desired.
This is a compilation of the non-trivial newsletter examples that impressed us with their creativity. I hope you'll find them useful.
Use our prepared templates to implement your brand new ideas.
If you have any questions, please let us know via email or Facebook.
May your future campaigns be the best company newsletters that your recipients have ever seen.