01 May
Branded Template Generator or How to Create Email Templates in a Few Clicks
Creating emails for newsletters is quite a long process, and if you also create emails according to brand design guidelines, the entire workflow acquires additional complexity. Picking up fonts, colors, button design, and other elements will require time and money. However, what if you don't have time to create email templates, or you are a young company that just started adopting email marketing? Stripo has created a Branded Template Generator that is meant to speed up the process of creating brand-tailored emails in no time.
What is Branded Template Generator?
This is a generator that allows you to create prebuilt templates in just a few simple steps. It requires no technical skills whatsoever. Each template will be based on your brand and website design styles. Creating campaign emails has never been so easy and fast.
How does it work?
The generator works according to a straightforward scheme because when creating it, we set ourselves two goals:
Maximum simplicity.

Maximum speed.
As a result, we got the following workflow for generating branded email templates.
Step 1. Copy and paste your website URL to respective field
In order for the generator to understand the basics of what it needs to create templates, you must provide it with the main page of your website. The generator will pull up your company logo, primary colors, and fonts from this page. For example, we will take the main page of the Claspo company.

All you need to do is paste the URL into the field and click the Get my Brand Style button.
Step 2. Preview your templates
In just a few seconds, the generator will provide you with a set of templates (the number of the templates will be constantly growing) that will include brand colors for fonts, backgrounds, elements, and the website logo. If your main website page does not have a logo image file, you can specify a separate URL that leads to this image, and the generator will automatically add it to the template.
You can easily manually adjust the colors of the template elements or press the Shuffle button, which will randomly swap the colors of the template elements. If you are satisfied with the result, then you can proceed to step 3.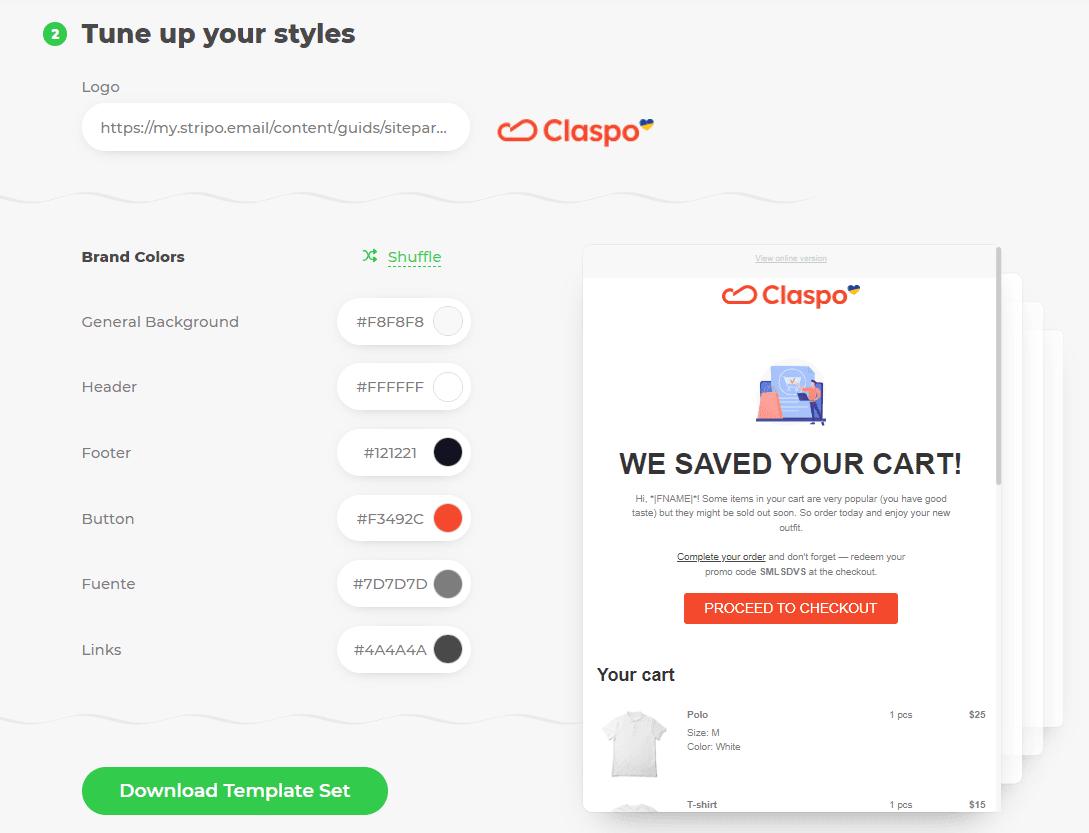 Step 3. Download your brand new templates
In order to download the received templates, you need to enter your email address. Then, we will send you an email with a link to download the template files.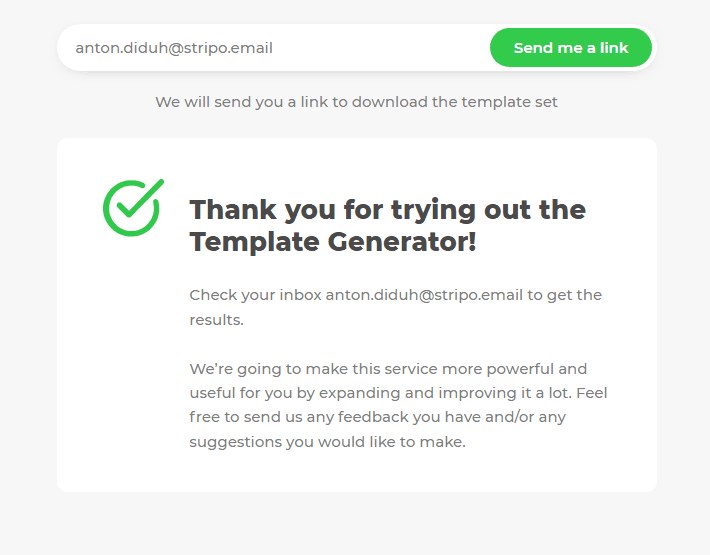 You will see the following email in your inbox. Click on the button, and the zip archive with template files will be automatically downloaded to your PC.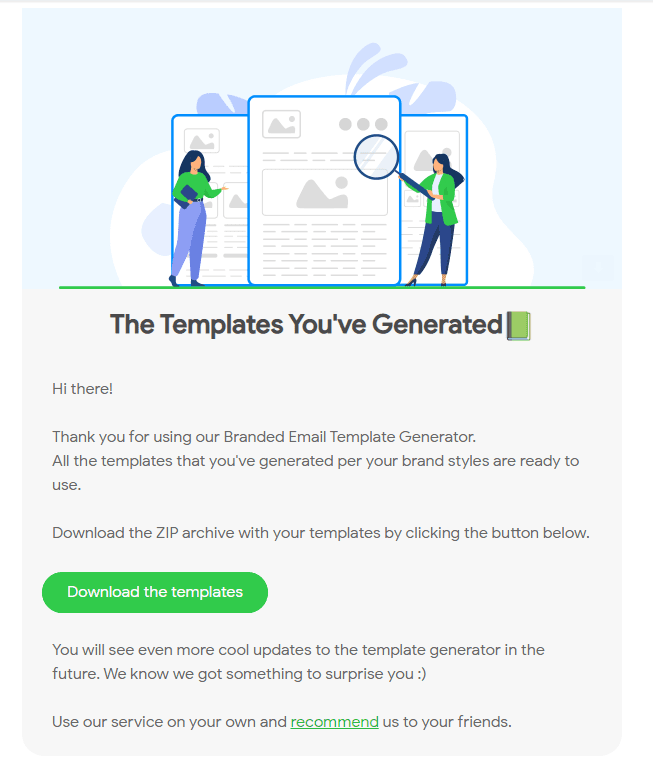 Step 4. Unpack and use files in the Stripo email editor
Next, you need to unzip the downloaded file and save the template files in any convenient place on your PC. After that, drag the files to Sublime Text (or any other code or text editor). You will see the entire code of the generated template, which is enough just to copy and paste it into the Stripo code editor, and the generated template will automatically appear in the template editor.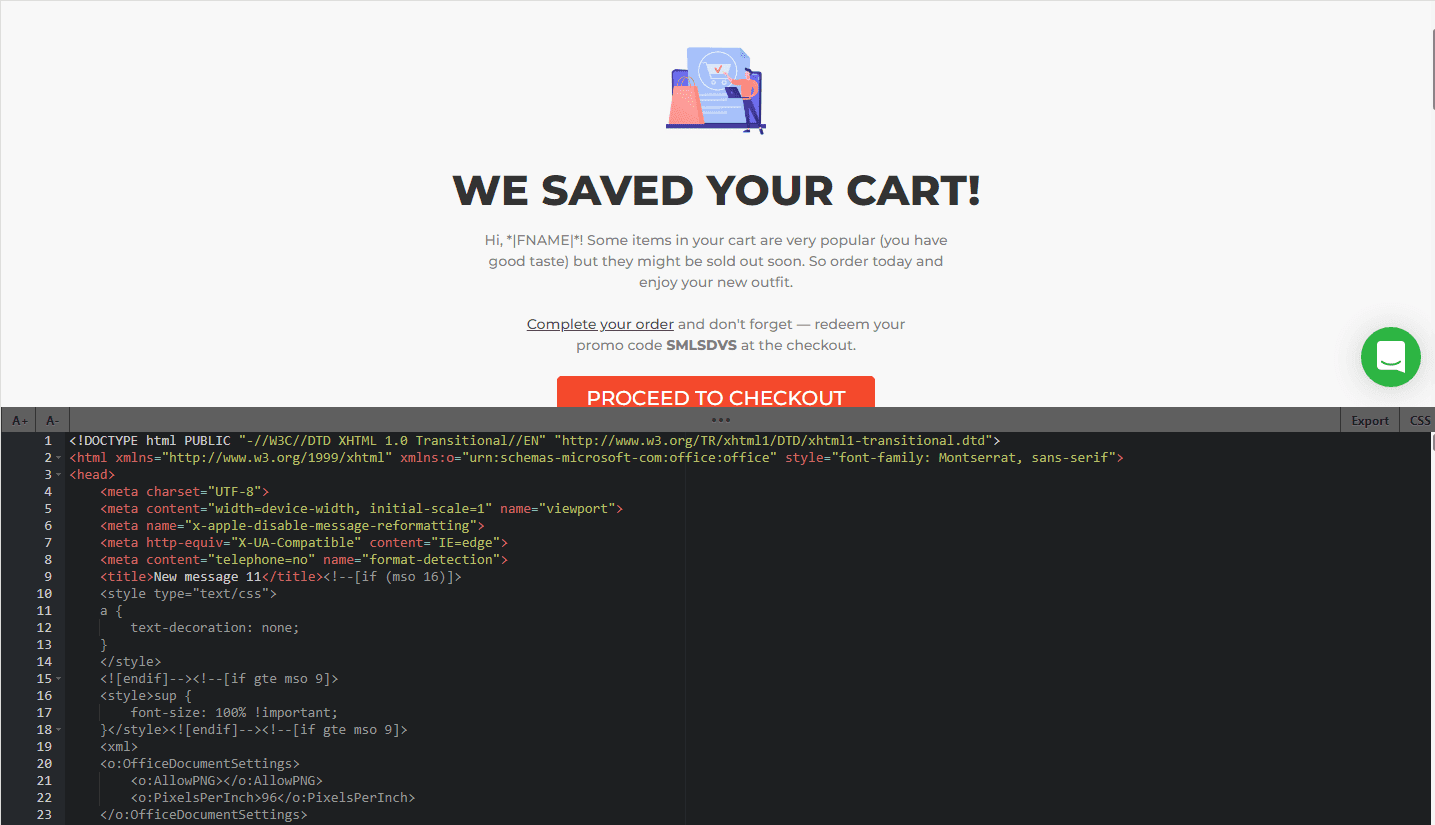 Step 5. Customize the templates
You can customize the templates so they suit your needs. With both code and WYSIWYG (What You See Is What You Get) editor, you can edit generated templates, and change fonts, colors, images, and so on. As a result, you can adjust all elements of your future emails.
Coming soon
Please be advised that this is not the final version of the Branded Template Generator. We are going to develop it. And in the future versions, you will be able to choose which templates you're going to download, you will be able to manage the layout of certain modules, you will be able to work with product cards and blog posts, etc.
Stay tuned!
Final thoughts
The Branded Template Generator is a real boon for those who are short on time and need brand-consistent email templates to kickstart their newsletter. It combines ease of use and speed, which is extremely important for users. This generator is only at the beginning of its journey, and we will actively develop it in the future. We can't wait to tell you about its new features and updates that will further expand its functionality and help generate unique templates for any business.
Check our Brand Template Generator yourself and create your own brand-consistent templates in no time