Are you an email marketer and dream of reducing the time you spend on operational tasks, such as building regular emails, to leave more time for ideas, strategies, and creativity? We at Stripo understand you and know how to do this because we have been through this ourselves and reduced the time an email marketer spends on creating an email from 2.5 hours to 30 minutes.
The Stripo editor modular architecture helped us solve this problem. Read how it worked in this case.
What are modules in the Stripo editor?
A modular system is an ability to use saved independent content blocks of emails, which already include all the necessary parameter settings (fonts, colors) and, if essential, program code elements. You create and save in the editor's library any number of module options for different aspects of emails (header, footer, product card, etc.).
When creating an email campaign, you combine modules and quickly get an attractive and functional result. This is more convenient than using ready-made templates, as it removes any restrictions and makes the email creation process flexible.
We will show how modules work and their benefits using the example of using modules in the Stripo email redesign process.
You might also like
Modular vs. custom email design: Which is better in 2023?

Challenge: Speed up the creation of emails with a new branded design using modules
After updating the website's design and other visual media, we moved on to one of the crucial stages — introducing a new brand design in all types of emails: promotional emails, trigger emails, and newsletters.
Making emails more interesting for subscribers was challenging because some blocks can change in different emails. They differ in details but must retain the basic concept of the brand.
The email marketing specialist is directly involved in preparing emails for Stripo clients. In addition, specific emails are sent directly by our business units, for example, emails for the affiliate program and HR emails.
We decided to use a modular architecture to implement all the updated elements in the email series quickly.
An email marketer, a product marketing manager, and a marketing designer, who are responsible for the entire visual appearance of our materials and representatives of business units, took part in solving this problem. We divided the whole process of teamwork into stages. Each had its result.
What does the flow of teamwork in creating and using modules look like?
This is what the flow of using modules by an email marketer looks like:
Email marketer makes brief and task statement for the designer.
The designer and product marketing manager create layouts for all email types in Figma.
The email marketer, using layouts, creates custom blocks in the Stripo editor and saves them as modules.
Next, the email marketer uses modules to create promotional campaigns and trigger emails and newsletters.
Business units are provided with already designed modules, based on which they prepare their emails in the editor.
Now, let's talk about each of these stages in more detail.
Stage 1: Brief and task statement for the designer
At this stage, the email marketer prepared a detailed brief for the designer, in which he showed what emails he needs, who will receive them, under what conditions, and how they may differ. He also showed the approximate structure of each type of email so that the designer could think about the necessary blocks.
Thanks to this stage, the designer and PMM received all the necessary information to create email layouts.
Stage 2: Layout design
Everything should be in a brand style: all visual communications, so the user visually sees the same techniques on the website and in the emails. Therefore, a product marketing manager and designer are always involved in developing the design of marketing materials.
They thought about the structure of the emails, the design of each element, and the variations that could be used to make the emails more interesting for readers.
To create the ability to easily combine modules and choose the right ones for the tasks of a particular email, the designer gave such recommendations:
development of several options for headers — only with a logo and with a link to go to your account;
new branded footer — black with icons of all social networks;
the use of one character for bullets — in the block and all emails;
single signature format for all senders of emails from Stripo;
content segmentation using color: red for problem notification emails, blue for subscription and plan emails, green for other emails, black and white for use cases;
the CTA buttons can also come in three colors — black, white, and blue — and reflect the importance of each call to action.
This is what the board looks like in Figma, which contains all the possible email options from Stripo: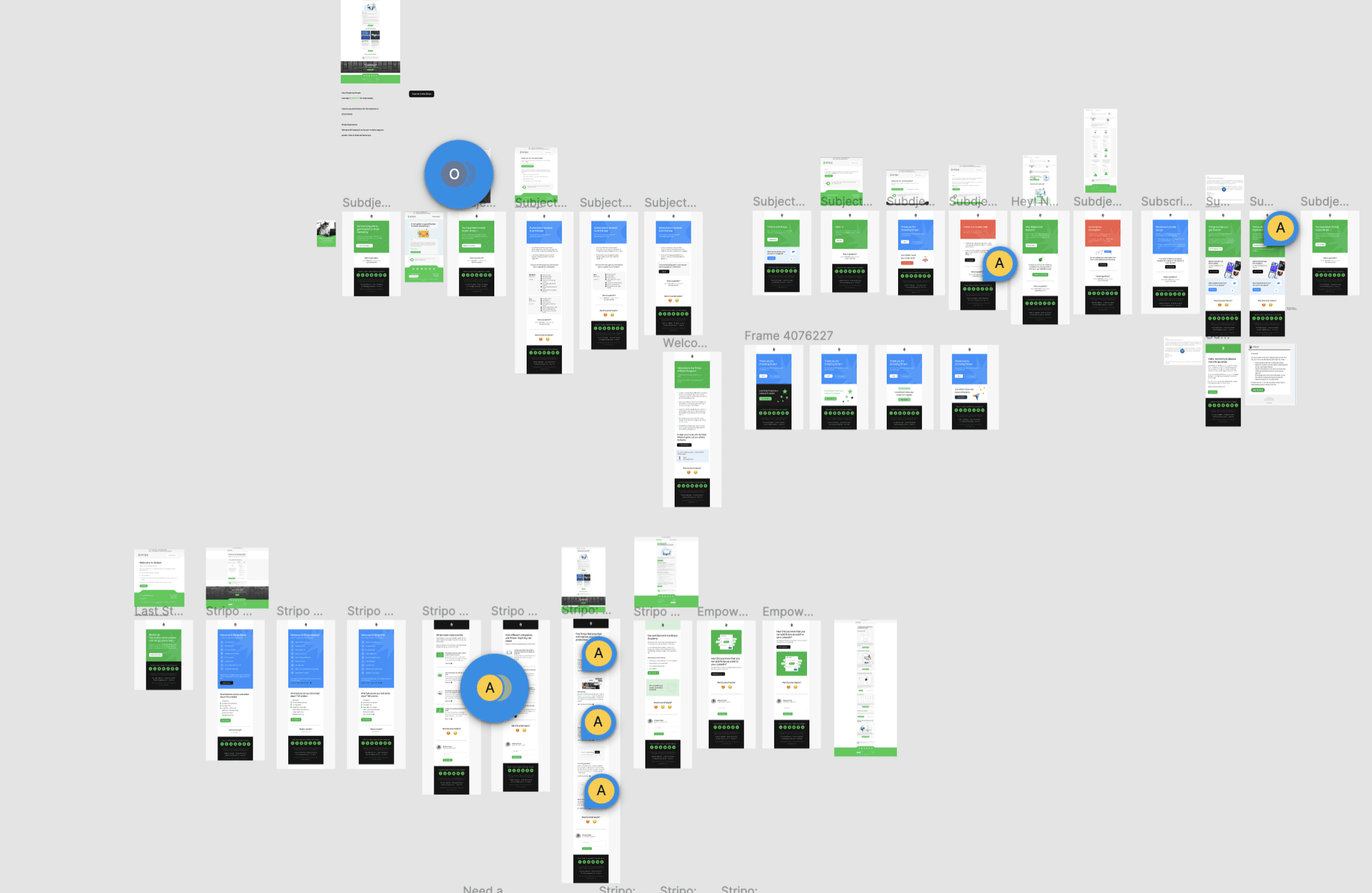 Thanks to this stage, the email marketer does not need to invent anything in the future: he simply takes all the parameters that the designer prescribed, taking into account the correct composition of the email, display in desktop and mobile versions, and much more.
Stage 3: Creating blocks and modules
The email marketer receives from the designer the layouts of all emails, all variants of blocks, guidelines for their use, and combinations. So, he always has examples of how to combine modules depending on the type of email.
Next, he lays out the first email in the Stripo editor. At this stage, the task of the email marketer is to create an email template, set up custom blocks in it, and write down all the parameters specified for each block in Figma.
This is what the layout looks like in Figma — fonts, colors, placement — everything is exactly specified: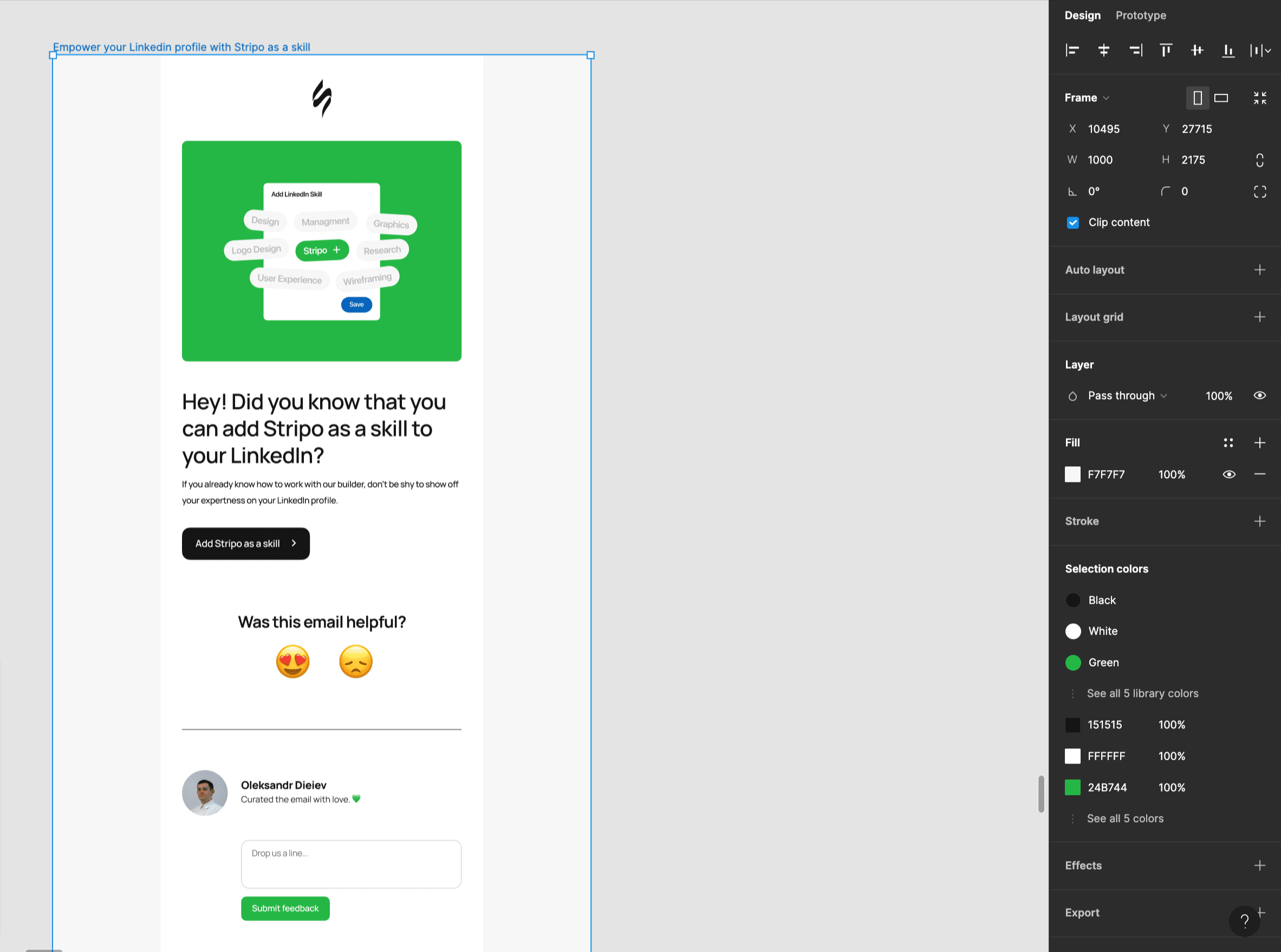 And this is what an email looks like in the Stripo editor:

Preparing the first email template with the creation of all blocks usually takes 2-2.5 hours. Then, the email marketer saves all customized blocks as modules, and work on each email will go faster in the future.
What needs to be done at this stage so that the modules help save time in the future
1. Create different versions of each email element
With the help of modular architecture, we can make several versions of the same block, save them as modules, and use the needed version.
Here's a header example for digest emails:

And this one – for trigger emails:

In promotional emails, the footer is stretched to the entire screen width; in trigger emails, it is narrow. Select the necessary one from the saved modules to avoid creating them from scratch every time.
2. Create convenient filtering of modules
All modules are collected in sections — headers, footers, first screens, information blocks, blog posts, etc. And when an email marketer collects an email, he simply moves through these headings.
When we save new modules, we can assign a filter to each block, add a tag and a description (for example, "use this header in trigger emails"), and then it will be easy to find.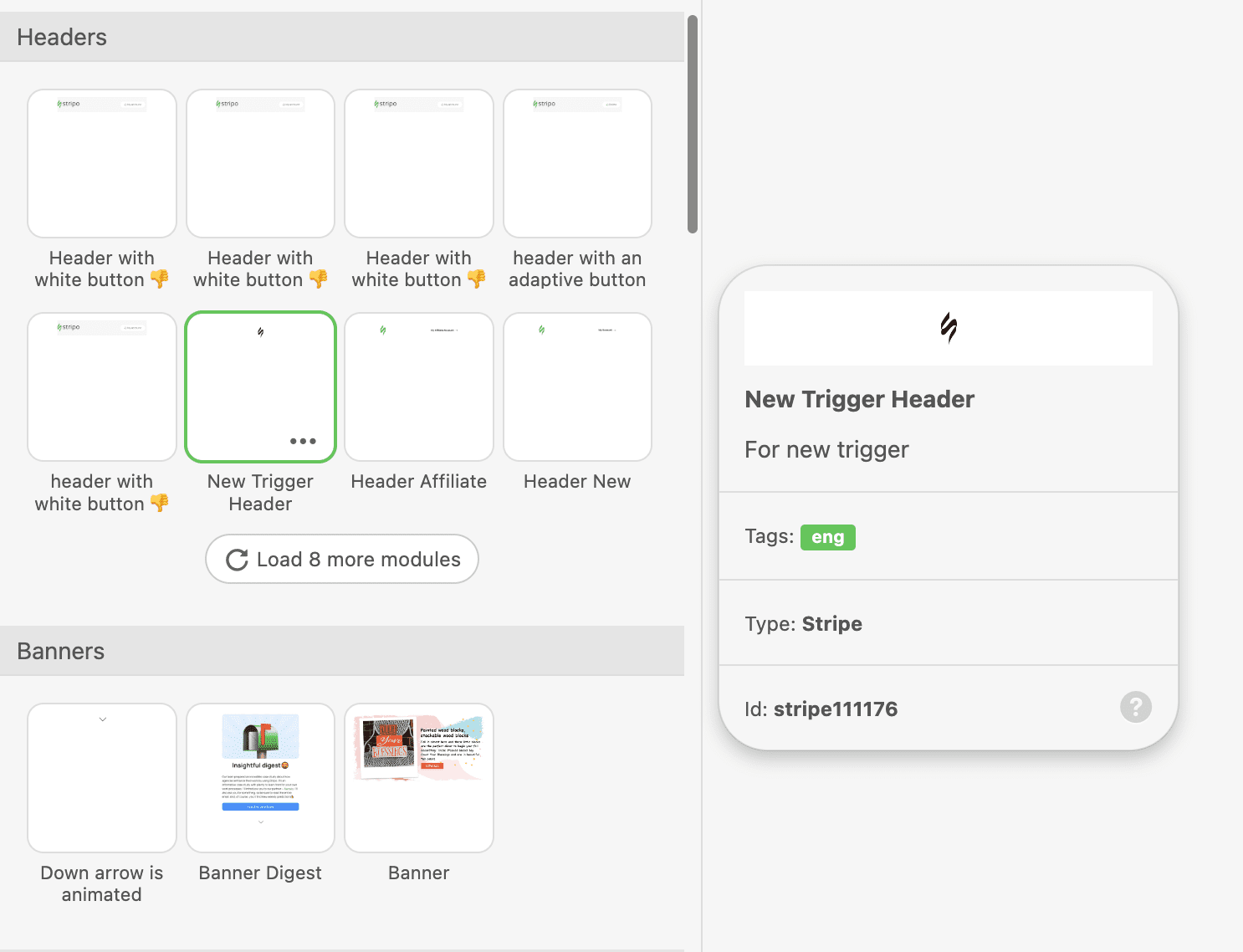 This dramatically helps further work, primarily when several people work on the emails.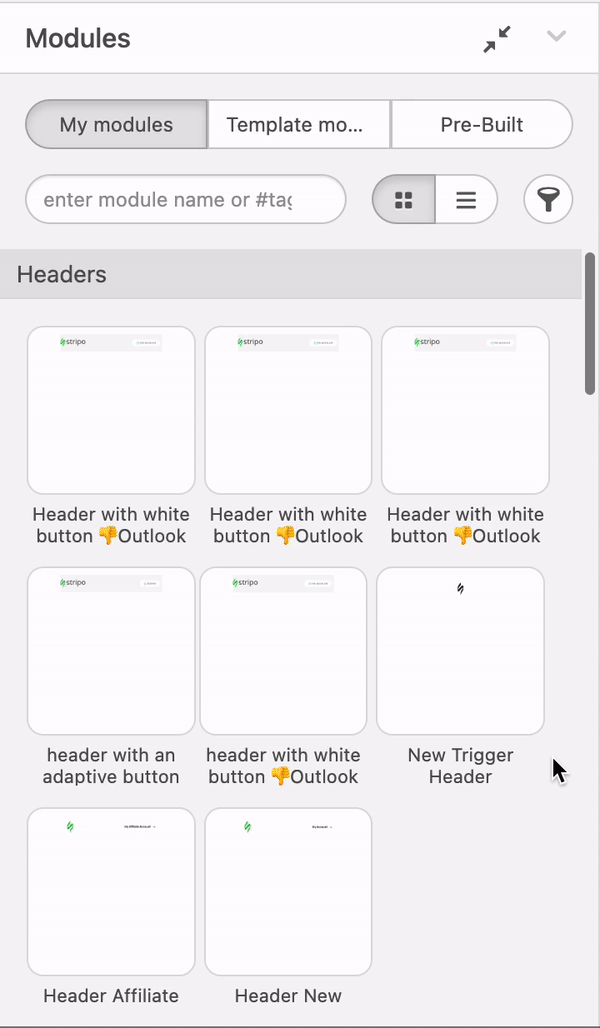 3. Consider the use of smart modules
It is convenient to use the created smart module for announcements of articles on our blog. It is made in the brand's design, with the prescribed number of letters in the title and description. All information is pulled automatically after adding the required link.
This is what working with a smart module looks like: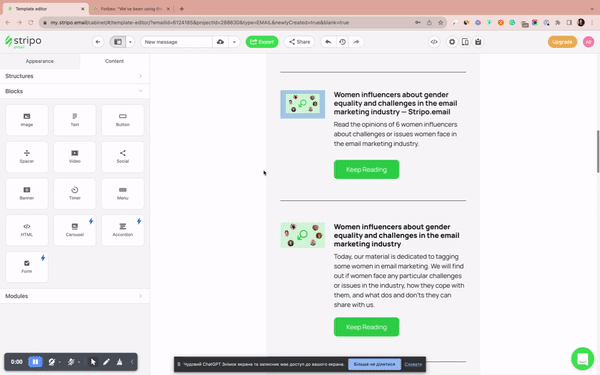 4. Synchronize modules for bulk editing
The main modules are synchronized for bulk editing, saving time. You can bulk update the design or data in your modules by modifying only one once they are synchronized. You can automatically update all existing emails by changing one single module.
Look how you can use synchronized modules for bulk editing:

5. Use interactive modules
Email marketing specialist uses this functionality to create an interactive survey or add gamification, for example, interactive predictions, which we will discuss in the next case.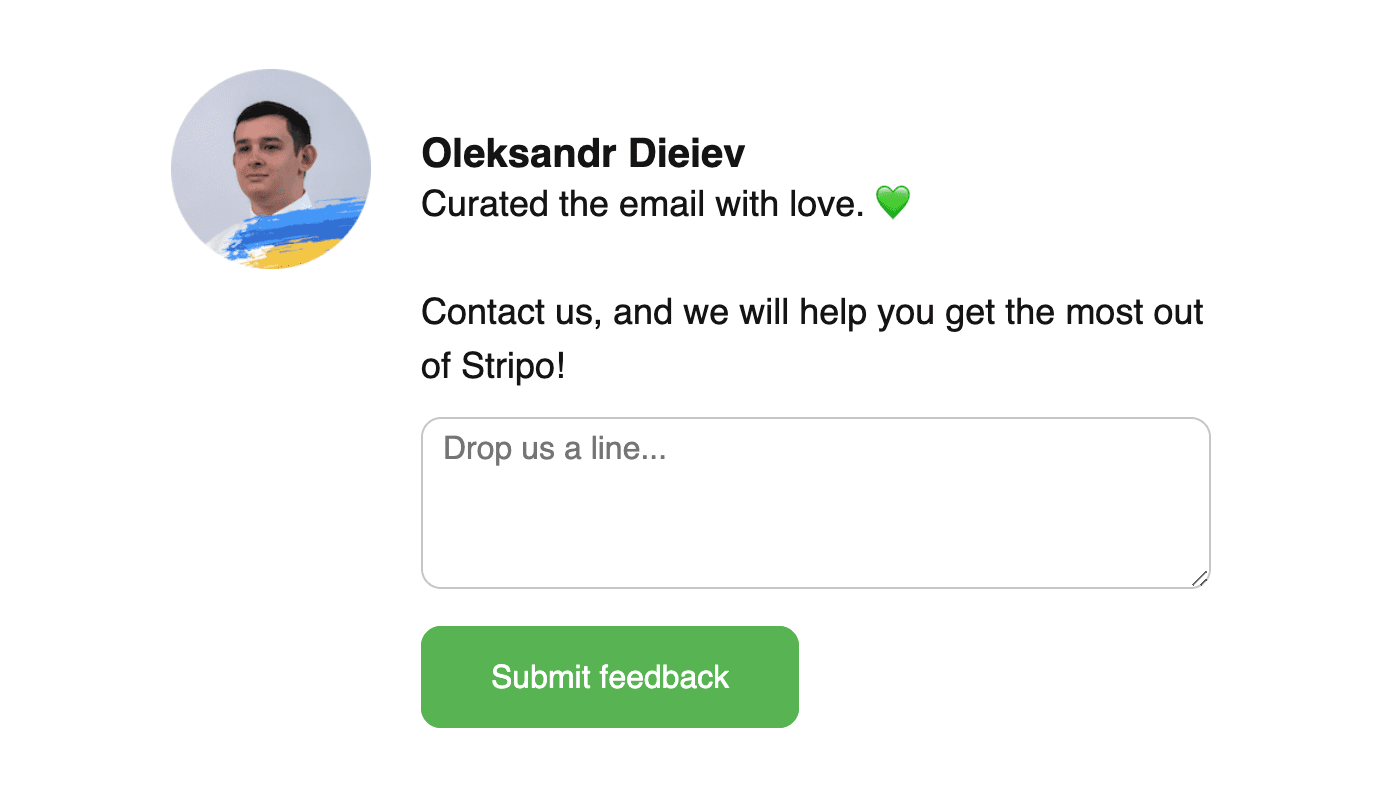 Stage 4: Workflow of using modular email design by an email marketing specialist
This is what the flow of using modules by an email marketer looks like:
open an empty template;
understand the type of email and what the content should be;
based on this, choose the necessary blocks — header, footer, first screen, blog articles, and signature;
change the information.
So, in 30 minutes, an email is assembled that meets all the requirements for brand consistency.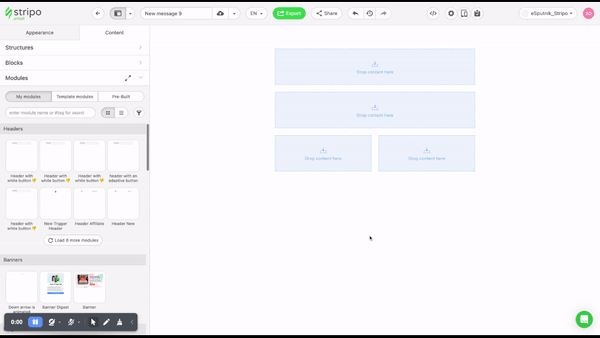 All modules are completed, saved in the appropriate sections, and ready for further use. The necessary code has been added to smart modules, programmers have prepared interactive modules, and all modules repeated in bulk emails are synchronized.
Stage 5: Using modules by Stripo's business units
The modular architecture helps the email marketer and the business units delegated to send the mailing independently, such as a unique email series for affiliate partners.
To not increase the load on the marketer's email, we used our editor and a modular email architecture:
Designed emails.
Made up in Stripo and saved in modules — header, blocks with information, signature, feedback form, footer.
The affiliate manager got access to these projects in the editor and then continued to work with the template — adding the necessary texts and copying modules to add to the structure.

The affiliate manager prepares all subsequent digests using the saved modules. In addition, the affiliate manager could use some modules developed for the news digest to update the onboarding series.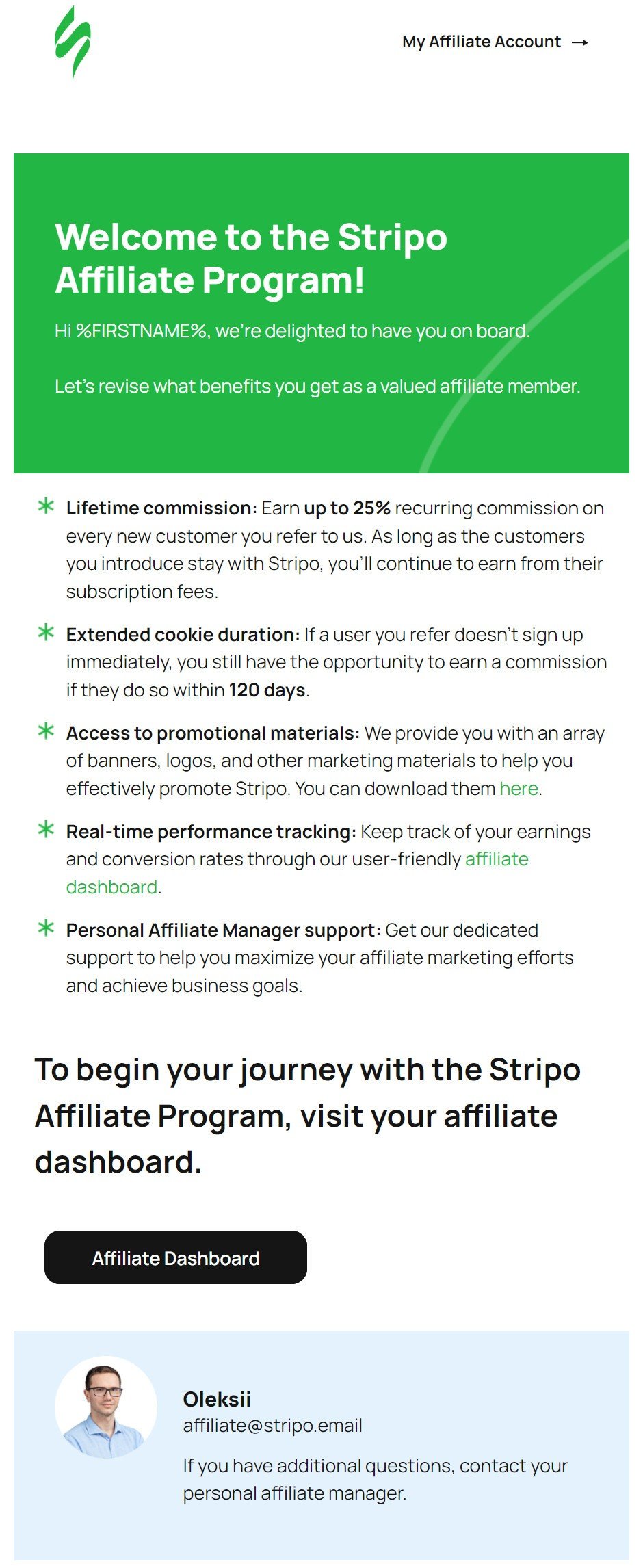 Here is another case — how the HR department saves time using modular architecture to create emails.
Results for all participants of the process
All participants of this case noted that using modules simplifies the email design process, reduces time, and allows you not to worry that something will be done wrong or will not comply with brand guidelines.
We asked Oleksandr Dieiev, email marketing specialist at Stripo, to measure the time he spends preparing new emails and compare it to the preparation time before using the modules.
Time measurement result for building an email digest: 27-30 minutes instead of 2 hours.
The Stripo team may create, code, or re-code for your custom email templates and module sets if you have an essential brand book where colors and fonts are defined. You get 2-3 headers, footers, content blocks, product cards, etc., that we upload to the module library in your account. Then, you use the required modules to create emails.
Wrapping up
We always emphasize that Stripo's goal is to speed up email production so that marketers can do marketing instead of focusing on coding. And modular architecture is an essential part of it.
Here are some key points that have helped us to implement the use of modules in email building and optimize email marketers' time:
availability of a brand book with all approved brand colors and fonts — you can use the Stripo brand guidelines option to generate a Brand guidelines kit for your brand in under 1 minute;
understanding the structure of different types of emails and their features;
well-coordinated work of the team — designer, product marketing manager, email marketer, and representatives of business units;
Stripo's easy-to-use functionality allows you to create and conveniently save ready-made modules, distribute them into sections, "lock" the design or data, and synchronize modules for bulk editing.
As a result, all these points have helped speed up email building, delegate some email creation to business units, and stay on-brand in every email.
Was this article helpful?
Thanks for your feedback!