30 May 2019
4th of July Email Marketing Ideas
Nearly 9 in 10 Americans last year celebrated Independence Day. According to NRF, the lion's share of the holiday budget was spent on cookouts and patriotic items.
Here is why, if you are not a provision store, you are supposed to try your hardest to impress customers, and get a piece of their attention with your 4th of July emails.
Certainly, you may decide not to even give it a try as the chances are not that high. Yet, if you thoroughly think your strategy over — your chances grow.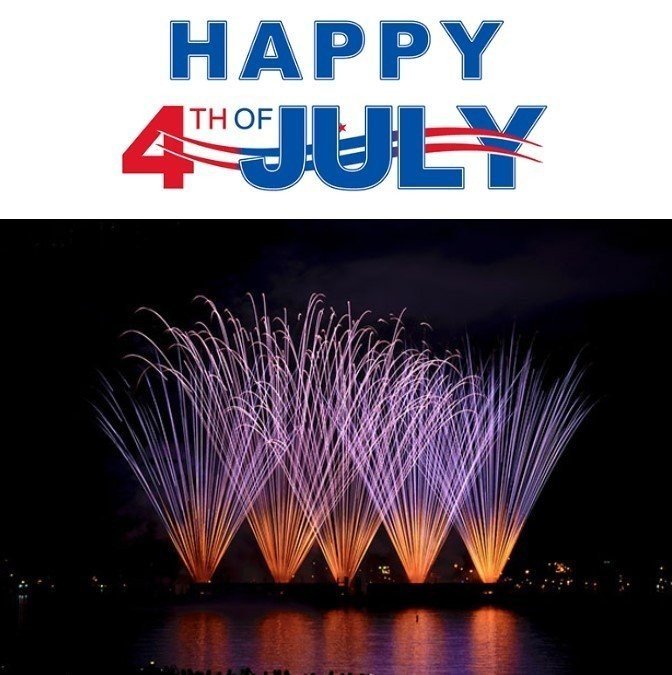 So, firstly, you need to grab customers' attention, and then convince them they need your products.
Ways to grab attention
There are the major ways to get customers' attention on this holiday once they open your emails:
appealing value proposition;
national patriotic items;
and appropriate email design.
All together they make a great 4th of July email marketing idea. Hopefully, a well-performing one. But in order to get the chance to impress recipients with your emails' content, you need to convince them to open these emails. A catchy subject line will really help :) As 65% of recipients judge by this criterion whether to open an email.
Subject lines
A good 4th of July email subject line should deliver holiday mood, evoke a desire to open an email, and should be very concise. As we all remember, the best email subject lines contain 30 to 40 characters. So make them short and clear!
Of course, be sure to mention in the subject that email is dedicated to Independence Day.

Shortly speaking, the subject line is the most important element of any email marketing campaign, apart from the sender's name. Of course, it makes sense because customers see it before opening the email. And if the subject line is not catchy, recipients are likely to just delete the email without even opening it.
Subject line examples
If you run a restaurant, why not share some BBQ recipes with your guests? Notify them they are going to see some recipes. Yet, in the email body mention that if these recipes do not work out and beef is totally spoiled, guests may book a table with you.
"Proven BBQ recipes for the holiday" might bring you high open rate.
When running a hotel, mention that you are going to acquaint your guests with traditions of celebrating this fantastic day.
"Dive into customs. Feel American".
If you run a line of provision stores, you may tell your customers that you have prepared for this holiday and are going to help your customers save some time on cooking. Remind them that you sell already chopped, sliced grocery, marinated, beef and chicken. Your subject line should convince the recipients they need you more than air.
Thus, "Less cook, more fun" is supposed to work well for you.
If you run a travel agency, of course, you should reach out to your target audience long before the holiday. For instance, Hipmunk sent their first 4th of July email this year on May 15. In order, to draw attention to its email, Hipmunk used the subject line as follows:
"When to buy for the 4th of July"
Performing subject lines that fit all businesses:
"Happy birthday, America!";
"Independence Day sale";
"Last Day Sale";
"Happy Independence Day";
"Free shipping".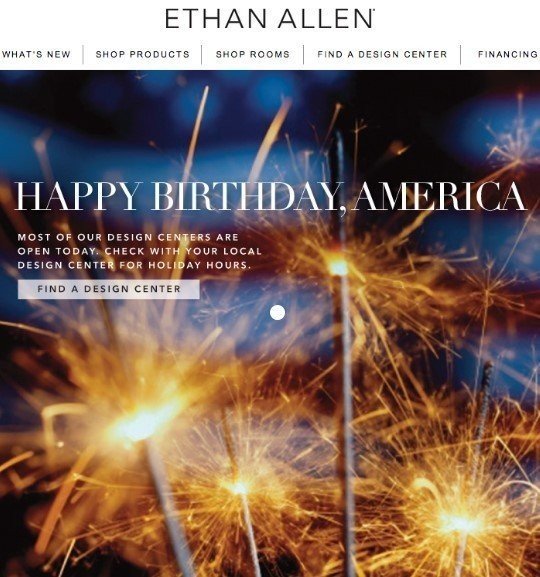 Subject lines are always followed by preheaders. And recipients see it, too, prior to opening emails. Make it impressive and emotional! Convince customers to open your fourth of July emails.
Important to note:
Avoid using all caps in subject lines in order to avoid spam filters.
Yet, companies, like "Chubbies" successfully pass spam filters with such subject lines. I presume, it is up to you whether to use uppercase in email subject lines or not. Yet, you need to remember that subject line is just one of the criteria email clients use when deciding where to send emails: to the Spam folders or to the Inbox folders. Sender reputation matters a lot, like in the Chubbies's case.
6 email marketing ideas for the Fourth of July
We offer top five brand ideas for your email marketing campaign for Independence Day, 2019:
1. Pay tribute to Armed Forces
Yes, we are aware of the Memorial Day and of Veterans Day when we celebrate those who served and those who died for the freedom of the United States. But how can a country be independent without defenders? Make them feel honored and cherished!
Promise the US Armed Forces that you will serve them some free champagne, or they are about to get extra 10% off to their existing discount.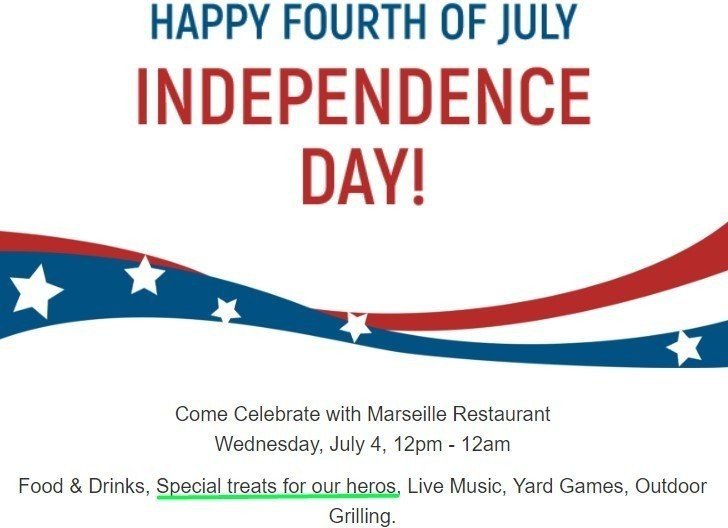 2. New ways to give away coupons
Yes, we are so used to getting coupons and special discounts on the 4th of July holiday and other notable days, that we do not really care about them. We carelessly remove these offers from our inboxes.
But it is widely known — those things that require some efforts from us before we actually get them are cherished higher than those which we received for free. This is the first reason to think of some quizzes. And the second one is to entertain your recipients. Make them "earn" their discounts — they won't get bored!.
Engage your customers by puzzling them!
Or if you have no spare time to create puzzles, at least share some unique and very interesting historical facts about the US with your customers in your email for Independence Day.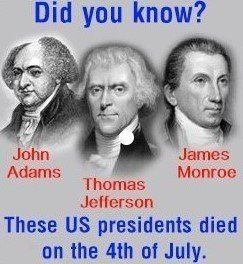 Most people are thirsty for knowledge. So, reading some interesting facts and achieving some knowledge from your newsletters will endear them to your brand even more. Of course, the type of photos you request in emails does depend on your style.
3. Run a contest
This is another way for interacting with your target audience.
But here we should separate online business from the offline business even though they all use email marketing as the only channel for communicating with customers.
The 4th of July email marketing ideas for a contest for online businesses:
You can run a contest for the best ideas on how to celebrate this Holiday, you can ask them to send over the most patriotic or the funniest photos from Independence Day they have ever made.
The winner may get 90% off for the next purchase. This simple 4th of July email marketing trick will help you have a positive impact on virality.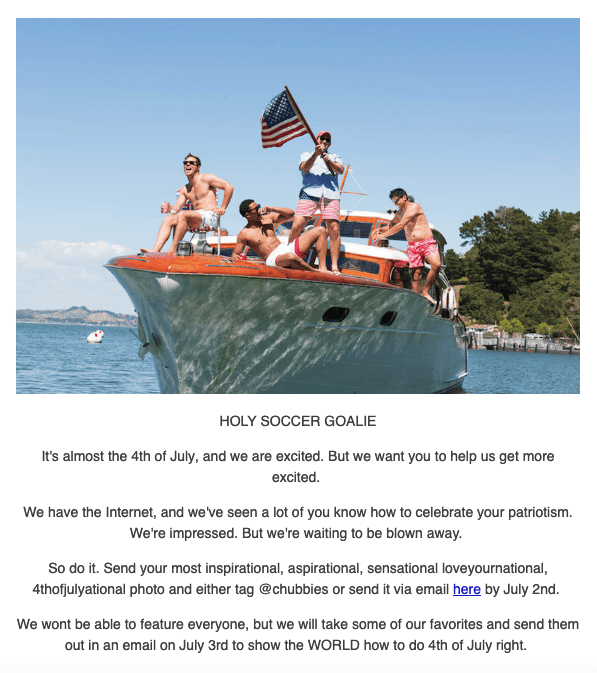 If your brand is famous enough, you do not even need to offer prices for that. Many people would love to be featured in your next emails. But most of them, of course, will send their photos just for fun.
The 4th of July email marketing ideas for a contest for offline businesses:
By means of your dedicated emails, a day or two before the holiday, inform your guests that you are going to run a contest in your offline stores, restaurants, etc. You could ask guests to wear patriotic clothes and other stuff when they visit you.
If you find it too simple (as most people do wear such clothes on Independence Day), why not ask your visitors to sing National Anthem to get extra 4-10% off? Or name all Presidents. Make them play!
Important to note:
Be sure to duplicate these rules of the contest on your website!
4. Help foreigners meet America
Who said that only Americans love this holiday? Who said that only Americans would love to get a tour around the picturesque places?
Invite foreign tourists to visit the most famous or the most unique places in the US. Let them enjoy and admire nature and concrete jungles.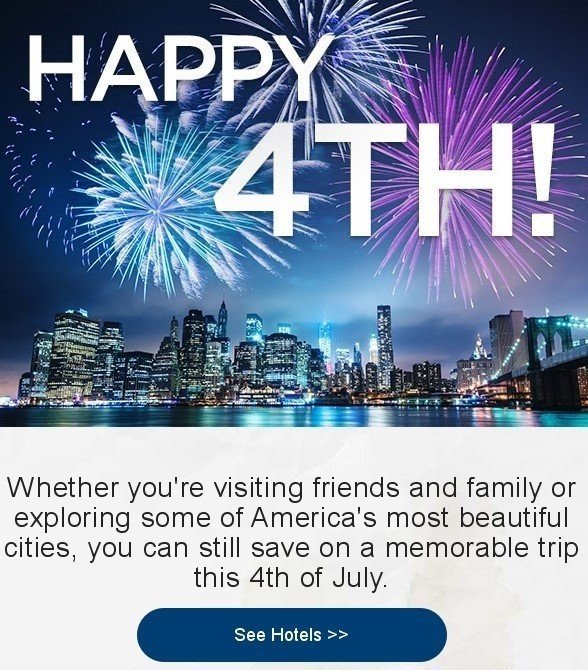 Not necessarily to give them a discount. Just let people get familiar with real traditions and customs they will never see on TV.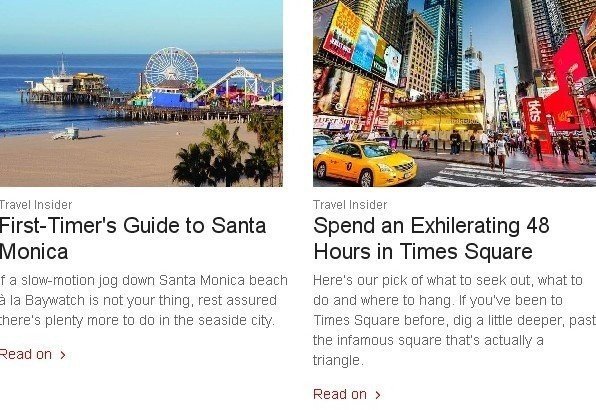 5. New ideas for email design
The USA turns 203 this year. And in the past 202 years, sellers, retailers, mass media and now email marketers used stars and stripes in their advertisements. Isn't it boring? Depends! I find that sweet and already ordered a new "patriotic" scarf. But if you are one of those who want to try new design ideas in their 4th of July marketing campaigns, here are some:
use photos of America's most famous sights, like national park Yosemite, Grand Canyon, Brooklyn Bridge, Statue of Liberty, etc.;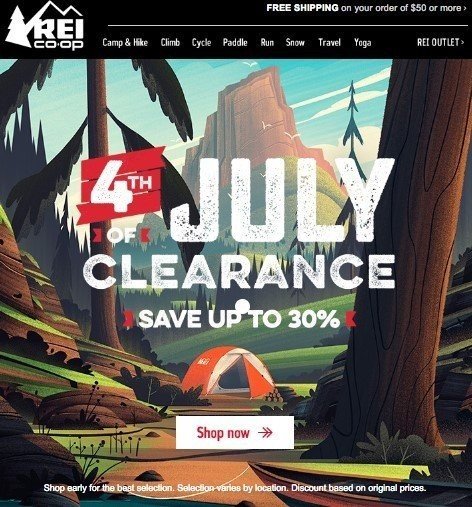 decorate emails with fireworks;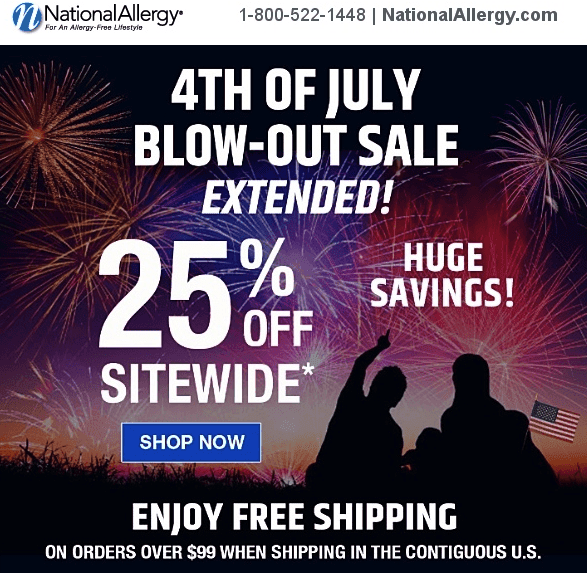 Still, looks patriotic.
make your models carry some patriotic items;
No need to change anything about your email design, leave it the way it is. Just let your models wear some patriotic items.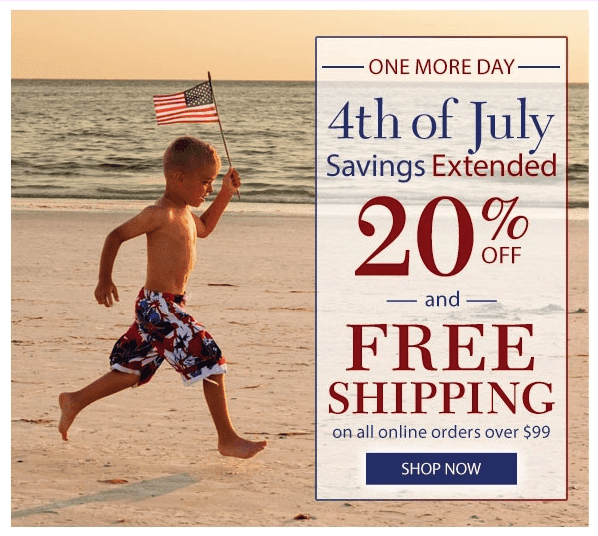 Children are a future of any country. It's too symbolic to let them carry flags on this day. It is like a sign of their belief in us and like a prove we do have a future!
6. Produce patriotic items
Last year, 27% of Americans purchased patriotic items. This makes more than a quarter of all US population. No wonder!
Others were probably using the items they had purchased in previous years :)
Not only will this simple 4th of July email marketing idea boost your conversions, but will also let Americans feel like they are on the same page with other compatriots.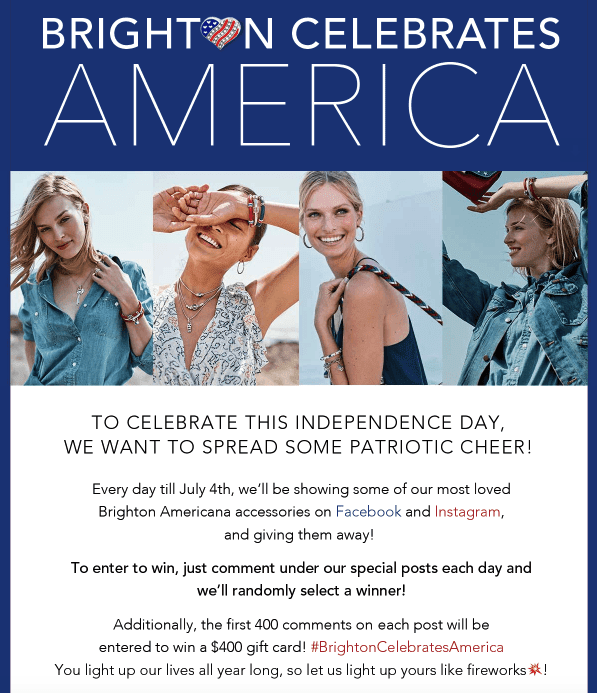 This simple idea, that Brighton used, can actually help you win more followers on social media.
Create elegant, sophisticated and unique emails by using our 4th of July email templates after watching our video on how to create 4th of July emails with Stripo:
Note: start your 4th of July email marketing campaign a few weeks prior to the holiday.
Summary
Use catchy, emotional subject lines;
Make your email design unique, don't simply use stars and stripes, as it is too trivial;
Pay tribute to those whom we owe for our freedom;
Engage and entertain your audience;
Help foreigners get bright memorable emotions and impressions after visiting the US;
Congratulate compatriots with this big holiday.
Make your 4th of July email marketing campaign highly effective by using our HTML email templates. Send your emails via Gmail or Outlook emails clients.
I wish you the best of luck!