4th of July Email Marketing Ideas
01 June 2022

Table of contents
Subject lines for 4th of July emails
4th of July email marketing ideas
Final thoughts
1.
Subject lines for 4th of July emails
Last year, more than 84% of Americans celebrated Independence Day. This summer holiday is celebrated throughout the country and is full of patriotism, history, and live music. This day is recognizable by the largest fireworks display that happens on this day. On average, people are going to spend $84.12 on this one greatest July celebrations in America. The lion's share of the holiday budget will be spent on cookouts (59%) and fireworks or community celebrations (40%).
This means you have a chance to get a piece of customers' attention with your Independence Day celebration emails. And with a well-thought-out strategy — your chances grow.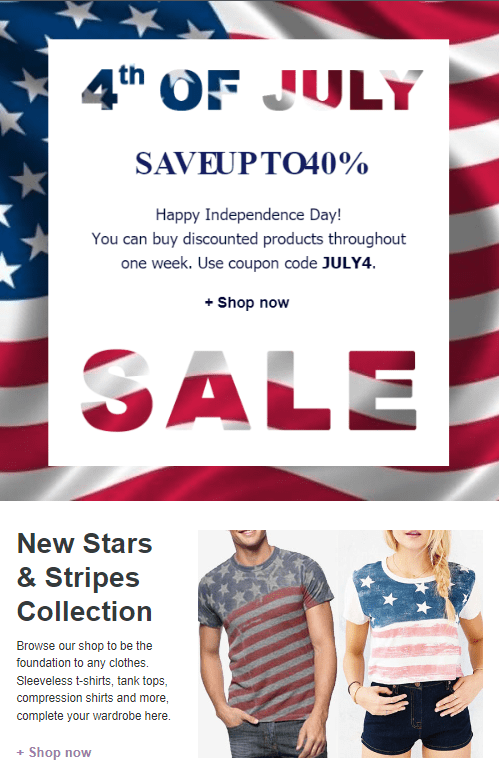 Firstly, you need to convince customers to open your emails. How? By writing creative or descriptive subject lines.
Subject lines for 4th of July emails
A good Independence Day email subject line should deliver a celebration mood, evoke a desire to open an email and be concise. As we all remember, the best email subject lines contain 30 to 40 characters. So make them short and clear!
Just a fun fact: 69% of recipients decide whether to open the email judging by the subject line.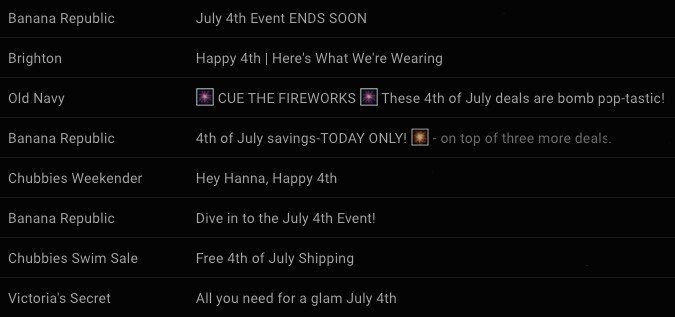 4th of July email subject line examples for all businesses
Happy birthday, America! — Pepsi.

CUE THE FIREWORKS? These Independence Day deals are bomb pop-tastic! — Old navy.

❤️⚪ Get all your red, white & blue 'fits in time for the 4th when you Buy Online, Pickup In-Store! — Old Navy.

Hey Hanna, Happy 4th! — Chubbies.

All you need for a glam July 4th. — Victoria's Secret.

Happy Fourth of July?? Take $75 OFF $200! — Lucky Brand.

Happy Fourth of July! — Brighton.

Going Somewhere This 4th? — Brighton.

STARTING NOW: 50% Off Our Pre-4th Sale! — Forever 21.

New Fourth of July Mystery Savings Inside — Adorama.

Dogs Hate The 4th Of July: Here's Why — The Puplife.

Fresh NEW looks perfect for the Independence Day festivities! — Coolibar.

4th Of July Sale Early Access! — Adorama.

4th of July Sale Starts Now! — M&M'S.

Roll on July 4th — Monica Vinader.

4th of July savings-TODAY ONLY! ? — Banana Republic.

Final Days for July 4th Delivery — D'Artagnan.

Get Ready for the Independence Day With Savings on Our Americana Line! — Dressbarn.

Celebrate the Red, White and True - Happy Independence Day! — Thomas Kinkade.

Get the family Independence Day ready. — Johnnie Boden.
Subject lines are always followed by preheaders. And recipients see it, too, prior to opening emails. Make it impressive and emotional! Convince customers to open your Fourth of July holiday emails.
4th of July email marketing ideas
We offer the TOP 7 brand ideas for your 4th of July email campaign for Independence Day celebrations in 2023:
1. Start sales long before the holiday
On the Fourth of July, people throw celebrations. They do not want to buy anything — they want to have fun. Hence, we need to start your Fourth of July email campaign a few weeks prior to the holiday.
(Source: Email-Competitors)
2. Pay tribute to Armed Forces
Yes, we are aware of Memorial Day and Veterans Day, when we celebrate those who served and those who died for the freedom of the United States. But how can a country be independent without defenders? Make them feel honored and cherished!
Promise the US Armed Forces and war veterans that you will serve them some free champagne on Independence Day, or they are about to get an extra 10% off their existing discount.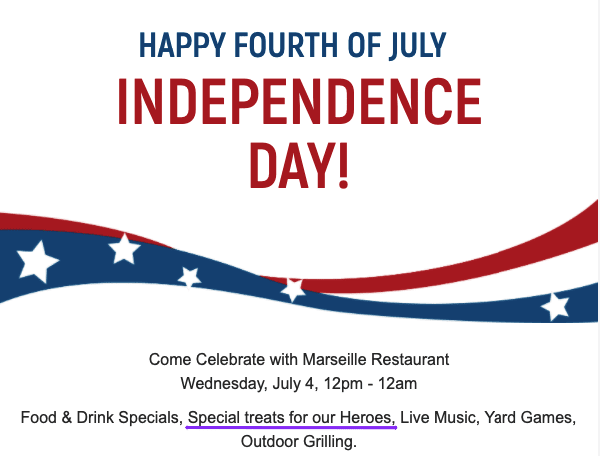 3. Provide users with patriotic items
Not only will this simple Fourth of July email marketing campaign idea boost your conversions, but it will also let Americans feel like they are on the same page with other compatriots.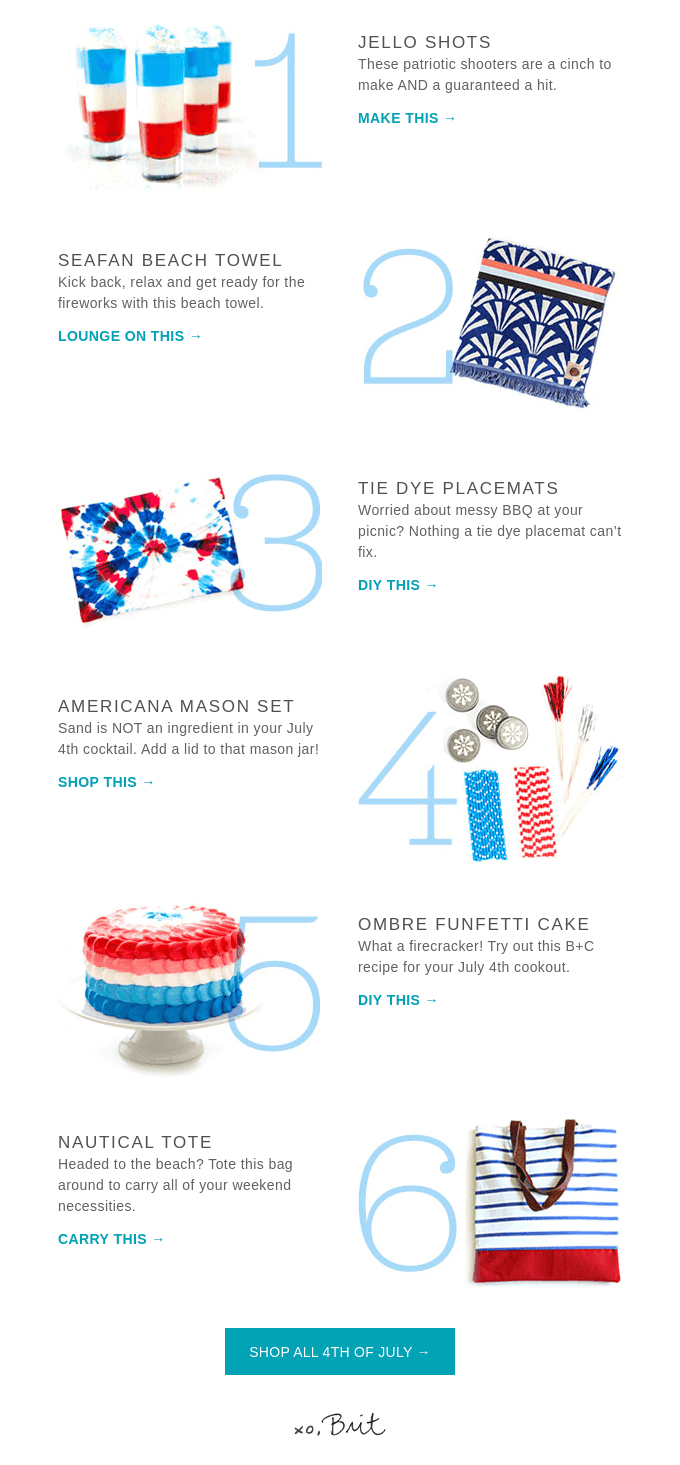 (Source: Email-Competitors)
4. Run a contest
This is a good way to interact with your target audience.
Here we should separate online businesses from offline businesses even though they all use email marketing as the only channel for communicating with customers.
The Fourth of July holiday email marketing ideas for a contest:
You can run a contest for the best ideas on how to celebrate Independence Day; you can ask customers to send over the most patriotic or the funniest photos from Independence Day they have ever taken.
The winner may get 90% off for the next purchase. This simple Fourth of July email marketing trick will help you positively impact virality.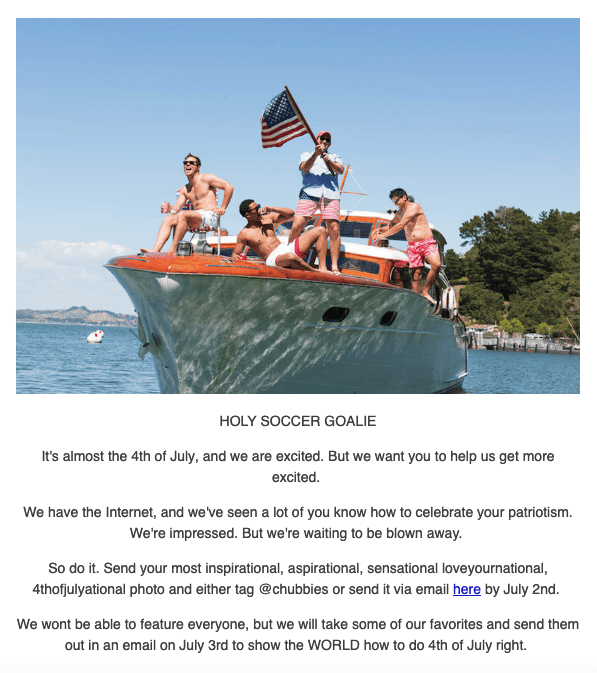 (Source: Email from Chubbies)
If you have an offline business, inform your guests that you are going to run a contest in your offline stores, restaurants, etc.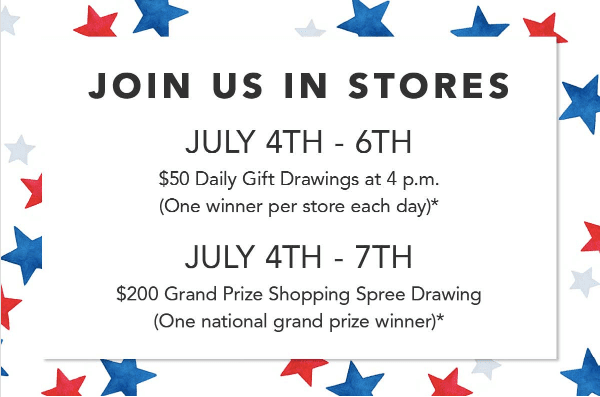 (Source: Email from Brighton)
You could ask guests to wear patriotic clothes and other stuff when they stop by. If you find it too simple (as most people do wear such clothes on Independence Day), why not ask your visitors to sing the National Anthem to get an extra 4-10% off? Or guess the name of the president. Make them play!
5. Give away coupons
We are so used to getting coupons and special discounts on notable holidays. But on the other hand, customers expect us to see generous discounts in their emails for Independence Day.
6. Remember about festive design
If you want to try out new design ideas in Fourth of July email campaigns, here are some for your consideration:
use photos of America's most famous sights, like national Park Yosemite, Grand Canyon, Brooklyn Bridge, Statue of Liberty, etc.;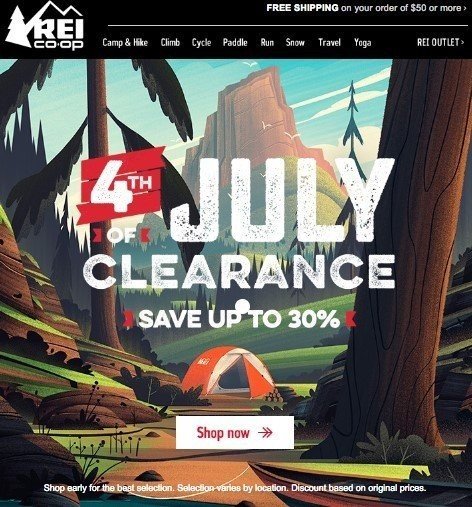 (Source: Email from REI Co-op)
decorate emails with fireworks;
(Source: Really Good Emails)
Still, looks patriotic.
make your models carry some patriotic items;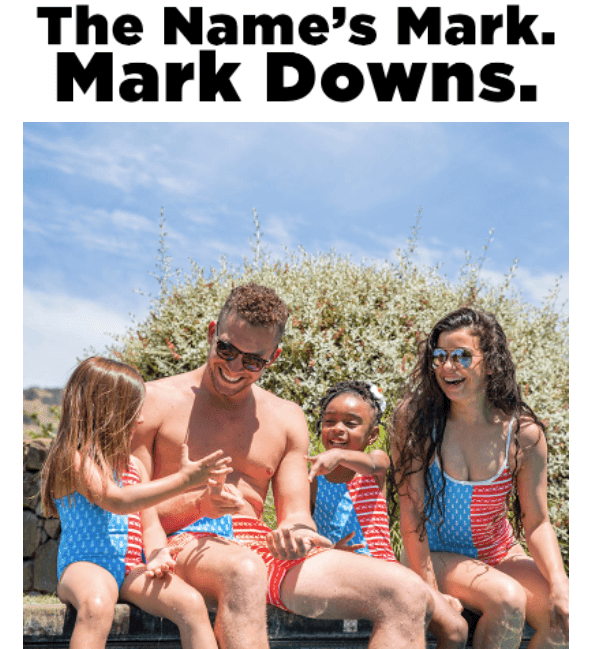 (Source: Email from Chubbies)
No need to change anything about your email design, leave it the way it is. Just let your models wear some patriotic red, white and blue items.
(Source: Email-Competitors)
If you don't want to decorate your entire email with Stripes and Stripes in order to stand out in users' inboxes, why not just decorate some elements of it? Design your offer in a Holiday manner, and place it over your banners.
Children are the future of any country. It's too symbolic to let them carry flags on this day. It is like a sign of their belief in us and like proof that we do have a future!
Build such banners with Stripo
drag the "Banner" basic block into your 4th of July email template;
upload your image;
set its orientation: vertical, square, or horizontal;
toggle the "Additional picture" button;
upload an additional image of your choice;
Important:
If you want a transparent image as shown in the example above, in the "External link" field, paste this link:

https://tlr.stripocdn.email/content/guids/cab_pub_7cbbc409ec990f19c78c75bd1e06f215/images/banner_bg-03.png
place this additional image anywhere on your primary banner image by just dragging it;
work on its shape and size by adjusting its width. Be sure to disable the "Keep aspect ratio" option to apply custom width and length to this image;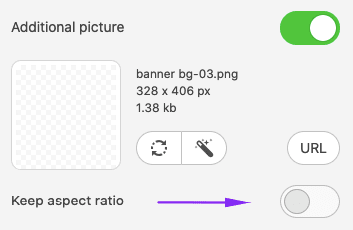 click the "Text" icon above the template;
click anywhere on this additional image to place your text;
enter your text;
choose any of the "Banner" fonts;
work on your text design: colors and size;
that's all.
7. Share some facts about the US
Sharing some unknown facts about the US might interest your readers if you share them long before the celebration.
You can also share some unusual places of interest or TOP 10 places to make your readers know their country better. Ofc, it will not boost your 4th of July sales, but it will positively impact brand virality. And it will help you build stronger relations with your target audience.

(Source: Really Good Emails)
Final thoughts
So, how to create a 4th of July campaign that will amaze your audience?
use catchy, emotional 4th of July subject lines;
pay tribute to those whom you owe for your freedom;
engage and entertain your audience;
help foreigners get bright, memorable emotions and impressions after visiting the US;
congratulate compatriots on this big holiday.
I hope that these 4th of July email campaign ideas will help you achieve marketing rights, and I wish you the best of luck!
Was this article helpful ?
Thanks for your feedback!