Gamified emails entertain your audience, making them a fantastic tool to boost your open rates and motivate subscribers to wait for your newsletters. Whether you want to launch a holiday email campaign or send a message with educational content, gamification will brighten up your emails and give players a sense of accomplishment.
In this article, we will share some statistics, offer ways to apply email gamification, and show the best examples to give you inspiration for your future campaigns.
Email gamification statistics you need to know about
We've handpicked some email gamification statistics and insights to help you understand how games can bring your email marketing campaigns to the next level and engage your audience:
gamified emails can boost your open rate by up to 30% (Uplers);
Stylus, one of the most popular Ukrainian retailers, added game elements to the St. Patrick's email series. As a result, the company boosted its revenue by 15% (Promodo);
(Source: Promodo)

When to apply email gamification
If you are still wondering how to implement gamification into your email marketing strategy and entertain subscribers, we are here to help. Check out the best ways to apply email gamification for businesses:
Holiday email marketing campaigns
The holiday season is an excellent time to bring some joy to your emails and stand out from hundreds of other promotional messages in your subscribers' inboxes. Even if you want to provide the same discounts or special deals as your competitors, people will be more satisfied to "win" these offers by solving a puzzle, completing a quiz, or spinning a wheel.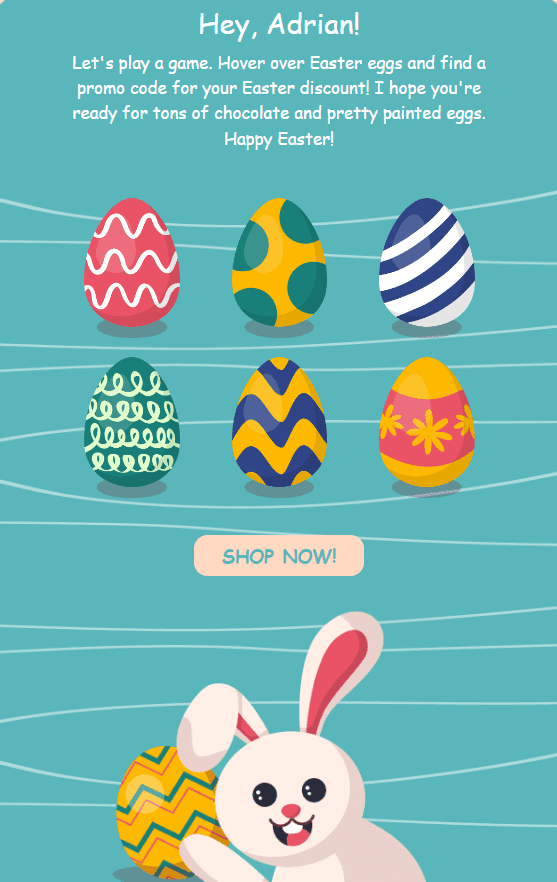 (Source: Stripo template)
Reactivation email campaign
If you need to re-engage inactive subscribers, game elements in emails can make people feel valued and appreciated when achieving something.
Take a look at this wheel of fortune from Bobbi Brown. Here you can see both "Try again" slots and winning ones with discounts and free products. Such emails motivate subscribers to wait for your newsletters and interact with your brand more often.
(Source: Email from Bobbi Brown)
Customers are getting tired of traditional rewards like free shipping, promo codes, or discounts on their next orders. Offering subscribers to play a game to win prizes is a great way to keep them loyal and engaged. If your emails are exciting enough, your customers will forward them to friends, helping your email list grow.
For instance, 100% PURE, an organic makeup brand, enabled customers to earn bonus points for various activities — referring friends, following the company on social media, writing reviews, etc. As a result, the brand generated $244 000 extra revenue from referrals and drove a 3x increase in purchase frequency.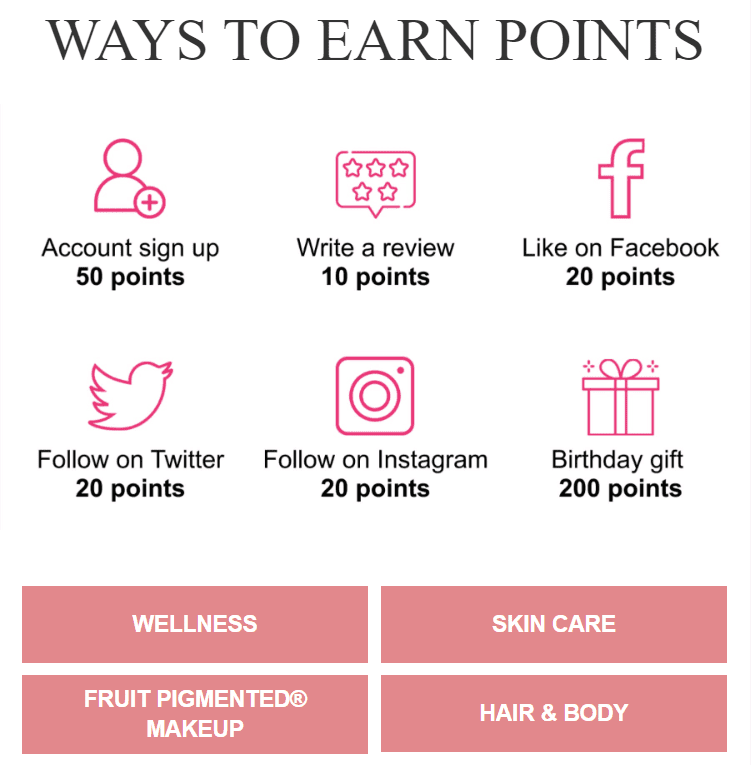 (Source: Email from 100% PURE)
How often do customers react to your survey invitation emails and share their feedback? If your answer is "Not so often as I could wish," we recommend you equip your surveys with game elements to entertain your subscribers and persuade them to share their thoughts with you.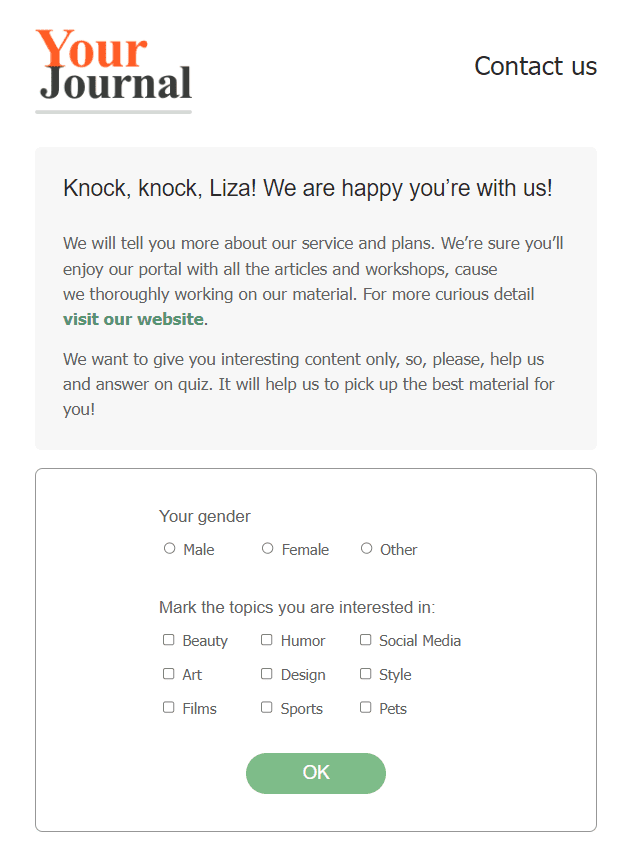 (Source: Stripo template)
Remember that educational and insightful content shouldn't be boring to read. The average human attention span is about 8.25 seconds, so your task is to make your educational content engaging enough to stimulate subscribers to continue reading your email and learn something new.
Adding a competitive element to your emails is an excellent way to help subscribers track their progress.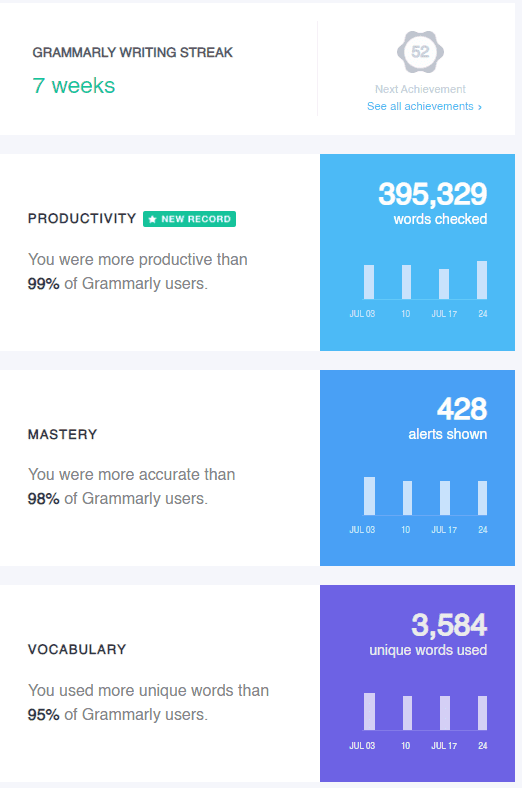 (Source: Email from Grammarly)
Top email gamification examples to make your upcoming campaign a success
Now that you understand why you should implement gamification into your campaigns and when to send such emails, let's take a look at the brightest examples of gamified emails.
1. Wordlemail by Mailmodo
Wordle, a popular online word game, has around 3 million players across the globe, 2 308 possible answers, and 12 545 allowed guesses. Inspired by this successful game, Mailmodo created Wordlemail to let users play Wordle directly in their email.
After subscribing to Wordlemail, you will receive a new Wordle daily. There is no need to follow any links or visit third-party websites — you can play right in your inbox.
(Source: Email from Mailmodo)
By the way, if you want to narrow down the possible answer, the best starting word is SALET (which means a light medieval helmet). Other effective openings include words like AUDIO, CRATE, SLATE, CRANE, and REAST.
2. Scratch card by Bose
Scratch cards can be a fun and engaging way to offer discounts to your subscribers. Whether you want to promote your seasonal campaign, online course, or new products, scratch cards will help you create a buzz of excitement and anticipation. People are curious to discover what is hidden behind these mysterious cards, so they are more likely to interact with your emails.
Bose, an audio equipment company, used scratch cards in emails as part of their Black Friday sale. A simple yet effective way to promote your offers.
(Source: Email from Bose)
3. Quiz by Skillshare
Quizzes can make your emails more personalized and valuable to your subscribers. Think about questions relevant to your brand and customers to motivate them to read your email to the end.
Skillshare used a quiz to help users get class recommendations based on their mood. I answered three multiple-choice questions and got three classes to choose from (pretty relevant, to be honest).
(Source: Email from Skillshare)
Besides entertaining your audience and promoting your products, quizzes can be a fantastic tool to encourage cross-channel engagement. After taking a quiz by Skillshare, I got redirected to their website to pick one of the recommended classes.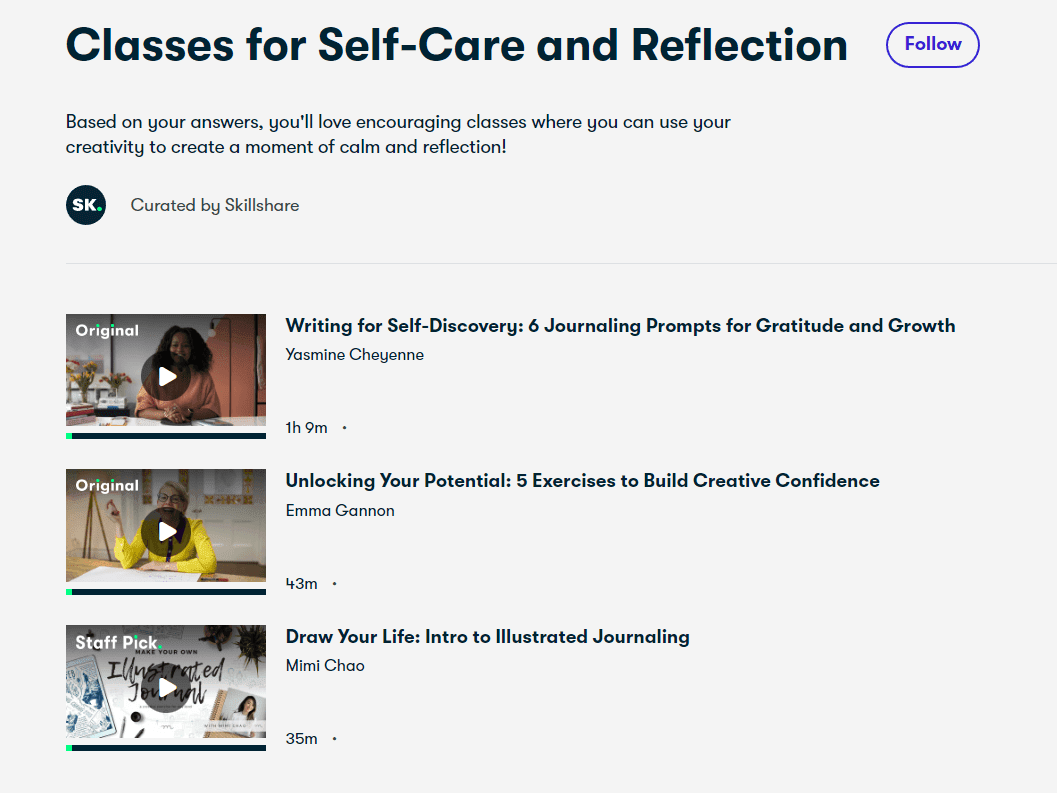 (Source: Skillshare)
4. Slot machine by Pizza Hut
Instant rewards, a chance to hit the jackpot, and an adrenaline rush — that's all about slot machines that are highly addictive. No worries, slot machines in emails are safe-to-use :). Enable your customers to pull the lever and win their discount, free shipping, or a gift card — the choice is yours.
Pizza Hut let subscribers use a slot machine to win 10 to 50% off their next online order.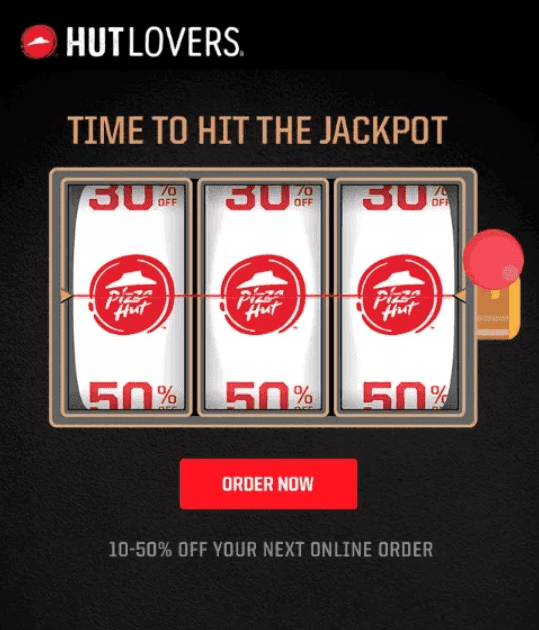 (Source: Email from Pizza Hut)
5. Spin to win by MAC Cosmetics
A wheel of fortune is one of the most popular yet engaging game mechanics for emails. You can offer discounts, certificates, free shipping, product samples from a new collection unavailable to the public, etc. Your subscribers must click a single button and wait for their prize to appear. Add a "Try again" slot to ignite a sense of curiosity and competition.
In this example, MAC Cosmetics offers customers to spin the wheel and get a chance to win up to 30% off sitewide.
(Source: Email from MAC Cosmetics)
6. Book riddles by Penguin Random House
Get your products an emoji makeover! Whether you sell books, clothes, information products, or even a service, you can use such riddles to entertain your audience and provide rewards for the correct answers. Just ask customers to guess words, phrases, or product names from the emojis (remember that they should be related to your company and the products you offer).
Penguin Random House asked subscribers to guess the most renowned books based on the emojis. It's an amazing way to let customers have fun, right? :)
(Source: Email from Penguin Random House)
7. Predictions by Stripo
Who doesn't love good predictions? Tell your subscribers what the upcoming month, season, or year will bring them, and do it in a fun way. In our email, we offered recipients to click the element they like the most and get a funny prediction along with a helpful link to fulfill it.
(Source: Stripo template)
Wrapping up
Email gamification can entertain recipients, boost open rates, and enhance customer engagement. From scratch cards and quizzes to riddles and wheels of fortune, games are an excellent tool to create a sense of accomplishment and make people wait for your emails.
Was this article helpful?
Thanks for your feedback!