8 Tips to Make Your Email Signature the Most Powerful and Productive
04 July 2019

Table of contents
1. Spend some time making your email signature design the best
2. Make your photo look both professional and the friendliest
3. Include social media channels that you care about the most
4. Make downloading your apps as fast as possible with email signatures
5. Let your addressees schedule appointments in one click
6. Eye-catching imagery is 70% of your signature
7. Link your signature to the most interesting and important content
8. Always track all the data to build the most successful strategies
Conclusion
1.
1. Spend some time making your email signature design the best
Since you are reading this article, you probably already know that an email signature is one of the most efficient marketing channels. Firstly, it is comparatively cheap to make your email signature look professional. Secondly, all your employees send hundreds of thousands of emails every month, and each of them can be turned into a powerful ad. So, let's learn how to make your email footer the most productive.
1. Spend some time making your email signature design the best
Whatever you do online, the design is probably the most important thing. No matter how much value your blog brings, it won't get noticed without a nice website layout. If your app is the most productive on the market, it's nothing without a proper UI/UX. Pretty much the same applies to email signatures.
It is essential to keep your signature clean and simple. The golden mean is to make it both noticeable and not distracting. You might do it yourself with HTML coding, but that can take a lot of time and resources. So, try using Stripo.email to create a nicely designed email footer. You can add and edit any elements, such as CTA buttons or personal photos there. In this post, you will find tips on how to write an email signature for eCommerce.
However, if you want to make corporate email signatures with similar templates and easily manageable information for all of your employees, Newoldstamp is the best solution.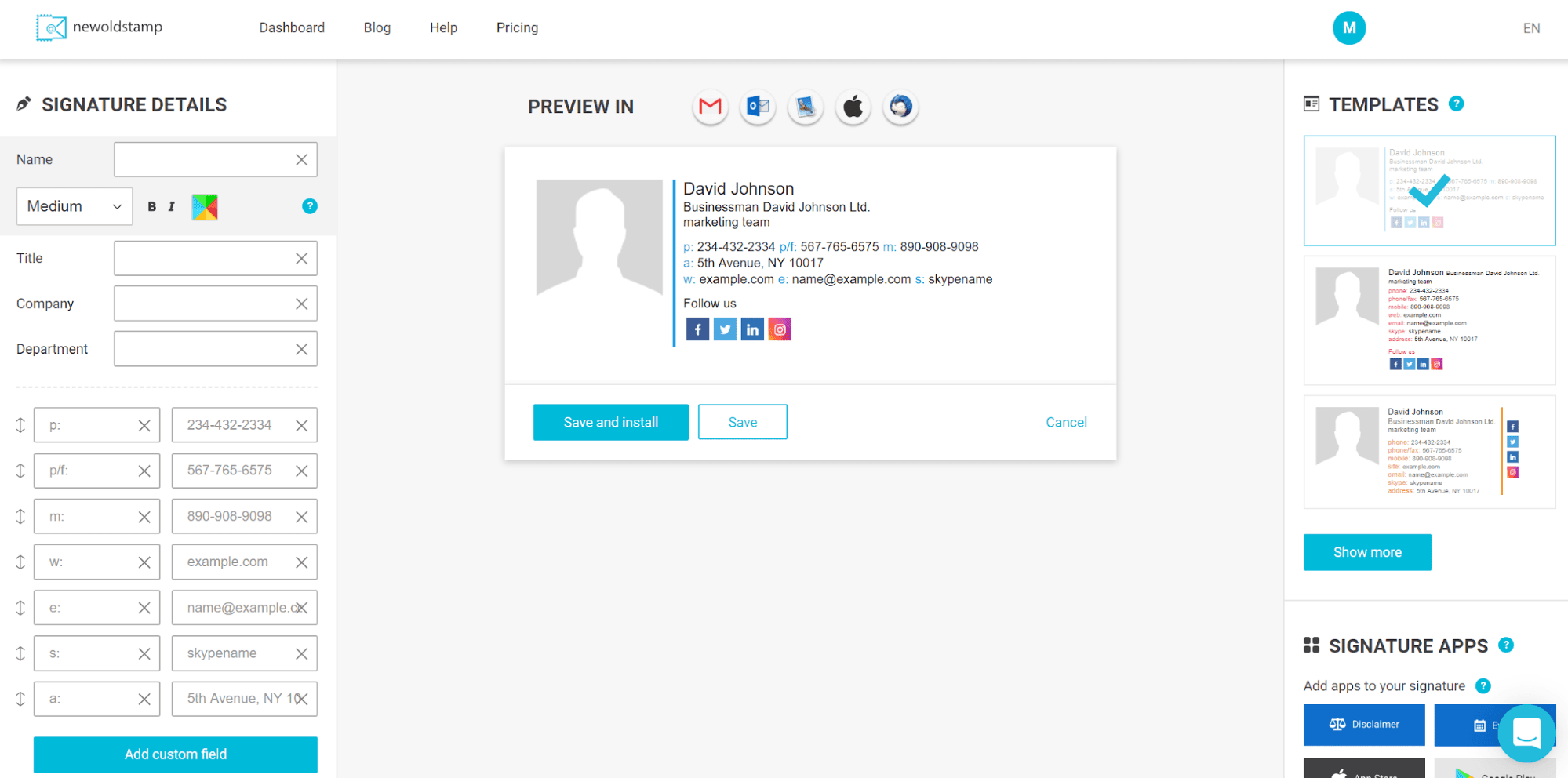 The tool has a gallery of ready-to-use templates, CTA buttons, and banners, which is the easiest way to design a signature. You just pick what fits your style best. You can even create a master signature for a certain department and send it to your employees for minor information editing.
You should make your email signature look as similar to your website layout or logo as possible. How can you do it? Services like Logaster may help you create your brand book with the details of all corporate elements like fonts, colors, logos, and other identity elements. As it is going to be a branding ad, stick to corporate colors only.
2. Make your photo look both professional and the friendliest
When it comes to adding a photo for an email signature, people usually whether put a business-like one or replace it with a company logo. As a result, you get a professional-looking email signature... but it lacks something. This something is uniqueness; a feature any promotional thing online should possess. Without being special, your signature is doomed to get unnoticed and easily forgotten.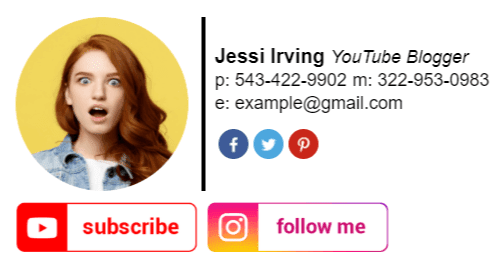 Add some sparks! And there is simply no better way to do so than by using a friendly photo. With all the faces people see on the Internet every day, the one smiling at them from the footer of an email might make a huge positive difference. Personalizing every email you send is a somewhat difficult task. But including your own photo in a signature makes it easier, as you add some personalization indirectly.
3. Include social media channels that you care about the most
LinkedIn, Facebook, and Twitter are three social media resources you hear about the most in business. So, you should consider having a channel in all of them. But if you don't, that's OK too. The truth is, you should use and promote only those channels that fit your market. For example, a designer might use Pinterest and Instagram, while a realtor should consider having a big YouTube channel.
Now, talking about email signatures, do not include a social media channel in it unless you post at least twice a week there. And if there is a channel you would like to emphasize, make it more noticeable with a CTA button.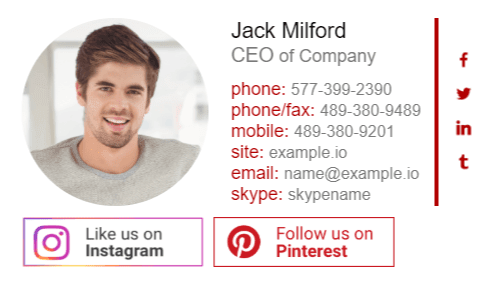 You may want to try out something more with your social media presence. No matter what you choose, don't hesitate to add it to your signature. But make sure there are no more than 5 icons you've added.
Please, in our blog post, find the manual on how to add social media icons in your emails in no time by synchronizing your Stripo's account with social media accounts.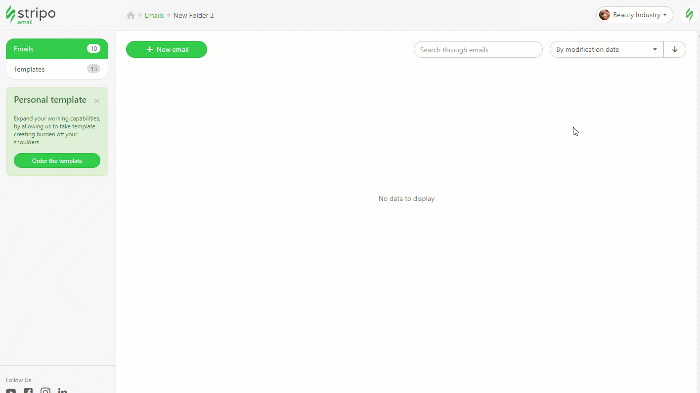 You synchronize them once, and any next time when building an HTML email, you just drag the "Social networking" block into your template, Stripo automatically adds the number of icons that you have previously set and inserts respective links to your social media profiles. Save your time on making an email signature!
Remember that Stripo allows editing, designing and adding custom icons to your emails.
4. Make downloading your apps as fast as possible with email signatures
If you have a mobile application as the main product, you probably never miss an opportunity of asking people to download it. Don't miss it with email signatures either. The 'Download on the AppStore' button is never excessive.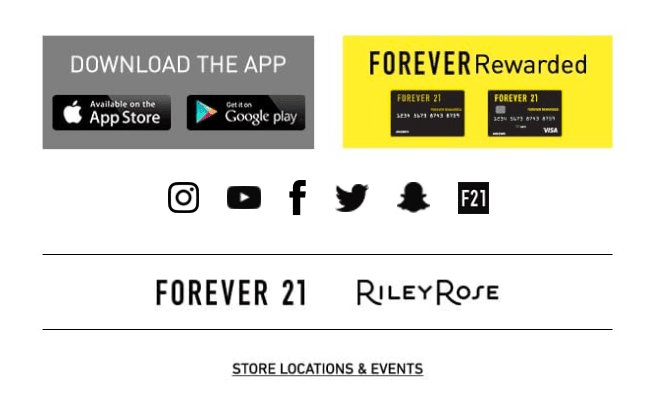 However, make sure your recipients understand what they are about to get by the link. If you want them to get your app with good intentions, mention it in the body of an email. Otherwise, the button might look odd and inadequate. Or even treated as some spam (this is the worst, huh?)
5. Let your addressees schedule appointments in one click
If you think about it, email signatures have a huge potential really. You can add basically anything you want to them. If you work with your clients live or on video chats, you can use an email footer to schedule a meeting or a demo.
If it is something very important, make your signature linked to an event scheduler.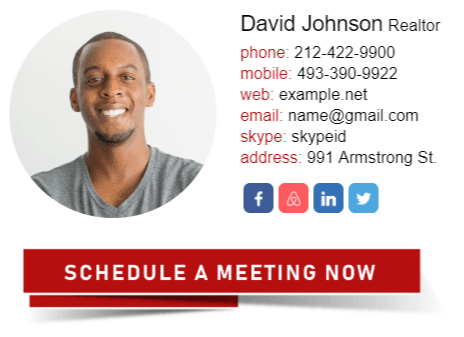 This is a perfect idea for sales emails.
Scheduling an appointment is something that usually takes people some time as they need to write a whole email or call you and discuss all the details. That's why making this process simpler is a good idea. Actually, your recipients are very likely to use your appointment buttons, as it will save them the nerve. In the long run, this means more lead conversions.
6. Eye-catching imagery is 70% of your signature
Now that we've talked about email signature imagery so much, how and when should you use it? As if you do it right, your email footer turns into a powerful promo.
First of all, make sure your images fit in. We have already mentioned that it is crucial to make everything look corresponding and smooth. If the banner you choose is too different from all the signature content, it shouldn't really be there: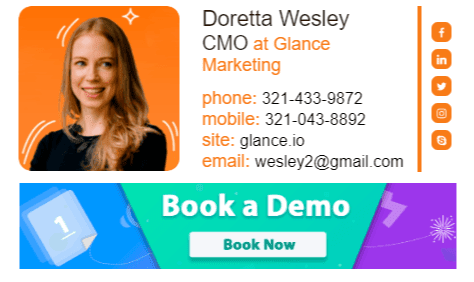 Secondly, the words inside the image are important. Your call-to-action must be clear and engaging. If it is hard to understand what you mean, people won't even bother clicking the banner. The best idea is to use alert words that make everyone subconsciously desire to learn more.
Thirdly, don't make the signature banner too big. It may take 70% of an email signature (as you see in a subheader) but no more. And too small images are also useless, as you might have guessed. In general, try to make everything look good so that all the elements are perfectly placed and complementing each other.
So, when it comes to using images in your email signature, make sure you choose the best one and then carefully implement it.
7. Link your signature to the most interesting and important content
Another thing about an email signature imagery you should remember is linking it to the most important content you have. You can ask people to visit your blog or check out some features; the text opportunities are endless. But never include something irrelevant.

If it is a regular newsletter, ask the recipient to visit your blog for more. If it is a follow-up email after purchase, mention more products in your signature. This way you will always be relevant and customer acquisition process will shorten.
8. Always track all the data to build the most successful strategies
Analytics is marketer's best advisor. No matter what you do with your email signature, you should pay attention to how it's doing. As all the advice we have given might work differently for various industries.
With analytics, there's always a place for experiment. You can easily tell if your ideas pay off if people tend to click on a banner or a CTA button.
Your ESP is supposed to provide you with such reports.
Conclusion
Creating and managing an email signature is not as difficult as one might think. Here's a brief summary of how to make a professional email signature:
keep your signature's design neat. Don't use more than 3 colors and make an email footer similar to your logo or website layout;

add your personal photo or company logo (depending on the situation) and make it as friendly as possible. This way people will feel the connection with you and your reply rates will increase;

use social media icons that are relevant to your industry;

include download buttons in your email signature. It is simply the best place for them;

use CTA buttons to schedule a call or a meeting with addressees. If they are interested in your email, they will most likely want to get in touch;

make sure a signature's CTA is clear and engaging;

use banner campaigns to get more impressions, and lead conversions;

always check the analytics to see how you're doing and whether there is something you should change.
Consider your email signature as a separate marketing channel. Just like anything else, it needs to be well thought-out, designed properly, and meet your company's standards. Use an online email signature generator to ease all the work and spend more time on planning, not implementing the ideas. As writing the HTML code for an email footer on your own can take much more time than you think.Try Stripo Out
Was this article helpful ?
Thanks for your feedback!