Have you ever considered a possibility to increase your income by recommending (not selling) different products and services on your blog? Do you think it's possible only on Instagram? Not really. There is a variety of affiliate programs, starting from online education platforms to marketing automation services, which can pay you for your "good word" and new clients. Today we are pleased to tell you about our own affiliate program.
Plus we'll also share a list of other excellent programs in email marketing software which will help you to gain money out of your blog while doing good — on your recommendations people can find a great solution to their business problems.
How do affiliate programs work?
In a plain language affiliate program is a deal between a business and publisher, aka "the affiliate", or two businesses under which one business pays the affiliate the agreed price for bringing traffic/sales to its website.
Here's how things work out in practice. First, you need to sign up for the program and wait a couple of days until the company accepts your application. Then you get an appropriate affiliate link right after you've been admitted as an affiliate. Now all you need to do is place that link on your website or blog and refer users or businesses in need of email marketing software to a respective tool or site.
Note that you'll get your payment only if two conditions are satisfied: 1) a new visitor signs up for the product promoted by you via your referral link; 2) this visitor performs a needed action, like purchase. Why so? With the help of your affiliate link, the system will automatically recognize that this visitor came from you and you'll get your commission.
We've described the base scenario which is used by most companies. As you see there's nothing complicated about working with affiliate programs. If you are interested in this option of income, let's take a close look at some of the best programs in email marketing software.
1. Stripo affiliate program
Stripo is a tool that allows a user to create beautiful and responsive emails for any email clients, and export them to any ESP. What's better, there's no need to worry about how it would be displayed in the subscriber's inbox — you can check the email in advance before sending it.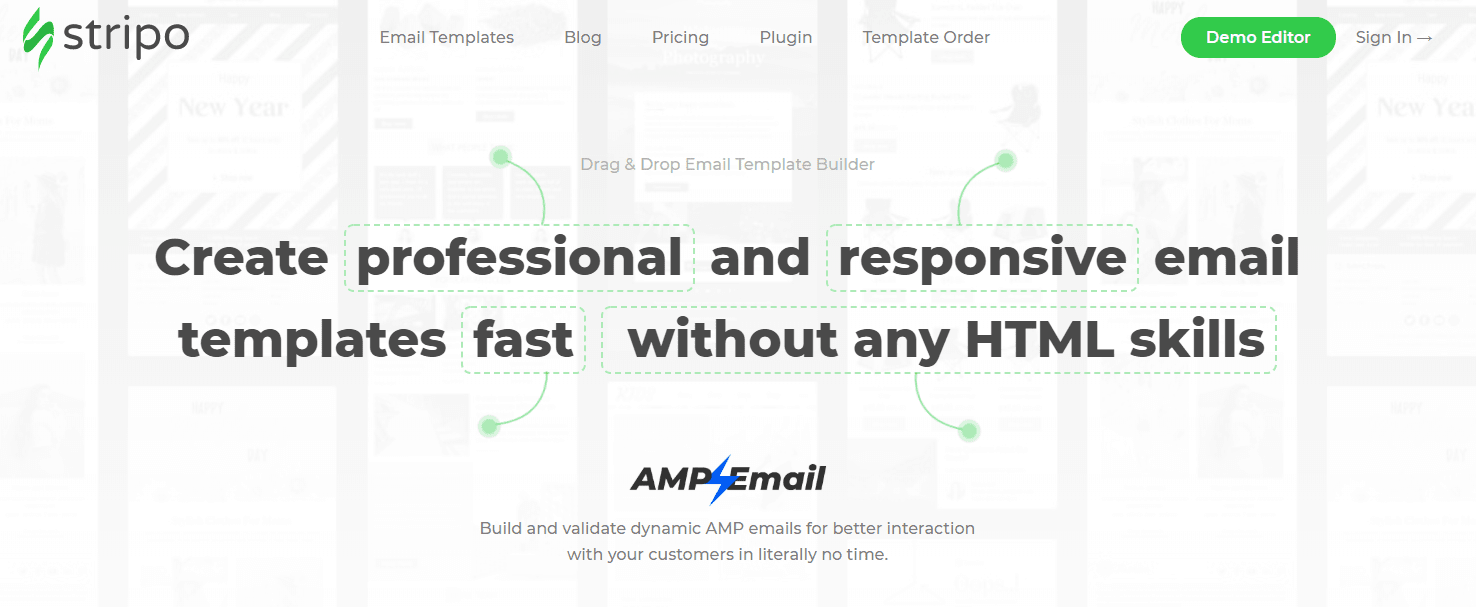 What we offer:
lifetime commission of up to 25% for each referral who purchases any editor or plugin subscription plan; earn from $3 to $55 or even more for each client in accordance with the subscription that your referral chooses;
monthly payments via PayPal; the minimum withdrawal amount is $100;
cookie lifetime — 120 days; the "last click" rule works;
a quick response to any of your questions, as well as useful consultation from our support team.
Keep in mind, there's no need to sell Stripo or convince someone that it is a good service. Our partners have already shown how quickly and easily site visitors were converted to paying users by simply mentioning Stripo on their blogs.
We have over 180 000 active and satisfied users. More than 4 500 customers worldwide have selected us, and their number is constantly growing. MRR is growing by 10% monthly for the third year in a row. Basically, the product sells itself.
What should you do to start earning?
Visit our Affiliate Program landing page, thoroughly read all the conditions and fill out a short form. After this procedure, you'll get your referral link. Share this link with your audience and get your passive income by attracting new customers. We pay you as long as he or she pays us.
Click the button below to get started today:
A list of 9 other affiliate programs you can consider
As we've promised earlier we are glad to provide some main details about other great affiliate programs in email marketing software. Just so you could choose more ways to increase your wealth. Shall we?
2. AWeber
Being a great email marketing solution AWeber helps lots of companies design and deliver HTML emails with its range of templates, autoresponders, reports and many more. With AWeber, entrepreneurs can improve their relationship with clients and therefore create a loyal audience.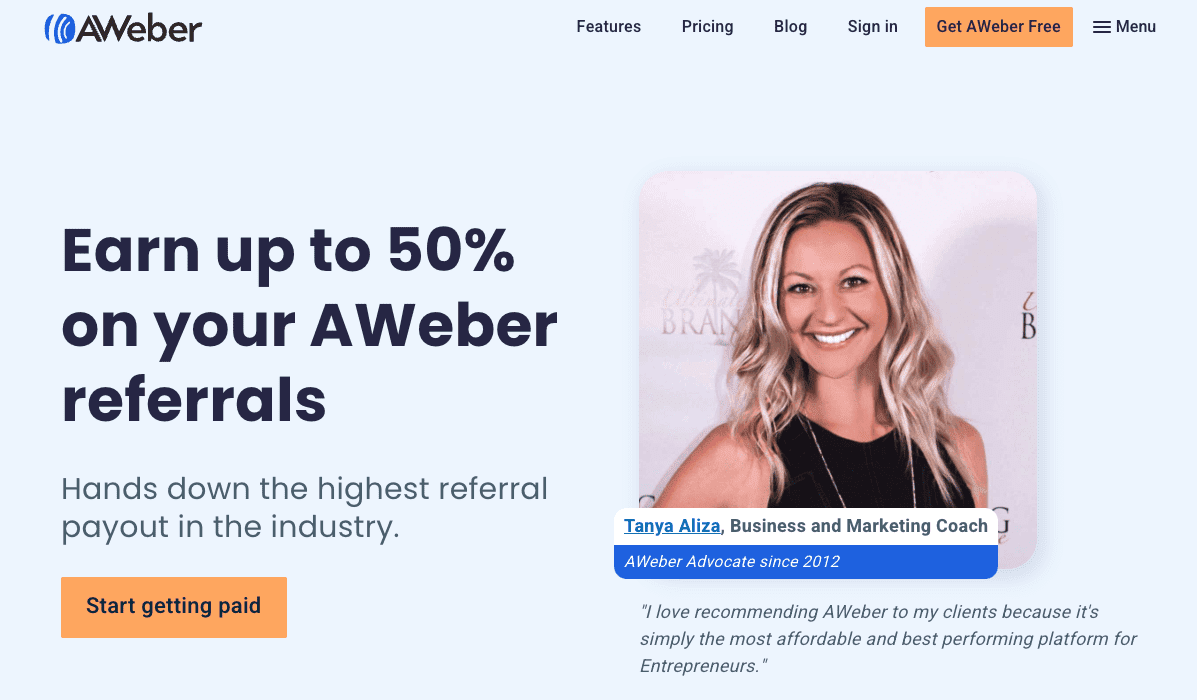 What will you get by participating in their referral program:
a 30-50% commission paid monthly; plus you'll be able to earn with AWeber through 2 ways: in-house program or CJ Affiliate.
With CJ Affiliate, you'll be able to get up to $300 per account but bear in mind that the cookie life with this option is only 45 days. The maximum period for the in-house program cookie does not exceed one year.
3. MailerLite
When there's a need for a handy tool for email marketing, MailerLite can definitely be a good solution for all types of businesses. With its convenient content editor, regular reports on every campaign and streamlined subscriber guidance, you can create nice emails and control their performance effectiveness.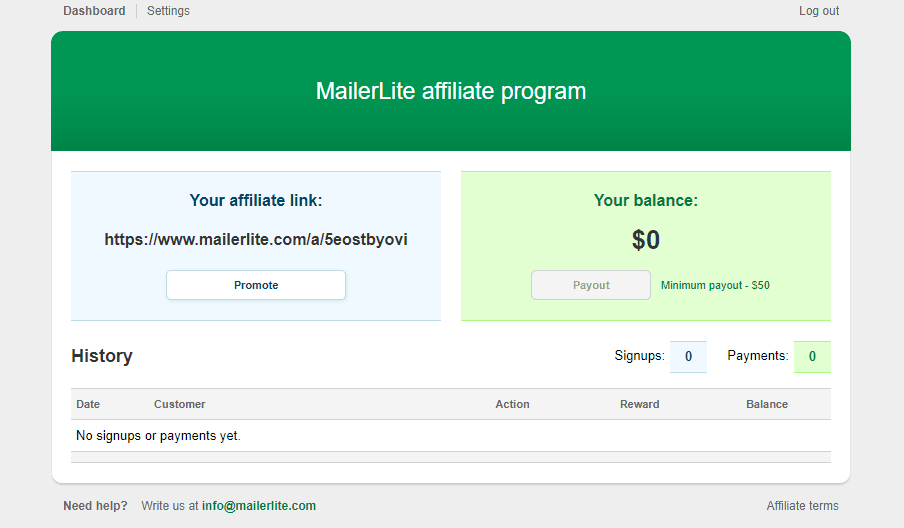 What will you get by participating in their referral program:
a 30% commission on the initial sale and on any recurring payments the referral makes;
the maximum period for cookie life doesn't exceed 30 days from the first visit; plus if your referral returns to MailerLite after the 30-day period, you will not earn a commission on their purchase;
the minimum withdrawal amount is $120.
4. Hunter
Hunter is a wide-popular tool for searching email addresses (among 100 million pieces in its warehouse) without wasting much time — find people that are necessary for your business in seconds with probably the most powerful solution in its niche.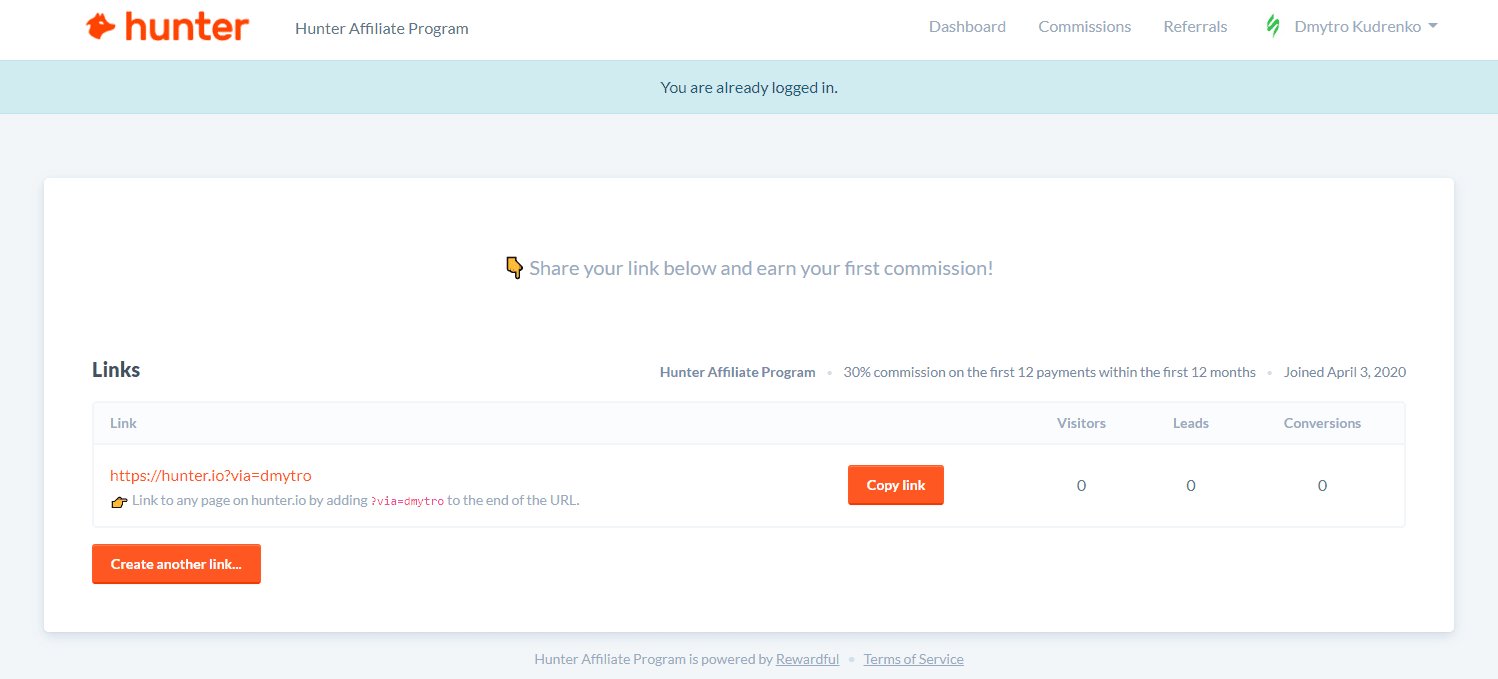 What will you get by participating in their referral program:
a 30% commission on up to the 12 invoices or the first year;
withdrawal after 45 days via Paypal on the following Monday.
5. ActiveCampaign
Why should you use 3 different tools if there's 1 solution for 3 main activities: email marketing management, marketing automation and working with CRM base? With ActiveCampaign, you'll definitely gain a wonderful customer experience and raise your business to a whole new level.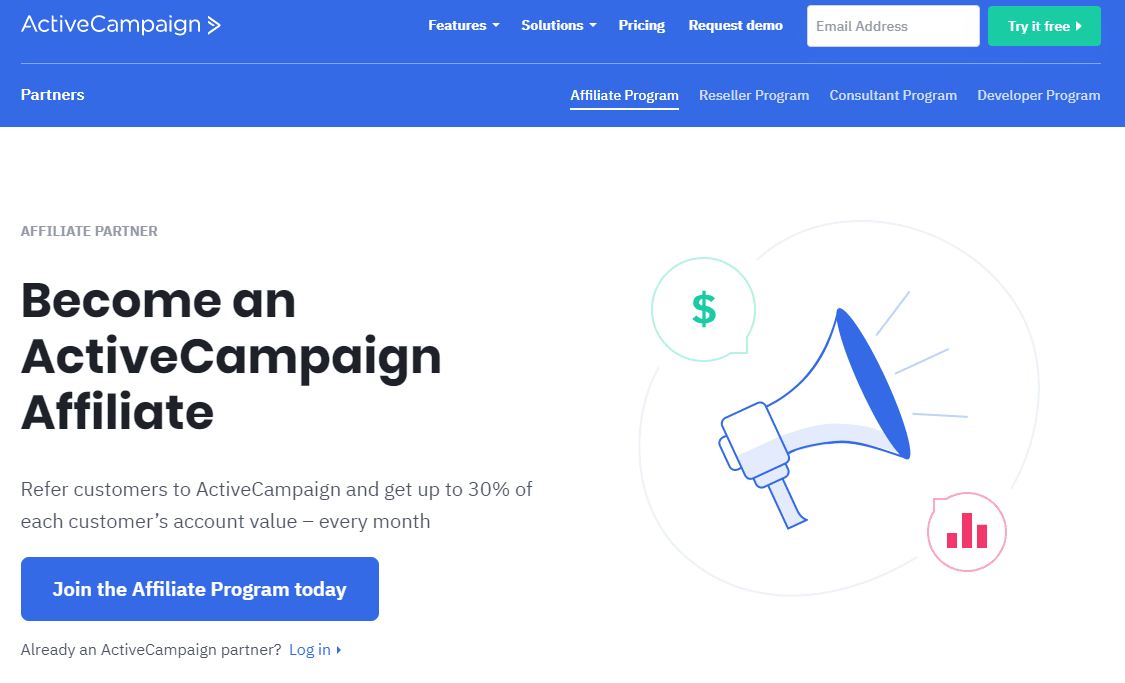 What will you get by participating in their referral program:
a 20% commission for every sale;
the maximum period for cookie life doesn't exceed 90 days after the first click.
A few more details on the commission. You have a chance to get a higher and higher payment whenever you increase the number of sales — you start with a 20% commission and may end up with 30%.
6. Klaviyo
Personalize the communication with your audience via email, web, and in-app notifications, and SMS using an excellent growth marketing platform — Klaviyo.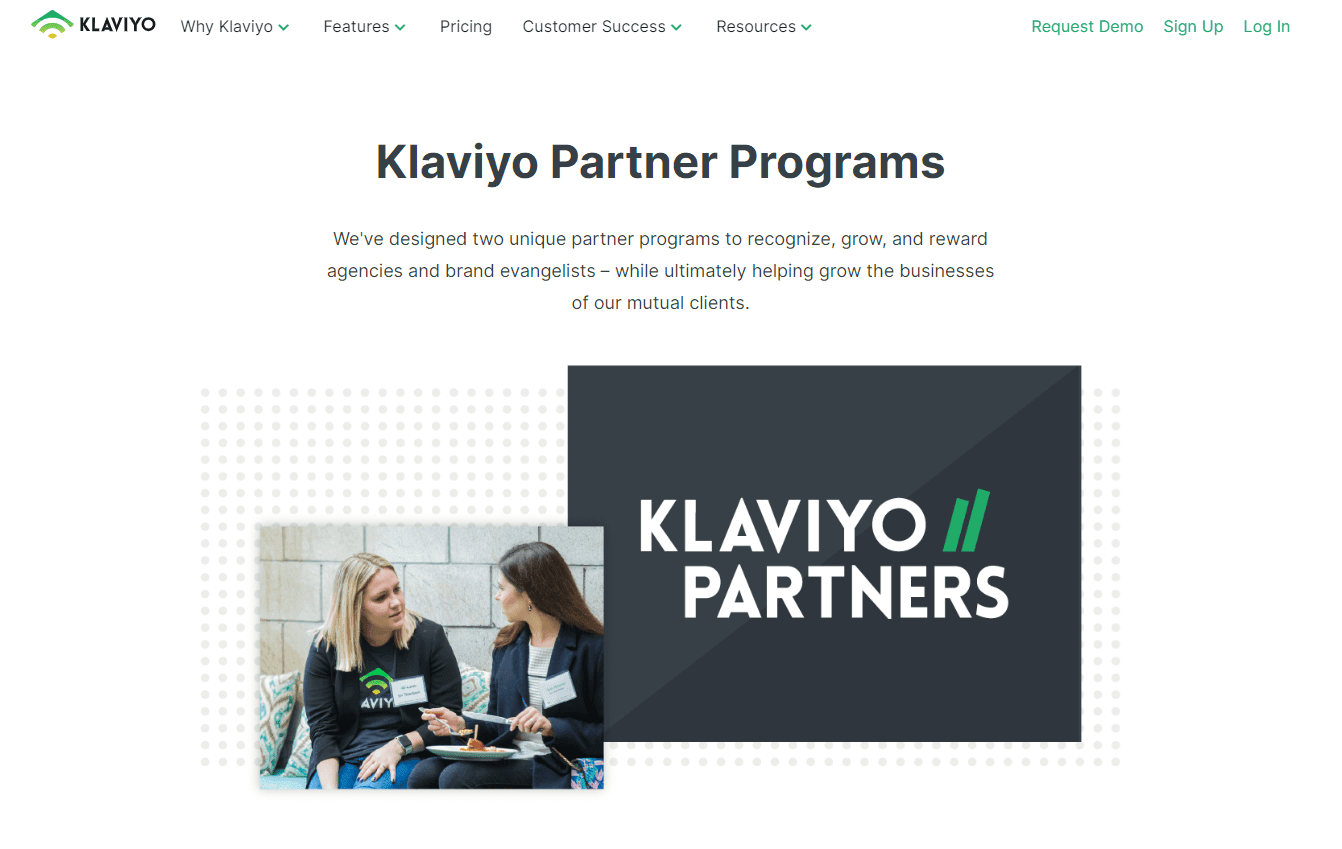 What will you get by participating in their referral program:
payment may vary from 5% up to 15%; the commission is based on % of 4 months of accumulated MRR referred (4 months min); the size of the commission also depends on the partner tier you choose: silver, gold or platinum.
7. Omnisend
Omnisend is a popular marketing automation platform that is meant for eCommerce businesses. It helps clients to drive sales by utilizing the two channels — email and SMS at once.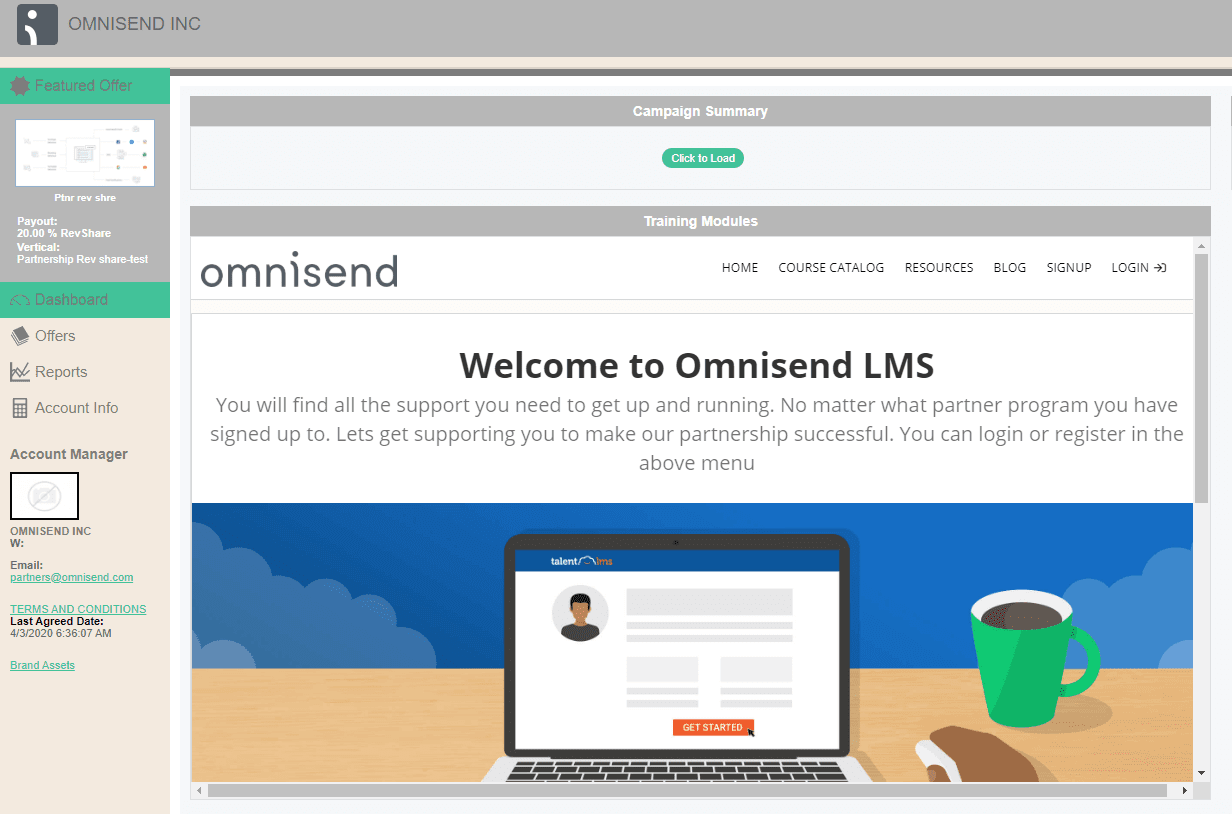 What will you get by participating in their referral program:
a 100-300% one-time commission for the referred new businesses that join Omnisend on a paid plan; earn up to $1 200.
the maximum period for cookie life doesn't exceed 30 days.
8. Constant Contact
Another company, which has proven itself as one of the leaders on the market, — is Constant Contact. It helps users to create and manage effective Facebook and Instagram advertising, get rid of routine and manual work in building email marketing campaigns and send out thoughtful emails to reduce abandoned carts in eCommerce.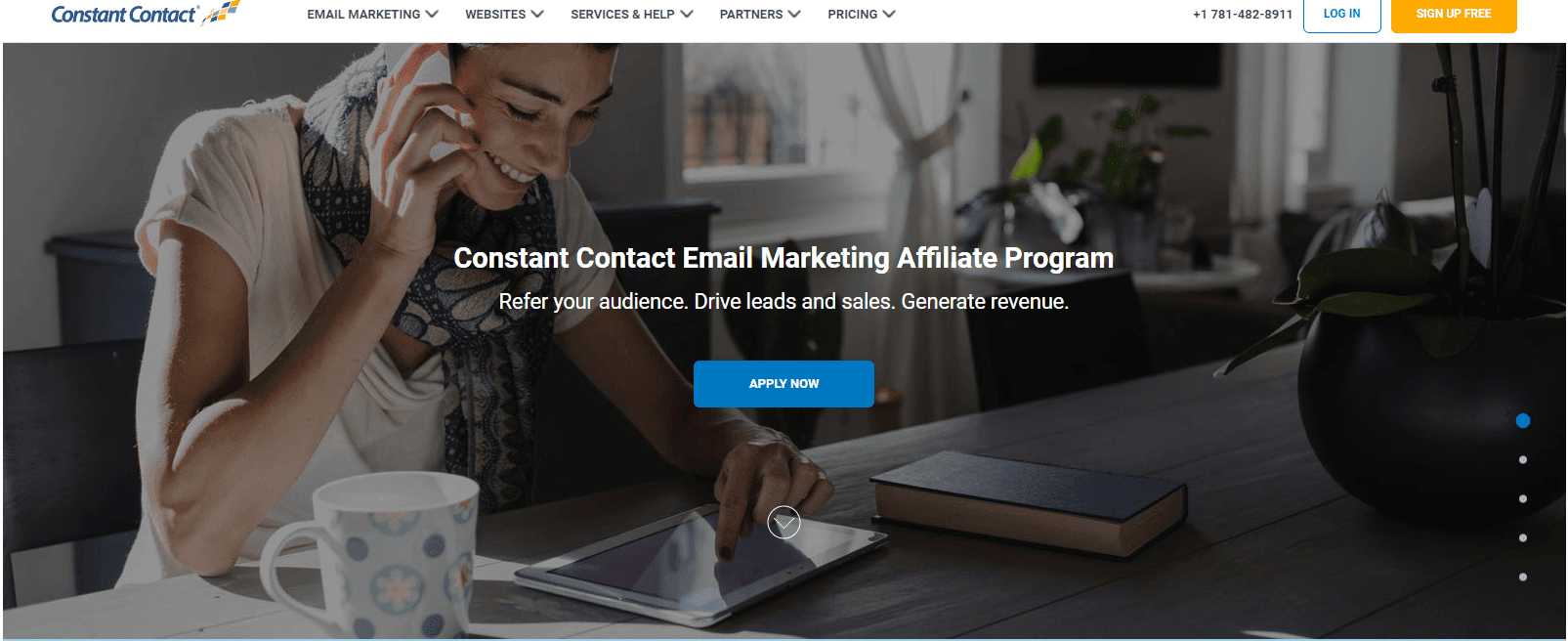 What will you get by participating in their referral program:
$5 as a payment for a free trial sign up, and $105 commission for purchasing a new account;
the maximum period for cookie doesn't exceed 120 days.
9. Mailigen
Mailigen is a tool that helps small, medium-sized and large businesses create, send and automate email newsletters in the easiest way. With Mailigen, it is possible to build strong connections with the customers communicating with them via email, social and mobile channels.

What will you get by participating in their referral program:
a $2 – $50 commission for each required action that your referral fulfills; as an example you'll get $2 for a referral just sings up for Mailigen and plus $50 if the same referral purchases any paid monthly subscription plan; plus you can get some extra payment as a top performer;
the maximum period for cookie life doesn't exceed 120 days.
10. Zoho Campaigns
With a feature-rich tool like Zoho Campaigns, marketers can easily bring more leads and increase the number of sales as it assists in managing compelling email campaigns.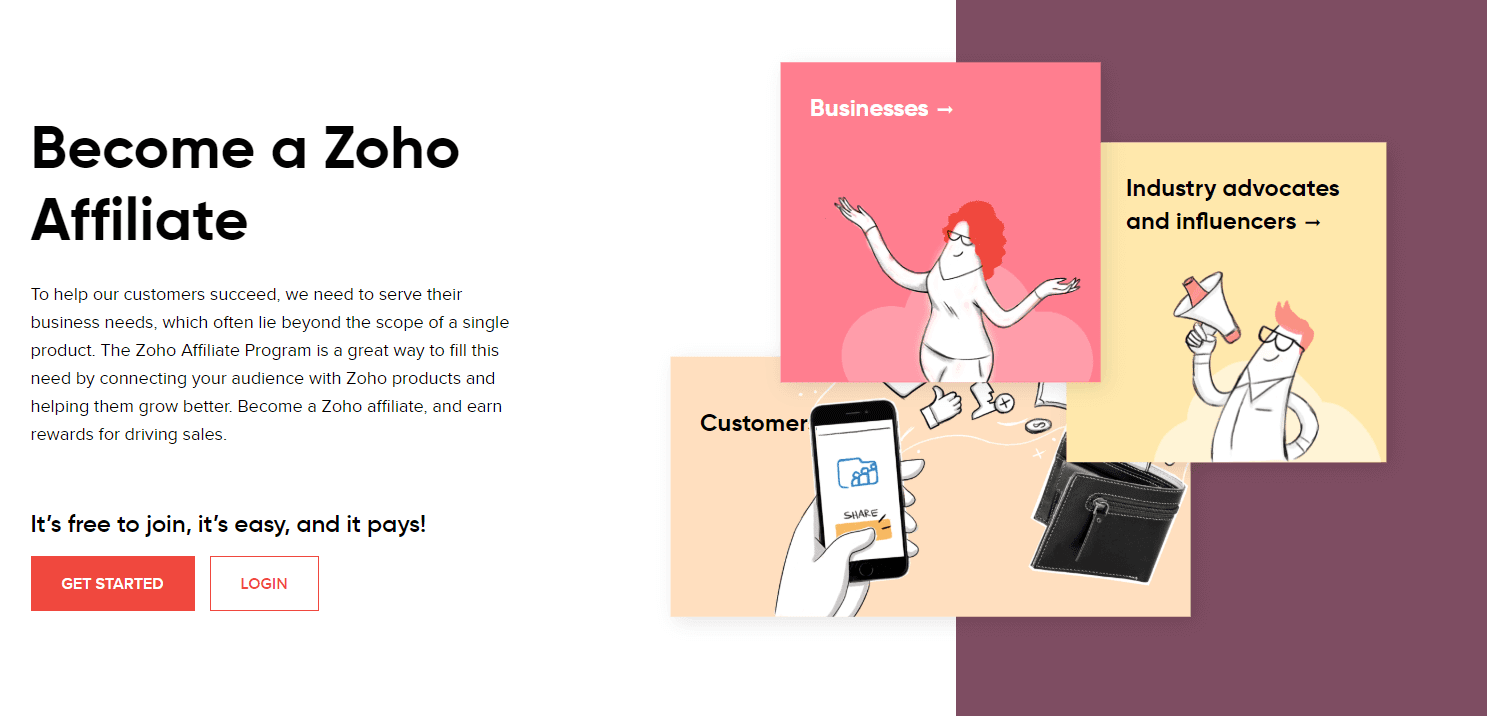 What will you get by participating in their referral program:
a 15% commission of the first purchase and if your referral will be using Zoho for 90 days straight.
Now you have the list of the most popular and trusted affiliate programs on the market — each of these companies has a high-quality product, admired by its clients.
To sort out details of working with these programs, start out with the Stripo Affiliate program. Our support will gladly help you with any problems along your path to earning money. By any questions don't hesitate to email us at support@stripo.email.
Was this article helpful?
Thanks for your feedback!