Zoho Campaigns is an email showcasing mechanization software that encourages your customers with the perfect emails at the perfect time. Bid farewell to bringing in and sending out rundown information from CRM to sync work for your email needs. This Zoho campaign assumes control over this task for you so you can target in developing your crowd, clients, and deals across the globe.
Moreover, Zoho Campaign newsletter templates and best email templates samples or designs from Stripo can groove your mailing audience.
Here are the best ideas and features why you should use Stripo and Zoho Campaign as a tandem.
Because Stripo lets you:
create top-notch newsletter templates for connecting with your intended interest group twice as quick;

you can modify the width for your emails — it can be easily adjusted according to your whims from 420 to 900 pixels. To keep you from the need to adapt to email code, we let you set the width physically in the Appearance/General Settings tab.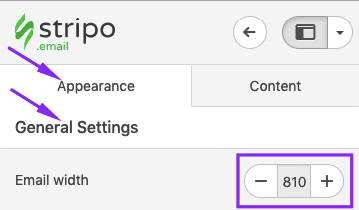 Note: We tried the most mainstream email widths, inspected messages with non-standard width by acclaimed brands to figure out how they all work. You can discover the outcomes in our blog post.
spice up emails by transferring custom textual styles to keep up in line with your brand;

use custom thumbnail pictures to make your video content review considerably more empowering and important;

you can also incorporate 1-8 containers in your email templates to put all important data in one row;

also, send out messages in 1 snap with Zoho.
A large number of our clients send out prebuilt email newsletters through Zoho Campaigns. Let's see how it functions:
Stage 1. Creating
You can customize advanced messages or email templates through Zoho in the blink of an eye with more than 350 responsive email templates that our platform incorporates.
Stage 2. Collaborating with teams
You can welcome 100 partners to design email templates or newsletter templates according to your own needs.
Stage 3. Testing
Make certain to see and test your email messages before sending out them to the Zoho Campaigns.
Stage 4. Exporting the email in no time
Export an email in a snap and convey your created emails with the help of Zoho Campaigns.
Added Features Incorporate:
There are numerous email templates or email designs that render in Gmail and Outlook precisely according to your requirements. Our HTML proof-reader is a time savvy concept.

The versatile form of your emails in a mobile version that contrasts from the desktop version of your email messages — evaluate the new degree of the best email template structure.

You can customize messages by embedding singular HTML components or editing them without any preparation with our open code supervisor — see the outcomes immediately in our WYSIWYG proof-reader.

You can synchronize modules that empowers you to alter/update each of your templates without a moment's delay by altering/refreshing only one of your templates where the sync module has been utilized.
Join over 850K users
Start for free — upgrade anytime