The idea behind Benchmark Email marketing is to give an incredible list of capabilities to practically any kind of private venture. With guided work processes and an alluring, simple to-utilize stage, you'll find your email advertising objectives fulfilling within a click away.
Benchmark has been intended to serve everybody from the littlest kitchen-table start-up to huge advertising agencies. That's why Stripo has prepared Benchmark Email templates that focus on different kinds of organizations, ranging from simple and neat HTML email templates to AMP-powered newsletter templates.
Several industry-specific & themed templates:
Stripo provides you a wide collection of layouts/free newsletter templates. These are additionally composed of industry-explicit classes, types, features, etc.
You can also create an email from a scratch and add unique elements to it, for example, design banners of any complexity with no third-party tools; add AMP-components or interactive buttons so the email could amuse your subscribers.
Video for Benchmark Email templates:
One of the most popular unmistakable preferences of the Benchmark Email template is its support for video. So, if your organization is video-arranged, you'll find what you need.
Responsive Benchmark Email templates:
Responsive design isn't just a must for emails; Stripo builder can automatically modify emails by revamping text, pictures, and animations to look better on any gadget.
Plus, you can run a screenshot test directly in our advanced email template editor for Benchmark Email to make sure your emails will look correct in users' inboxes.
So how can you use our universal email template builder?
to empower/handicap components of Benchmark Email templates on mobile phones
Regularly email designers and advertisers build two banners/product cards/pictures with even and vertical direction. The former ones go for desktop gadgets, while the latter go for cell phones.
Stripo allows you to design the mobile version of your emails that completely differs from the desktop one: you set the font size for buttons, the font size for content, the font size for all the headings you are going to use across emails, and even fr menu and footer; you set the width of your button — make it full-width when it comes to mobile devices.
to alter the Benchmark Email templates components on smartphones
How can you use it? One of them is to guarantee the best possible showcase of the accompanying product cards on mobile phones: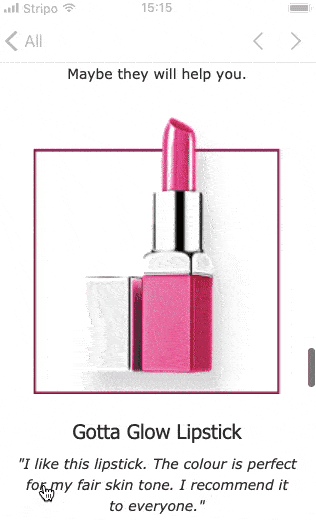 To activate this choice, simply toggle the "Containers inversion" button.
You can disable the responsive Benchmark Email templates design
To disable the responsive design, please go to the "Appearance" tab, then — "General settings".
If you do that, your email on mobile devices will look like it does on desktop devices. Hence, users will have to horizontally scroll to see your full email.
User-friendly approach and 1-click export for professional Benchmark Emails
When your email is ready to see the world, Stripo allows you to export it to Benchmark literally in no time.
Ready to give the Stripo and Benchmark tandem a try? Go ahead and sign up to create your first email for free with Stripo!
Join over 950K users
Start for free — upgrade anytime