November is getting closer, which means that we often hear about the impending Black Friday sales, a holiday that marks the start of the traditional Christmas shopping season.
Black Friday sale (along with Cyber Monday and the whole week before Thanksgiving) is a great chance to leave a lasting impression on yourself. A holiday email that grabs customers' attention can be the starting point for your long-term relationship and increase your chances of converting in the future.
So are you searching for an engaging Black Friday email template? You've come to the right place. Choose any from our collection, and customize it to send out only the best newsletters to your valued customers. And you can also draw inspiration from our templates as well.
Black Friday weekend email design
There are several major points to pay close attention to:
Imagery for your Black Friday email campaign
Email banners
The brightest and most noticeable element of all holiday emails is the banner. Not only can you apply filters to banner images, but also you can place your texts over these images and wrap the text in festive fonts.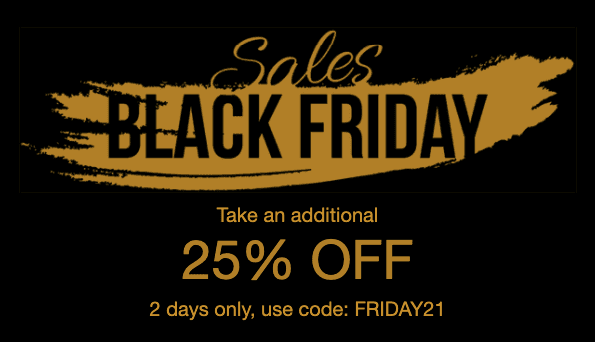 With Stripo, you can do it without leaving the tool.
Design powerful banners for your Black Friday email campaigns in under 10 minutes!
Join Stripo
GIFs in emails
Gif animation is one of the certain ways to get customers excited through your Black Friday and Cyber Monday emails. Stripo allows adding GIFs to our free email templates as well. You upload them the same way you upload regular images.
Please avoid GIFs with three or more flashes per second not to cause photosensitive epilepsy seizures among your customers.
Email backgrounds
You can add backgrounds to certain email elements or to the entire Black Friday newsletter template. Make sure the chosen images are highly quality and complement each other. You can use stock images for your email backgrounds.
And if you like, you can just apply a background color to the entire email. It looks kinda fresh.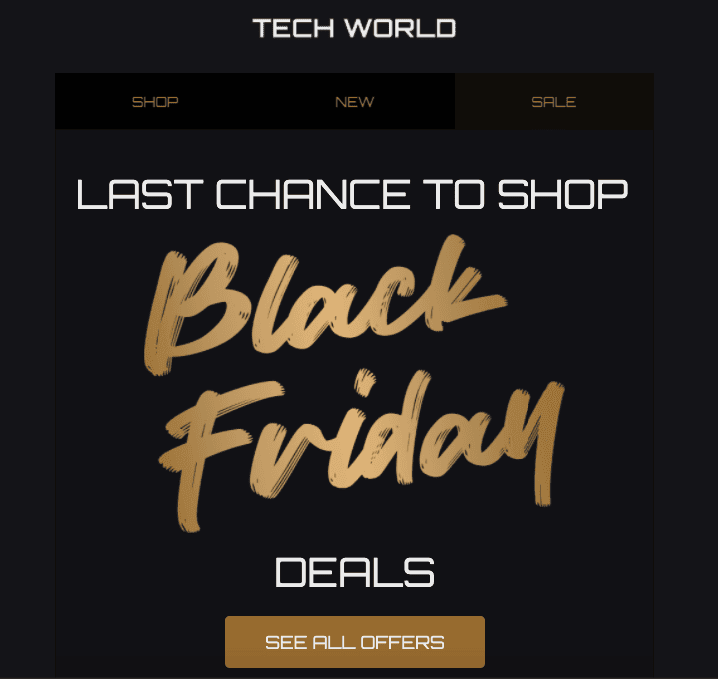 Reach out to customers with gorgeous Black Friday emails that you build in no time
Use it
Interactivity for improving customer engagement during Black Friday sales
Let your customers have fun besides online shopping. This applies to the Black Friday email campaign as well.
Besides, Black Friday emails are all about the promo. And promo emails are meant to be engaging.
Our templates already contain some Interactive elements, like a carousel, embedded videos, and even AMP components to entertain your online store customers. Also, they are already adjusted to the mobile phone version.
Or you can build one on your own if you like. To do so, please refer to our blog post to see how to build AMP emails with Stripo with no coding skills.
You can also apply the image rollover effect to images and CSS animation to buttons — this will help you make your emails more interactive; you can even play games with customers.
For instance, you may suggest that they "search for promo code." Users hover over these images to see what discount is hidden between them, and a nice Black Friday email campaign is good to go.
Boost customer engagement by adding interactivity to Black Friday email templates
Use it
Countdown timers to create a sense of urgency for Black Friday deals
Proven — countdown timers in emails increase total revenue by 9%.
They are highly useful. You let customers know how soon the Black Friday sale ends.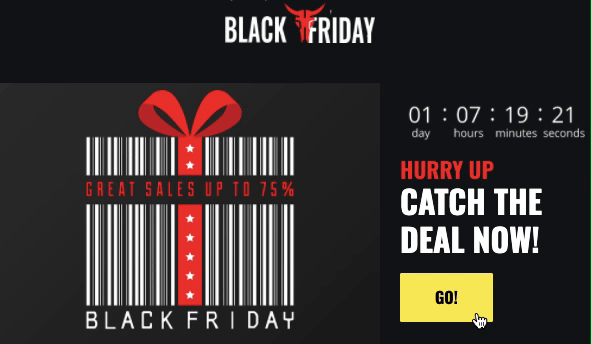 It is very easy to add one to your emails with Stripo — you will only need to work on its design.
You can also add the phrase "Starting the countdown" in the title. It makes you look forward to the opening of the sales and rush to the company's website just after the clock strikes midnight on Thanksgiving.
Encourage customers to shop with you right away by letting them know how soon the Black Friday deals end
Join Stripo
Now that we know how to make our Black Friday Emails unique, how do we make sure our recipients see those emails?
Black Friday subject line (along with Cyber Monday sale)
Quite often, a subject line convinces recipients to either open our emails or move them to the trash.
Thus, we need to make them clear and encouraging to make our email marketing efficient.
It would be a nice trick to mention in the subject line that you are about to offer free shipping or highlight the amount of the discount that you are going to offer.
Create urgency during the Black Friday weekend
It's also very important to create a sense of urgency with images and text within the email and with the Black Friday subject line. After all, these sales are designed for a few hours or weekends.
However, that doesn't mean you have to tell them directly to act quickly or that they'll miss out (it is a bit of a standard and old phrase to use). The terms Black Friday and Cyber ​​Monday sale naturally create a sense of urgency — these days only come once a year, right?
Near the final hours of the sale period, you can also send a last chance email letting your list know that this is the last chance to save on your purchase.
Add actual price or discount percentage to your Black Friday email template
Another way to grab the attention of holiday shoppers is to add an actual price or percentage OFF to your Black Friday email subject line. Pretty convincing email marketing, right?
People like to see numbers, so it doesn't matter what you post here as long as it's relevant to the specific discount you're offering.
For example, $50 off or 40% off will be enough to at least entice most shoppers to take a look at what you have in stock.
Of course, you can skip this tactic if you're only offering slight Black Friday deals like a really small discount. However, digging deep into these sales pitches is a great way to increase interest.
Free shipping offers for a Black Friday email marketing campaign
Another great tactic for the Black Friday subject line is offering free shipping for orders placed during the promotion.
While free shipping is something that is common with big corporate retailers, many smaller brands work on profit margins too small to offer this all the time.
That said, offering free shipping for Black Friday or Cyber Monday emails can be a great way to compete with those bigger brands.
Use active words in your Black Friday campaign
Another tip for creating the best Black Friday email subject lines is to use active words where you can.
Terms such as buy, save, earn, get, shop, and other similar ones often get a better response than messages that don't include them.
Remember, you want the customer to understand immediately what value they'll receive from your special offer, and using the right choice in active terminology is a great way to convey this on a psychological level of a holiday email strategy.
Make your Black Friday deal stand out
Let's face the truth.
A lot of emails are coming into your recipients' box in the few days around Black Friday. It's also going to get a ton of messages during that day, too.
Instead of sending another message that people might ignore, use creative language and emojis to stand out from the crowd.
Any opportunity you have to catch their eye with playful wording or a little humor is certainly a good idea for Black Friday campaigns.
Plus, emojis work to break up the endless list of messages in their inbox with a colorful and fun miniature image.
If you're planning to do something out of the normal with your Black Friday email subject lines, just make sure it is somewhat on brand.
Your customers are already comfortable with your messaging as a company. If you go pretty far off script, you might see a little pushback from your existing clientele.
Please find more ideas on how to make your subject lines effective in our blog post, "Black Friday Email".
Gmail promo annotations for Black Friday email campaigns
As we said, subscribers receive hundreds of emails a day. This number significantly increases during the Black Friday season because of the online store competition.
To help your emails stand out in recipients' inboxes on mobiles, you should add "Gmail promo annotation" — this feature helps you highlight the amount of the sale and the duration of your holiday shopping sale.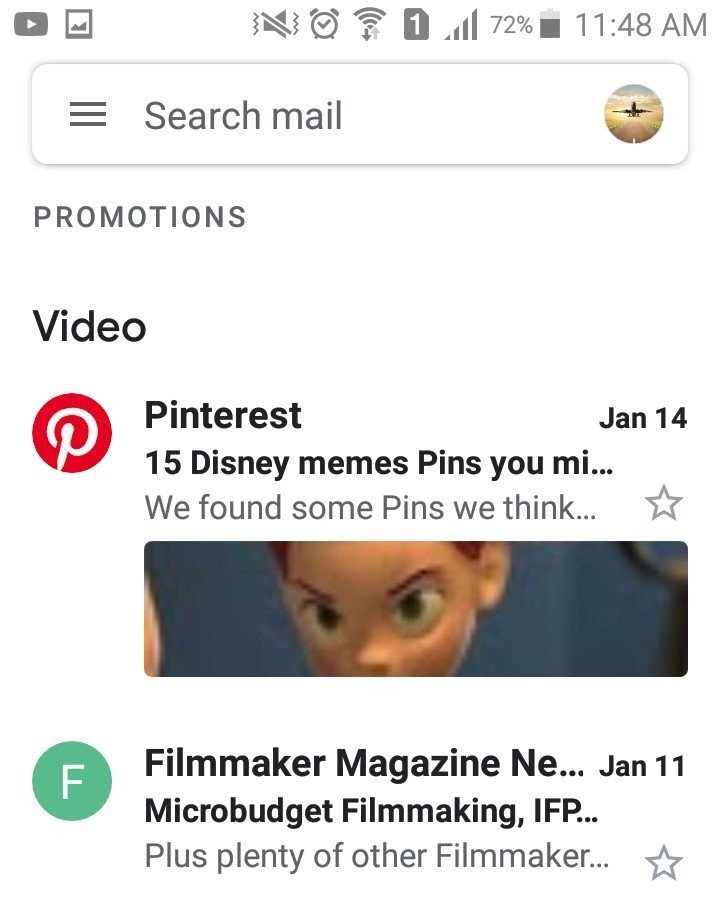 Easy to do it with Stripo. For more detailed information, please refer to our blog post.
DOS for Black Friday email campaigns
When creating Black Friday email campaigns, remember email etiquette.
Appeal to the client's emotions
Showing the benefits that customers can get and appealing to their emotions is one of the best ways of the Black Friday strategy to convert recipients into customers, especially during the holiday season.
For this, you can use photos of your clients, influencers, famous people, and nice words to convey admiration. For example, photos of celebrities wearing your products. This will most likely have a positive impact on your campaign's success- many fans would like to get what their idol wears.
As for words, for example, you can promise your customers that they can be the first to buy a luxury car or watch to impress colleagues and friends. You can also promise that he will be the coolest guy around.
(Source: Email from Samsung)
"Do it your way." - Maybe you won't be able to find anything more attractive. This phrase is motivating, memorable, and grabs the reader's attention.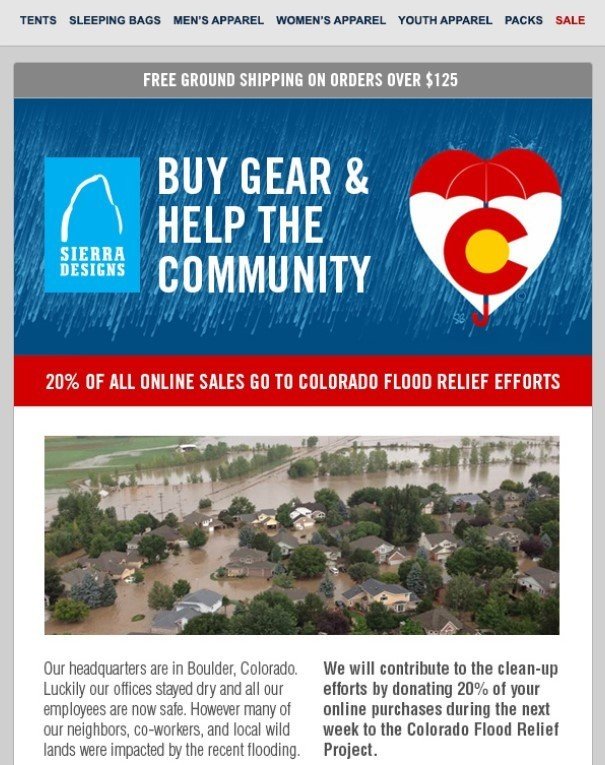 (Source: Email from Sierra Designs)
Also, feel free to link to a social issue when writing your email.
Do it for two reasons: 1) help those in need; 2) help your clients feel like heroes during Black Friday deals fever.
Make Black Friday emails in the style of the brand
First, brand image makes companies recognizable among recipients.
Brand identity is fairly easy to implement in your business mailings. Just open your brand book and follow its instructions. If you don't have one, just try to make a copy of your company's website in the mail. In addition, you can create your brand book with us. There are many ways out of this situation, but sticking to brand styles to create uniform letters for your newsletters is very important.
Also, ensure your logo is the same in every commercial email campaign. In addition, the colors you used on the site should be used in the design of the emails.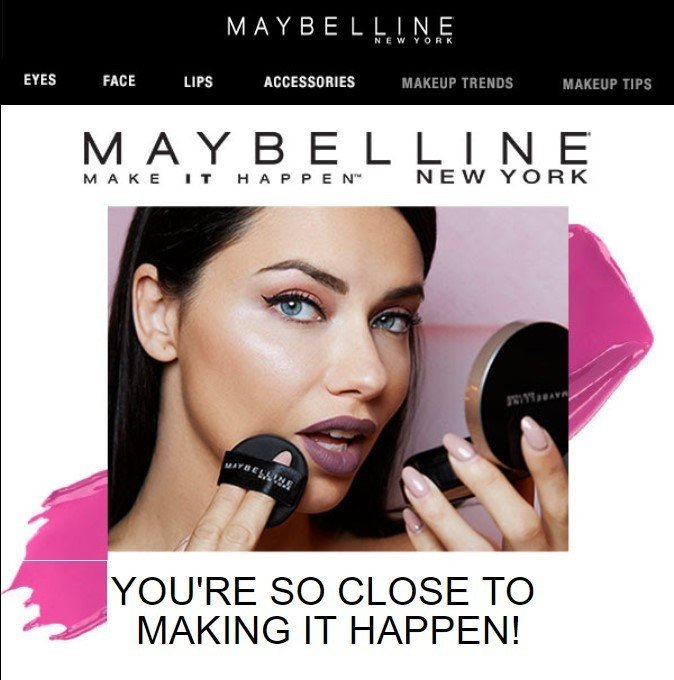 (Source: Email from Maybelline)
Second, a brand identity shows that you stay true to your principles. And it also shows that you are reliable; this guarantees trust in your target audience.
For example, the tone of your email is low-key, formal, and does not contain jokes because it is a formal email. By using newsletters, you share the latest financial news with your recipients. And suddenly, they see in business correspondence such inappropriate words as "Dude," "Hey guys," "What the hell," or even obscene jokes and GIFs. To say the least, your readers will be surprised and disappointed.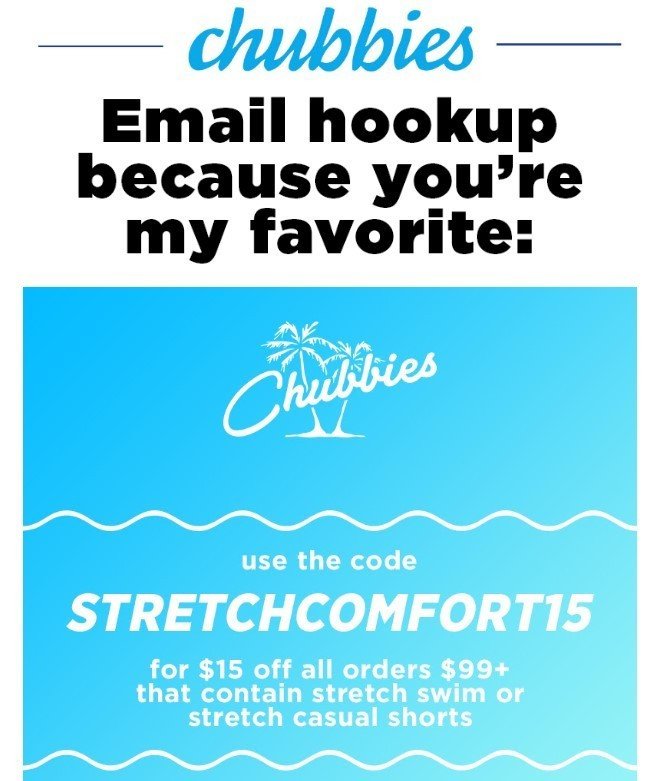 (Source: Email from Chubbies)
The professional email etiquette rules do not recognize this, so you should write the text and select the materials for your newsletter accordingly. Use formal greetings if you do not know the recipient very well, be concise and use appropriate language if your chain of emails is related to solving business issues or offering some business value to the recipient.
However, if your Black Friday marketing messages used to be full of jokes, the texts were written in a conversational, friendly manner, and now you send a strict email with academic reasoning, your readers may think that this email is not from you.
Recipients love you for your style and personality. Stick to it!
Brand consistency is extremely important for any business in all aspects of its operations, and email marketing is no exception.
DON'TS for Black Friday email campaigns
Don't email your recipients too often
You may know the phrase: Moderation in all things. The same is true in business.
You need to know the measure in any business, and email marketing is no exception. It is necessary to strictly control the number of emails per week.
The client can simply add your emails to the "spam" folder or unsubscribe altogether. However, if you send too few emails, customers will forget that they subscribed to you altogether. This is one of the basic email etiquette rules; you must stick to it if you want your mailings to bear fruit.
Don't overload Black Friday emails with CTAs
Undoubtedly, the primary purpose of all e-commerce emails is to sell or close deals. Now we can't imagine email marketing without call-to-action. But quite often, your customers can be distracted by numerous call-to-action buttons. They must, of course, be visible, clearly written, and repeated. For example, it would be quite effective to place such a button at the top of the email, above the banner, and at the bottom of the email. This way, customers will notice the button faster. But do not add too many such buttons to the email. This may seem intrusive to the client.
Best Black Friday email examples (with templates)
Let's look at good Black Friday email examples and draw inspiration from them!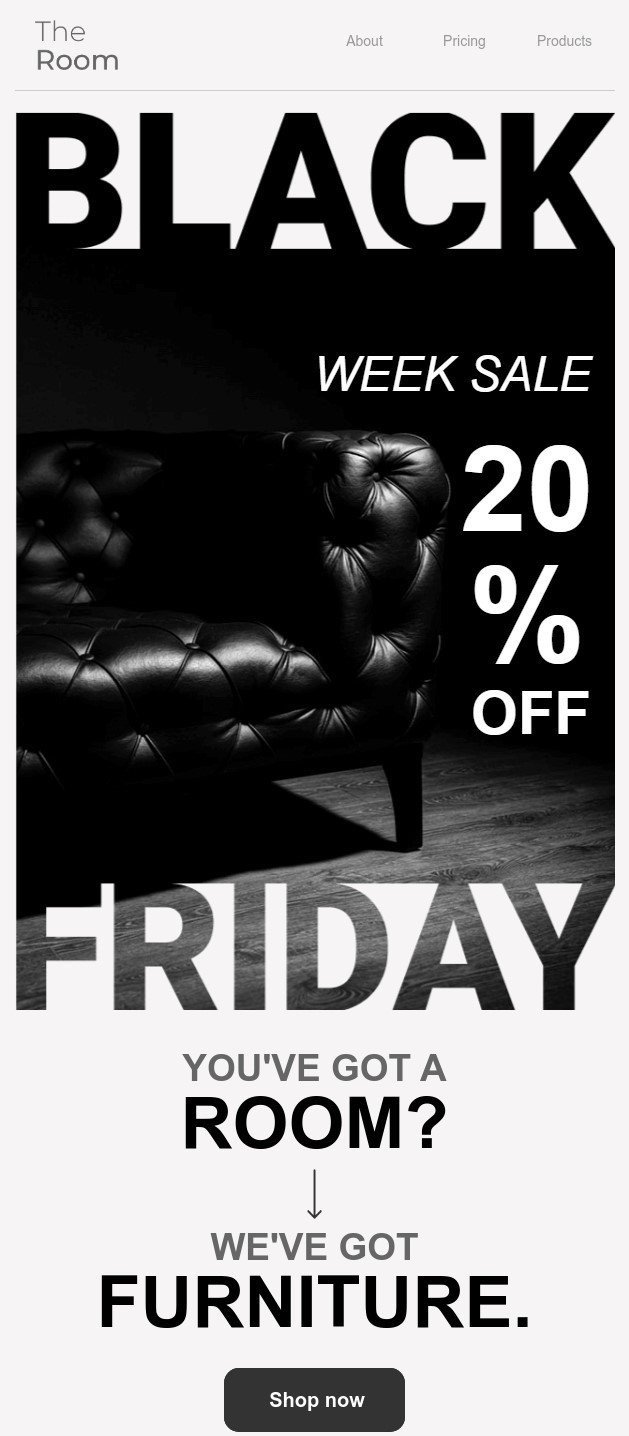 The email design is incredibly sleek and elegant. The banner attracts and draws attention to what is needed. At the same time, no flashy content is fighting for your attention. All these elements make viewing an email enjoyable. That's how you would look at it for hours!
The font is simple and clear, there are no annoying pictures, and the text is written to the point. While the black and white color palette is common among Black Friday emails, this email maximizes the potential of black as a veil that hides a long-awaited product.
There is also a call that action button, which is also very important. With its help, the client can become more interested and go to the landing page faster and more easily.
Let's take a look at this Black Friday email example for the Gadgets industry. This is a good illustration of using bright colors on a dark background to grab the customer's attention for eCommerce stores.
Look at the banner and call that action button. They just glow gold on a dark background (which is just right for the Black Friday theme).
Further in the email, we see different products, after which there is a separate call to action button, allowing the client to more easily go to the selling landing pages or product pages he liked the most. It's convenient for Black Friday shopping, isn't it?
As for the inscriptions, here they are also very aptly chosen. "Last chance to shop." This is a great motivation to buy. The client remembers that time does not stand still, and these online sales will not last long.
In that case, adding a countdown timer to the Black Friday email template would also be effective8.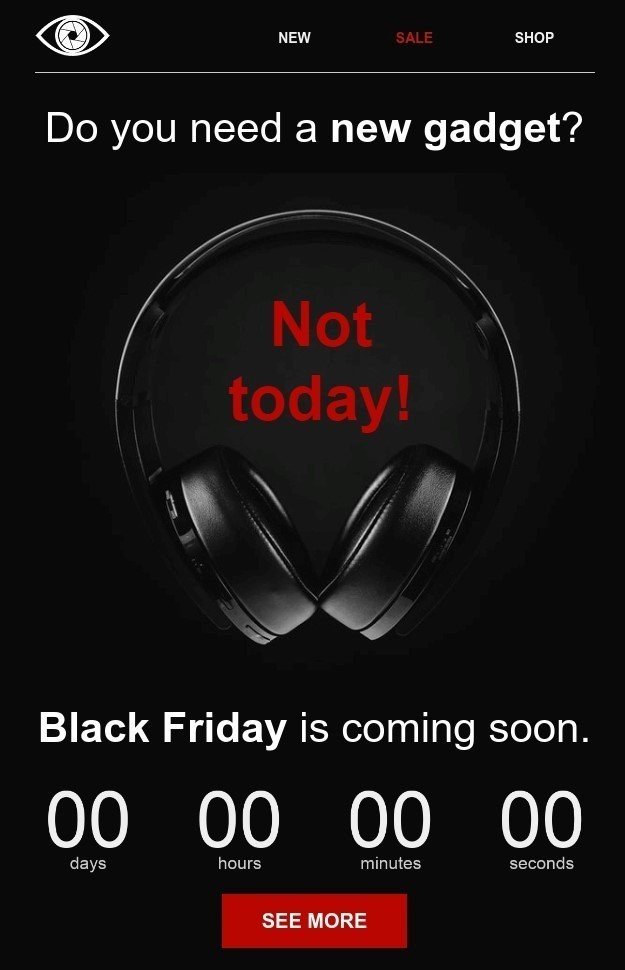 This email is very good for several reasons: an unusual approach to the design of the banner and its inscriptions, and of course, it is interactive!
"Do you need a new gadget?". The phrase seems to invite you to further interaction... But don't rush to conclusions! Even further on, the email itself tells you about it. "Not today." Because Black Friday is coming soon...
Such an interesting Black Friday email design approach can be a good solution for attracting clients. They will definitely pay attention to this.
As for the interactive, the option of winning a discount is a great example of how you can interact with users with benefits for them and for yourself.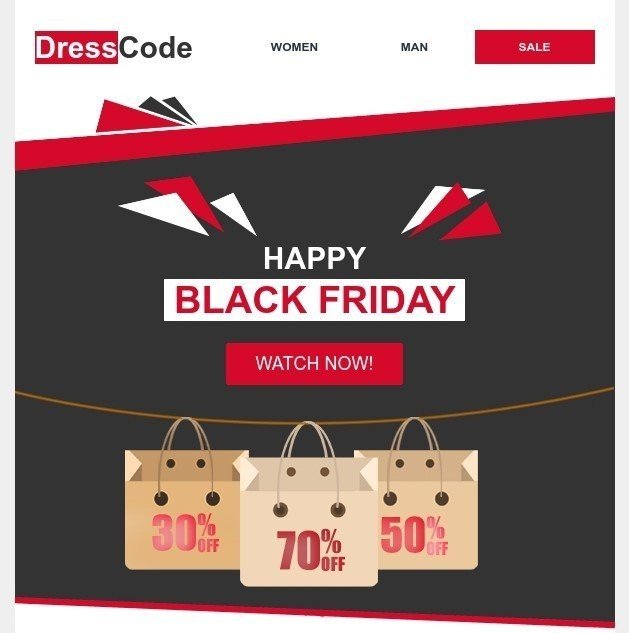 In this newsletter, it is worth paying attention to the fact that not only is the discount shown here, but also what the price was BEFORE it. This is a smart and working approach. So the client will immediately see that the price has dropped significantly and that it is definitely worth going into online shopping.
In addition, here we can see the CTA button that automatically motivates action.
Final thoughts
Get inspired by our best examples. Use Stripo's free Black Friday newsletter templates, implement your brave ideas, and satisfy your customers with unusual emails.
Join over 950K users
Start for free — upgrade anytime