How to Write a Thank You Email after an Interview
20 June 2022
Table of contents
What is a Post Interview Thank You email?
When should you send a Thank You email?
Can a Thank You email really help with the hiring process?
What should you include in the thank you email for the hiring manager?
The power of a personalized thank you email
What you can't write in a thank you letter?
Is there a difference in the email content if you had an offline interview or an online one?
Should you send a thank you email after the Upwork meeting?
Three samples of thank you emails and subject lines (after offline, phone call, Zoom meeting)
What should you do if you receive a rejection letter after the job interview?
If you are offered the job 
To sum up
1.
What is a Post Interview Thank You email?
We live in a world where recruiters have dozens of interviews every day. A job interview may be held offline, online, or via phone call. Even if you are a freelancer, an employer would probably want to meet you and get to know more about you.
But what can you do differently to make an interviewer remember you? Of course, we don't mean being late or rude during the conversation — we have a better idea. And this is a Thank You Email.
What is a Post Interview Thank You email?
Post Interview Thank You Email is a letter of appreciation and gratitude a candidate should send to a prospective employer in order to stand out from other job seekers.
There is no need to write a giant text — keep your message short and express thanks for the interviewer's time and your willingness to become a part of their company culture. You may also add a few words that you found memorable from your conversation and wish them a nice day.
When should you send a Thank You email?
Before sending any email, it would be helpful to ask a recruiter about the hiring process and get to know about the flow. For instance, if they promise to give you an answer the next day, you better send a Thank You Note right after the conversation.
On the other hand, if they contact you within a week, the best option for you is to send the letter in about 24 hours or at least the next morning. Such a timeline allows hiring managers to freshen up their thoughts about you and encourage them to invite you for a second interview.
If you apply for the C-level position and a hiring decision can be made within weeks or even months, the perfect timing for your thank you email is up to three days. If you send it too soon or too late, it probably won't influence the decision.
Can a Thank You email really help with the hiring process?
Let's face the fact — most people are quite similar. They listen to the same music, watch the same movies and, when it comes to one particular vacancy, do the same job. Therefore, it may be rather difficult to stand out from the crowd of people who might be much better professionals than you.
However, in the modern world being a good person is a lot more important than having huge experience (it doesn't always work, but it's very common). When an employer has a few equally qualified candidates, they will more likely choose someone with good manners. And sometimes a brief thank you email after an interview turns out to be crucial.
Although this is not a guarantee you will get the job, it can still leave a good impression on you. Who knows, maybe when they have another vacancy, they will make a job offer for you and save you from an exhausting job search.
What should you include in the thank you email for the hiring manager?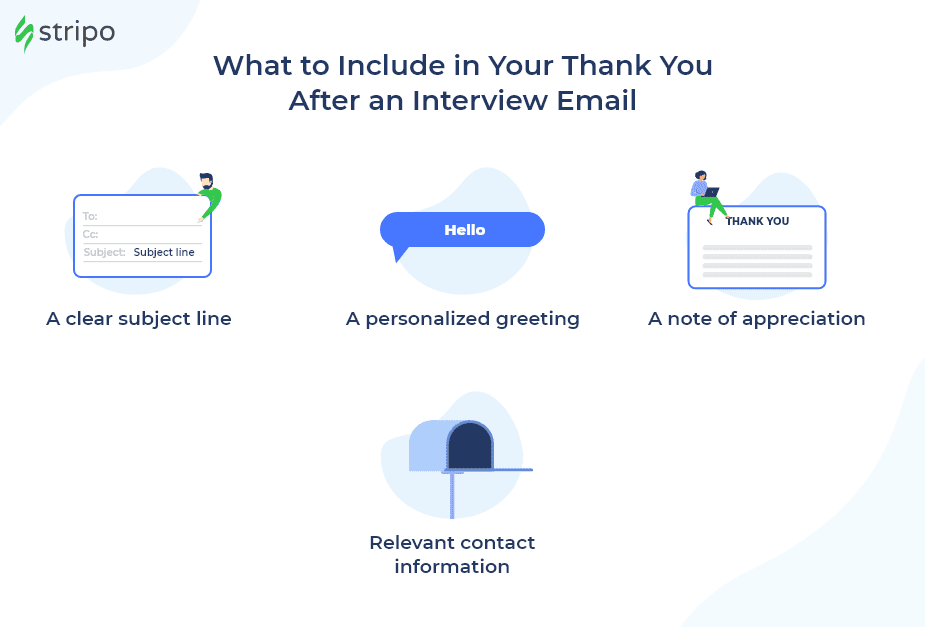 A clear subject line
Recruiters get thousands of emails every day and it's essential that a subject line conveys the message. You can mention a job title and a short phrase like "Thank you for your time" or "Thank you for the interview". There's no need to duplicate your name because it appears in a sender line.
A personalized greeting
It is another important part. You can use a first name or a full name, depending on the style of the employer's communication. But make sure that it's still a formal greeting and you don't sound unceremonious.
If you were interviewed by multiple people, you may write separate emails to each of them. However, don't copy-paste the letters and try to personalize them as much as possible.
If you don't have the contact information of everyone, here's a tip: there may be emails of managers on the company website. But in case there isn't any, don't bother a recruiter with additional messages to prevent seeming annoying.
A short but unique note of appreciation
Start the body of your message by expressing gratitude. Thank the interviewer for the time dedicated to your candidature and emphasize the smooth interview process.
If you didn't mention the position you applied for in the subject line, you can do it here. For example, write "Thank you for dedicating your time to our interview yesterday" or "I appreciate you considering my candidature for this amazing job opportunity".
A short follow-up message with important details
Then, you can add a brief recap of the conversation. Don't dig into the information you've discussed previously, just make some accents.
In this part, you should also mention a few words about the company and say how you match with the company.
Your follow-up email after interview may contain such words as "I was excited to hear about your company culture and outstanding new clients and I do believe my experience will come in handy to reach your goals" or "It was a great pleasure to meet you and I would be really glad to help [insert company name] develop its product/claim itself on the market / create something awesome together".
Relevant contact information
At the end of the email, you may add your contact information, just to make it easier for the employer to find. For instance, "Feel free to contact me by email, or call me via [phone number]".
You can also attach some sort of your business card or an email signature in an online format to look more official. Another thing you may write in the post-interview Thank You Email is "Please don't hesitate to contact me in case any additional questions appear after the first interview".

A smooth yet professional end of the thank you email
To close the letter, remind the recipient how much you care with the phrase "look forward to hearing from you" and express respect with "best regards" and "yours sincerely".
Tip: during the interview, you can mention a project, your portfolio, or some ideas you have that may have an impact on the company's development. Then, you may attach this file to the Thank You Email and thus not only remind managers about yourself but also provide useful information.
It will definitely help you to stand out from other candidates.
More to consider
And a couple more pieces of advice for you to make sure the letter is fine:
a thank you email should be brief and positive;
you need to sound very genuine in expressing your gratitude, otherwise, it doesn't make sense to spend your and an employer's time;
whatever happened during the interview, try to keep attention away from any negative moment that might have taken place.
The power of a personalized thank you email
There is no such selfish creature as a human being (true sad story). People really adore being the one and only, and it's very sensible during the hiring process.
Imagine or remember the situation when a recruiter mistakenly calls you someone else's name in a letter. You immediately feel annoyed and you are less likely to want to go on a conversation.
On the other hand, when you mention other companies you are considering as potential employers, a manager feels betrayed and for some people, it may play a crucial role.
Thank you emails are a perfect way to please an employer's ego. You see, it's essential to pay the most attention to the personalized details. You definitely need to mention their name.
Also, you may say something pleasant about the information you've got to know during the conversation. But keep the balance and don't overdo it with compliments: try to express more facts and less opinion.
What you can't write in a thank you letter?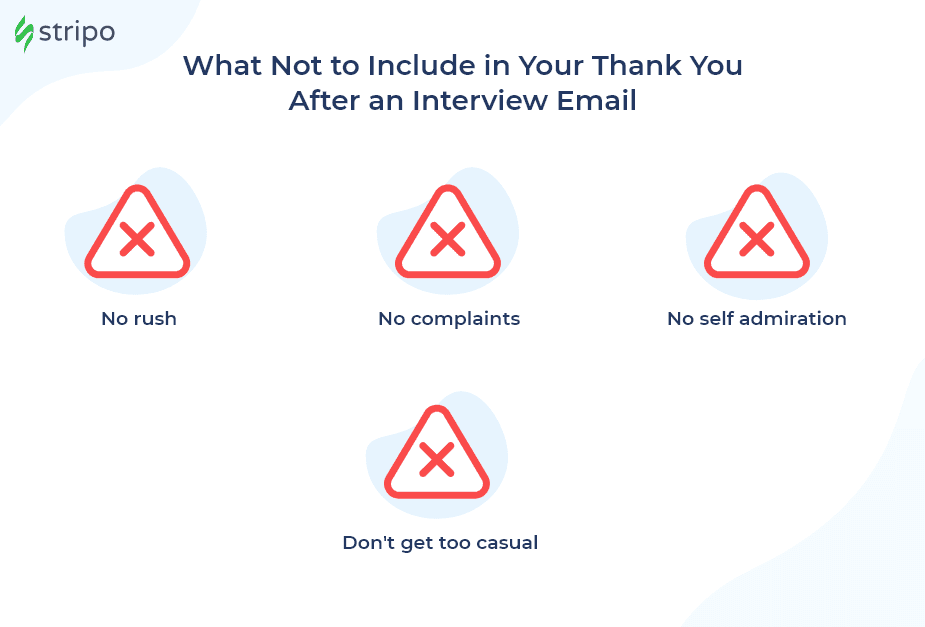 We've got to learn a lot about the essential parts of the thank you emails. But there are also a few things you should never mention in such an email.
No complaints
It goes without saying, you shouldn't complain about anything. A thank you letter is meant to express appreciation and gratitude, but not nagging and complaints. If you are not satisfied with the process, you wouldn't want to write a thank you email in the first place, right?
However, you may send a letter to give feedback on the interview or other things related to the hiring process.
No self-admiration
Another thing to keep in mind is that a thank you letter is not a sequel to an interview. Therefore, refrain from advertising yourself and persuading the hiring manager why they should hire you.
You can write a short sentence about why you think you're a good fit for the particular company, taking into account what you've discussed during the interview, but that's it. And surely avoid bragging about your achievements and digging into your previous experience.
No rush
Last but not least, do not try to speed up the process. There could be a lot of circumstances a recruiter simply can't do anything about. For example, a hiring manager may need some time to consider different candidates and make a decision.
If the recruitment process has just started, they will have to interview plenty of other job seekers in order to choose one.
After all, a recruiter usually lets a candidate know about the timing of the process and it's perfectly fine to follow it.
However, if you are also considering some other offers and need to decide sooner, just let an employer know about it during the first interview. If they are interested in your candidature, they will try their best to make the decision faster.
But please don't lie about your negotiations with other companies, if there aren't any. An experienced recruiter will easily find this out and it won't look good for you.
You need to be honest through every stage of the process. Otherwise, why would you want to work at a company that you need to pretend to be someone else for?
Is there a difference in the email content if you had an offline interview or an online one?
We believe (as so do most employers) that you should send thank you emails both after online and offline interviews.
Of course, you can say a few pleasant words at the end of your conversation, but it would be more memorable if you write a brief note to the recruiter.
There won't be any difference in the content of a separate thank you note, because the goal stays the same — to show your soft skills, restate your interest in the discussed position and influence the decision of your prospective employer, and not just only one person — we talk about the good impression on multiple people.
On the other hand, if you have been to the company's office, it would be nice of you to mention how good the atmosphere was and how excited you were to meet a team. Sometimes when recruiters invite candidates to the office, they lead a short excursion around and tell you more about the company.
Pay attention to the details which you might mention in your thank you email to let them know you value the effort.
Should you send a thank you email after the Upwork meeting?
After all these steps? Always.
Even in the freelance world, people always want to work with someone who has given a positive impression and is comfortable to work with.
Also, there are a lot of equally qualified candidates you need to compete with as a freelancer. Some employers would rather look for the right candidate, who can bring a valuable contribution to the job, for a very long time than agree for someone average at once.
Nowadays, companies often seek the best "soft-skill match" as well as employees try to find a place where they will feel valuable and important. This is understandable because no one wants to operate in a toxic environment.
Of course, on Upwork hiring managers tend to look mostly at portfolios. It goes without saying, otherwise you may not even get a chance for the job interview. And taking into account that freelancers are not used to having interviews and probably don't know such unspoken rules of hiring processes, sending post-interview thank you emails might be your huge advantage.
In this case, the sooner you send this letter, the better. And who knows, maybe you will receive your first task faster than you expected.
Three samples of thank you emails and subject lines (after offline, phone call, Zoom meeting)
We took care of everything and decided to provide you with a few samples of a thank you email to help you organize your thoughts and create a special letter for your potential employer. Surely, email may differ and you definitely should add some personalization, but we share the main idea with you.
Let's look closer!
1. Thank you email after an interview via phone
This email template is brief and just perfect for a follow-up after the phone interview. You write a couple of sentences with gratitude, then add a bit of a reminder of why you are a good fit for the role and finish with the commitment to go on with the process and willingness to help with providing the necessary information.
And don't forget to duplicate your contact.
Subject line: Great to meet you
Hello dear Mr./Mrs. [Second name],
I wanted to thank you for our brief interview call earlier today. I enjoyed talking to you and getting to know more about the company and the [Job title] role in particular.
The tasks and other perspectives sound exciting and I believe I might be a good fit for the position due to my experience at [previous company name] and the [name] project.
I look forward to hearing from you and discussing the opportunity in further steps. Please don't hesitate to contact me regarding my CV or references, I will respond to you shortly.
Best regards,
[Your name]
Contact email and phone number.
2. Thank You Letter template after the Zoom interview
Here's a sample interview thank you letter to send after a video call with a recruiter or a hiring manager. It might be more meaningful than the previous one, as Zoom meetings usually take more time and you have the opportunity to discuss plenty of details. In this thank you note, you may broaden the part about gratitude and a conversation recap.
Subject line: Thank you for the [Job title] interview
Hello dear Mr./Mrs. [Second name],
I am writing to express my appreciation and gratitude for your time and attention to my candidature. Our conversation was truly inspiring and I feel like this position is a great choice for me.
Taking into account all the details we discussed at the interview meeting, I can assure you that I check all the boxes you are looking for and am willing to grow together with the [company name] culture.
My background in [specify your experience] in the [name of the previous company] covers a lot of tasks you need someone to take care of. Also, my wide network helps me to find solutions and partners quickly, which, I believe, is extremely important due to the speed of your workflow.
Finally, I work perfectly under stressful circumstances and challenges drive me but do not make me give up.
I also was very happy to discover that my friend [Name] works with you and gave a recommendation about me. If you need more information from my former employer, just let me know. You can reach out anytime via email or by [phone/email].
I look forward to hearing your decision and hope to meet the team soon.
Thank you again,
[Your name]
3. Thank you email after an interview in-person
Offline interviews became very rare after the pandemic started. People prefer not to spend hours getting to the office where they sit for half an hour and probably won't even be invited to the next stage.
Employers, on the other hand, do not rush to call everybody in their office as well. Moreover, a lot of recruiters work remotely these days, too.
Although, for some companies, it's still essential to create a special atmosphere at the office and they invite potential employees to get acquainted closer.
Usually, an office manager leads a brief excursion around the office and you will be able to also meet your future colleagues. Use every chance to make an impression on both a hiring manager and a team.
Feel free to ask questions and express your interest, it's important to sound genuine. Try to remember all the names of the people you meet, because it's the first step to find a common ground.
You can also make notes (but don't become a spy who tries to nose the secrets out) and, again, use it as a basis for your interview or further discussion. You should definitely spend this time usefully in case you forgot to learn more about the company beforehand.
Subject line: Thank you for the warm welcome — [Job title] Position
Dear Mrs./Mr. [Second name],
I am still impressed with our meeting and I wanted to let you know I really enjoyed speaking with you at your amazing office. I live nearby, and it would be a pleasure to walk there every day to work closer with such a friendly team.
Thanks to you, I have gotten more acquainted with the responsibilities this role requires and realized that I would be a valuable member of the team. My previous experience at [Name of the previous company] is just the same as you are looking for.
I am also well-organized, deal with various challenges with ease and manage the team perfectly. I may provide you with a recommendation from my supervisor if needed.
[Here you can add info that you've actually discussed during the interview and what impressed managers about you].
[For example] During our conversation, I mentioned that I have done some market research regarding the issue you have. I am now sending you the file with its results and I believe you find it helpful. Moreover, I came up with a few more ideas that may be discussed in further stages.
Please feel free to contact me if you have any other questions or so. I am available any time within business hours.
Thank you again for our interview and I look forward to your feedback.
Yours sincerely, [Your Name]
Contact email and Contact phone number.
What should you do if you receive a rejection letter after the job interview?
It's clear that you're not so happy about not getting the job. However, it's important to write a few lines about how grateful you are for the time spent on your candidature. It will help you build your network and be considered for future openings.
Such letters are not that different from post-interview ones.
First of all, you should add a thank you note for taking their time and receiving the feedback because not all companies send negative feedback to the candidates. In the same paragraph, you may state again that you are grateful for the opportunity and valuable experience you gained during the job interview.
If a recruiter provided you with some reasons why they chose another candidate above you, say that you believe it's in the company's best interest and wish them to achieve great results together.
In case you would like to keep in touch with them in the future, close the thank you letter with "I hope you will keep me in mind for your further openings" and that would be it.
If you are offered the job
Recruiters go through a lot during the hiring process whether it's a short phone interview or an in-person long one, it's still about multiple interviewers per day. If you're lucky to get an offer, you still need to consider the conditions, benefits, and other things that are essential to you.
Every offer is not a closed deal, but an open negotiation. If you don't give a straight answer after the interview, it doesn't mean that you're not interested or don't respect an employer.
Rather, on the contrary — you better clarify all the details immediately and save both parties from any sort of inconvenience in the future:
listen to the recruiter's speech during the whole interview process and read carefully the job letter and make notes about key parts;
ask all the questions that appeared or ask for some time to consider the offer to get some clarity;
don't make a rash decision — take your time and do it rationally. Indeed, recruiters don't expect an instant answer. Ask how much time you have, usually, they let you think for a day at least. However, if they need a decision sooner, you can promise to give your decision in a few hours.
Whatever decision you make, it's also a big deal to write a letter with gratitude for all the time a hiring manager dedicated to you and recognize their effort.
Who knows what happens tomorrow — you better have a backup plan and a friendly professional network.
To sum up
You see, the role of an email after an interview cannot be overemphasized. Some employers expect such a thank you note from potential candidates, some don't even know they exist. In any case, you will get noticed and remembered, if you find a few minutes to express your gratitude for an exciting opportunity (it is exciting, right?).
At a bare minimum, you will make a hiring manager's day better, and this is already a chance for you to process forward the communication or get a recommendation.
Yes, managers can recommend you to their friends at other companies after a job interview. It's a real thing since there's such a network of HRs ;).
A friendly reminder about the structure:
a clear subject line with the job title mentioned;
a personalized greeting with a first or full name depending on the style of a company's communication;
a note of appreciation to express your gratitude for the time dedicated to your candidature;
a brief recap of the conversation to freshen up the recruiters' minds and remind them a bit about yourself;
your contact information with the clarification of your availability if needed;
closing remarks.
We wanted to thank you as well for reading this article and hope you find it helpful. We wish you lots of luck in your job search and come back for more advice! Cheers :).
Was this article helpful ?
Thanks for your feedback!