Whether you run a B2B or a B2C organization, our Easter newsletter templates will perfectly suit your brand style. Their design is festive and joyful. You can easily and in literally no time edit any of the templates that we offer.
Stripo is an intuitive email design platform enabling you to build beautiful messages without coding skills. Using Stripo for your Easter email campaign, you can benefit from mobile-friendly messages, impress subscribers with a festive design, use interactive content, implement gamification, add countdown timers to your emails, and export email templates to your ESP with 1 click.
Why choose our templates to send a memorable happy Easter email to clients?
Now we will describe these reasons in more detail and provide some examples.
1. Mobile-friendly email templates
No more rendering issues — due to advanced "Adapt for Gmail" and "Outlook support" controls, our emails display across multiple email clients just as you designed them.
Besides, you can always build two email versions — mobile and desktop. They may differ greatly as you set various font sizes, button sizes, containers' quantity, and containers' inversion for mobiles. Stripo even allows enabling/disabling certain elements for your email's mobile and desktop versions.

Please, find more details in our "How to Create a Responsive Email Layout" blog post.
2. Festive design
Banners make the first impression on our recipients, so they require our close attention. With Stripo, you can frame banners, apply additional images, and place texts wrapped in a decorative font over banner images.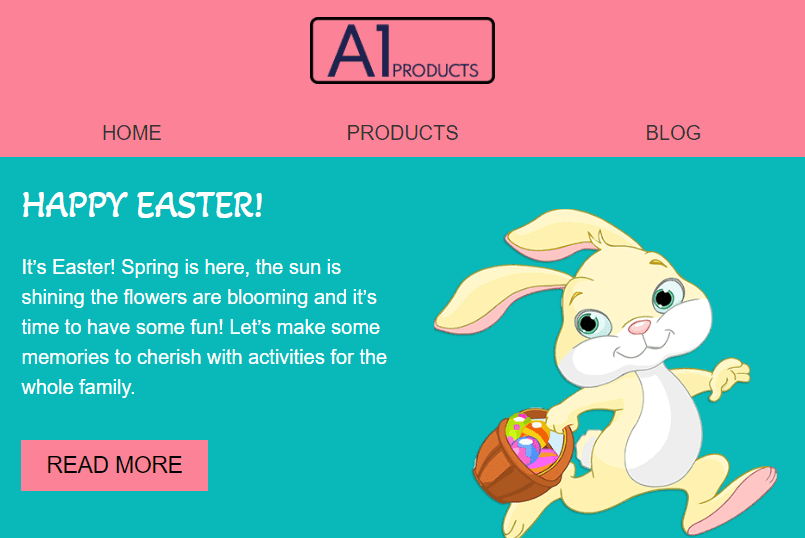 Easter email templates with festive banners
Use It
Each Easter HTML email template of ours is decorated with bright thematic backgrounds.
Make your Easter email background related to the spring theme. Add some flowers, dots, and Easter treats. Just make sure that the backward of your newsletter is less colorful than the email page itself to avoid too much contrast.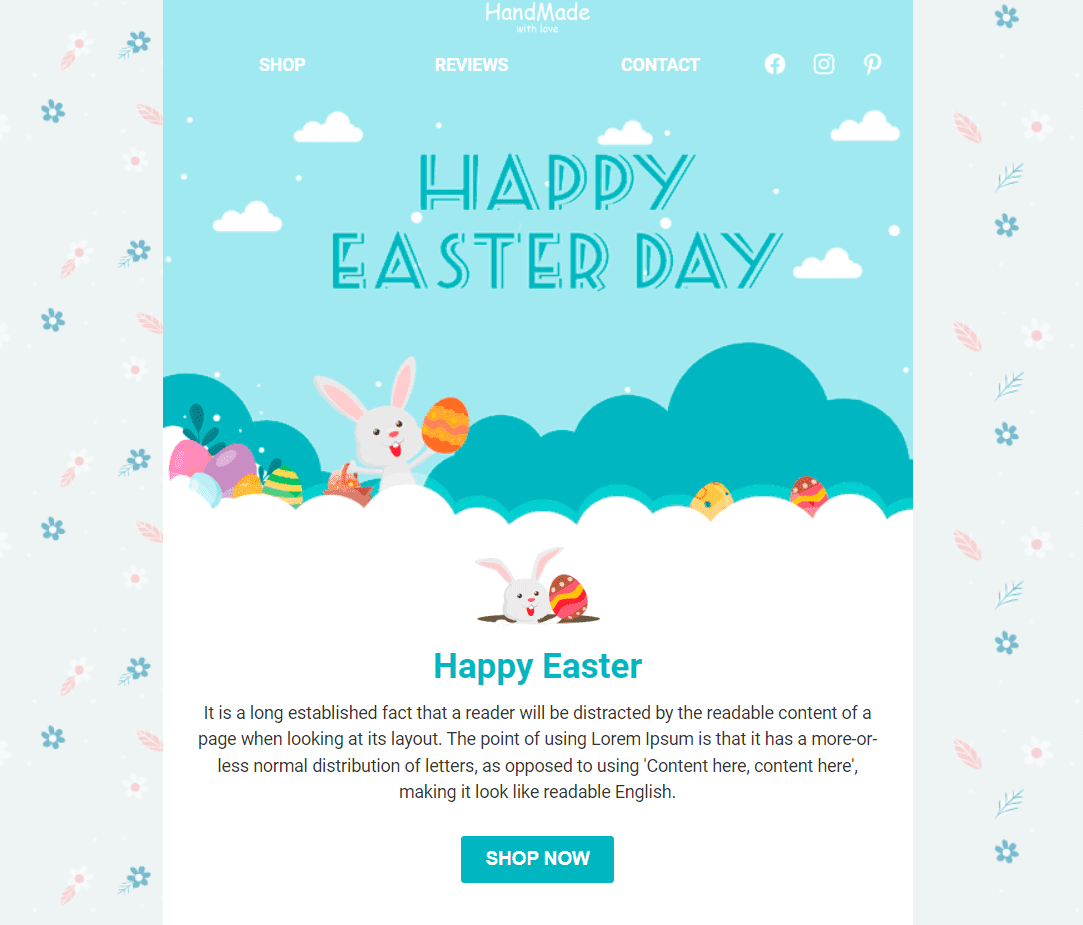 Use our free Easter email templates with the holiday design
Pick It
Add some funny pics to your Easter email marketing campaign. Usually, marketers add common Easter symbols to their emails, like eggs and bunnies, so try to create some interesting content with your coworkers. It will make the whole picture more human-oriented and interesting!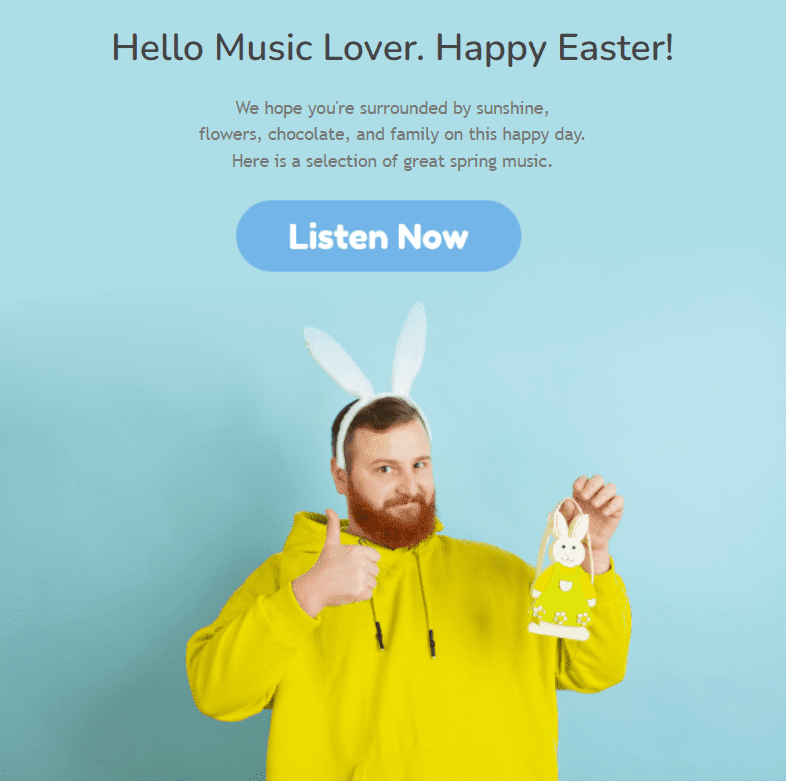 Animated GIFs with Easter bunny
GIFs can be a great way to add visual interest to your email and interact with your audience. They are always memorable because they capture attention, elicit positive emotions, and add a personal touch to your holiday email templates.
Stripo allows you to upload GIFs directly into the editor easily.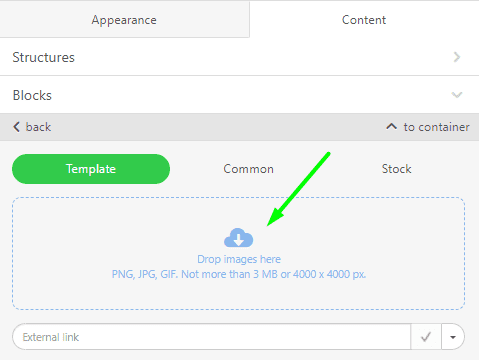 3. Interactive elements in Easter email templates
Wanna make a real Easter Egg hunt? :) We do our best to keep up with the times. Interactivity in emails is one of the hottest trends today. Stripo provides users with embedded tools to apply the rollover effect to images and a hover effect to buttons (aka CSS-animated buttons) right in the editor.
You may also equip your Easter emails with those interactive elements you build with third-party tools for our HTML basic block and open the HTML code editor.
4. Engaging games
Gamification in holiday emails is always relevant. No matter if you reach out to regular customers, business clients, or partners. On big holidays, we all want to have some fun.
Do not bombard your audience with multiple promo offers; just let them play and relax instead.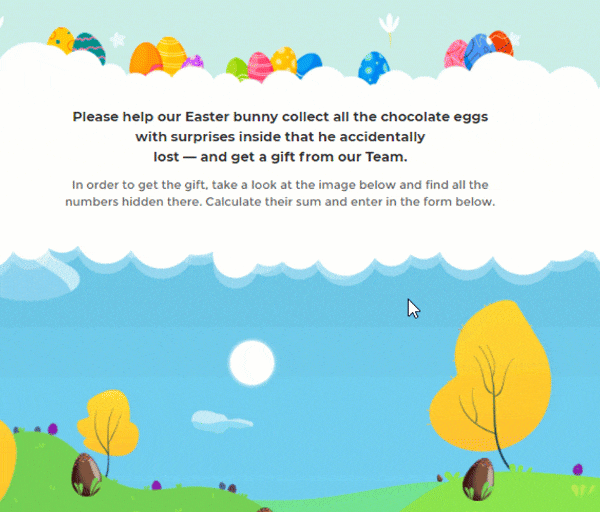 Check out the web version of this Easter email to have some fun.
Get inspired by the examples we've compiled in our "Gamification in emails" blog post.
5. Countdown timers in easter template
You might need it to let your customers know how long your special offer will stay valid.
Stripo offers a basic countdown timer block to drag into your template. Set necessary colors, fonts, and font sizes, so your timer fits the entire Easter email design.
Add timers to your Easter emails to let recipients know how soon the holiday sale ends
Join Stripo
6. Integration with 75+ ESPs
Easter email templates you've built with Stripo can be easily exported to 75+ world's top ESPs, with no further adjustments required. Please see the list here. What is very important — each Easter email template remains editable after export.
Easter email marketing campaign: tips, tricks, and Easter eggs
An Easter Egg hunt, early bird discounts, and festive season trends help your email stand out among other email marketers. Celebrate Easter with your subscribers in the most fruitful way for your business with our hints ;).
1. Write a brief yet catchy subject line
A catchy subject line is essential for Easter email marketing. Such subject lines get your Easter email opened and read, so make sure it's relevant to your offer and attention-grabbing without being spammy or misleading. Check some of the examples below:
"Egg-citing news: Our Easter sale is here";

"Spring into Easter with our latest arrivals";

"Bunny-approved Easter deals you won't want to miss";

"Fill your Easter basket with our Bunny";

"🐰🥚 Crack open our Easter surprises 🎁."
2. Add relevant emojis to the subject lines
Adding relevant emojis to subject lines can help them stand out and grab the reader's attention. Here are some examples of Easter-themed subject lines with emojis:
"🐣 Break an Easter egg: pick your spring gift🌷";

"🐣 Tick or our Easter treats?🍬";

"🐇 Easter just got sweeter with our special offers 🍭";

"🥚🥚🥚 (Click to break an Easter egg)";

"🌷 Spring into Easter with our latest arrivals 🐰."
Don't forget to use emojis wisely to avoid abusing them because they could distract readers from the main idea.
3. Work on an Easter theme for your email design
What are the best email design solutions to celebrate Easter? You must undoubtedly include an Easter egg, an Easter basket, and a bunny. But how do you get them to work together in a natural way? Let's take a look at Stripo's Easter templates: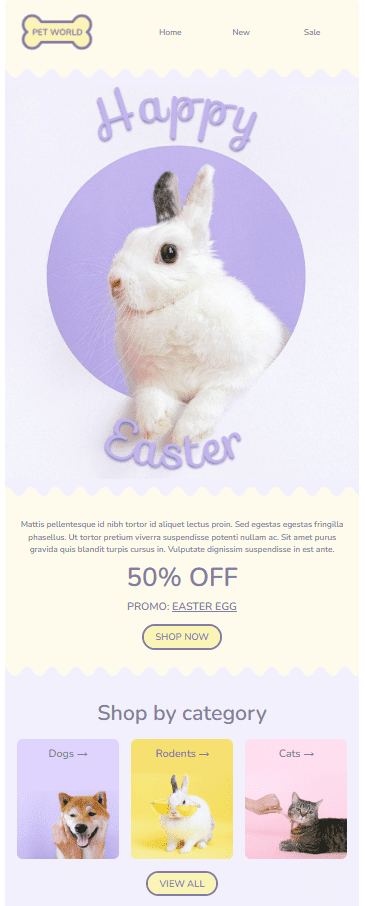 What did you notice? Right, pastel tones. Pastel blues, purples, pinks, and yellows are excellent colors for an Easter email template. They are gentle for the eyes and don't distract readers from your services or goods.
4. Offer subscribers to find an Easter egg in your newsletter
What might differ your email from others? Interactivity! You need a special element to grab your client's attention. And any riddle at this point will work perfectly. You might plan Easter egg hunts if we're talking about an Easter template.
You could offer users the option to find an Easter discount by selecting one of the eggs in your email. Alternatively, you can hide it in an unnoticeable spot within your newsletter template and arrange a real Easter Egg hunt for the most attentive email subscribers.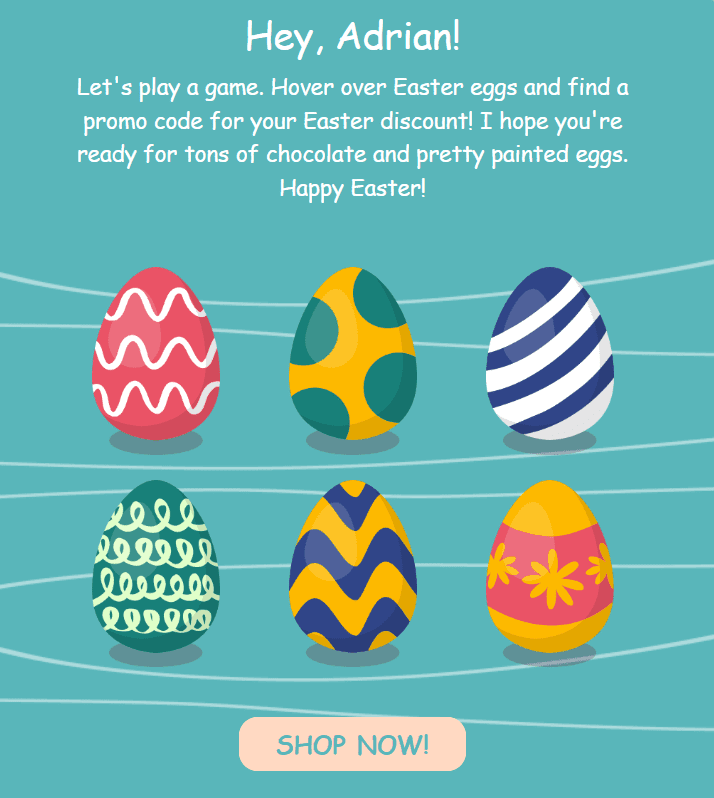 5. Add puns to entertain your audience
How do you like words-playing? "We've got egg-cellent (egg-cited) deals for you this Easter season" or "Easter is eggs-actly what we've been waiting for. So are our special deals🥚" are great examples of such funny phrases. Don't be scared to try something unusual; it might differentiate your Easter email campaign from others.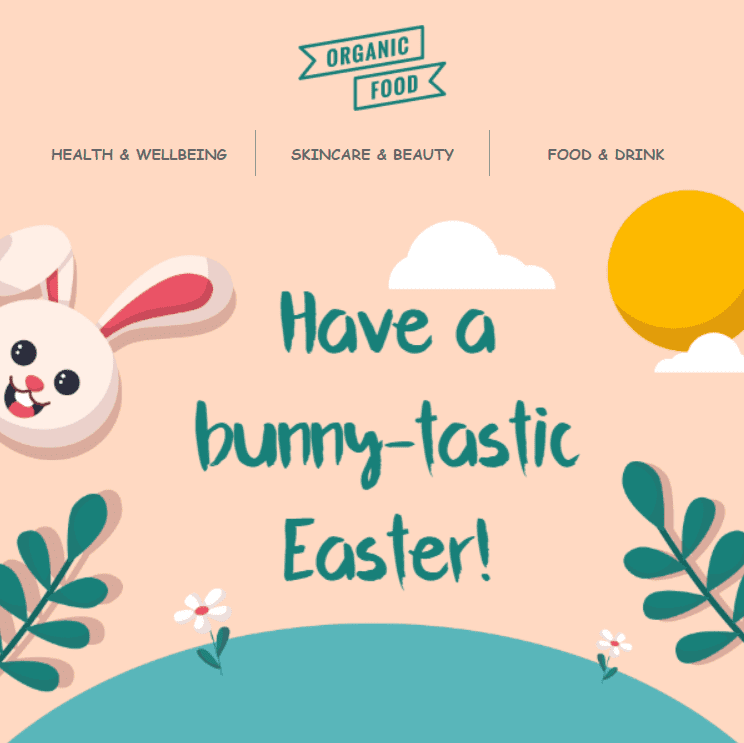 Remember to keep your puns light-hearted and relevant to your brand or products to resonate with your audience.
6. Benefit from gamification
Gamification can increase customer loyalty and satisfaction, boosting brand recognition and customer retention. Games can make emails more engaging and enjoyable, encouraging users to participate, stay interested in your brand, and interact with your content.
Try to implement an Easter egg hunt game or Easter bunny run. Now games can be easily incorporated into emails, and Stripo will gladly help you with it!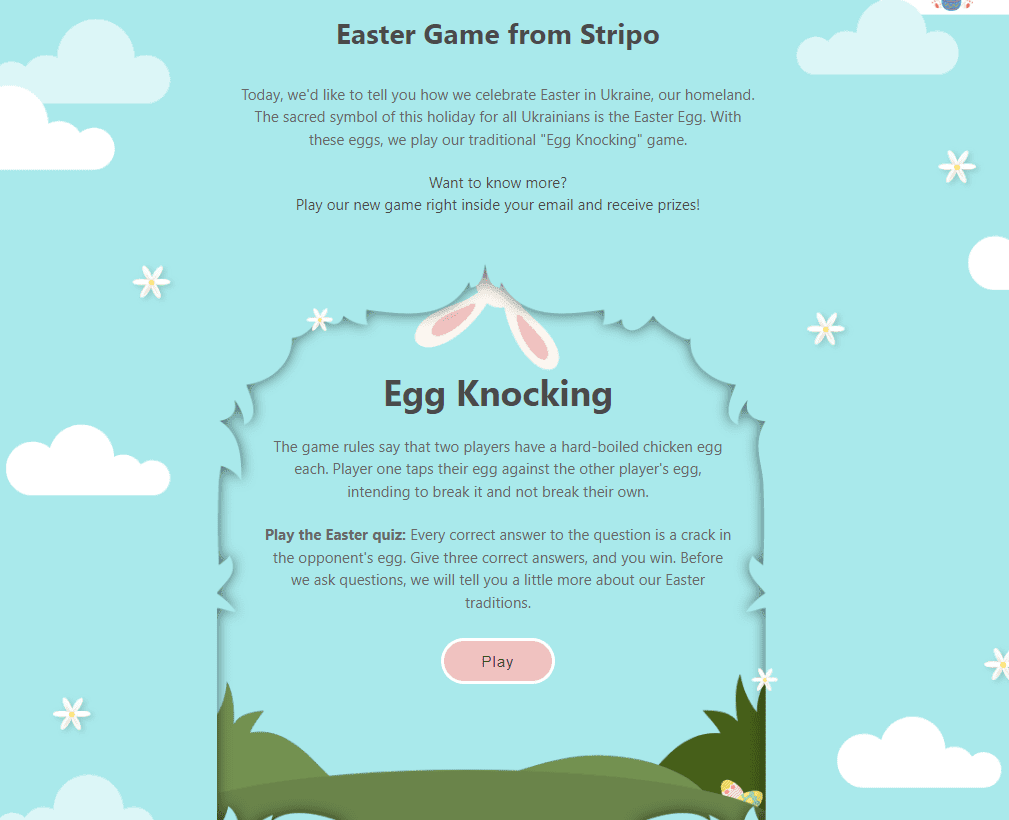 7. Don't forget to include a clear CTA
Of course, a good Easter email requires great-seen call-to-action buttons. The main goal of a CTA button is to motivate your target audience to take action, so make it clear what you want them to do and make it as simple as possible.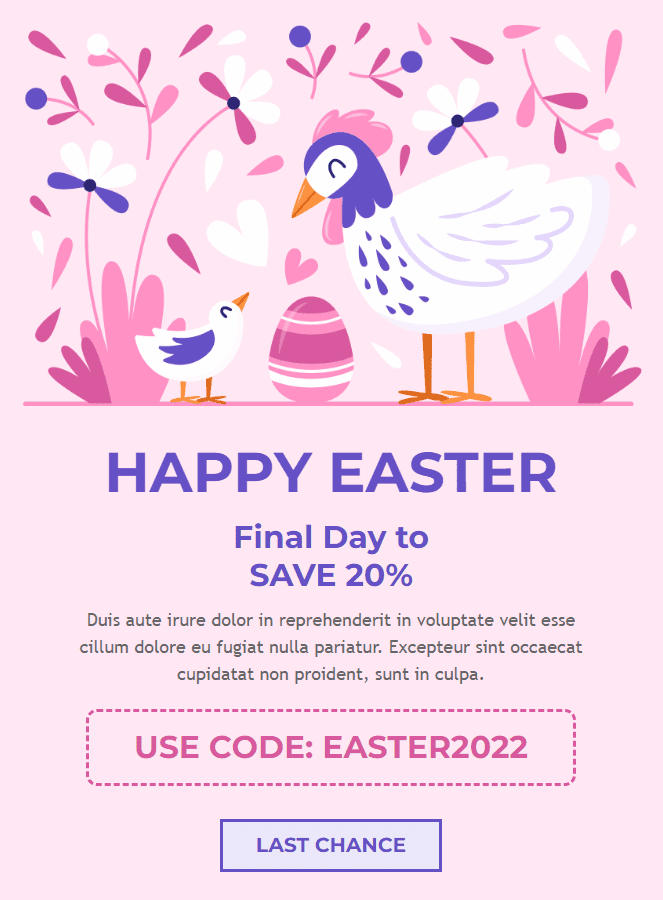 Use action-oriented language in your CTA buttons, such as "Shop Now" or "Use Code." Make the button stand out by using a distinctive color and size. Consider placing the CTA button near the top or in the center of the page. Use words like "Limited Time Offer" or "Last Chance" to create a sense of urgency for the Easter sale.
Wrapping up
Run your Easter email campaign for a great and joyful holiday. Make the design light, mobile responsive, and not overwhelming, but with animated GIF elements. Let your Easter email template be cheerful and filled with love!
Join over 800K users
Start for free — upgrade anytime