No matter if you are a B2B or a B2C organization, our Easter newsletter templates will perfectly suit your brand style. Their design is festive and joyful. You can easily and in literally no time edit any of the templates that we offer.
Why choose our templates to send a memorable happy Easter email to clients?
Stripo is an intuitive email design platform that enables you to build beautiful messages without any coding skills. By using Stripo for your Easter email campaign, you can benefit from mobile-friendly messages, impress subscribers with a festive design, use interactive elements, implement gamification, add countdown timers to your emails, and export email templates to your ESP with 1 click.
Now we will describe these reasons in more detail and provide some examples.
1. Stripo's Easter email templates are mobile-friendly
No more rendering issues — due to advanced "Adapt for Gmail" and "Outlook support" controls, our emails display across multiple email clients just the way you designed them.
Besides, you can always build two versions of your email — mobile and desktop — in one email. They may differ a lot as you set different font sizes, button sizes, containers' quantity, containers' inversion for mobiles. Stripo even allows enabling/disabling certain elements for the mobile and desktop versions of your email.

Please, find more details in our "How to Create a Responsive Email Layout" blog post.
2. Stripo's Easter newsletter templates have a festive design
Banners make the first impression on our recipients. They require our close attention. With Stripo, you can frame banners, apply additional images and place texts, wrapped in a decorative font, over banner images.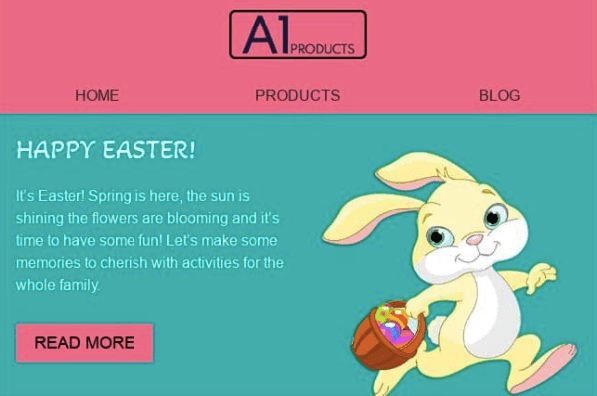 Easter email templates with Holiday banners
Each Easter HTML email template of ours is decorated with bright thematic backgrounds.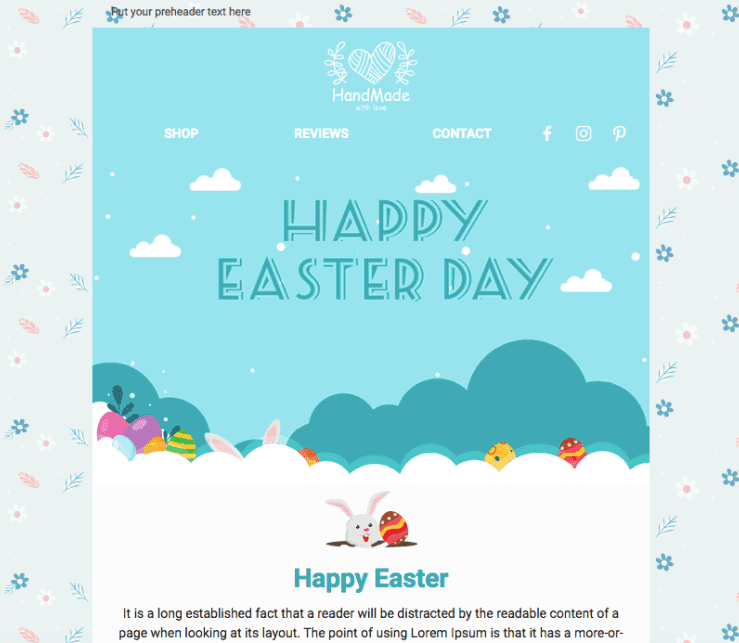 Our free Easter email templates with the Holiday design
3. They already contain interactive elements, or also you may insert yours
We do our best to keep up with the times. Interactivity in emails is one of the hottest trends today. Stripo provides its users with embedded tools to apply the rollover effect to images and a hover effect to buttons (aka CSS-animated button) right in the editor.
You may also easily insert into your free Easter newsletter templates those interactive elements that you build with third-party tools for our HTML basic block and open the HTML code editor.
4. You can easily implement gamification in our Easter email templates
Gamification in holiday emails is always relevant. No matter if you are reaching out to regular customers or to business clients and partners. On big holidays, we all want to have some fun.
Do not bombard your audience with multiple sales, just let them play, let them relax instead.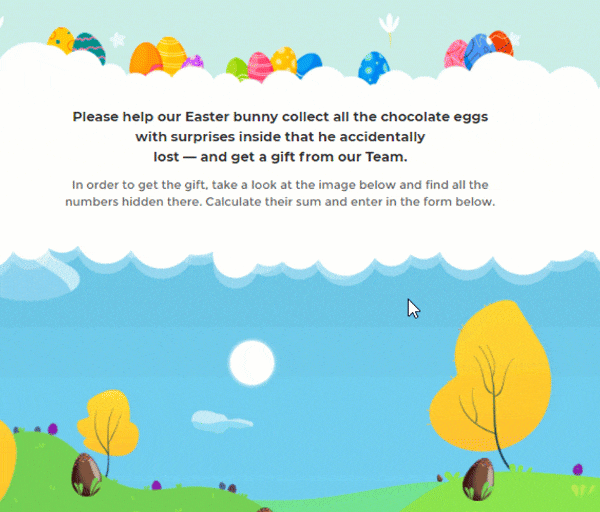 (Sample of the Easter email we sent out to our clients in 2020)
Check out the web version of this email to have some fun.
Get inspired by the examples we've compiled in our Gamification in emails blog post.
5. You may effortlessly add a countdown timer
You might need it if you wanna let your customers know how long the coupon will stay valid.
Stripo offers a countdown timer basic block which you just need to drag into your template. Set necessary colors, fonts, font sizes so that your timer fits in the entire Easter email design.
Add timers to your Easter emails to let recipients know how soon the Holiday sale ends
6. Easy to export to your ESP(s) with just 1 click
All email templates that you've built with Stripo can be easily exported to 60 world's top ESPs, with no further adjustments required. Please see the list here. What is very important — all emails remain editable.
Easter is a Great Joyful Holiday. Make the design light, not overwhelmed with superfluous elements. Let your Easter email templates be cheerful and filled with love!
Join over 700K users
Start for free — upgrade anytime