16 July 2019
How to Design a Perfect Appointment Confirmation Email
Your sales email worked pretty well and your potential client has agreed to meet you? You're just halfway there. Anyone can forget about the meeting. As long as it's you who is interested in this meeting, you need to send a perfect appointment confirmation email that will remind your prospective client about a meeting and will not let him or her skip it. Besides, this is a polite gesture you need to make :)
So, how to create an appointment confirmation email that actually works and makes your clients show up to the meeting?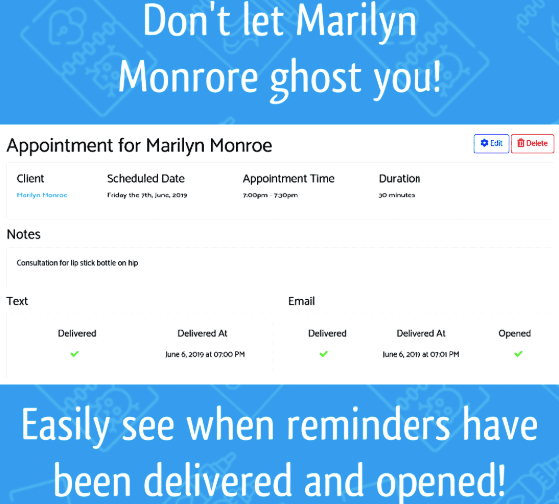 Three key ingredients make a perfect confirmation email. These are content; design; subject line to get emails opened.
1. Appointment confirmation email content
Content is the essence of these emails, which is why you need to pay close attention to it.
It does not matter if you are going to meet recipients online or offline, you need to make your emails informative and descriptive enough.
So, what data should you include in your emails?
You need to start such emails with greetings!
Remember to introduce yourself. Of course, you have agreed that you need to meet for an online call or an interview, etc. And you have even set the date. But a friendly reminder would never hurt. Specify just your name, your position, company name and say what this email is in reference to.
Not only is this a kindly reminder who the sender is, but also it is required by the rules of business correspondence.
Don't make recipients guess who you are.
Specify the purpose of the meeting
Your clients will appreciate it if you remind them the purpose of the meeting — which questions will be discussed (for negotiations and online calls). If this is possible, ask clients to try your product out. Once they come prepared, the meeting will be more effective.
If you remind an applicant about an interview, specify what documents he or she should have.
Remind the time of the meeting
Don't make them guess or read through the thread to figure out when the meeting is about to happen. Clearly, you are writing this email to confirm an appointment. Thus, data like time and date of your meeting will never be excessive.
Also, here you need to mention once again where the meeting is going to be:
a) for online meetings:
Skype, Hangouts, Google Meetup, etc. Be sure to provide a link to the meeting room or notify that you will send the link to the meeting an hour before the event per se.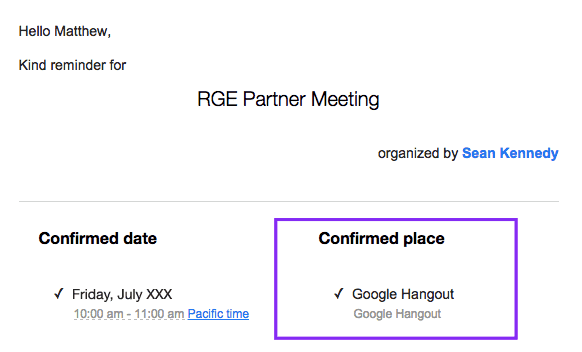 b) offline events
Kindly provide recipients with the physical address of where the event will take place. Or even add a map in your emails to make it easier for partners and applicants to find your office/store as this appointment confirmation email sample shows :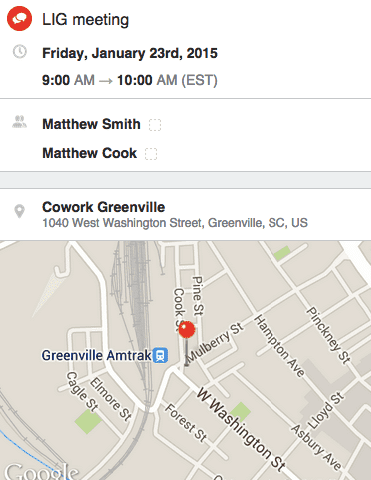 Include the "Add to calendar" button
First of all, you are doing it for yourself — once a client adds this event to his or her calendar, the chances that he or she will forget about it significantly decrease.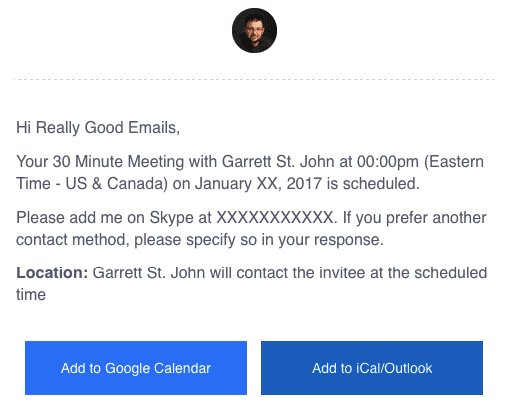 So, if you write a confirmation email, make sure you add this "magic" button in your emails.
Say "No" to excessive call to actions/offers
The aforementioned "Add to calendar" button and the "reschedule" button should be the only call to actions in your appointment confirmation emails. Do not distract clients with excessive information. No extra buttons, no other offers will drive your profit. It might be quite the opposite — clients get distracted by other offers, forget to add your appointment to the calendar and as a result do not attend your meeting.
The only button allowed is the "reschedule" one.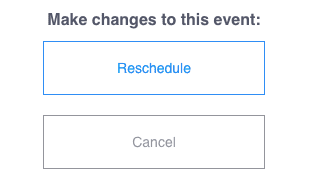 Need we say that such options are useful as attendees do not cancel negotiations if they can't make it for your meeting, but just reschedule it.
Share the agenda of the meeting
If your meeting will last more than an hour and many questions will be covered, please provide attendees with the agenda of the meeting.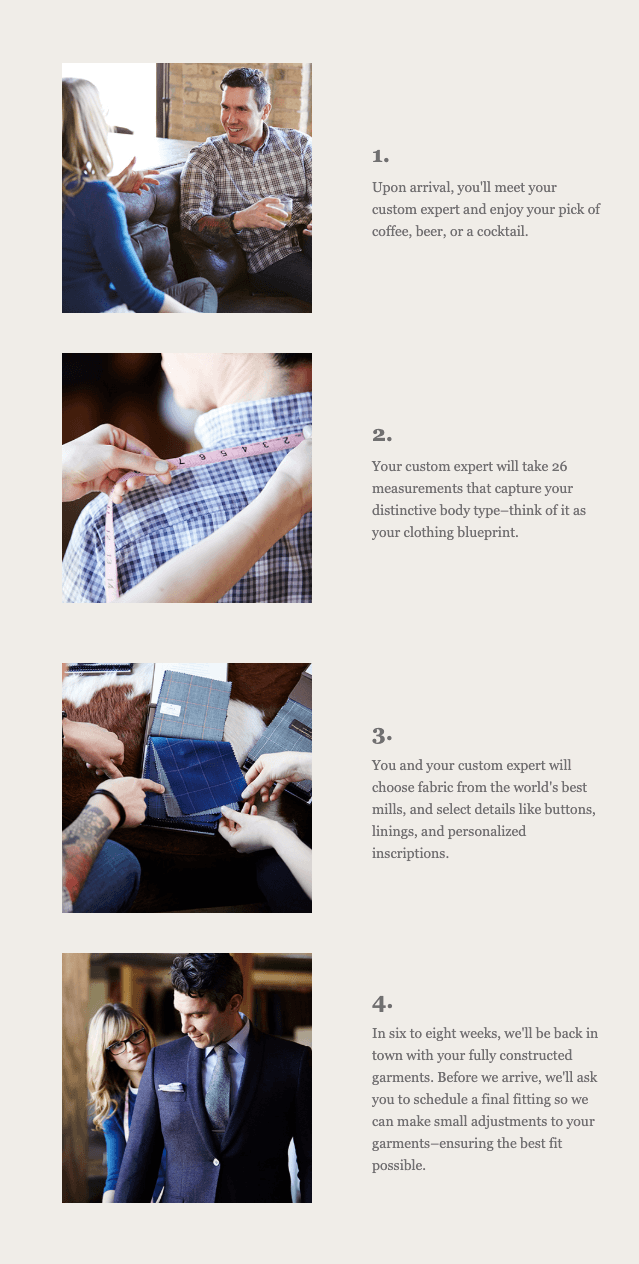 If there is going to be a break, you may even name a few cafes nearby.
Include contact information
Even though your appointment seems to be set, anything can happen. And clients need to be able to reach out to you in case of emergency in any possible way.
There is no need to build an extra element for your appointment confirmation emails. Just use the one you normally add in footer of your promo and triggered emails.
Important to note:
Stripo provides a library of personal content modules. This means that you can save, store and reuse email modules again and again for your future campaigns.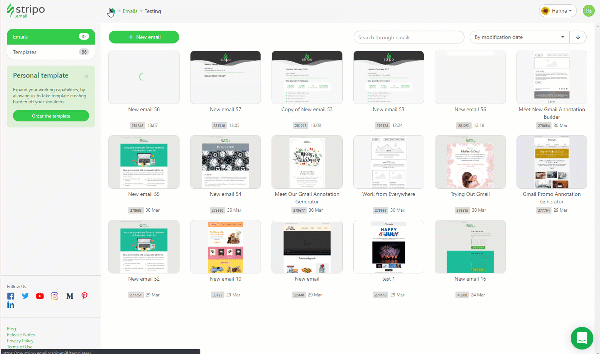 This is a great appointment confirmation email example as it meets all the aforementioned key elements.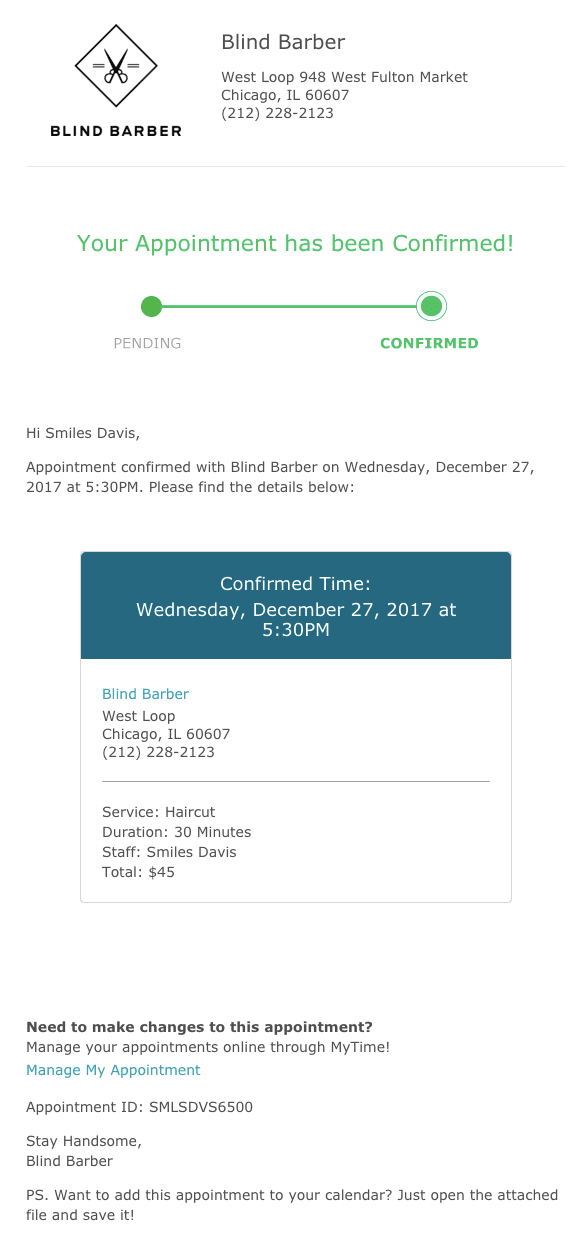 2. Appointment confirmation email design
In emails of this kind, design matters a lot.
First of all, you should stay brand consistent. Need we say that elements, such as logo, corporate colors and font type, are mandatory for all your correspondence? Clients are not that familiar with your brand yet. Sticking to corporate style will make your appointment confirmation emails recognizable at first site.
Keep your email goal in focus
Highlight or write the time and day of the meeting in bold.
Center align your CTA buttons. Make them big and noticeable.
Remember to make these buttons full-width and font size 16+ pixels for mobiles.
Remember to work on the email signature design
It is impossible to overrate the importance of email signatures in sales and appointment confirmation emails.
Here, you need to make sure your photo is big and clear enough, of course, if you like to add one. Feel free to spotlight your contact information, such as social media icons. And, of course, you must not forget to add your cell phone number.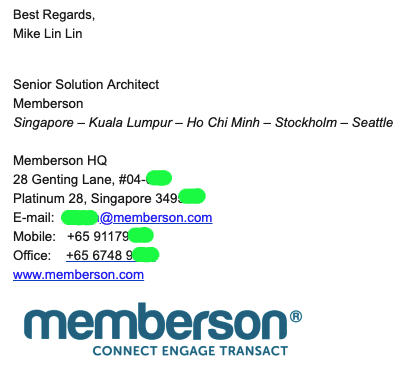 To build your signatures for future dedicated emails in no time, you just build it once and save to personal content library. Next time when building a new appointment confirmation email template, you just drop this module in it. Done!
This only concerns offline meetings.
You may upload map as an image and add a link to Google Map when building your appointment confirmation email template.
This will be perceived by your clients as a polite gesture.
3. Subject lines for your appointment confirmation emails
Apparently, when you are talking about appointment confirmations, the recipient is quite familiar with you and they are likely to open these emails. Yet, a descriptive subject line will be of great use.
Examples of good subject lines:
"Appointment reminder";

"Here's the time, place and agenda of our meeting";

"Meeting at… ";

"Please, confirm tomorrow's meeting";

"Rescheduling our meeting";

"Name + name meeting";

"Things to discuss tomorrow. Etc."
Final thoughts
To design an appointment confirmation email that really works, you need to:
Write a descriptive subject line;

Keep the email short - just stick to the point;

Accent your CTA buttons so that prospective clients add your meeting to the calendar;

Pay close attention to your signature;

Remember to send a follow-up email if this one remains unanswered.
I sincerely wish you the best of luck! May all your clients show up for appointments and may the latter be productive.
Pretty busy? Save your time by using our prepared appointment confirmation email templates.