The first Monday after the Thanksgiving holiday is a global shopping sale. Not only US companies, but also brands throughout the world offer great sales for their customers.
So, how to compete effectively and get as much profit as possible on this day? In this article, you will learn more about the best Cyber Monday email campaigns and find some examples. Let's prepare for the biggest sale of the year!
Cyber Monday email examples
1. Cyber Monday email with a mascot — MacPaw
Funny designs are very popular now. So, brands use mascots to look more friendly and build trustful relations with their audience.
Take a look at this nice Cyber Monday email by MacPaw. They offer a discount for a friend till the end of November. Seems like a good email marketing strategy for the Cyber Monday holiday. They will get some new customers and increase clients' loyalty.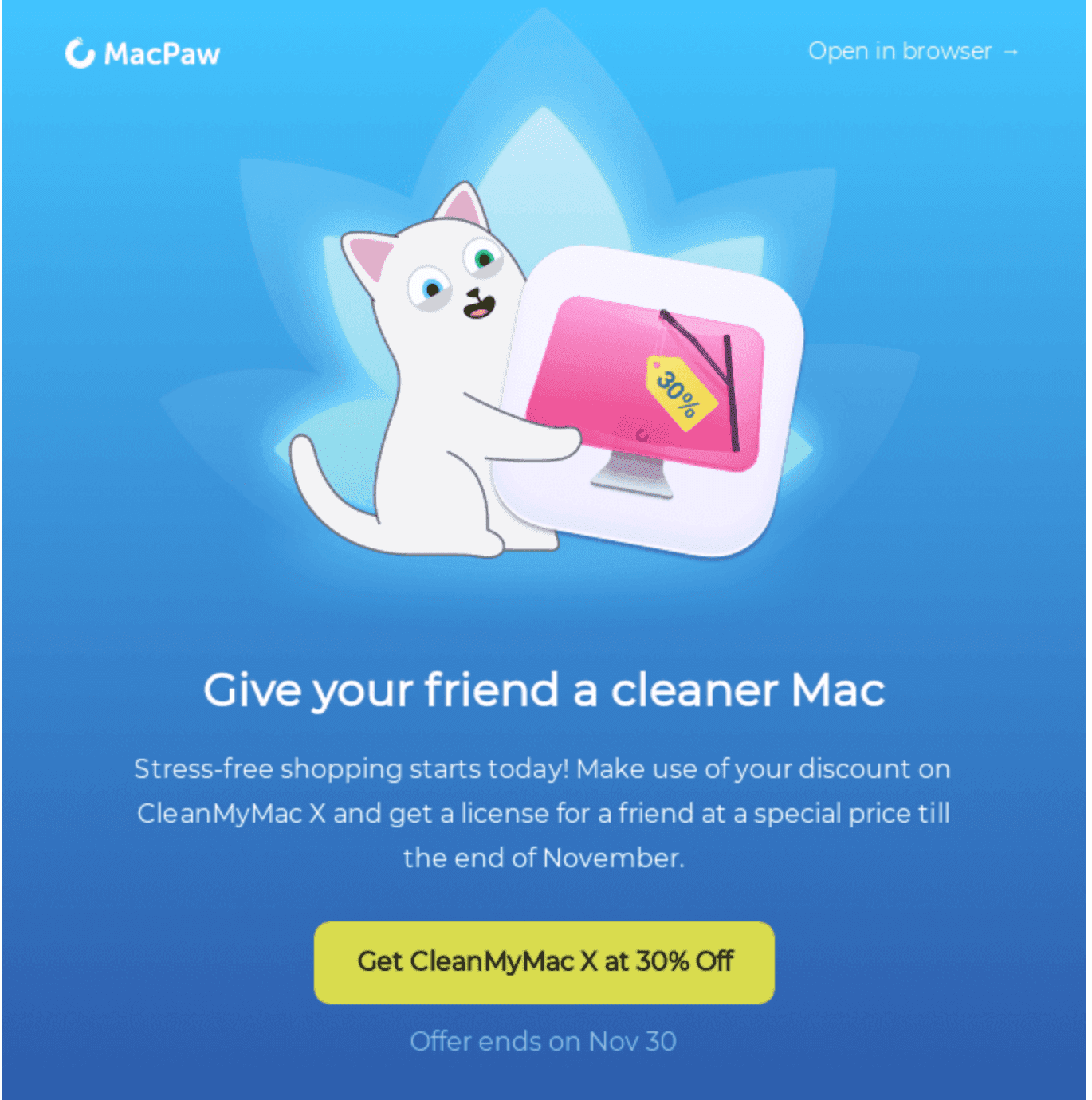 (Source: Email from MacPaw)
2. Cyber Monday email with a list of products — Google
Offering your audience specific products with discounts is a good idea. You can add photos on your landing page and put them in the Cyber Monday email. Pay attention to the photos. They should be high-quality and stylish. As a result, your subscribers will be interested to click and buy these products. You can see a perfect example of appealing photos from the Google Store below.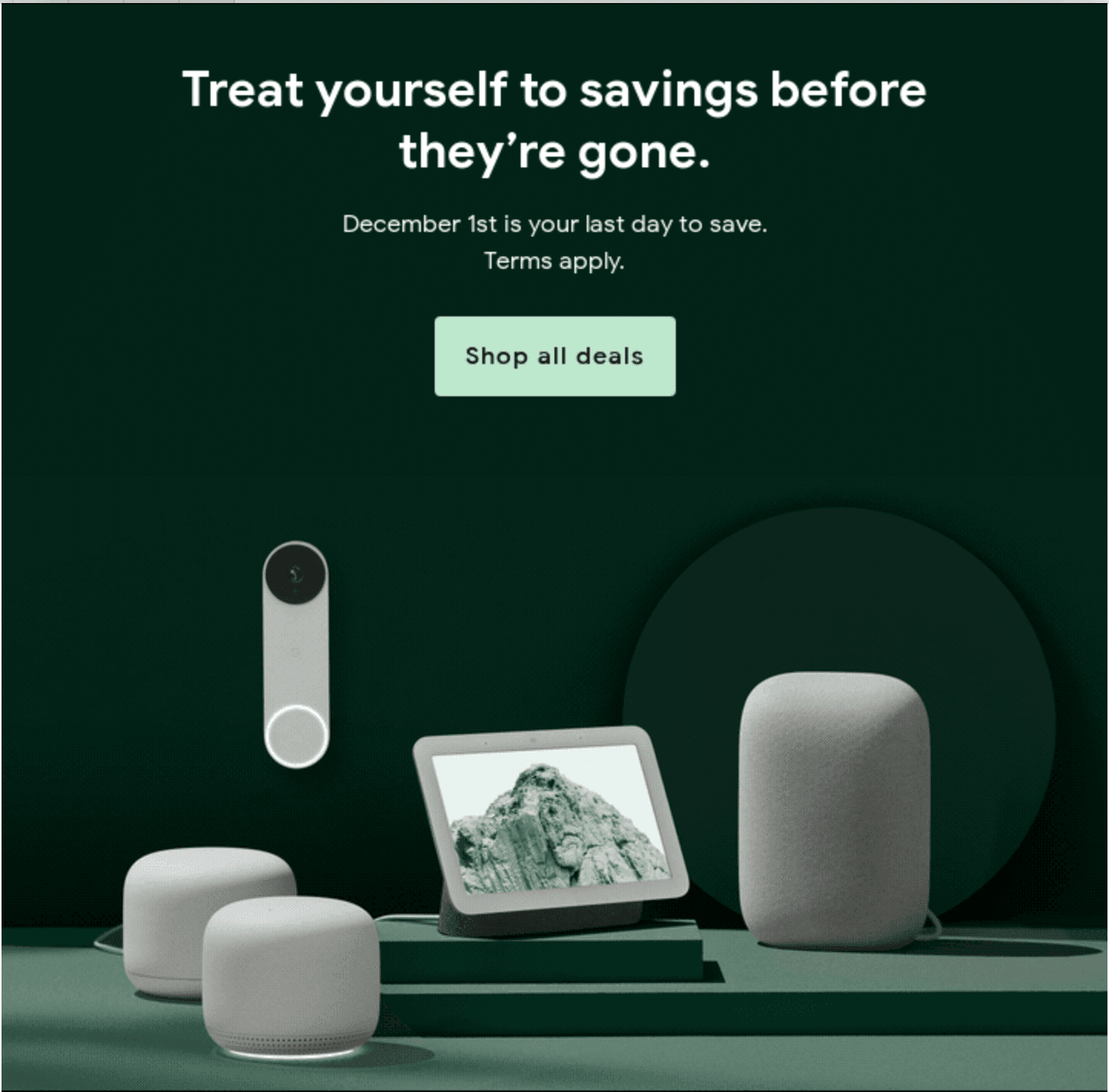 (Source: Really Good Emails)
3. Cyber Monday email with a creative story — Huckberry
Use your imagination and creativity to tell an unusual story about your Cyber Monday sale. The holiday shopping season is the time for thousands of standard promotional emails. People have become tired of all these messages about online sales and upcoming campaigns with discount codes. Meanwhile, they like to get creative emails with attention-grabbing stories. So, you can use this to improve open rates and conversion!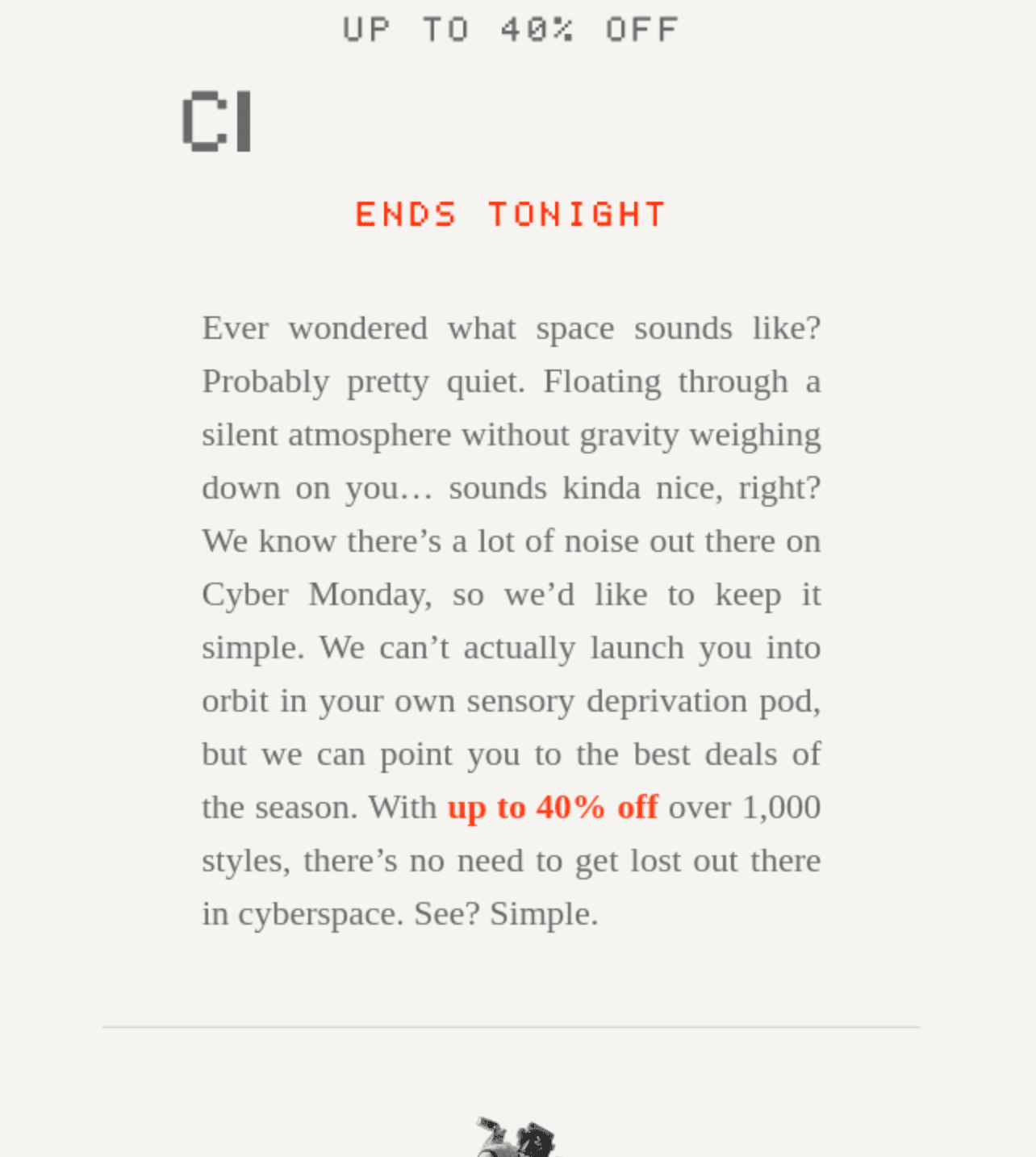 (Source: Email from Huckberry)
4. Cyber Monday email with a sense of urgency — Google
Another marketing strategy is creating an email sequence during Cyber Monday week.
Here you can see a great example of the last message in an email sequence. It emphasizes that this is the last chance to save money on popular devices. The offer ends soon, and you need to hurry up to use it.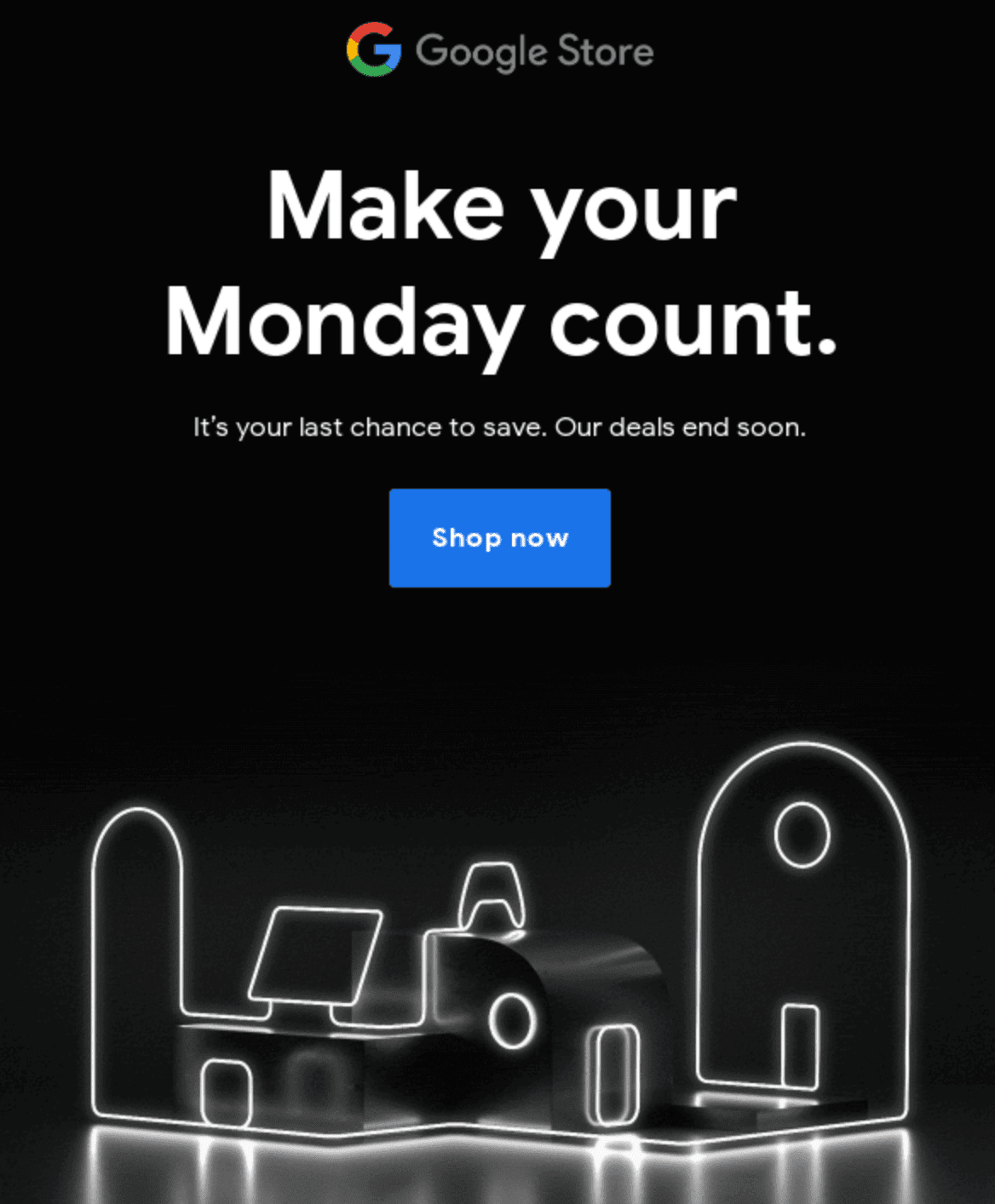 (Source: Really Good Emails)
5. Cyber Monday email with pre-orders — WISKI
Use the holiday season as a special occasion to present your new products or remind your clients about bestsellers. Not all email subscribers want to buy something on the Cyber Monday shopping day. At the same time, you can show them some items for pre-order before Christmas time.
Take a look at the template by the WISKI online store. I love these fonts and colors! They look modern and create harmony.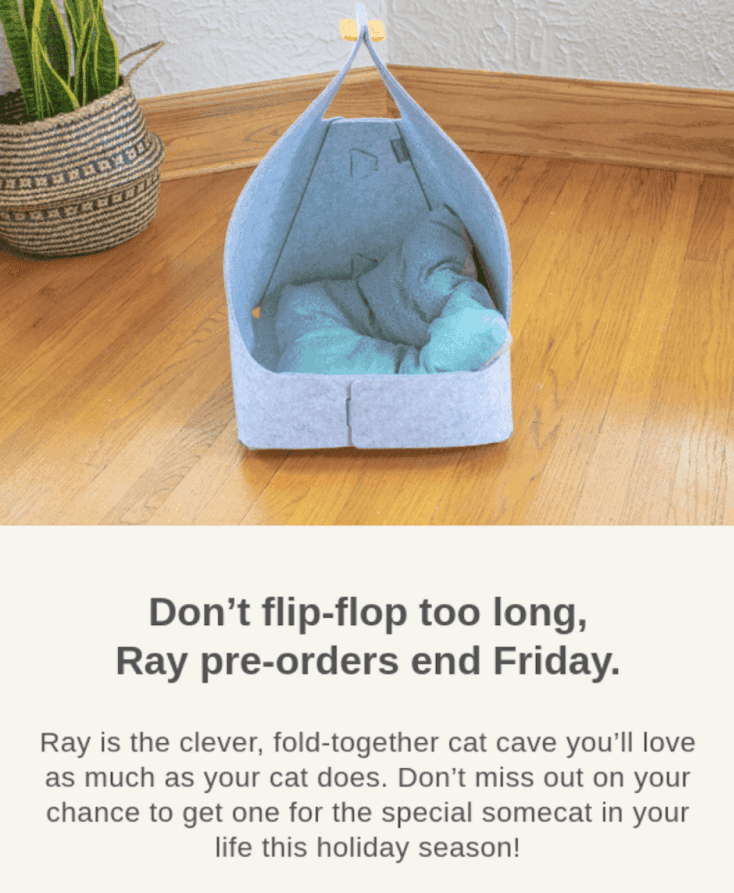 (Source: Email from WISKI)
6. Cyber Monday email with photos of happy people — Novica
Of course, the main focus of Cyber Monday deals is to promote the products on sale and provide discounts for them. Meanwhile, adding some photos of people to your email template is a good idea. That can be your brand ambassadors or employees.
Take a look at the great example below. It's a good combination of photos with smiling people and a clear demonstration of Cyber Monday discounts. The main message is still about savings, but it looks nice and is friendly to customers.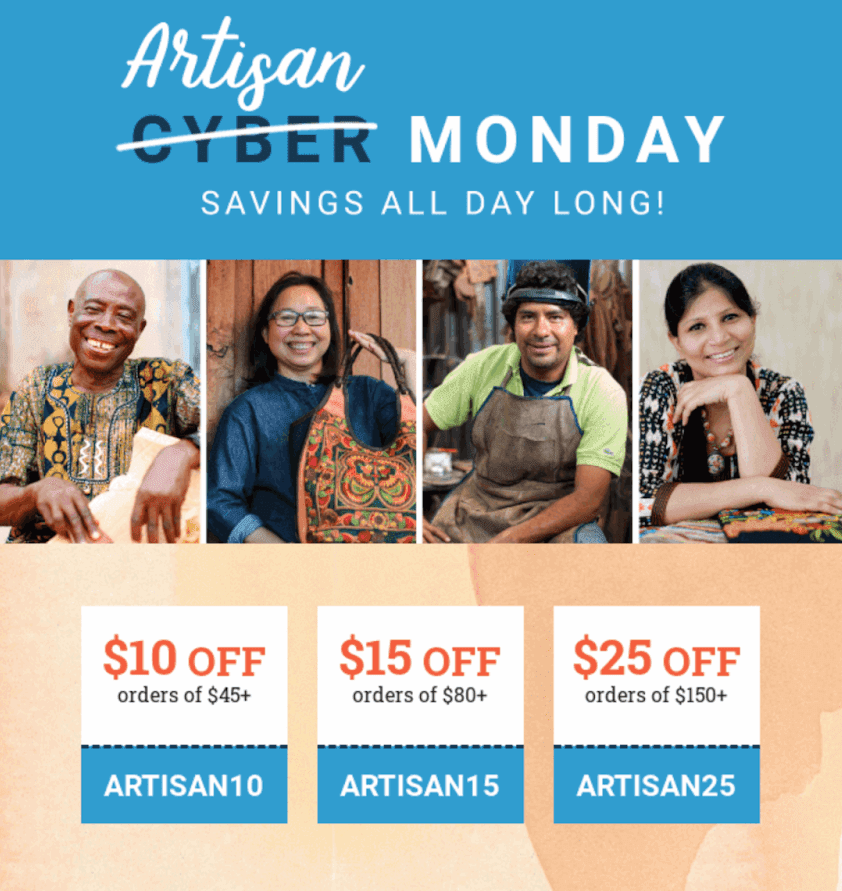 (Source: Email from Novica)
7. Cyber Monday email with creative banners — Lululemon
If you don't have the capacity to create different emails for all segments of your audience, follow this Cyber Monday email template example. You can add different categories to your email. Then, add call-to-action buttons to different landing pages for each of them.
Another solution to this problem is to find an effective marketing automation tool. For instance, Stripo has a big library of templates and rich functionality for teamwork and individual tasks.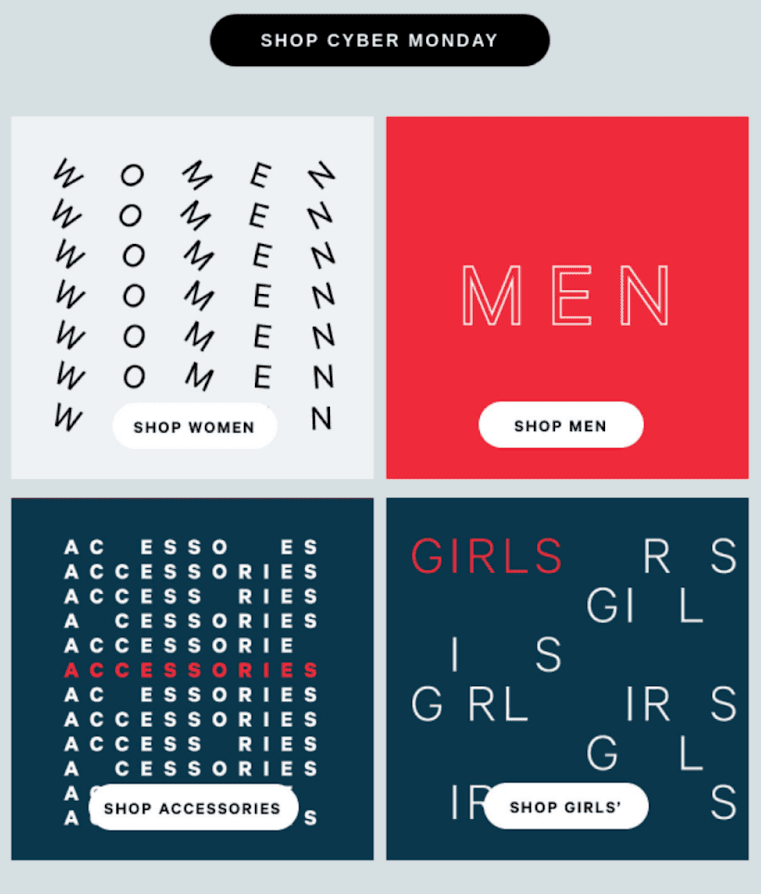 (Source: Email from Lululemon)
8. Cyber Monday email with a one-day sale — Stripo
Some marketing managers like to organize a one-day sale instead of Cyber week. That doesn't always work to attract more customers. But it's an excellent way to sell a previous collection or unpopular products in a short period. Set a good discount for only one day, and your site transactions will grow significantly. Don't forget to mention the time limit in the Cyber Monday subject line so that customers won't miss your email.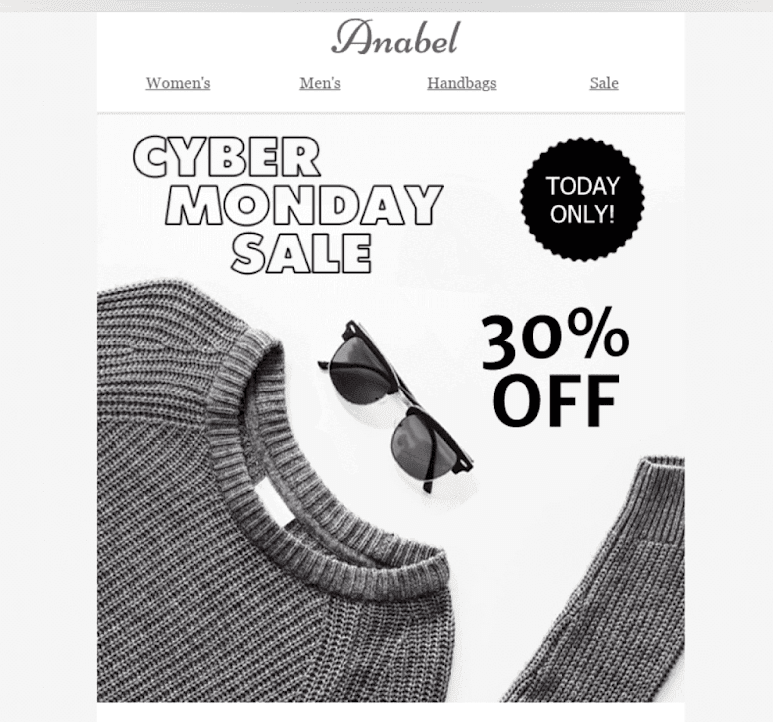 (Source: Stripo template)
9. Cyber Monday email with a catchy subject line — Wildst
Here's an example of a Cyber Monday email for a reactivation campaign. Users that already know your brand will be interested in a 48-hour sale.
A short and clear subject line will attract their attention. Don't be afraid of the minimalistic design if you have such a strong subject line. It will work in any case.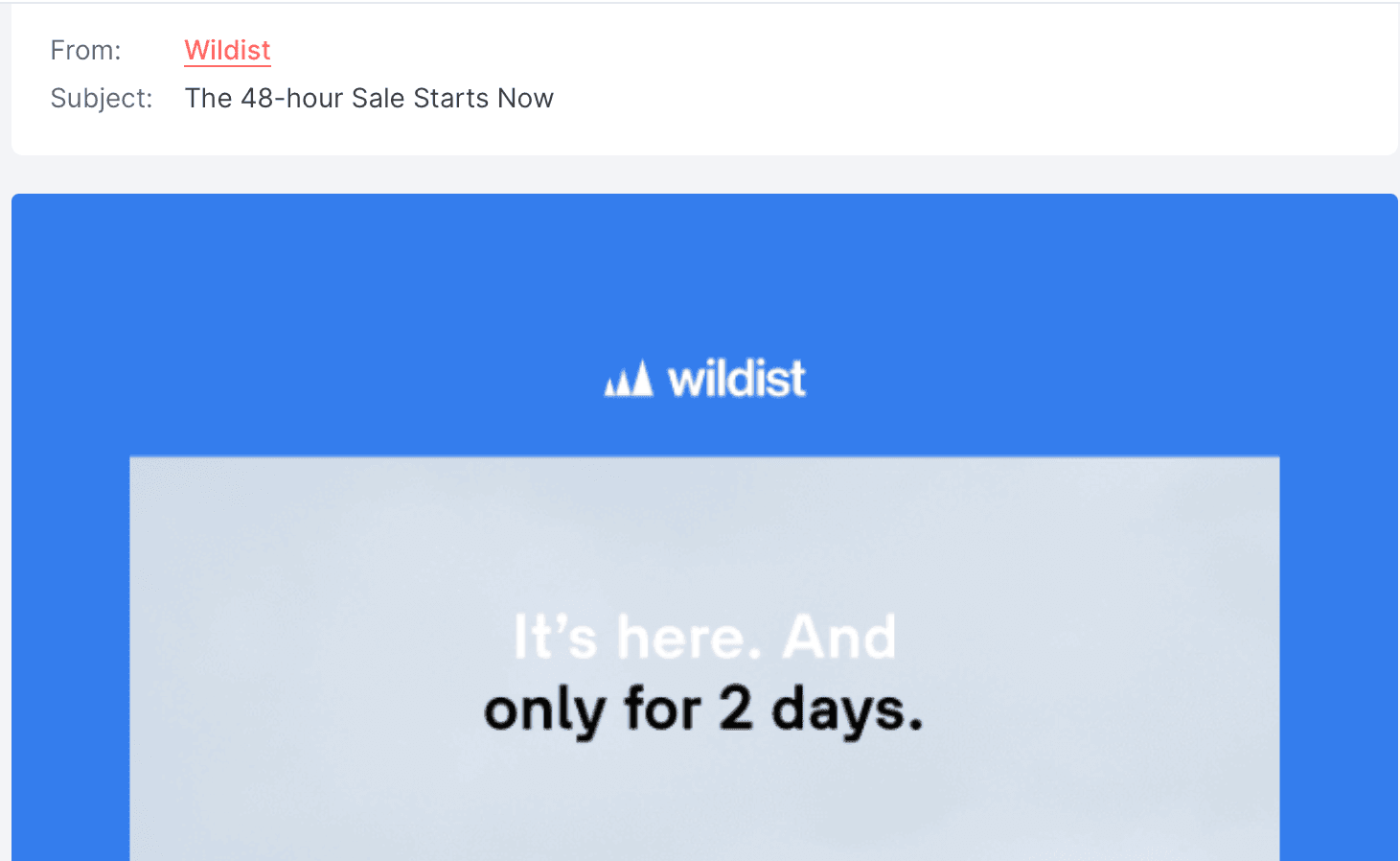 (Source: Really Good Emails)
10. Cyber Monday email with weekly discounts — VIZIO
Customers are usually ready to start shopping when they see a significant discount. This is an ordinary marketing strategy, but sometimes you don't need to reinvent the wheel. Due to the lower price, your products stand out from the competition. But do it wisely, so your company still benefits from Cyber Monday sales.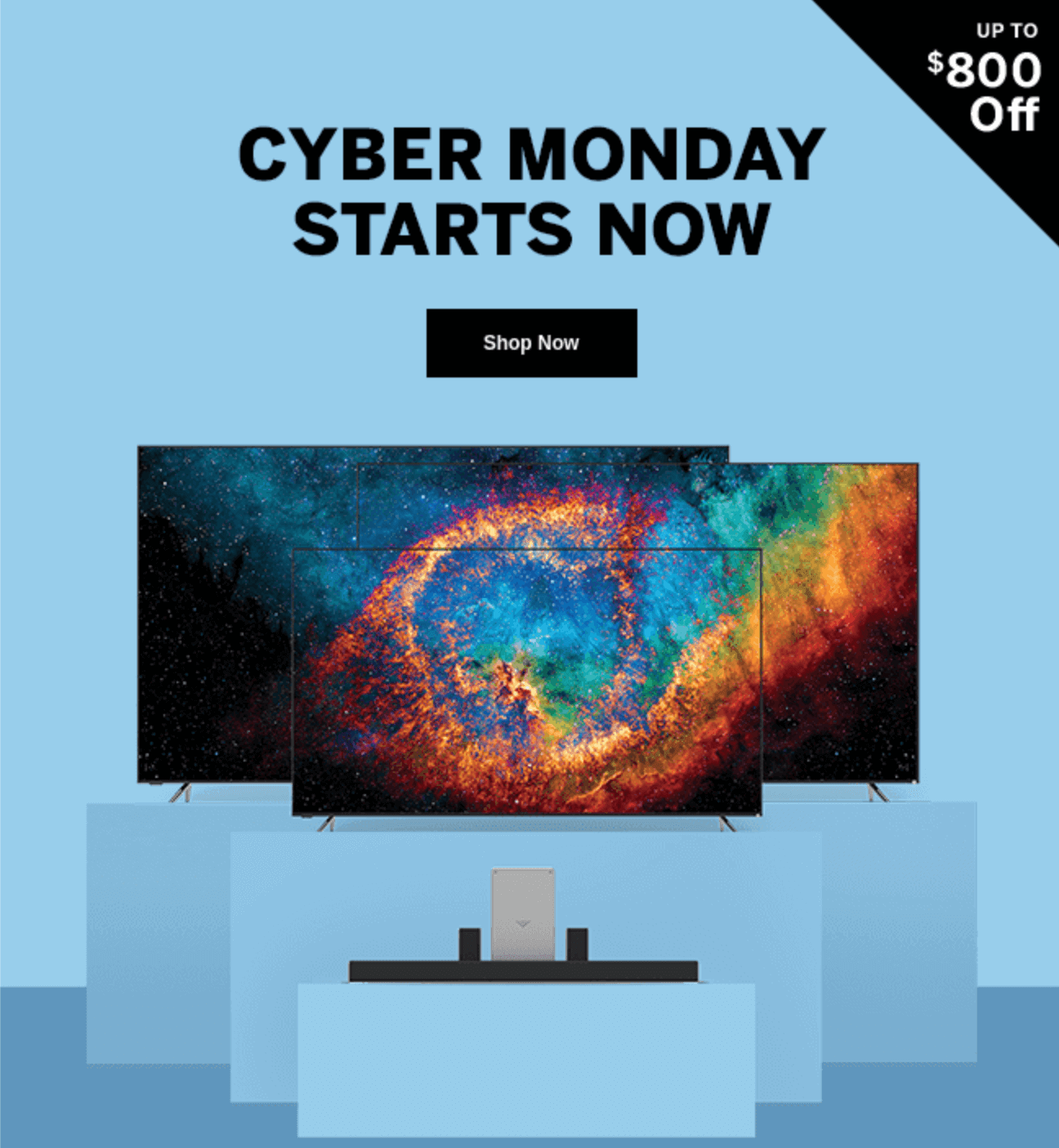 (Source: Email from VIZIO)
11. Cyber Monday email with a discount code — Stripo
One of the simplest ways to attract more customers is to give them a special code. This code may give a discount to all products in your online store or only some categories of them. Analyze your sales and finances to choose the best option according to your business needs.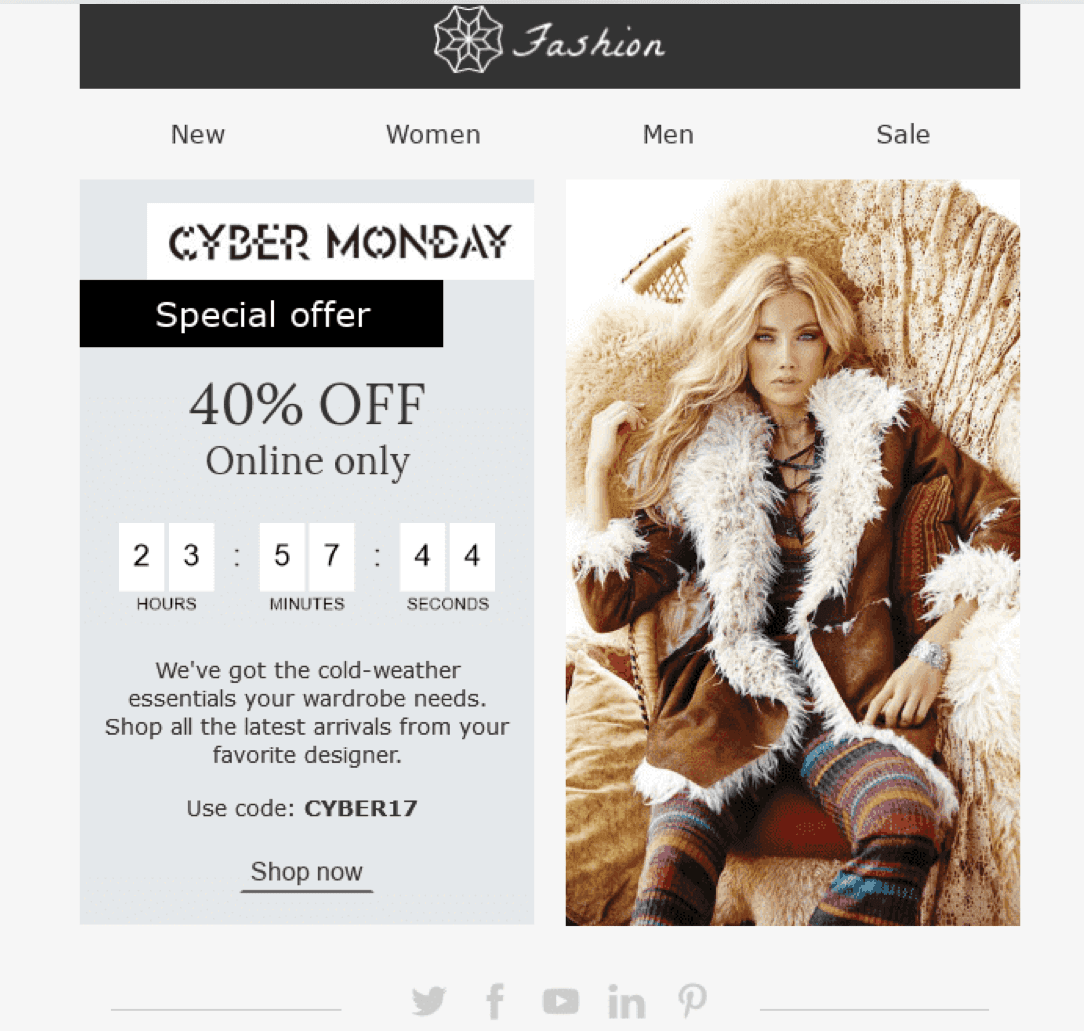 (Source: Stripo template)
12. Cyber Monday email with special deals and gifts — Vimeo
The last in the list of our Cyber Monday email examples is a great deal by Vimeo. A common practice is to offer a set of products in holiday promotional emails. You can also create a gift guide to help subscribers prepare for Christmas.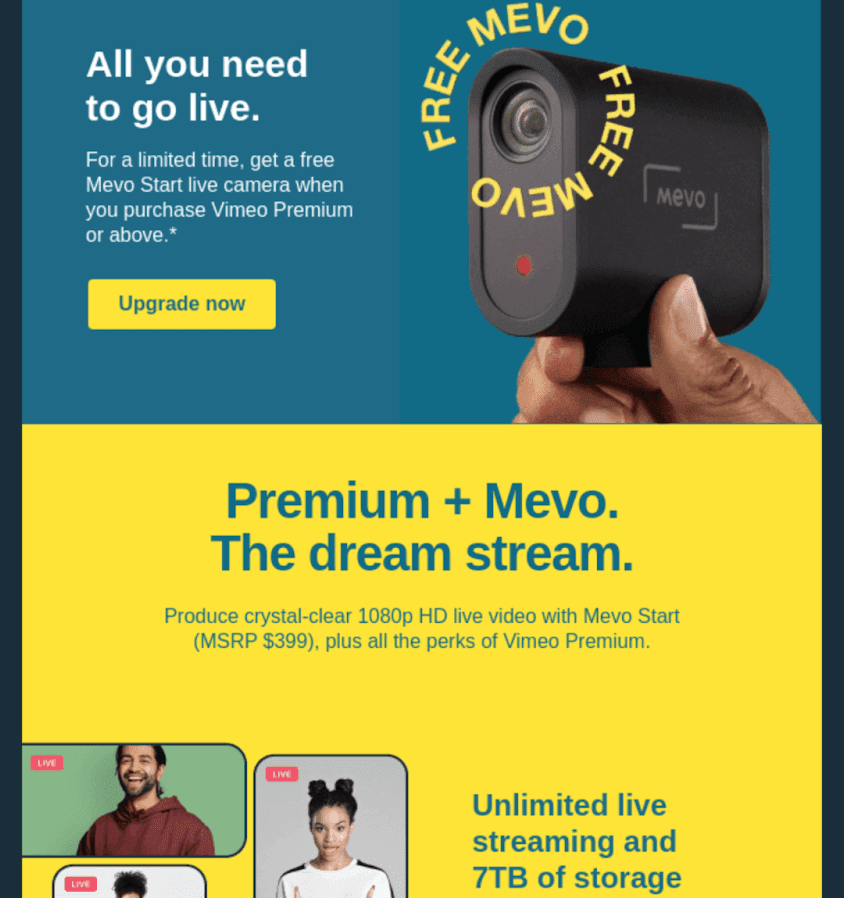 (Source: Email from Vimeo)
Cyber Monday subject lines for your emails
An email subject line is the first thing your subscribers see when receiving a promotional offer. Reading this short text, your customer decides whether to open your message and see the details. Make the subject line intriguing and engaging enough to capture your recipients' attention.
Here are some good examples of the subject lines for the Cyber Monday campaign:
Best. (Cyber) Monday. Ever — Lululemon.
It's not too late: Free camera with Vimeo Premium — Vimeo.
Cyber Monday Starts Now. Get Up To $800 Off — VIZIO.
CleanMyMac X and other apps are 30% off — MacPaw.
There's still time to save — Google.
A Monday worth waiting for — Google.
Cyber Monday Savings Start Now! — Novica.
The tide has turned — Cyber Savings is EXTENDED! — Grammarly.
Two words: CYBER + FIFTY — Gap.
Did someone say CYBER? Get 30% off womenswear. — Boden.
Cyber Monday is better with IKEA — USA Ikea.
The Cyber Sale ends in 11.5 hours — Gap.
EXTENDED! Cyber Monday Continues — Lucky Brand.
FINAL HOURS: Cyber Monday 50% Off Purchase — Banana Republic.
JK...Cyber Monday Deals EXXXTENDED — VS Pink.
Enjoy an Extra 30% Off Cyber Monday's Best Deals — Victoria's Secret.
No joke, it's CYBER TUESDAY! 50% off has been extended for ONE. MORE. DAY — Old Navy.
Cyber Monday Sale ends tonight — Nike.
Tick Tock — Cyber Monday Ends Soon — Herschel Supply Co.
It's Cyber Monday | Up to 50% off Flash Sale — Monica Vinader.
Today only: Cyber Monday savings up to 60% — 1stDibs.
CYBER SAVINGS! Personalized Holiday Gifts on SALE — M&M's.
30% Off: Cyber Week Kicks Off NOW. — GREATS.
New features just in time for the Black Friday/Cyber Monday! — NiftyImages.
BIG ANNOUNCEMENT! We're Giving You a Special Cyber Monday Sale Offer for ONE DAY ONLY — Athleta.
Last chance to shop our 30% OFF cyber sale — Johnnie Boden.
Most of these examples include numbers and encourage recipients to hurry; it's important to show the customers that your offer is limited in time and they might miss a profitable deal. You can also use emojis, but they should be relevant to the category of your product or brand.
Tips on creating a successful Cyber Monday campaign
1. Make the profit visible to customers
Lots of online stores aim to drive more sales on Cyber Monday. Thus, you should demonstrate the uniqueness of your offer among competitors.
There are many ways to highlight the benefits of your Cyber Monday email. Choose from the following ideas:
create a separate landing page for the Cyber Monday sale;
use bright colors, motions, and GIFs to grab subscribers' attention;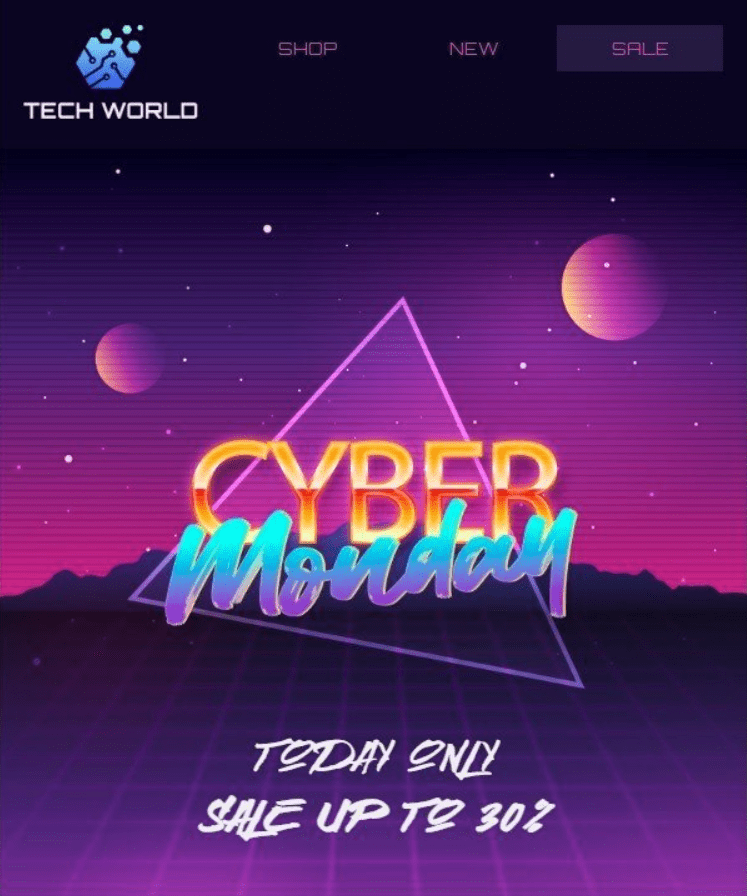 (Source: Stripo template)
add banners with real-life photos and emotional pictures;
put the number (date or discount amount) in the center of your design;
organize a brainstorming session and create unusual copy for the holiday ads.
2. Show that Cyber Monday offers are time-limited
A sense of urgency is an essential component of a successful holiday sale. Remind your subscribers that they won't have a second chance to enjoy the discounts. So, how to make it happen?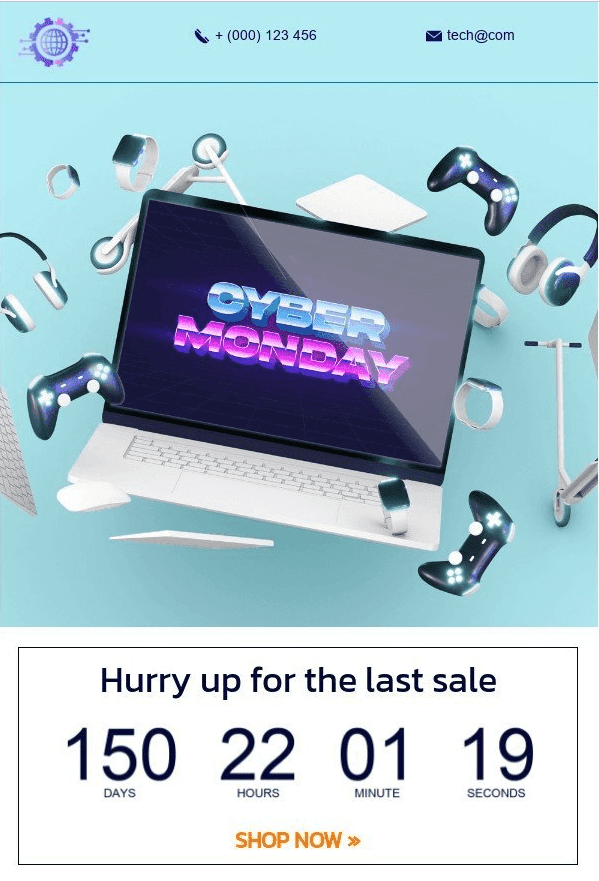 (Source: Stripo template)
use a bigger font size to show when the sale ends;
send an extra email to inform subscribers that the sale ends in a few hours.
Use Stripo to add a countdown timer to your template or customize the email design according to your business needs. You can adjust everything just in a few clicks!
Mistakes to avoid in the Cyber Monday sale email
I hope you will use these Cyber Monday email examples to create an outstanding marketing campaign. There are also some common mistakes that email marketers make. Let's check the list of pitfalls to avoid them!
1. Last-minute preparation
As with any other email campaign, the Cyber Monday sale requires a thoughtful approach. You need time to choose products and set discounts for them. That's also necessary to create a landing page and check if your website is working well with more traffic. The sales department should be prepared for more calls or orders from customers.
2. Unclear call to action
Some Cyber Monday emails have lots of GIFs, pictures, and other details. But the fancy design confuses email subscribers. It looks messy, and people can't catch the main idea of the email. So, they don't pay attention to the offer and miss the CTA button. Thus, try to make your call to action as clear as possible.
3. A Cyber Monday sale without the due date
People should feel a sense of urgency while looking at your Cyber Monday email. That isn't always a strict limit in time. You can also tell that there are a few products on sale and they can end at any moment.
4. Technical issues with the online shopping
The end of November and the start of December is the period of the biggest online sales. So, your website or CRM system may get twice or more requests than usual. Make sure you are ready for that. Test your sales and marketing automation system, the landing page, website form, payroll system, and discount code.
5. Boring promotional emails
A message in your Cyber Monday email should be provocative or intriguing. If the reader doesn't feel any curiosity, you won't get many clicks and transactions. Don't give all the information in the email. Make subscribers go to the website for more details. Humor and irony also work perfectly in holiday emails.
The best way is not to sell something directly but to tell a story to the audience or invite them to play a game.
Wrapping up
The Cyber Monday email campaign is a great tool to increase your sales at the end of the year. Use the best practices from our article to reach the best results.
You can also choose any email template from the catalog and customize it in a few minutes.
Enjoy simple and effective email marketing with Stripo!
Was this article helpful?
Thanks for your feedback!