Cyber Monday sale comes after Black Friday and it is a great chance to increase your sales. Within 24 hours, customers can buy the products they need with huge discounts and even get free gifts. However, you can extend the discount period if you have the resources to satisfy the needs of your audience.
As customers receive an enormous number of Cyber Monday emails, you need some effort to stand out. Check out our article to learn new tips and look through a few Cyber Monday email examples to get some inspiration and create a great Cyber Monday email campaign.
Why you should use Stripo templates for your Cyber Monday email templates
We constantly collect feedback from our users, improve the platform, and do our best to provide you with the most convenient experience, which will lead your brand to the desired result.
Here are a few examples of Stripo's advantages:
Save time for more important tasks during your Cyber Monday email campaign
Stripo is all about automatization, and many of our features need to be set up only once, at the beginning. Then, you can save them to your content library for further use. We also provide useful features like Brand Guidelines that help you stick to your brand style without extra effort or synchronized modules to update all your email templates at once.
Plenty of our email templates for various occasions will save a lot of time to concentrate on more crucial tasks for the business. For example, your email marketing team can spend another hour brainstorming on a great subject line to draw the subscribers' attention.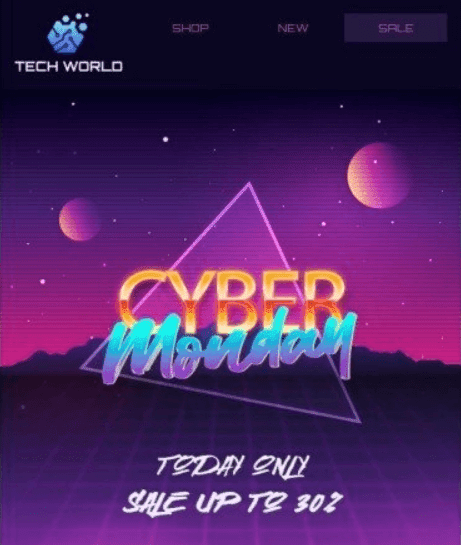 During Cyber Week, only the most creative campaigns have a chance to win a minute of the customers' time. Take your chance and work on your Cyber Monday emails with Stripo to boost your revenue and save time.
Customize and adapt Cyber Monday email templates in a few clicks
Nowadays, most people tend to read their promotional emails on their smartphones, and it's the reason why your messages should be mobile-optimized. You don't want your subscribers to scroll their inboxes and miss your amazing offers due to the unfriendly user experience, do you?
To take everything from the Cyber Monday email design, the product images should always look attractive and the Call-To-Action buttons should be displayed in a catchy way.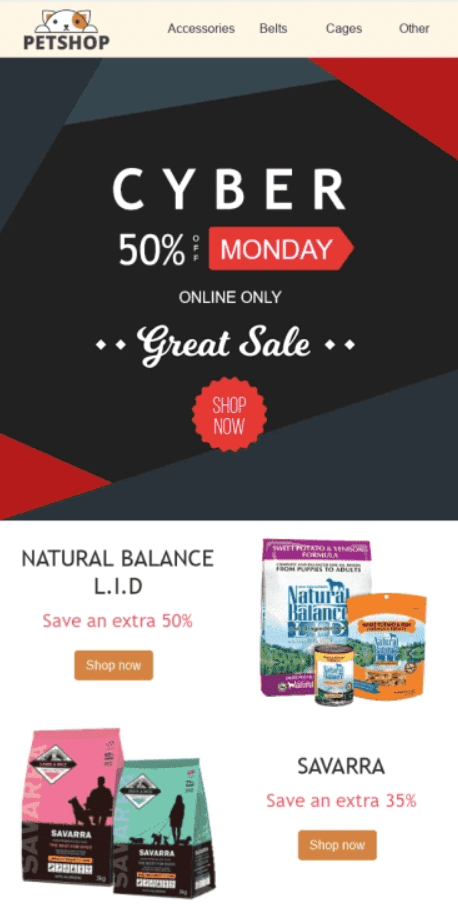 All of our templates are optimized for mobile devices. You can manually customize elements to make them display the way you want them to.
Easy export to popular email service providers
When Cyber Monday starts, the email marketing team has a lot on its plate. That's why making the processes as easy as possible is essential.
Stripo has integrations with over 75 email service providers (ESPs), such as BirdSend, GetResponse, Mailchimp, Klaviyo, etc. You can deliver your prebuilt Cyber Monday templates into basically any ESP and send emails to your subscribers.
Why exporting from Stripo is a good idea:
you don't need to copy and paste HTML code or adapt it for correct rendering;
images won't be lost somewhere on the way to ESP;
all emails remain editable after export.
Examples of how to make your Cyber Monday emails better
The Cyber Monday email campaign requires some effort from any email marketing team. You cannot just provide a discount code or a free gift to the subscribers and wait until you receive tons of orders.
The holiday season is a very competitive period, so you need to create an attractive offer for your customers and make your email stand out among other Cyber Week deals.
Let's have a look at some features we've already implemented into our Cyber Monday templates.
Countdown timers for a successful Cyber Monday email campaign
When it comes to the biggest shopping holiday of the year, a countdown timer is a must. People will see the number of hours left until the end of the sale and will hurry up to place an order.
The good news is that a timer will drive traffic to your website, but the best news is that, in most cases, customers cannot help but use discount codes when they see attractive Cyber Monday deals and realize they will expire soon.
Here's a great example of how a countdown timer can help you boost your Cyber Monday sales.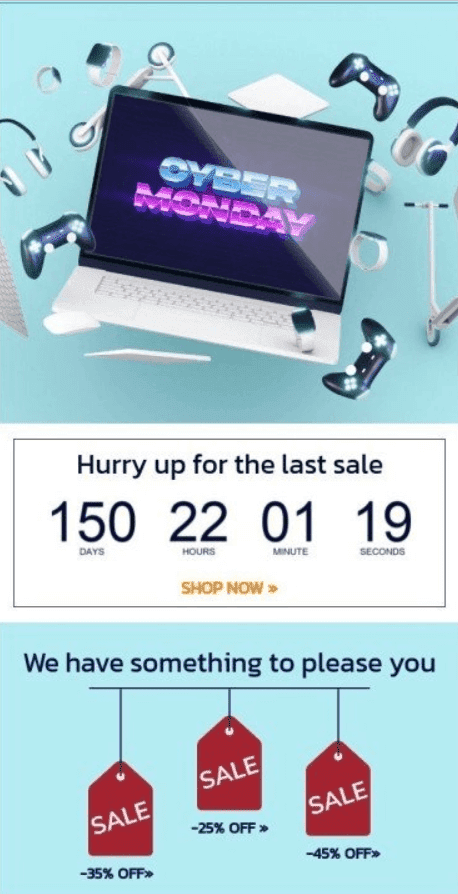 Banners for your Cyber Monday sales
Black Friday and Cyber Monday email templates have to be eye-catchy and vivid. Therefore, banners are probably one of the most important elements of all the email content in your newsletters.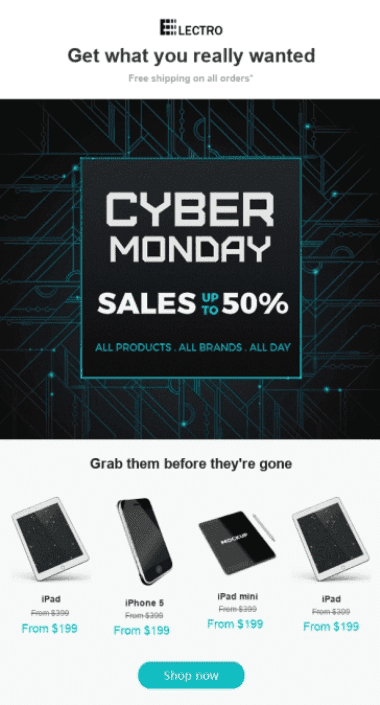 This template shows that banners can really make a difference in a Cyber Monday email. Your subscribers will see the offer, scroll down to have a look at the products, and finally notice the Call-To-Action button, which encourages them to visit the website and place an order.
You can easily build banners with Stripo. Upload necessary images, add copy, wrap it in decorative fonts, and apply filters.
Interactive and AMP elements
Stripo has a lot of interactivity to offer. And when it comes to holiday campaigns, design matters a lot. This is why it's vital to work on your Cyber Monday email design.
So, how can you enrich your emails by using our platform?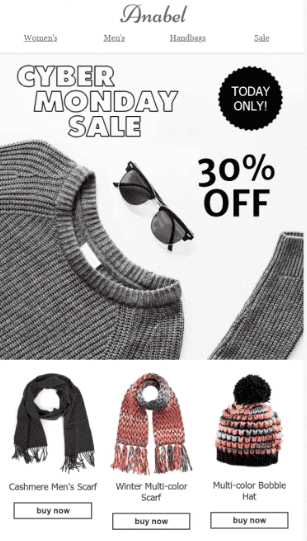 Wrapping up
We're always happy to help you skyrocket your email campaigns and make your Cyber Monday sale a success.
Here are a few marketing tips for your Cyber Monday sales:
start preparing your Cyber Monday campaign and announce your best offers in advance;
give exclusive offers that customers won't be able to get any other day;
create attractive Cyber Monday subject lines to draw the attention of those who prefer avoiding promotional emails;
come up with time-limited deals to create a sense of urgency and encourage customers to make quicker decisions;
turn a Cyber Monday Sale into a Cyber Week to drive sales;
send a series of emails and don't forget about the last-chance reminders to prevent your customers from missing your newsletters;
use Cyber Monday email templates from Stripo and get inspiration from email examples in our blog.
Cyber Monday email marketing is all about bringing real value to customers. We believe you know it already. Our task is to help you deliver it properly. We hope our tips and strategies will also be useful for your campaigns.
We wish you success with preparing your newsletters and please keep in mind that you can always rely on our expertise and support to generate new ideas and improve the result.
Join over 1 000 000 users
Start with free email template builder — upgrade anytime