We believe that the written content may be perfect but there is always some space for improvement in email design.
In this post, we'll survey the main advantages of the black and white emails, will show how and where to create them, and will share some bright examples.
The benefits of black and white emails
In addition to aesthetic pleasure, there are several other marketing reasons why many brands prefer this email design. It seems that the answers lie on the surface, but maybe something will be a revelation for you.
Black and white palette is a universal color combination
Applying a black and white palette may seem a very unusual decision. However, by the designs of black and white emails of the most famous brands, one can judge the popularity of this direction.
Why? Sometimes it can be really difficult to combine brand colors and product colors in one email as they seem very contrasting.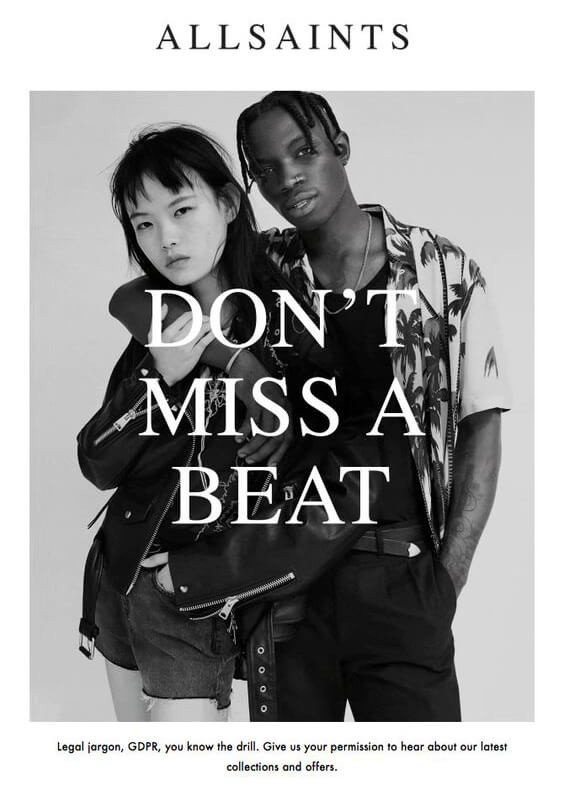 This all makes the black and white email a perfect alternative to multi-colored emails.
Black and white email design is classy
The black background effect will make the email elegant and will associate it with something upscale. A dark background will emphasize the contrast with the colors of the images. A dark space, as an indispensable element of dark design, will give more freedom for design creativity.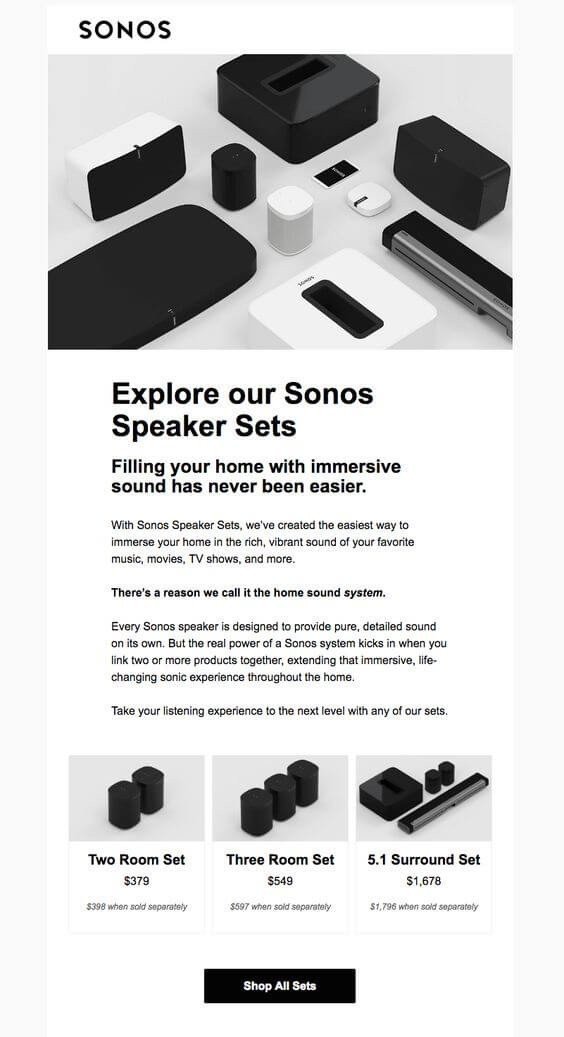 Easy perception of content
Want to make focus on the text, not images? Try your hand at creating a black and white email, as the use of black or white backgrounds gives the best contrast with the text and draws readers' attention to the latter.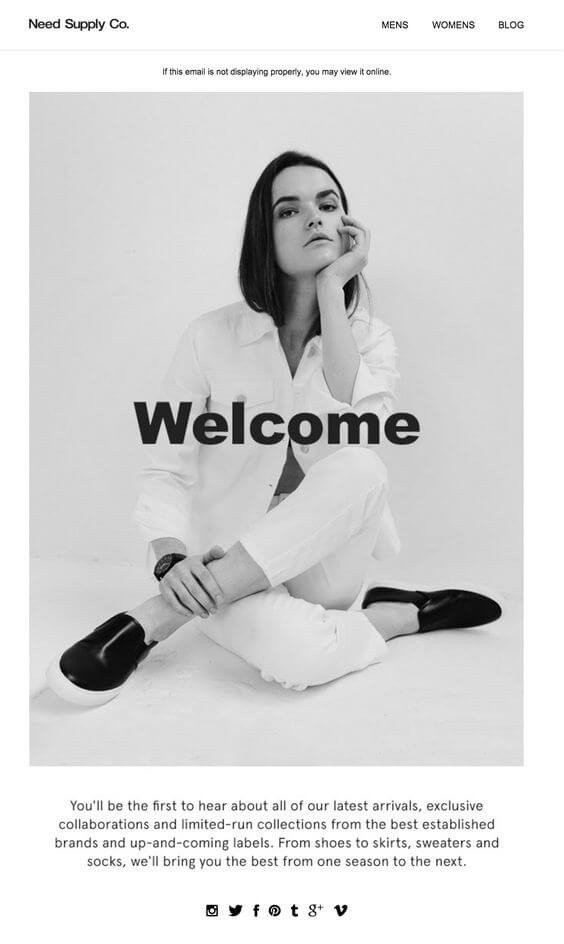 Examples of black and white email designs
The following examples of black and white emails prove that just a few colors may be quite enough for grabbing attention.
1. Everlane — The luxury of black email
Choosing the right shades of black can do wonders for your design.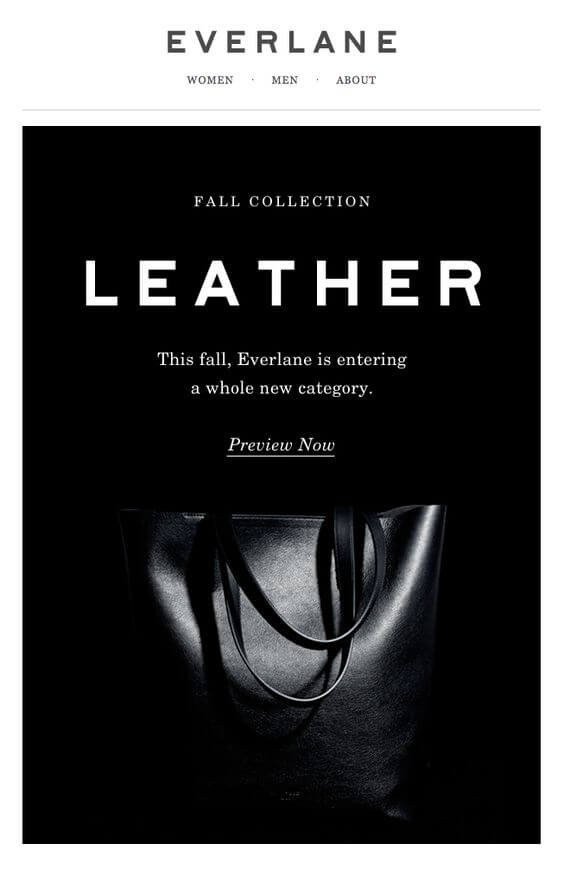 Everlane shows how to combine different shades of the black to make the email look luxurious and classy.
2. Victoria's Secret — Bright color over black and white colors
Not all black and white designs consist only of black and white only. There are many variations when images or individual elements are painted in blue, orange, green, and so on.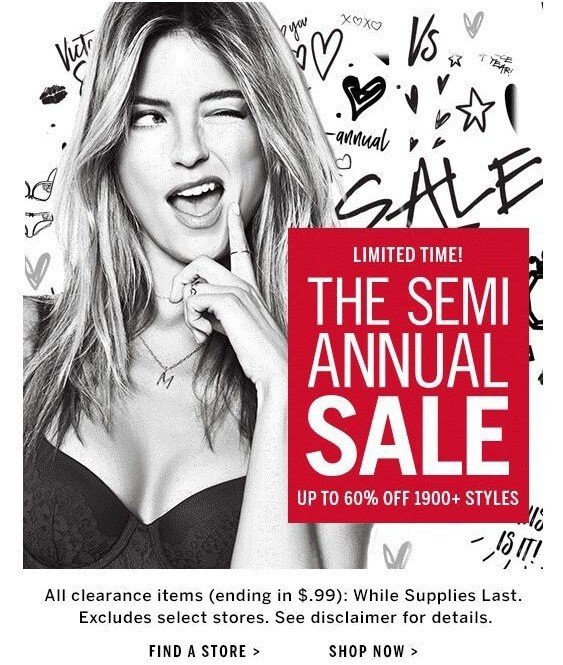 How can you build this email element with Stripo?
It's easy as 1-2-3.
drag a banner basic block in your email;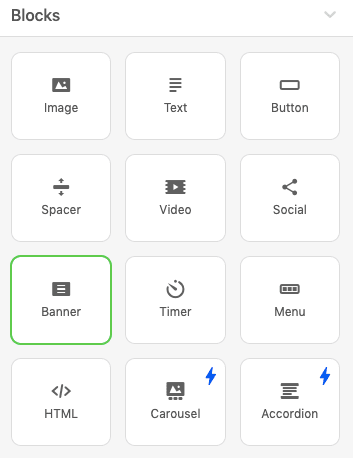 apply a grey filter to your banner image;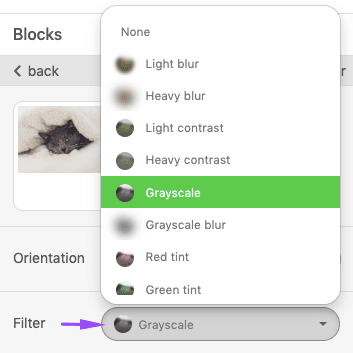 then upload an image with your value offer as an additional image;

add your URL to the entire banner.
3. Aritzia — White as priority
When designing an email in black and white colors, you can apply the same principles that you would use if you worked with any other color palette and at the same time choose one of them as the dominant color.
In this email, the white color gives more brightness and lightness in general, and not just fills the space. Such options are easier on the eyes.
How can you build this email element with Stripo?
apply white as a background for an entire email in the General settings tab;

add three structures in your black and white email;

drag a banner block into each structure;

upload necessary black and white images to each structure, or apply grayscale filters to each of them;

now upload images with the contours of the necessary numbers, but at the same time will be totally hollow inside — you can find them on the web or ask your staff designer for help.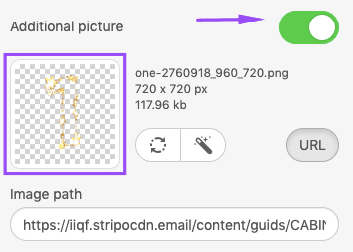 4. Chubbies — White fonts over dark backgrounds
Even if you always make funny emails as Chubbies do, you may still try the black and white color palette for your emails.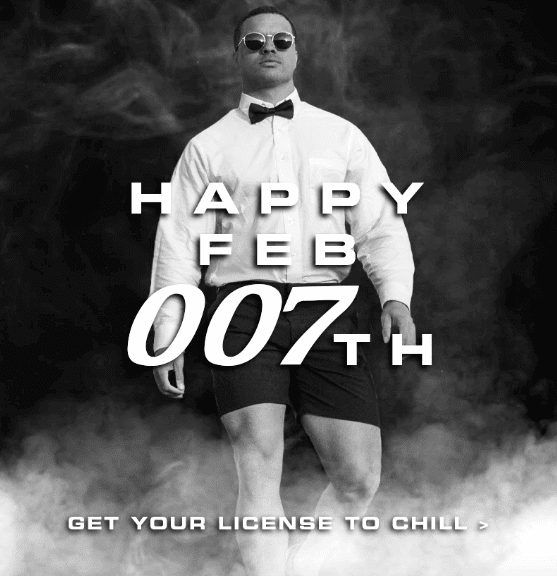 At least, for banners.
This is a very interesting combination — a man in shorts and classy black and white scheme. It certainly grabs attention :)
For more information on how to build banners with Stripo, please refer to this blog post.
5. Tom Raffield — The black and white design as a better way to transmit emotions
When you are going to share something personal, why not go with the black and white design?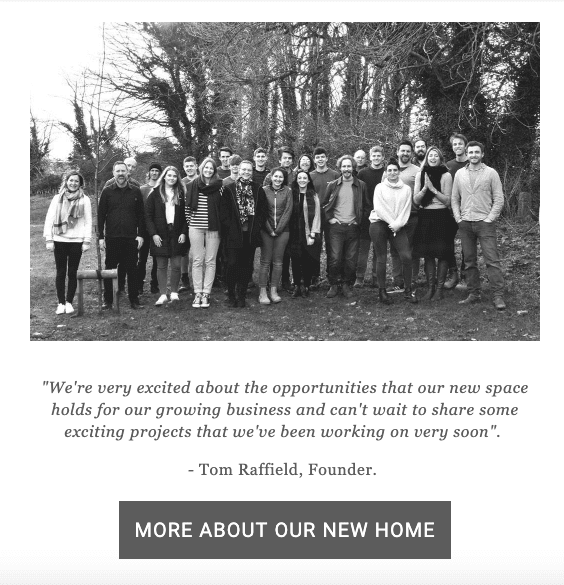 It makes your emails cozy. Seems like the Tom Raffield team shares something personal and emotional.
6. Growth marketing — Black and white photos over a colorful background
Very unusual approach. Of course, black and white photos do not make this email classy, but this approach certainly shows that these speakers have something really new to share with us at the conference.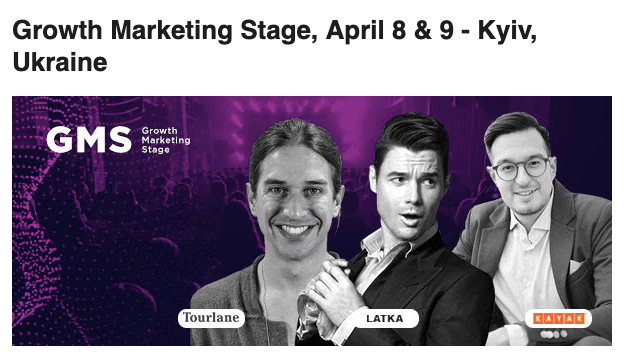 How can you build this email element with Stripo?
You just build it as a standard banner (we previously showed how to do it), but before you actually do, you will need your designer's help to combine these three photos into a single image.
That's it.
7. Banana Republic — Black and white the Follow Us section
If your email is bright and contains a wide variety of colors, this black and white design would be a great solution to draw attention to your Follow Us section.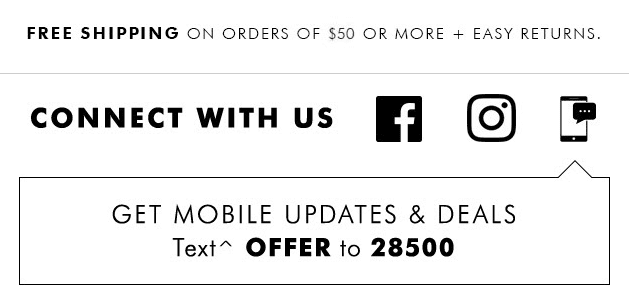 Make it really noticeable — let customers follow you on social media.
How can you build this email element with Stripo?
you simply drag the Social block into your email template;

choose a necessary color combination for your icons — we offer many of them;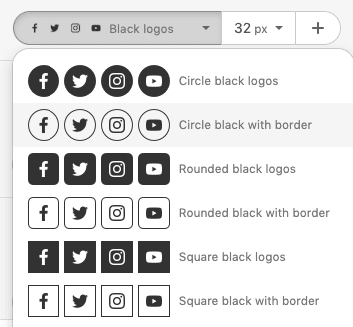 8. Invision — A colorful CTA button over black and white background
CTA buttons help us navigate users from our emails to the page they actually need to get to.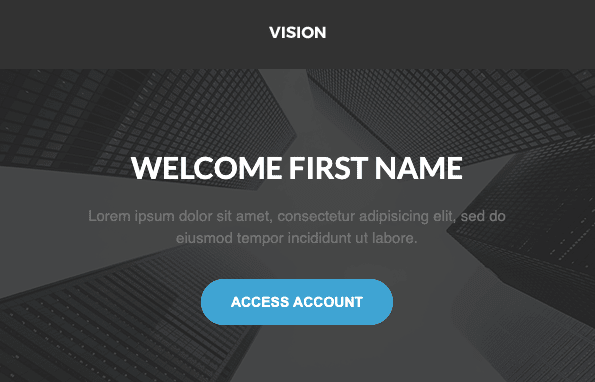 Make these buttons bright — so that users know what is the main purpose of this email.
How can you build this email element with Stripo?
build a regular banner;
then upload an image of your CTA button as an additional image;
add a proper link to the entire banner.
9. Marketing Profs — Applying greyish images over colorful backgrounds
Want to represent your email content in colors, but at the same time want to draw attention to details and keep email stern? I am convinced this email by Marketing Profs is what you've been searching for.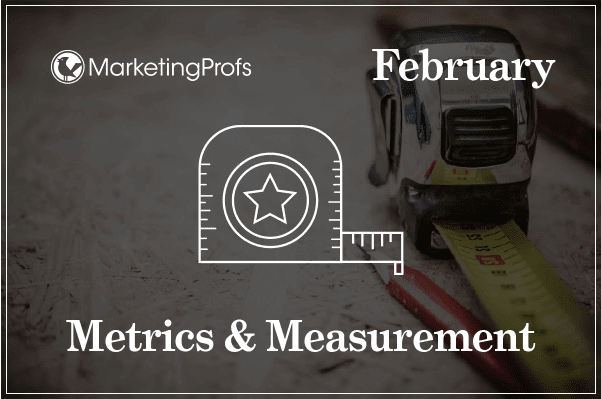 This is a brilliant idea to diversify a regular email design.
10. Maybelline — Colorful images over black and white backgrounds
This design idea is not a brand new one. However, the email looks just cool.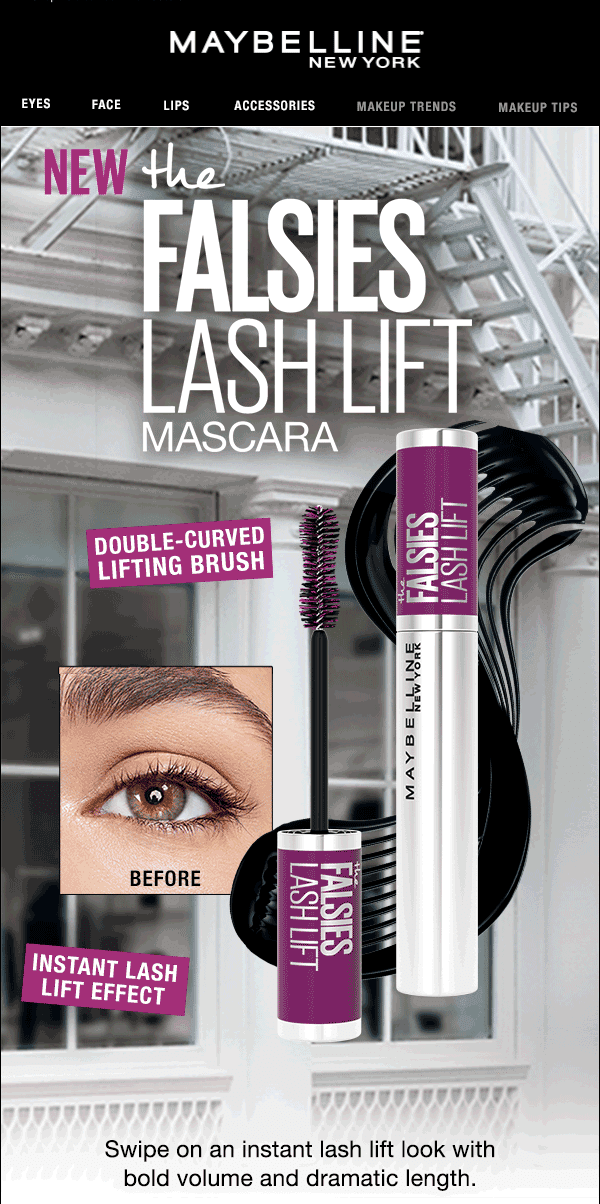 I really loved the idea of using colorful images over grey backgrounds.
Creating black and white email designs in Stripo
We just showed you how to build small black and white elements for your emails.
But I wanted to design an entire email in black and white colors, so here's what I did:
I go to your account and pick a template. There are more than three hundred options so I am sure you will find the one to your taste;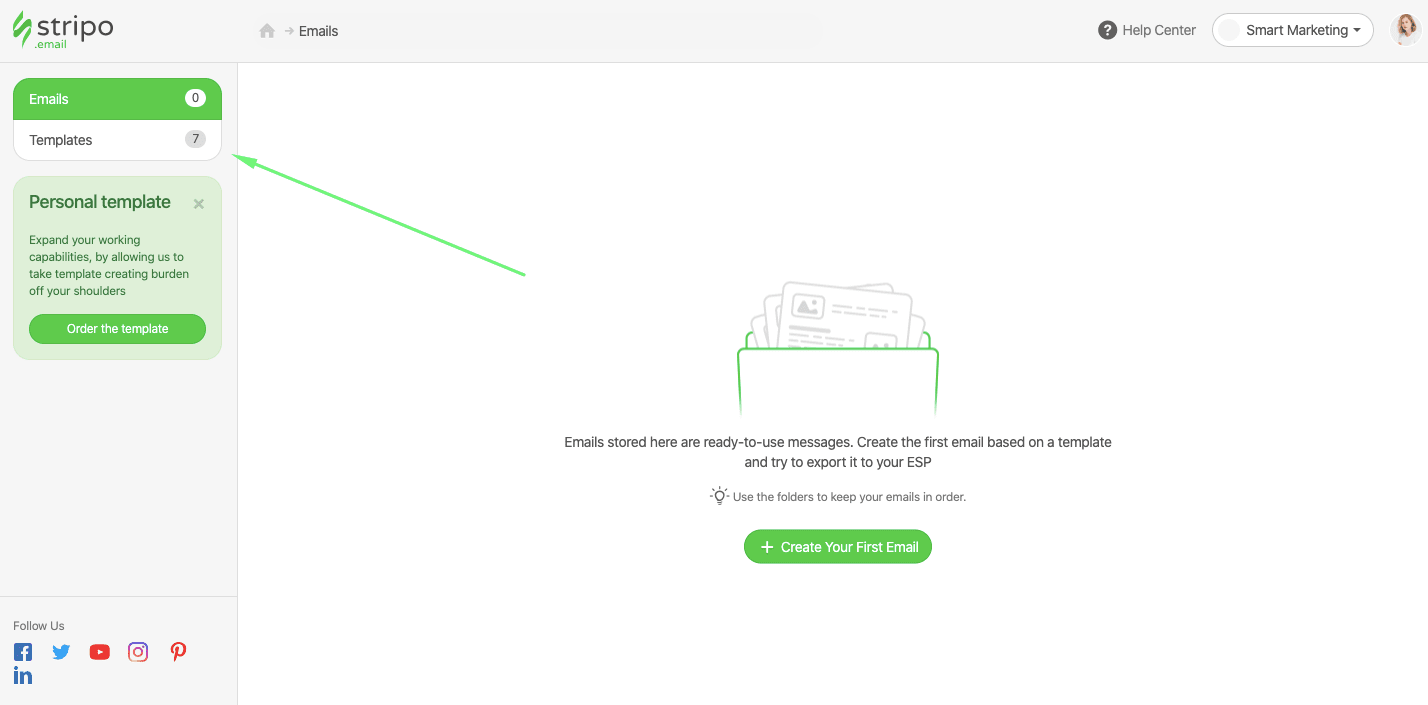 I choose this one with a nice background picture, though it doesn't look like black and white at all;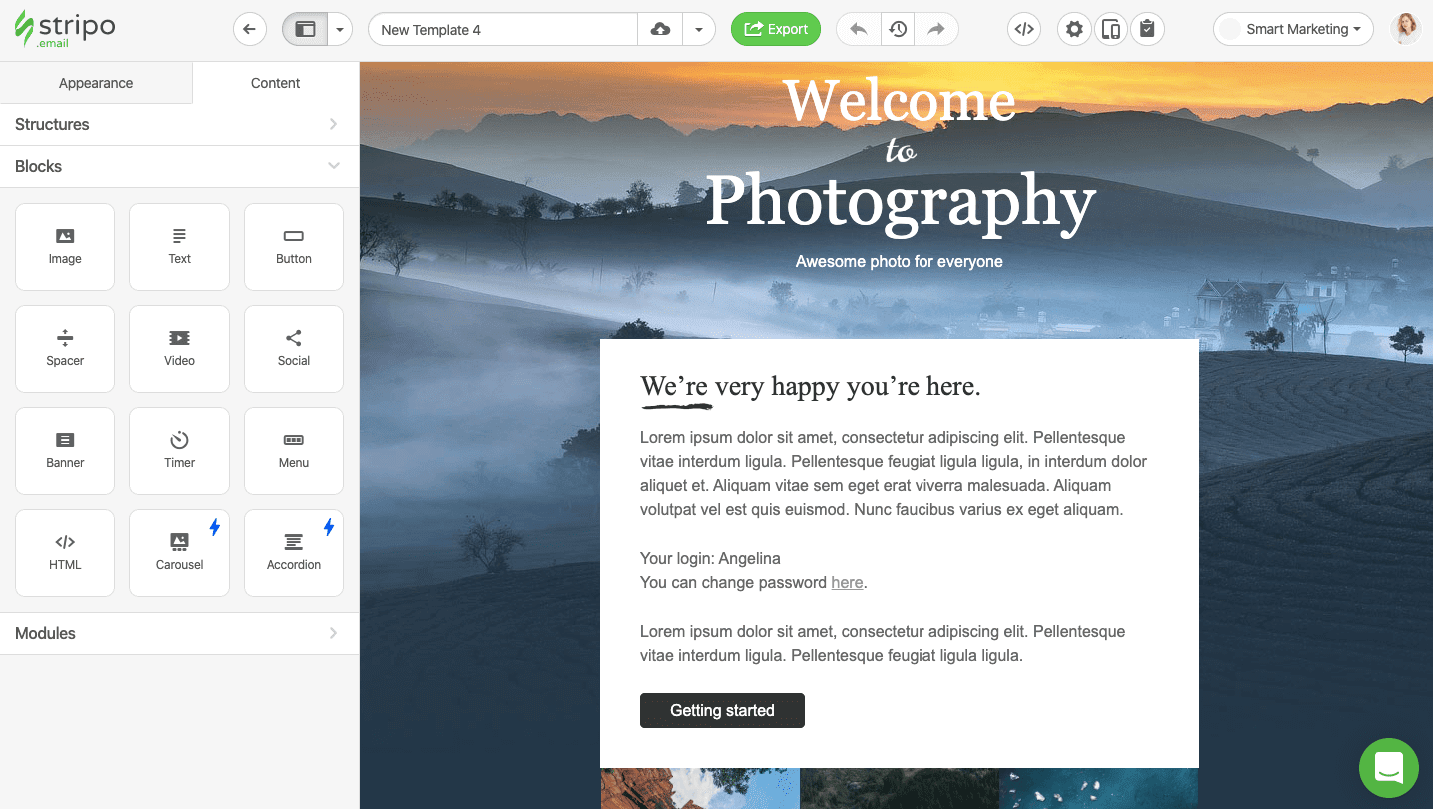 so my next step is to open General Settings on the sidebar and choose to edit my background picture;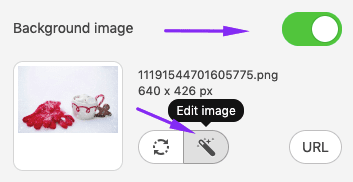 here I can use different filters right in the email builder which is quite convenient because I don't have to open another software like Photoshop or a similar one. As you can see, I preferred the first — grayscale — filter since black and white looked too contrasting to me. Then by applying the same filter to other pictures and changing the background of the email, we are getting a very black-and-white email design;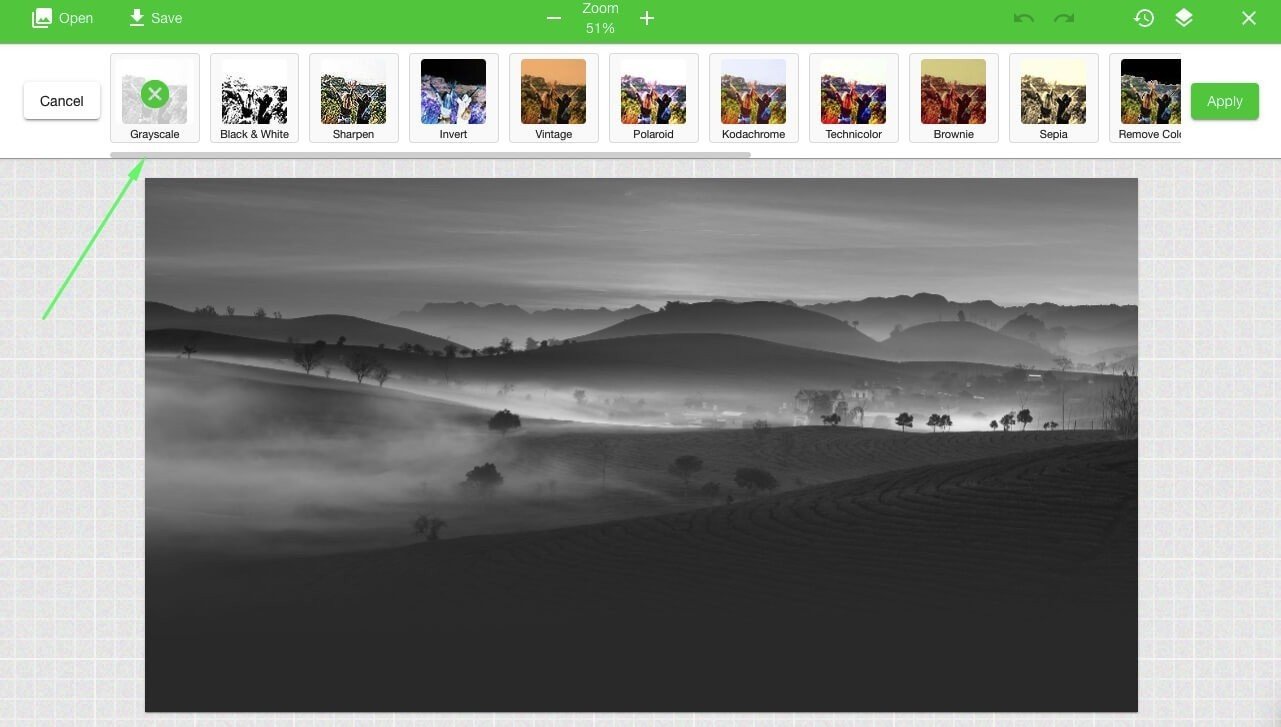 in the General settings, the Appearance tab, I set the black font color for my entire email;

there, I also set dark grey color as my CTA button color and white as the button font color;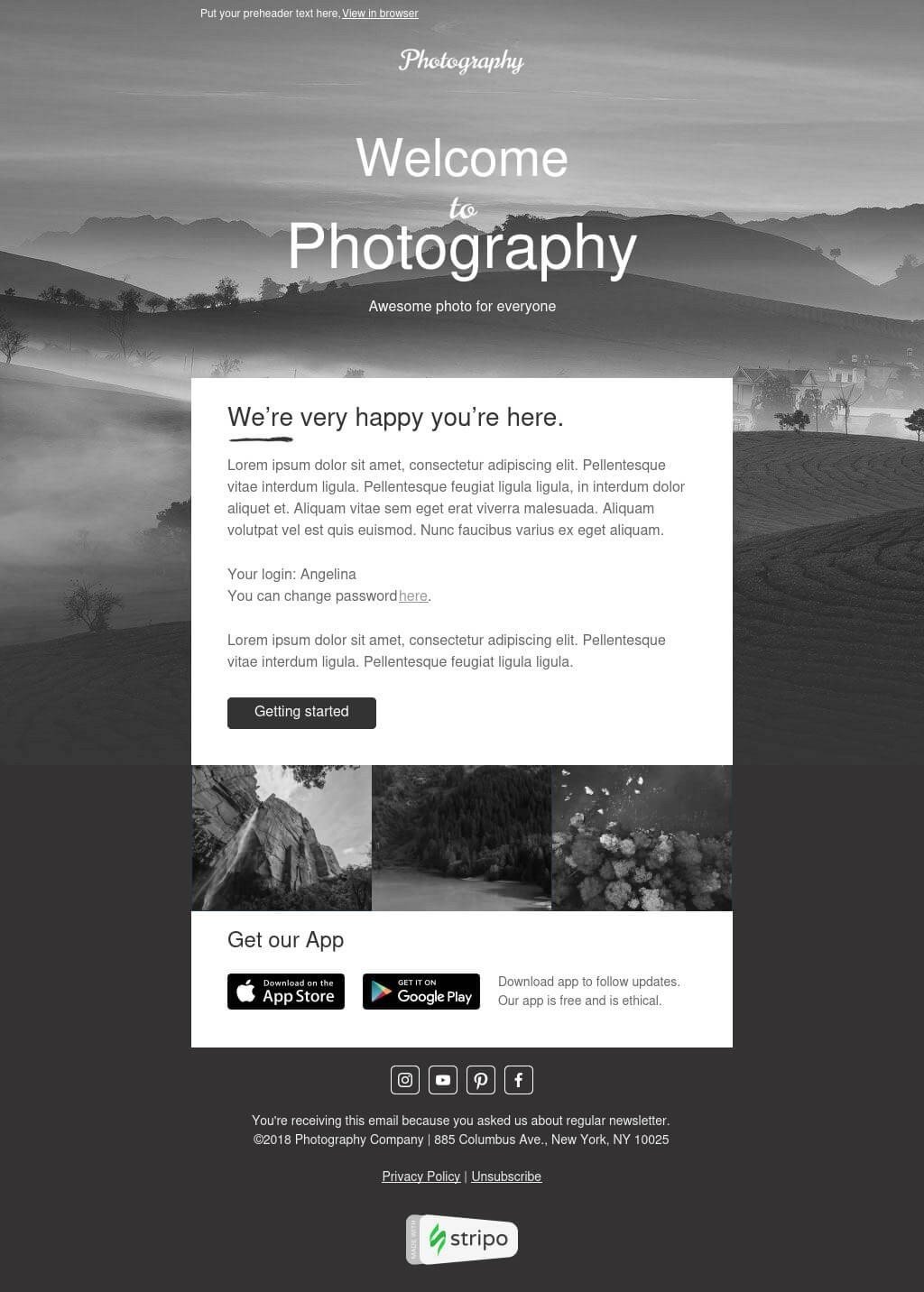 then I choose grey social media icons.
Seems like my email is ready to go!
Final thoughts
Many people when they hear the phrase "simple black and white HTML email" think about minimalism, straight lines, rigor, and even boredom. But our examples given above prove this is absolutely not the case. The black and white design can be minimal and rigorous, but at the same time intriguing and classy.
Was this article helpful?
Thanks for your feedback!