Over 89 million messages are sent every day via email, according to recent statistics published by Mashable. That's not counting over 55 million private messages. We all see now that email communication is very relevant now.
Today it is impossible to do without e-mail either in business or in personal life. Marketing efforts does the thing! At the same time, few people know how to properly start and end an email message to achieve the desired result.
Maybe sometimes you wonder why your professional emails are not being read when you send them to your customers? This is mostly due to bad email format. Sometimes they can be boring, haven't you noticed? Who said that business emails are to be dull? After all, those times are gone. Now we can use all of our rich imagination when working on professional email templates. And don't forget that you still need to make them look stern and professional!
So do you want to use bright images? Do you want to use festive fonts? You are welcome.
And in order not to waste your efforts, we will share some useful tips to help you create business email templates.
What makes our free business email templates the best fit for you?
It's simple. Because all you need is here. Dive into the world of social media marketing with us.
Stripo.email offers a collection of 1100+ fully responsive professional email templates for any industry and any purpose. We also have s Library of Content Modules to help you make an HTML email in just a few minutes. You always can use our prebuilt Modules or create and save your ones. And you can visit our blog with 200+ articles on Email Marketing and email design from our experts as well.
Apart from being professional, our templates are a good fit because you can edit them and save time.
Here are some tips on creating business email templates
Reflect your brand through business emails
If your customers receive marketing emails from you that don't reflect your brand in any way, they're more likely to throw them away.
Therefore, you must include your logo and other brand-specific elements in every work email you send out.
For example, look at this template. It is immediately clear that this is Starbucks. You can see the company name here. In addition to the fact that we can see the logo of the coffee shop at the top of the email, the email itself also contains a photo of a well-recognized cup from there. Therefore, Starbucks lovers who receive this email will know from the first seconds that this email is from their favorite establishment and, most likely, will read the email to the end.
The best way to start a business emai
How to start a business message? The beginning of your message is the first thing the recipient will notice. A good start means you will make a good impression. A bad start may mean that your message will be deleted before the recipient even gets to the point of the message. Remember that you are talking not to your team member, who may know everything about your company, but to your client. Be careful starting a message.
Here are the three elements of a good message start:
subject

greetings

first phrase
Let's look at the first element.
Subject line
Most people skim through the subject lines of messages in their inbox to decide which ones are important and which ones can be opened later or deleted altogether. If you want your messages to be read, you must write good subject lines.
David Masters has some good tips for writing good email subject lines:
Masters argues that effective message topics should be relevant to the audience, as specific as possible, and directly tied to the recipient's life. Often, subject lines in which you try too hard to grab attention are doomed to fail. Exclamation points do not mean that your message will be read. Never send a message without a subject. Many email programs send messages without subjects directly to the spam folder.
Greetings to attract the recipient's attention
A greeting is an address to the recipient of your message. In more formal correspondence, it is often started with the word "Dear/Dear".
Here are some examples of formal greetings:
Dear Sir
Madam
Dear Mr or Mrs
If you start a greeting with the words "Dear Sir" or "Dear Madam" and at the same time do not know who you are addressing - a man or a woman - your address may be considered rude. In this case, start with "Dear Sir or Madam".
Although the word "Hello" sounds less formal, it is unlikely to offend anyone. This is the best way to start a message when you don't know the recipient's name.
When you write professional emails to a person above you in position or older than you, address them by their first name and patronymic. For example, if a university student writes a request to the head of the department of the company in which he is looking for a job.
When you greet someone by name, double-check the spelling of the name. When a person sees a mistake in the spelling of his name, it always makes a bad impression.
If the organization encourages an informal style in correspondence, you can start the message with a simple "Good afternoon" or even "Hello." If you know the person's name, write the name. For example: "Hello, Adam."
However, be careful when you write emails. Informal greetings are friendlier but can come off as a little too brazen. If you're unsure, it's best to err on the side of being more formal.
In business correspondence, excessive informality can be considered rude. Most experts agree that we should not start and end business messages with the abbreviations we are used to in SMS. Below are a few examples of SMS abbreviations to avoid in business emails:
Hi ( name)

Yo

Sup or Whatsup
First sentence
The first sentence of a message affects whether the recipient will read it further or not. It is of particular importance in introduction emails!
A professionally crafted message will start with an effective first sentence. And do not count how many messages I sent straight to the basket since already on the first line it was clear that the sender did not make sense to write to me.
Here are a few examples of bad first sentences and how best to fix them:
"You don't know me, but..." There's no need to tell me that I don't know you. Instead, get straight to the point. "I am writing to invite you to the company's annual meeting on July 5th."
"My name is AnJohnson, and I..." Such a beginning focuses the whole message only on you. Instead, ask a question to keep the recipient interested. "Did you know that 50% of Americans have no savings for retirement?" Introduce yourself after you've got the recipient's attention.
If you're writing an email to a person you don't know personally, but you have some common ground, refer to them. For example, you could write, "I liked your usability presentation at the [company name] meeting last month," or "I read your latest article on [topic] in [company name] publication."
A word of caution: don't try to invent common ground where there isn't one. If you haven't been to the presentation or read the articles, they'll figure it out quickly. As a writer, I often get emails from people claiming to have read my article, but upon further communication, it becomes apparent that they just skimmed through the title of my article.
Style choice for a business email: formal or informal?
The style of your message can influence whether it has the desired effect or not. Accordingly, the beginning and end of your message will be different depending on the style you choose.
There are three key things you need to know about email style:
When to use a formal style.

When to use informal style.

Following the tone.
Let's discuss each of them.
Formal email style
A few years ago, all business communications were required to adhere to a formal style. Perhaps that is what you were taught.
The biggest problem with this is that formal greetings sound too strict. Talking to business people you should be formal but not too much.
Pay attention to the tone of communication adopted by the organization you are writing to. Many companies today prefer a simple, informal style, even in business correspondence.
Informal email style
Some companies adhere strictly to the formal style of correspondence, while others prefer a less formal style. The following signs will tell you if you should switch to a less formal language in your messages:
Messages from all employees that you receive from a particular organization are written in an informal style. Pay special attention to messages from the leaders of the organization. How are they written?
Recipients suggest you address them differently. For example, you address the message with the words: "Dear Mr. Smith," and he writes back to you: "Mr. Smith is my father, call me Adam."
You are well acquainted with the recipient. When you write a business message to a friend or colleague you know well, it's natural to address them by their first name. If you write "Sir" or "Madam" in the greeting, it will sound awkward, even unfriendly.
Let's talk about your tone for business emails
One of the biggest disadvantages of email is that the recipient does not see your gestures, the so-called body language. This may cause misunderstanding.
Add small phrases at the beginning to make the email seem more friendly:
"I hope you're having a good day today."
"Hope your week is good."
"I'd love to meet you again."
As a result, the tone of your communication will change for the better. Avoid overly formal greetings like:
"I hope you are all well."
"I would like to inform you that..."
"This post is about questions about…"
Your goal is to establish a friendly relationship with the recipient before discussing business matters.
Always insert a call to action at the top of your business email
The goal of every business email is to get the recipient to take action. Thus, it is important to tactically place the call to action so that it can capture the reader's attention.
It is highly recommended to make quick call to action and use the first few lines, as this saves the reader time and effort required to scroll through the entire bottom of the email. Never forget about time frame when writing an email.
Pay attention to business email subject lines
Writing an effective subject line is one of the hardest parts of email marketing. The infographic from Litmus explores some ways to do this, so first I'll summarize the fundamentals before getting into a 6-step checklist for your next email campaign.
Don't be afraid to use the following:
ALL CAPS (not for the whole subject line, mind you: just to highlight the occasional word)

The word FREE (debatable, doesn't sound like spam)

An exclamation point!
Use geo-location to increase personalization
Collecting and using geolocation info can improve open rates by being personal and relevant.
Frame your subject line as a question
Target the question at the types of problems your customers/leads need answers
Keep it short
50 characters or less works best.
Don't use the following tactics while creating business email templates:
Symbols and special characters: they might get people opening them out of curiosity, but they make you look cheap.
Don't use FW: in your subject to imply it's come from a trusted source. That's shitty marketing.
Scams: People have become wary of requests for help.
Numbers: details of your special offers (50% off, etc.) can be useful but don't overuse them or you'll establish yourself as a sales merchant.
Use web-friendly fonts in your business emails
Essentially, email fonts should be appropriate for the potential clients you work with and the different types of devices. Keep in mind that not everyone read your email from a computer but also from mobile devices.
So it will be good if you use fonts like Arial, Times New Roman, Verdana, and Georgia. These fonts are not only readable on computer and mobile devices but also supported by most operating systems.
Ensure your business email templates are clear and simple
Make sure your emails are easy and convenient to read. Use designs that developers can create with HTML code, and choose relevant content carefully so that it renders well in a variety of email clients. The text should be divided into blocks with large headings and small easy-to-read paragraphs. The presence of free space prevents the feeling of being overloaded with relevant content and allows the reader not to be distracted from important elements.
Use customer pain points
Don't you know that digital attention spans are short. If you don't grab someone's attention from the beginning and never let go, your message won't be heard. A single moment of disinterest risks losing your reader.
Pain points will help your email marketing because they force you to talk about what's important to your audience. You use them as a roadmap to create content that readers will find useful at every stage of your sales funnel.
1. Be brief and don't forget about time frames!
Your client won't care how important the information is if it takes more than a couple of minutes of their precious time to read through it. They want to save time and so on you should be really brief.
This should be something that you practice throughout all of your email campaigns. But you should be even more attentive when writing reminders. For example, you have to remind a right person about their recent purchase in about few words. Nearly no one will read through a reminder if they're met with a wall of text.
You should be able to grab recipient's attention to be successful.
Add tables in business email templates
Tables are an integral part of reports, which are a must for some business correspondence.
Stripo offers two methods of utilizing tables in emails:
The first method — uploading tables as images
If your stuff designer has already built and saved them in .png or .jpg format, you can easily upload them as regular photos.
To do so, you need:
drag the Image block into your professional email template;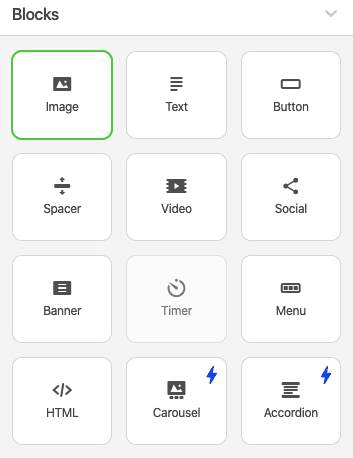 As shown in this blog post.
The second method — building a table on your own
Exactly. You can build one with Stripo.
You add a necessary number of columns and rows.
To do so, you need to:
drag the Text block into your free business email template;

click it to activate the upper toolbar;
click the "Three dots" icon;
choose the Table menu.

Adding bulleted and numbered lists
You might find this option very useful when sharing details of a particular event, or agenda, or even when providing users with the list of items/documents required for a certain action.
To do so, you need to:
drag the Text block into your free business email template;
click it to activate the upper toolbar;
click the "Lists" icon;
pick the necessary type of list.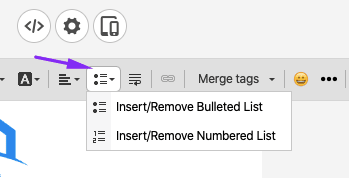 Put the text to the right of the images
Research has shown that readers are drawn to images. By breaking up text with pictures, and doing it the right way, you can gain access to the potential customer's attention even more easily.rather than plain text.
So, you must insert your image on the left so that it is the first thing that catches the eye of the readers.
Building a professional business email signature
The professional email signature is vital for corporate email templates. No matter who you are reaching out to clients, colleagues, or your employees.
Everyone might want to have an opportunity to reach out to you whenever they need it having chosen the most convenient method.
Your professional email signature is supposed to include:
Your photo.

Links to your social media profiles or landing page

Your cell number for the client to make a phone call.

Working hours.

Your position, mentioning the industry you're dealing with.
In our "Signature Design Examples" blog post, we show in detail how you can build your professional signature regardless of your industry.
Don't put images in the background
When working with business email, it's important not to add background images. Keep it simple with a simple background.
Always include a "View in Browser" link to your business emails
There have been instances where users were unable to view images included in an email. You can make sure that all your recipients view your email along with every visual.
So be sure to always include a "view in browser" link.
Don't overload your inbox with images
Use images optimized for browser display and fast loading. Typically, 800px wide images are sufficient for emails. Add additional text description in case the images fail to load or the reader is using a visually impaired program. Animated GIFs can make your message interesting, but keep in mind that too many animated elements in your email can lead to loading problems. Look for suitable images that match your brand image as well as the overall color scheme of the email.
Reading a business email from top to bottom
Reading an email should be fun. Create a layout that logically arranges the visual elements of the email from top to bottom. The inverted pyramid works well for wording a simple email notification, a zigzag arrangement of images and text for a stylish promotional message, and a neat column for an informative newsletter.
Finish your business email correctly
Have you ever written a message but don't know how to finish it? You are not alone. The final words of the message are no less important.
It is best to end the email with these elements:
Final words
As mentioned above, the last words matter. If your tone is too familiar, you may make your recipient feel uncomfortable. "Regards" or "Best Wishes" are considered standard closing words in a business email.
Email signature
If you are not familiar with the recipient, always sign with both the first and last name. If you are well acquainted, and business correspondence with this person is informal, you can sign only with your name.
Position and company (if applicable)
If you are writing on behalf of a company, you must include your position and the company name you represent in business correspondence.
Contact Information
Include not only your email address but also other ways you can be contacted. For example insert a link to your social media or leave your other contacts. If you're looking for a job title, use your LinkedIn profile.
Link to the company's website
If your company has a website, insert a link to it. It is really important.
Photo (optional)
You can add a photo of yourself next to the caption, but never just use a photo without a caption. Some email programs do not display images. In this case, if you do not subscribe, but only post a photo, your recipient will not know who the message is from.
As well as at the beginning of the message, do not use abbreviations from SMS in a business email. Here are some examples of abbreviations to avoid:
CYA (short for "see you later")

L8R
Ask your clients for feedback
When working with people, when working with clients, it's utterly important to get their feedback, it's crucial to know what they think of you and your product services. Leave a special feedback form in email for the users to answer. These feedback form will help you to get to know your clients better and so on you will be able to improve your business.
What if you don't have a response?
Then you should learn how to write a follow-up email. Because sometimes it's important to make more than one call.
Let us say a few words about it for you to understand everything better.
Structuring subsequent emails are quite tricky given that you already stated your needs in the first email. However, they should and it's okay to feel uncomfortable when writing to your prospect. An email reminder or follow-up is the method practiced by most companies around the world. We can present this as a stubborn way to build a business and generate leads. For businesses, this is a way to remind customers of their product services. A way to clarify as well as get feedback from customers.
Follow-up emails are complex and hard to format. You don't want to sound too persuasive or demanding. The email must have the right tone toward the client. Below are some steps with hypothetical scenarios.
First, connect with the potential client through social media.
Modern customers spend their time using social media platforms. It is easy to access and create a bond and business establishment with the client.
Then create a subject line that doesn't look spammy but shows value.
The subject line should show great relevance. It should personalize, making the customer feel like they are being addressed. It should look like this email is a value proposition. The subject line should show the importance of reading and taking the time to write.
To get effective results, it is better to continue the previous email thread. Follow-ups won't sound or look new to customers. They can easily track down their latest email. Tell the client why you are sending him an email and what you need.
Now you need to tell the client why and what you need from him.
All clients are self-centered, especially when dealing with potential clients. They always have a question about why they contact them. What a catch if I buy your product or service. And what should I tell? When stating your answer, make sure they support your business as well as the client. You can never work for free, so set reasonable goals to keep the atmosphere friendly. Also, you must specify the benefits they will receive from the product or service.
Give the client an idea that they would benefit from having you and your business. That they will enjoy having the services of the company in their exposure. You should gain access to the client's trust.
Here is a repeat email example after no response. This is a gentle sample email. You should politely mention that I would like to continue my previous email.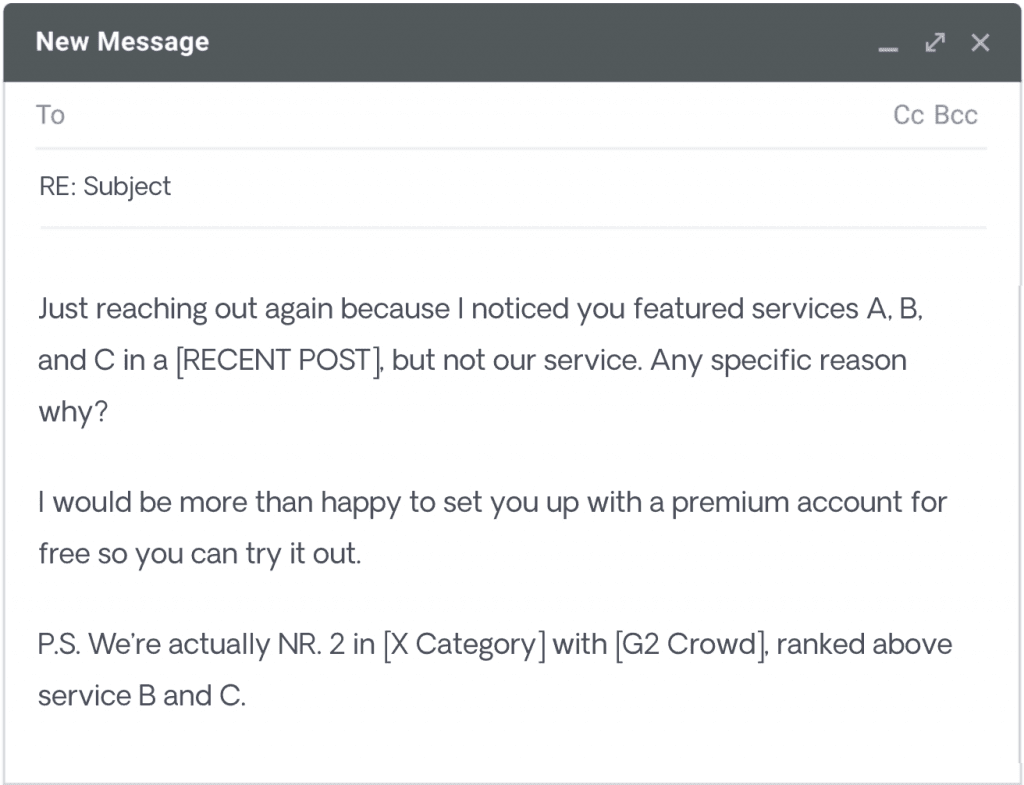 Business mail examples with successful design
To help you even more, we will look at several email examples from different areas of business that we ourselves discovered and read with pleasure.
1. Look at this confirmation email template. You can always use such an email when you have to tell your client about their recently purchased item. Just like in this email example.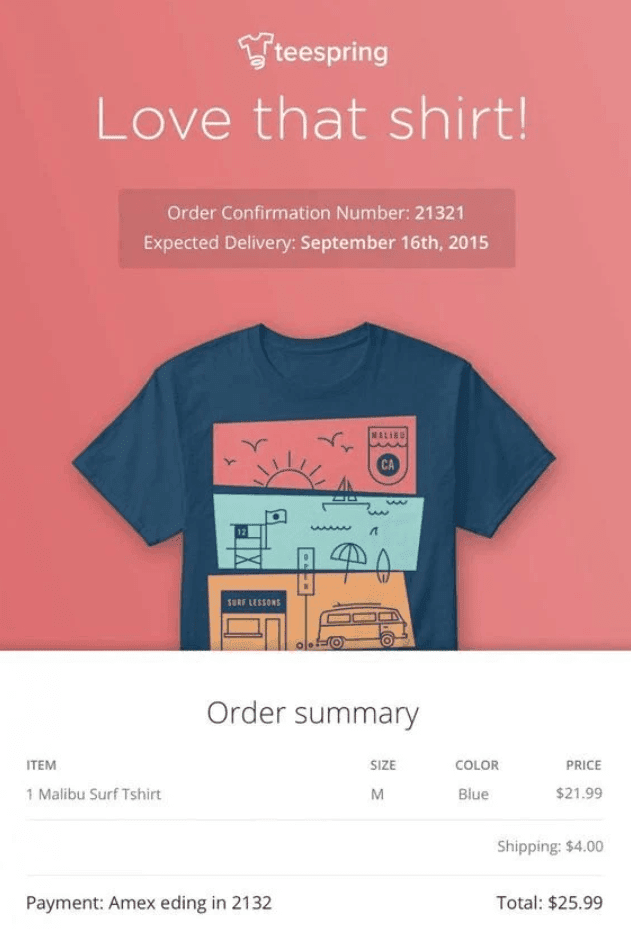 This email uniquely represents the customer's latest purchase. Note that it is fresh, the colors are attractive, but do not take all the attention.
This is a great example of how order confirmation emails can be used to increase engagement. In addition, the email contains useful information for the client: order number and price summary. Also note that the email provides the opportunity to contact both the business and the seller at the click of a button.
2. When we talk about discount emails it's quite essential to use time frame. Just look at this email example below.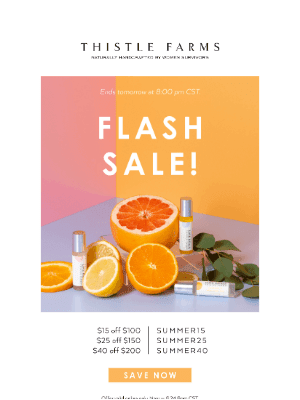 Thistle Farms, a natural home and body shop, uses urgency with an emoji in the subject line of this flash sale email and a sale deadline clearly defined in the email. This helps to drive more traffic to the site as well as purchases.
They use pretty forn for their company name. This unobtrusively reminds the client of that email. Don't forget about it.
In the example above, Thistle Farms excels in email weight, use of GIFs, and optimized headline text, but it falls short in terms of mobile optimization.
You also can add discount code or some information about special discount in your email as well. Also do not forget to attach links to your social networks. This is how you can get a new subscriber.
3. Here is a great example of promotional emails.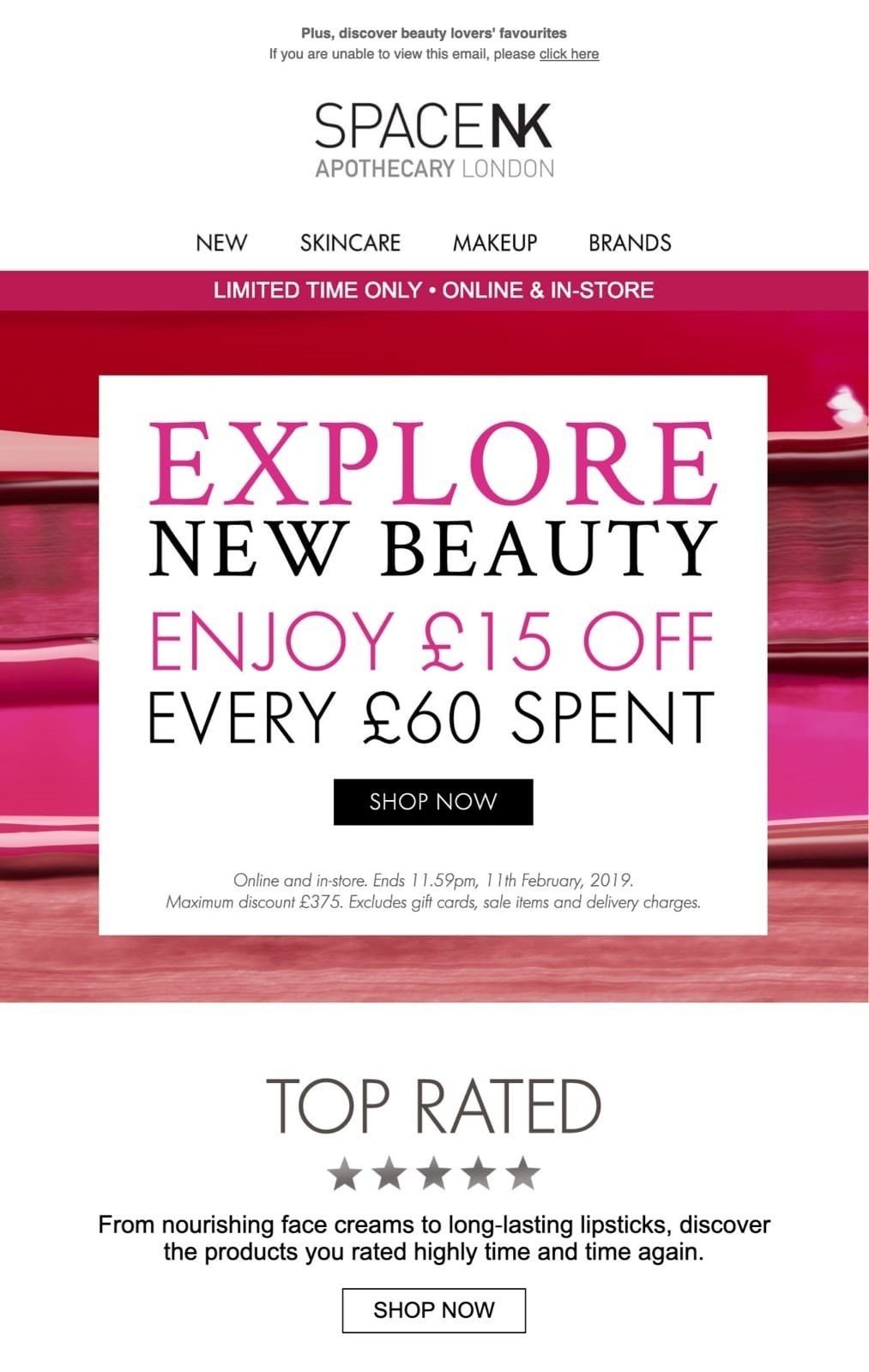 Space NK uses everything: special discounts, limited time only, social proof for personalization, and of course the company name.
In addition, Space NK uses social proof that gives you some of the "most popular" shopping ideas and 5-star reviews from other customers. This reassures customers that the brand is reputable and can be trusted.
Also, Space NK uses specific user account information to personalize their emails with relevant product recommendations and account usage summary.
4. You can see brilliant example of automated email below.
Email from ClickUp lists all of the apps and product versions with download links.
When we talk about automated emails , then welcome emails and 'hello from the founder' email can also be counted as automated ones.
You usually send welcome emails when someone has registered on your site or sign up for your newsletter. Then you should include login details in your email.
Also when you deal with this type of emails don't forget to include also links to your socials. You can get some new subscribers! And also write your company's number for your clients to make a phone call.
5. When we are talking about introduction email it's significant to explain why you are reaching out right. Look at the email template below.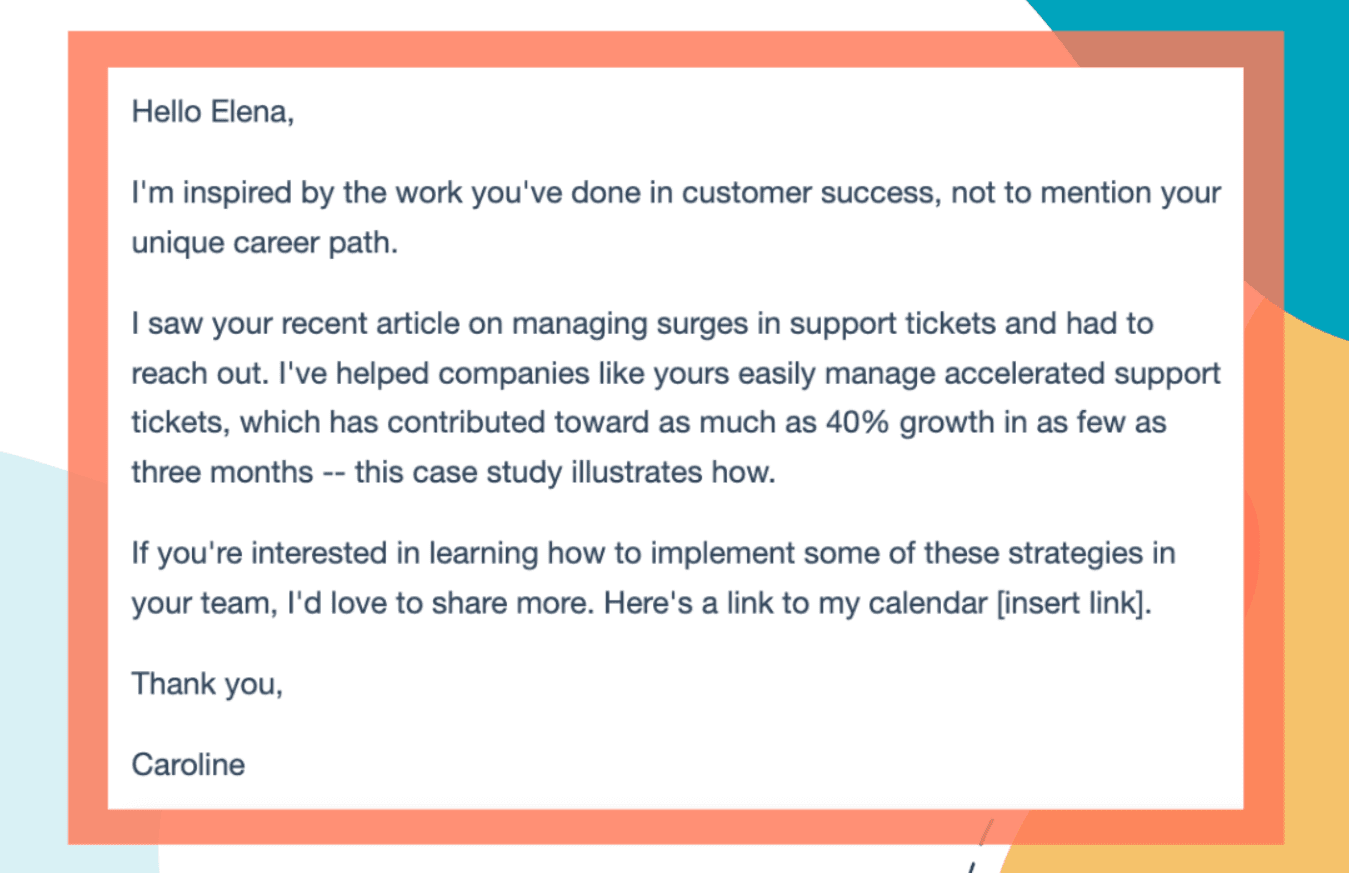 The author talks about the reason why he writes right away in the second line of the email.
The key is making your explanation as relevant to your recipient as possible. You want them to feel special - not like one person on a list of 100 that you're emailing.
6. What about job application emails? Here is a good example!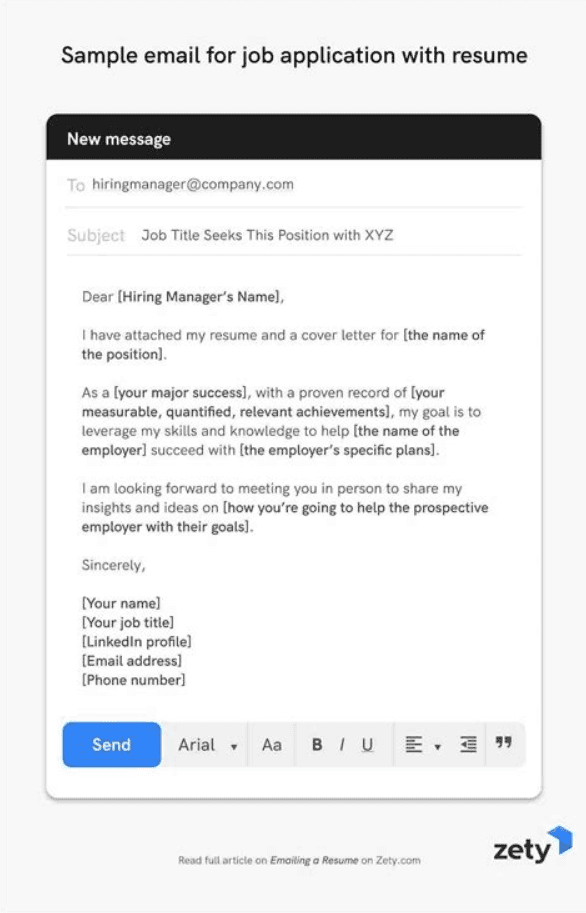 You can see a clear subject line. Use it when writing a job application email. Start off with a formal greeting and address the hiring manager by name (preferably last name).
You also should add the job title you want to work.
At the bottom of the email message include an email signature with your contact information, so it's easy for the hiring manager to get in touch with you. Don't forget about your LinkedIn profile! Add a link to it.
Join over 950K users
Start for free — upgrade anytime