Abandoned cart emails remind customers about items they aimed to buy on your website, but didn't complete their purchase. Almost 70% of online store visitors put something in their carts and forget about them. So, that's always a good idea to remind them about your products!
The abandoned cart email campaign is a working method to boost transactions and get visible profit. Let's take a look at the best examples and tips for abandoned cart email templates to conduct a successful campaign.
The best tips for creating abandoned cart emails
Be polite
Keep in mind that your message should sound helpful and friendly. Your customers don't have to buy anything. But you can invite them to do this. Even in a subject line, you should just inform subscribers about the abandoned products, no aggressive sales are required.
A few subject line ideas for your abandoned cart emails:
Did something go wrong?
Did you forget something?
The (product name) is waiting for you!
Get it before it's gone!
Don't be pushy, but use clear and bright CTA buttons in your email. Cart abandonment is a common situation, so your potential customer may receive lots of messages like this every week. That's quite annoying if they are written in a promotional or intrusive tone of voice.
Try to find a balance between the effectiveness of your message and the email recipients' comfort.
Attract customers' attention
There are many abandoned cart email examples for online retailers, eCommerce, and personal projects. Make your message look attractive and intriguing to your subscribers.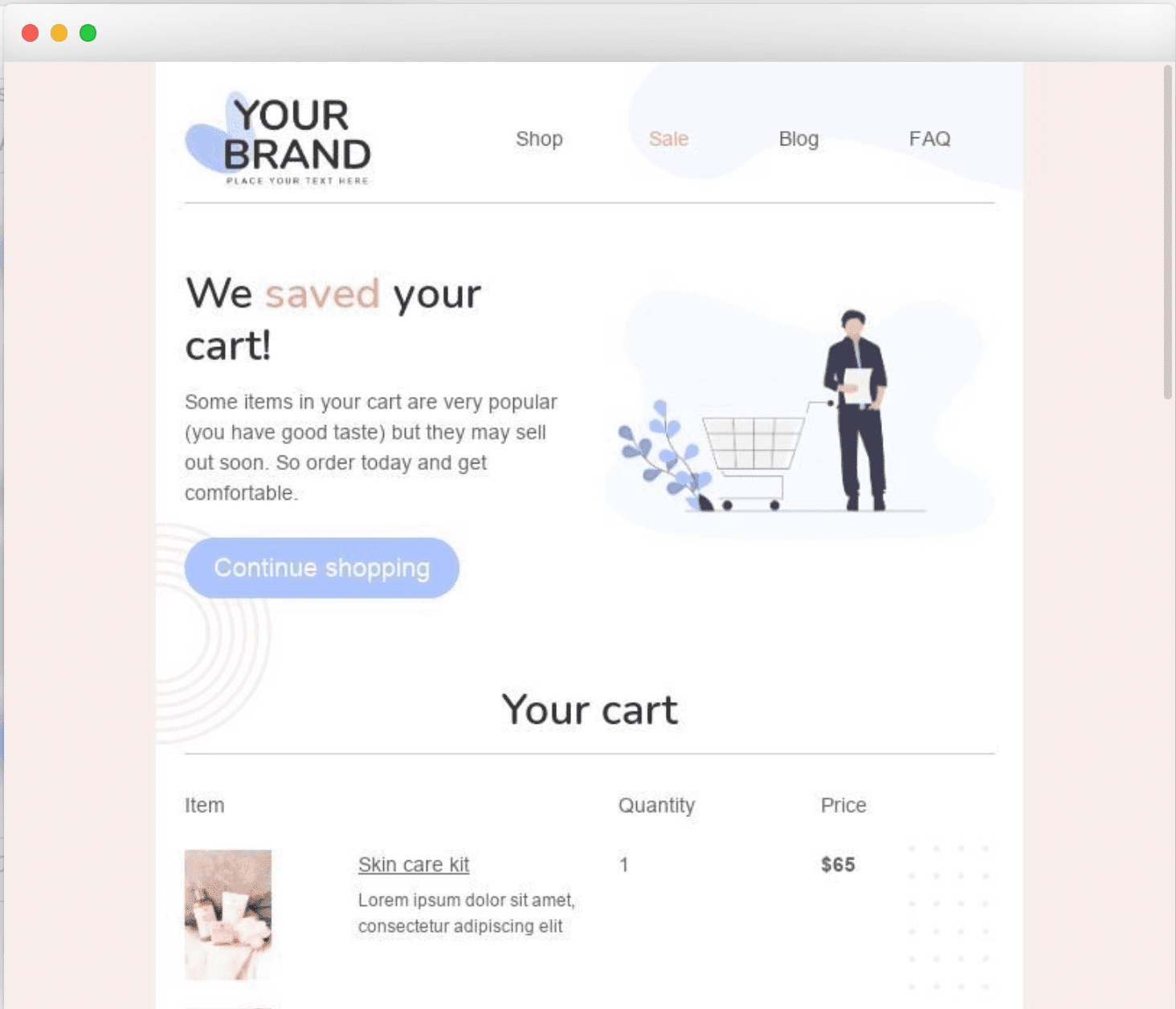 You can use stock images but edit these photos to suit your brand style. For example, use filters, GIFs, unusual fonts, and other visual effects.
Another good idea is to add product cards or product reviews to your abandoned cart email template. These useful details will increase customers' loyalty and make them return to their abandoned shopping carts.
Make sure the main idea of your email is clear
If you want to recover lost sales, you shouldn't add the whole online store catalog to the email. Sometimes email marketers add too many product cards, call-to-action buttons, and irrelevant offers to their abandoned cart emails. As a result, potential buyers feel confused and don't know what to do next.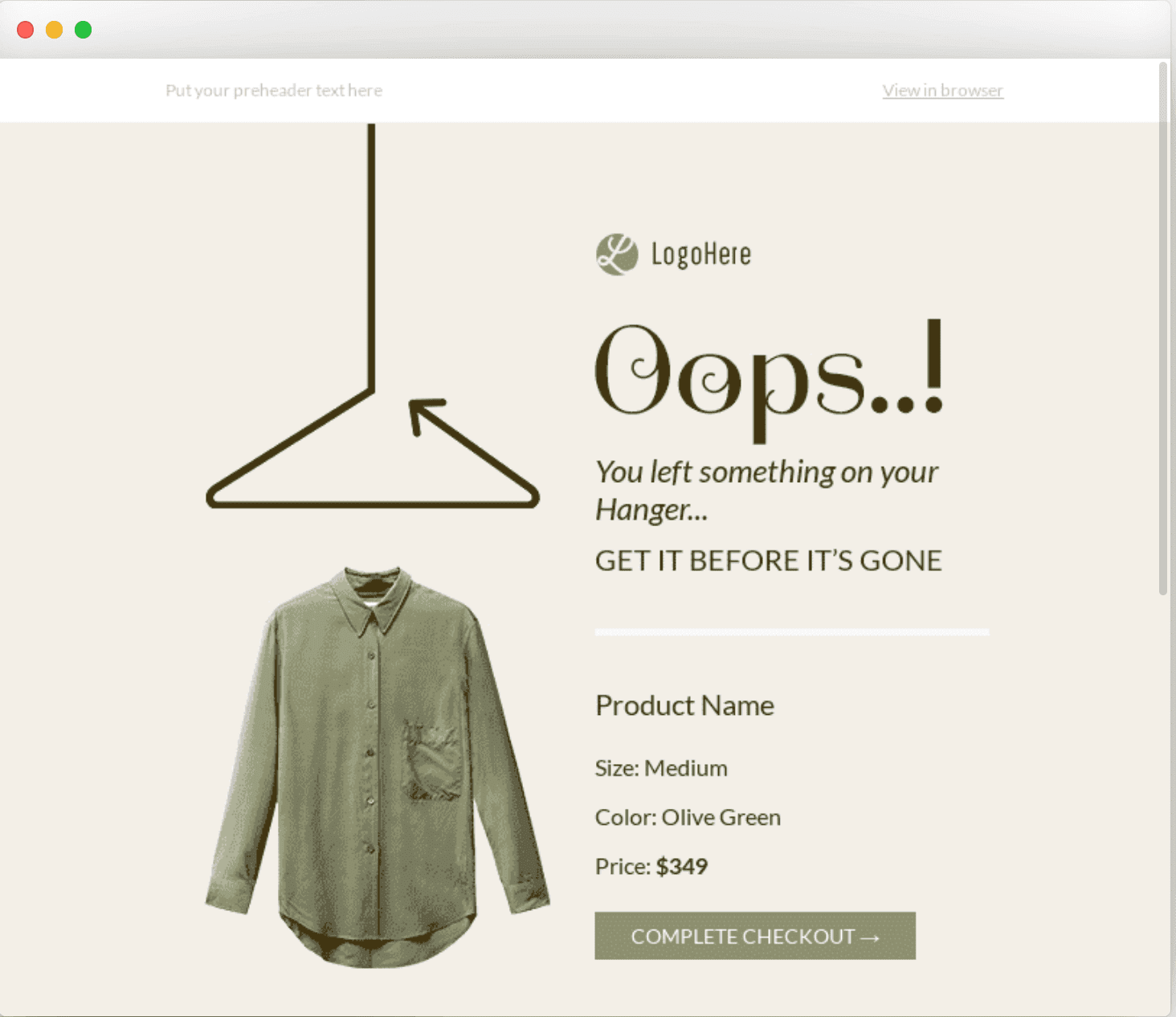 The ideal abandoned cart email examples are short and simple. The customer's actions and roadmap are basically predicted in advance:
a customer clicks on an abandoned cart link;
they are transferred to a checkout page;
a customer conducts a transaction.
Don't overcomplicate things. A successful abandoned cart email is usually as simple as possible.
Use mobile-friendly templates
We will never tire of reminding you that adaptability is a must. An email template may look perfect on the desktop version. But how does it look on small smartphone screens? Most email subscribers check their mailboxes on mobile devices. Keep in mind this fact while developing your abandoned cart email strategy.
Stripo's templates are fully responsive and created according to the recent email marketing best practices. You can choose the one you like and align it with your business needs.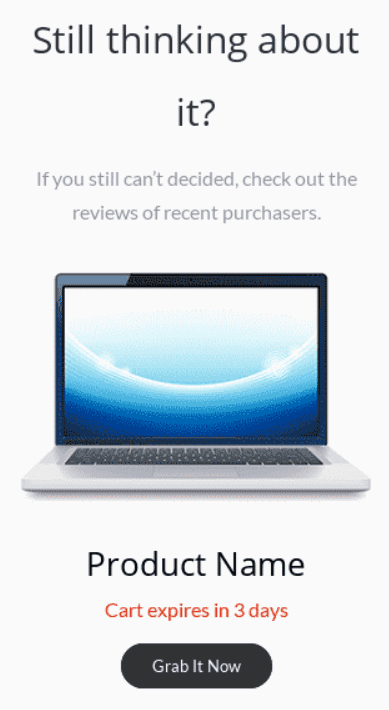 8 tips to return lost customers after cart abandonment
We have come up with a short yet helpful checklist to help you build a brilliant shopping cart abandonment email.
The abandoned cart email checklist
1. Create a sense of urgency
Cart abandonment emails have better results when subscribers have only a few hours to complete their purchase. You may add a special discount code that works only for 24 hours or show that there aren't many items left in stock.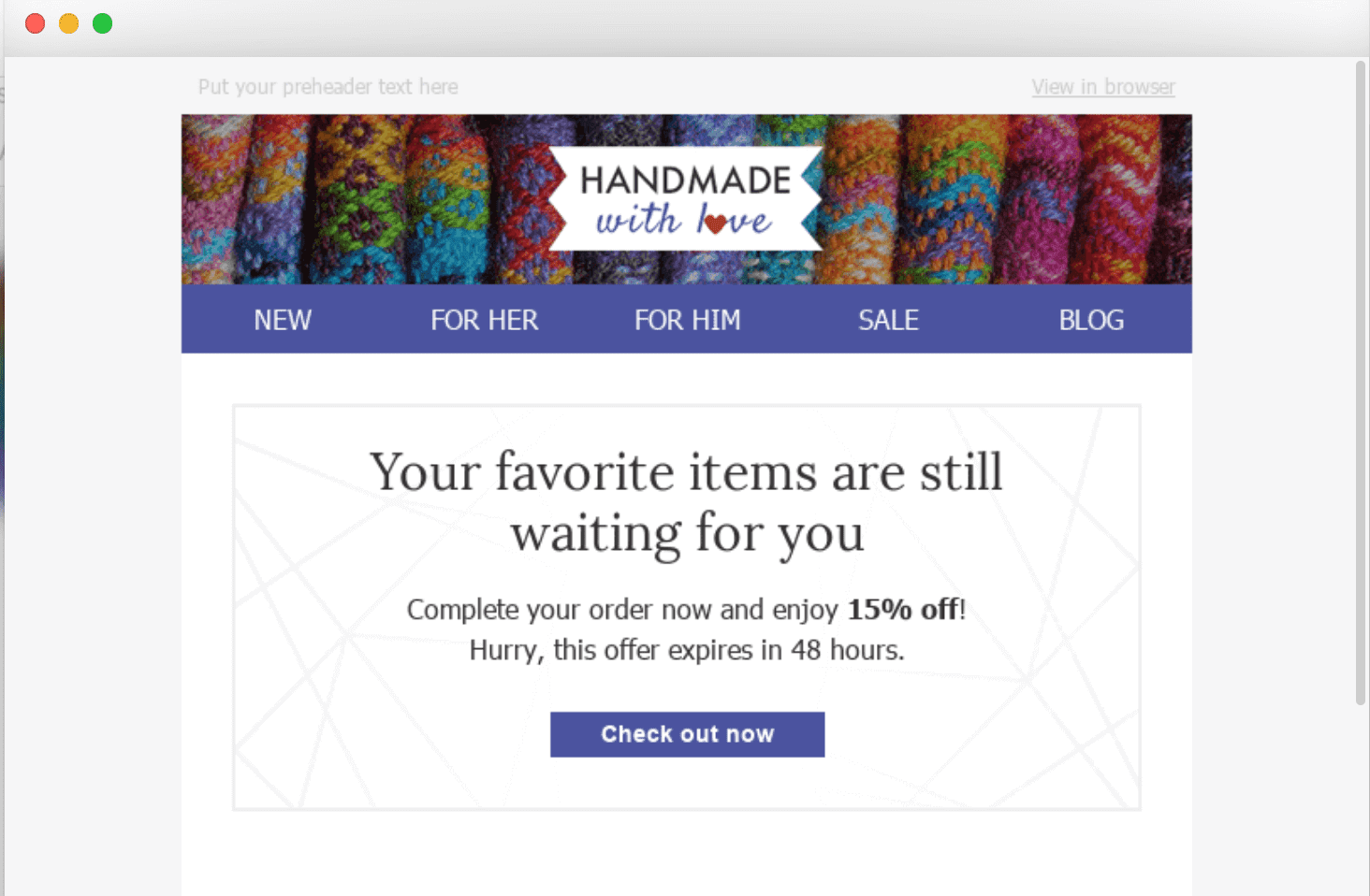 2. Benefit from special offers
If you plan to send abandoned cart emails, think about some benefits for your potential customers. Maybe you can provide them with free shipping? Or a discount code? Many eCommerce businesses use this trick to motivate website visitors to complete their purchases. A potential customer may hesitate, but the chance to save money will outweigh it.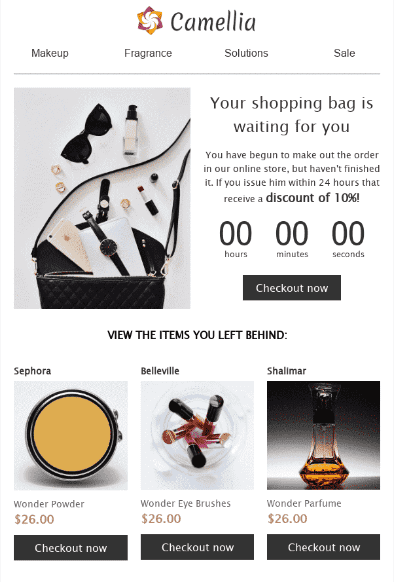 3. Evoke emotions
Online purchasing decisions are emotional and impulsive in many cases. The thing is you don't have to spend your time on the road to a store, stand in line, and walk through overcrowded malls with a heavy shopping bag.
Online shopping is fast and simple. As a business, you need to take advantage of this by adding some creative emotional elements to your email. Remind shoppers about items they really want. Show the emotional benefits of the purchase. It will enable you to increase your click-through rates for sure.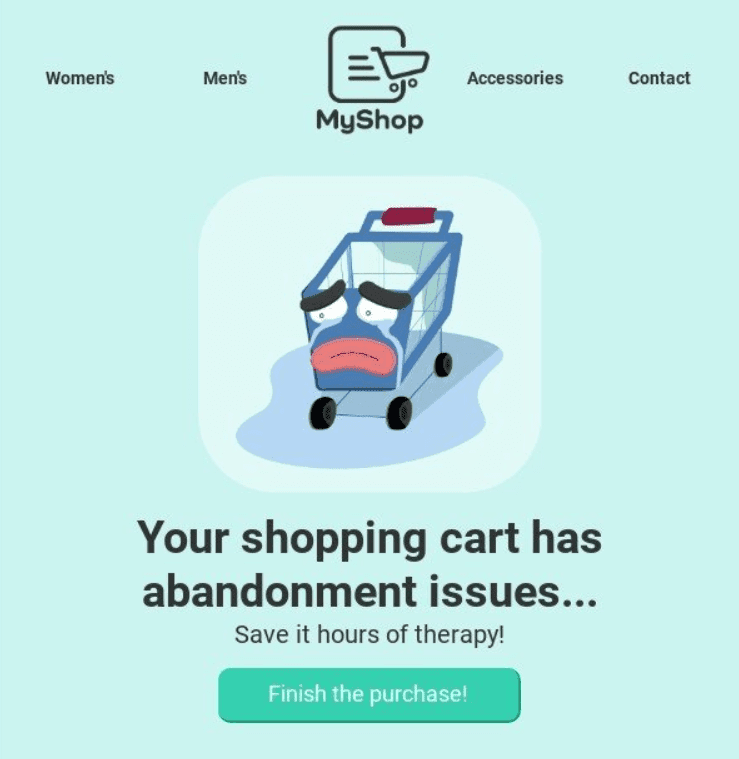 4. Add your contact information
Don't forget to add links to your company's social media accounts. The customer service contact info will be also useful in your abandoned cart email template. Provide your potential customers with a variety of ways to contact your company: direct links to your social media accounts, phone numbers, email address, and messengers.

5. Provide customer reviews
Except for a clear call to action, you can add product reviews to your abandoned cart email template. It could be unpacking videos recorded by your customers or expert reviews from your team. This social proof has a good impact on the target audience. It improves loyalty and brand trust.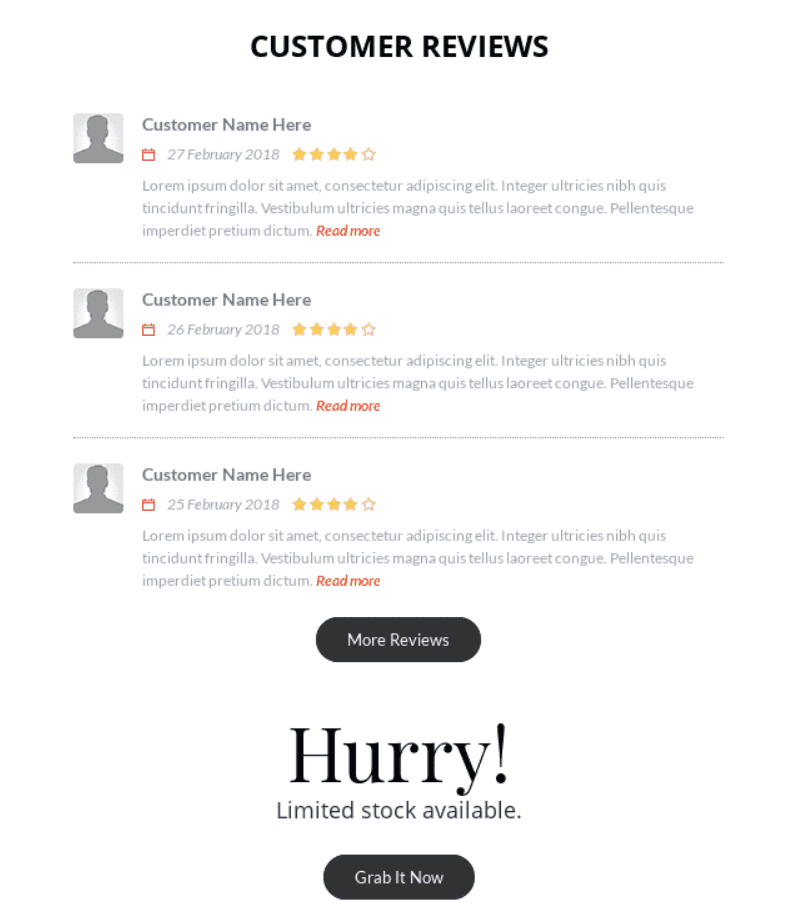 6. Offer useful information
An abandoned cart email template may also include more information about the product. No matter if you sell gadgets, clothes, kitchen supplies, or anything else, you can always tell about abandoned items in detail. Show the advantages of your products, use appealing photos, and provide a helpful copy.
Don't make your email too promotional. Instead, help your subscribers choose a product that meets their needs best. Chinese philosophers used to say: "When the abandoned cart email strategy is based on usefulness for customers, it is the right strategy". Well, not their exact words... but they definitely mentioned this wisdom somewhere :)
7. Work on catchy subject lines
Subject lines are one of the crucial things that has a direct impact on the conversion rates of any abandoned cart email. You can use A/B testing to see what subject lines work better for each segment of your target audience.
8. Create a follow-up email
It's important to remember about an abandoned cart email sequence. Usually, you can't entice customers by sending only one newsletter to them. Consider using follow-up emails to remind your customers about their abandoned carts. Avoid being too pushy and don't spam your target audience with daily promotional messages.
What are the most common abandoned cart email mistakes?
no customer support contacts;
dull subject lines;
lack of payment options and shipping methods;
incorrect links on your buttons;
too many follow-up emails that look like spam.
How to write a subject line for abandoned cart email templates?
The best subject line for an abandoned shopping cart email is short and clear. You can add some intrigue if it corresponds with your brand voice. You can also add capital letters or emojis to grab customers' attention customers, but don't overuse them, because it may confuse your subscribers.
Subject line examples for your abandoned cart email templates
Forget something? — Janji.
We saved your bag! — Bombinate.
?Thanks for Exploring. We Saved Your Cart. — Danner.
We noticed you checking us out… ? — Pulp & Press.
Take me home — D.S. and Durga.
Don't Leave A Good Cart Behind... — Cotopaxi.
Still thinking it over? — Le Tote.
You've left whisky in your cart ?— Whisky Me.
It's never too late: Complete your Hydrow order today — Hydrow.
Empty Your Cart with Free Shipping — Specialized Bicycle Components.
Stripo's abandoned cart email features
Building emails with Stripo opens access to many helpful features like smart elements and dynamic content. Take a look at some of them:
1. Smart elements to add abandoned items
That's easy. You can design a template using the "Smart element" feature and duplicate it several times. So, there is no need to add each product card manually. Just paste the link to your website and Stripo will add the image and description automatically. It saves time for your email marketing team.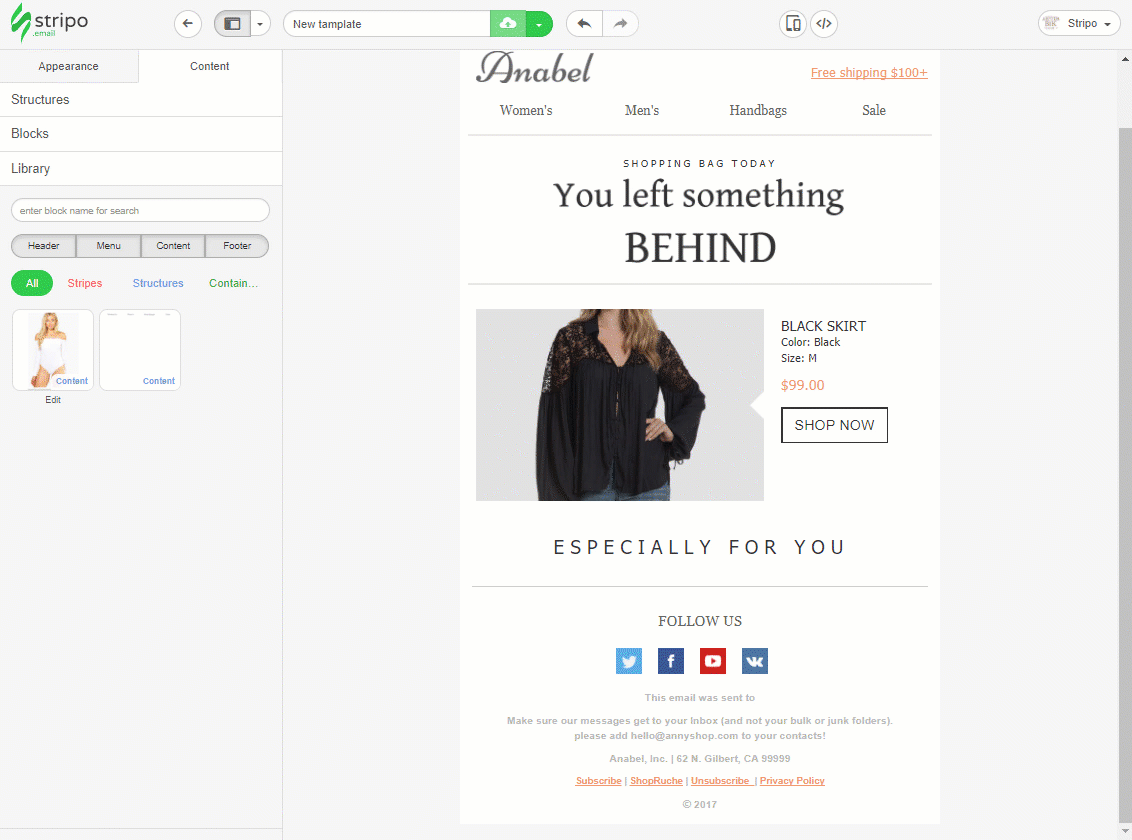 2. Image rollover effect to make your email design more attractive
There are many ways to use the image rollover effect in your email campaign. This element makes your newsletter interactive. It allows users to see the close-up and backsides of abandoned products and decide whether they want to buy them. All you need is to add 2-3 photos of a product. Make sure the images are of the same size.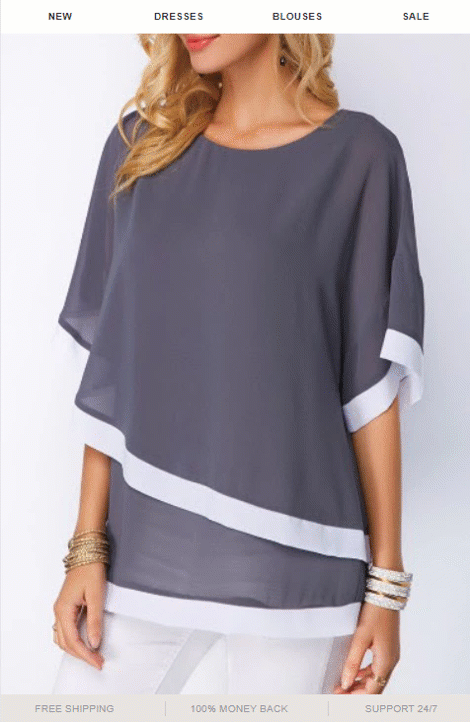 3. Setting display conditions and adding dynamic content for personalization
Personalized emails are proven to be more effective than standard ones. That's why Stripo offers you to personalize your emails using the information about website visitors:
gender;
location;
age;
interests.
Group your subscribers' contact base according to these segments and create different emails for each of them. Then, apply the "Display conditions" option to email stripes/rows in the Stripo admin panel. You can do this just in a few clicks.
If you want to learn more about this feature, check the article below.

What Makes Stripo an Email Building Platform, or the Things You Didn't Know That Stripo Actually Can
Wrapping up
Cart abandonment is a problem familiar to any online store. At the same time, an abandoned customer's cart may become a way to boost your sales. Add abandoned cart emails to your marketing strategy and see the results.
Remember the main elements that will help you to entice customers: a well-thought subject line, a clear call to action, and a time-limited offer (discount codes or free shipping).
Join over 1 000 000 users
Start with free email template builder — upgrade anytime