Ecommerce email marketing is used to promote products to new and existing customers. Ecommerce marketing emails help create loyalty to the company and increase user engagement.
What are eCommerce emails? These are emails that will help you communicate with new customers, convey your company's values ​​to them, and build long-term relationships with your audience.
Every email you send, from the welcome series to the cart abandonment messages, is an opportunity to connect with your consumers. Communicate with your clients through original product positioning, special offers, and benefits they can receive from you.
What distinguishes eCommerce emails from others?
The peculiarity of eCommerce emails is that they "sell." This doesn't mean that every email marketing campaign should have a picture of the product with a description and a "Buy" button. But all your communication should be subservient to this long-term goal.
There are many different typologies of eCommerce email templates. We will use the broadest one because each email can help you influence the user's satisfaction and repeated purchase.
You can choose free email templates from one of the many available tools. Stripo is one of them.
Types of eCommerce businesses letters
1. Welcome emails
The welcome email is sent when a customer first provides you with their email address through a subscription form on the website. Use welcome emails to tell customers about your brand, values, and most popular products.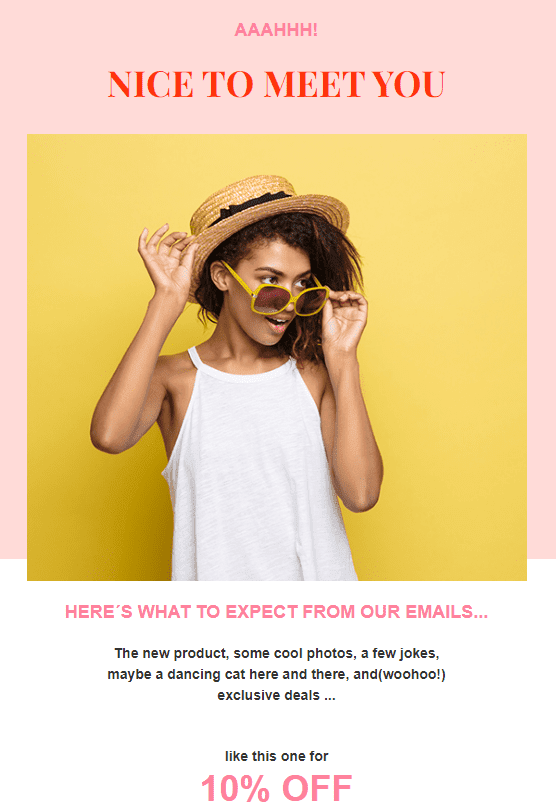 (Source: Stripo template)
In the welcome emails, you are already starting to build your relationship with the client. Tell them what information they can get from your emails — discounts, news, lifehacks, etc. Show the possibility of unsubscribing from the emails or choose categories of emails that are interesting to them. Inviting new customers to join your social networks is also a good opportunity.
2. Loyalty emails
These email campaigns talk about the loyalty programs that your company has. One option for loyalty emails can be premium membership programs, where you invite the customer to sign up for an exclusive" email list that gives them early access to special promotions, flash sales, invitations to special events, etc.
3. Re-engagement emails
These emails are sent to customers who haven't interacted with your company in a while. In such emails, you should make a small discount to remind the client about the benefits of interacting with you.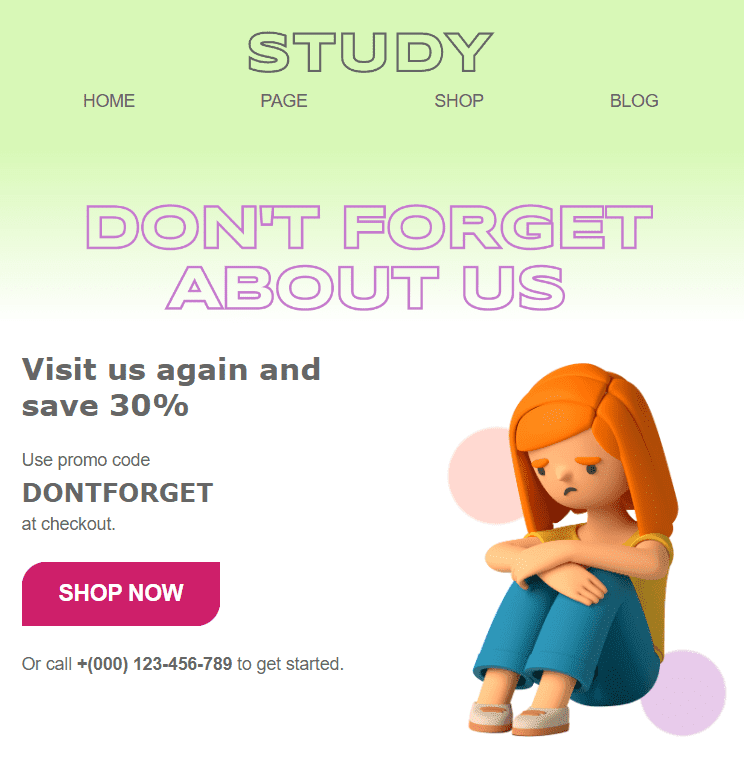 (Source: Stripo template)
In this email template, you can ask subscribers what content they are interested in and why they don't read your emails. Re-engagement emails will help you gather customer feedback and improve your content according to your audience's interests.
4. Anniversary emails
Remind your customers about important dates with greetings and a coupon code. It will be good if it is not only a birthday — let's face it, on this day, everyone is overwhelmed with emails and cards and most likely doesn't have time to use them all.
Choose other dates relevant to your brand and may interest the client. Then your email will not go unnoticed.
5. Promotional emails
Promotional emails inform customers looking for a way to save that they can purchase items from your brand with a good discount. The goal of promotional emails is to drive sales for your business.
(Source: Stripo template)
Promo emails help businesses stay in touch with existing customers. You can use these emails to tell your clients about special discounts, sales, and new product launches and share personal stories about your business to create a strong relationship with your customers.
6. Thank you or post-purchase email
In a thank you email, you tell the client how much you appreciate their trust and purchase from your brand. You can make confirmation that the purchase has been completed and the goods are already on the way to the customer.
(Source: Stripo template)
7. Feedback & Review emails
In such an email, you can ask the buyer to evaluate their interaction with you — whether they were satisfied with the communication and the service provided. Feedback emails will help you get honest feedback from the consumer about your services and give you the opportunity to improve or make changes if necessary.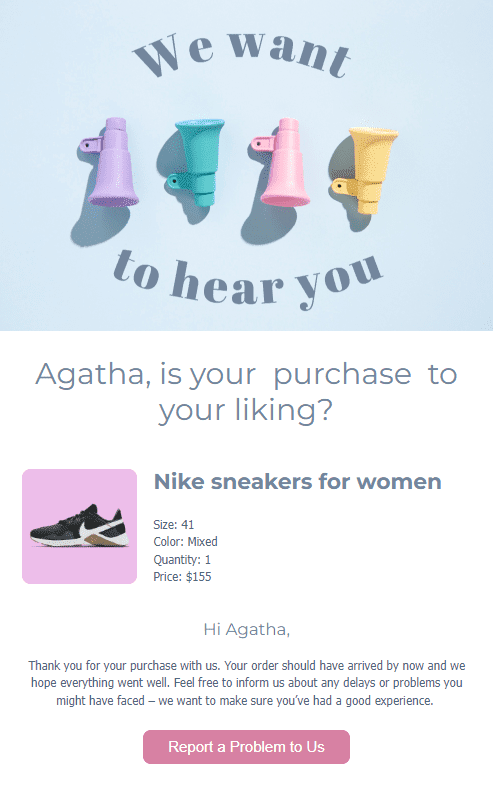 (Source: Stripo template)
8. Abandoned cart emails
Abandoned cart emails are sent if the user put products in the cart and then left the website without completing the purchase. In this case, emails are sent to remind the consumer that the purchase is incomplete. You can improve the conversion rate of this type of email by adding personalization and addressing the customer by name.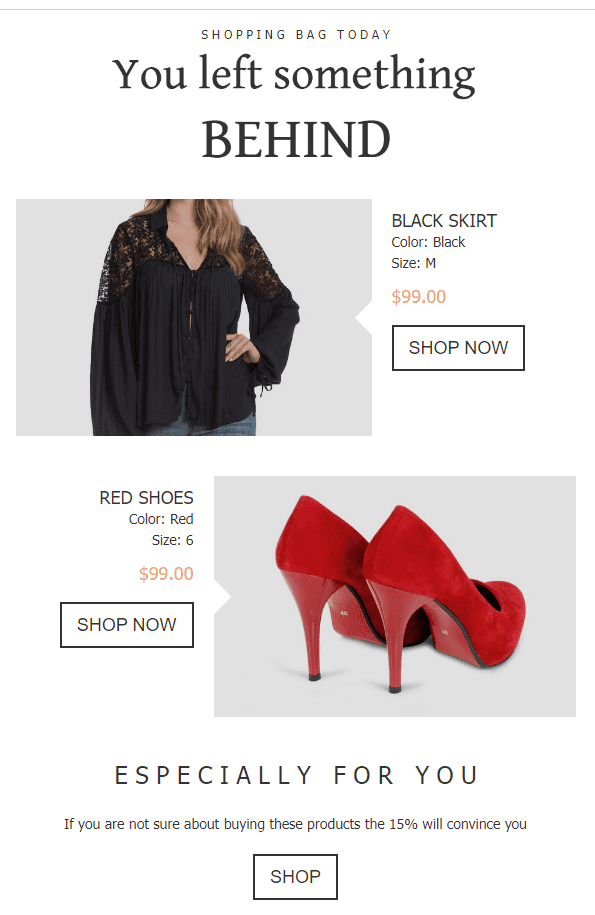 (Source: Stripo template)
You can also show photos of the products they left in the shopping cart. It is also worth writing about the time limit — "You have 10 days left to complete the purchase" or "This product is running out of stock! Get yours in time."
9. Product-based emails
This type of email informs customers about any news about the product — the arrival of a new collection, a return to the market, or an offer to purchase a product that complements the one they have already purchased.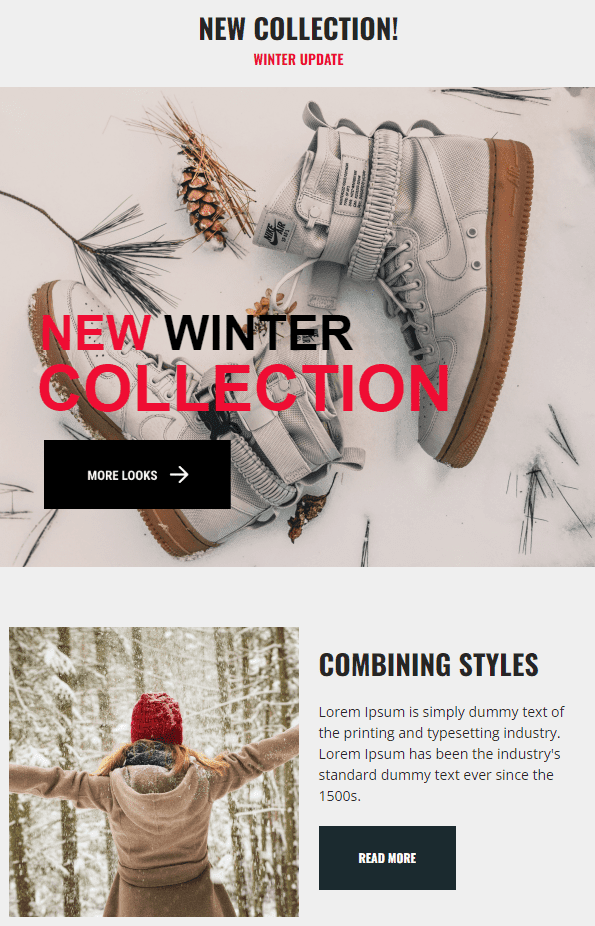 (Source: Stripo template)
10. Transactional emails
These are emails sent after the buyer has made a purchase — to confirm the debit of funds, contact details, or the shipment of goods. These emails inform customers of their orders at different stages so they know when to expect the product. Such a category includes order confirmation emails and email receipts, shipping confirmation emails, and delivery confirmation emails.
(Source: Stripo template)
Stripo features to build killer eCommerce email templates
Catchy eCommerce email design is quite a thing today, as 95% of all purchases are made subconsciously.
Build bright banners with a persuasive copy over them. Banners attract attention and visually complement the text of your email. It is better to see once than to hear 100 times.
Take advantage of all the possibilities banners provide — add buttons, collages, videos, etc. Make sure that a banner draws attention to the main message of your letter.
(Source: Stripo template)
Implement interactivity to engage your target audience. You may apply a hover effect to all CTA buttons and a rollover effect to product snippets.
Anything that moves in a static email attracts the user's attention. Use this to highlight call-to-action buttons (buy, watch, sign up) and other important information. Explore the different capabilities of the tools and use them in your templates for eCommerce.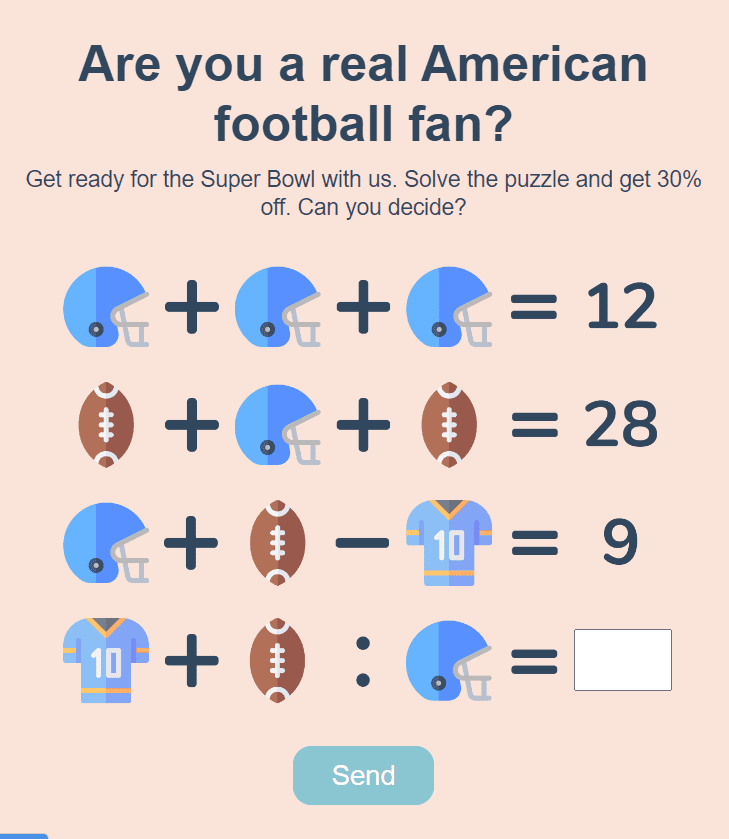 (Source: Stripo template)
You may build an AMP carousel, form, and accordion with no coding skills by dragging a respective block into your eCommerce email template.
With the help of image carousels and AMP accordions, you can avoid long texts that need to be scrolled down. Not every reader has the patience to read the entire email text. The carousel allows you to add several images that will "show" more than the text. AMP forms will enable your subscribers to share their feedback directly in emails.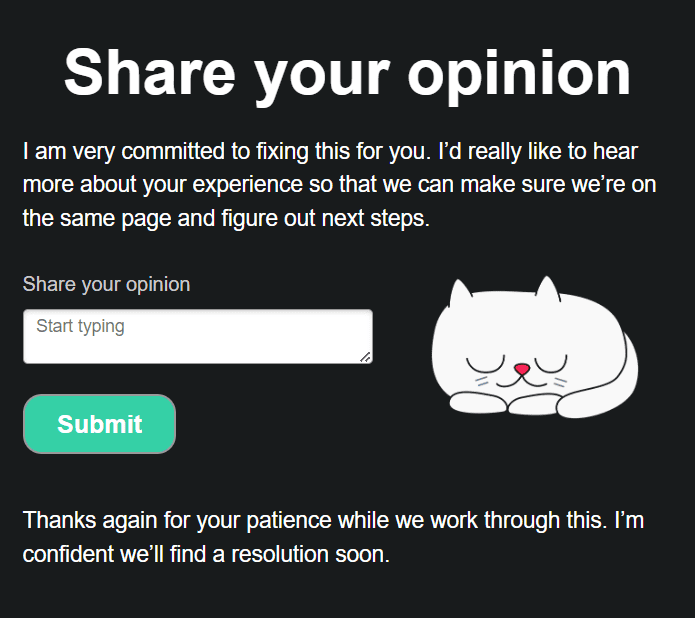 (Source: Stripo template)
Grab your subscribers' attention with a relevant and engaging video. You can either insert or embed video into the eCommerce HTML email template. Use a video when it fits your product or service idea. Make it engaging, interesting, and short.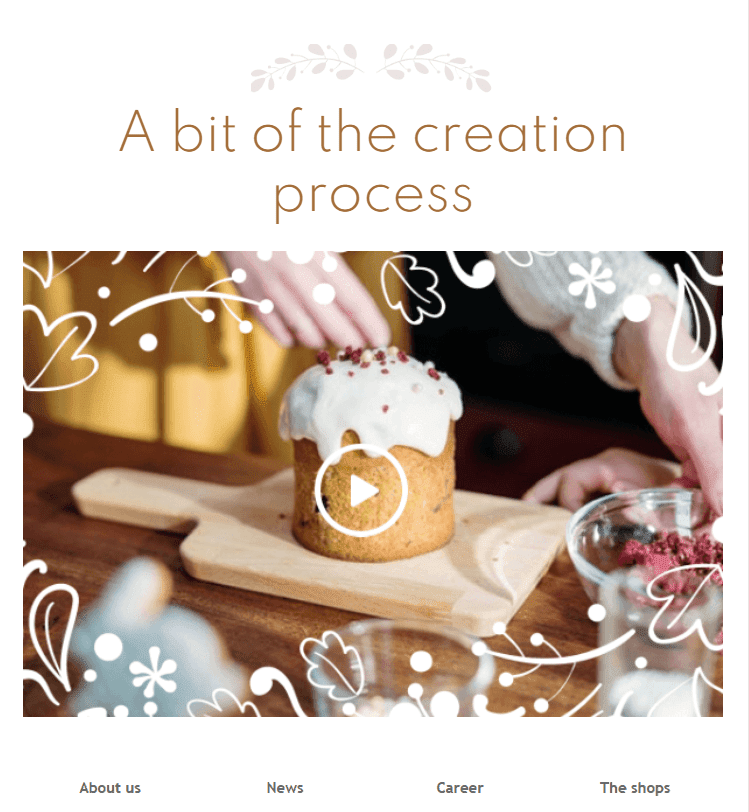 (Source: Stripo template)
Once you've dragged the basic Timer block into your template, you are welcome to design it. Make the timer fit in your eCommerce newsletter templates.
The countdown makes your offer limited in time. Anything that can end quickly is more attractive to us; this is human nature. You can add this tool to your email template simply and quickly without using third-party services.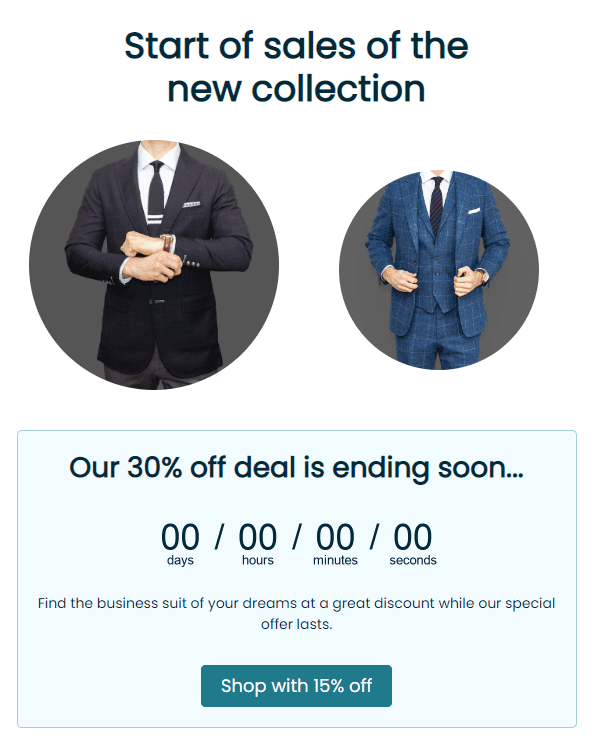 (Source: Stripo template)
Gmail promo tabs allow you to notify recipients about the amount and duration of the sale before they even open the email. You can generate annotation tabs right in Stripo with no coding skills.
This increases your chances of being seen and heard because if the information in promo tabs interests the consumer, they are more likely to open your email. This feature works on mobile devices only.
You can check the video below for a more detailed guide.
We are delighted to say that you can check how your free eCommerce newsletter templates will render across customers' email clients.
Even if you are 100% sure that your email template is perfect, we recommend testing it and checking whether it is displayed correctly in different browsers and mobile devices.
Our testing tools will not be able to show whether the interactive elements are working correctly. To check them, you should send a test email to different browsers, devices, and email clients to make sure that the clients will receive the email you planned.
Wrapping up
Ecommerce email templates are the best communication channel with your customers. Properly configured email marketing saves time and leads to more sales and clients.
Email marketing has enormous potential for eCommerce businesses. You can use email marketing templates to get new subscribers, increase brand loyalty, and get more sales. There are many different tools and services to make email marketing easier. Use Stripo to see how easy it is to work with email marketing.
Join over 1 000 000 users
Start with free email template builder — upgrade anytime