Why should you invest in Welcome emails as your first component of email marketing?
The first and foremost to take into account is that welcome emails have four times the open rate and five times the press and hold rate of regular marketing emails.
Benefits of Welcome Emails:
Here are some social proofs you can be sure of within the welcome email statistics:
Start introducing yourself right away, and show your new customers what a brilliant and trustful platform with helpful resources you are by consistently providing value to their inbox. You shall email immediately for better customer onboarding.
You reach your email subscribers exactly where you want them
The newcomers followed the link to your website. Your target audience subscribed to your email list so far. Why should you let new subscribers off the hook so easily? Don't let fantastic opportunities pass you by. So, start with a "Welcome to the family!" email sound, followed by some informative and intriguing information that brings your prospect back to why they put their email in the first line!
You can use welcome emails to boost your other market segments (Instagram, TikTok, Youtube, etc). You accomplish this by demonstrating what new users expect to benefit by checking out your other content.
This also goes both ways. You can add your social media followers to your email list, so they will recite what you post and become even more product-focused as well as interested in buying. As a result, it's gonna increase your user engagement.
Why is it important to work on a welcome email template for a new customer? Because this is the first email he or she receives from you. Make these emails unique, unforgettable, and bright… Or at least, just make them! This is a great opportunity to impress your prospects.
So, let's go over the main points of a welcome email once again:
Your new users want to receive welcome emails. They also expect them to be useful. Start by giving them a desired warm welcome and show your amazing community!

The internet is a huge and jaded area. Prove that you genuinely care about the customer journey by sending them lots and lots of personalized content along with amusement right away via email. They will indeed consider purchasing from you and boost your user engagement.

It's relatively affordable! Pay once to create an automated email sequence, and it will compensate you for years ahead. Alternatively, you can send out a free introductory video yourself.
Alright, so what about attachments to your welcome email? They're gonna make a difference!
Check their significant benefits out:
The email body comes to life, and the welcome message becomes more engaging;

The CTR (Click-through rate) is growing.

If you include the word «Video» in your subject lines, the open rate rises.
Although, don't forget how not to ruin your email efforts with the picture's effect:
Choose the people with friendly faces for the pic or video shot;

Reduce the length of the introductory video so that users can watch it all the way through;

Don't overlook the call to action.
How can welcome emails increase the campaign's click-through rates?
As previously stated, the average clickthrough rate (CTR) for welcome emails is approximately five times greater than in any future email campaign your company might send.
This literally means that those new subscribers will click on your call to action (CTA) and visit your website.
However, not all welcome email examples will achieve such high CTRs. Some things can result in insufficient returns and welcome emails that are more likely to be discarded than treasured:
A poorly designed welcome message;

A perplexing or paradoxical text;

CTAs that are vague or cramped;

Too much time elapsed between the customer's subscription and the welcome email delivery
The most effective welcome emails will be delivered within an hour, if not minutes, after a client presses the apply button. It's while your prospects are most involved in your product line.
However, regardless of how quickly your welcome email is received, a poor welcome message design will turn off a previously engaged buyer. How to ensure that your email will fulfill its destiny to the fullest? We are here to help you with that.
Things to note when creating a welcome email template: Powerful and amazing tips
So there are the ground rules you need to stick to:
1. Make a welcome email template design comply with your website
As long as a welcoming email template introduces your company to a new subscriber or a client, apply corporate colors, and add your logo. Don't forget to send it from your domain with the correct sender's name.
We strongly recommend using double opt-in, in order to abide by the EU GDPR rules.
2. Add a greeting word
As we have previously said, this is the first time you are contacting your clients. Thus, you should greet them. With a proper signup email template, you greet your customers and make them feel welcome — you let them know you are happy they've finally joined you.
Where should you place those words of "Happiness"? Right! On the banner.
Insert an image that to your mind fits the purpose of this event-triggered email, and place the text over it.
Note: Stripo allows you to apply custom and decorative fonts. Just place the text over a banner, and all email clients will consider it an image and will correctly display it.
3. Work on the CTA button
As long as you need to ask users to confirm their subscription/registration, you need to make sure that the CTA buttons in your welcome email template for a new user are noticeable. Put them in the centre of your emails.
For more ideas on how to spice up your CTA buttons, please refer to our blog post.
4. Mobile-friendly design
By mobile-friendly design, we mean much more than just adjusting images to the size of mobile screens.
With Stripo, you are allowed to set font size and make buttons full-width on mobile devices. Make sure your welcome emails are fully legible across all devices.
5. Add contact information in a welcome email template
You add the logo to remind customers of your company name to the customers in a header. While in the footer of the Welcome newsletter templates, you should add contact information, including a map, links to social networks, the company's website address, and phone number.
With Stripo you can build the "Follow us on Social Media" email module in 1 click.
Are you tired of choosing the right social media icons design and tired of adding links to these icons from campaign to campaign?
We solved this problem — no matter the number of projects you run and build with Stripo — you can develop and use emails in the "Social media" block with 1 click.
In your profile or in the project settings, you choose the necessary icons, design them including color scheme, and size and then paste respective links just once — after that all you have to do is drag the "Social" block into your template — and voila! Your email contains your proper social information. Please use our step-to-step guide to create this module.
6. Mention the reason why you're reaching out
The new account email template is not only to welcome new subscribers but also to explain the reason why you are reaching out to them.
For example, people like receiving the Welcome Email sent by a real human being which individualizes the welcome emails and give the impression of a face-to-face buying experience, which boosts confidence and commitment. According to most marketers, customized emails boost consumer involvement rates and produce considerably greater payment rates.
That very first feeling can have a variety of effects. You can use it to promote profits, solicit referrals, generate shares, direct people to the meaningful content, assist them in getting the most out of a buyer, or launch a welcome sequence that leads up to a bigger goal.
While you're sending out a daily email and not trying to sell anything, your invitation email is a huge opportunity for future sales. Make sure that it does much more than just verify a membership.
7. Create a noticeable welcome email subject line
Obviously, don't focus only on the body of the email, the subject line is extremely important as it is the first thing your subscriber sees. Below you will see few examples for your inspiration:
Welcome to the MIJ family 💛 — MIJ

Welcome to Miro. Ready to Collaborate? — Miro

Hi, from the Graza crew — Graza

Thanks For Joining Us In Pouring A New Narrative! — Portrait Coffee

You're in! Let's get to know each other. — Evergreen Juices

A note from our founders. — Munk Pack

Thank you for subscribing to FAVES! 🎉 — Faves

The story behind Fi — Fi

Welcome to Elysium | Your Special Offer Is Here — Elysium

We're stoked you're here — Crossnet
Also, keep in mind: after exporting your email to a particular ESP, you might forget to enter the subject line and preheader.
So we recommend that you do it in Stripo even before pushing emails to your email service.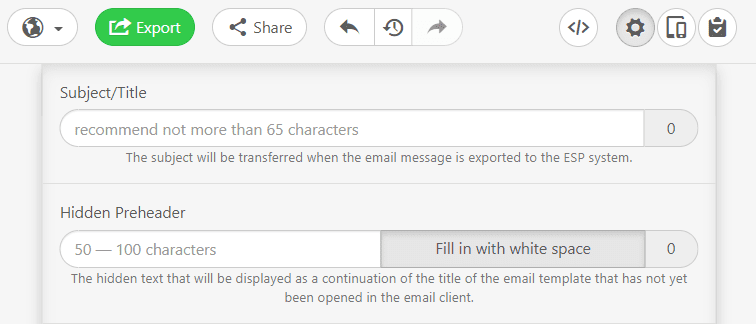 You may even enter emojis.
8. Adding a survey to get to know your audience better
Gather what segments you attract with a short survey upon your welcome message.
Today's market for various offers is so vast that preparing a product and then waiting for sales is a poor strategy. According to all of the latest research, categorization and individual offerings for individuals or groups with similar queries increase sales by 18 times more than those aimed at the uncategorized audience.
Segmentation is the division of an audience into distinct groups with similar interests. There are numerous ways to segment the audience, including geolocation, age, budget, and lifestyle.
Conversions, calls, requests, orders, and purchases increase as a result of audience segmentation. It will be easier to make an offer at the right time if you identify the main groups of customers and their interests.
The Mark Sherrington method is the most important and straightforward survey method, it is also called a 5W method.
Sherrington's technique is straightforward and saves time when segmenting the audience. You must answer five major questions about the customer and the product:
who the client is;

what you offer or what the customer wants;

why the client needs it and what pains your offer a solution for;

when and in what situations your product is required;

where customers are introduced to your product.
Additionally, you might see a which-question, which is another inquiry used for segmentation. It is typically used to identify segments when targeting.
For example, you can create a Google form with these questions and add it to your email with Stripo.
Google forms are easy to work with. Google already has free templates that you can customize and use. Apply your fonts, add images to the questions, or change the header background. Google even allows inserting videos into the survey. Once you have created the survey form, export the email to your ESP. Google forms are free of charge.
How to embed a Google form in emails
create Google form;

prior to sending the form to your Inbox, make sure to tick the "include in email" checkbox;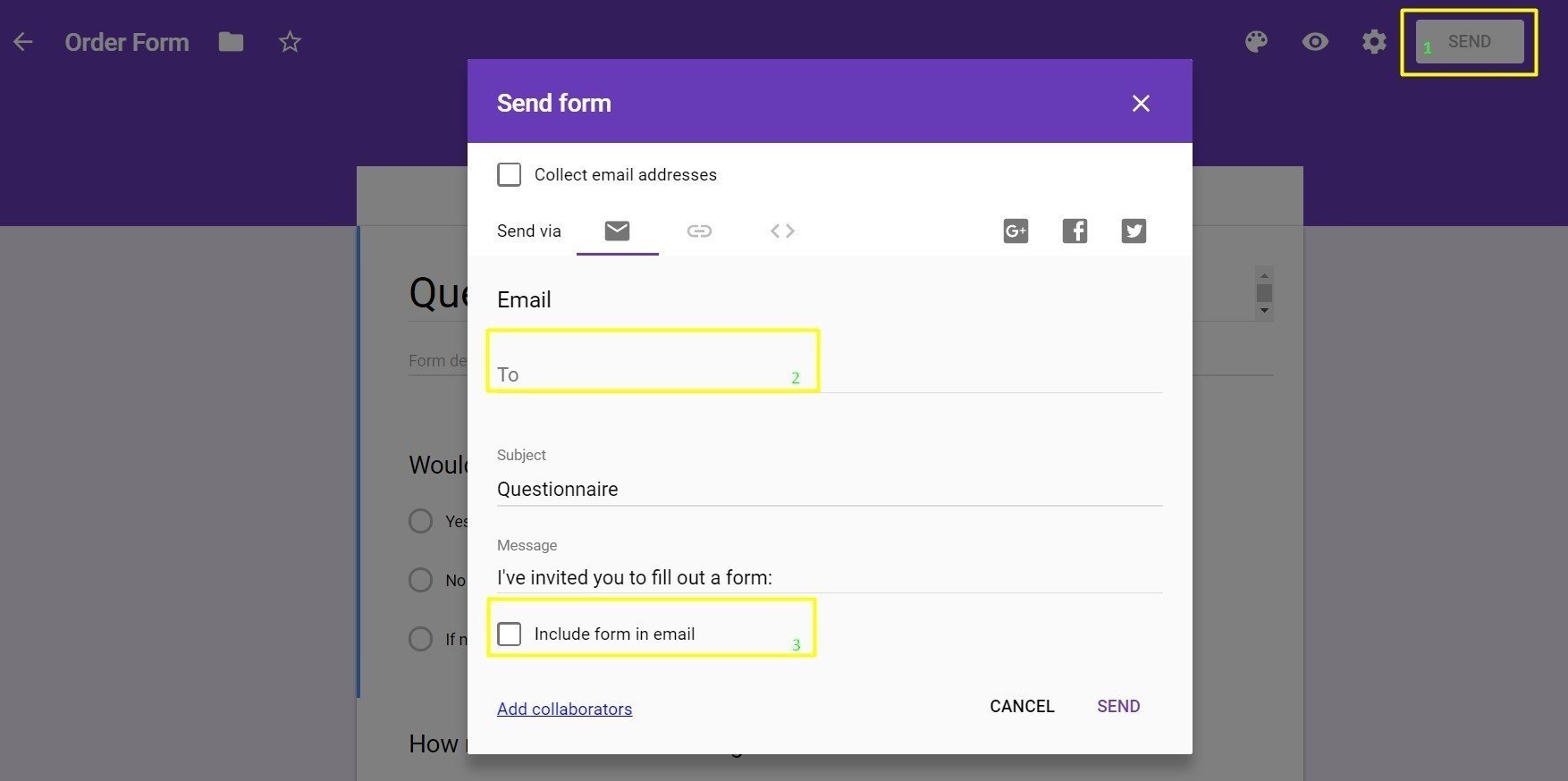 open the email and with the right-click select "inspect";

search for the table align="center" line, copy it;

in Stripo, pull the basic HTML block directly in your survey invitation email sample;

replace the "insert HTML code" with your embed code.
Done!
More information on how to create different types of survey you can find in our article 10 Best Practices to Create Survey Invitation Emails.
9. Creating an email chain
An automated welcome sequence is a set of messages that are established to deliver useful info to your new subscribers automatically starting at the moment they sign up for your email list. The main goal here is to introduce your product, manage expectations, meet the client's goals, focus on value, and move prospects closer to a sale. Add intrigue (or expectation) for the next email (f.e."Tomorrow I'll provide/send you...") to raise email lead generation for your other welcome email.
So firstly say hello, then denote the problem, afterwards set the stage for the offer, make the offer and continue your cooperation:)
Among the possible outcomes of your welcome series are:
Customers who are purchasing your product or service for the first time

Upsells and cross-sells;

Convos with newcomers;

Additional information;

More consumers who have been onboarded;

More people in a community;

Customer reviews;

Comments and suggestions to help you improve your organization.
10. Engaging as often as possible
Follow up on your new subscribers intensively for the next few weeks.Follow up on your new subscribers intensively for the next few weeks.
Instead of treating consumer experience as something that occurs by chance, devise a solid basis to interact with customers via the following steps:
More inquiries are welcome.

Make use of educational content.

Try with a different format.

Consider making your branding more personable.

Personalize the user experience.

Make your audience notified.
Keep in mind that the first few days are the most active for your newcomers' list.
11. Don't forget about the double opt-in and single opt-out feature
Double opt-in is a method of email subscription. Users are only got to your email list once they prove their membership two times. This method will provide you with high-quality leads as well as improved email effectiveness.
A two-step subscription process is implied by a double opt-in method. Users who enter their email address into a form will receive an email with a verification link. If they follow the link, they will be added to a company's email list.
The ingle opt-out feature allows users to unsubscribe from your promotional emails with just 1 click. This is a must today.
How can Stripo help you with creating welcome emails?
Stripo will gladly help you enrich your email promo with personalized content and great design! With us, you will be able to:
If a brand were a person, its unique font would be the sound of its voice. Each product owner wants his brand to be recognized in all aspects of its communication. And the most frequently used trademark for mailing and interface buttons are texts. As we know, the text itself is made of letters ("glyphs") that are grouped together with other notes to form a typeface (font).
So make your font special and product-focused with our help;)
Edit your photo right in the email
You may require the services of a photo editor while creating an email so you could resize them, retouch, add some stickers to them, place a copy over product fragments, etc. There is no longer any need to edit these same graphic elements in third-party apps, then download the image you edited and upload it back to your welcome email. Such a pain, we know, thus Stripo makes it possible without any additional steps — just press on edit button after uploading the needed pic and take advantage of our tools!
Banners in mailings are frequently displayed on the first screen and convey the primary message of your emails. As a result, we must make them as attractive and useful as possible. It necessitates the use of decorative items, the possibility of making additional images over main banner pics along with the application of various filters, and even more helpful resources — all of which can be found in the Stripo banner generator.
Customize the email's width
As you might know, the most popular email size is 600 pixels. Nevertheless, an increasing number of brands are experimenting with their email width trying absolutely different ranges.
To avoid a confrontation with the email code, we allow you to set the width individually in the Appearance/General Settings tab, and choose whatever you want.
Must confess, I just love this option. It allows building emails really fast.
You design an entire content module, then save it to your personal Module Storage, and when crafting your next campaign/campaigns you just drag this module into your HTML email template without the necessity to build it all over again.
Some companies who use Stripo build entire emails this way — they just replace banners and their value offer with new ones. That's it.
The generator of email annotations for Gmail
This option allows you to share the details of your value offer, to share the amount of your discount, to specify how long the sale will last, and what the promo code will be — right in the email preview area before they even open the email.
Works on mobile devices only.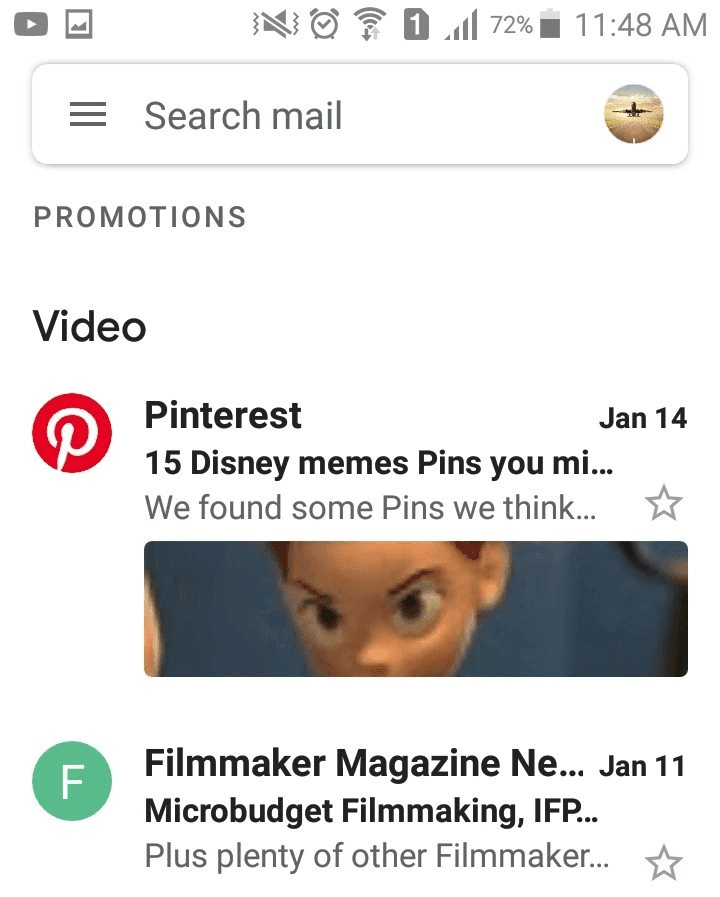 Pinterest uses this option to show the image of the most eye-catchy pin from the email it is sending over to recipients.
See on our blog how to generate annotations for Gmail promo tabs with Stripo.
Join Stripo now and make your Welcome emails the most efficient and gorgeous on the Internet.
Last but not least: Important steps to take
Creating an email is not the only point in the "Effective email campaign" plan, obviously. Now you need to send it out and make sure that it is done correctly. Here are some tips from us what to do next:
Export welcome email template
When you are done with designing the email, you can easily export it to a big number of modern world-famous ESPs and some email clients. Due to advanced integration, all our emails are ESP-friendly, in other words, they are editable after export. Edit, when necessary, the exported user registration email template right in the email service provider you use — change or edit not only texts but also visuals and even HTML code.
Use our free Welcome newsletter templates to facilitate your work and satisfy your customers!
Keep in mind the setting preferences
Subscribers join your newsletter list to receive only relevant information. Of course, if you run the Pepsi company and gender does not make any sense, then you do not have to worry about the relevance. But if you run a garment store, for instance, then you need to make sure your potential customers will see only what they want to see. Let them set their gender, age, and region.
Set preferences will protect your subscribers from disappointment in your brand, and will help you pass anti-spam filters.
Note: you also need to notify registrants how many times a week / a month you are going to reach them out.
Frequently asked questions
How to create welcome email templates?
Stripo offers a great variety of eye-catching welcome email templates. Pick one of the prebuilt templates and align it with your brand design styles or produce it from scratch — the choice is yours
How to customize welcome email templates?
Found the perfect welcome email template to use for your next campaign? Hit the "Use in Editor" button to get started. In your Stripo account, you can modify your template to stay brand consistent and meet your business goals.
We suggest you start with the "General Settings" tab to set the core parameters of your message: its width, font, background image, and line spacing.
You can add background images and banners, add GIFs and videos, apply custom fonts, and benefit from countdown timers. Interactive content like games, carousels, and accordions is also available to welcome your new subscribers. To find these elements, click on the "Content" tab and pick the "Blocks" section.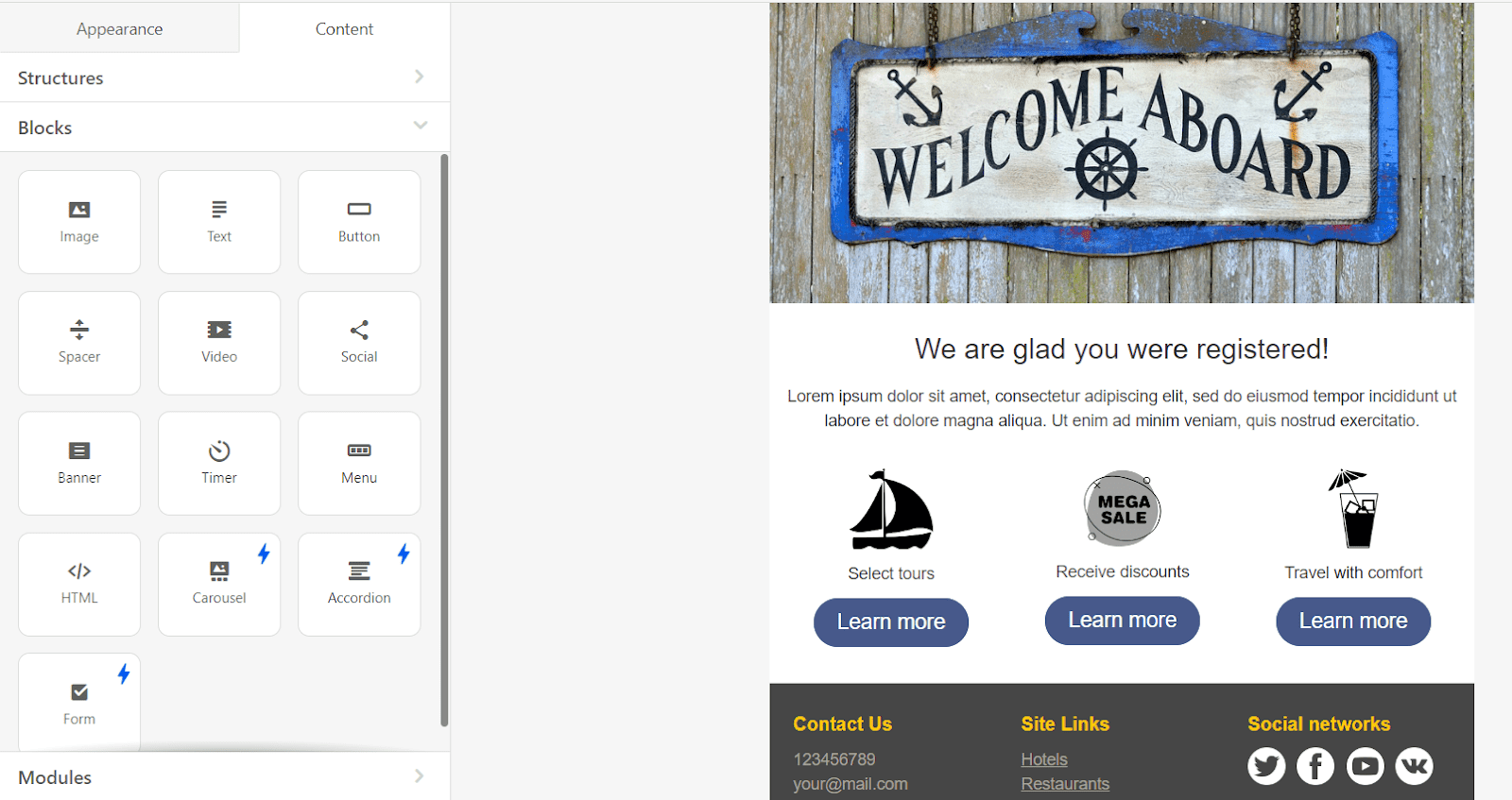 How to get free welcome email templates?
Stripo provides both free and paid welcome email templates to help you reach your business objectives. Paid templates are labeled with the following icon:

The rest templates are free to use.
You can also browse templates and choose the free ones directly in your Stripo account. Here is a simple way to make it happen:
in your Stripo account, click the "New message" button;

select the "Prepared templates" tab;

click the "Type" button and pick the "Welcome" option in the drop-down menu;

toggle the "Free" button.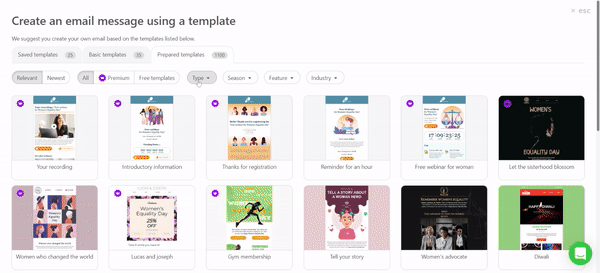 How to use welcome email templates?
A welcome email is your first communication with your new subscribers. It could be a subscription confirmation or a first-purchase email. Here it's crucial to highlight your unique value proposition to create a great first impression and add personalization to your subject lines, CTA buttons, content recommendations, images, and videos.
Don't forget to make your welcome email mobile-friendly to boost your email engagement rate and enable subscribers to open your message from their devices. In your Stripo account, you can do it by selecting the "Appearance" tab and clicking on the "Mobile Formatting" section.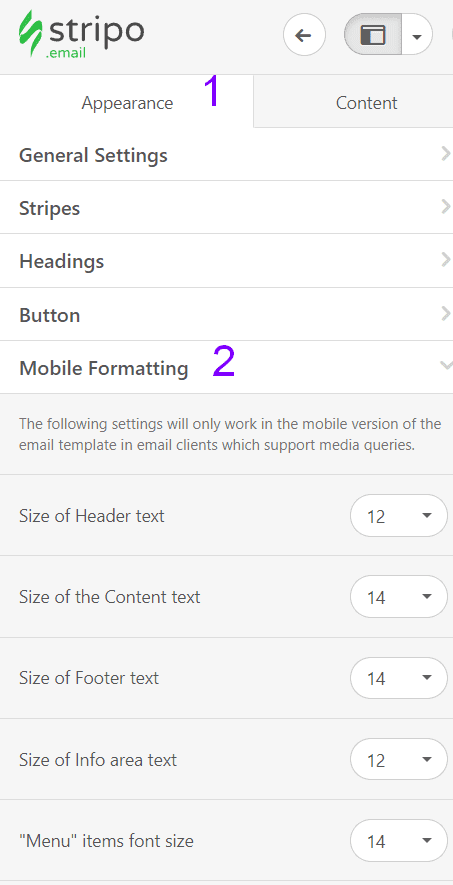 How to keep welcome email templates?
Once you are done creating your welcome email template, you will always be able to find it in your Stripo account. You can also benefit from our modular system and keep certain email elements as reusable content blocks for your further campaigns.
With Stripo, you can design and save the following modules:
header;

product card;

set of product cards;

blog post;

set of blog posts;

info modules;

banners;

info on orders;

signatures;

footer;

AMP modules.
To find our prebuilt modules, select the "Content" tab in your Stripo account and choose the "Modules" section.
You will have to create these elements just once to meet your brand design styles and then update them with relevant information according to your campaign goals. You can edit these modules and mix them in various combinations the way you want. It will speed up the production process and enable you to stay brand consistent.
Have any other questions?
If you have more questions on our pricing and plans, contact us so we can help.
Join over 700K users
Start for free — upgrade anytime