B2B (business-to-business) email marketing occurs when you utilize email to advertise products or services to other companies for business purposes. It is the most crucial stage in an email marketing strategy when two businesses collaborate. And Stripo makes essential things easy to implement into your email template.
Why email marketing is crucial to growing your B2B company
There are several reasons why B2B email marketing is more effective than other forms of content marketing:
1. Generate more relevant leads
If you run a B2B business, you require your consumers as companions. Without customers, there is no business. And lead generation allows you to get customers quickly to offer your products.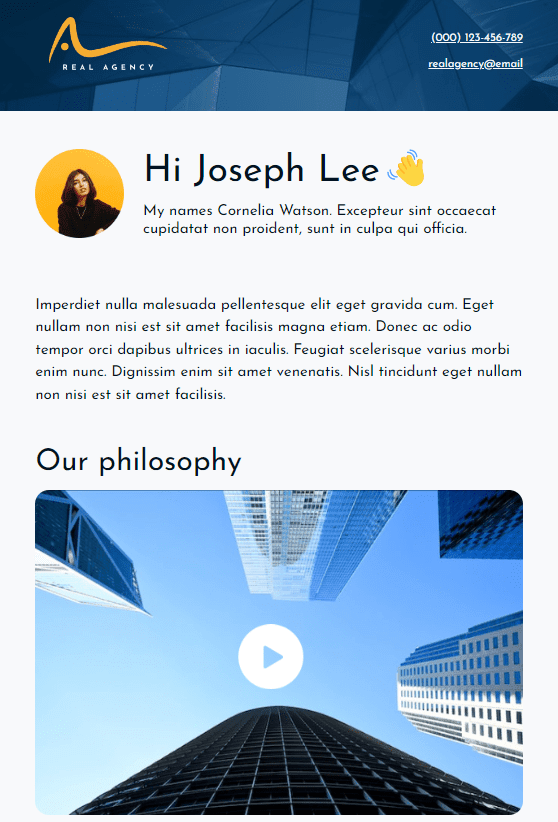 (Source: Stripo template)
The lead generation process first attracts potential customers and educates them through tools such as blog posts, email follow-ups, and automated flow. As a result, you demonstrate your professionalism through cold email templates. Lead generation also allows you to determine which leads are most interested in your company using lead scoring. Which also helps you to retain an appropriate person via the right email template.
2. Boost your brand awareness
Reaching out to customers in a memorable way during the purchase process consistently generates long-term benefits thanks to B2B cold email templates. Your entire marketing strategy must be based on brand awareness. Because it raises brand recognition, pushes traffic to your website, and accelerates and increases sales, making your company name more recognizable and trustworthy.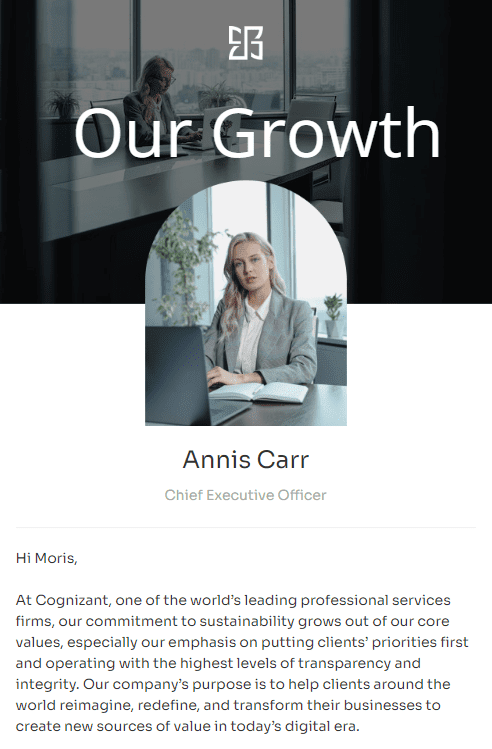 (Source: Stripo template)
Moreover, customers are more loyal to a popular company name, even if the purchase is difficult or the pricing is not the cheapest. So you need to create a compelling value proposition to communicate with your target audience, deliver your brand message through cold emailing, and help encourage a customer testimonial to increase your brand awareness.
3. Enhance customer service
The client's experience with your company is just as necessary as its products or services. Because customer acquisition costs far more than customer retention. You may spend more to sell the same product to a newbie than an existing client.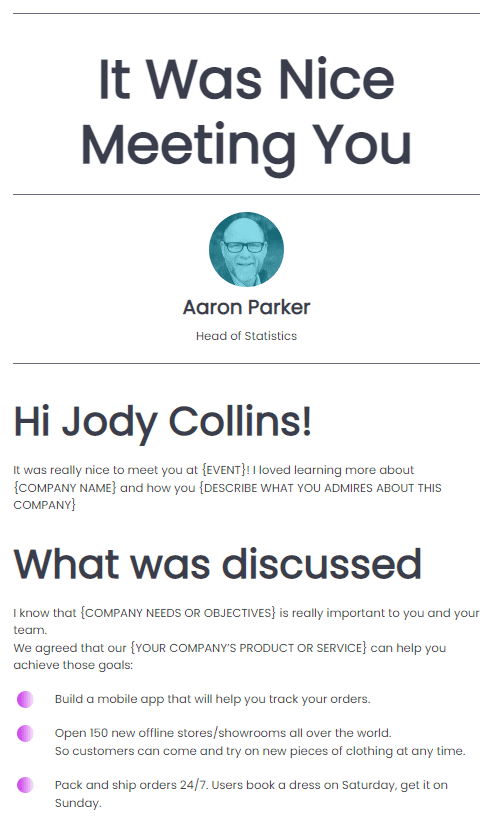 (Source: Stripo template)
And correct client retention is the key to your customer service improvement. Treat your recipients with personalized emails. Work on prompt and suitable replies. Show your consumer how you can manage his pain point, and do not hesitate to share a few daily ideas on your product utilization. All your B2B emails shall come out of your recipient's interest.
4. Build stronger customer relationships
Once all the leads are generated, a competent subject line is written, and the right email campaign is chosen — you are officially at the start of building stronger connections with your recipients via your cold sales email.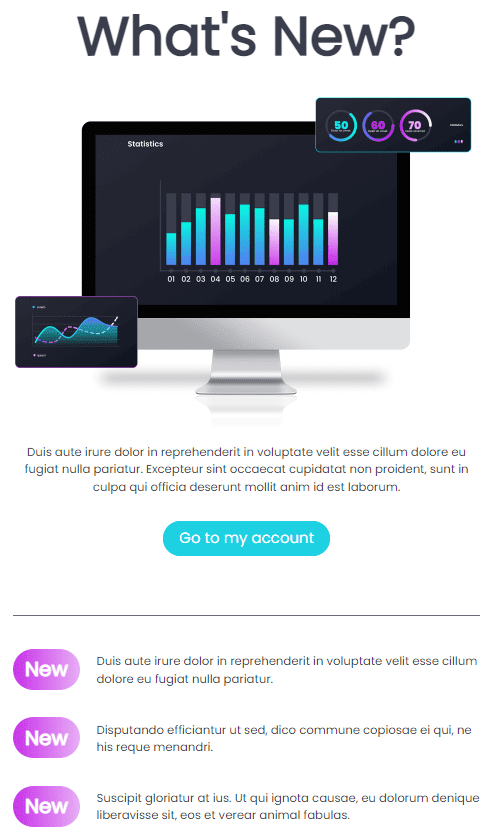 (Source: Stripo template)
The initial goal of your cold email is to establish a relationship with your recipients, not to spam them with email campaigns. Find a happy medium between high-quality content and sales. A blog post or other topic-related information is beneficial here. Don't force sales; cultivate demand and gain loyal customers.
Creating a professional B2B email template: tips and examples
To create a professional email template, you need to keep in mind the following points:
Segment your target audience
You should be able to access data on your product life cycles, customer behavior, and other insights into your target audience if you work in a B2B company that uses a CRM or other software tools. Use this data to help you segment your email list. Despite the segmentation, the most crucial aspect is ensuring that the personalized email reaches the appropriate person. You can raise your response rates with relevant content for each group.
Grab your readers' attention with subject lines
The subject line of an email can make or break it. It has the potential to convert leads and prove to be a worthwhile investment. Otherwise, it could cost you and end up in the spam or trash folder. Hence, keep it brief and to the point, personalized and promising, but not misleading. You can also play around with emojis and numbers. By making catchy subject lines, you boost the CTR of your sales email and establish contact with your prospect's company.
Examine the existing email subject lines with a high conversion rate and then try to change them for the best sales of your product. A great subject line for your email template shall beat the pain point of the right person.
Opt for a friendly yet polite tone
The tone of voice of your B2B cold email shall be pleasant but tactful. Maintaining contact with customers is critical to assist them correctly and identify key benefits or values that can be used for your cold email campaigns.
(Source: Stripo template)
Show them you care about their feedback, and ask more questions to gather their opinion. It will bring you closer and create a friendly vibe. Make the subject lines of your B2B emails more informal. Use emojis or even some funny GIFs or memes, but make sure they suit your email topic ;).
Personalize your messages
Personalization is our everything, right? Mention your recipient's name in the subject line and within the B2B email. Personalization elevates your email marketing from ordinary to exceptional. Create a warm and friendly lookalike email.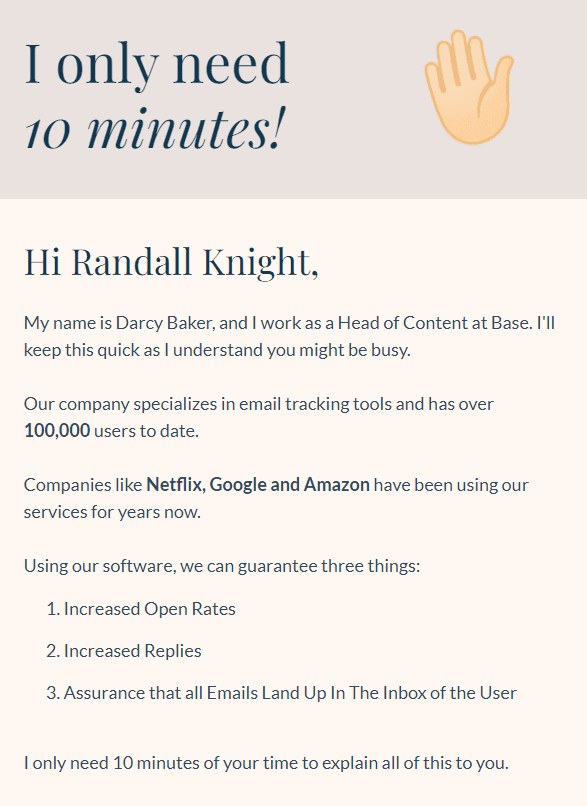 (Source: Stripo template)
Add a clear CTA
CTA buttons are a key component for B2B emails. And a successful CTA does not operate on its own but as part of a larger mechanism. The subject line, content, and design must all be used to construct the email. The reader has to be ready to click by the time they reach the CTA button.
Make it visible, eye-catching, and straightforward: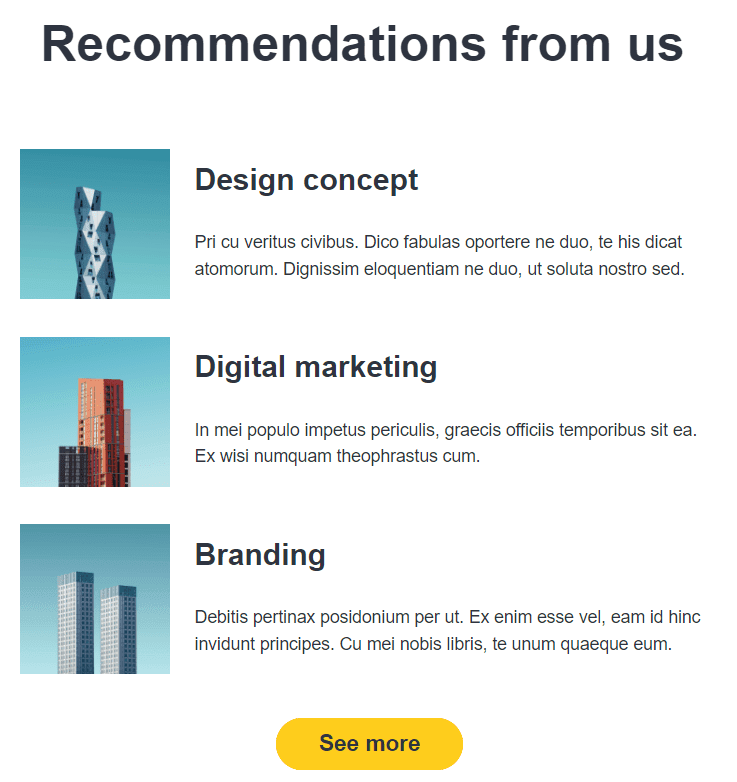 (Source: Stripo template)
Use social proof
The concept of social proof describes how people make decisions based on the opinions of others.
There are six main sources of social proof: existing customer testimonials, expert opinion, celebrities' choice, impressive numbers of your product in use like "25 companies already trust us", friends from social networks who are website visitors or product users — "5 of your Facebook friends are using our products so far", and a trustworthy source that recommends your business.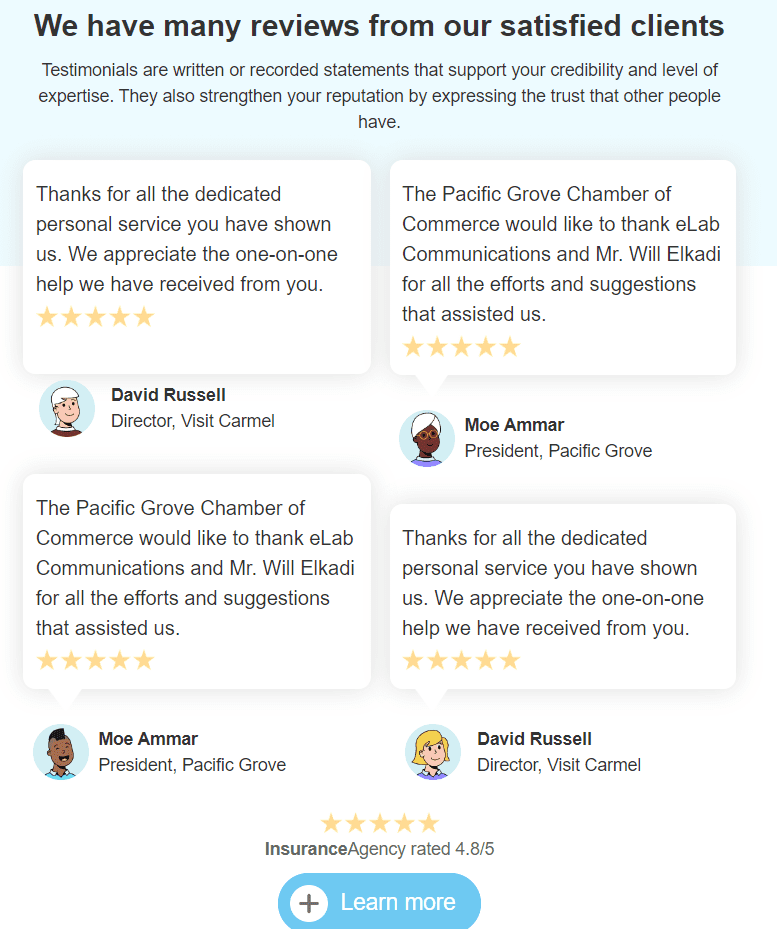 (Source: Stripo template)
Create follow-up emails
If you didn't get a response to your first B2B email, a follow-up email could help. Consider the recipient and try to understand why he may disregard your previous email template when deciding how to follow up on it, and mention it even in the subject line. For example, "We know you might be busy, but don't lose this possibility." In such sales emails, you can also mention the item in which your prospect was previously interested. Because the effective follow-up email catches the customer's pain point and reminds them that your product has a solution.
The most effective follow-up email is short, gentle, professional, and to the point.
Preview and test your B2B emails
Before sending emails to recipients, always preview and test them. A single error is forgivable, but repeated typos will demotivate the most loyal customers. To determine the success of your B2B email campaign, you must evaluate and monitor each of your cold email templates.
Make sure all your email templates are adaptive to the smartphone version, all the CTAs are visible and work properly, and overall, your emails look the way you want.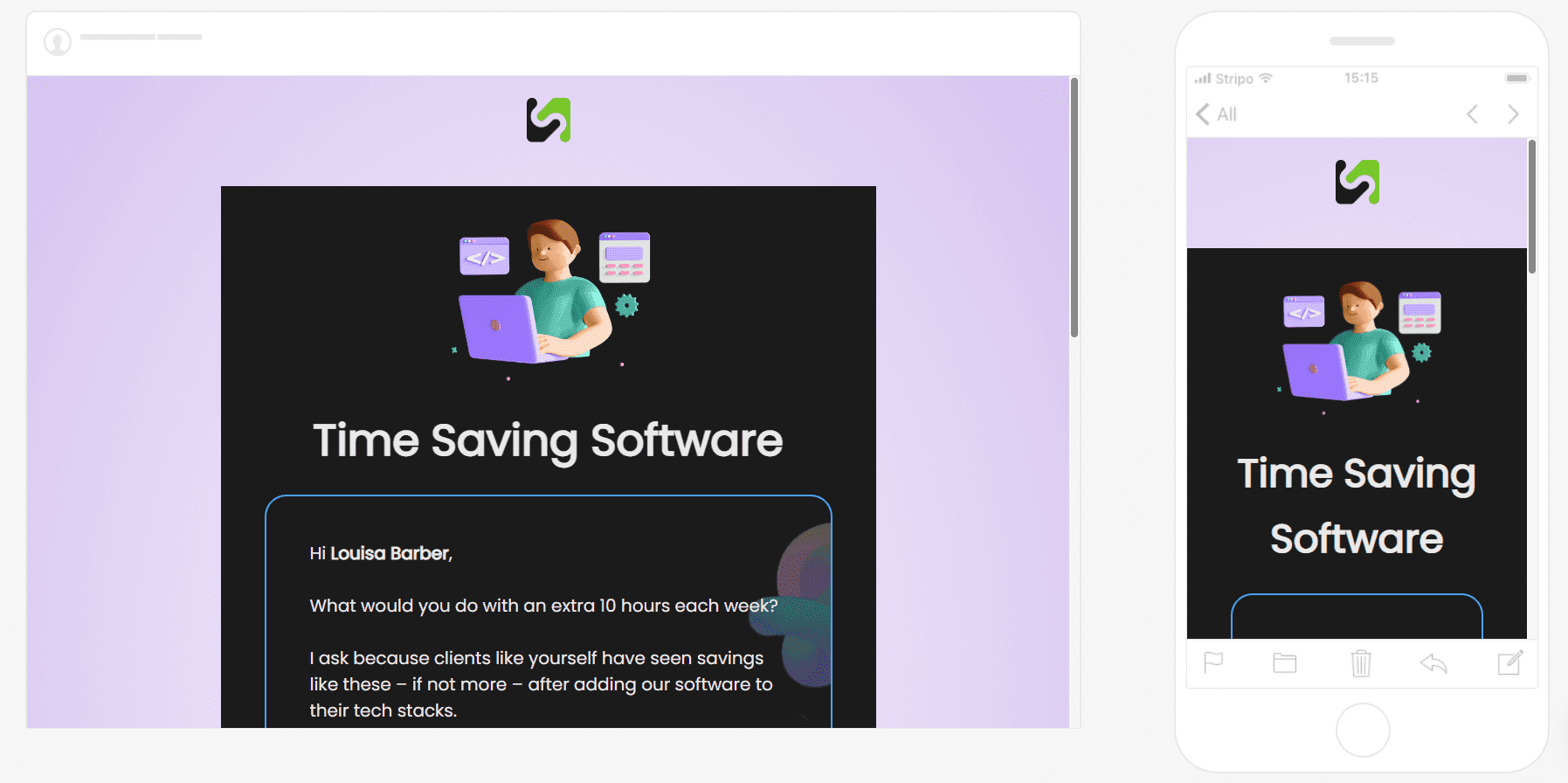 Why should you choose Stripo to start creating professional emails for your B2B company?
Stripo helps create your most effective templates for a cold email outreach campaign. And here are our tools for your best B2B email templates:
1. Extensive library of pre-built templates
Stripo has a bunch of pre-made email templates you can use for your B2B cold emails. Our designers have already generated image carousels, purchase buttons, and other interactive elements. Rather than visiting your website separately, your recipients can interact with the email they just opened. Stripo has solutions for every need and reason.
Simply navigate to our Email Templates section and choose the Type of email you need (Industry, Seasons, Feature, or Integrations).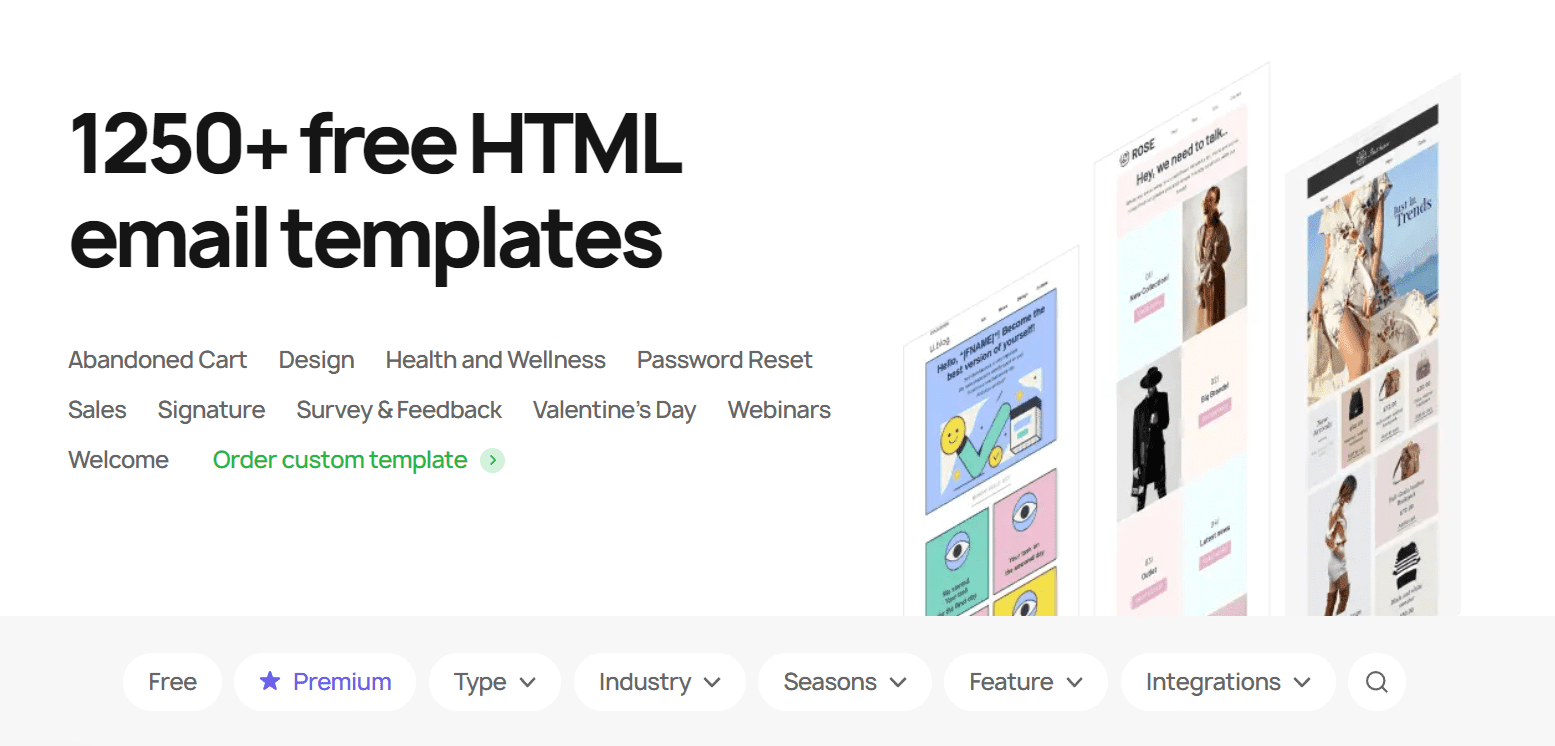 2. Content modules to speed up the design process
Without a doubt, you want to create an appealing and logical B2B email, and it's better not to be time-consuming. And Stripo's content modules are the most suitable tool for your email templates.
A content module is an independently designed and saved email template element. Our content library contains many email elements that can be customized to any taste. Moreover, you can use our prebuilt modules and create and save your own. Just navigate to the Content section of the email template, then choose Modules — > Pre-Built and scroll down our gallery till you find the preferred item.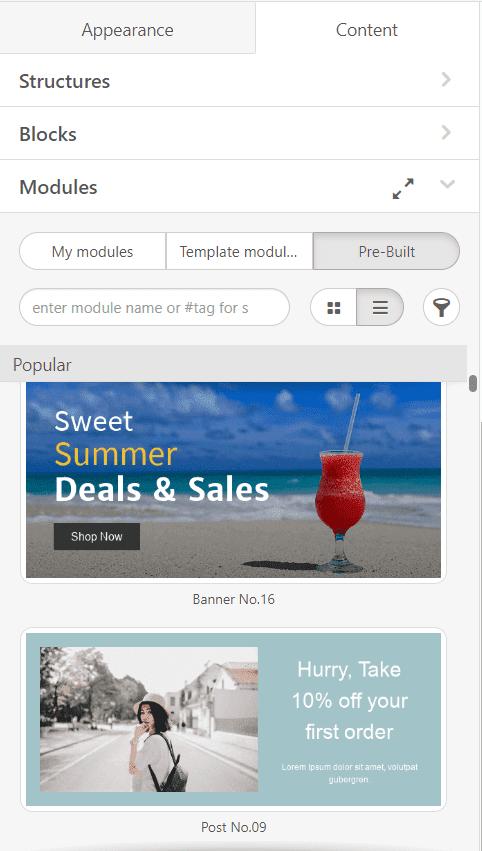 Reuse all these modules for various email campaigns, customize them as you want, adjust, create specific modules for different purposes — this all speeds up email production.
3. Email testing tool
We are pleased to present our email template testing tool to ensure that your B2B email templates look perfect across all ESPs and devices. As a result, you can inspect and identify all the bugs yourself.
To test your B2B email template, click the Test button to the right of the template's editor corner:

Enter your email address in the pop-up window (if you want to send your B2B cold email test to multiple addresses, separate them with commas):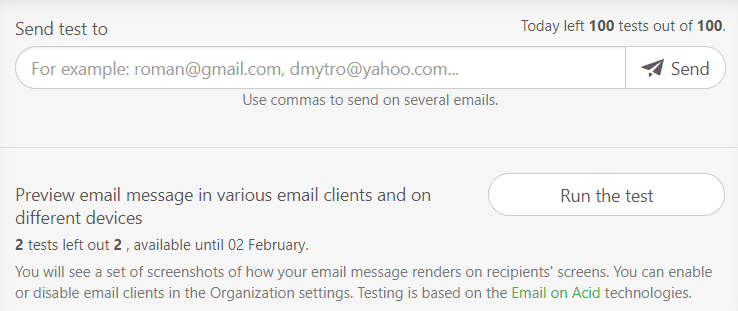 And that's about it; review your inbox, open this email and ensure all links, buttons, images, and other email elements work.
4. One-click export to 75+ ESPs
You can easily send your cold email template to your ESP once it has been tested and is ready to use. Stripo is integrated with more than 75 ESPs.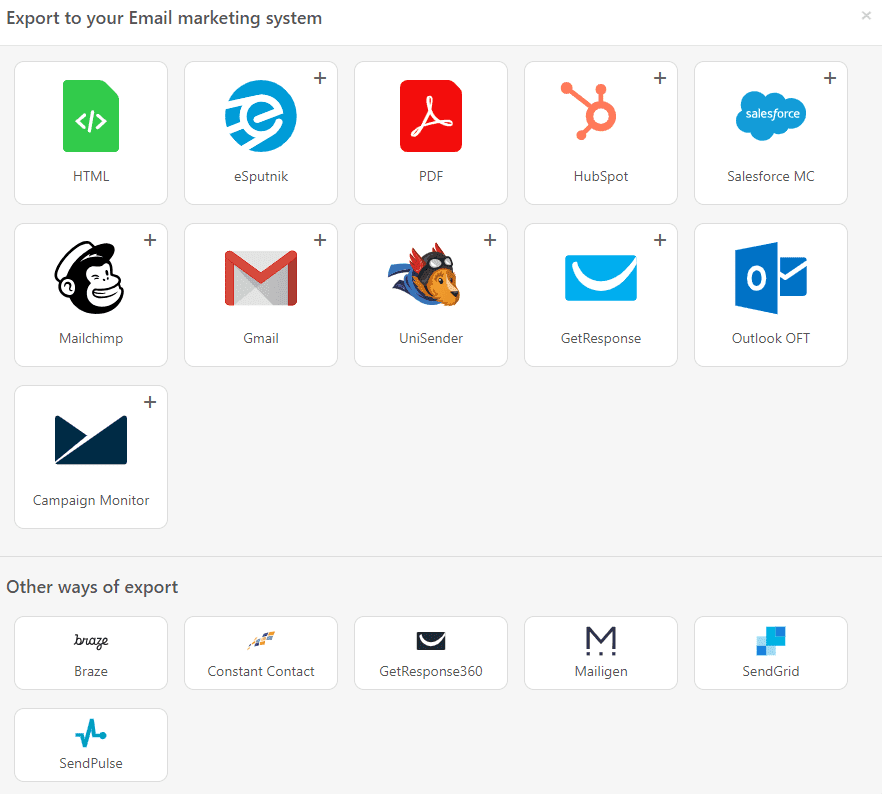 You can forward your emails to any of them with a single click. Just press the Export button above your B2B email template. Then, select the appropriate option from the dropdown menu.
5. Collaboration tools
Usually, at least several people work with B2B email templates, so Stripo implemented several collaboration tools. For instance, you can check the whole version history of your cold email and even inspect who and when edited your template.

Additionally, via the same Version history button, you can restore your cold email appearance to any of the previous stages: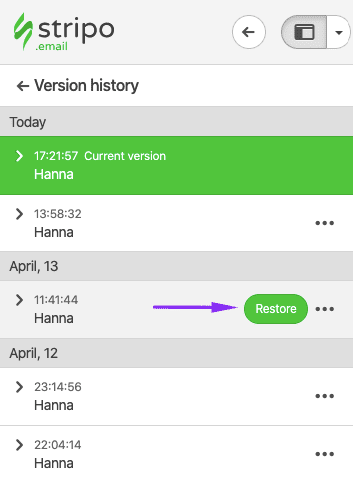 Moreover, Stripo allows you to set different roles with distinct access levels to users within each project you have. So your designers can edit only the visual part, and your copywriters only the text part of the B2B email.
To invite users and set their roles:
enter the "Users" tab in your project;

then choose the "Roles descriptions" tab;

set roles for users. You can also see their access levels both to the account area and editor.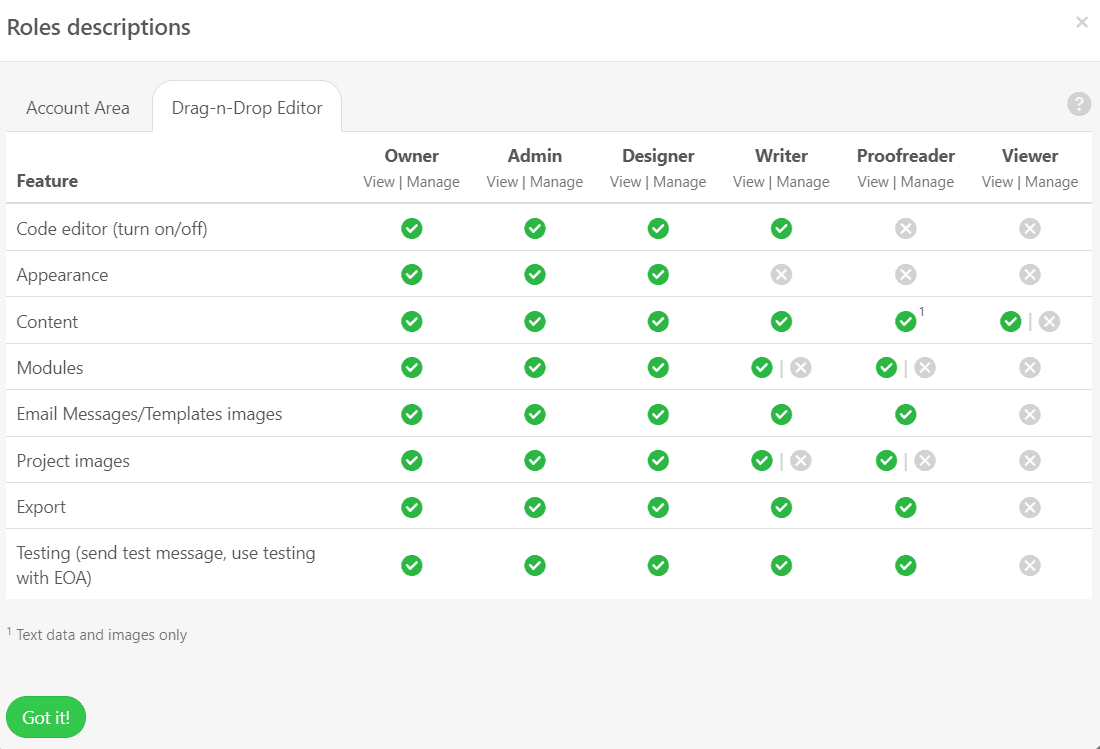 So your B2B emails are all set :).
Wrapping up
Creating cold sales email templates for B2B with Stripo is simple thanks to our ready-to-use templates. Make your cold emailing easy and convenient for the business. Personalize a pre-made email template, add a catchy subject line, and don't worry about the rest. Stripo will take care of your B2B cold email outreach via several clicks ;).
Join over 1 000 000 users
Start with free email template builder — upgrade anytime