If you have been involved in the email marketing industry for quite a while, you probably know about the power of email campaigns. If you have recently started your own business, now is the best time to discover the opportunities you will get through mass mailings.
This post will help you learn about the different types of newsletters, how they work and what you can do better to draw attention. In addition, we will provide you with plenty of newsletter templates you can use immediately.
Six types of email newsletters and features of their preparation
Email marketers came up with creating mass mailings to communicate with a lot of people at the same time and encourage them to interact with a brand. To maintain their interest, marketing campaigns should vary. Let's look at different types of mailings you may send to keep in constant contact with the subscribers.
1. Promotional emails
Promo emails provide information about special offers, discounts, and sales. Such newsletters are usually sent to interest new customers and allow them to purchase the desired product at a more attractive price.
To create a valid promotional email, you must research what your customers are interested in and analyze the data obtained. The discounts you offer must apply to products the customer needs. Otherwise, it won't work.
In addition, discounts or special offers must be valuable. Of course, some studies show that people are willing to accept any opportunity to get something at a reduced price. However, if you want to build a genuinely trusting and long-lasting relationship with your customers, provide a win-win relationship.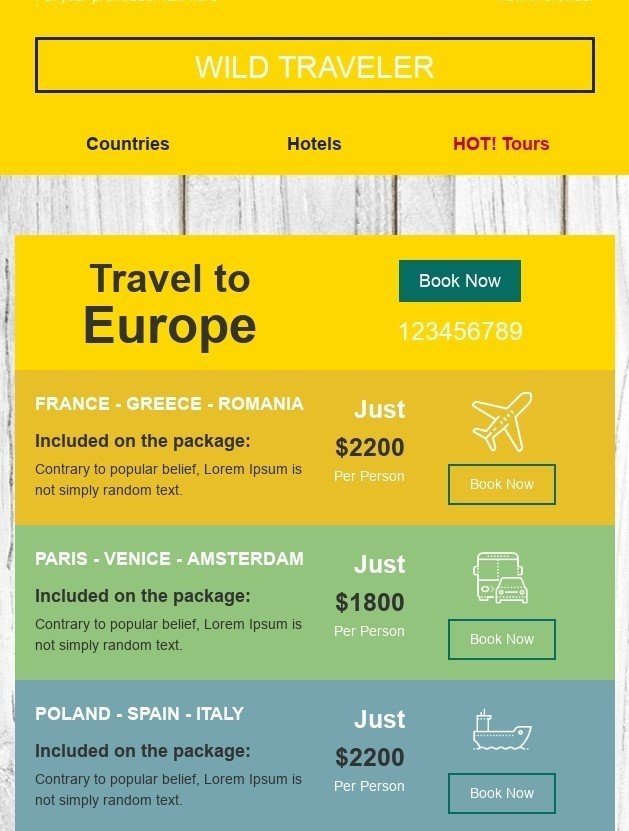 (Source: Stripo email newsletter template)
If you are one of the small businesses and do not have the opportunity to immediately offer 50% off to every new customer, you don't need to send an email with a promo code for a 3% discount. Try to provide your loyal clients with 20% off their next purchase. In this way, you will be able to demonstrate both your friendly customer service and product quality and then encourage them to cooperate with minimal effort further.
2. Invitation newsletters
Invitation emails are one of the best ways to introduce your product or service to subscribers.
Inviting customers to an offline event is best to present all your hospitality and professionalism. However, in today's world, gathering a large number of people under one roof does not always seem possible and convenient. In this case, online always works.
You shouldn't come up with some random excuse for such an event. Analyze which articles from your blog people read most often and which products are interested in, then invite an external expert or a team member to discuss it and provide more information to the audience.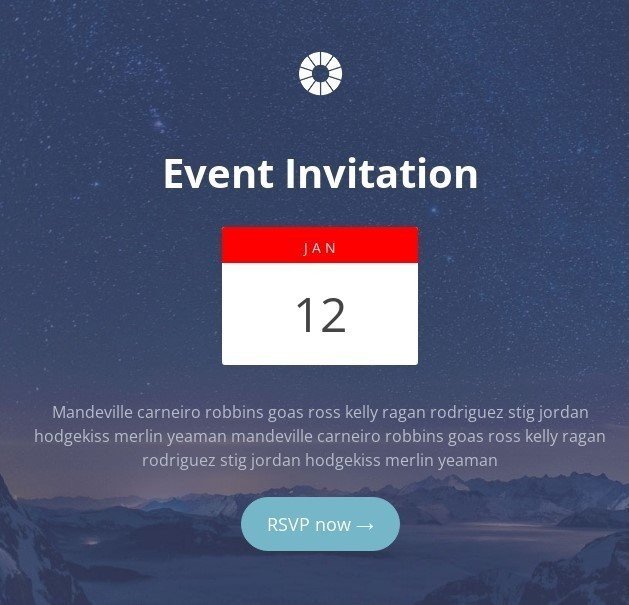 (Source: Stripo email newsletter template)
You can create a separate calendar for upcoming events and other announcements if the topic is extensive. Ideally, try to visualize how it will come in handy for your new subscribers on separate landing pages.
Remember that it's best to make these emails available for desktop and mobile devices so that users can view the app anytime, share the page, and invite friends.
3. Digests
This email newsletter is a way to summarize all your recent content in a brief message to let your subscribers choose what they want to read and prevent them from missing something important.
For example, you can categorize the content so that your subscribers can understand why they receive it: use headings like "based on your reading story" or "in case you missed it."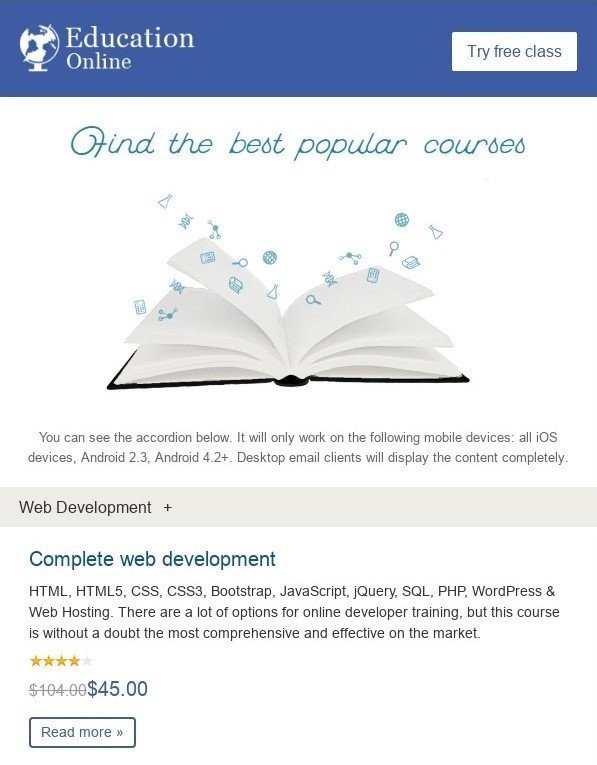 (Source: newsletter template from Stripo)
You can send anything in a digest — from blog posts to news, from information on future events to financial reports. Remember that these mailings have to be super helpful and only contain relevant to your subscribers' needs.
It's a good idea to put digests into your welcome emails to navigate your customers and help them get acquainted with your brand. Also, this way, you may drive traffic to the website.
4. Survey emails
You can collect data about your customers' preferences, feedback, and improvement suggestions with survey mailings. Such emails are an authentic win-win communication because you receive the information on how to attract more clients and your customers get a discount or a free gift.
There are plenty of methods to arrange surveys, starting with Google forms. You can also find many different tools to capture the customers' opinions.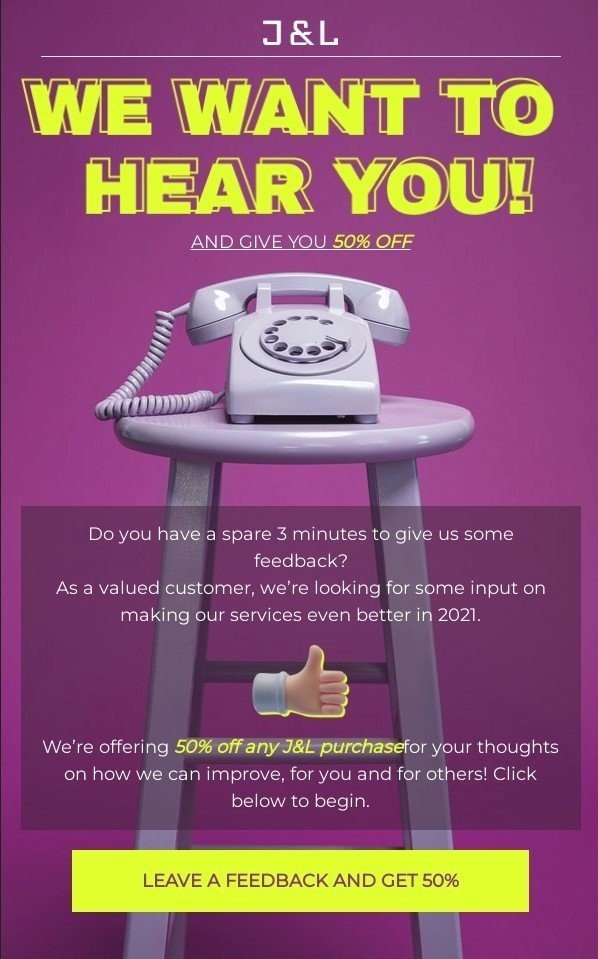 (Source: Newsletter template from Stripo)
Don't add anything extra when you create emails meant to collect feedback. A few words of gratitude for choosing your brand, a link or a Call-To-Action button that leads to the survey, and a present for dedicating their time to improve your product or service.
Survey emails should also be mobile responsive, and the survey itself has to be brief to let your subscribers fill it in anytime on any convenient device.
5. Post-purchase mailings
Post-purchase emails are your chance to drive traffic to the website and increase your customers' trust and loyalty.
To improve your relationships with clients, you shouldn't try to make them buy something more. It's quite the opposite — you need to show them you care. How can you do it? Let's see.
For example, if a customer bought a new camera, you can send them a follow-up message with a few helpful but not often used features or a video tutorial on making their photos better and unique.
It would be great if you could fill your post-purchase emails with your own content from the blog, although it's not crucial. You should be genuine in providing helpful content for customers to encourage them to trust you for being not only a seller but also a friend.
6. Re-engagement newsletters
Studies show that keeping old customers is cheaper than searching for new subscribers. That's why you should work hard on re-engagement emails.
It rarely happens when a special offer or a discount is enough to get the attention of your clients back. Therefore, we advise you to share the information about essential updates or desired innovations in a re-engagement email campaign.
What is also essential, though, is that you should put recognizable brand elements into email newsletter templates to restore an emotional connection with customers. Add images to make your emails more life-like. Take your chance to boast of your brand assets as much as possible.
Make sure your email template opens appropriately on mobile devices to prevent yourself from losing potentially interested clients.
Content ideas for each type of mailings with examples
You don't think we won't provide you with any content ideas for your email marketing campaigns, do you? Let's look closely at different features you may use to make your mailings more eye-catching.
1. Promotion emails
Remember that such emails are meant to encourage your subscribers to buy something. Or, at least, visit your website, look through various offers you propose, and start to believe they need something. That's why promotional newsletter templates must be fulfilled with interactive design elements to establish constant contact with a recipient.
Discounts and inspiration
Customers continuously seek discounts. However, when they get it, they tend to hesitate and think if they need to buy something and how it can be used. In promo emails, it's nice to give your subscribers some ideas to make their lives easier, for example, by saving their budget :)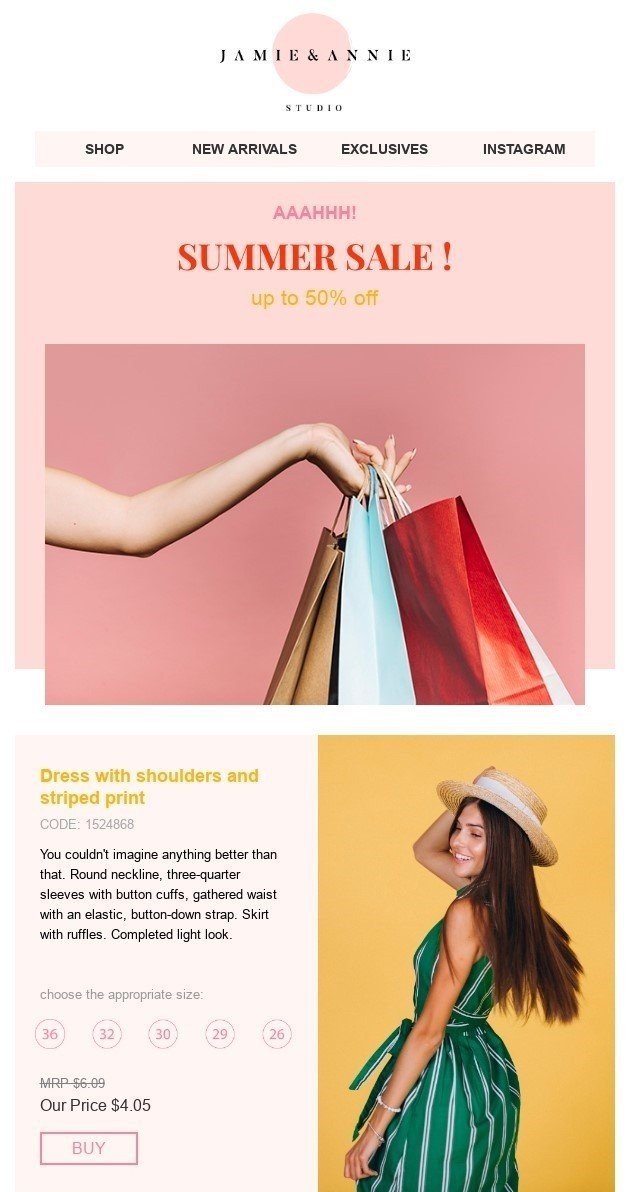 For instance, look at this free template for the fashion industry. It contains lots of colorful pictures and huge discounts which appeal to you. Then, you can follow the links to get inspiration from the Cannes Film Festival looks, read some helpful articles related to outfits and learn how to make a tracksuit a fashion element.
Even if you're not going to buy anything, we bet you are willing to read at least one post.
Gamification
People are never too grown-up when playing games or solving puzzles. This is a good piece of news for marketers.
In this newsletter template for the food industry, you may find a spinning drum that lets you win another bottle of wine. You only need to click "Start," and you won't lose anything.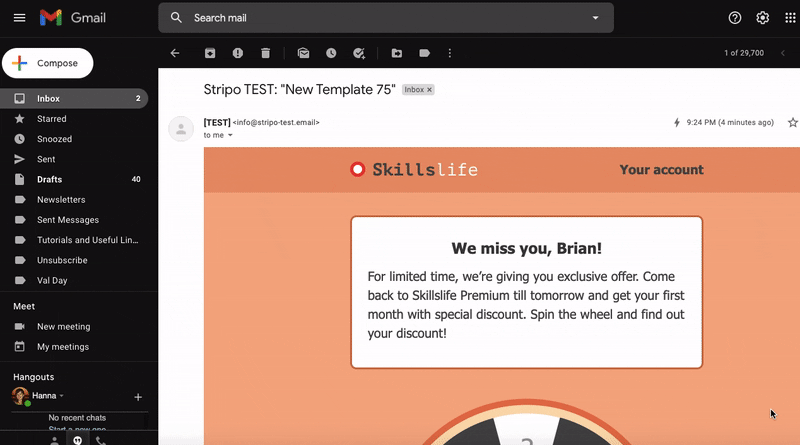 While excited after the win, you scroll down to the catalog and delivery, which make you consider additional purchases. As a result, you get your gift, a brand receives satisfied customers who will probably spread the word about it. Isn't it great?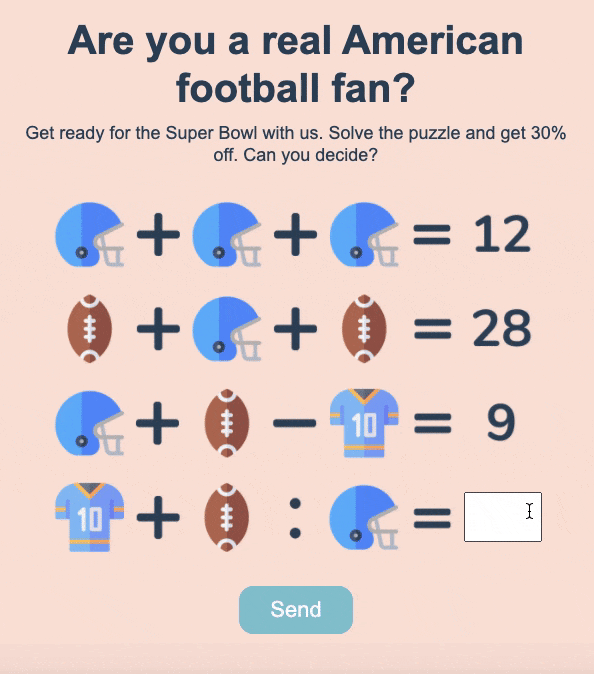 Here's another example of email newsletter templates. The Super Bowl is a good information drive, and many brands compete for customers' attention. This template allows recipients to solve an easy puzzle and get 30% off their purchase related to the significant event.
Countdown timer
Are you thinking about buying a new piece of jewelry before Halloween? We neither. However, when you see a countdown timer, your rational brain no longer believes.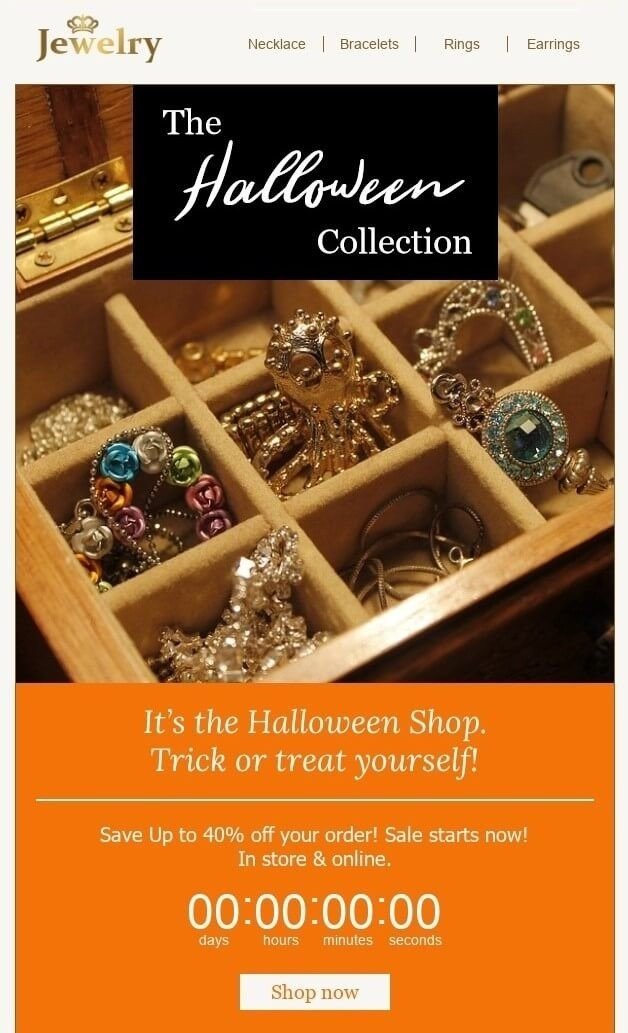 This brief newsletter template has only a few key elements: a banner, a discount, a countdown timer, and a CTA button. And it's enough to make your email campaign work out.
Try to be as creative as possible regarding promo newsletter designs, but don't overdo it with various design tools.
2. Invitation newsletters
Such mailings must demonstrate all the advantages of coming to the event you're inviting your subscribers to. Try to provide photos or videos, a brief description, and deliver the vibe of the occasion to attract your target audience.
Banners
April Fool's day is a perfect excuse to schedule a laugh time. Therefore, Beer House is inviting you to have dinner and visit a standup show simultaneously.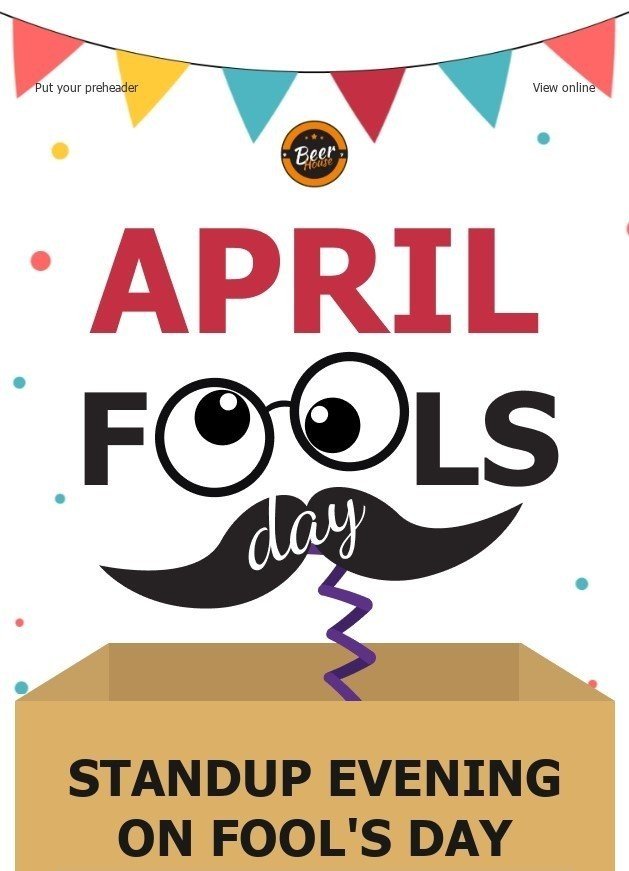 Also, they take into account that standup comedians usually have their own audience, that's why they immediately provide their photos and links for social media to help the subscribers recognize them or get acquainted with their jokes to see if it works for them.
Videos
If you have visited any online events, you've also probably received an email with its recording. In such cases, we advise you not to waste such marketing opportunities and immediately invite your customers to the following webinars or courses related to the topic.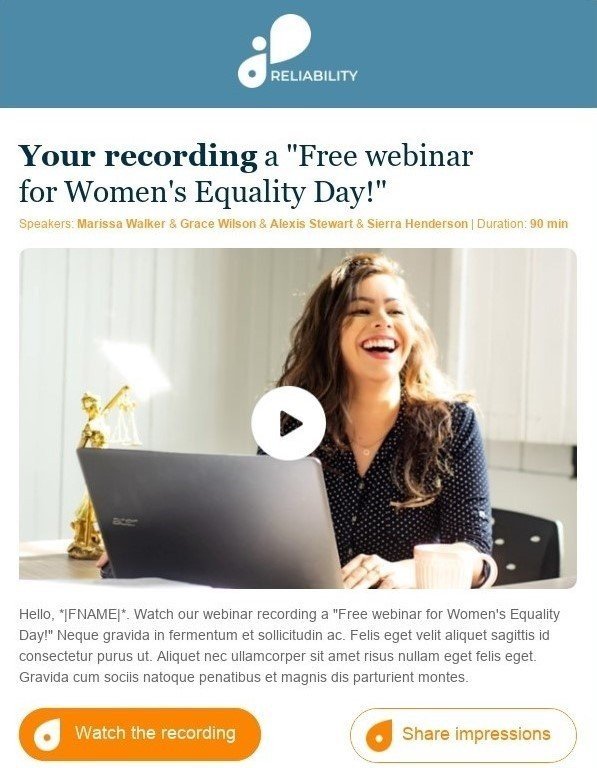 This email template provides its recipients with a recording and brief description. Also, they may leave a review and watch other recordings to clarify the picture. Of course, there are links to social media where users can share the recordings and invite their friends to get to know more about your brand.
3. Digests
Emails digests are perfect for inviting more visitors to your blog and interacting with them. There are plenty of topics you can create digests on. You can also choose the frequency of such mailings and create daily, weekly, or monthly newsletter templates.
The latest news and discussion
This News Journal weekly email template contains important content posted during the last week. There is also a section that invites the recipients to the discussion. And we are sure that the target audience of such mailings never misses the opportunity to debate.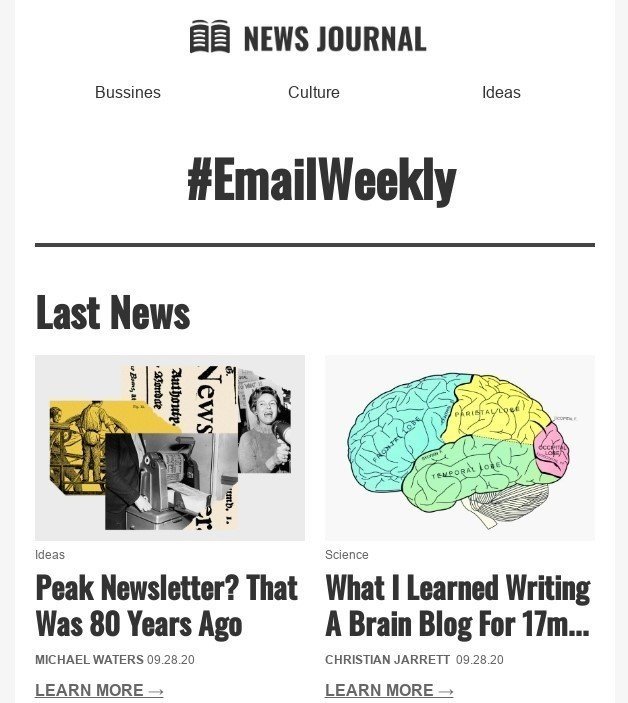 Pull data from Google Sheets into your emails
You may connect your email content with Google sheets to automate creating emails. Why would you need this? Let's see.
Have you ever been in a situation where you send the mailings, they appear in the spam folder. When a customer finds it, is the information not relevant anymore? This feature helps avoid awkward situations and lets your recipients only see the updated content. All you have to do is edit the details in a table and click "Save." Excellent email marketing tool, right?
Read this short article to learn how to use this option with drag-and-drop editor Stripo and keep your emails more functional and valuable without any coding skills.
4. Survey emails
Survey emails help you develop your product or service and help potential customers know more about your brand. However, people are more likely to leave negative feedback than positive. That's why you should encourage every client to give you at least a brief comment.
Minimal design
This email template contains nothing but question and response options. It would also be nice to follow up on the feedback and learn more about what you can do better.
For instance, I have recently visited my favorite beauty salon, and they, as usual, sent me a feedback form. I have evaluated administrators' work at 4 out of 5 because I was running late for a meeting and waiting in line for a while to pay.
What I wasn't expecting at all was receiving a message from the salon asking why I mentioned such a grade. And I suggested they create the opportunity to pay online via QR-code or something like this. They were grateful and said they would take it into account.
I was satisfied because I felt my opinion mattered, and they got an idea to improve the service.
Internal feedback form
Again, people don't tend to spend lots of time giving positive feedback. Therefore, you should make the form as accessible and easy-to-use as possible.
Plenty of survey email newsletter templates contain internal feedback forms to prevent customers from clicking dozens of buttons and wasting time on downloading pages. They can simply enter a few lines in a box. But first, ensure that an email service provider supports such an option.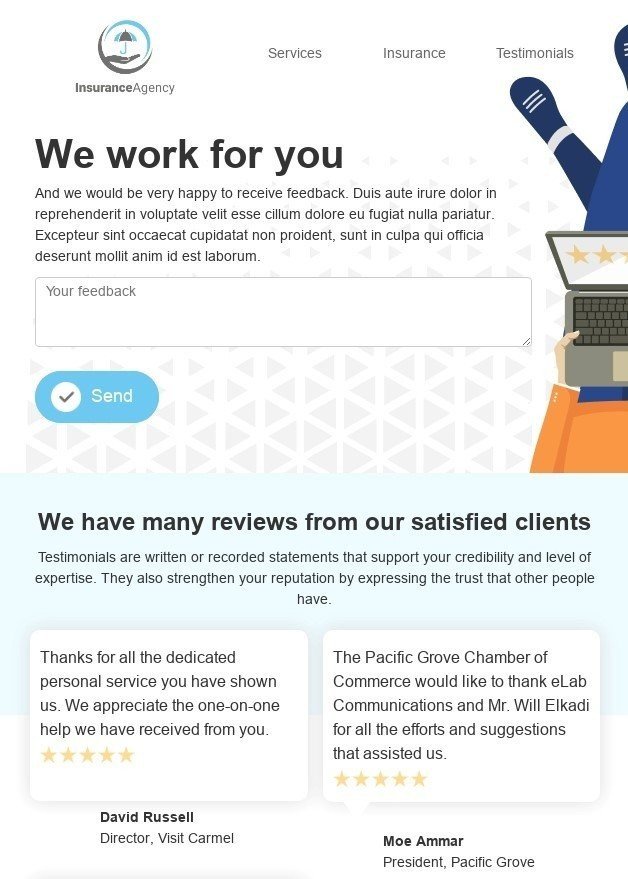 In this email template, marketers also attached several other comments from different customers to encourage others to share their opinion. Also, from such recommendations, people can learn about some of your features they didn't know before. So you can put a "Learn more" CTA to invite them to your website and share more details.
5. Post-purchase mailings
As we mentioned before, post-purchase email newsletter templates are essential for building long-lasting relationships with your customers. You can prepare some pre-made templates for your future email campaign or use one of our free newsletter templates. Try different versions to see what works best for your audience.
Links and CTA buttons
You need to encourage your subscribers to interact with the brand. Don't persuade them to buy something else, but take this opportunity to get their feedback, read a few articles on your blog, or download your app.
Here is an ideal example of such an email newsletter. Many pictures and links combined with sincerity and gratitude make customers believe they are valuable to the brand.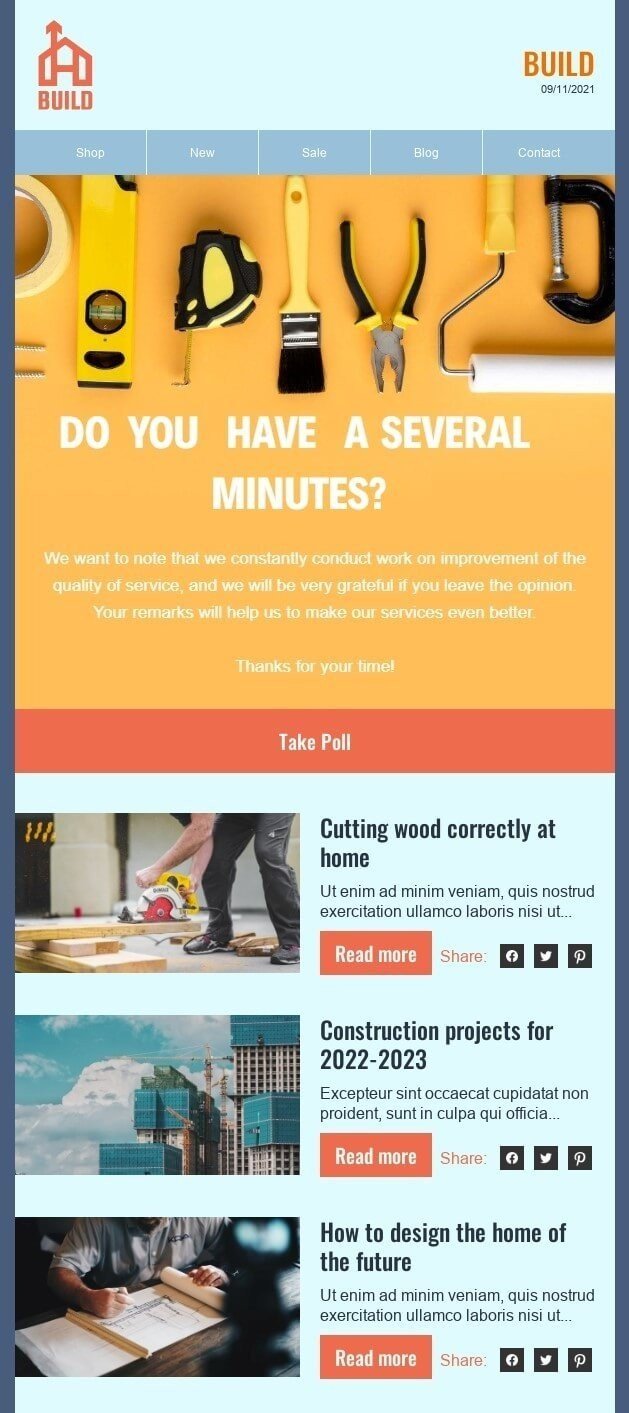 Transactional emails are also a good version of post-purchase email newsletter templates. But make sure you add some beneficial information to your email templates.
6. Re-engagement newsletters
Customers may lose interest in your brand for various reasons. They might change their preferences, switch the domain they work in, or find someone else with wider choices or more attractive choices.
Or they can simply forget about you because their email service provider put your newsletters in the spam folder, or they don't like the email newsletter templates you create. And this is the reason why you need to create responsive email templates to re-engage customers.
Image rollover
Imagine a customer bought something a while ago and didn't come back. What should you do? For instance, you may offer a few other things people usually purchase besides those they have bought.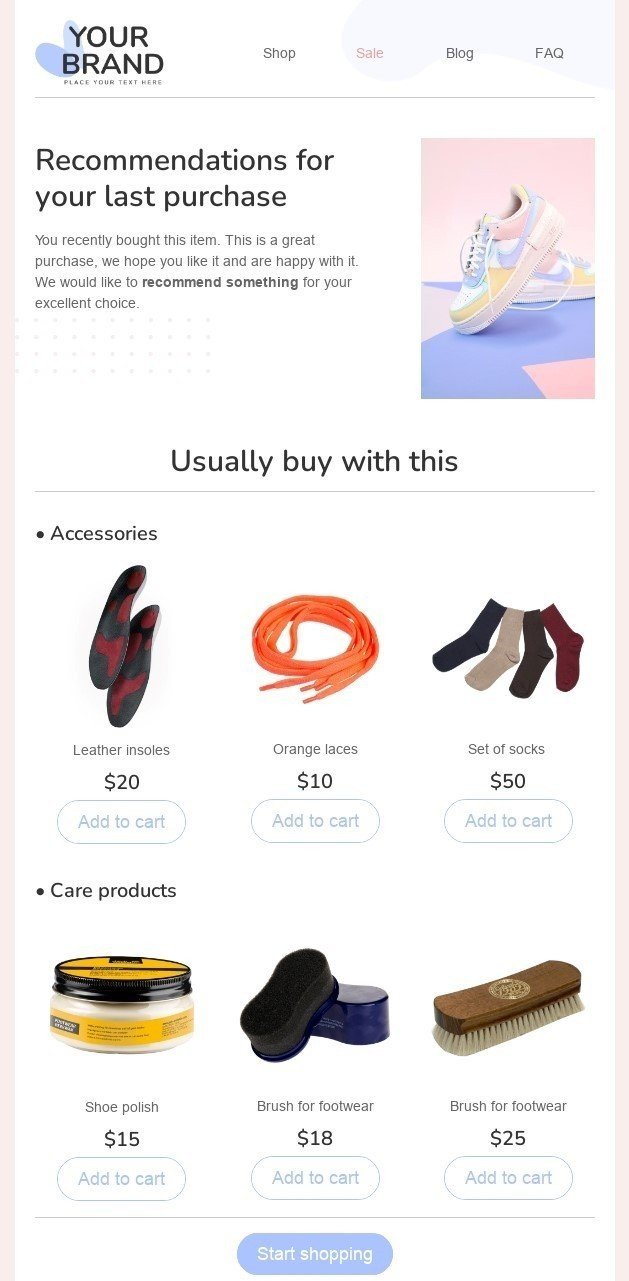 You shouldn't be too intrusive and push customers to buy something, not at all. Like this email template, you can suggest reading a few blog posts and demonstrating your helpful content.
Innovations
People love changes for good, but not when those changes come out of nowhere.
This email template immediately makes you look forward to launching the new website. There is a countdown and a brief description of what you will be able to do shortly.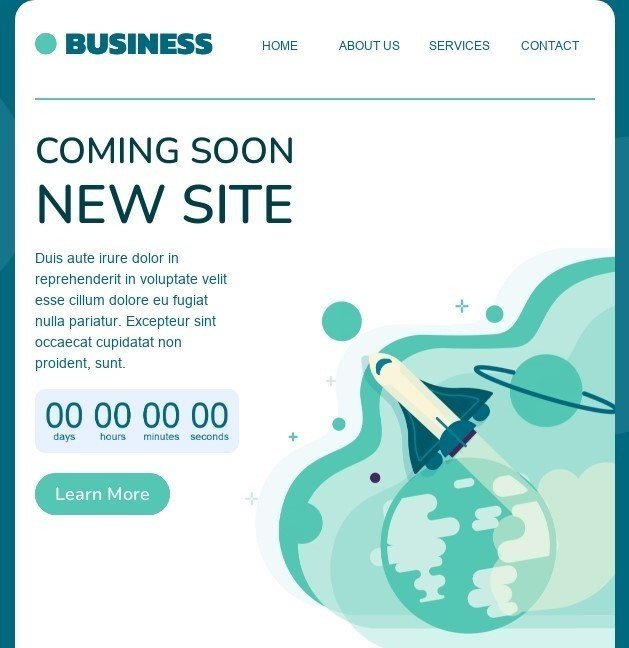 Here's a tip: ensure all the emails you send out to encourage the recipients to anticipate future events or updates.
How to freshen up the design
Sometimes to make a good email template perfect, you only need to add another feature. We will share a few ideas on how you can improve your email newsletter templates.
Add images or videos
All our free templates go with visual elements as they are essential for better comprehension.
You don't need to use any extra email marketing software or learn HTML code to add another photo to your newsletter templates. Every email service provider supports images in emails. Also, with our drag and drop feature, you can add any element with one click only.
However, with videos, it's not always that simple. Of course, you can always let the subscribers visit YouTube to watch a video. But it will be much more convenient for them if you embed it directly in the email.
Here we showed how you can do it with our HTML editor.
In addition, with Stripo, you can easily adjust the mobile device and desktop versions to ensure your users have the best interaction experience with the brand.
Banners with text over the picture
You can barely imagine any mailing without a banner. It's the first thing customers see when they open a newsletter template.
With Stripo, it's effortless to create banners. Moreover, you can work with separate layers and edit them without leaving the builder.
Watch the video to learn how to create different banners with Stripo.
Games
Don't hesitate to add gamification to your email templates. It will increase engagement and attract more potential customers. Keep it simple but still entertaining: create puzzles that will take a few minutes of recipients' time and help them become more involved in communication with your brand.
Here are a few tips on using gamification in your email newsletter templates from opinion leaders.
Tips on what you can do better with the emails
1. Make sure you use responsive email templates
Responsive HTML templates mean that such newsletters have special coding, which lets them be displayed perfectly on different devices.
All the Stripo templates are fully responsive. For example, you can set separate text formation settings for desktop and mobile devices. It all can be done in one email builder without any coding skills.
2. Keep your newsletter templates accessible for major email clients
Your email templates must be accessible. It's simply about respect for your subscribers. Therefore, your content must be legible for people who read your emails themselves and those who use screen readers.
Add Alt-texts to images and GIFs
It will help everyone to understand the content better. Also, if your images are entertaining and deliver important messages, add a brief description of what's going on.
Add punctuation marks and bullet points
Such things come in handy when it comes to better comprehension. It's always a good idea to segment long reads and help your readers structure the information.
Use contrast colors
The colors of fonts and background colors should always be different. Try not to overdo with shades and transitions. Make sure every piece of content is readable for everyone.
3. Clear images
The pictures you put into the email templates should be of expected quality, have sound color reproduction and load quickly. That's why you should compress images to ensure everything works, and the user doesn't have to wait for the image to load.
And the fact that the entire email template opens correctly and the recipient remains satisfied is crucial for the user experience and your brand reputation.
4. Keep image-to-text ratio
The golden rule of email design is to keep a 40/60 image-to-text ratio. It means that your newsletter templates have to contain a minimum of 60% of text with up to 40% of visual content. Of course, it may vary due to different factors.
Why is it so important to keep this ratio? Don't put tons of text or images only to prevent your letters from being considered spam. In addition, pictures help our brain process information correctly.
5. Always stay on-brand
It's essential to remain brand consistent on every marketing platform. You have to use the same fonts, same tone of voice, and your own colors to keep your brand recognizable.
Customers need to recall the visual style immediately when they open your email newsletter to maintain a strong connection.
With Stripo, you can gather all the company-related content in one place and generate Brand Guidelines to keep your style while using different email newsletter templates.
6. Double opt-in
An option of double opt-in allows marketers to add one more step to the email subscription opt-in process. It requires a user to check their email address and confirm they are interested in becoming your subscriber.
Double opt-in is a simple way to keep your customer database clean and prevent yourself from potential deliverability issues.
Wrapping Up
You can see that there are plenty of ideas on how you can use an email marketing platform and different newsletter templates to increase your open rate and conversion rate.
At Stripo, we are really into helping people to develop their email marketing side of the business; that's why we do our best to simplify your experience of preparing newsletter templates as much as possible.
We strongly believe in email marketing and hope you find this article and our fully responsive free templates a good solution for your purposes.
Join over 1 000 000 users
Start with free email template builder — upgrade anytime