The real estate industry is extremely competitive. While using email marketing for real estate accurately, you cultivate awareness and trust in your business. Moreover, you ensure that your prospects will recall your brand when the time comes to buy or sell their property.
Aside from creating a high-quality website, operating paid advertisements, and maintaining active social media accounts, you should consider real estate agent email marketing. Here we will share some tips and examples to help you create professional real estate emails.
Tips on how to create effective real estate email templates
So we've already mentioned that email marketing helps real estate agents attract buyers and turn prospects into real customers. But how to achieve it? Here are several pieces of advice:
1. Create a mailing list
Gather as many new contacts as you can from just about everyone you know to have more new leads. You never know when someone will be interested in the home selling process or making a real estate investment.
2. Attract buyers with an impressive subject line
Check the market reports on the most clickable subject lines and decide what vital topics your buyer leads might be interested in and what you can offer them depending on the local market.
Offer home buyers to save money upon buying their dream home and they might appear on your real clients' list. Besides, according to studies, messages with the subscriber's name in the subject line have an open rate of 18.3%.
Read the blog post below to create powerful subject lines for your emails.

10 Tips for Writing the Most Powerful Subject Lines for Emails [Examples Included]
3. Maintain brand consistency to keep your emails recognizable
Switch between brand awareness, lead nurturing, and direct marketing emails to consistently engage your real estate leads in the home buying process. Maintain brand consistency to make your messages associated with your logo, brand colors and fonts, and company name. Make accents on the email appearance to make your messages recognizable among hundreds of others.
4. Insert a call to action button
Whatever type of real estate marketing email you send, don't forget to include a call-to-action button. CTA may invite your audience to visit your social media page, obtain a more informative catalog, or, for instance, offer your prospectives to schedule a call with your real estate agent via any online meeting tool.
5. Benefit from follow-up emails
Your subscribers may be busy or forgetful, so it's crucial to remind them about your company from time to time. Follow-up emails have to be professional, short, polite, and to the point. Don't be too pushy and avoid the hard sell.
Emails for real estate agents: best practices and examples
1. Clarify your unique selling proposition
Once we take a look at this template, we can identify the unique selling proposition (USP) along with the eye-catching CTA button. That's a good idea when you want your subscribers to learn more about the company's values :)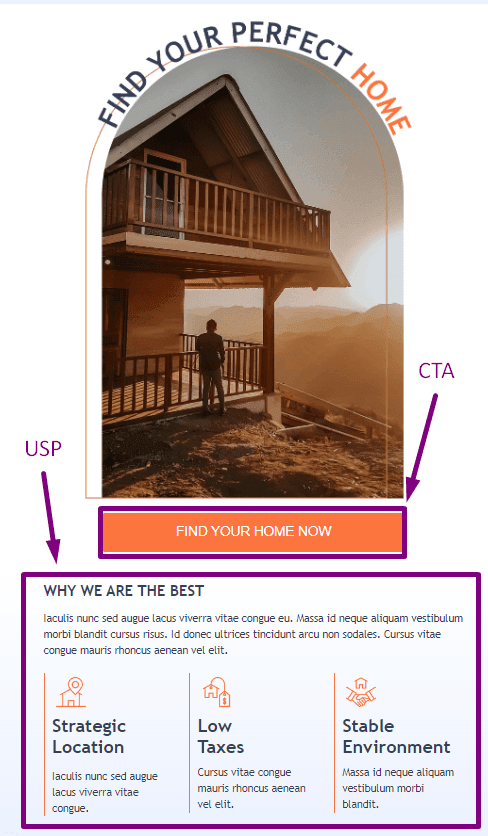 2. Align your email content with customer needs
In this template, we have a more complex email structure with a lot of redirect buttons tailored to customer interests (Apartment, Services, Contacts). There are also various clickable sections to choose from (living room, bedrooms, office, and hall). Thus, your subscribers can pick the content that suits their needs.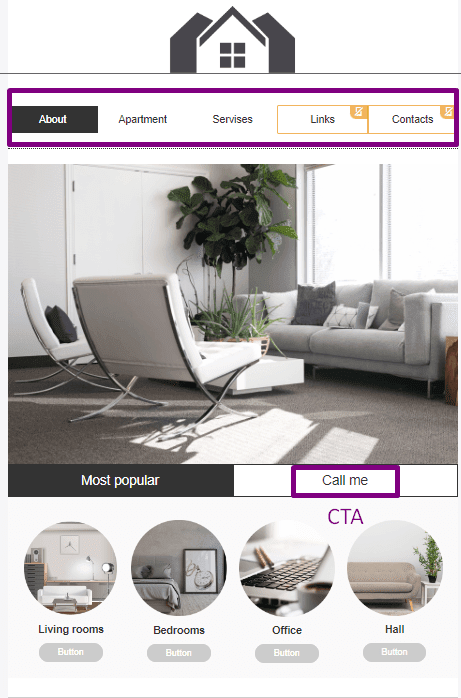 3. Maintain brand consistency
Compared to previous emails, this one has a more expressive logo, which is perfect to maintain brand consistency. With Stripo, you can choose any template, customize it according to your brand design guidelines, and save it to your content library for further use.
It's also a good idea to send your subscribers a Weekly Digest email to remind them about your brand and be associated with educational and insightful content.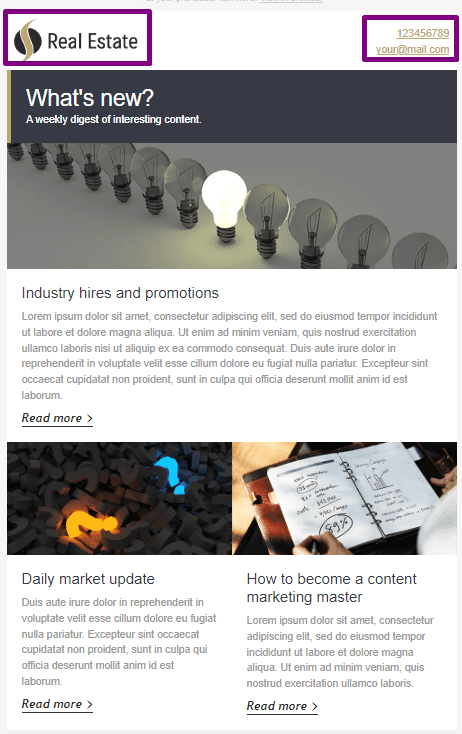 4. Use product cards to showcase properties
Product cards with appealing images and short text descriptions can attract your subscribers and motivate them to interact with your brand more often.
With our smart elements, you don't have to copy and paste product descriptions, names, and URLs. Just paste a link to your website and Stripo will pull all the necessary data to your product cards.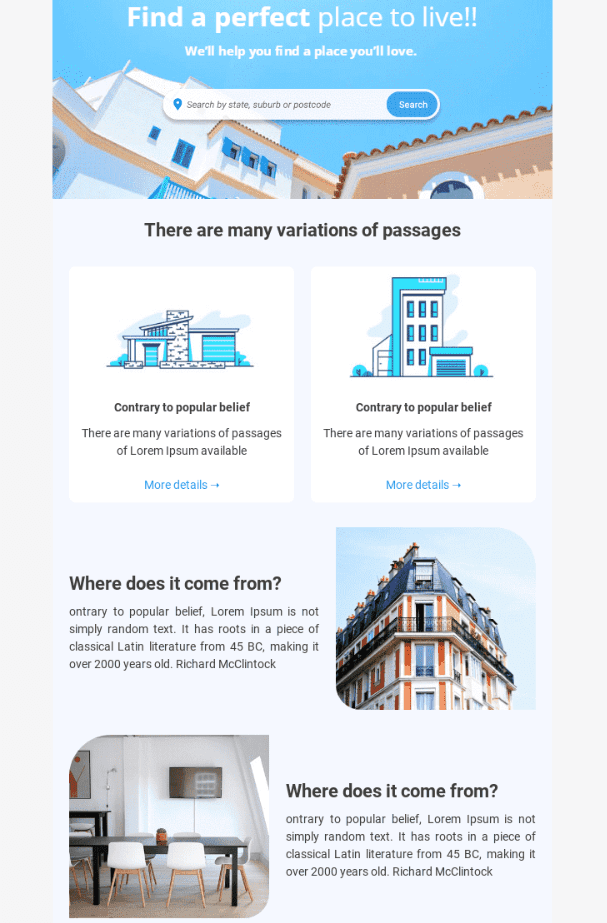 5. Benefit from holiday email marketing
The holiday season is a great time to congratulate your current subscribers and reconnect with your inactive past clients to make them feel valued.
Customize festive real estate templates easily with Stripo and announce special offers to grab recipients' attention. In the real estate industry, it can be customized payment plans, cash discounts, referral and loyalty programs, etc.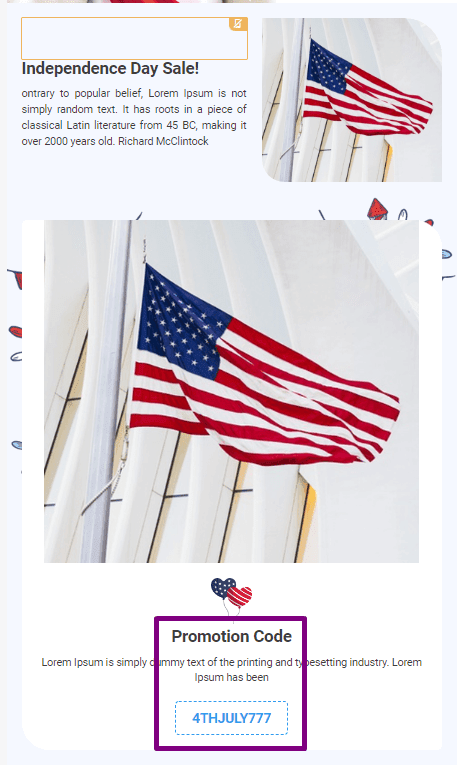 Why should you use Stripo?
We always advise you to try Stripo because we know it will be your perfect match. And here is how Stripo can be of use:
1. Synchronized modules to automate your email production
The synchronized module is an automation technology that allows you to edit or update all of your email templates at the same time.
Any adjustments you make to a synchronizable module in each email template are automatically converted to all other templates in which this module was included. This is the best thing for a real estate agent, who needs to provide his clients with another follow-up email.
A step-by-step guide on how to implement it with Stripo:
prepare the module/email element that you will include in all email templates;

tap the "Save as module" button to save this component to your private content library;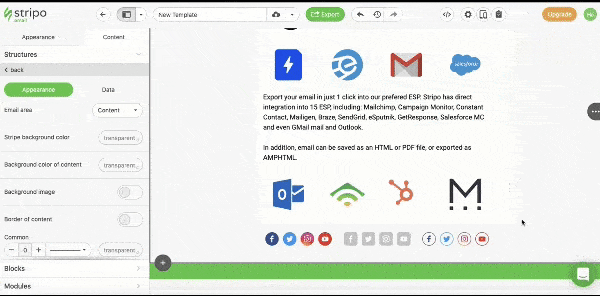 now turn the "Synchronized" button and click the "Save" icon;

to activate this option, click the "OFF" symbol;

toggle the "Synchronized module" button in the settings panel.

afterward, open any email template in which this module was used;

click the module itself;

edit it and then click the "OFF" symbol once more;

navigate to the settings panel, where you'll be prompted to "Update" your module.
If everything goes well, you should see a confirmation line indicating that the module was successfully updated: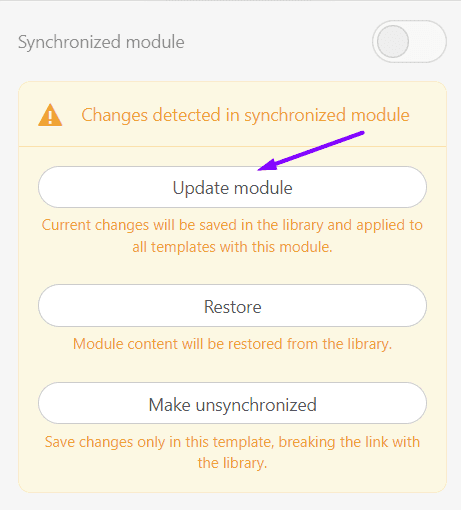 2. Content modules to save you time and effort
Modules such as the logo, header, menu, and contact information are consistent across campaigns. So, when you launch a new campaign, all you have to do is select the appropriate template from the library.
So, if you want to change the content of the product card modules, elements like buttons, image size, font size, font colors, and text alignment will not require your focus because you already set them before saving modules to the library.
There are two approaches to locating a required module:
Enter the module name and then pull it to your template.

Choose a category (preheaders, headers, banners, info modules, product cards, footers, etc.) and then find the necessary module. Then, drag it into your template (simply hover the mouse pointer over any module to preview it before pulling it into your email template.)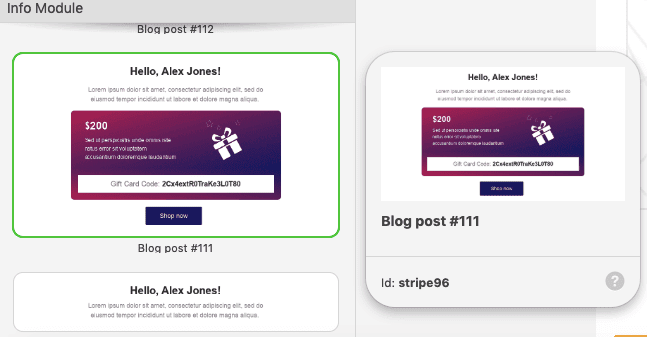 Find out more info on the Content Modules in our blog post:

Stripo Content Modules: What Are They And Why Do You Need Them?
3. Mobile-friendly design for your real estate business email template
Stripo enables you to create a mobile version of your emails: change the font size for buttons, content, all the headings in your email template, and even the font size for the menu and footer. You can also modify the size of your buttons to make it easier to click on them while using mobile devices.
Additionally, you can inverse some of the email elements for mobile devices, so it won't look weird.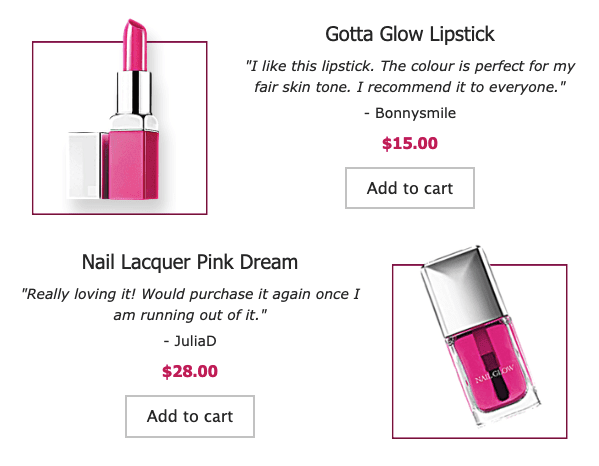 To convert the desktop pic to the mobile one, simply click the "Structure" icon in the relevant row.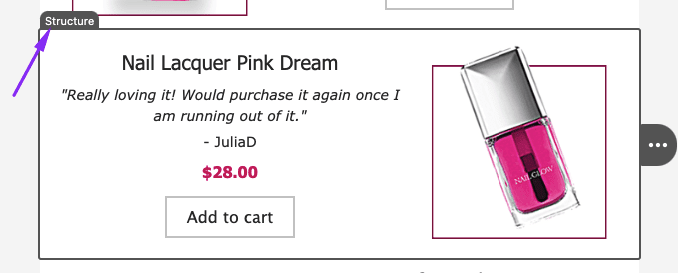 Then, toggle the "Containers inversion on mobile" button in the Settings panel.

Voila:) A cakewalk, isn't it?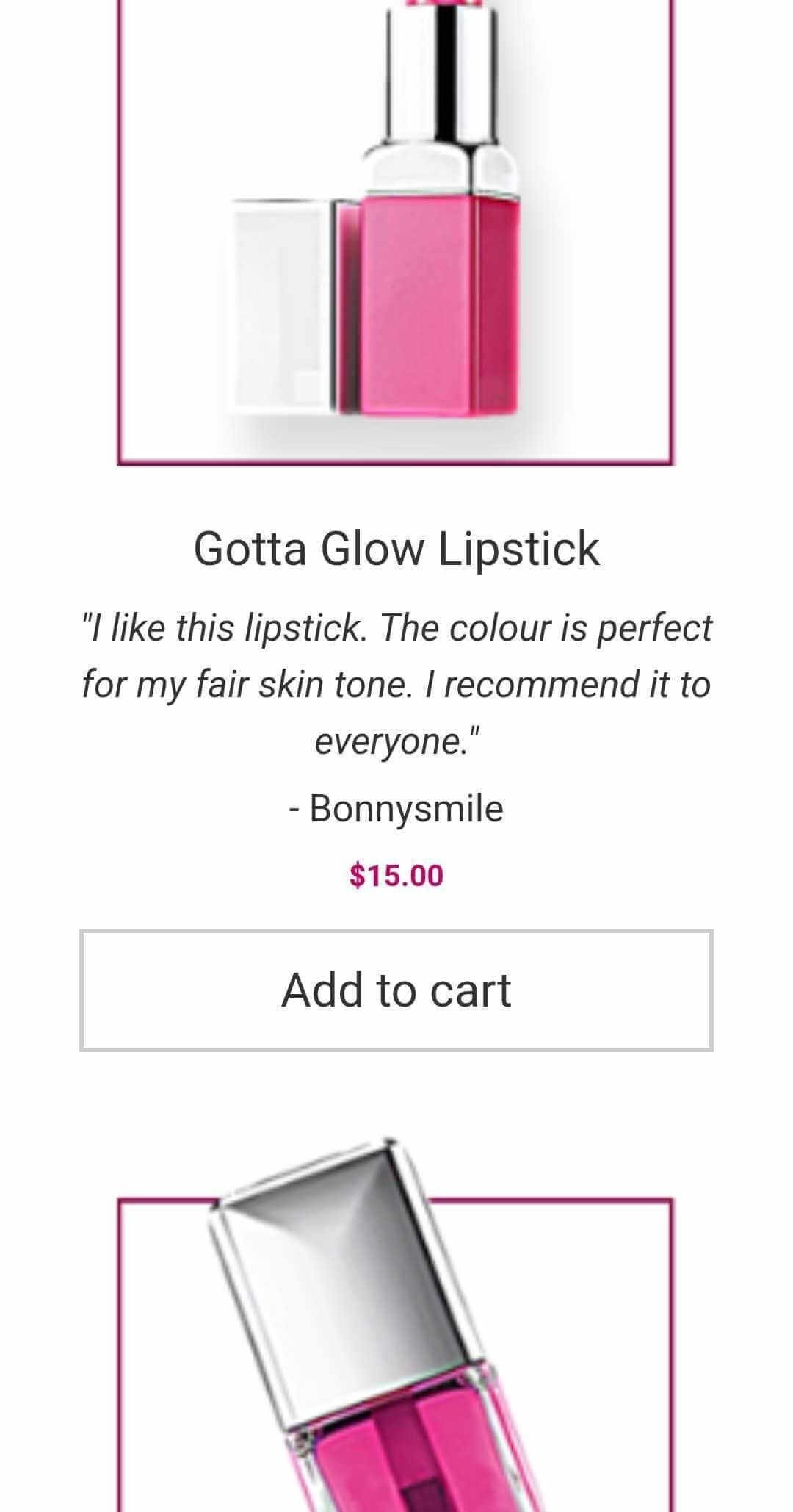 Please refer to the blog post below to check more details on the subject:
4. Email template adaptation
Stripo allows:
Simple adaptation — where you can replace images and work on texts.

Advanced adaptation — where you can edit structures and remove rows along with containers.
In the simple adaptation, you need to find the example you'd like to implement in your template, then click the "New message" button, choose the "Basic templates" tab, and select the "My HTML" option.

Following that, you will see the Stripo editor with the "Code Editor" open (2) and the email's visual display area (1). There is also a switcher in the "Code Editor" (3) that allows you to toggle between HTML and CSS.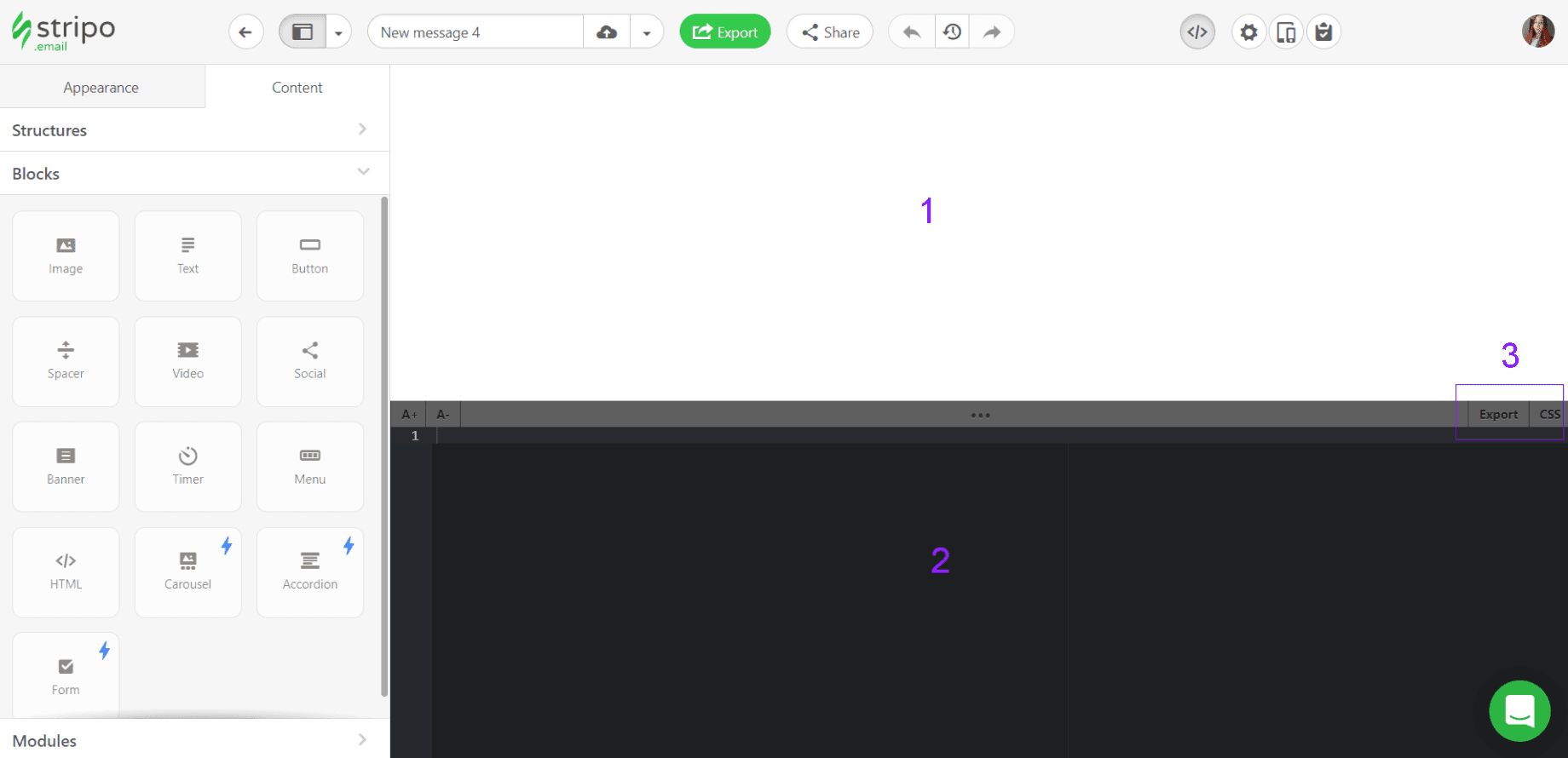 Check the detailed instruction for the simple adaptation in this blog post:
The advanced adaptation, on the other hand, allows you to reestablish custom layouts.
Let's consider the nesting of elements in Stripo emails, which include strips, structures, containers, and blocks.
In the image, you can see a Stripe, which is a structure including two containers and blocks named "Picture" and "Text".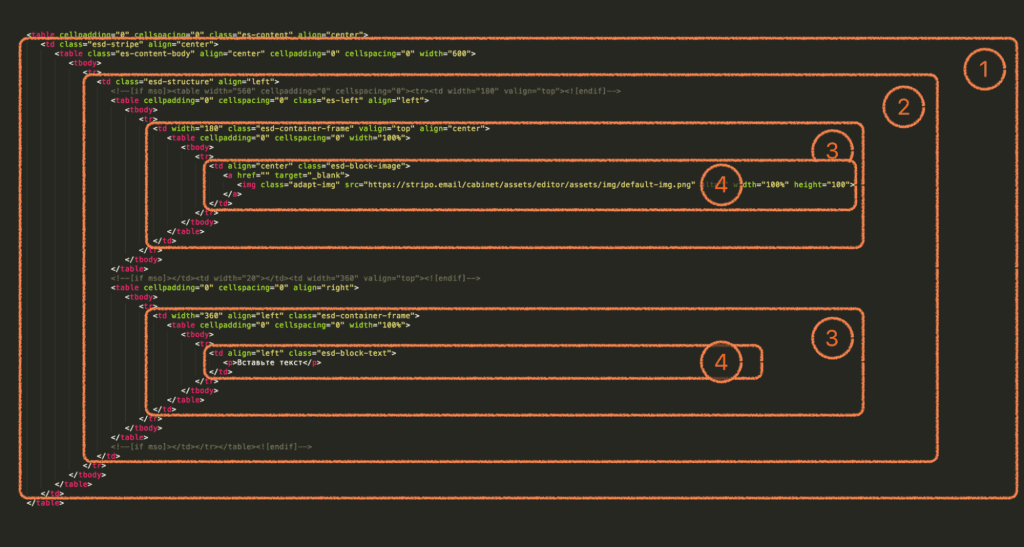 (1) Strip with class esd-stripe;
(2) Structure with class esd-structure;
(3) Container with class esd-container-frame;
(4) Block with classes, here we have esd-block-image, esd-block-text.
If your layout is built on a similar principle, Stripo will be able to provide the most convenient email adaptation:
Strip → Structure × n → Container × n ≤ 4 → Block × n
Meaning there can be:
so many Structures in the Strip;

not more than 4 Containers in the Structure as of now, but having Containers dynamic possibility in the future;

any number of Blocks holding in the Container.
Please read the blog post below for more detailed information:
5. Brand Guidelines for your company
With this feature, you can generate your own Brand Guidelines kit within a minute. Just choose one of your email templates we can use as a base and we will generate a kit for you.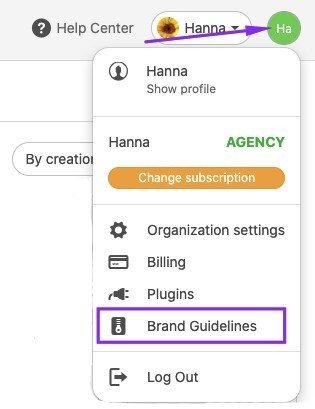 With our "Brand Guidelines" feature you can:
create brand-consistent newsletters regardless of which agency or email designer you hire to build your future campaigns;

provide designers with the rules and requirements for any brand's emails so they can build those messages fast.
Our Brand Guidelines kit consists of:
Brand font and background colors you used, paddings within containers, indents between containers, the CTA buttons design, social media icons appearance, and so on.

PDF files of your chosen templates to get a sense of how your campaigns should look.

Content modules that you can preview and copy their HTML code.

Images that you used for your campaigns.

Brand assets (such as a logo).

Contact information (social media profiles, your website, etc.)
Read this blog post to learn how to create your own Brand Guidelines kit:

Template Kits, or How to Get Template Guidelines and Brand Assets in One Place
How to make your real estate emails professional and recognizable
If you are looking for any ideas on how to diversify your commercial real estate email templates, we are here to help! All of our real estate email templates are pre-designed by Stripo professionals and will perfectly suit your requirements.
Here are a few ideas to brighten up your messages with the help of our email design platform:
1. Utilize AMP image carousels
This feature allows showcasing more content in one email without having subscribers scroll down your message. It also allows you to group photos of properties by category or houses/districts.
Now you can demonstrate all the photos of a property in a single carousel of your real estate HTML email templates.

You may also build an AMP photo carousel absolutely on your own. In this short video tutorial, we show how to do it in under 10 minutes.
2. Include AMP accordions in real estate email marketing templates
AMP accordions allow structuring email content and showing necessary details upon users' requests.
It is an excellent way to make your emails interactive. And as we know interactivity has a positive impact on our CTOR.
Also, users will see only the details of the houses/apartments/other properties they are really interested in.
Embed AMP accordions in your email templates for real estate to make messages logically structured and more informative for your potential clients.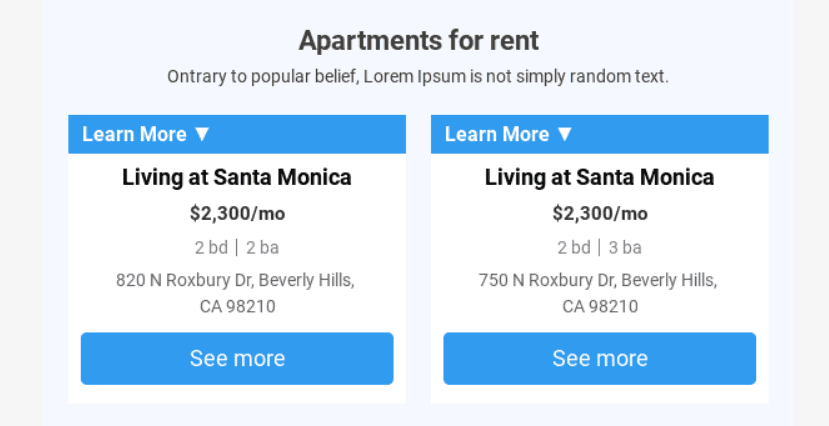 Just like with carousels, you may also build an AMP accordion absolutely on your own — you can find details in the blog post below.

How to Build AMP Accordion for Your Emails with Stripo without Any Coding Skills
3. Add videos to your real estate email templates
Did you know that videos in your messages can boost your CTR up to 300%? Videos can persuade customers to buy the properties that you offer or at least schedule an appointment.
Add or even embed videos in our free real estate email templates effortlessly to make a homebuying process more interactive.
In the blog post below, we show in detail how to utilize videos in your marketing campaigns.
4. Build an informative and professional signature
How do clients contact their realtors/agents if they want to make an appointment? You have to share your contact information with them.
Make sure that the signature of your email templates for real estate contains the following information:
links to social media accounts;

your cell phone number;

your email address;

the physical address of your agency;

your photo;

link to your website.
With Stripo, you will have to provide this information just once. Then you just need to save the signature block to your library. Now you can drag the Social block in your email, and voila — your real estate HTML email template already contains the necessary social media icons, contact info, and URL links.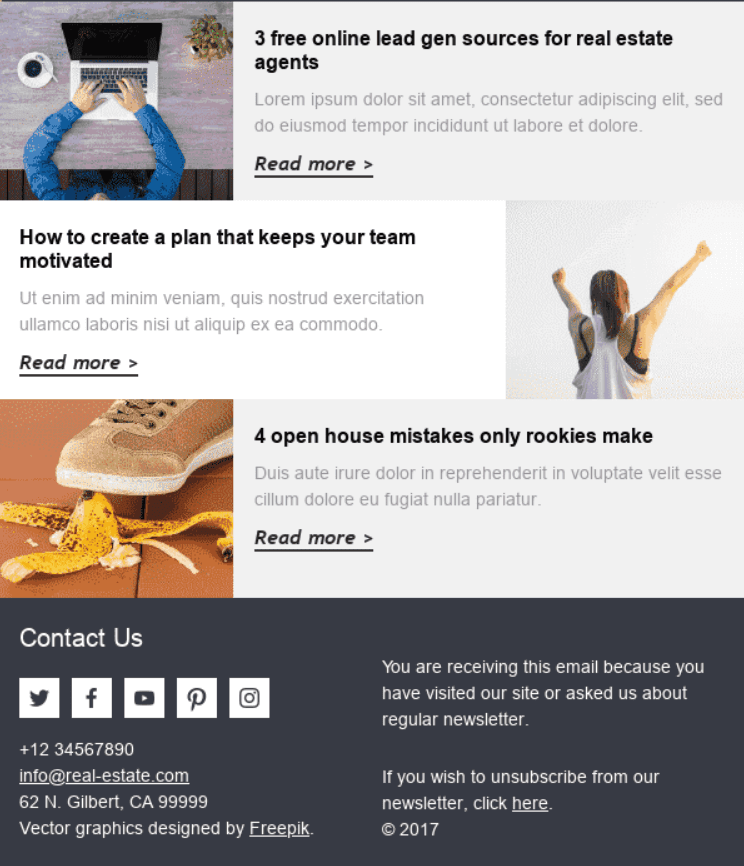 5. Export emails to 75+ ESPs
Our email design platform is integrated with 75+ ESPs. This feature enables you to design emails for your real estate business and export them to your favorite ESP with just one click. Your email design will remain as good-looking as it was before the export, but in case you need to change anything, all emails you have built with Stripo remain editable after export.
Join Stripo to design appealing and responsive real estate email templates for your business
Join over 1 000 000 users
Start with free email template builder — upgrade anytime