Amazon Pinpoint allows you to send in-app and push notifications, emails, text, and voice messages. With the gathered data and analytics Amazon provides, you can monitor purchase activity and the level of engagement of your users. All the features let you choose the best channel and send the right message at the right time to the best customer. And now, you can double the effect of Amazon Pinpoint HTML email templates by integrating them with Stripo.
Why should you choose Stripo to create Amazon Pinpoint newsletter templates?
Our excellent trendy designs with effortless drag-and-drop features and 1100+ free email templates enable an exciting time-saving process. Besides, up to 100 team members can work on email projects at the same time as you to deliver the best results. Be sure that free Amazon Pinpoint email templates are perfectly displayed on mobile devices and in desktop mode with 7 possible preview ways. Export the ready emails just with one click to Amazon Pinpoint or any other of the 70 ESPs we have at your disposal.
Stripo's main features for Amazon Pinpoint email templates
Still not convinced? Keep reading, and you'll find out why Stripo has 600.000 active users.
1. Modular email design for Amazon Pinpoint newsletter templates
Content Modules block crafted and stored in your library allows you to build an Amazon Pinpoint email template way faster than before. Drag and drop the modules into your emails without coding skills. You certainly do not want to change elements like headers, logos, contact information, text fonts, and alignment from campaign to campaign since they are a part of your brand and should be repeated. By saving them in the modules library, you do not have to pay extra time to insert respective information ever since.
2. Synchronized modules to edit numerous Amazon Pinpoint email templates
Synchronized Modules block allows you to edit or update up to 100 emails at once. Typically, a company has about 50 email campaigns to send out to customers. Let's suppose that your Facebook URL has changed. Can you imagine how much time would be wasted editing each campaign? Our Synchronized Modules instead apply changes automatically to all the necessary Amazon Pinpoint responsive email templates.
3. Interactive content for beautiful Amazon Pinpoint newsletter templates
Content such as image roll-over effect, CSS-animated buttons, countdown timers, carousels, etc. multiplies customer engagement. Amazon Pinpoint email template design with some of these features is 82% likely to be appreciated by your customers as the survey suggests and generates 2 times more conversions than the passive content.
4. AMP blocks and templates to make your Amazon Pinpoint email templates unique
With pre-built AMP (or Accelerated Mobile Pages) email templates, it's possible to create an Amazon Pinpoint email template in under 10 minutes. Due to this feature, recipients can add products to their cart, answer surveys, play games, and book appointments without the need to visit a website. In 2020 our AB-test revealed that AMP emails increased ROI by 520%!
To sum up
As you can see, no special skills are required to create effective marketing campaigns on our platform. However, if you have enough coding skills, you can easily build your own unique HTML email template for Amazon Pinpoint. The features stated above are just a tip of an iceberg of what Stripo can do. We do believe that an email is a very powerful tool that, when alone is correctly strategized, can succeed all your expectations in revenue. We implement modern designs, marketing tips, and tricks, constantly testing new micro-tools to be on the cutting edge of this industry. But don't just take my word for it. Try Stripo out for yourself. What have you got to lose?
Frequently asked questions
How to create an HTML email template in Amazon Pinpoint?
With our 490 prebuilt Amazon Pinpoint email templates, you can design responsive emails effortlessly. Select the most suitable template and hit the "Use in Editor" button. Then, create an account in a few clicks to edit your template and align it with your campaign goals.
How to use Amazon Pinpoint email templates?
Designing Amazon Pinpoint emails with Stripo is easy and hassle-free! You can modify templates as needed for your design purposes. From fonts and background images to banners and videos, you can align any template with your brand design styles to maintain brand consistency and make your content stand out in the crowded inboxes of your subscribers.
In the "General Settings" section, you can set up parameters like your message width, font, line spacing, and background image.
Open the "Mobile Formatting" tab to enable subscribers to view your messages on smartphones and tablets. Here you can select the size of header, content, footer, info area texts, menu items font size, button text size, and content margin.
You can also use the "Modules" section to benefit from reusable content blocks (headers, footers, product cards, banners, info on orders, etc.). You will have to design them just once and then edit them according to the goals of a certain campaign.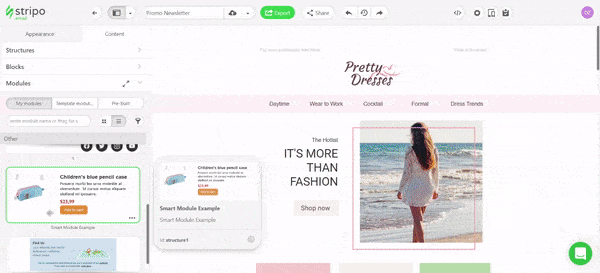 How to save email templates in Amazon Pinpoint?
When your attention-grabbing email template is ready, you can export it to Amazon Pinpoint:
click the "Export" button;
choose the "Amazon Pinpoint" option from the list of ESPs.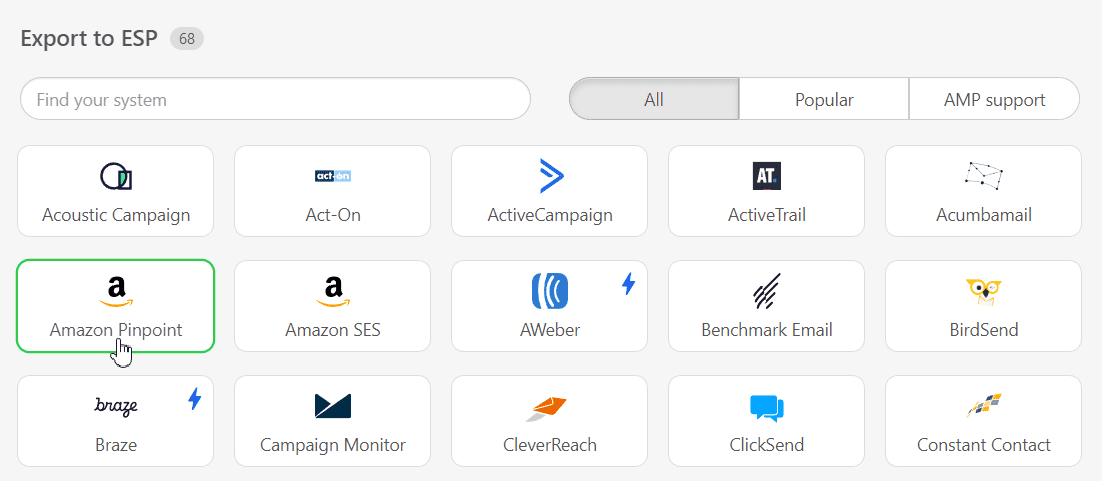 How to send HTML email templates with Amazon Pinpoint?
Amazon Pinpoint requires some extra information before you can export your email template. Once you have clicked the "Export" button, fill in the following fields in the pop-up window:
enter the "Connector's name". You can type the name of your company or project here;
provide your API key and Secret. If you are not sure where to find this data, check out this guide.
select your instance. Click here to learn more about your instance and how to pick it correctly;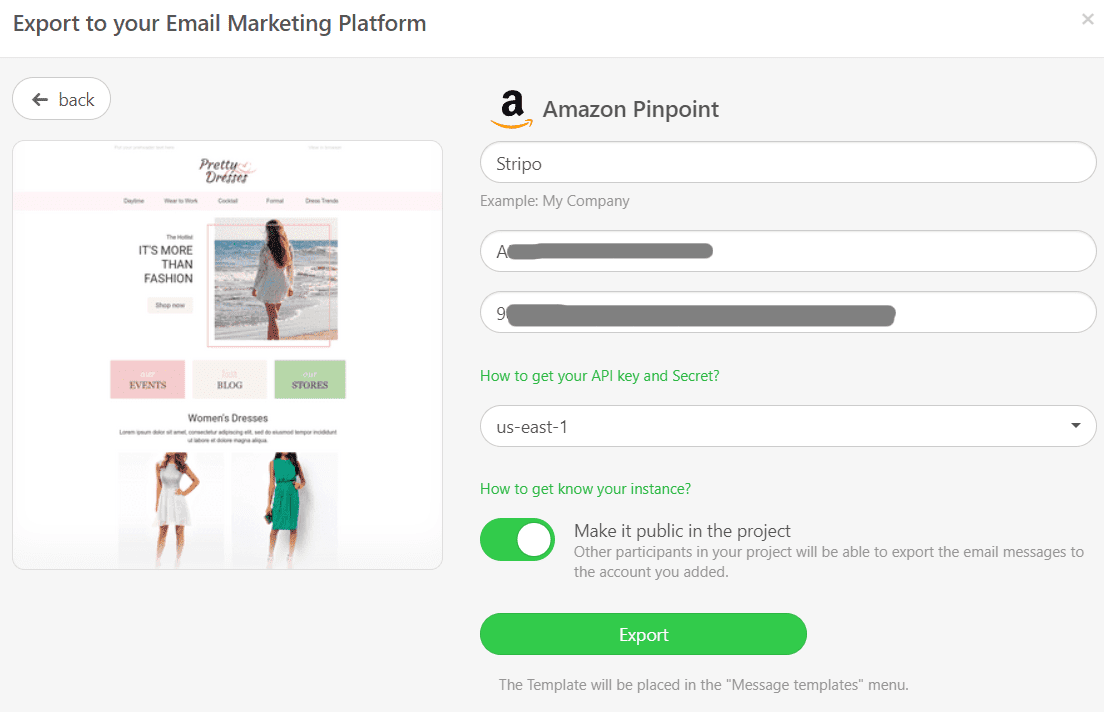 click the "Export" button.
Where to find your email template in Amazon Pinpoint?
Once you have exported your email template, you can find it in Amazon Pinpoint. Click the "Message Templates" section to open your email. You can also edit both HTML and design if necessary.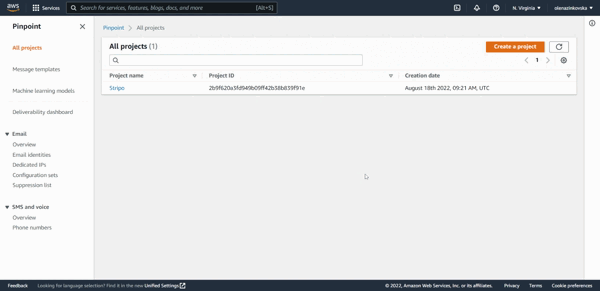 How to add Amazon Pinpoint email templates?
Take a look at the two methods to find and use our Amazon Pinpoint email templates:
Open our website, select the "Email Templates" block, and find prebuilt Amazon Pinpoint email templates in the "Integrations" section. Choose your favorite one and click on the "Use in Editor" button. Then, you have to create an account to start building your eye-catching email.
If you are already signed in to your Stripo account, you are free to choose one of 490 Amazon Pinpoint email templates in the editor. Go for the "Templates" section and click the "Prepared templates" button.
Have any other questions?
If you have more questions on our pricing and plans, contact us so we can help.
Join over 1 000 000 users
Start with free email template builder — upgrade anytime