Thanksgiving is one of the best times of the year and a busy shopping day at the same time. It's a great idea to treat your email subscribers to festive, heart-warming, emotional, and charming newsletters. Remind your customers that the holiday season is coming.
Thanksgiving email templates design matters as much as a generous value proposition. That's why we have prepared a few ideas to customize free templates for your successful Thanksgiving sale.
Ways to create beautiful Thanksgiving email templates with Stripo
Make creative Thanksgiving email banners
A banner is the first thing your customers see when opening an email. With Stripo, you can go for any of the available decorative fonts to wrap your texts and warm wishes. The great thing about it is that any text placed on a banner will be considered by all email clients as a part of an image — thus, any font will be displayed correctly.
Please watch our video for more information on how to build holiday banners with Stripo.
Make your Thanksgiving banners in under 10 minutes
Join Stripo
Add video to your Thanksgiving email template
Another way to make your Thanksgiving newsletter templates attractive and memorable is by inserting a video. This can be a video of you and your team saying how grateful you are to your customers.
You can do it in two different ways: either insert a link to the video on Youtube or embed it into your Thanksgiving HTML email template.
In our post below, we show in detail how to implement any of these methods to add videos in email templates with Stripo.
Remind users Black Friday is coming
For some reason, Black Friday, which is famous for its sales, comes the next day after Thanksgiving. So, you should be prepared for this event, as well.
You may want to hint or directly tell your users how generous your offers will be. By the way, Black Friday email templates are also available in the Stripo library.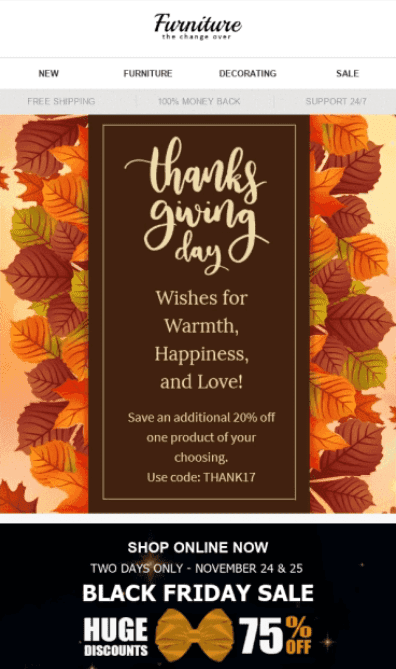 Edit photos for the Thanksgiving email template
Stripo's in-built photo editor is user-friendly and simple. It allows you to resize images, crop them, apply filters, and add stickers or snippets. As a result, there is no need for special tools like Photoshop. The editing process is simple, doesn't require any advanced design skills, and can be done in a few clicks.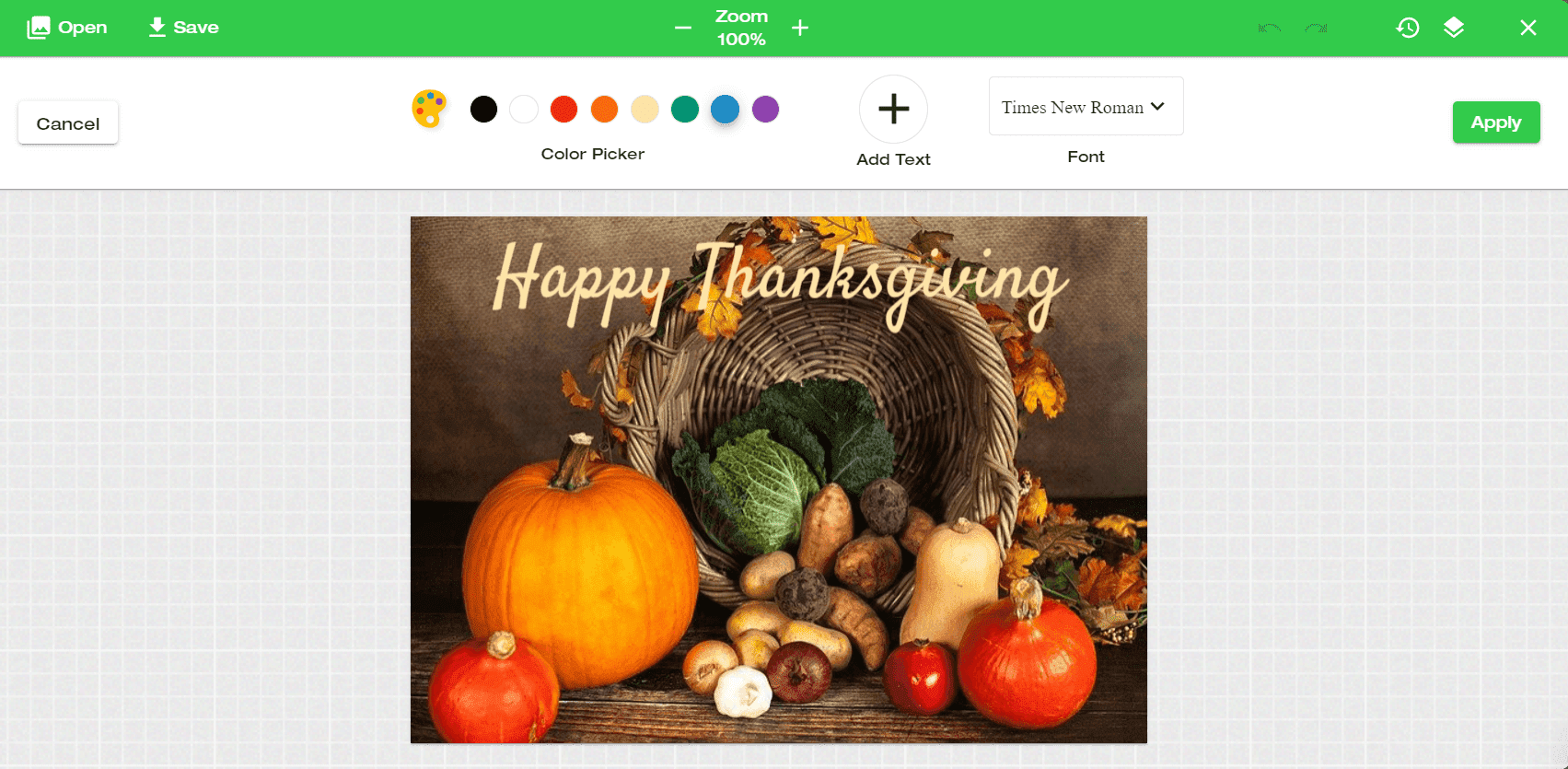 Use Thanksgiving email decor elements
To design a beautiful Thanksgiving email template, you may want to add autumn-themed design elements. They create a holiday atmosphere and spread good vibes. It could be a background, links to thematic products (souvenirs, gifts, bonus cards), or messages with warm greetings. The thing is to show readers you are happy to share the holidays with them. Don't forget to use stylish yet legible fonts to grab subscribers' attention.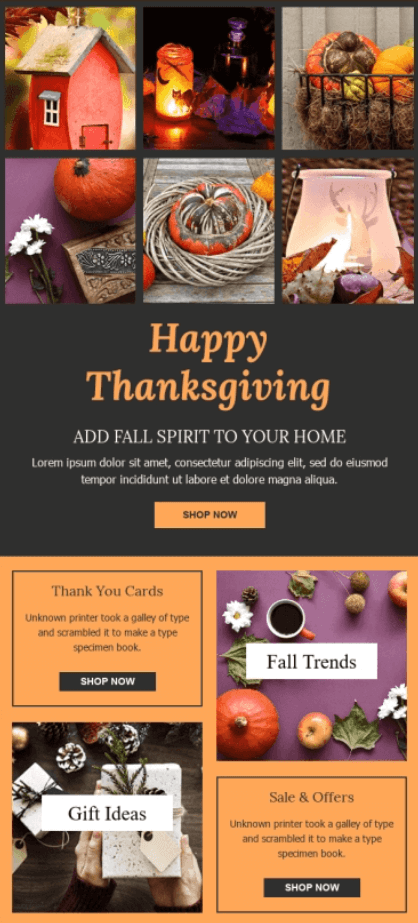 Add sincere gratitude to your subscribers
Thanksgiving email templates usually contain words of appreciation and gratitude to readers. There are two ways to add them by using Stripo.
The first is creating a banner with a greeting phrase. For example, write "Happy Thanksgiving!" on the thematic decorated background and add your logo.
The second idea is to add a separate greeting card to your email. It may include more warm words and wishes by your team or brand.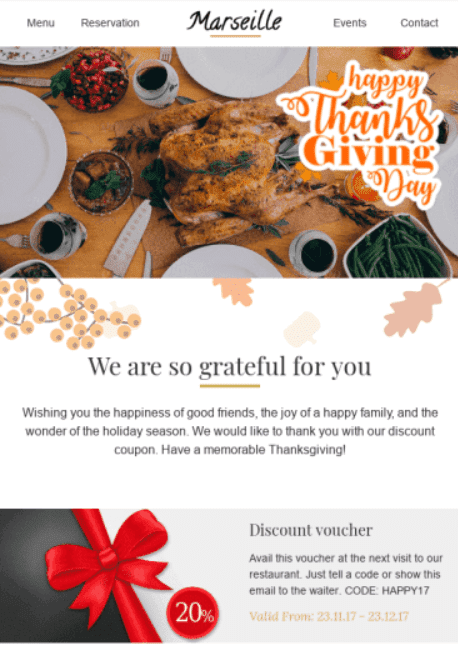 Don't forget that in both cases your email template starts from a subject line. It demonstrates the value of your offer to customers and explains the main idea of your message. It's the first thing that Thanksgiving email recipients see in their inboxes. Writing appropriate Thanksgiving email subject lines is the first step toward a successful campaign.
Customize prebuilt АМР Thanksgiving email templates
Thanksgiving emails invite customers to take part in a sale, choose a present, try a new product, or participate in a lottery. But sometimes you don't have enough time to create fancy landing pages and fashionable email designs. In this case, Stripo's pre-built AMP email templates come to the rescue. You can opt for ready-to-use responsive email templates with different elements: games, forms, carousels, and so on.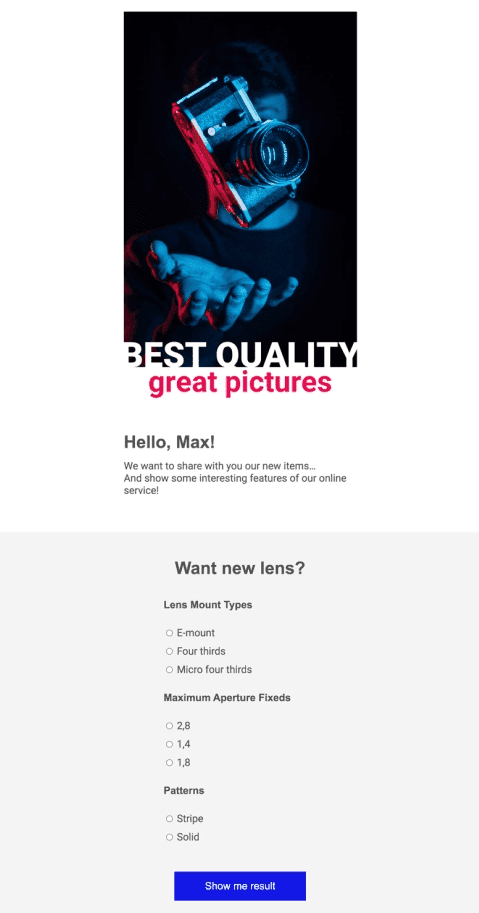 Moreover, our email design platform offers many integrations. So, you can easily export a customized template to your favorite email service provider and then send it to your audience. As Stripo saves your time, you have more possibilities to create different emails, try personalization, or A/B testing.
Optimize Thanksgiving email templates for mobile devices
It should be mentioned that all emails created with Stripo have a responsive design by default. That means they are displayed correctly on mobile devices, laptops, and PCs.
Wrapping up
By using our free Thanksgiving newsletter templates, you will build festive, properly structured, fully responsive emails in no time. You can express the value of your product to customers and build trust with them. Thanksgiving emails will help you drive more traffic to your landing page and remind your brand message to the target audience.
There is no need to create your Thanksgiving email from scratch. Save time for your marketing team by creating beautiful emails with Stripo. Enjoy a wide variety of Thanksgiving templates and Stripo design features!
Join over 950K users
Start for free — upgrade anytime