Suppose you are an insurance agent or insurance agency representative. In that case, you need to write and format insurance renewal emails well because this is a great way to show care for customers and, at the same time, increase insurance sales. You may have already sent such emails but did not receive a response.
Then this article is for you — using our tips and ready-made templates, you can find a solution to the problem and increase your email marketing activity. To speed up your renewal email preparation, check out the tips, examples, and templates we've put together for you in this article.
What is an insurance renewal email?
The insurance renewal email is an email for current customers where the insurance agency informs about a change in some insurance conditions or the need to update the insurance policy terms. Renewal emails can be sent automatically, for example, a month before the policy expires.
To get a high level of insurance sales, you can use not one email but a series of several emails for existing clients.
Email newsletters can be built by this structure:
You inform the client about the end of the insurance duration.
You remind the client about current insurance terms and coverage options.
You offer more profitable options.
A few days before the insurance expiration date, you send your client an email with an offer to have a call or make an appointment to discuss all policy conditions.
Think of these emails as if you are taking care of the customers because you are reminding them that the policy is about to expire or informing them that you have new exciting insurance conditions.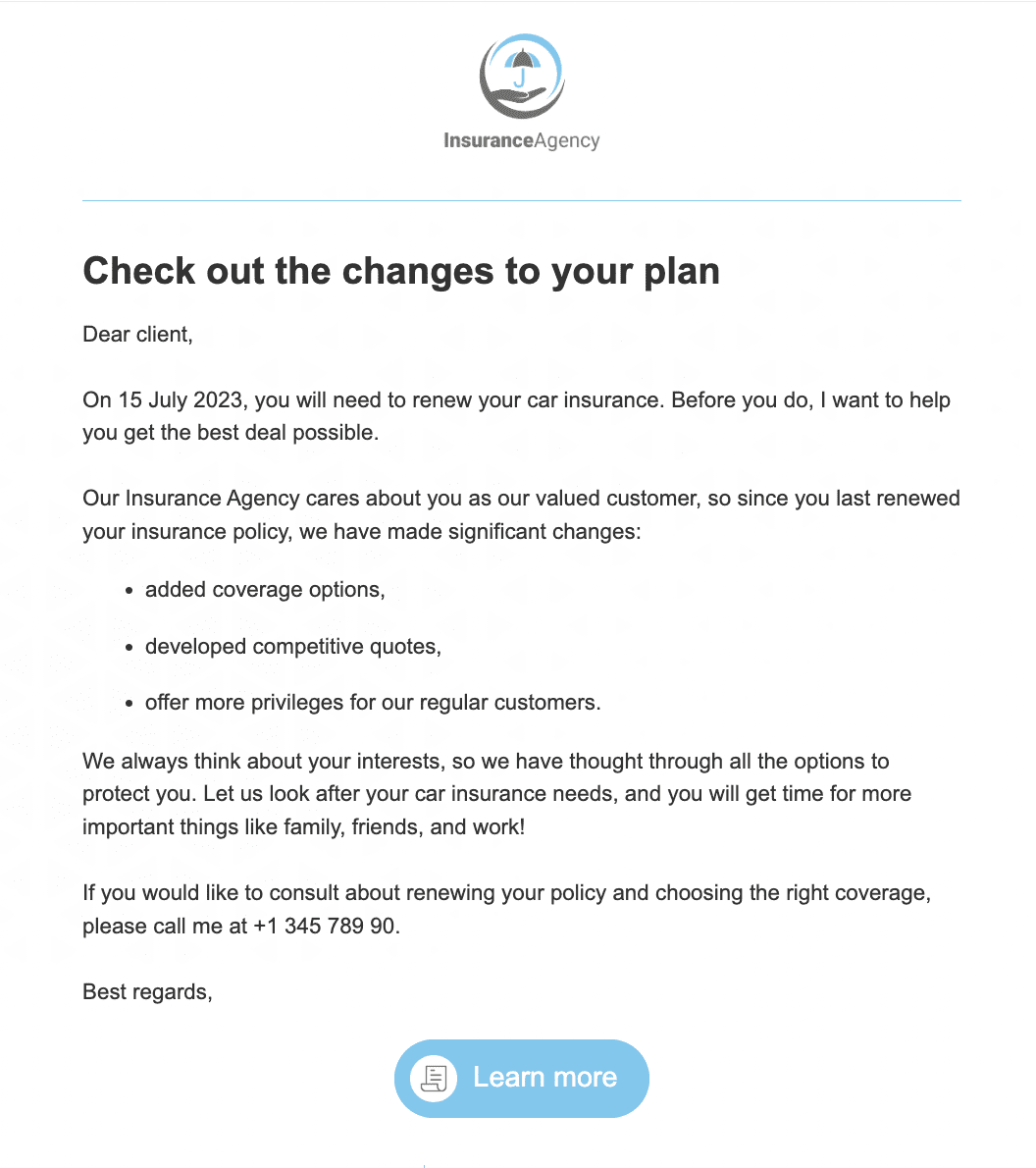 (Source: Stripo template)
What types of insurance policies need to be renewed
The insurance industry is developing rapidly and offers good conditions for insurance agents to earn money.
Here are the most popular insurance policies that may require renewal:
life insurance;
auto insurance;
business insurance;
pet insurance;
health insurance;
home insurance;
property insurance.
The competition in the insurance industry is also very high, so it is essential to be reminded of the renewal of insurance so that the client does not switch to another insurance company when their insurance policy expires. This is how you save money.
Insurance emails templates structure
To prepare an effective renewal email for car insurance, life insurance, or any other type, try to build your email according to the following structure:
A subject line — make it as specific and clear as possible. For example, "Renew your auto insurance and get 20% more coverage than last."
Write a personal greeting, and address the client by name.
In the first paragraph, remind who you are and what insurance company you represent. For example: "My name is Marie Chris, and I'm the customer service manager at ABC Insurance, where you already took out auto insurance almost a year ago."
The central part is to explain why you are writing this email. You will find several template texts for insurance updates below.
Call to action — write what the client needs to do after receiving this email to get favorable conditions for insurance for another year, which you promised in the subject line. They can call you to discuss details or schedule an appointment.
Thank the customer for their attention, say goodbye and remember to sign. For a more effective ending, use the email signature, which can be done in our editor.
An excellent example is an email signature and footer with all contacts. Such email ending helps you increase click-through rates.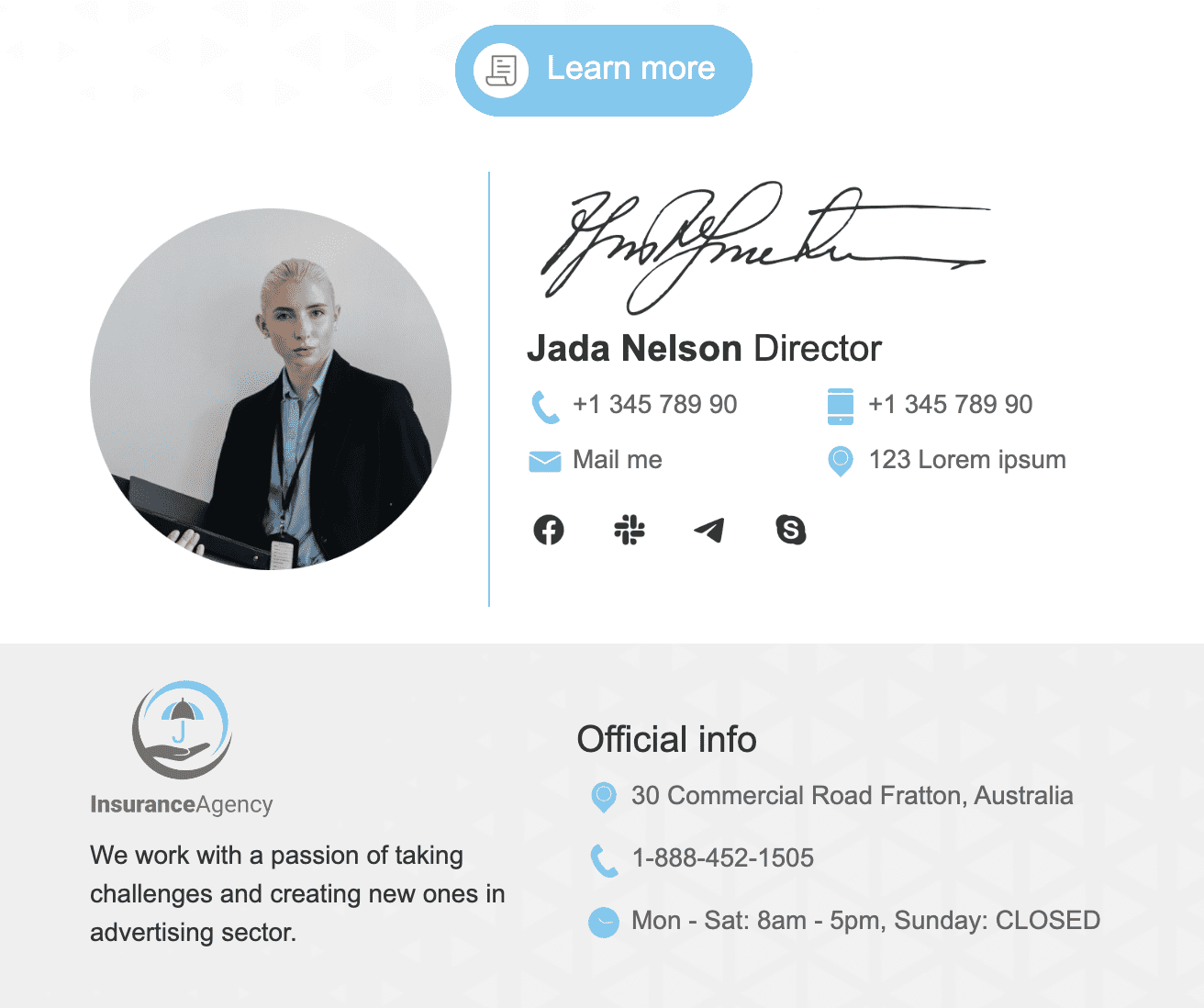 (Source: Stripo template)
Tips for writing successful emails in insurance sales
We have collected some important tips about what to include in your insurance renewal emails to get results.
Use simple subject lines that grab attention
The subject line is the first thing the recipients see in their inboxes. At this moment, they decide whether or not to open the email, so the subject line should be catchy, powerful, and compelling enough to entice them to open your email. The recipient's name and the benefit they will receive by reading your proposition work well here.
Personalize your insurance sales emails
It is a perfect idea to use personalized emails. We have already written about the importance of using the client's name in the subject line and the greeting.
But you can go even further, for example, make a personalized insurance quote that will take into account the conditions of the current insurance policy and somehow improve them. Or your proposal for an insurance business may include information about the company's new activities.
In any case, show that you wrote this email specifically for the customer, and they will appreciate it.
Provide value
Your clients want to avoid reading an email in which you will only sell insurance. They want to see something valuable and essential to them, like just a few lines about choosing insurance policies according to your criteria, how to consult an insurance agent, getting free advice, or exciting resources. When you provide value, you gain the trust of the audience and the desire to work with you further.
(Source: Stripo template)
Be short and direct
Get to the point of your proposal and be concise. Do not write a huge email with several paragraphs expressing respect and not containing information. Remember that your client's time is always limited. They are often distracted. So if the recipient sees a lot of text in the body of the email, they may not even start reading it. It's easier to be concise using visual modules in templates, such as here.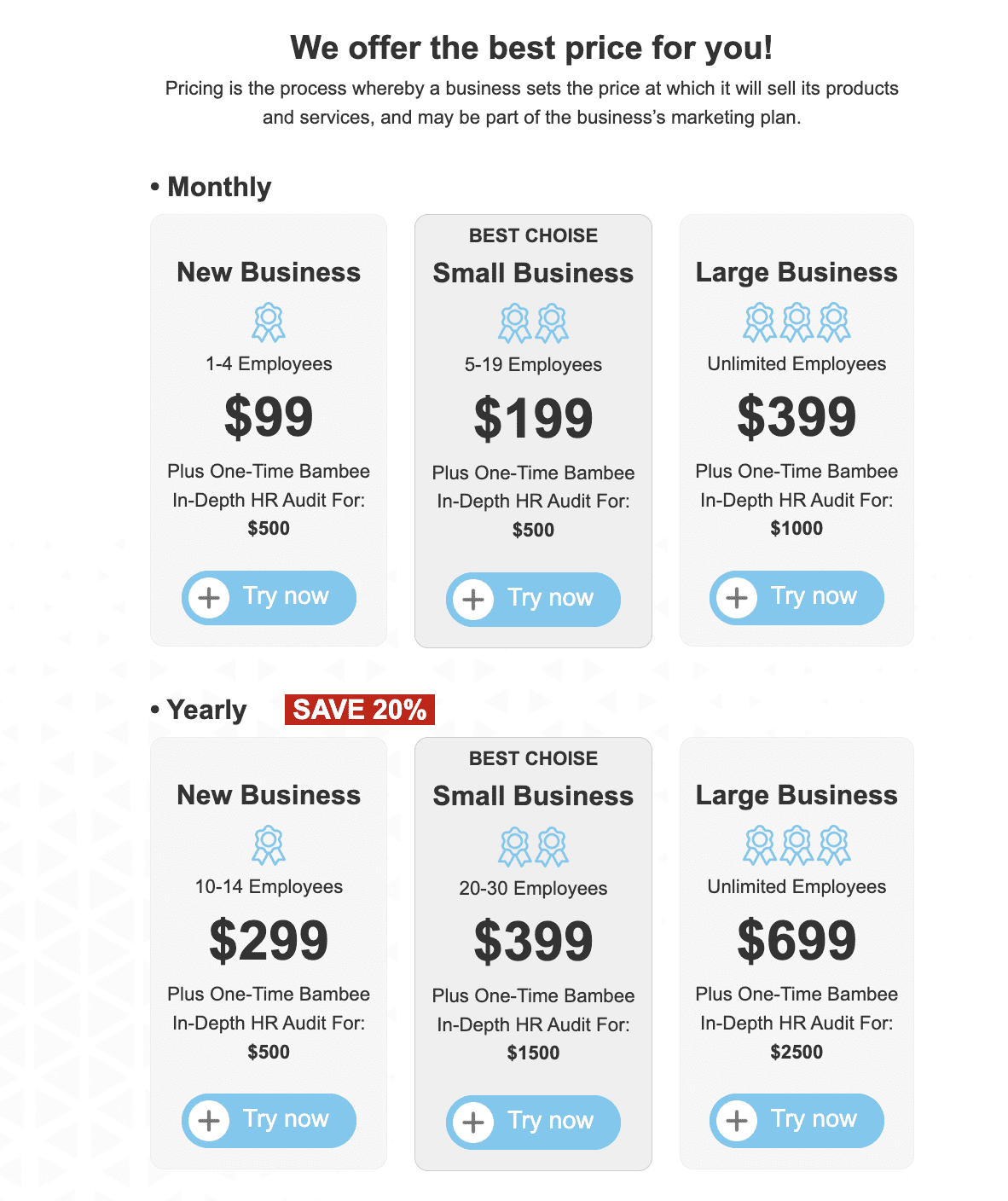 (Source: Stripo template)
Don't forget to write a follow-up email and post-purchase email
Don't bother the client with your emails too often, but after sending an email with a proposal to renew the insurance, do not forget to send a follow-up email, for example, a few days before the end of the insurance if the client has not yet made a decision.
If the client responded to your email and you have already made a deal, send them a post-purchase email thanking them for choosing your insurance company.
Insurance email templates for your inspiration
To save you time in preparing your insurance sales email and to inspire you, we have put together some examples of insurance email templates. You can choose any depending on your case, add some specifics and personalization, and send it to the client.
Insurance renewal email template for a private client
Subject line: [Client name], it's time to renew your insurance policy
Hello, [Client name]!
I am [Your name], representing the insurance company [Company name], where you bought insurance — home and auto policies in July 2023.
Your insurance policy [Name and number] needs to be renewed in [XX days/weeks]. As your trusted insurance agent, I want you to have insurance coverage to protect your home and car.
To renew your policy in just a few minutes, click the link below or give me a call at [Phone number].
Please feel free to ask any questions or concerns about your coverage. I am here to help you.
Best regards,
[Your name]
Short renewal email template for insurance agents
Subject line: [Client name] 30 days left until your life insurance expires
Dear [Client name],
We have yet to discuss renewing your policy, which will expire in 30 days. I will happily meet with you and offer new life insurance policies with attractive coverage conditions.
Please give me a call when you have time to discuss.
Best regards,
[Your name]
Renewal insurance email template with policy conditions renew
Subject line: [Client name], select your new auto insurance terms
Dear client,
On July 2023, you will need to renew your car insurance. Before you do, I want to help you get the best deal possible.
Our insurance company [Company name] cares about you as our valued customer, so since you last renewed your insurance policy, we have made significant changes:
added coverage options;
developed competitive quotes;
offer more privileges for our regular customers.
We always think about your interests, so we have thought through all the options to protect you. Let us look after your car insurance needs, and you will get time for more important things like family, friends, and work!
If you would like to consult about renewing your policy and choosing the right coverage, please call me at [Phone number].
Best regards,
[Your name]
Policy update email template
Subject line: [Client name], check the terms of your insurance policy
Hello, [Client name]
I have good news for all our customers from [Company name]'s insurance company.
Starting March 1, 2023, all existing insurance policies have been updated — we have added disaster coverage areas and increased the number of payments to our customers.
We will answer any questions regarding coverage, policy status, or the ability to renew your policy easily.
Best wishes,
[Your name]
Business insurance update template
Subject line: How about renewing your business insurance?
Hello, [Client name]
This is your insurance agent [Your name]. How was your business year? I hope you are successful in everything.
We know you have something to be proud of this year — you have become one of the best in your industry, received recognition from the business community, and opened a new business. Congratulations!
Your business insurance policy will soon expire on July 15, 2023, and must be renewed. ‍We can easily extend the coverage if you are still satisfied with it. Besides, I am attaching a fact sheet for you to refer to as you get more insurance quotes for your business.
‍Do you have time to meet and chat this week?
Best regards,
[Your name]
Wrapping up
Pay attention to preparing renewal emails for your existing customers, and they will happily continue to work with you and will be grateful for your concern. To speed up the email marketing process, take insurance email templates from Stripo or create your own templates in our drag-n-drop editor. Use all these tips and ready-made email templates to get more customers.
Was this article helpful?
Thanks for your feedback!