Table of contents
What to add to your festive email for New Year greetings 
Design your New Year wishes email
Wrapping up
1.
What to add to your festive email for New Year greetings 
We all enjoy celebrating holidays. Hence it's logical to extend your warm wishes to consumers as well. Happy New Year email wishes to customers are considered a part of quality service. In this email, you can express best wishes to your customers, recall all the hard work you made together within the past year, and plan a new success story for the upcoming year.
In this article, we have handpicked the best design and content ideas for your New Year emails to delight your subscribers.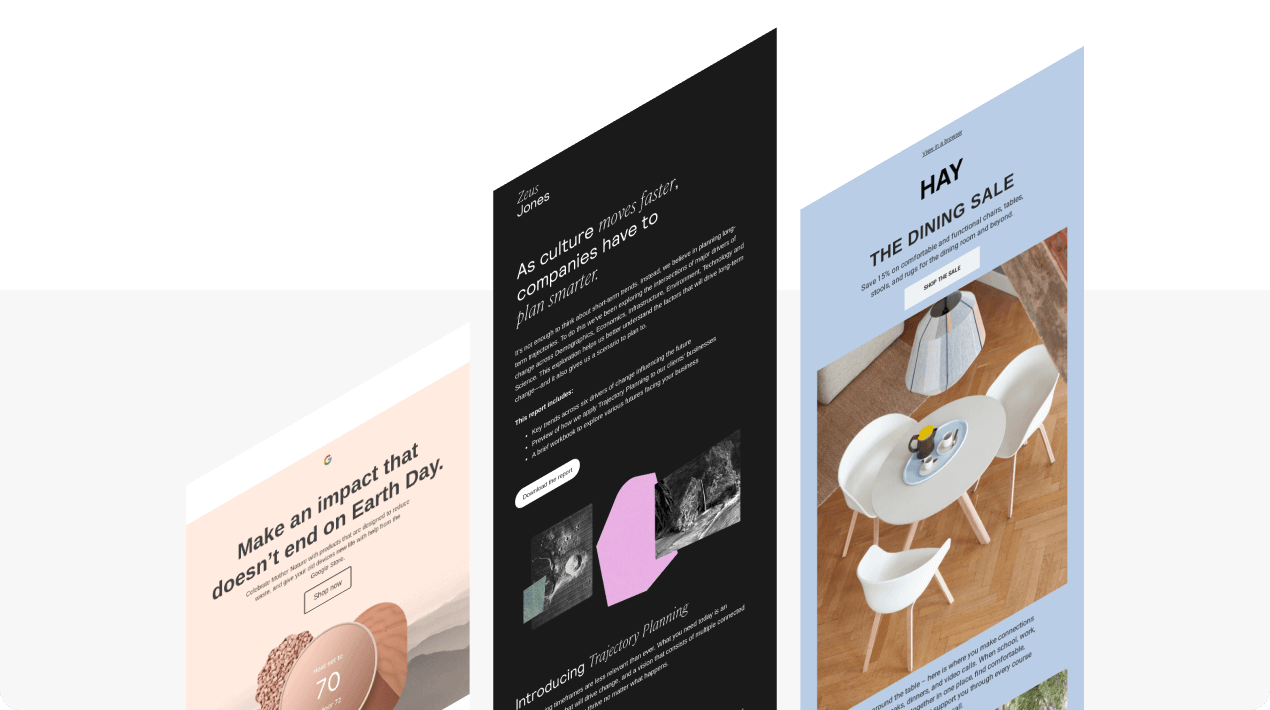 With our New Year email templates, you will design festive emails for your subscribers in no time
Browse
What to add to your festive email for New Year greetings
1. New Year wishes
"Merry Christmas and a Happy New Year" is one of the most popular New Year wishes. It makes no difference whether you run a small business or a own big company; in order to have loyal customers and continued partnership, don't forget to wish your subscribers all the best during the holiday season. "We wish all your dreams come true" or " We hope you gonna have a successful year ahead" — you can write whatsoever that comes to your mind, just be sincere to your subscribers.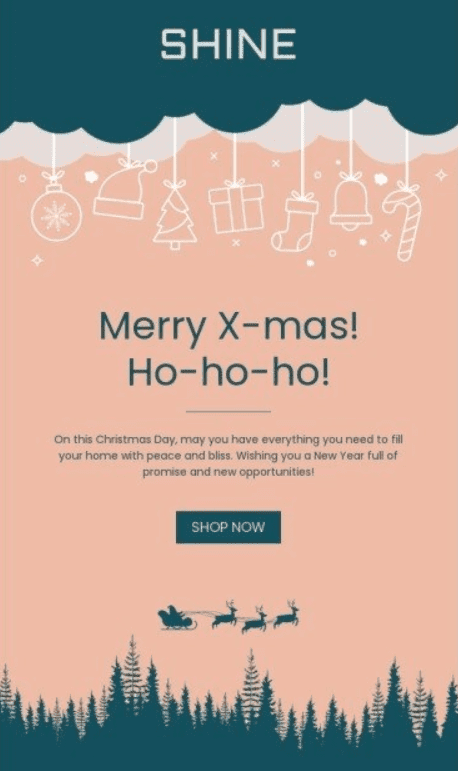 (Source: Stripo template)
2. Your year in numbers
A small statistic won't be odd, on the contrary, it will work on the symbiotic business relationship. Remind your customers how much time they spent using your service, how many updated versions of your product were released before the New Year, and add a short list of their achievements. Show the value you provided to each loyal customer during the last year. And be grateful for their choice, showing the best possible quality services.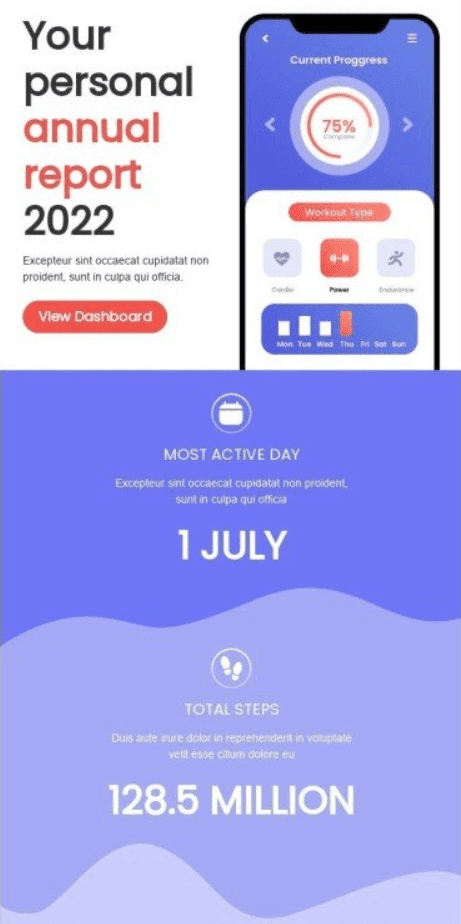 (Source: Stripo template)
3. Email interactivity: read and play
If you think a regular happy New Year wishes email is too simple, you can jazz it up with interactive content. It could be a fun game with prizes or discounts to win, the creation of a personalized postcard, or a design decoration for a letter to Santa. Consider your business field and audience portrait to determine what will work best for your subscribers. Then include it in your New Year wishes email and the results won't go unnoticed.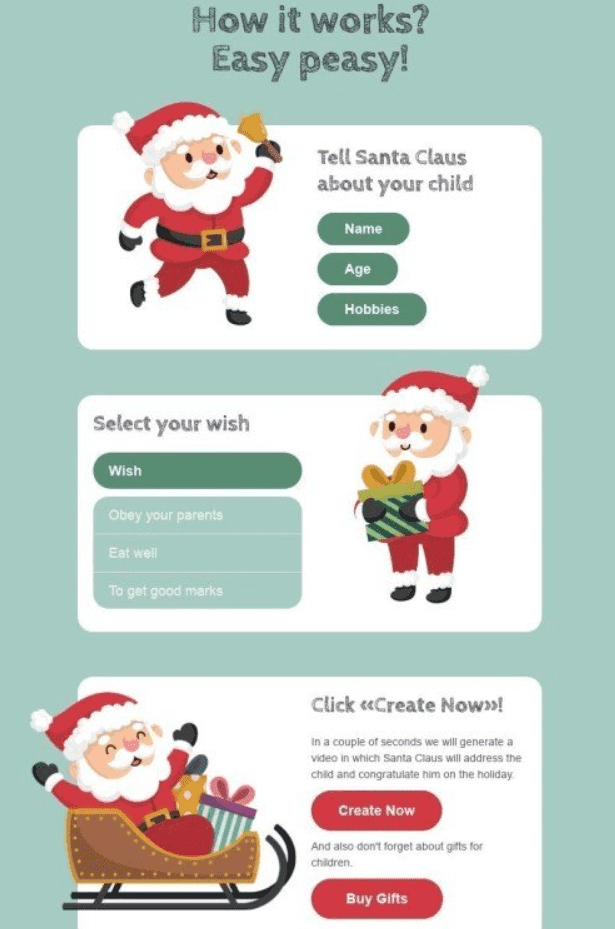 (Source: Stripo template)
4. A party invitation
Apart from email wishes, you and your entire team can invite your clients to a New Year celebration. Demonstrate to your clients that you value and appreciate them. Create a visually appealing email outlining all of the event details, such as when, where, and how many people can attend with a single invitation.
If you are not ready to organize an offline event, you can always go for an online one. Offer your subscribers to attend a New Year webinar where they can reflect on their experience with your company during this year, learn more about your brand's achievements, and understand what to expect next year.
(Source: Stripo template)
Design your New Year wishes email
1. Add a countdown timer
A countdown timer creates a sense of urgency and directly informs your customers that it is profitable to buy your product or service before the time runs out. The timer "screams" that there are just a few days remaining to grab such a good deal, increasing the likelihood that clients will buy something from you.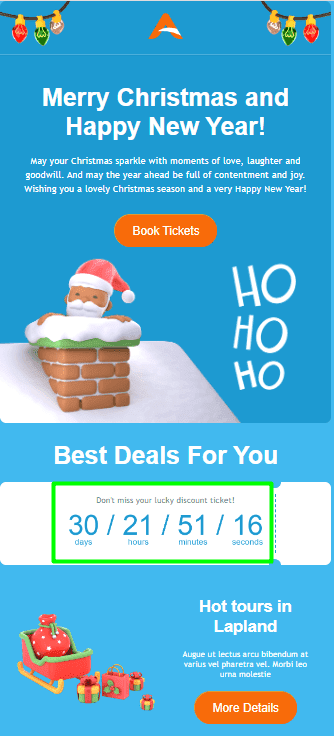 (Source: Stripo template)
Implement a countdown timer with Stripo in a few clicks:
select the "Timer" block and drag it to the template;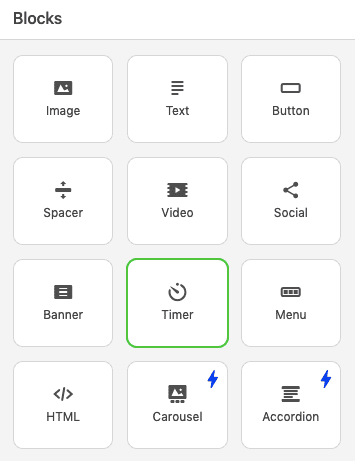 specify the end date and time of the special offer and don't forget to select the correct time zone;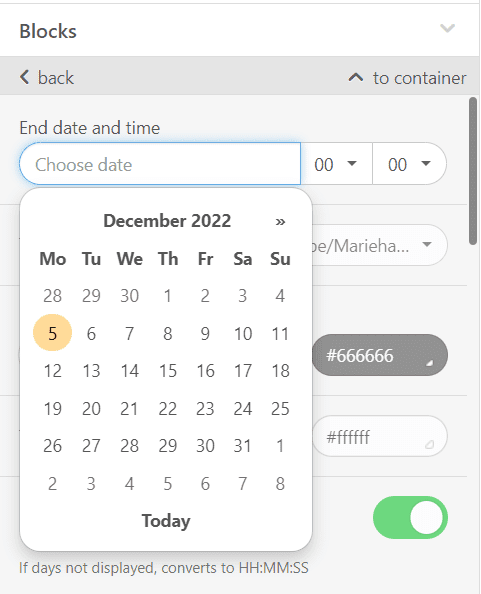 at last, you can customize the font style, colors, sizes, and preferred language of your countdown timer.
And you are all set :).
2. Create product cards with smart elements
You might be interested in showing some pieces for sale along with New Year wishes straight in your email. And we are glad to introduce our smart-elements containers to you. With their help, you can show the price changes and make a product carousel, so your recipients will see a mini-catalog in your email.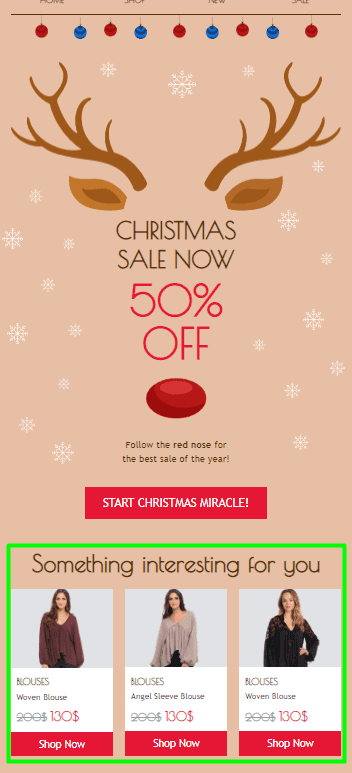 (Source: Stripo template)
The most convenient benefit of the smart elements is that you only have to design and customize the template of your product card once. After that, all you have to do is provide a link to a product and Stripo will get all the necessary data from this webpage like your product's name, image, and description.
3. Categorize your products by price
Make it easier for your consumers to identify the perfect deal or item in your New Year wishes email template. Just choose the preferable structure and work on the appearance of each category.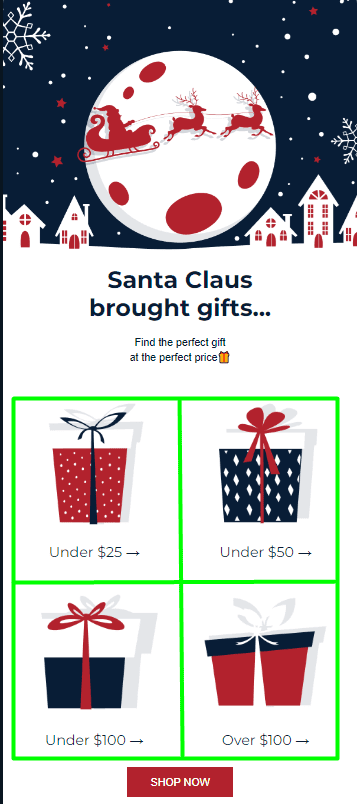 (Source: Stripo template)
In this case, we divided the products into four price categories and wrapped them in gift boxes. As a result, we now have a visually appealing and user-friendly email in which each customer, regardless of financial means, can select a gift for their loved ones.
Wrapping up
Happy New Year wishes to you and your customers! May the upcoming year be as bright and cheerful as the holiday email marketing campaigns ;). And to make your emails even better, Stripo Clause is at your help, ho-ho-ho!
Was this article helpful ?
Thanks for your feedback!