Running an Art Gallery? In a modern world, to notify attendees about numerous events, like exhibitions and lessons, you need to use email marketing as it is preferred by 73% of millennials today.
And prebuilt email templates for Art Gallery are a good way to speed up email production.
Why use Stripo's Art Gallery email templates
Stripo offers a number of prebuilt templates for this industry. They can be divided into types:
1. They all have a festive email design
Attending Art exhibitions is always considered a holiday. Hence, your emails should be festive enough.
Bright meaningful banners, custom fonts are the key element of any Art Gallery email template.
Stripo provides you with a built-in banner generator. You don't need any third-party photo editor to edit photos and images. Apply different filters, write text over your banner images, wrap the texts into decorative fonts. Put simply, you work on each and every layer individually.
When you're done with your banner, we compile all the layers into one single image.
Design festive banners for your Art Gallery newsletter templates
Get started
To stay on-brand even in your emails, in your emails you might want to use the fonts that you use on your website. With Stripo, you can easily upload custom fonts and use them in your Art Gallery HTML email templates.
Upload custom fonts to stay on-brand in your emails
Get started
2. They all are mobile optimized. New level of mobile-friendly design
You do know that over 50% of your subscribers open emails on mobile devices, right? Hence, we need to optimize our newsletter emails to mobile devices.
Stripo provides you with mobile-friendly emails. Not only does it optimize all templates for mobile devices, but it also allows you to set your custom mobile styles for your emails.
In you Art Gallery email template with Stripo, you can:
set larger fonts mobile texts compared to desktop ones;
enable/disable any element on mobile and desktop devices;
paddings;
stretch buttons to the width of screens;
etc.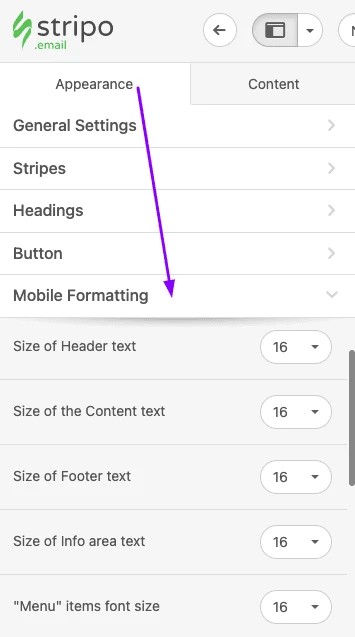 You do it all with no code skills required.
For more information on how to optimize your emails to mobile devices, please visit our "New Era of Mobile-Friendly Email Design".
3. Using them saves time on email production
How exactly do you save time with Stripo's Art Gallery newsletter templates?
They are prebuilt. You do not need time to design them all from scratch.
They have no rendering issues as we check them all with Litmus and Email on Acid before publishing.
You can reuse parts of them in other emails. What do we mean? All Stripo's templates are divided into Modules. You save any module (say, email footer) of a necessary template to your personal Module Storage. When working on a new Art Gallery HTML Email template, you just drag and drop that module into your template.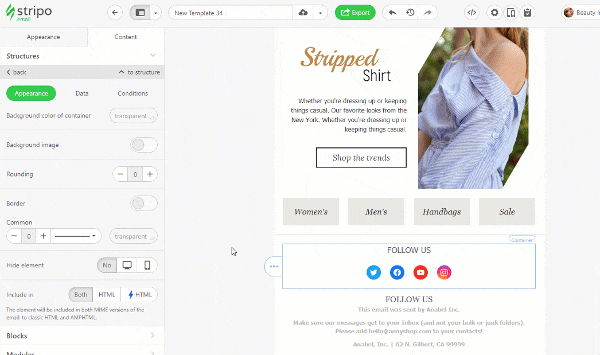 Final thoughts
Art Galleries like any other modern business do need email marketing to keep in touch with users. With pre-built templates, you build emails ways faster.
Join over 950K users
Start for free — upgrade anytime