How to Get Whitelisted with Google to Send AMP Emails — Our Experience
10 May 2019

Table of contents
Step 1. Choosing ESP that supports AMP
Step 2. Building AMP-powered emails
Step 3. Getting registered with Google
1.
Step 1. Choosing ESP that supports AMP
Google announced its release of Gmail AMP for Email, and the very same day, the web got full of numerous blog posts on how to build and send AMP-powered dynamic emails.
But sending AMP emails to your recipients requires getting permission from Google, otherwise, they will not deliver your emails.
So, how can you really build those emails and what steps of registration do you need to take to get whitelisted with Google and to finally receive this "email of happiness"?

In this post, we want to guide you through all these steps by sharing our experience on how we got whitelisted with Google.
Yes, we now can provide our recipients with dynamic AMP content.
Let me remind you in a nutshell, what steps you need to take to get whitelisted with Gmail, in other words, to be allowed to send AMP emails:
choosing ESP that supports AMP;

building AMP-powered emails;

getting registered with Google.
Everything seems pretty clear with the first two steps, hence we will not deepen in them, but the third step is a complex one and we will dive into the details there in the respective section, which is actually the goal of this post.
Step 1. Choosing ESP that supports AMP
Why do we start with this step? Because if your ESP does not support Gmail AMP for emails, the next two steps will be totally useless.
Currently, there are 33 ESPs that do support AMP for Email: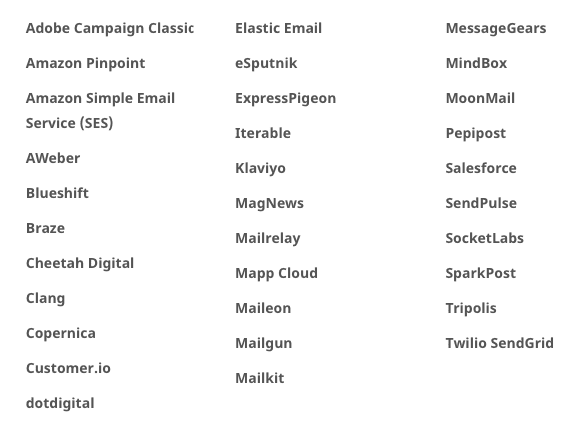 (Source: Google AMP dev)
Step 2. Building AMP-powered emails
Prior to sending emails, you need to create them ))
This is the example of the email that we sent over to Google:
We did not do it for Google on purpose. This is the email we are about to send to our subscribers in the short run.
We built this email in Stripo.
You can do it with:
In this post, we showed in the details on how to build AMP emails with Stripo in less than 10 minutes, how to preview and how to transfer them to the ESP that supports AMP4Emails.
Step 3. Getting registered with Google
Now that your AMP email is built and you've chosen the right ESP, you need to proceed to registration with Google. The latter verifies your sender name, your SPF and DKIM settings. And only if you pass this test, you'll be allowed to send AMP-powered emails.
Why is it necessary?
Because AMP emails deliver and reveal a lot of confidential information. By means of these emails, we enable our clients to discuss some private questions right in email chat, to arrange meeting appointments, we show the number of items remained in stock, etc.
So, what are the registration guidelines we successfully passed:
We authenticated our emails using SPF and DKIM.
What is it and what is it for?
SPF — Sender Policy Framework — allows sender (domain) to specify what IP addresses emails can be sent from. In other words, it is a list of IP-addresses my sender/domain is about to use for sending emails.
How does it work? When a mailbox service provider receives an email, it validates SPF. If Gmail receives an email from my domain, but from a not listed IP address, it will know the email was not sent from me and will deliver it to the Spam Folder. If my emails pass the SPF test, my email will get to the Inbox folder.
DKIM — DomainKeys Identified Mail — it's become an Internet standard now. DKIM is an authentification method which detects and verifies your addresses in emails.
DKIM allows the receiving side to check if the email has been really sent from the particular person/domain.
Usually, DKIM data is invisible to the end-user.
How does it work? The recipient's mailbox provider checks if the private key of DKIM (meant for encoding only) matches
the public key of DKIM (meant for decoding only).
DKIM also proves that email attachments and email files have not been modified since the signature was added.
Senders only encode, email clients only decode.
Spammers cannot encode!
We checked the destination of our XHRs
We made sure that our XMLHttpRequests come to our domain address, the one that is specified in our email address.
So, as long as we were registering this email address "support@stripo.email", all the XHR requests from our dynamic emails, that are sent from the aforementioned email address, are directed to stripo.email.
XMLHttpRequests allow updating a certain part of email (web page) without the necessity to fully refresh the page.
We made sure our DKIM signature matched the domain of our "From" email address
As we said, we were registering our "support@stripo.email" email address — the email address we use for reaching out to recipients. Our domain is "stripo.email", and our DKIM signature is "support@stripo.email". Everything matched :)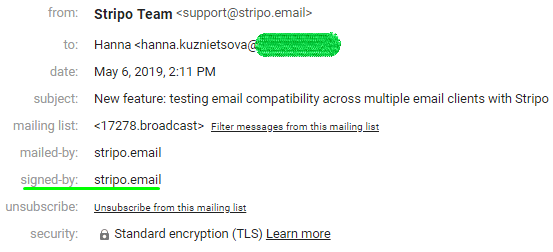 We had a consistent history of bulk emails
To be allowed to apply to Gmail for sending AMP emails, you need to have a consistent history of sending a high-volume of emails and a good reputation with a low rate of spam-complaints.
Done!
We sent our AMP email to Google
In the "Building AMP-powered email section", we showed the email that we'd sent over to Google and offered 2 AMP emails that you can customize and send to Google to get whitelisted.
Once you've built your email, send it to this email address via your ESP that supports AMP4Emails: ampforemail.whitelisting@gmail.com
Important to note:
Send a direct email as you cannot forward AMP emails.
Please!! Remember or even write down the date and subject line of this email!
No need to expect any notification from Google here, as you now need to fill out the registration form!
Click the link given in the title of this section. The Sender Registration Form has 5 pages for filling out in total.
Once you submit the registration form, you will see the following notification:
You will get no other notification from Google until the day you get whitelisted.
We waited for 2 weeks for the response — or our "email of happiness" as we call it :)
The email said that we are now on Google's AMP sender list, but we have to wait a few days for this to take effect.
We sincerely wish you to pass this test successfully as we believe that AMP emails are the future of email marketing.
If you have any questions, or need some assistance with building AMP emails, please email us at support@stripo.email or leave a comment below.
Was this article helpful ?
Thanks for your feedback!