28 December 2020
How to get allowed to send AMP emails to Yahoo users
If you are familiar with the AMP 4 Email technology, you must have been waiting for Yahoo Mail to join Gmail and Mail.ru, and support AMP. Because 5% of email users worldwide prefer this email client over others.
On October 14th, 2020, Verizon Media announced the launch of AMP for Email in Yahoo. With only one limit — AMP is supported in Yahoo on the web.
A few words about AMP
If you are not familiar with AMP, we dare to say it's worth giving a try. Once you give it a try, you'll never want to go back to trivial promo emails. As AMP allows rating and leaving comments right in emails, it allows delivering real-time content, provides recipients with always fresh information, and allows updating/editing content in emails even after they were delivered to users' inboxes.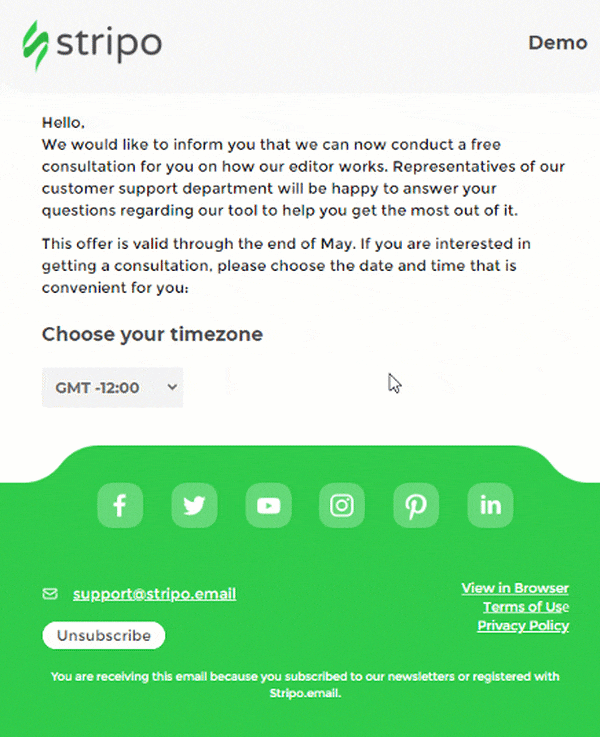 How to get whitelisted with Yahoo to be allowed to send AMP emails
The procedure is very similar to the one that Gmail requires.
Step 1. Building an AMP email
For a manual on how to build those emails, please refer to our "Build AMP Emails with Stripo".
There we in detail show how to do it.
Or may pick any of our prepared templates with AMP components and customize it accordingly to your brand styles, include descriptions and snippets of real products, as Yahoo needs a production-ready email.
If you choose option 2, we recommend picking email templates with simple AMP elements like carousels, accordions, or embedded AMP forms. It will be easier for you to customize it.
Build a similar email for your submission form
Important
Make sure this email contains a fallback element for those customers whose email clients have not added support of AMP yet. Each of our templates already contains this fallback.
Step 2. Sending AMP email to Yahoo
As long as Verizon Media needs to verify that your emails are built properly, according to their requirements for AMP emails, you should send your production-ready AMP email to ampverification@yahoo.com.
Export the AMP email that you've built with us to your ESP. Then send this email as a bulk email to Yahoo Mail from the domain you regularly use for your email campaigns.
Step 3. Filling out the form
Here's the form you need to fill out.
If you have not been added to Gmail and Mail.ru's whitelist, you can submit your application with this form. On pages 3 and 4, you will be asked if you were whitelisted with those email clients. If you were not, please fill out pages 3 and 4. Gmail and Mail.ru will send you emails with decisions (approval/disapproval).
And if you were whitelisted with them, please just skip those pages.
Important
Do not check any checkboxes here.

Our result
Of course, you will have to wait for some time for the good news from Yahoo.
We submitted our form on December 16th. Still waiting for any update from Verizon Media.
Once we get it, we will share our results here.