Upselling and client retention strategies are probably the most efficient ways to drive your bottom line, as they both work on increasing the customer lifetime value of the existing client base. Be it a physical product, service, or digital offering — there's always an add-on or a premium feature to be upsold.
We have collected some stellar upsell email examples from iconic brands to inspire digital marketers about how to convince customers to buy more. You will also find five upsell email samples you can modify to meet your campaign goals.
The art of upselling: A fine balance between education, persuasion, and promotions
Upselling is like chocolate icing for many businesses — the delicious extra topping to the principal nutritional repository that is the standard business offering. However, for SaaS companies with a freemium monetization model, upselling strategies are both the cake and the icing.
Moreover, freemium software products literally lose money on gaining a bigger free client basis as they consume paid-for cloud space and customer support hours. So the upsell for these businesses starts not with a zero but with a negative profit and is literally the only way for companies to survive, let alone make some profit.
The great news is that due to the mere existence of this SaaS business model, upselling marketing strategies have been polished, tried, and tested to perfection. Check out a string of upsell email examples from the eCommerce world's top marketing aficionados on enticing customers to spend more money on your products.
But first, let's cross the Ts and dot the Is of the theory and terminology before we provide the email examples, as the digital marketing space is crowded with nuance and technicalities.
What is upselling?
Upselling is a sales and marketing activity targeted at inducing existing customers to buy a more expensive version of the product, to purchase more of the same product, or to buy items related to the product based on the previous purchase.
In the pre-online sales era, the upselling process boiled down to simply offering an upgraded version of the item or some add-on to it. In the era of the unhinged AI-powered eCommerce, the possibilities of upselling the purchased item can be spread over the years and range over multiple product categories.
For example, in the 1980s, you would be offered strawberry syrup for your ice cream in a coffee shop to up your check. Today, you can get upsell emails to buy better vehicle accessories than the ones initially purchased months after the purchase itself.
On average, upselling contributes to a 10-30% revenue boost, and upsells and renewals typically account for 70-95% of a business's total revenue.
10-30%
revenue boost due to upselling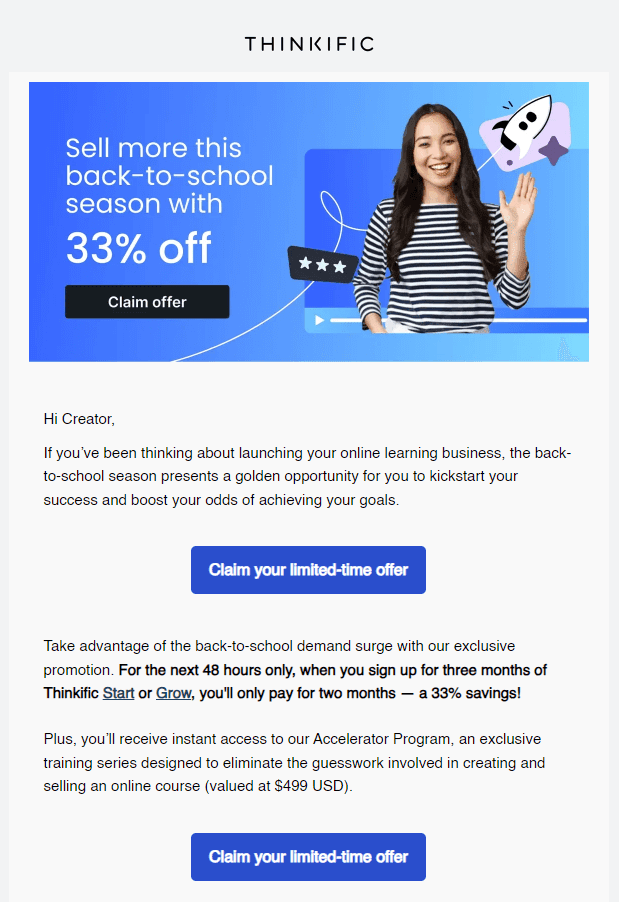 (Source: Thinkific upsell email example)
Cross-selling and upselling: How are they different?
Cross-selling is a sister of upselling — the only difference is that it's not a better, more expensive product, package, or accessory to the initially intended purchase. You send cross-sell emails using one existing purchase to sell an item accompanying the one the customer intends to purchase. For instance, when a customer buys a swimsuit, you can send cross-sell emails to offer them to buy a straw hat and sunglasses in addition.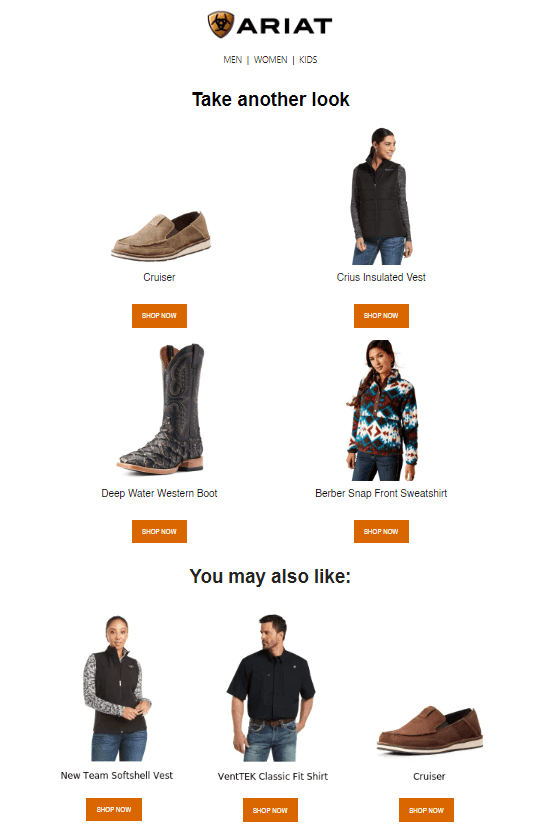 (Source: Ariat cross-sell email example)
So, in the case of upselling, you will work more on increasing your customers' average check and LTV. When you cross-sell, you increase sales by driving the number of purchases.
It's fair to say that companies with more diverse inventory and categories in their stock are likely to use more cross-selling techniques, while SaaS and high-check products use upselling methods quite extensively.
As marketers work on an email marketing strategy for their company, they leverage the value of upsell emails from every possible angle — managing to educate their client base, promote premium products, and inspire loyalty.
7 real-life upsell email examples to ignite your inspiration
Now that you understand what upsell emails are all about, let's take a look at seven email examples from brands and find out what makes them effective.
1. Spotify Premium leverages a bold offer emphasized by an assertive design
It's a saturated world with a gazillion data points entering our world daily. Want to stand out? Keep it short, to the point, visually prominent, and offer actual value.
In the upgrade email example below, the music streaming platform Spotify offers deep-discount savings, packaged in just a few informative sentences, adjourned with two hard-to-skip clear call-to-action buttons.
Design? Not subtle at all. But also — modern and minimalistic. Why beat about the bush if you offer your clients a win-win scenario with real value? The marketers got right down to business.
(Source: Spotify Premium upsell email example)
2. Zapier appeals to a sense of community in upselling emails
Zapier is trying to upsell its corporate package by mentioning that it is created "for teams like yours." This wording allows the user to feel safe and part of a community being catered for as a whole.
Other best email marketing practices employed in this upselling newsletter example include:
the use of iconic, recognizable logos of systems that companies use and may need to connect with Zappier — Mailchimp, Gmail, Dropbox, etc.;
a prominently placed CTA button;
a 14-day trial for users to appreciate new features with zero risk;
a brief overview of new features to tell subscribers about the product.

(Source: Zapier upsell email example)
3. Framer frames their value proposition with powerful email copy using repetition
Email marketing is a numbers game. Information overload and short attention spans leave less and less time to email copywriters for niceties in business messaging. Content writers learned to wrap their offer clearly and place it early in the email — preferably as early as the subject lines or at the very beginning of the email body.
In this upsell email example, Framer introduces their free-plan users to the major advantage of their premium pricing plan — unlimited projects. They further reinforce the possibilities of unlimited projects by using an impactful stylistic device — repetition:
Unlimited projects. Unlimited prototyping.
While the first is a literal descriptor of the plan, the second is an emotional trigger relatable to any individual working in creative industries — unlimited prototyping implies the creative freedom of expression many designers strive for.
The company also uses social proof, including a few big-name companies that use their tool: Spotify, AirBnB, and Hulu.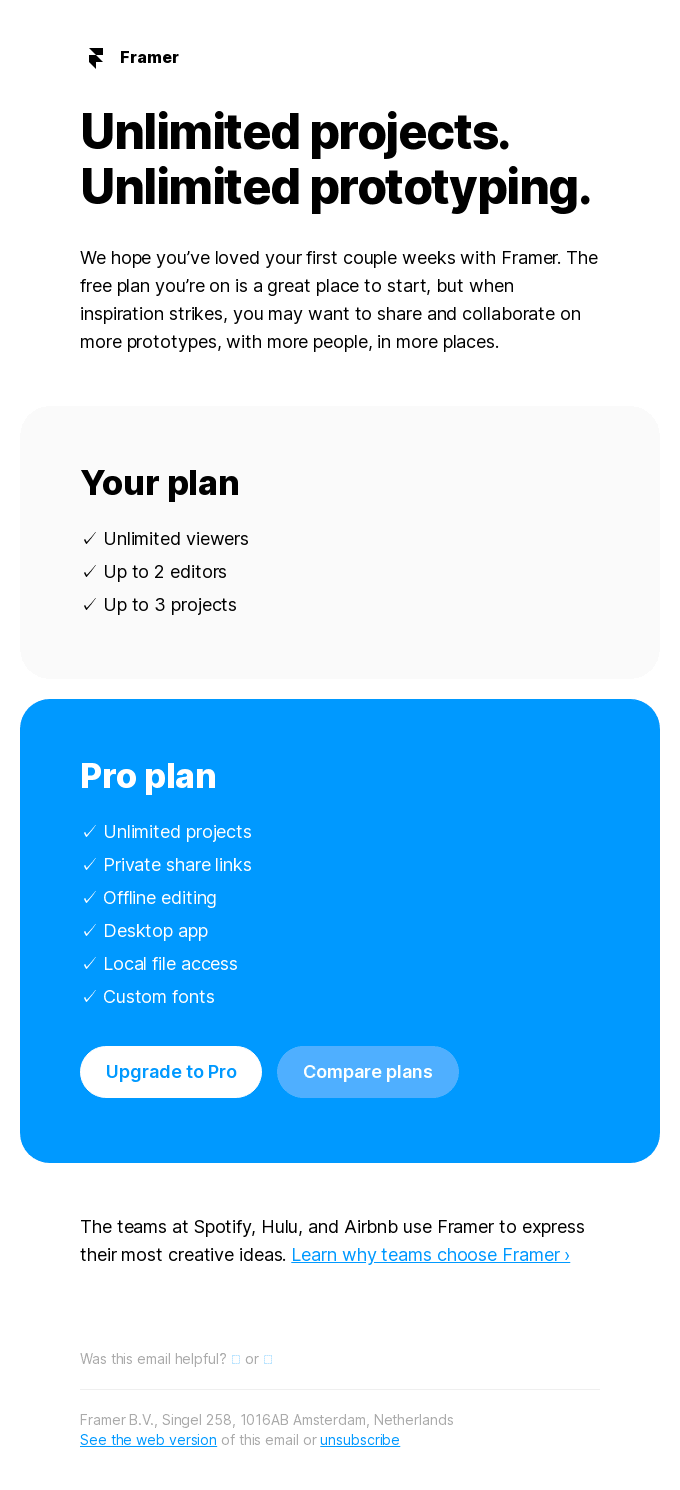 (Source: Framer upsell email example)
4. Restream urges clients into buying mode using a countdown timer
The countdown timers are an effective tool to create FOMO and motivate subscribers to act. SaleCycle ran a Black Friday experiment for 6 clients A/B testing digital interfaces with and without the countdown timer. The results are amazing: a 231% increase in CTR and a 200% increase in conversion rates for designs with countdown timers.
200%
increase in conversion rates for designs with countdown timers
In the upselling email template below, Restream allows clients just 5 hours to decide if they want to take advantage of the 20% offer to upgrade their pricing plan and get access to a premium version of their product.
They also skillfully employ the social proof factor by providing a massively impressive 3-row ribbon of major-league company logos that use this software.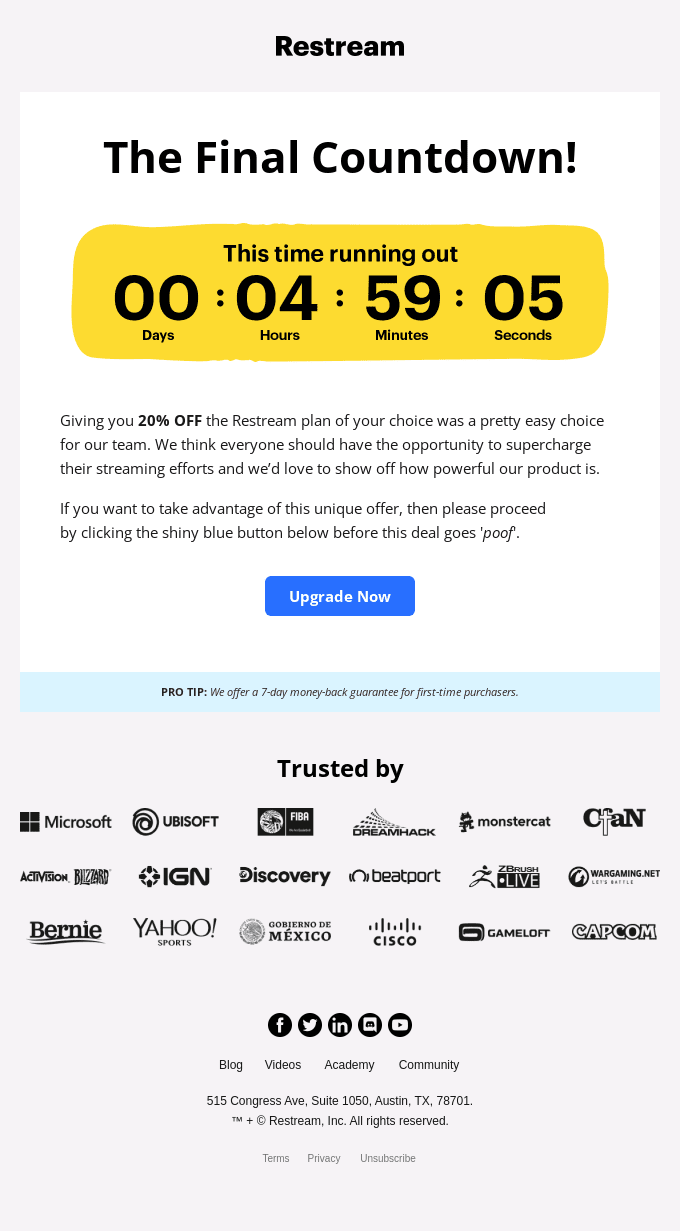 (Source: Restream upgrade email example)
If you want to test this effective marketing technique, learn how Stripo helps embed a countdown meter in your emails.
5. MacPaw gets two giggles from one tickle by combining a survey with an upselling offer
This upselling email example may come across as a bit cheeky. These email marketing experts made 2 different CTAs compete for the reader's attention. They have thrown in a customer survey invitation, which always makes a client feel like their opinion is valued. On the other hand, MacPaw offers a 30% discount for their other applications. The first CTA button invites you to take a survey and promises to eat up just 2 minutes of the client's time. The second CTA offers a discount code and invites you to shop. Our guess is that this upselling campaign was a hit.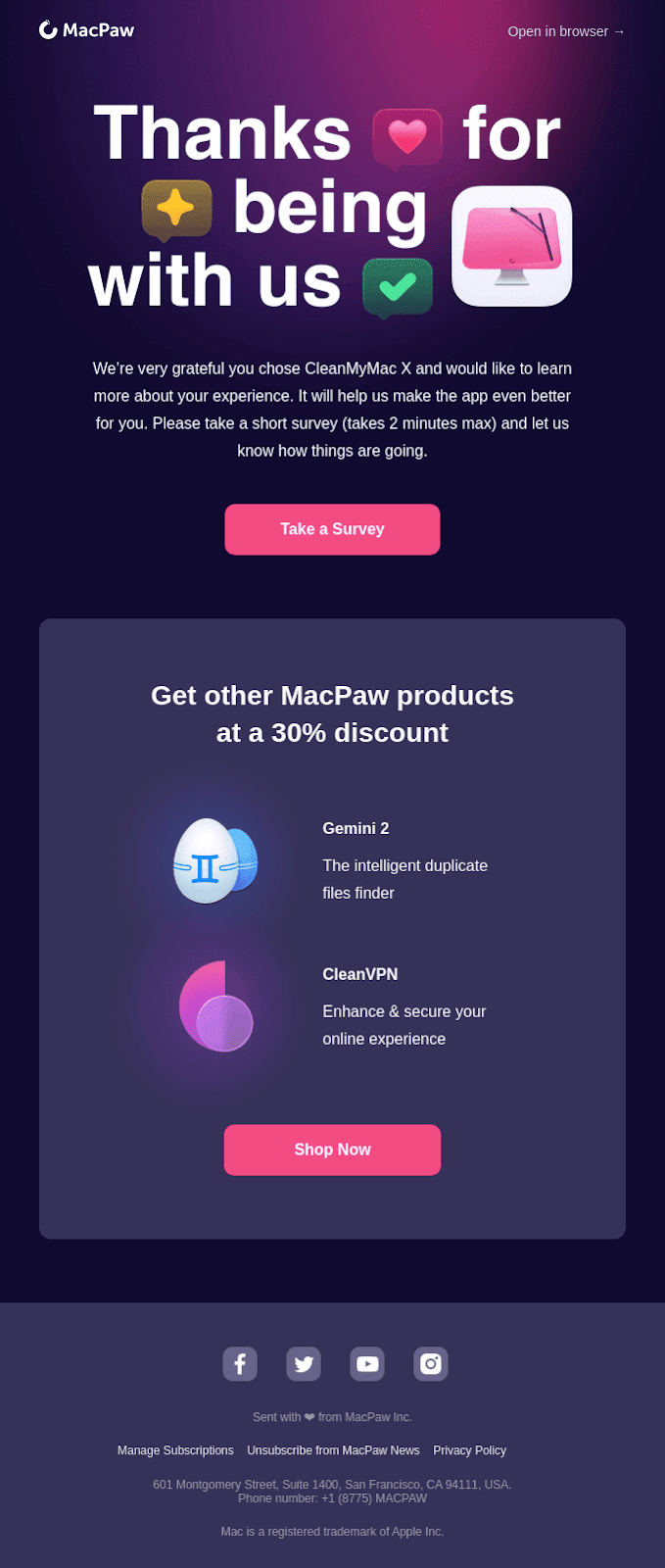 (Source: MacPaw upsell email example)
6. Zoom upselling email persuades customers with a seasonal discount offer
Seasonal discounts are just so natural — especially for seasonal deals (fall in this case), especially for all tools students use. Zoom offers a 30% discount for users to switch to the annual pro plan and mentions the discount's absolute figure value in the email body — $75.
The newsletter heading combines the temporary nature of the discount and hints of the busy business season simultaneously: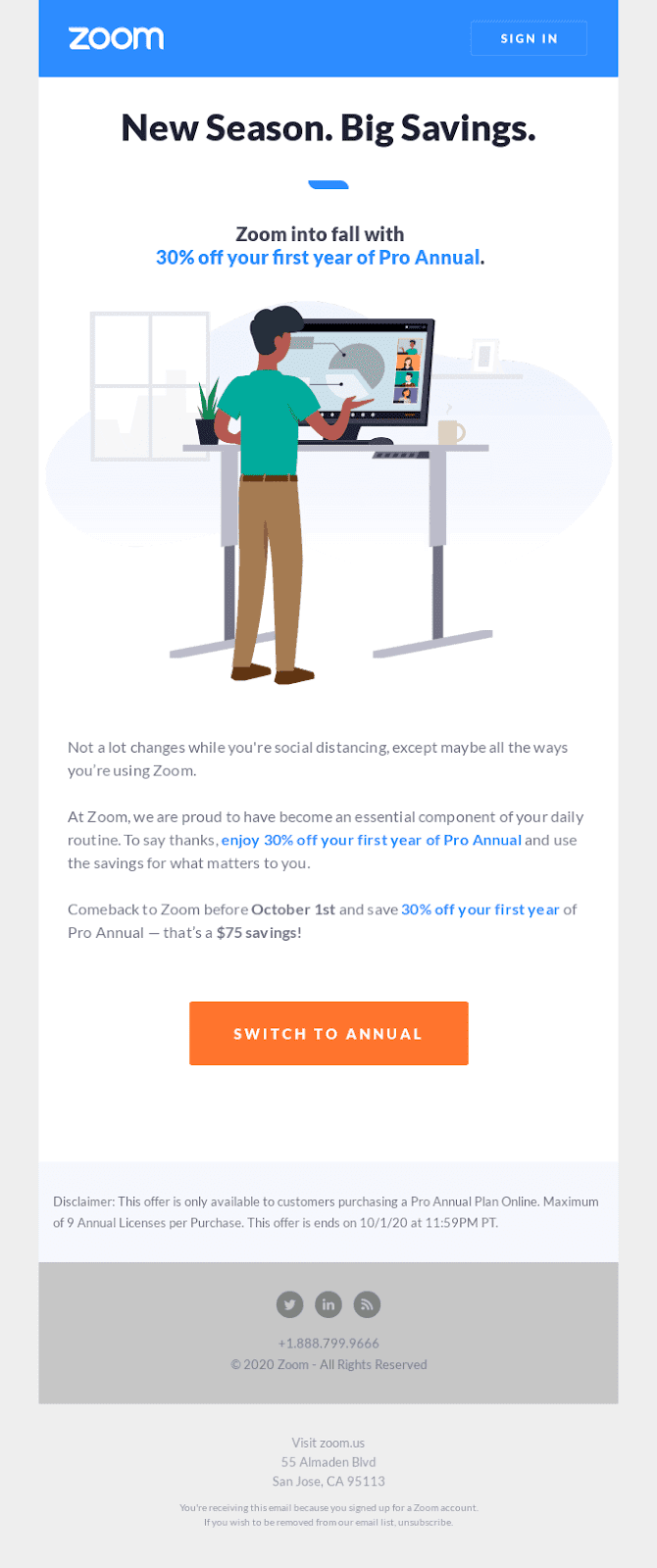 (Source: Zoom upsell email example)
7. Duolingo sends a thank you email as part of the upselling email cadence example
A thank you email is natural at the end of the upselling email cadence. It's also possible to reinforce the value the upgraded version provides.
A simple list of three differentiating features of the standard and super plans grants a feel-good moment to the customer for making the right choice to purchase all those enhancements.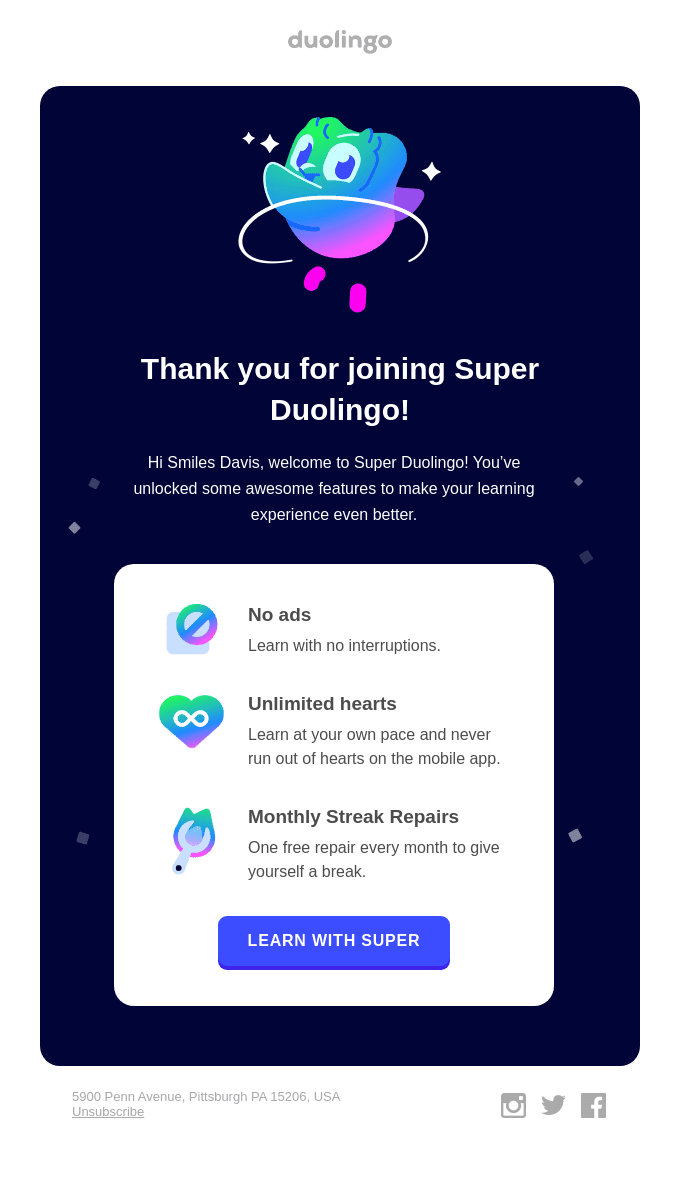 (Source: Duolingo upsell email example)
With all these upselling and cross-selling email examples to learn from, let's see what metrics and KPIs are worth noting when running upsell campaigns.
Measuring the success of upsell email campaigns: tracking what matters
The math is important, predictable, and impactful when it comes to email marketing for existing vs. potential clients. As email marketing professionals, the Stripo team keeps an eye on these mission-critical metrics to gauge the success of the upselling campaign:
open rate (Is the subject line effective? Is the offer included in the preview?);
CTR (Is your offer strong enough? Does your visual support the message?);
conversion rate (Is there FOMO in your offer? Is the value proposition hard to refuse or just symbolic?);
average order value (Which segment has the highest/lowest outcome and why?);
ROI (Is it worth scaling the initiative? What tweaks will further tighten the offer?);
unsubscribe rate (Who unsubscribes and why? Is the frequency or quality of email marketing at fault?);
customer satisfaction feedback results (What do customers feel? Top insights drawn from nano-level communication with existing and potential customers?).
The measurable result is easy to scale, so taking note of these KPIs regularly will open the door to systematic growth of AOV, LTV, and, ultimately, the bottom line for your existing pool of clients.
Upsell email samples for your successful campaigns
Now that you understand the importance of upsell emails and how they can impact your campaigns, it's time to create your own emails. Below, you will find five upsell email samples you can modify to suit your needs and goals.
1. eCommerce upsell email — add accessories to your look
Subject line: Complete your look with these accessories!
Hi [Customer's Name],
We hope you're enjoying your recent purchase of [Product Name]. To enhance your experience, we've curated a selection of stylish accessories that perfectly complement your new item. From chic handbags to statement jewelry, these additions can elevate your outfit to the next level.
Browse Accessories [Button]
Plus, as a valued customer, you're entitled to an exclusive 15% discount on any accessory when you use code: ACCESSORY15 at checkout.
Best Regards,
[Company Name]
2. Subscription upsell email — premium membership
Subject line: Unlock exclusive content with the premium membership.
Hello [Customer's Name],
You've been enjoying our [Basic/Standard] subscription for a while now, and we're excited to introduce you to an even more rewarding experience — our Premium Membership. With this upgrade, you'll gain access to an array of exclusive content, in-depth tutorials, and advanced features that will take your journey to the next level.
Upgrade to Premium [Button]
As a special thank you, we offer you a 30-day free trial of our Premium Membership. Elevate your [Product/Service] experience and tap into a world of limitless possibilities.
Best Regards,
[Company Name]
3. Fitness upsell email — personal training sessions
Subject line: Crush your fitness goals with personal training sessions!
Hey [Customer's Name],
You've been dedicated to your fitness journey with us, and we're beyond excited about your progress. Now, imagine achieving even more with personalized guidance! Our certified personal trainers are here to help you maximize your efforts and achieve your goals faster.
Learn About Personal Training [Button]
We offer you a complimentary one-on-one session with a personal trainer to celebrate your commitment. Elevate your workouts, conquer plateaus, and set new records with tailored support.
Let's make your fitness journey extraordinary!
Keep shining,
[Company Name]
4. Software upsell email — advanced features
Subject line: Unleash your potential with advanced features.
Hello [Customer's Name],
We're thrilled to have you as a loyal [Software Name] user! To help you achieve even more, we're introducing our Advanced Feature Set — a collection of powerful tools that can supercharge your productivity and creativity.
Explore Advanced Features [Button]
As a token of appreciation, we offer you an exclusive 25% discount on upgrading to the Advanced Plan. Don't miss out on the opportunity to unlock a world of possibilities.
Here's to reaching new milestones together!
Best Regards,
[Company Name]
5. Travel upsell email — package enhancement
Subject line: Enhance your getaway with exciting add-ons!
Hi [Customer's Name],
We're thrilled you've chosen [Destination] as your next adventure! To make your trip unforgettable, we've curated a selection of exciting add-ons to take your vacation to new heights. These options, from guided tours to SPA treatments, are designed to create lasting memories.
View Add-Ons [Button]
Book now and enjoy an exclusive 20% discount on any add-on you choose. It's the perfect way to enhance your travel experience and indulge in a bit of luxury.
Safe travels and unforgettable moments await!
Warm Regards,
[Company Name]
Wrapping up
Savvy digital marketers pay as much attention to growing and nurturing their existing client database as the new clients' acquisition process.
While there are a few methods to grow revenue from your clients, upselling is popular for many reasons. Companies learned to create real value for their clients by offering a more premium product version at a small price increment. This makes upselling an easy sell with a lasting impact on your business's financial stability.
We hope these email campaigns' upsell examples will inspire your next marketing campaign. For more email marketing templates, check out Stripo email templates. We can help your email look sleek, have a failure-proof structure, and have high deliverability.
Was this article helpful?
Thanks for your feedback!