17 June 2022
Stripo Modules as a Lifesavers for HR Managers in Creating HR Emails
Hey everyone!
HR emails are the main pillar of any large company's internal newsletter. All thanks to the fact that they allow many employees to stay on the same page about what is happening in the company. However, creating such emails can take a lot of time. And today, with Irina, HR manager at Ardas, we will find out how Stripo helps create HR emails faster.
Q: Hello, Irina. Thank you for your time.
We know you use emails for communication with your team. Why so? You all meet quite often during coffee breaks. So, you can share news/spread updates verbally.
A: Hi, always happy to help. Yes, you are partly right. Coffee breaks are a good way to tell employees about company news. However, studies show that 67% of office employees prefer emails to personal conversations.
In addition, I send out emails not only to full-time employees but also to newcomers who are onboarding. These emails help to quickly tell the newcomer about the order in the company, organizational and financial aspects, and so on.
And keep in mind that employees do not forget important information cause they always have quick access to it.
Studies show that 67% of office employees prefer emails to personal conversations.
Q: We know that the entire email design process was a pain in the neck for you. Why so? What challenges did you face when building emails?
A: "Pain in the neck" is a bit of an exaggeration, but it indeed took a lot of time. Just imagine that I have many types of emails that are meant to:
welcome a new hire on their first working day;

announce a new hire to current employees;

invite employees to attend an event/party;

remind employees of important dates and holidays;

keep employees updated on everything that happens in the company.
And yet the list is not full. Each email had to be created from scratch for each event. In addition, a lot of time was spent on making the design of each email brand consistent. However, now Stripo helps me create emails for any occasion much faster.
Q: Well, you mentioned that now email production is not a problem for you anymore. What was the solution that our designers offered you?

A: Modules have been a real-time saver for me. The design team worked out for me in advance all the necessary modules in a brand consistent style. They all look amazing and allow me to save any element of the email for editing and reusing them over and over again in other emails to make them brand consistent. I can save entire rows as modules and put everything I need for email (text, visuals, and much more) into them.
Generally speaking, modules help me сut hours on email production and stay brand consistent throughout the design process.
Modules help me сut hours on email production and stay brand consistent throughout the design process.
Q: Please, describe your today's email production process.
A: Today, the whole process is extremely simple and does not take much time. Let's imagine that a new employee will come to our company and I need to notify future colleagues about it.
I start creating emails with a header and a footer. Their designs are already prepared in advance and are in my modules. I just go to the Modules section, than Content tab, select the header and footer modules, and drag them into the blank email template.
Next, I add the main information blocks and brief information about a newcomer. All this is also done using pre-built modules. Each module has elements with hashtags, which means that in this place I need to enter the new information (newcomer's name, unit, and so on). Next, I start to edit the info manually.
After that, I add a photo of the new employee and a few words about him or her. I do this part by hand, but it doesn't take much time.
Finally, I only need to make a few final touches, tweak the modules' backgrounds, the photos' size, and the email fonts. And voila, we have a great HR welcome email that every employee will see in their work inbox.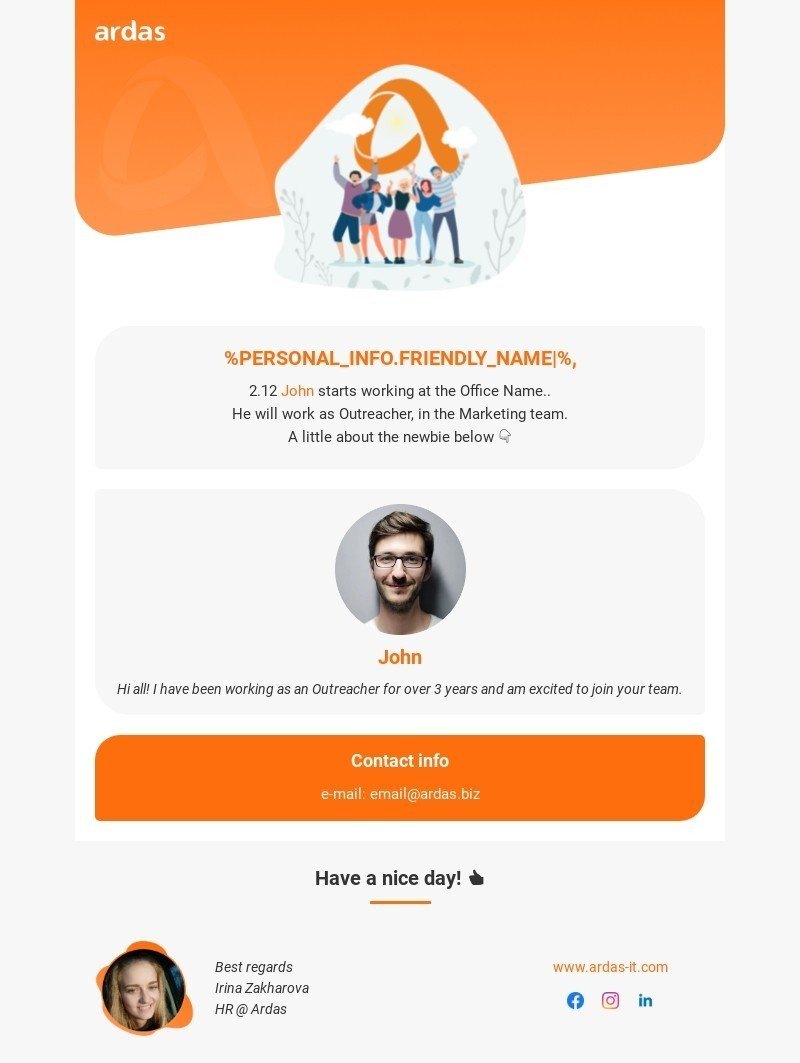 Q: Share the results please. How much do you save with prebuilt modules? Like, how much did it take you to build an announcing a new hire email or inviting employees to attend an event/party email, and how much time does it take you now?
A: In fact, the results are impressive. Previously, I could work on the design of one email for 5-6 hours, but now the whole process takes no more than 20-30 minutes. And this is if you count from opening the editor to the final saving of the finished email that can be sent to employees.
And it's not worth talking about updates. Updating each email manually takes an hour or two, and you need to do this every time for any occasion. However, as I said above, synchronized modules are a real boon. I fell in love with them.
I can edit a synchronized module, and all changes will be displayed in all templates with this module. For example, I recently changed my Facebook link. I changed it in just one email in the footer module, and the changes were applied to all 18 emails. This has saved me a lot of time since I would have had to manually edit each email.
Make your email update process faster with Stripo and synchronized modules
Get started
It is worth noting that our HR managers don't do email automation. If you are sending bulk emails using various ESPs (Mailchimp, eSputnik, and others) you can edit your email templates and click the Export button. When sending a new template, just select the "Replace existing template" option, and the updated information will be pulled into all your workflows at once. You don't even have to stop and restart your email flows. Everything happens in the convenient synergy of Stripo and over 70 popular ESPs.
Q: Irina, thanks so much for your time and thanks for sharing the behind-the-scenes HR processes of how Stripo makes workflows easier and faster.
A: It was a pleasure. Thanks for having me.