Did you know that 50% of companies claim that their audience requires brands to maintain cross-channel consistency? It's vital to understand how customers view your business to boost their retention rate and email marketing is a splendid tool to make it happen.
Branding is not just about an eye-catching logo, corporate colors, and appealing fonts in your email campaign. These factors are essential, but brand consistency also includes the values you promote through your content, a clear identity, and certain feelings your messages evoke in the audience.
In this article, you will find out why brand consistency is one of the keys to your success and learn about the most essential steps to maintain it in email marketing.
Why brand consistency is one of the keys to your success
Customers prefer to buy from companies they know, trust, and recognize. By staying brand consistent in email marketing, you will empower your messages, make your content recognizable among other promotional emails, and obtain your audience's trust.
Whether you run a renowned B2B company or own a small but growing eCommerce business, brand consistency is one of the most essential factors to making your organization more valuable to consumers.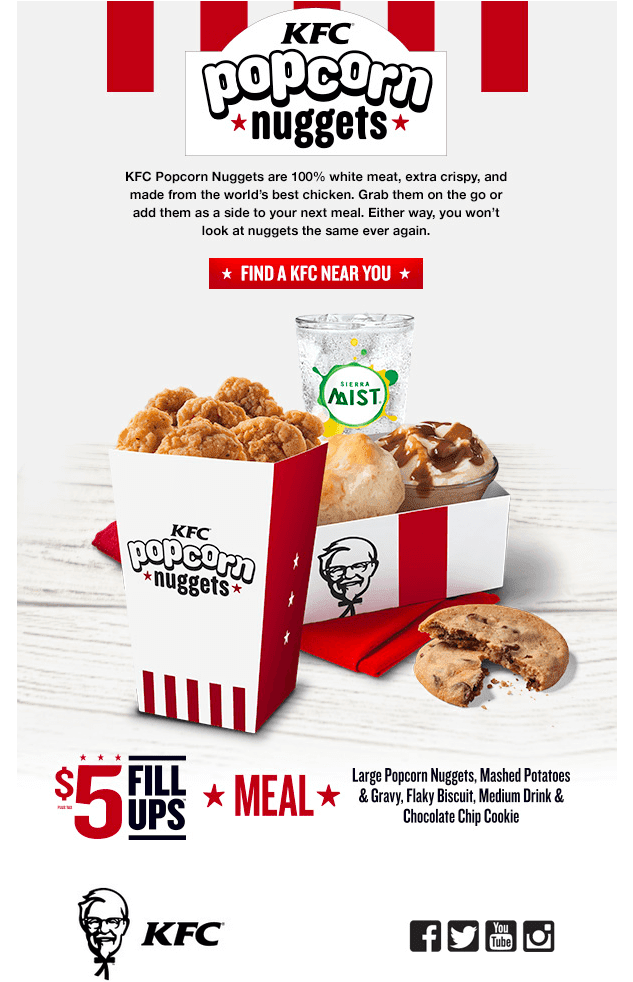 (Source: Email from KFC)
If you are still not sure about the importance of email brand consistency, here are some statistics for you to consider:
Top 6 steps to keep brand consistency in email marketing
Now that you understand that a strong brand voice can make your business more profitable and motivate your audience to choose your services over thousands of your competitors, let's find out how to use emails to reinforce your branding.
1. Build design styles
It may be tricky to maintain a consistent tone across all marketing channels, so it's crucial to build design styles aligned with your corporate culture. You can imagine your business as a unique person and describe all its beliefs, values, and specific features that distinguish it from other brands.
Cooperate with your designer to establish brand guidelines and share them with all of your departments. You can also build a set of prebuilt email templates for different situations like newsletters, automated welcome emails, and transactional messages. It will enable you to provide recipients with appealing and memorable emails.
Consistent branding includes such factors as a memorable logo, recognizable fonts, appealing color combinations, and eye-catching imagery. Here are a few brand identity elements to make your emails recognized by readers:
descriptive and well-designed logo;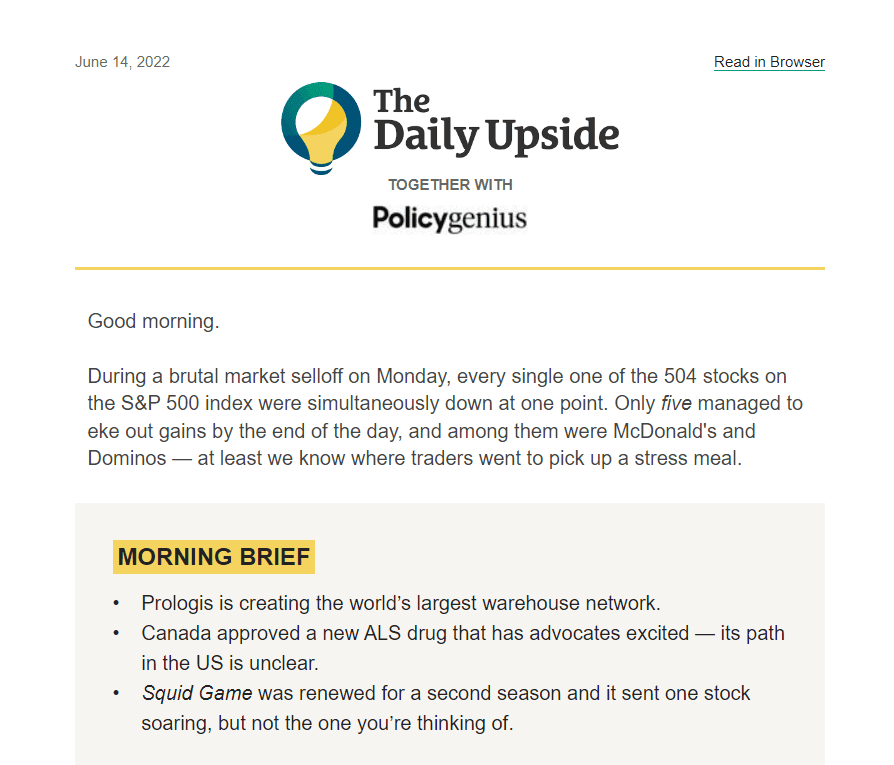 (Source: Email from The Daily Upside)
legible and brand-associated fonts;

consistent brand color scheme;

images to convey information faster.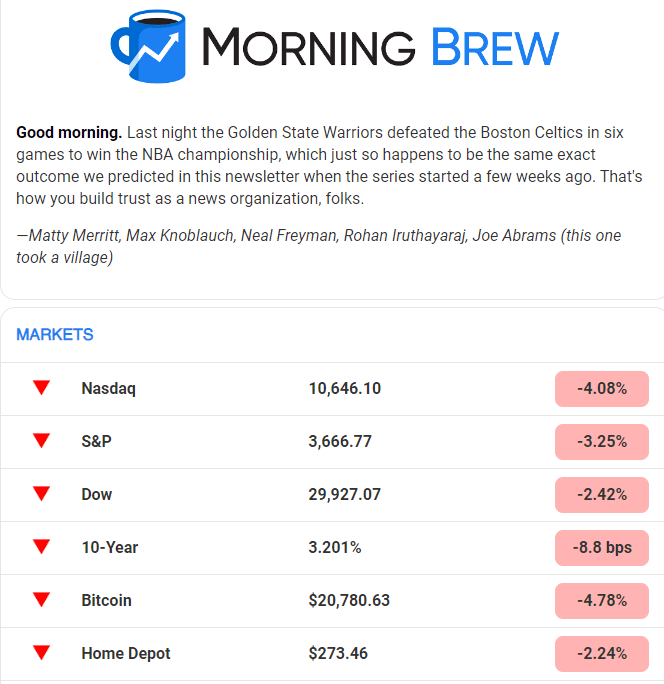 (Source: Email from Morning Brew)
If you haven't developed design styles for your brand yet, no worries! You can use our Brand Guidelines to reflect your brand's personality, empower email campaigns, and create appealing messages faster.
Watch our short video to learn how to use a Brand Guidelines kit for any project:
Do you want to strengthen new campaigns with an outstanding brand voice? Design your first email now!
Join Stripo
2. Update existing content
Now it's time to apply new design styles to your content. Update your newsletters, promotional messages, automated transactional emails, and previous templates to make everything look professional and brand-consistent. Your existing brand materials should match your business mission and the strategic goals you specified to establish brand guidelines.
3. Define and stick to a unified tone of voice across all marketing channels
How do you prefer to convey information to your subscribers? Are you trying to spread friendly and humorous vibes? Or maybe you are aiming for a respectful and formal tone? In any case, define your brand voice and stick to it across all marketing channels, from blog posts and case studies to promotional emails and social media posts.
Such consistency will allow your subscribers to remember your brand and notice your emails among hundreds of others in their inboxes.
4. Revise your employees' signatures
Don't underestimate an email signature as it's a digital business card you offer recipients with every message you send. Your employees contact subscribers every day, so it's vital to make sure their signatures include:
employee's name and position;

your brand's name and logo;

a link to the company's website and social media accounts;

ways of contacting your company.

(Source: Stripo template)
5. Check your sender's name
This name will be displayed in your recipients' inboxes, making it the first thing to set eyes on. Make sure your sender's name contains not just an email address but your brand's name or an employee's name. Limit this name to 20-30 characters to make sure it's displayed appropriately across all devices and email clients.
You can also use the formula [Employee First Name] at [Company Name] to add a personal touch to your content. It will help your recipients recognize exactly who you are.

(Source: Email from Morning Brew)
6. Align email marketing campaigns with your brand strategy
Keep in mind your corporate values, missions, and strategic objectives when developing the next email marketing campaign. Don't forget about the brand guidelines you established earlier and your brand voice.
Visualize your brand as a person with their own distinctive identity — if your target audience can get along with this "person", they would collaborate with your brand more often.
Maintain brand consistency in email marketing
You can use lots of marketing tools to promote your company, but without brand consistency, your target audience may have issues associating your business with positive emotions.
Using Stripo, you can keep your emails brand consistent to be recognizable in your recipients' inboxes. From fonts and colors to CTA buttons and images, our email design platform will enable you to stay trustworthy and professional.
Was this article helpful?
Thanks for your feedback!