29 August 2018
Email Design Ideas for Thanksgiving Day Newsletters
Thanksgiving is the warm-colored and cozy day of gratitude. It's the day of appreciating the people you're fortunate to be around. And, of course, Thanksgiving is the day of family feasting and celebration, of charity and gift-giving.
For businesses, Thanksgiving is a chance to appreciate their clients and express gratitude to them for being loyal over the year. No doubt, your gratitude can take any form. However, it's great that you don't miss out on the simple, and yet so powerful Thanksgiving emails.
In this article, we bring you our best advice on writing Thanksgivings emails. On top of this, we share the most prominent thanksgiving newsletter ideas to inspire you to power a Thanksgiving marketing campaign that earns you revenues and customer loyalty.
Thanksgiving email inspiration: best examples
Before you jump on creating your 2018 Thanksgiving emails, we've prepared a blast of inspirational Thanksgiving newsletter templates for you. They are among the most well-built and best converting designs for the upcoming holiday. Keep a watchful eye on the features they offer, as well as on the professional content organization and styling they utilize.
Happy T-Day is a free HTML newsletter template with heart-warming design. This lightweight newsletter template is created for software & technology industries but can be used for Thanksgiving emails of any kind.
What you get:
a free HTML template that you can customize within an HTML and drag-and-drop email builder;
two thanksgiving newsletter template preview versions: Standard (PC) and Mobile;
social media icons that enable your users to join you on socials;
a number of additional custom blocks to use within the newsletter.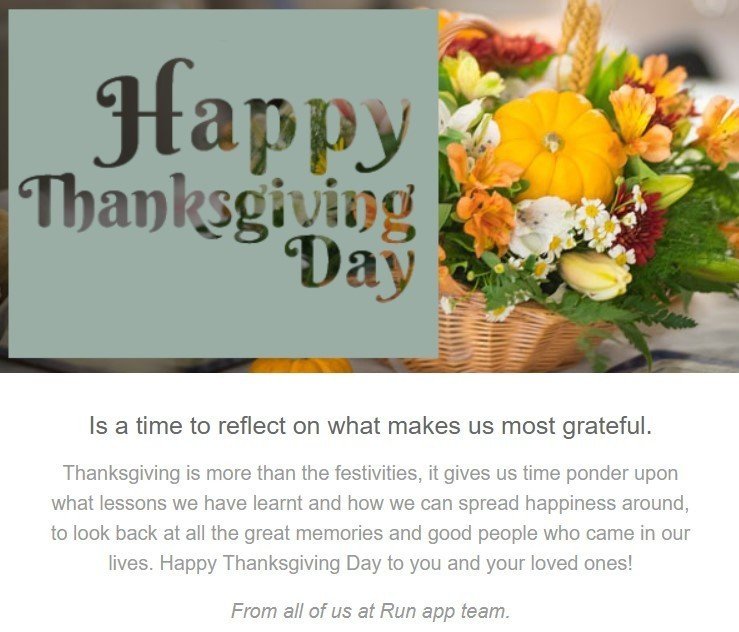 When the Thanksgiving Thursday is over, comes Black Friday with its sweeping sales and swingeing offers. BigSale Thanksgiving email design has everything you need to multiply sales this day. This Thanksgiving newsletter template opens with a material 3D hero image, which is followed by the cascade of your hot deals.
What you get:
a professional responsive layout;
email template that is compatible with different ESP;
email that is fully editable with StampReady Builder;
lavish color options offered.
Holiday is a newsletter template for everyone providing tourism and traveling-related services. To customize it, you don't have to know HTML code. You can adjust every element of this newsletter template in a few clicks and mouse movements.
This amiable Thanksgiving email inspiration takes the form of an artful digital greeting card. Concise and to-the-point, the design catches attention with handwritten 'Thanksgiving Day' caption.
Then, it streamlines users to copying your promo-code out and navigating right to your website. Moreover, this design has a separate Black Friday banner which informs prospects about the upcoming sale.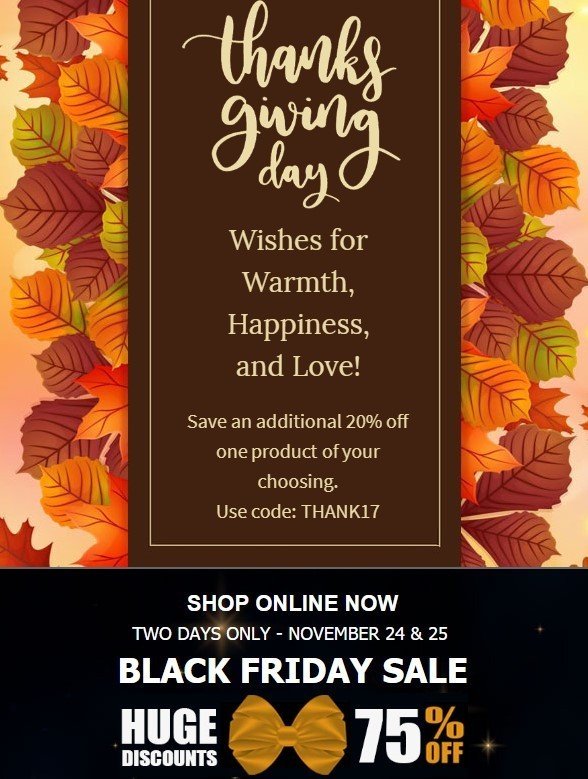 Marseille is a top-of-the-line Thanksgiving newsletter sample for restaurant and catering businesses. It grasps user attention with an image of the festive table and gets them to a conversion point featuring a discount voucher.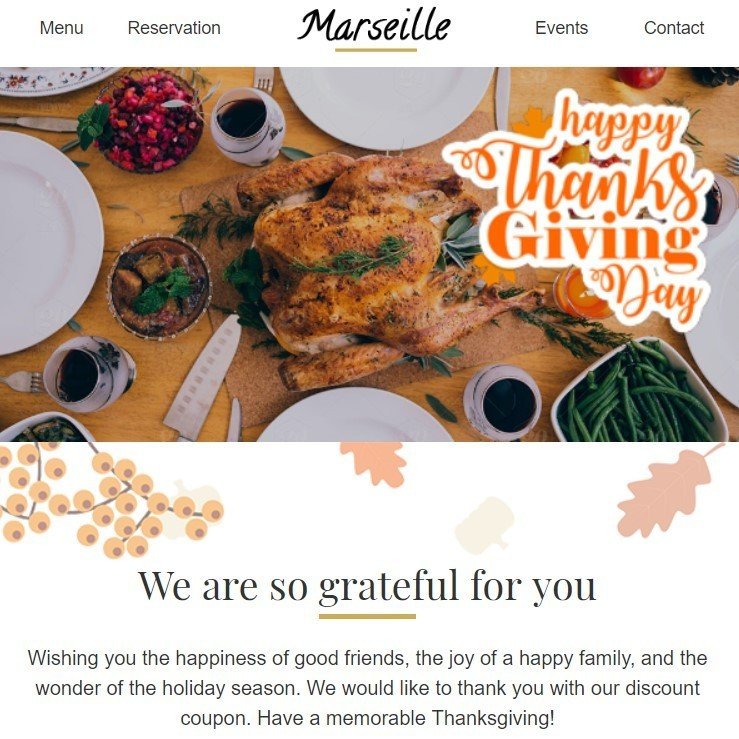 Moreover, this HTML template has a highly informative footer with all your contact details, social buttons, and Google Map included.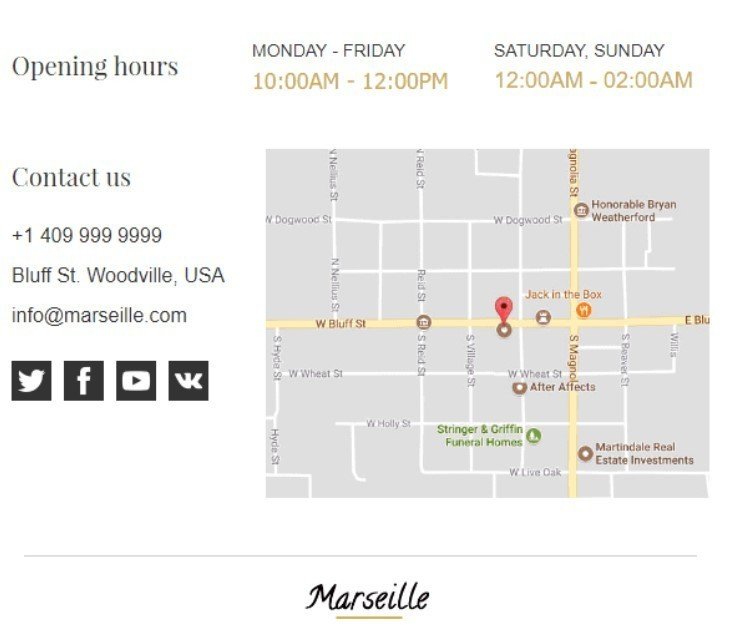 So, now you've got an eye for good Thanksgiving newsletter designs. It's time to learn how to make the most out of your T-DAY newsletter with our effective tips.
Best tips for thanksgiving email design
Are you about to get down designing your 2018 Thanksgiving newsletter? If seeing great examples is not enough and you would like some more information, we'll get top recommendations covered in this section.
Now:
It's time you wrap your head around key techniques that yield you successful Thanksgiving emails. We've collected them below to help you make the most out of your upcoming email campaign.
Tip 1: Brainstorm a catchy thanksgiving subject line
Your newsletters subject line is very important. It either makes a person click to see your message or makes them trash it right away. Let's see, what are the dos and don'ts of the Thanksgiving subject line.
A good subject line is:
sweet and short (up to 24 characters for mobiles);
mentions Thanksgiving or its recognizable attributes;
action-oriented;
suggests a special offer inside;
gets punny for a positive impulse (optional).
Here come some good examples, coined by the USA businesses and companies worldwide:
Harvest decor. Thanksgiving prep now, pie later — by Wayfair
Enjoy 40% Off: A Happy Thanksgiving, Indeed — by Barneys New York
This is HUGE. Shop our Thanksgiving sale — by Dillard's
Tip 2: Focus on gratitude
When it's Thanksgiving, one of the favorite holidays of many, an email that goes promotion-first feels over-the-top.
If you're sending out a Thanksgiving newsletter, you should first of all:
greet your customers with the holiday;
evoke festive mood;
express your appreciation and care for your audience;
and (just then!) present your special offers as a token of gratitude to your customers;
What's the bottom line?
Even if your main goal of creating a Thanksgiving newsletter is to increase sales, you shouldn't make it central in the newsletter. The greeting part that warms people's hearts is what makes your brand stand out on Thanksgiving Day.
Tip 3: Include additional content
If your email is fully focused on products you sell and services you provide, it's not relatable enough to pay attention to. It's just not interesting.
How can you address this?
Just include some additional content to get users hooked on checking out your newsletter. For example, you may tell a short story sharing your company's Thanksgiving company culture or any other story that deals with gratitude and being thankful.
Alternatively, you can write a short informative post tying your company's niche with Thanksgiving. For instance, a home decoration company may go for '15 Charming DYI Thanksgiving Home Decorations' newsletter. In this case, more people will spend their time checking it out as it brings some informative value right to their inboxes.
Tip 4: Reinforce Thanksgiving vibes with visual hints
Let the turkeys, flat pies, yellow leaves and pumpkins be inside your T-DAY newsletter. What's more, go for comfy shades of orange, yellow, brown and red. Finally, use high-quality, well-thought imagery. By the way, digital drawings work well for Thanksgiving designs, for example:
Tip 5: Go for fun caption fonts and icons
To grasp user attention, use a creative Thanksgiving font for the caption. Handwritten variations and cartoonish styles are among the most popular in this case. Provided you make your caption large, you get a chance to gain over user's loyalty with just one or with a couple of words.
If you want to see an example of a well-fitting font for a Thanksgiving newsletter, check out the one below:
To get this example, please click the link.
Note: we are all aware that there are 10 to 15 web-safe fonts. And your email may lose its beauty on recipients screens once the font is not recognized by an email client. But Stripo enables you to use any custom/decorative font you like over banners. Then, your text is recognized as an element of an image by all email clients and is displayed the way you wanted it to.
Tip 6: Include social buttons and contact details
Coining whole-hearted Thanksgiving greetings is not an excuse for missing on social buttons in your email. Make sure, you feature them in the header/footer of your email.
Do you have a boisterous social media presence? Go for Thanksgiving posts in any network and feature them within the newsletter. This is an effective way to get users checking out your accounts in social media and subscribing!
For more details on how to add social icons in emails, please read our article.
Tip 7: Dress up your CTAs for Thanksgiving
Commonplace CTAs like 'Shop Now' and 'Learn More' are good. They clearly indicate the action that user's got to take.
But here's the kicker:
Get a custom Thanksgiving CTA to crop a higher click-through rate. It can be anything that sounds fun and festive, and still indicates what the desired action is. Some examples:
"Gobble up the deals";
"Click and feast on the savings";
"Mix in some high-quality products";
"Pluck your favorites".
Read article on 'Email Call to Action Best Practices'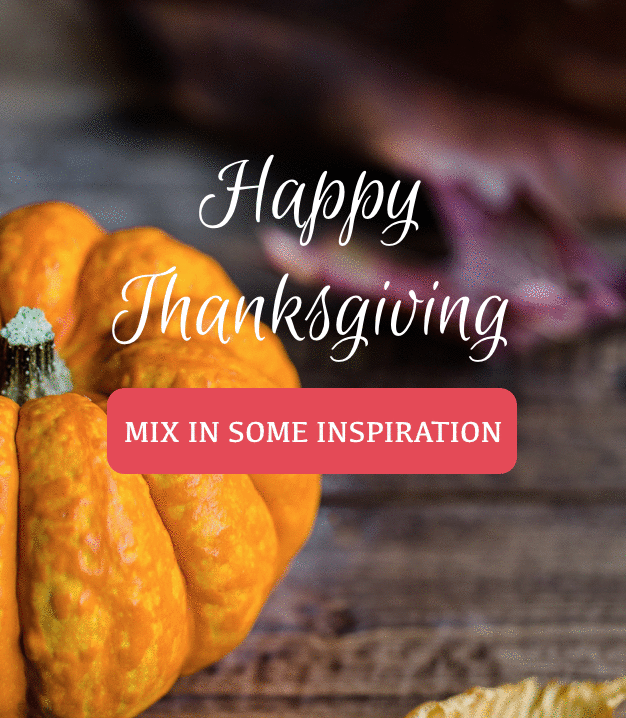 Tip 8: Sprinkle it with an animated banner
Its common knowledge that animated web elements boost user engagement. However, adding sleek animations to your Thanksgiving newsletter may be very time-consuming.
To avoid mixing with JS and CSS transitions, go for an animated Sale Banner. A professional ready-made banner is a potent conversion enhancer that will winningly compliment your newsletter. See an example below:
As an alternative, you may use our rollover image effect when creating an animated banner for your Thanksgiving email marketing campaign.
Tip 9: Make sure it's responsive
No matter what way you use to design your Thanksgiving emails, make sure the emails are responsive and adaptable to PC, and smartphone screens.
By clicking our preview button, you will see what your email is going to look like on desktop and mobile screens, or send a test email to a few email addresses.

Wrapping up
We hope you're set on your way to power an effective Thanksgiving newsletter campaign. Use the Thanksgiving newsletter tips that this article features to create the most effective newsletter for your business this fall. We wish you good luck with this undertaking!
What Thanksgiving newsletter designs do you find attractive? Share your preferences and questions with us on Facebook.
Stay tuned!