Chinese New Year, also known as Lunar New Year or Spring Festival, has surpassed the geographic borders of Asia a long time ago. This bright festival of fireworks, lanterns, and Nature's rebirth after the wintry slumber is celebrated almost all around the world, one way or another. At least, any one of us can answer the question of what animal symbolizes the current year.
Therefore, this holiday is an amazing opportunity for businesses and email marketers to satisfy clients and overcome competitors. How to do that? Of course, we need a very special HTML email template with a thematic design and new-fashioned features. We have some prebuilt templates for you!
Just like with traditional winter holidays, our duty during the Spring Festival is to greet our customers and to provide sales. Our free Chinese New Year email templates fulfill both missions perfectly. You can either implement your original design ideas or simply use our ready-made templates — just slightly edit them and insert your own content.
Chinese New Year email templates design
Of course, we have to make our newsletters festive and thematic:
decorate them with traditional visual elements, lanterns, fireworks, hieroglyphs, or so;

add an image of the forthcoming Lunar Year animal character — Tiger, Hare, Dragon, etc;

use the symbolic color.
All that is easy to implement with no coding skills at all. Our Chinese New Year newsletter templates are already decorated accordingly. You can either leave everything "as is", or replace the default design with your own imagery.
Content options and special features
Obviously, our stylish emails are not limited only to congratulations. Their objective is also to sell. Thus, we need powerful content that sells. Stripo provides you with a full set of options to craft next-gen newsletters.
Let's highlight the most noticeable features:
1. Smart product cards
A holiday promo always contains a wide choice of discount products. It means that we have to fill out dozens of product cards. Which is so routine… Not any more! With our Smart Elements option, you'll automate this task.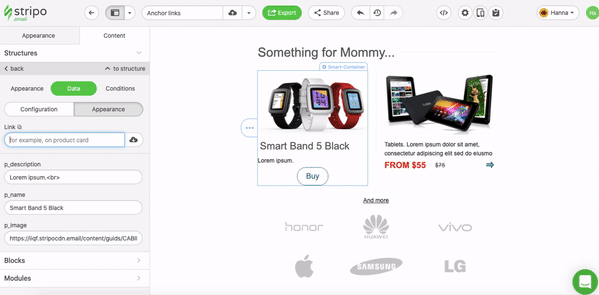 More precisely, it takes effort only for the first time when you work on a product card's design and settings. But then you simply insert a link to your website — and our system will add respective prices, descriptions, and other information.
2. Embedded videos
Videos in emails are still among the hottest email marketing trends. Yeah, it's a perfect solution to congratulate customers, show the footage of a firework show in Shanghai, or tell about the Asian New Year traditions.
Stripo allows embedding videos easily and even adding custom thumbnail images.
3. Festive banners
Big and stylish banners are a must for Chinese New Year HTML email templates. Again, it's easy-peasy with Stripo. Feel free to insert additional imagery, write your heartwarming wishes, and decorate them with festive fonts from our collection.
Design holiday banners for your Chinese New Year emails
Get started
4. Interactivity and AMP-powered elements
Interactivity drags attention, boosts engagement, and increases CTOR. Moreover, AMP technology makes emails functional. You may notice that some of our templates are already equipped with interactive content. For example, an expandable accordion menu that allows structuring content in a logical order.
If not added initially, you may easily drag and drop the necessary block to your template.
Final thoughts
Lunar New Year is one of the brightest holidays worldwide. Join the ancient traditions and spread its unique vibe with thematic design and content. And our Chinese New Year responsive email templates will help you.
Join over 700K users
Start for free — upgrade anytime