06 April 2021
11 Best Email Marketing Podcasts
Today when we drastically lack time, podcasts are a great opportunity to improve your skills and gain useful knowledge. You can listen to them on the road, while jogging, lying in the bathroom, or while doing housework.
We have prepared a selection of the best podcasts on email marketing that will help your professional growth and will teach you new ways to promote your business. Podcasts are on average about half an hour long. Most podcasts are hosted on multiple platforms at once (YouTube, Apple Podcasts, Google Podcasts — choose any). We provide a link to only one of them, and you can easily find a convenient way for you to listen to the podcast you are interested in.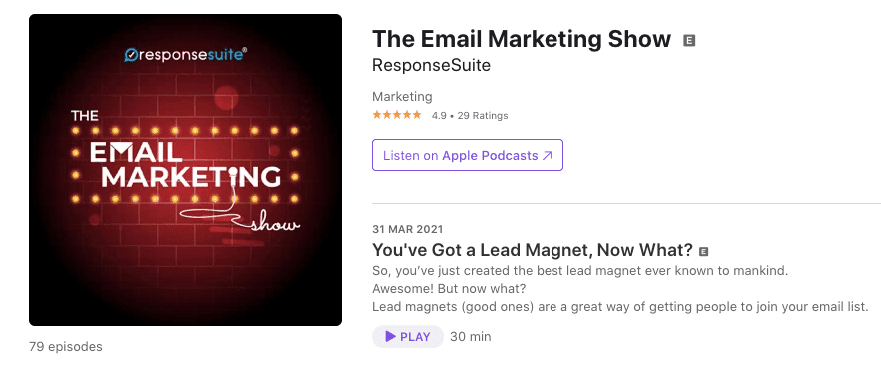 (Source: The Apple Podcasts Preview)
In the Email Marketing Show podcasts, you will learn how to sell educational courses through emails, attract new users to closed communities, grow your contact list and avoid spam folders. The hosts also discuss the issues of what design of emails you should apply to generate more sales, which email marketing trends should be paid attention to in 2021, and how often to send emails.
Their email marketing podcasts are full of positive energy and potentially challenging topics are presented in an entertaining format.

(Source: The Apple Podcasts Preview)
This podcast on email marketing is hosted by Vira Sadlak and Alissa Taggart from the email marketing agency "Flowium". Here, you will learn how to send your first newsletter and build an effective marketing strategy in the future, what secret life hacks can double your email campaign income, how to set up abandoned cart emails to bring in sales, and many more. The episodes come out on Tuesdays.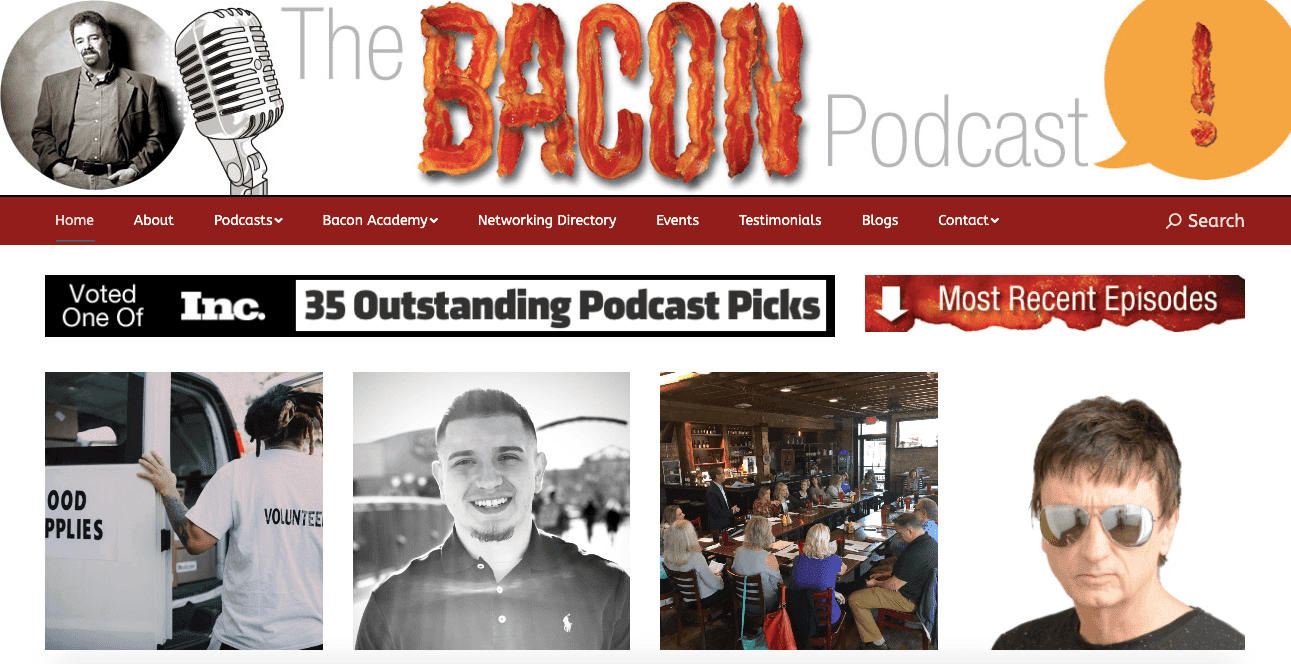 Podcast with Brian Basilico — author of such bestsellers as "It's Not About You, It's About Bacon: Relationship Marketing in a Social Media World", and "The Bacon System — Sizzlin' Hot Recipes That Help You Grow Your Business!".
The podcast is dedicated to marketing, PR, email marketing, and brand promotion. You will also find here an overview of tools to help you grow your business. Marketing trends and techniques are discussed in a very engaging and easy way. Guests of the podcast are successful marketers and business owners.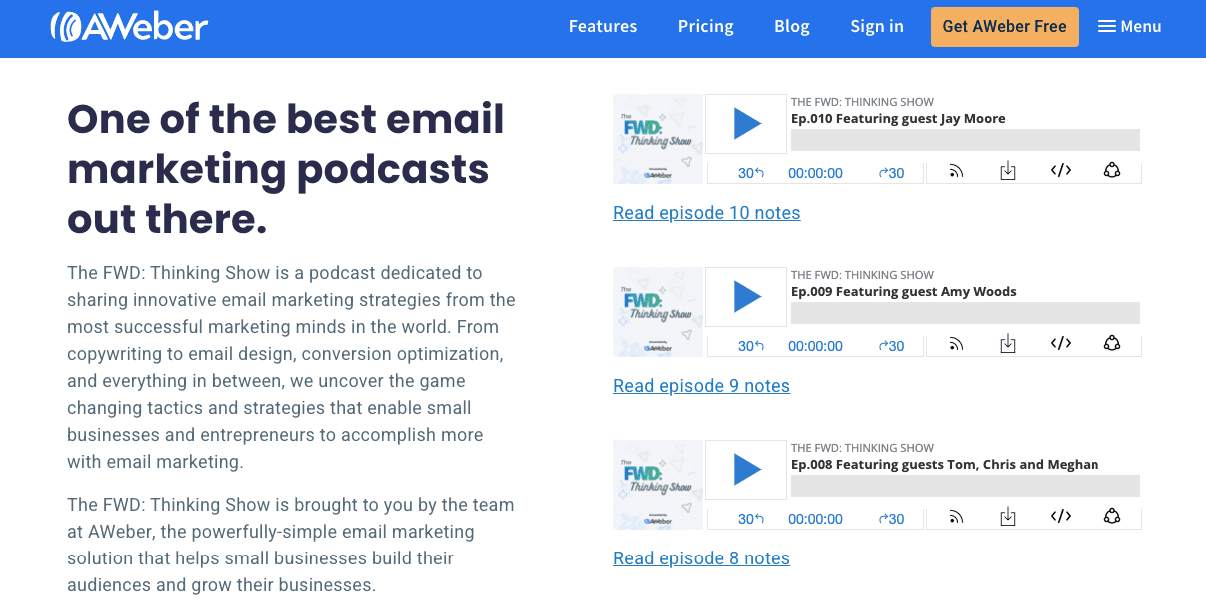 The host of this podcast is email marketing expert Kelly Forst.
Kelly discusses with her guests the most vital issues of email marketing: design of a sales email, ways to improve email deliverability, and other key metrics of email campaigns, new industry trends that are worth paying attention to.
The discussion always takes place in the form of a relaxed dialogue, so you will definitely not get bored while listening.

(Source: The Apple Podcasts Preview)‬
In this email marketing podcast, you'll learn what it takes to create really good emails. The hosts discuss email design trends and retention strategies, the secrets to creating engaging surveys, ways to make emails interactive, and other important and interesting questions from the email marketing field. You have the stuff to choose from.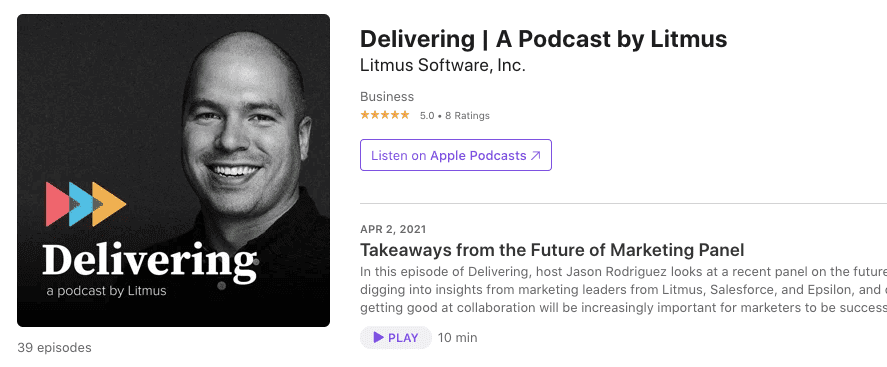 (Source: The Apple Podcasts Preview)
Delivering is a podcast dedicated to a comprehensive overview of the world of email marketing: You will find here episodes about design and copywriting, useful tools and marketing strategy, important industry trends, and forecasts for the future. The world's leading experts in the field of email marketing take part in the conversations.
Yeah, I know, we wanted to share podcasts on email marketing only. But digital marketing and email marketing are interconnected. Besides, all the podcasts on digital marketing cover the email marketing field.
So, we want to share 5 podcasts where they discuss both digital, and email marketing.

(Source: The Apple Podcasts Preview)
So, the guests here share their knowledge of everything related to marketing, and you'll find tons of ideas and recipes that you can immediately test on your business. The discussions are attended by marketers, entrepreneurs, professionals from different agencies and platforms.

(Source: The Apple Podcasts Preview)
A weekly podcast about internet marketing listened to in over 180 countries around the world. Here, you will find interviews with internationally renowned experts, as well as the latest digital marketing news, reviews of useful tools, promotion strategies, and methods. Issues are prepared by internet marketing and eCommerce experts Ciaran Rogers and Daniel Rowles. Daniel is the CEO of the educational service TargetInternet.com and the founder of the Digital Leadership Program.

(Source: The Apple Podcasts Preview)
Daily 8-minute digests from the world of internet marketing and social media, by Tod Maffin. The information is given succinctly, but at the same time, it is quite enough to constantly be in the loop of the most important and interesting things that happen in the rapidly changing digital sphere. Very useful content for anyone looking to learn digital marketing!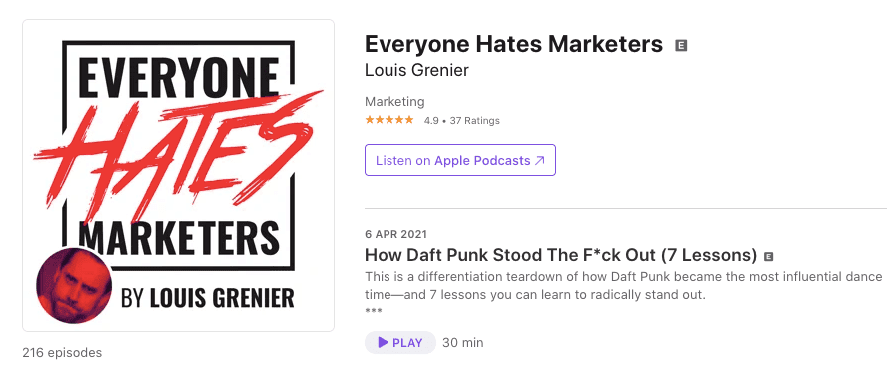 (Source: The Apple Podcasts Preview)
Everyone Hates Marketers is a marketing podcast that busts the myths about marketing best practices, the host Louis Grenier shares the things that really work, in his opinion. His main principle is "Treat people the way you want to be treated".
Here, you will learn what the conspiracy theorists and your clients have in common (and why it helps people to make decisions), what problems a startup must solve in order to succeed, and much more useful and interesting information.

(Source: The Apple Podcasts Preview)
Neil Patel and Eric Siu share their vast internet marketing experience almost every day. The short 5-minute episodes cover the latest SEO optimization techniques, the secrets of content marketing and social media promotion, the rules for successful email marketing and conversion optimization. Well-known businessmen and marketers become participants in these conversations.
In conclusion
In this small digest, we tried to collect the most interesting, in our opinion, podcasts that cover a wide variety of marketing areas: from Digital marketing to email marketing. Surely you also have podcasts that you would like to share. We'll appreciate it if you do share them in the comments section!