There are many reasons to reach out to your customers. You may want to send an order confirmation email, an event reminder to notify them about the upcoming sales you offer, or to congratulate your clients on the holidays.
But there is one more reason to contact the customers — an event invitation email.
Certainly, you may use any of our free email invitation templates immediately. But before you do, we recommend reading some information on creating a proper email template for an invitation.
Note: keep in mind that invitation emails are followed by reminder emails.
Best examples of the event invitation emails
Let's have a closer look at a few examples from the Stripo library of invitation emails.
1. Team meeting invitation template
This email invitation template is a nice way to communicate within a company.
You see, there are all the key details, such as date, time, location, and speaker, right away. Then, you may find the discussion topics and other documents to prepare for the meeting.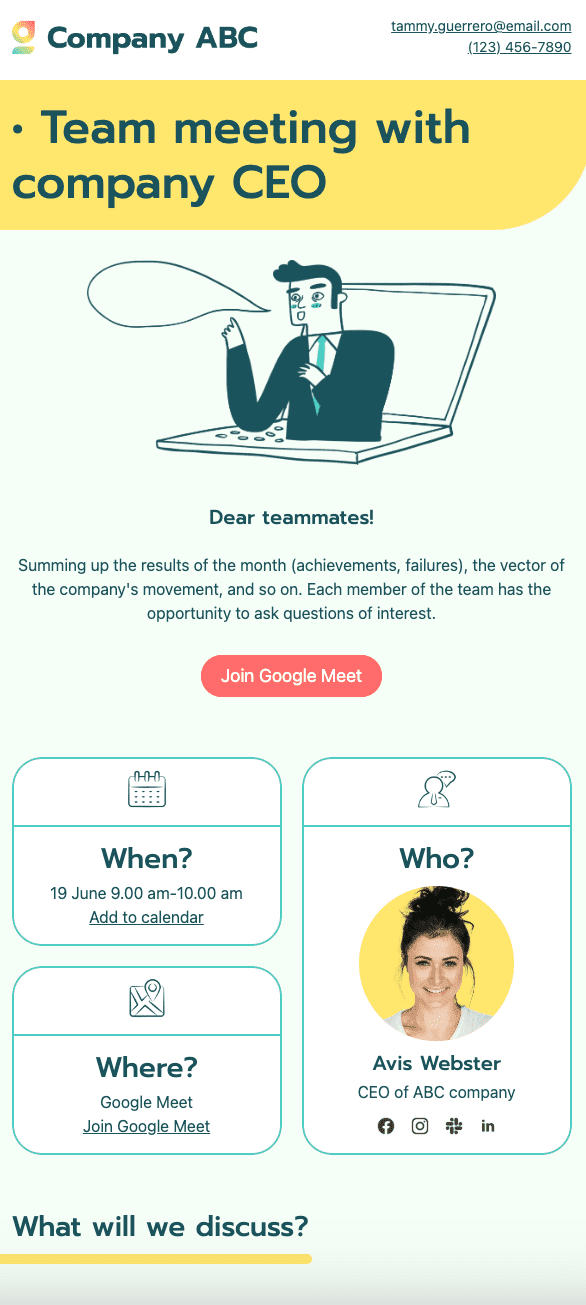 2. Webinar invitation template
This is a good invitation template for a webinar. There is a company logo and a catchy header to draw attention immediately. Also, a black background allows you to focus on the main things.
With Stripo, you can also use free images and icons to enhance the email invitation.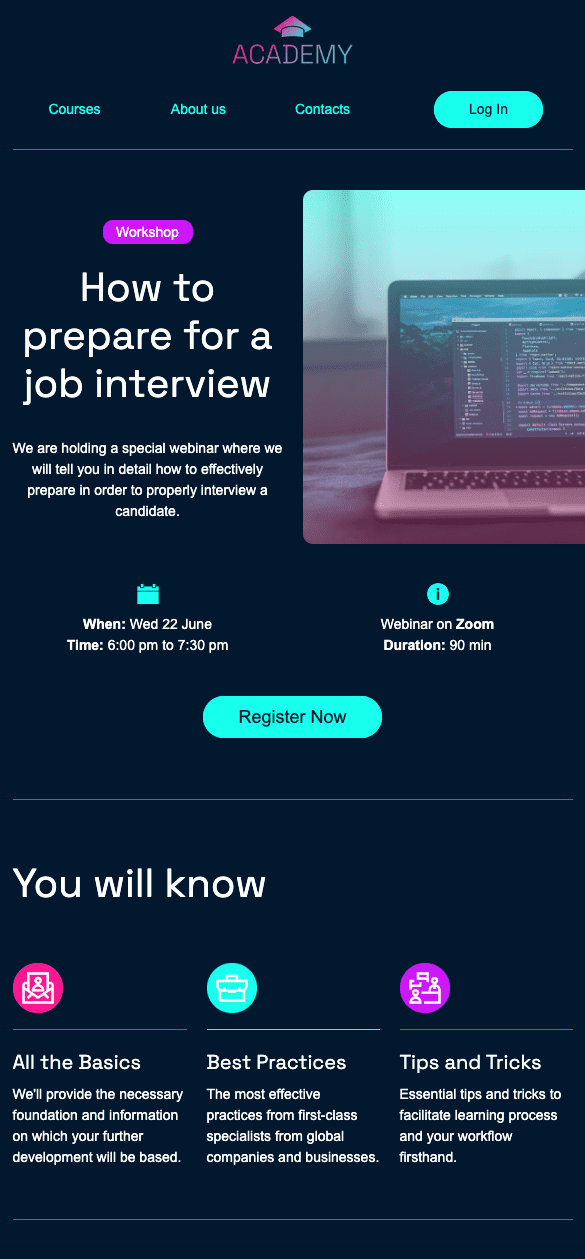 3. Birthday invitation template
In a good corporate culture, there's always a need to congratulate people on their birthdays and throw at least a little party. This email invitation is a good way to organize such events.
Here's a brief description of a birthday girl, party details, and two CTA buttons to sign up or congratulate the person.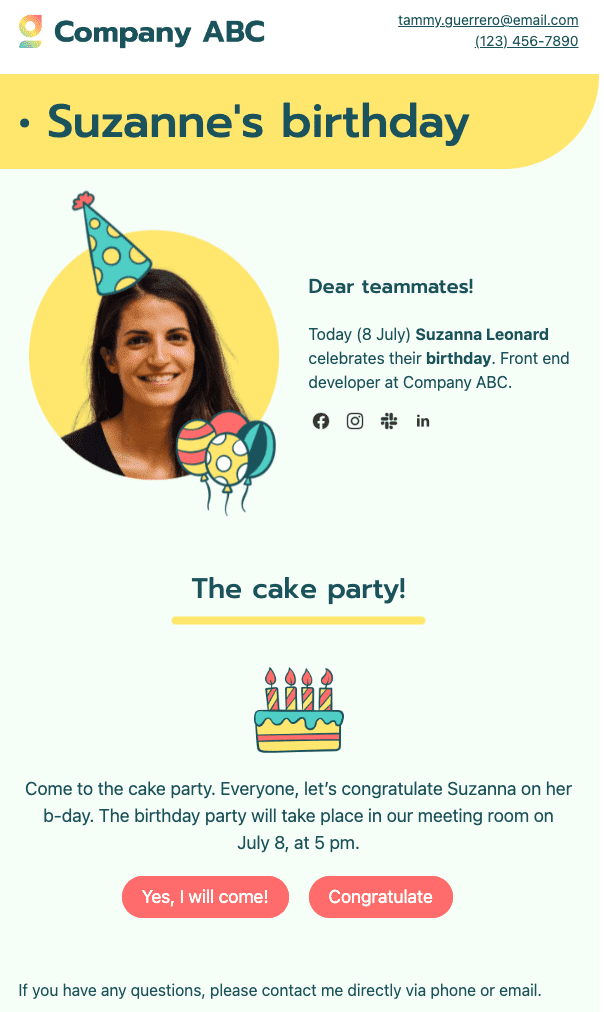 4. Wedding invitation template
When it comes to a wedding invitation, we always want to make it special for our family and friends. This template is doing just great.
It is full of details, but they are not obtrusive at all. There are a few words about a happy couple, CTA to let them know if you're coming, the date and the venue, and nice pictures to showcase the general mood.

5. Halloween invitation template
Different holidays take place every now and then, and it's a good reason to get in touch with your audience. You can use the opportunity and send something creative for your email marketing campaign, just like this template.
You see the colorful picture and the brief invitation to a Halloween party here. And there's only one action the recipients have to take — click the CTA button and register.

Content elements to add to your email invitation
Judging by the examples we have seen, we can conclude that the template's content for email invitations completely depends on the event type you are organizing.
But all of your invitation emails should include:
Exact time and date of the event
The main task of any invitation email template is to let people know all the essential event details. Date and time are a must for a good invitation.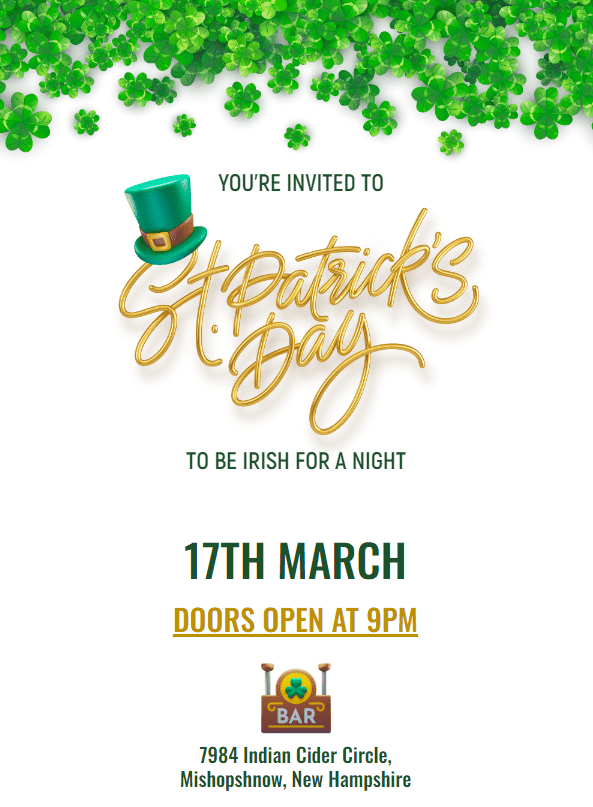 You can also mention a weekday to make it easier for the attendees to plan the schedule. And don't forget to specify the time zone if the event is online and supposed to be for a large audience.
A place where the event is about to be held
If you're hosting an offline event, you need to include the location in your message. Mention the name and the exact address of the venue.
If the event is going to be online, there also can be some important details. For example, you should name the platform where it is supposed to be. And provide additional instructions for those who might not have used it before.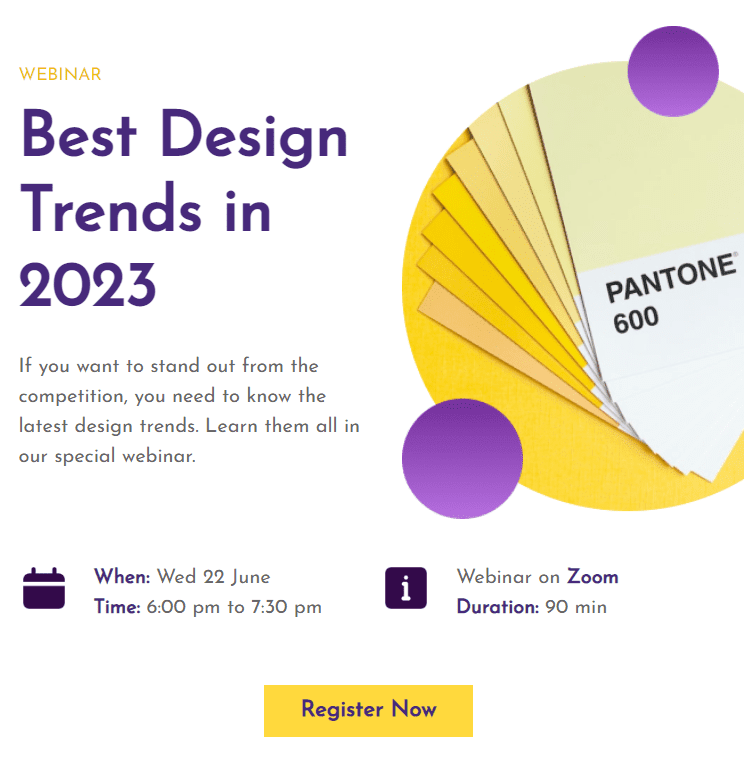 Map, in case you organize an offline meeting/party/conference
Send a map with directions to make attendees more comfortable while searching for the location. Therefore, an email recipient won't need to google the location and can find it without leaving the inbox.
Speakers' names, if there are any
It is important to mention the names of invited speakers and say a few words about their background. It may help people who are hesitating about your event to make a positive decision.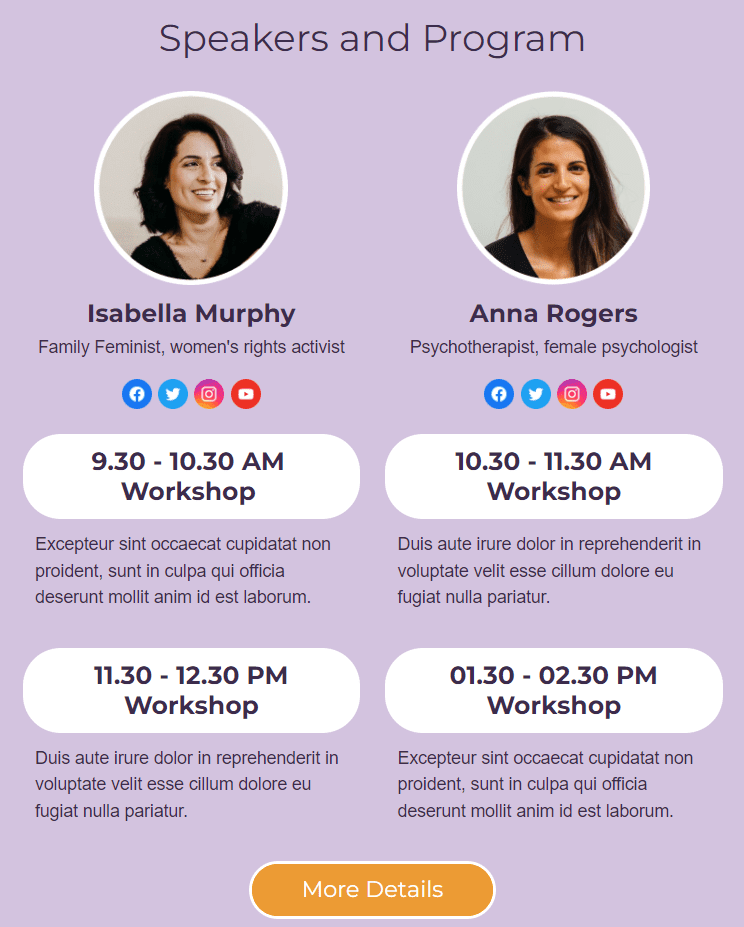 Also, it can be a good occasion to invite some of their friends, and you will get more attendees without marketing efforts.
Please notify your guests beforehand if there are any special requirements on the dress code, like a theme party. Mention any desirable details on the style or color (for example, if we're talking about the wedding invitation email, it might be crucial).
However, if there is no specific dress code and it's not obvious from the descriptive copy, you should include this information in your email invitation template.
The email invitation template should also contain the event agenda so people can see all your advantages. Ensure all the activities sound engaging and draw your audience's attention.
If you're being creative enough, you can also attract the media's attention to your event.
You can attach a countdown timer to your message to stand out from other event invitation email templates. Using Stripo, it's easy to create a template from scratch or choose one of the prebuilt ones and help your subscribers attend an important event, such as a product launch or wedding.
Types of invitation email templates:
We can divide email invitations into nine types:
email invitation for an event;

new user invitation email template;

meeting invitation;

interview invitation email;

email template for conference invitations;

wedding invitation emails;

party invitation email.
Note: invitation template should include just one Call-To-Action button that says either "Yes, I'm in" or "Reserve my seat."
At the same time, event reminder emails should comprise two buttons "Yes, I'm in" and "No, I'm out."
Email design tips for your successful email invitation template
No matter how serious your event is, it requires eye-catching visuals. We recommend some email marketing ideas to make an invitation template more appealing using visual elements.
Here are the Stripo features to brighten up your invitation email template:
If you need to present the place where the event will take place, or you want to include the photos of all the speakers you invited, the best way to do this is to build an AMP carousel.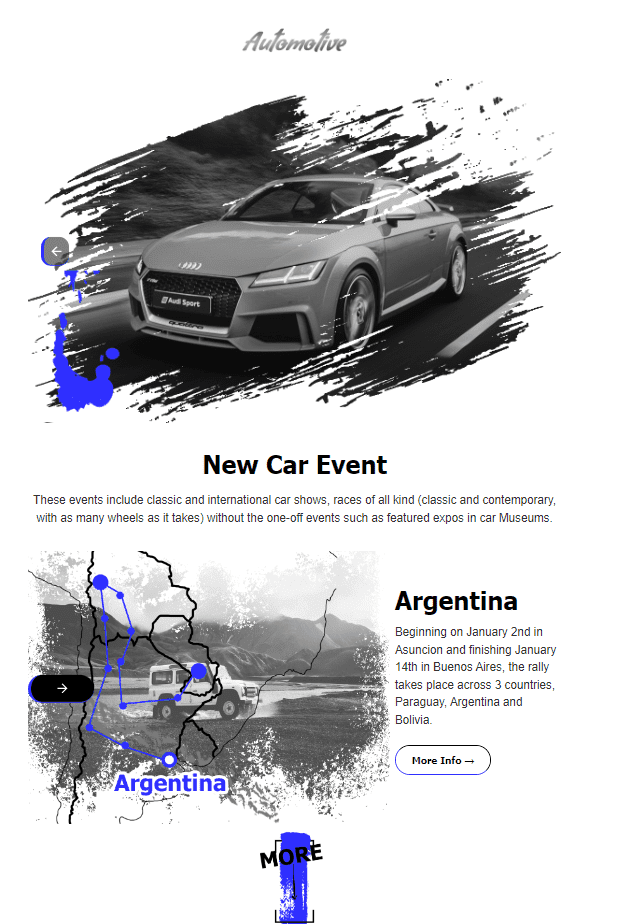 It is easy to build with Stripo and will certainly engage your audience and make your invitation email template look more structured.
When it comes to event invitation email templates, they should be structured and well-organized. Also, if the email template contains loads of information, people can easily miss something important.
AMP accordion is a solution. For example, if you are promoting a few events, hide the details of each event in respective sections of your accordion. And even if you are promoting one single event with many speakers, you may want to hide the details of their reports so attendees open only necessary sections for the details.
If you invite special guests to the event, it would be nice to personalize the invitation template with a video.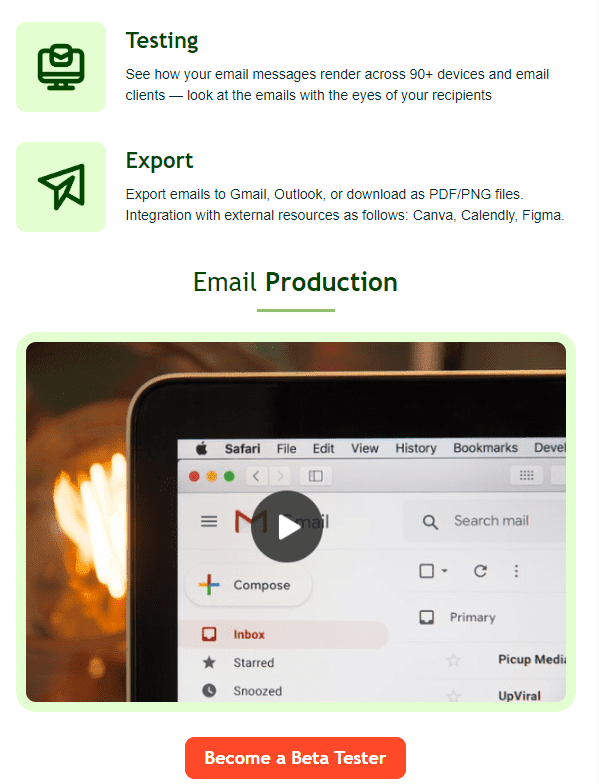 However, videos can be used for various purposes. Namely, you may show the directions to the location, provide more details on the agenda, or even highlight some interesting moments of previous events to evoke the desire to attend your next event.
Invitation email template design tips according to the event type
If you are about to invite a guest to a wedding or graduation party, the email design should be bright and pretty festive. Put a photo of the venue where the event will take place.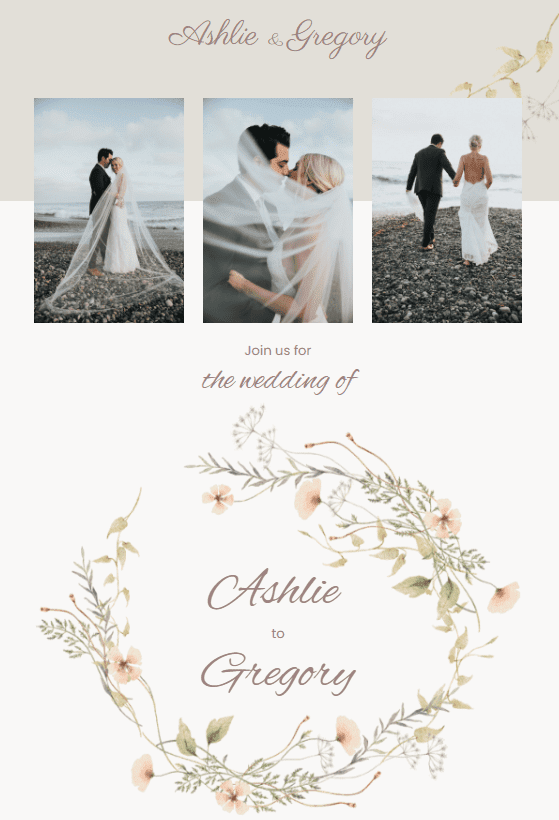 Conference, meeting, webinar
The design should fit the situation if you invite someone to attend a conference or webinar. You don't have to add many images or GIFs here; don't forget to include all the necessary information instead.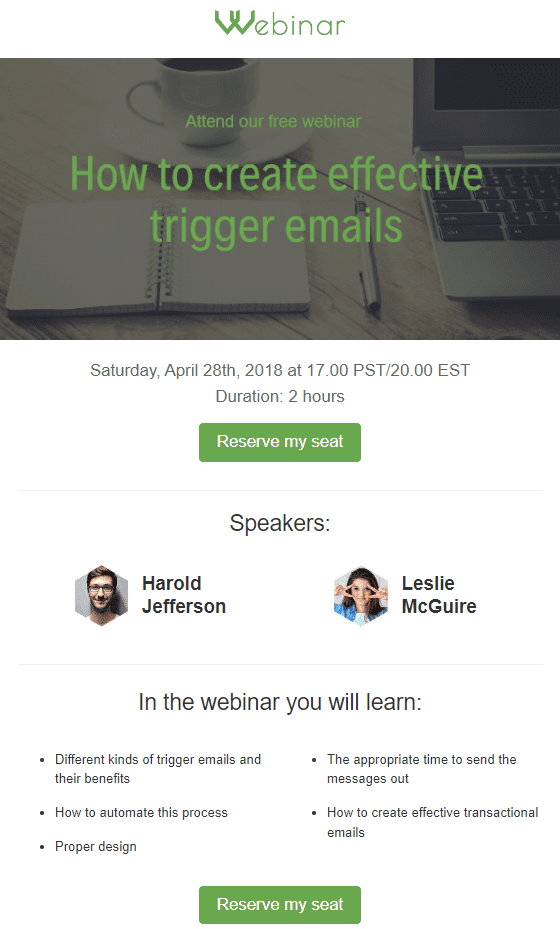 You may also insert or embed a video where you explain in detail why your event will be useful for attendees. And don't forget about the company name.
Feedback and survey invitation
When inviting customers to take a survey, including an image of the products you are talking about would be appropriate.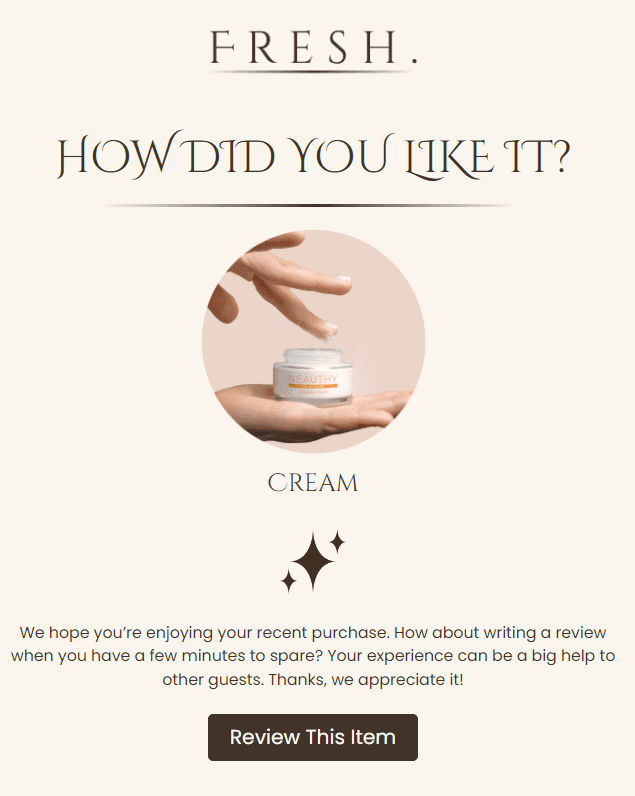 As long as the main idea is to motivate the customers to answer your questions, we strongly recommend you focus on the CTA buttons — "Fill out the form" or "Answer our questions." No superfluous distractive images. And make the messages short. Check this article to create effective survey invitation emails.
Make your invitation emails responsive
Having implemented all the ideas, you need to care about responsive email design. All invitation templates for the email should be mobile-friendly, as many email users read messages on their smartphones and tablets. Stripo email templates are fully-responsive, so it won't cost you any time.
Due to the Stripo content library, all free invitation email templates can be used repeatedly. Slice our templates into blocks, save them to your library, and drag and drop the necessary samples into your emails whenever needed.
Wrapping up
As you can see, good invitations can really make a difference. And it's not that difficult to create a nice email invitation template to invite people to your events.
Now, let's have a quick overview of the best practices:
stick to the event theme;

mention all the essential details, such as date, time, venue, and company name;

describe the event agenda to increase interest;

structure your email with AMP features;

insert visual and interactive elements;

add colorful banners and eye-catching countdown timers to create a sense of urgency;

gather feedback with an embedded survey;

make sure to include a call to action;

keep your emails responsive for convenient use.
We believe that you are perfectly ready for your next campaign. With Stripo, everything will go as smoothly as possible. And we're always here to help, so feel free to contact the team if you need our advice.
Join over 1 000 000 users
Start with free email template builder — upgrade anytime