Do you want your customers to receive personal messages and feel joy and happiness on their special day? Try out new ways to deliver best wishes to your clients on their birthdays.
You may create a sequence of emails: a week or two before Day X, send an email to notify a customer about your value proposition, their special gift. You can also reflect on your previous cooperation and express gratitude for choosing your brand. On a particular day, congratulate the client with the Happy Birthday email template.
For this type of event-triggered email, you can use Stripo Birthday email templates.
What makes us so sure that our templates suit your requirements?
Let's have a look at a few major advantages of using our birthday email templates rather than any other platform.
1. Integration with 75+ ESPs
All our templates are easily exported to any world-famous email service provider. Stripo is not another block drag-and-drop editor; it offers an open HTML/CSS also. This makes our Birthday email templates editable in any ESP.
2. Responsive email templates
Stripo templates are fully responsive and correctly displayed on both mobile and desktop devices. Also, due to our "Hide on mobile" option, you can choose which elements to show and hide on mobile screens without any HTML skills.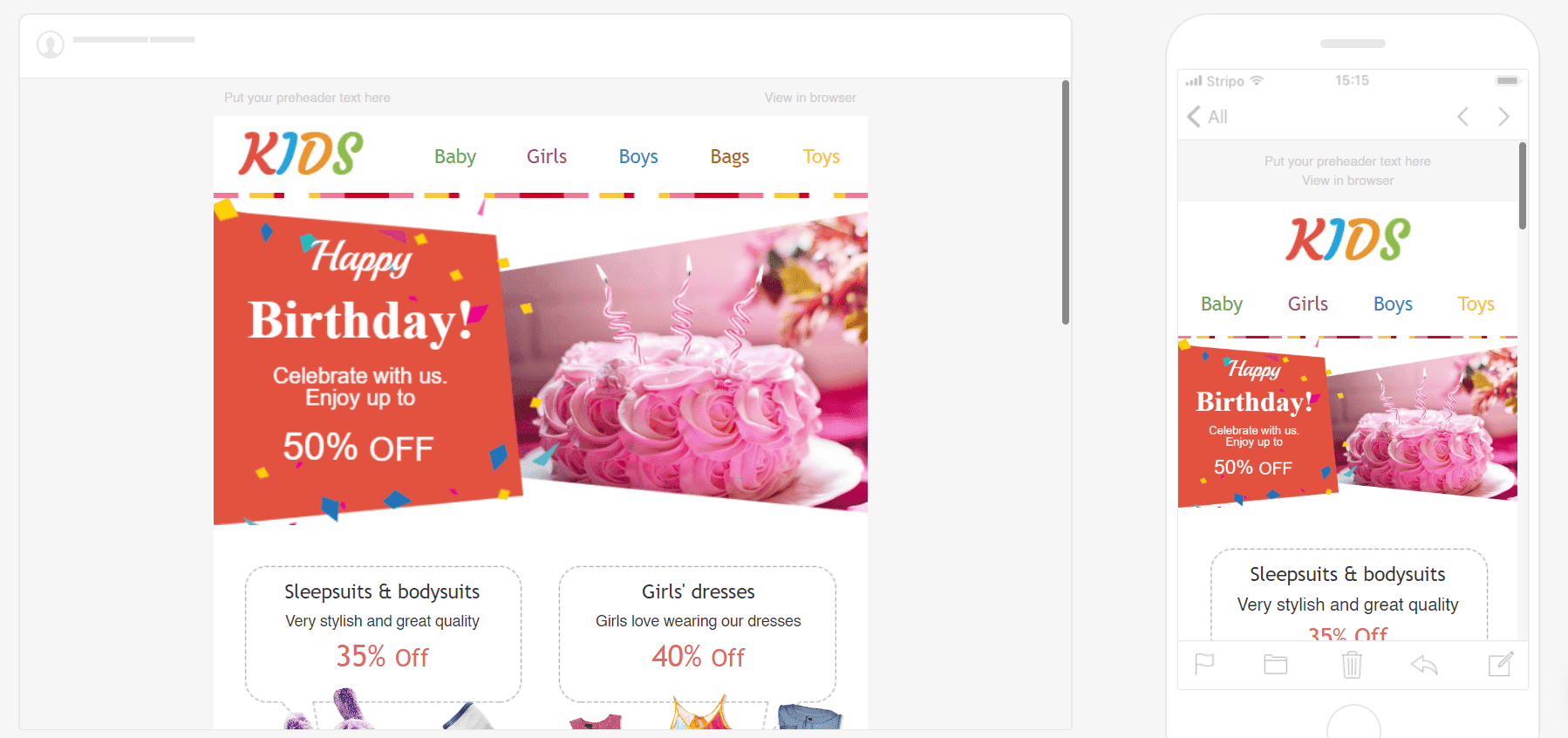 3. Reusable content modules
With Stripo, you may either create separate content modules every now and then or use prepared ones. You can try something out of the 250+ options our designers prepared and customize modules for your purposes.
We respect your time, and that's why we added the option to reuse content modules you created before: feel free to combine and edit whatever you need. Build entire emails just by dragging modules from the library into your template — no coding skills are required.
How to make your birthday emails unforgettable
Businesses tend to underestimate the power of Happy Birthday emails. We are here to provide you with tips that will come in handy when it comes to celebrating personal holidays.
1. Personalize your email
Even though birthday emails are still promotional emails, you should make some effort for the customers.
Start with a nice subject line to catch their attention. Make sure the message is filled with warm wishes. You can also ask your team or at least some of the employees to add some personal touch.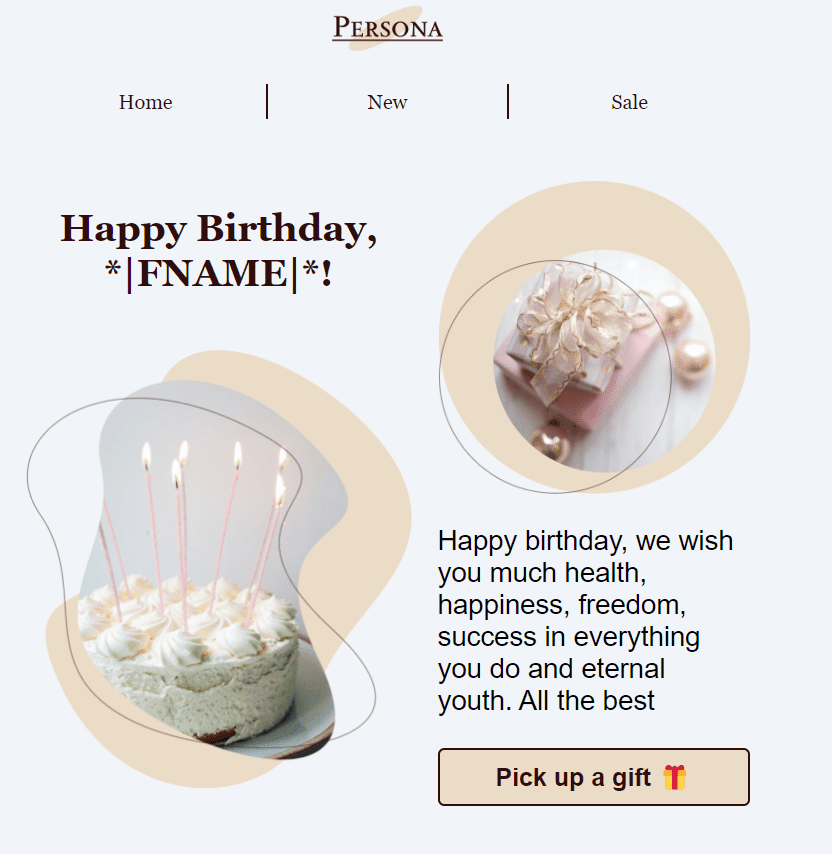 Show the customers you are a friend, not just a business, and it will lead you to success. In this article, you will find more tips on personalizing your emails.
2. Use decorative fonts
Fonts are extremely easy to deliver the message you need. It would be perfect to have some custom fonts matching your brand style. However, we also have loads of options for you to choose from.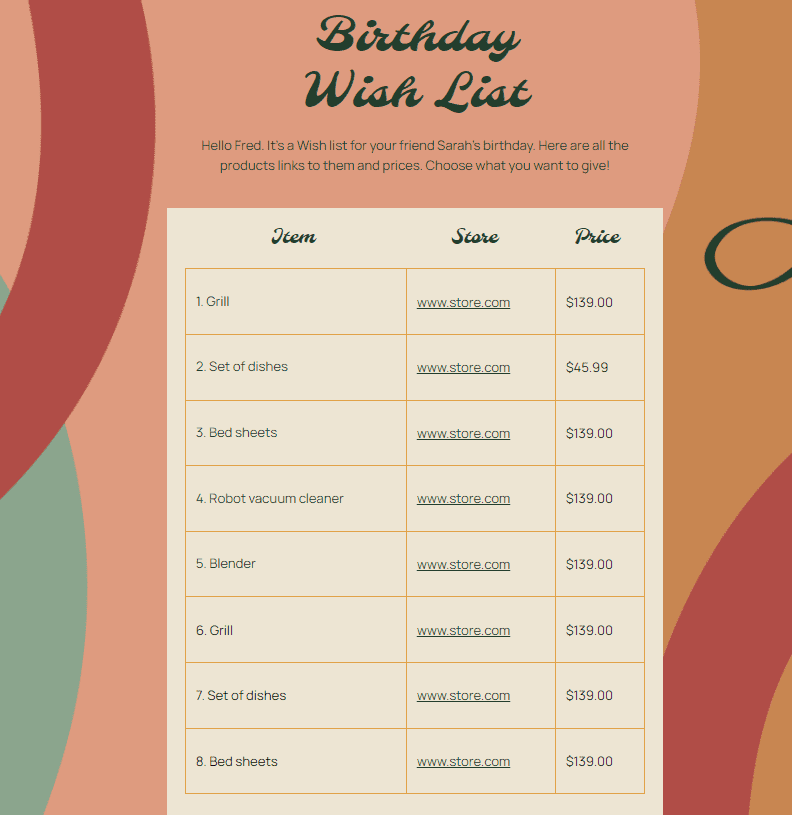 Ensure your birthday email template is not overloaded with various fonts so customers won't miss anything important.
3. Add animated GIFs
There is probably no person in the world who doesn't like animated GIFs, but you need to choose the one that fits the occasion perfectly. You can instantly entertain a subscriber and make their special day even better.
Keep in mind some of the preferences you learned from the interaction with a client. This way, your birthday email template will become more valuable.
4. Offer a personal discount
Although everyone likes discounts, you have to personalize the offer a bit to impress subscribers. This will make them look forward to the great day.
Use Happy Birthday emails to establish closer connections and increase loyalty to your business. For example, if you run a restaurant, invite subscriber's friends and family to celebrate and get free desserts. Or you can provide free fun activities for their children to help them rest.
5. Gamify your email
Do you know what can make your birthday email template really stand out? Gamification!
Most birthday emails provide basic discounts and don't look like well-thought and sincere content. However, if you want to be the preferred brand for your customer, add some fun.
Offer subscribers to complete a funny quest, take a quiz, or scratch a card to get their gift. Have a look at our email templates to get some inspiration or create your own games.
6. Include a clear CTA
If you want to wish a Happy Birthday and achieve the result, you need to send a clear message and call to action. You can even start from a subject line.
The details depend on what you need the customer to do. For instance, they can order something for a celebration, spend the special day at your location, or buy a gift for themselves.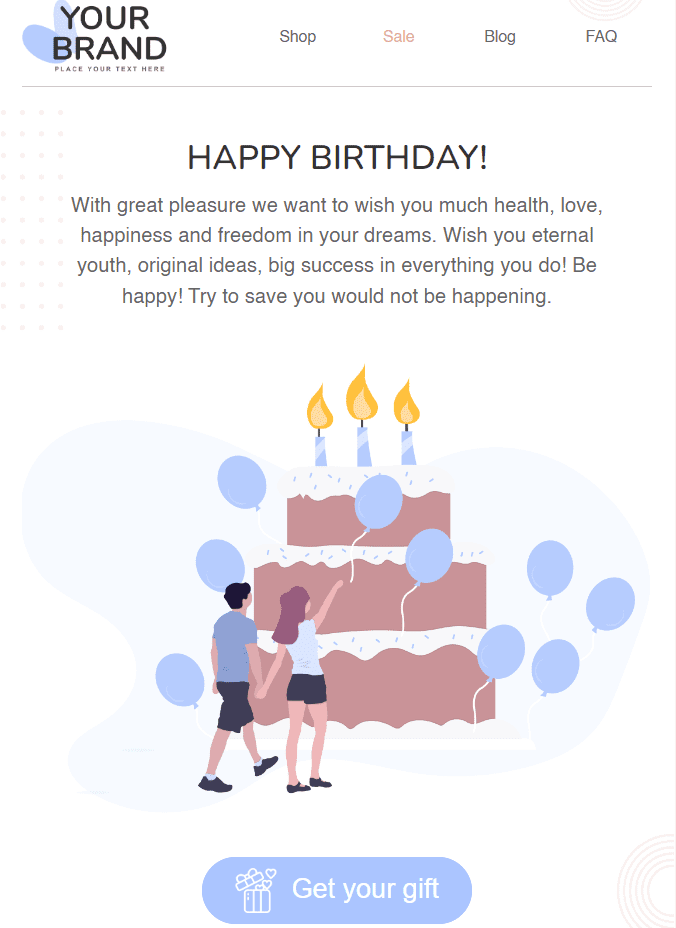 Get inspired by our examples — use Stripo pre-designed templates, and delight your customers!
5 best birthday email templates from Stripo
Of course, we couldn't leave you high and dry without any recommendations, so let's look at the templates you can send immediately.
1. Your statistics
Throwback is a nice way to remind you about your customers' good moments while cooperating with you. Add some warm wishes or offer a discount to celebrate in a new place — and your client will definitely look forward to working with you again!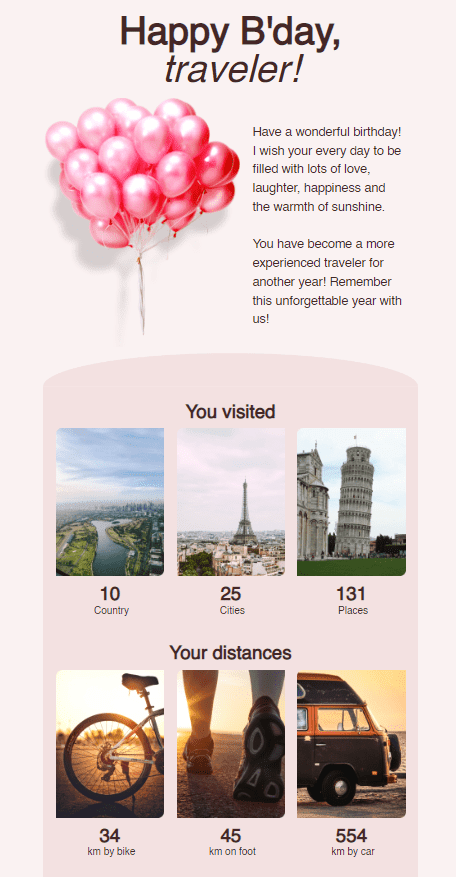 2. Special offer
This is a nice way to show appreciation while giving the freedom to choose whatever the customer wants. Simple, but still useful and satisfying.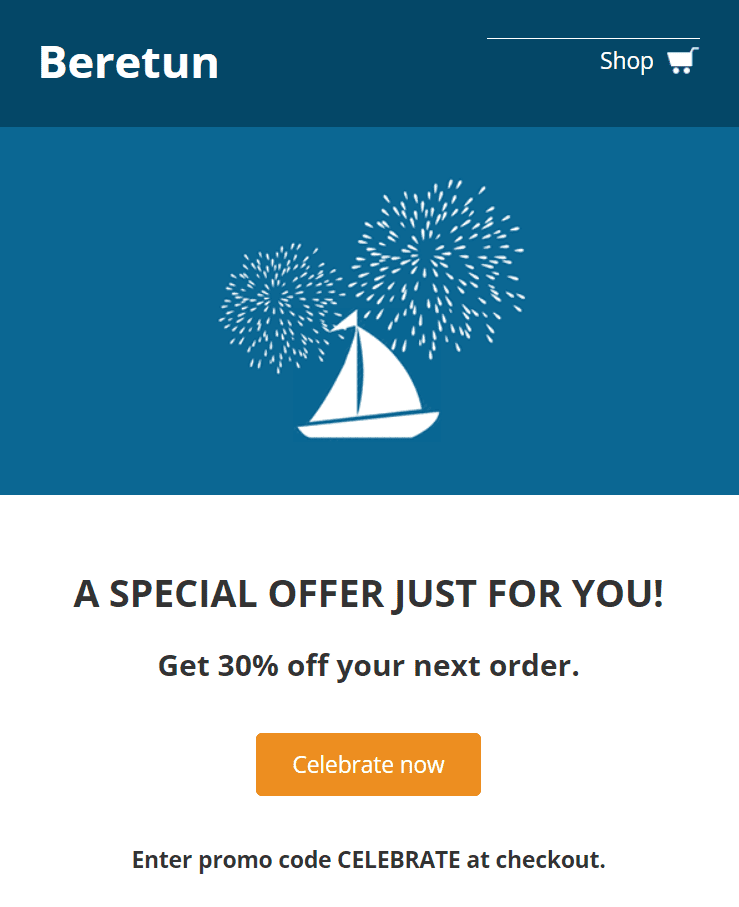 3. Hip hip hooray!
Even though this birthday email doesn't provide any special offers, it helps the client feel appreciated. There's only a signature from the director and a reminder that they can rely on this insurance company. And it makes a difference!
4. Talisman
This template worked perfectly with personalization. You can see suggestions of the month's birthstone that can be a talisman for a customer.
Another thing you can do is to offer a discount for something that the customer has been looking for earlier or something they buy regularly.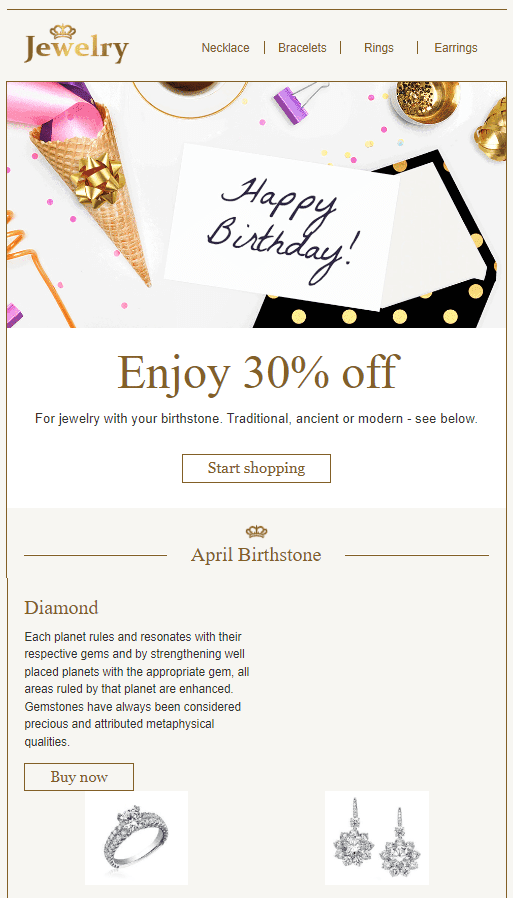 5. Scroll to reveal the gift
Here's the idea of how you can add a gamification element to your birthday email template! And there's no need to use magic (a.k.a. coding skills) to surprise your subscribers on their special day.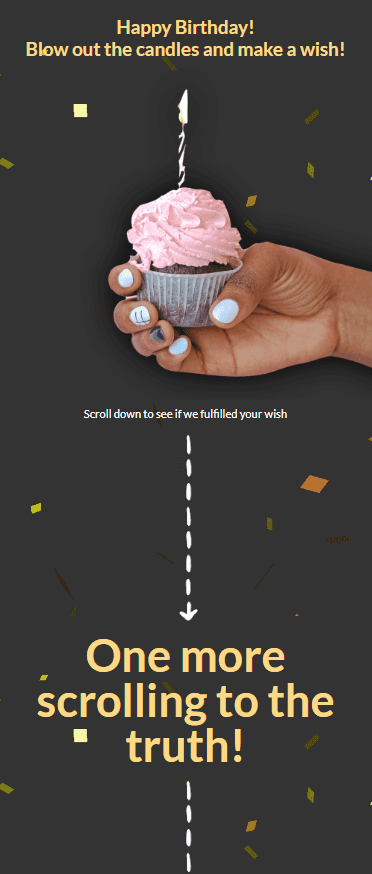 Wrapping up
We hope this article and our templates were useful to generate some new ideas for your future email campaigns. We are always here to help you in any other way needed. See you!
Join over 850K users
Start for free — upgrade anytime