07 September
Email Marketing News of July-August 2022
The summer has come to an end, and these 2 months have been surprisingly calm in the email marketing industry. Apparently, marketers all over the world took vacations to enjoy the last months of summer and recharge their batteries. However, we were able to collect interesting news for you during this period.
Email security should always come first, and DuckDuckGo follows this principle faithfully. Recently, they launched their Email Protection service for anyone who wants to get an '@duck.com' email address.
The Email Protection service created to separate emails from advertising and profiling trackers before they reach the user's regular mailbox. The most interesting thing is that this service can be used home-free in migrating DuckDuckGo email addresses.
Even though these news are not that great for marketers, they need to learn how to live with it and somehow get around it. After all, they need to somehow measure CTR and other vital email metrics.
(Source: DuckDuckGo)
This one is a great real-life example of what can happen if you don't use opt-in.
The digital rights group NOYB filed a complaint with the French data protection authority. The basis of this complaint was the accusation of Google sending promotional emails to users without the actual consent of the users themselves. According to the complaint document, the emails appear to be regular newsletter. However, these emails are advertisements that users never consented to receive. Such an oversight can cost Google a large fine from the French data authority.
Why are we talking about this? So that you always pay attention to whether your subscriber agrees to receive certain emails during registration. Be careful if you do not want to get into such a scandal.
As time goes on, email isstill the leading tool for businesses to attract customers. At least, that's what a recent study by Movable Ink says. The company conducted a survey among ordinary shoppers about what types of information they find useful when shopping. And the results came out like this:
email marketing with promotions or offers — 43%;

email marketing to tell customers about new products or services — 35%;

in-app notifications or reminders about sales or promotions — 27%;

social media posts announcing sales or promotions — 21%;

email marketing to remind customers of products they previously browsed or carted but never purchased—20%;

social media posts announcing new releases of products or services — 19%;

in-app notifications or reminders for customers to repurchase products or services that they've purchased in the past that they could be running low on — 15%.
Besides, Movable Ink paid attention to the winner of the survey and tried to find out in more detail at what exact moment customer journey emails are most useful. And the statistics show the following:
the initial research phase — 24%;

the final decision phase —19%;

after primary contact (visiting the website) — 19%;

after purchasing and continued engagement (similar products or services, emails, and so on) — 13%.
The study is extremely interesting, and we advise you to read it at the link above. Besides that, you can check our email marketing guide for ecommerce to learn more valuable information about making exceptional email marketing campaigns.
The timing of when you send your emails is important as it affects open rates and other email marketing metrics. So you just need to know when is the best time to send newsletters, and Hubspot is here to help.
Recently, they released a new study to the public about the best time to send emails. They surveyed B2C and B2B marketers, and results show the following:
6AM-9AM — 11.3%;

9AM-12PM — 34.9%;

12PM-3PM — 27.6%;

3PM-6PM — 18.3%;

6PM-9PM — 6.6%;

9PM-12AM — 1.3%;
In addition, HubSpot also found out about the most suitable day to send emails, and three days took the lead:
Monday — 22.6%;

Tuesday — 24.9%;

Wednesday — 21.3%;
This research is beneficial, and we advise you to read it in more detail to maximize the effectiveness of your newsletters.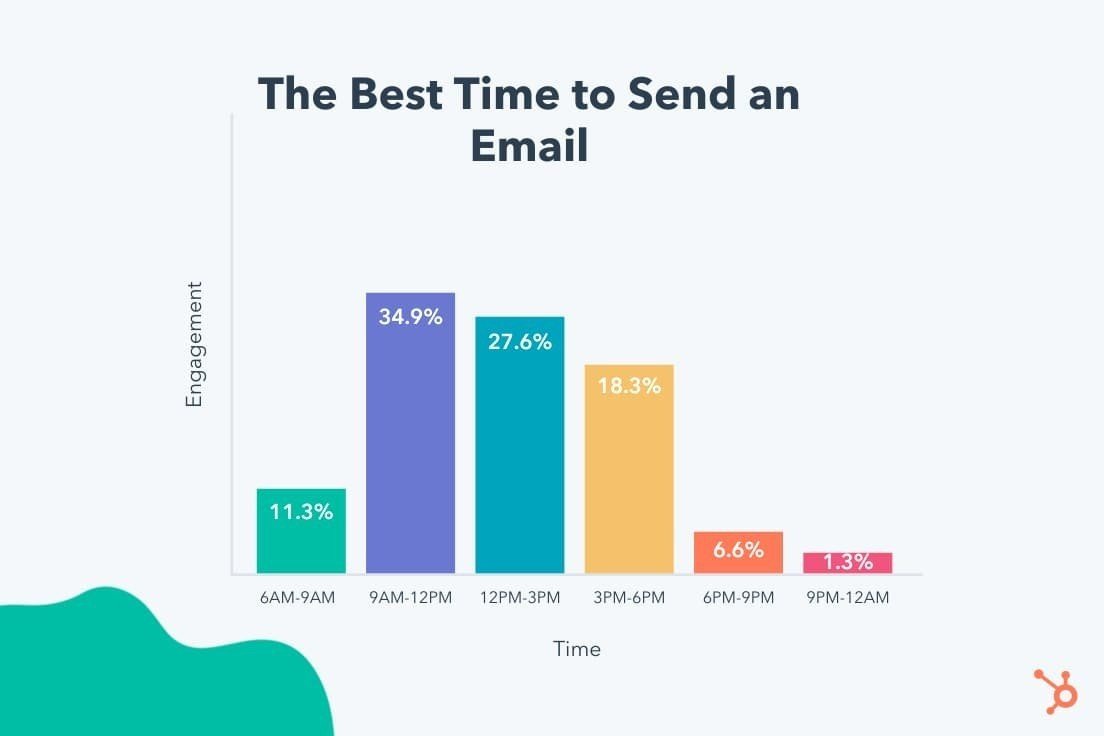 (Source: HubSpot)
If you actively use email marketing in your business, you will most likely come across various email security episodes. At least that's what Abnormal Security claims in its latest report on Email Security Trends.
In this report, you will actually see a pretty scary figure of 92%. That is how many percent of the surveyed companies have encountered various security incidents associated with emails. And that's just in last year.
In addition, businesses told what kind of security incidents they suffered, which formed an interesting top of the most frequent email security threats (on a scale from 1 to 5):
malicious attachments — 3.83;

ransomware (delivered via email) — 3.82;

credential phishing — 3.78;

malicious URLs — 3.73;

business email compromise — 3.63;

supply-chain compromise — 3.59;

spam — 3.41;

graymail — 3.25.
So, after all of the above, 2 conclusions emerge:
businesses need the help of experienced system administrators, to improve the security of mailboxes, install more reliable anti-virus software (against links), and so on. In addition, instructing your practitioners on the subject of Internet security is a must have;

it is necessary to strengthen the security of the data that customers provide to you.
Wrapping up
These two months were not the most eventful for news. However, autumn is ahead of us - it's time for email marketing of conferences, holidays, and events that will bring us a huge amount of exciting insights, news, and reports. We're looking forward to them, but for now, you can prepare for the hot season by upgrading your emails with Stripo.