Affiliate marketing is a must-have term in the glossary of a modern-day marketer. What is affiliate marketing and how can businesses benefit from that — we will cover these questions in this article.
What is affiliate email marketing?
Affiliate marketing is a promotion of other company's products. When someone makes a purchase through an affiliate link, the one who shared this link earns a certain fee. The affiliates help sell a product, and the selling company rewards them. So the definition of affiliate marketer may be "a person who promotes other brands' products or services in exchange for a commission".
It is important to understand the affiliate link meaning to create an effective affiliate marketing strategy for your business. An affiliate link differs from a regular one because it contains a unique identifier of the person who shared it. Not only is the link created to attract targeted traffic to the website, but also to record the source of this traffic. One of the most effective tools for affiliate marketing is email campaigns. This involves promoting affiliate links through highly targeted emails.
The best thing about affiliate marketing is that it helps scale your business. With affiliate marketing, different people and businesses will have a strong motivation to promote your products effectively and provide you with a constant flow of leads.
How affiliate marketing works
A business creates for the affiliate marketer a special link that can be used to track who exactly caused a particular action on a website. When someone clicks on this link, it makes a cookie file stored on their gadget. This cookie helps the business match the website action with the affiliate marketer, making it possible for this marketer to get paid per lead, per sale, or even just per click.
Payment models in affiliate marketing
The most common payment models used by businesses are:
CPS (Cost Per Sale) — an affiliate receives a fixed payment per sale or a percentage of the cost of a product;

CPL (Cost Per Lead) — an affiliate receives payment for each confirmed, processed lead (a user who showed interest or responded in any way to advertising);

CPC (Cost Per Click) — an affiliate gets paid for driving traffic to the seller's website using advertising clicks;

CPA (Cost Per Action) — an affiliate gets paid if a referral user completes the actions planned by the advertiser, for example, filling out a form or a survey.
Types of affiliate marketing
Here are the types of affiliate marketing you can consider for your business:
Partner networks — an aggregator website where businesses and affiliate marketers can register for cooperation. A business gives the task and payment terms: for example, to place a link to the product on a website, and the marketer's commission will be calculated by the number of clicks on it.

Loyalty program with bonuses from partners — when you or your partner business give the loyal customers bonuses for spending it on each other's services. This is often used in banking products. For example, when bank customers buy a premium account they get the possibility to collect bonus points and spend them on buying products of the bank's partners.

Info support — mutual distribution of partner businesses content. For example, you can negotiate with some social media communities to exchange posts with affiliate links.

Collaborative business content — cases, expert articles, and videos created about and by partner businesses.

Collaboration with content creators — when businesses contact independent creators or bloggers and propose them to become affiliate marketers and get profit. You can have dozens or even hundreds of Instagram, Twitter, or Facebook affiliates who are permanently bringing you leads and sales through communication with their loyal communities.
Compared to other channels, affiliate marketing has a higher ROI (return on investment) because it is focused on performance. The sellers pay only for real customers, not just visits.
Because of this, when you pay several partners for one transaction, confusion can arise. You may even run into a situation where some affiliates will demand a commission for clients recruited by other affiliates at the last minute.
A good affiliate program uses multi-channel attribution to ensure that the affiliates who have contributed the most to conversions get the most paid.
Affiliate program examples
SMS affiliate program example
BulkGate, a multichannel messaging platform for business communication, offers two different types of SMS affiliate marketing programs — Affiliate Partner and Business Partner.
As affiliate partners, marketers install BulkGate's products and solutions to their clients, or bring new users to BulkGate via an affiliate link. The marketers earn a 5% commission of the message pricing for every message their clients send.
As business partners, marketers build their products such modules or plugins which use BulkGate for sending messages. These marketers earn a 20% commission of the message profit for every message sent through their product.
Email marketing affiliate program example
Stripo, an email design platform, offers its customers to promote the platform and earn a lifetime commission for every paid account they bring to Stripo.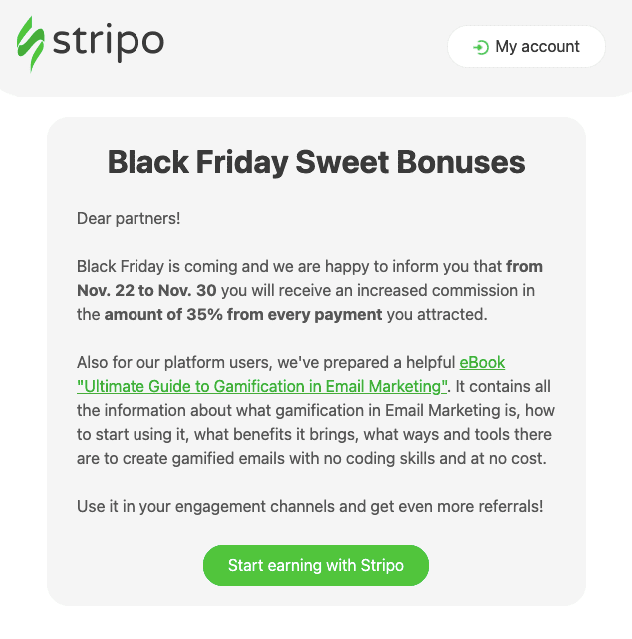 That's a brilliant way to encourage numerous active email content creators to engage in the email marketing affiliate program. The affiliates in this program earn a 25% commission off every payment their referrals make.
Moreover, the target audience of the Stripo affiliate program is not only the most active users but also:
content Publishers — they are encouraged to create content on their platforms using their affiliate links;

speakers — are encouraged to mention Stripo at events and in communities;

agencies — are encouraged to recommend Stripo to their clients.
These programs are highly beneficial both for marketers and for businesses. The marketers get lifetime revenue, and the businesses get a constant lead flow.
Other terms