Affiliate marketing is, on the one hand, a popular way for companies to attract new customers and, on the other hand, a good source of passive income stream for affiliate partners.
If you are just starting your journey as an affiliate marketer and want to figure out whether you should connect a communication channel such as email, as you need to work out how to contact an affiliate program and distribution service, which you should use when preparing an email, this article is for you.
What is affiliate marketing?
In affiliate marketing, companies offer their partners the opportunity to promote their products or services and receive a commission on sales as a reward. To track sales made by partners, a unique affiliate link is used. Most affiliate programs offer recurring commissions ranging from 20% to 40% per referral.
Email, social media, and websites are the most popular channels for promoting affiliate links. Essentially, a partner's task comes down to gathering as many loyal audiences as possible and telling them about the features of the company's products and services, offering to use the service, or buying a product by clicking on an affiliate link.
Affiliate marketing is based on loyalty, trust, and building long-term relationships: partners choose products they like, trust, and recommend to their audience.
Why email is a good idea for affiliate marketing
The following stats indicate the high effectiveness of email marketing:
With affiliate email marketing, you create targeted emails and include promotional links to other products instead of or in addition to promoting your own. The higher the open rate and conversion of your emails you can get as an affiliate marketer, the higher your affiliate income.
The main advantages of using an affiliate email marketing program are:
A warm audience who voluntarily gave you their emails has already shown trust and interest in your opinion — they are ready to receive your emails and interact with the content.
A communication channel that belongs to you. Yes, you can use different email marketing tools, but the email database belongs to you, and the communication strategy is entirely up to you and not to the algorithms of social networks or search engines, so you can achieve constant contact and communicate directly with your target audience.
A channel in which you can conveniently conduct A/B testing, analyze the results, and almost every user step to strengthen each new email.
The ability to set up automated emails for each product and continue to pay more attention to attracting audiences to the channel and adding new products.
How to start affiliate email marketing
To successfully start affiliate email marketing, you must have your niche, an engaged audience that trusts you, convenient email marketer tools, and reliable, profitable affiliate email marketing programs with a product or service in which you are 100% confident.
1. Choose your niche and an affiliate program
Offering affiliate programs of different types to your subscribers is not the best strategy. As we already wrote above, people trust you as an expert in some field, so choosing affiliate programs from the same niche is better.
For example, research and advise your subscribers on the best email marketing tools if you are an email marketing consultant. If you suddenly decide to offer them kitchen utensils from Amazon, it is unlikely to resonate, and their trust in you will decline.
For example, if you want to become an affiliate marketer in email marketing, pay attention to such affiliate programs.
What are the right affiliate links for email marketing:
A profitable product — carefully study how much the reward will be, how often payments are made, and what the threshold for payments is so that your affiliate efforts in selling the product really pay off.
Evergreen affiliate program — choosing permanent programs as the basis of your affiliate marketing will allow you to automate your email campaigns as much as possible — because the product will always be up-to-date. Sometimes, you will be able to add emails with promotional offers.
A program with a good reputation that provides good conversions.
The technical part of the program is informative — information for partners and free promotional materials have been prepared, and there are analytics tools, a dedicated affiliate tracking dashboard, and a good service life of cookies.
2. Choose one of the best email marketing software for affiliate marketers
Choosing the right email marketing software is an important task at the start. One of the key powerful email marketing tools is an email service provider, which allows you to collect a list of contacts and conveniently send them emails with affiliate links.
There are many popular email service providers, but the main criterion for affiliate marketing is an ESP that allows affiliate links. For example, Constant Contact does not allow affiliate links. MailChimp, on the other hand, allows affiliate links but not affiliate marketing. ConvertKit, AWeber, GetResponse, Brevo, and Drip also do not allow affiliate links.
Additional selection criteria may include:
whether programming skills are required or not to use the tool;
does it additionally provide pop-up service, creation of landing pages, and other lead generation tools;
how convenient is the list management system? For affiliate marketing, the ability to flexibly segment and clean lists is important so as not to send mailings to those who refuse or do not read them;
is your email automation designed to be partner-friendly, allowing you to create behavior-based conditions and triggers to respond to what your subscribers are doing?
software costs that should fit into your budget.
3. Build an email list for affiliate marketing
To make affiliate marketing viable, you need large email lists. And this is something you will have to work hard at, building your reputation and preparing valuable content for your subscribers.
Contact lists are a long-term investment that will help you grow your business. If you approach this from a long-term investment perspective, it will naturally result in your list having value. People aren't clickbait. They signed up for your list because they expected something valuable from it. And they will only stay here when you meet those expectations.
4. Establish trust and credibility in affiliate email communications
The core of your affiliate marketing strategy should be reader value and authenticity. This is the most crucial factor for success because subscribers will continue to open emails only if they are interested in the information you send. Accordingly, your focus should be on offering valuable content, not just sponsored links.
Use various media types for your email content, including video, podcasts, images, and audio. Compelling stories from your life, sometimes facts and figures, and even stories about mistakes, work well for communication.
How to launch successful affiliate email marketing campaigns
So you've chosen a niche, an email marketing affiliate program, or an email marketing platform, and you're convinced that including affiliate links in your email marketing is a good idea that will allow you to grow.
Now it's time to launch your campaign.
Include affiliate links in your email sequence
You can use affiliate links in two ways:
Incorporate links into your existing email sequence with high click-through rates by changing parts of the emails and adding useful affiliate links. This will increase the natural traffic your content generates to your affiliate links.
Create a new affiliate marketing email sequence and affiliate email marketing campaign for each new affiliate product to attract new audiences and not overload your successful emails with affiliate links.
Use email triggers
Use trigger emails to send affiliate emails to your subscribers based on their responses to your content. Start with emails to welcome your subscribers and continue supporting them to help them get all the benefits of your affiliate products.
Additionally, email triggers help motivate positive behavior or send essential updates. This makes communication more accessible because you don't have to think about the communication process or maintain constant contact while converting your audience.
Benefit from audience segmentation
If, at the start, you choose a platform that allows you to segment your target audience, this function will help you prepare targeted email campaigns for each segment. This means that once you categorize your email list based on behavior, preferences, and the product you're promoting, you'll tailor a more tailored message to each of them.
Thanks to this, your valuable content will reach the right buyer at the best time, or you can remind additional people who were already interested in the product about an upcoming partner promotion. Audience segmentation allows you to improve open and conversion rates.
Personalize your emails
Email personalization increases engagement — you show your customers that you are making them stand out personally. Therefore, use these basic personalization methods:
personalized subject lines, starting with adding the recipient's name;
your personal email address instead of a business account;
personalized email content for different audience segments;
testing of the effectiveness of email subject lines to optimize affiliate efforts.
Leverage holiday campaigns
Create separate seasonal campaigns to use the holidays to get creative with your emails and offers, as customers are already looking for promotions. When creating a holiday campaign, the most important thing is to keep your email recipients manageable, as this can increase the likelihood of them unsubscribing.
Work on your affiliate marketing email copy
If you use all of our tips on audience segmentation and personalization and remember to be sincere and give subscribers value first, the answer to how to write an email for affiliate marketing will be apparent to you.
Remember that the primary goal of affiliate emails is to get the reader interested in the sales page or webinar. This means selling a click. To do this, write an email to attract attention and generate interest, and your partner will sell the product on their page. Your job is to make them want to know more.
Keep your voice in all emails with valuable content and in blocks with affiliate links so that your email campaigns are always different from others.
Use best practices for engaging email design
When it comes to affiliate marketing email templates, design plays a crucial role in capturing the attention of your subscribers and encouraging them to take action. To make your emails visually attractive and spend less time on them, use the Stripo editor and 1400 email templates developed by our designers.
Here are some essential tips:
use enough white space, organize content logically, and ensure essential elements are easily seen;
choose colors that match your brand and evoke the desired emotions in your audience;
choose high-quality and relevant images;
use legible fonts that match your brand's style and tone;
include a compelling and visually appealing call to action (CTA) as a hyperlinked button;
remember mobile optimization.
Use automated emails
Email marketing automation allows you to send bulk emails to scale your communications and save time. These could be automatic confirmation emails sent after a customer subscribes to your newsletter or makes a purchase or trigger emails based on user actions we wrote about.
It could also be email sequences specifically designed for each lead magnet with its affiliate offers. Use this tool as another touchpoint to solve your audience's problems, whether you include affiliate links in those emails or not.
Track your affiliate marketing campaign
Make sure the analytics and reporting tools on the platform align with the goals you have set for your affiliate email marketing. Track where your subscribers come from, note what links they click and other actions they take, and keep iterating on your campaigns to ensure you're sending the right message to the right person.
Affiliate email marketing campaign examples
Here we collect some affiliate email marketing campaign examples from different spheres to inspire you.
AppSumo collects apps they have partnerships with on their website and sells them in their email campaigns, which people sign up for to get useful recommendations and keep track of hot offers. Here is one of the campaigns.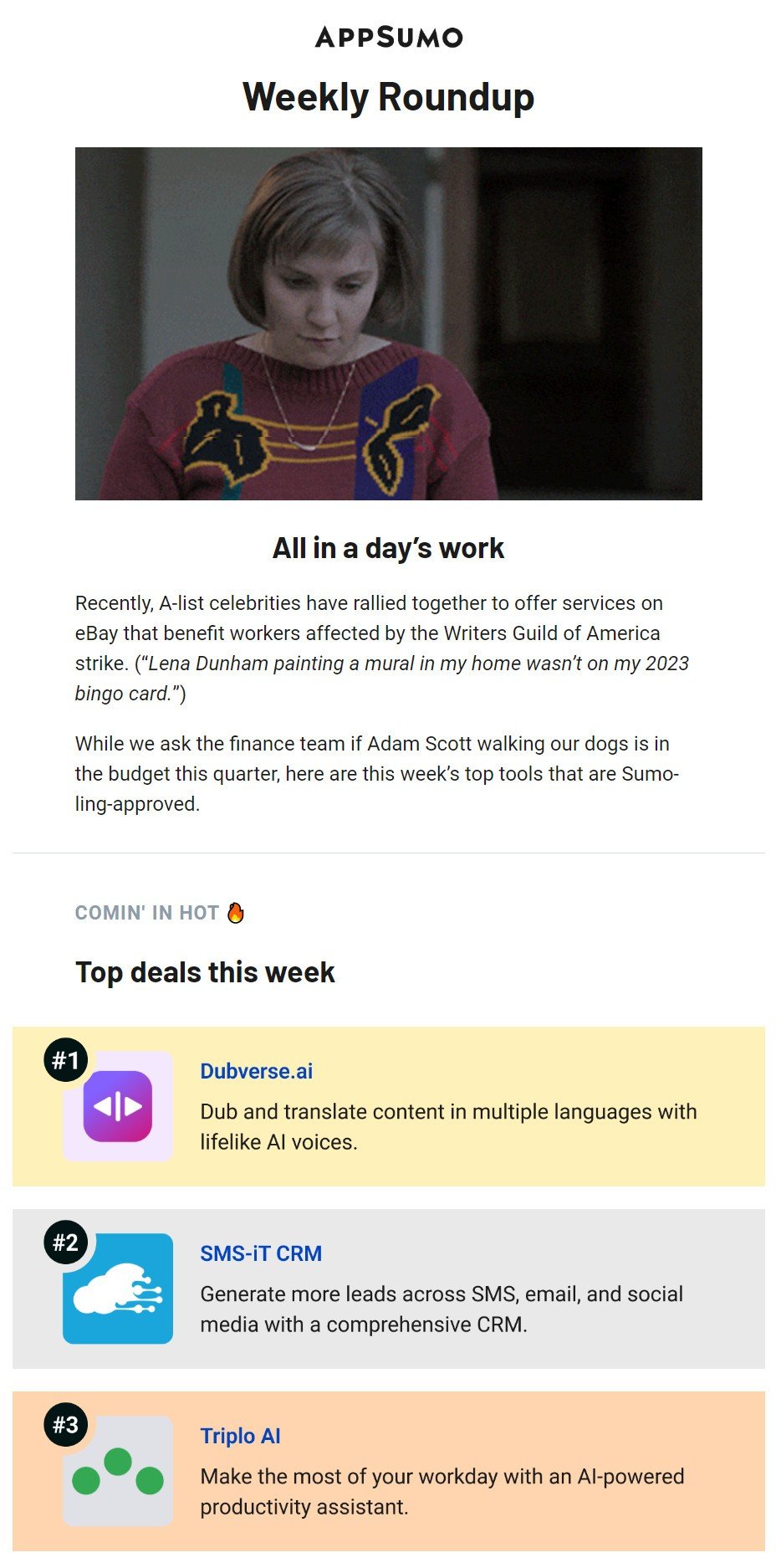 (Source: Email from AppSumo)
I really love reading email copywriting tips from email marketer Chase Dimond. The fact that he adds affiliate links to his newsletters does not change my loyalty at all and does not spoil the impression of the value I receive.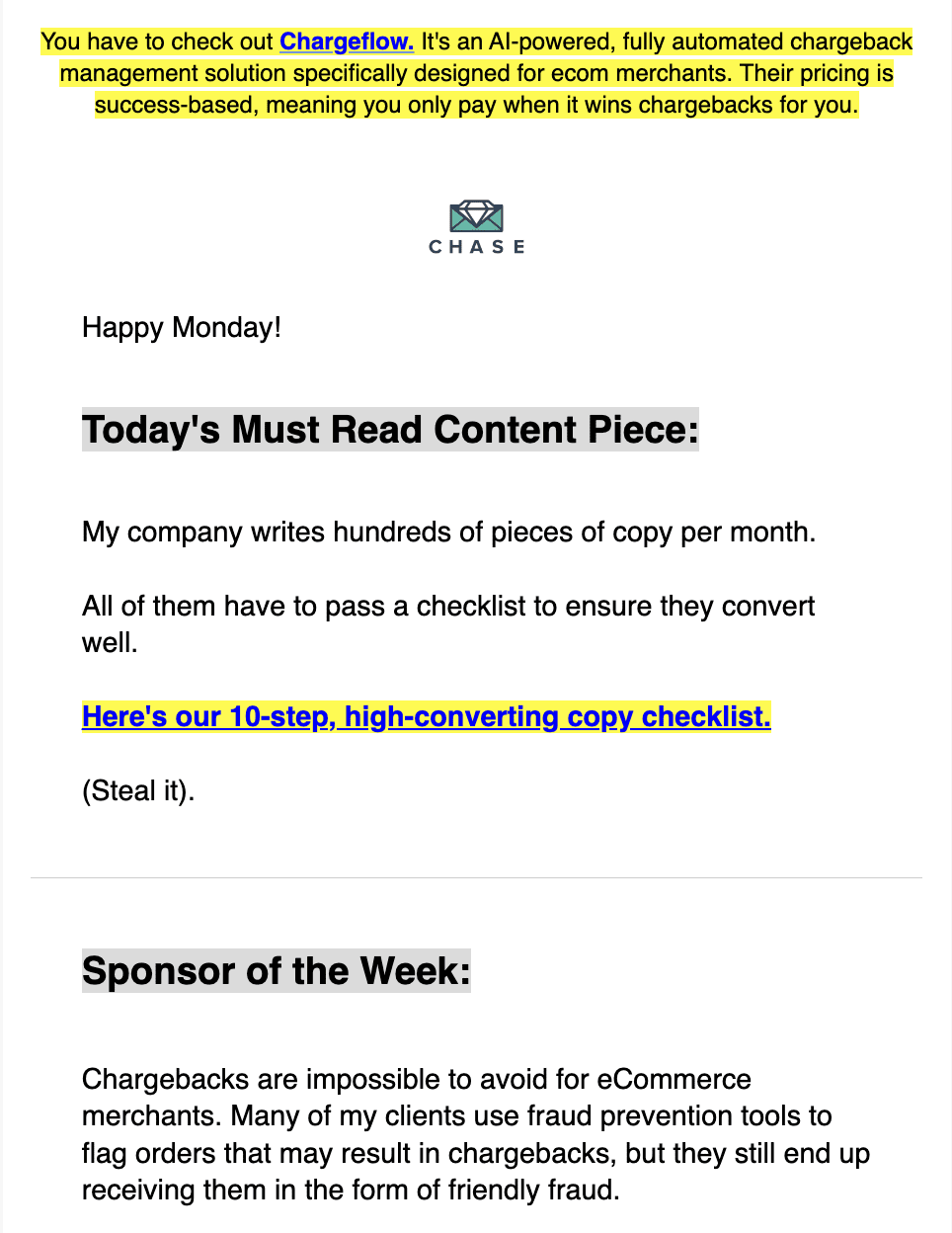 (Source: Email from Chase Dimond)
Founder of eMailMonday email marketer Jordie van Rijn recommends tools and services for email marketers. Because all his recommendations are based on his extensive experience in the industry and backed by facts, and he gives a lot of valuable content, affiliate links feel very natural and friendly.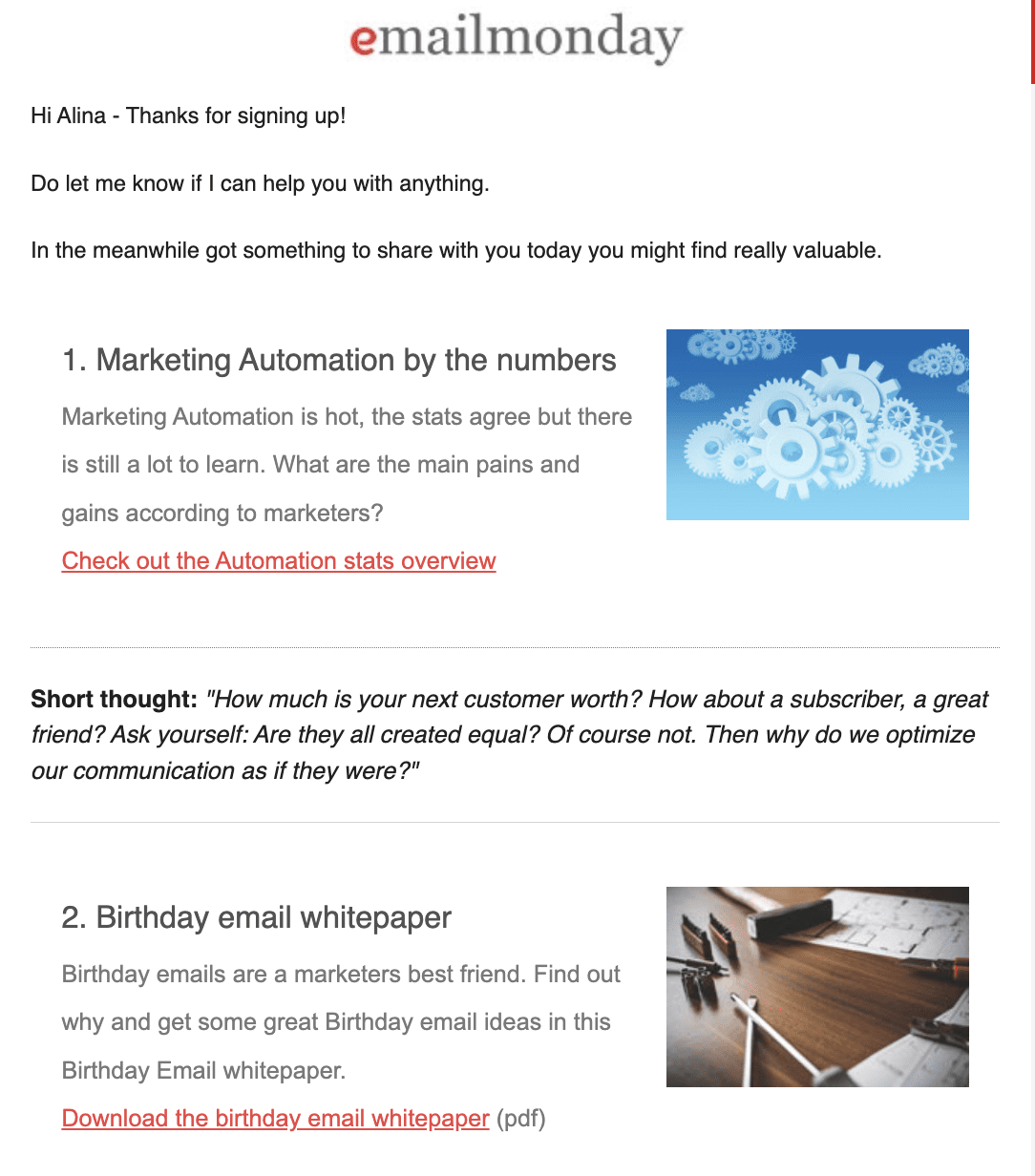 (Source: Email from eMailMonday)
Wrapping up
As you can see, to become a successful affiliate marketer, you need to follow clear steps, and your affiliate marketing efforts will definitely pay off and generate income. Choose email marketing affiliate programs and take action!
Was this article helpful?
Thanks for your feedback!