09 March
Gamification in Email Marketing: 10 Ideas to Use It Effectively
Looking for fresh ideas on how to diversify newsletters for increasing your email engagement?
Email gamification comes to the rescue ;)
Moreover, according to studies and A/B tests conducted by Promodo, gamification can increase your ROI by 300%.
What is gamification in email marketing?
It is the use of game elements in emails.
Why would brands do it? To increase email engagement, to better interact with their target audience, to enliven newsletters, to even improve their brand virality.
Tips on how to use gamification in emails
There are a few things to consider when working on gamification to make it really effective.
1. Prize
Recipients should know what they are fighting for. A discount, free annual subscription, free ticket to your conference, etc.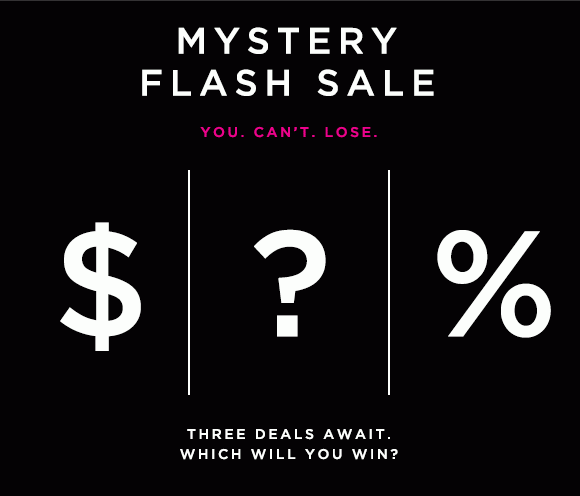 (Source: Pinterest)
If you cannot embed a real gamification element in your email, you can try just a regular GIF — it will also give your users a feeling they are participating and winning.
2. Goal
If you ask users to play, not just pick their personal discount, then make sure your goal is:
clear — don't make them guess why exactly they are participating in the game that you offer;

achievable — in case you use quizzes, recipients are not supposed to have deep knowledge in biology, chemistry, geography. Neither are they supposed to be well aware of your brand story — just fun facts will be enough;

engaging — make users be willing to play games. A little backstory might help.
If recipients are not willing to play, they should be able to SKIP the game.
3. Manual
Always tell recipients how they can achieve a necessary goal.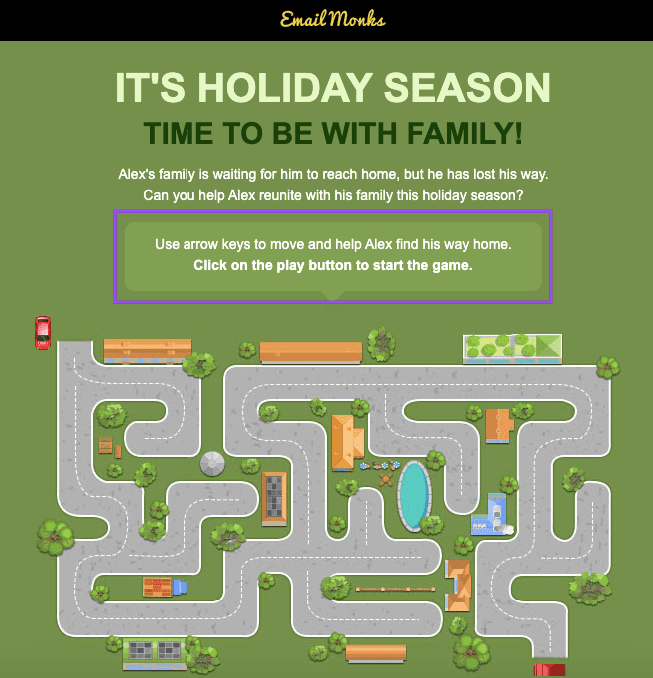 (Source: Newsletter email from EmailMonks)
If users are limited in time, it is important to let them know by showing a small countdown timer that starts the moment when users start playing the game.
4. Progress
The cardinal rule of email gamification is that results should be measurable. Always comment on a user's achievements right away.
If you run a series of emails, you may share correct answers to your quizzes in the following email. By doing this, you'll make recipients anticipate the next email.
5. Strategy
By answering the questions below, you will make your gamification strategy in email marketing really effective:
Will it be a single email or a series of them?

If you prefer a series, then how many emails there'll be in it?

(Source: Newsletter email from Mailegen)
Will you give presents, discounts or will people collect scores?

How will you praise your clients?

What will those users, whose email clients do not support the chosen type of interactivity, see?
6. Fallback
Fallback is necessary if you use real game elements in your emails.

(Source: Newsletter email from EmailMonks)
If you design games by using AMP components — then these game elements will be accessible only to those recipients who open emails in Gmail on Windows, Mac, and Android and also in Mail.ru both on smartphones and desktop devices which make more than 60% of your users btw.
The fallback could be presented by either a web version of your email — but you have to ask users to view the web version of your email — or a respective GIF/image that will encourage users to go to your website for participation.
Important to always test your emails with both a testing tool and by sending your email to multiple email clients and devices that you, your friends and colleagues have.
7. Timing
First of all, we'd like to admit that you do not have to come to gamification in emails often.
Second of all, don't use it on big holidays, like Black Friday, when people anticipate sales, discounts… They have no time to play games.
Unless you are offering them a roulette.
All other games might be considered inappropriate, and your efforts may go down the drain.
Some brands implement gamification ideas in their reactivation email campaigns.
Others — in promo campaigns when there's no international holiday around the corner.
10 examples of gamification in email marketing
Due to some difficulties in the implementation of various gamification ideas in emails that coders and designers face, many companies are afraid to even think of using this type of newsletters.
But we hope the following gamification examples in marketing will prove to you that it's easy to get ahead of the game.
1. ? Ready for some predictions from Stripo? — Stripo
Stripo's got a new talent — the ability to predict the future.
At least, we think so :)
So, we decided to predict our dearest recipients's future in one of our recent emails. We asked users to choose the image they like the most — the very predictions were hidden behind the images.
Of course, nobody expected to hear serious or real predictions from us. But users would click the "pluses" placed over images because they knew we would offer something.
The "pulsing" pluses kind of pointed users where to click.
In addition to "predictions", our email had an embedded AMP form.
Type of gamification elements:
AMP-bind component — that allows tapping certain elements in emails;
AMP form — that allows users to submit feedback directly in an email.
You could use CSS classes and styles to animate these pulsing pluses, but we just used GIFs to make this design email compatible.
Works on:
Gmail desktop — Mac and Windows;

Gmail on Android. To be supported by iOS soon;

Mail.ru — desktop and mobile devices.
Important:
If you like this email, just let us know — we'll be happy to share this template with you.
2. Watch all Aguero's goals, win his shirt & a message from him! — Manchester City Football Club
Who said that grownup men do not like playing games? They do!
Manchester City Football Club knows it for sure, which is why they came to this trick in their promo email.
(Source: Really Good Emails)
They knew that providing recipients with a link to the contest would be boring, and easy for contestants.
So, users had to find the precious "Enter to win" button.
Type of gamification elements:
Hover effect — CSS.
Works on:
Gmail on Mac and Windows;

Apple devices;

Outlook for Mac;

Windows Mail;

Yahoo Mail;

AOL Mail.
Important:
If you are afraid of working with HTML and CSS, then you could also implement this gamification idea by using our rollover effect which works on the most popular desktop devices. You would have just to slice your image into 12 pieces. And upload each as a separate image. Then apply the rollover effect to each of the images.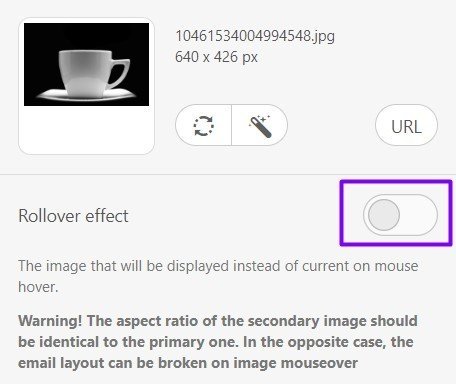 That's it.
3. Are you afraid of the dark? ? — Litmus
It is very hard to impossible to "beat" Litmus's new option announcement email.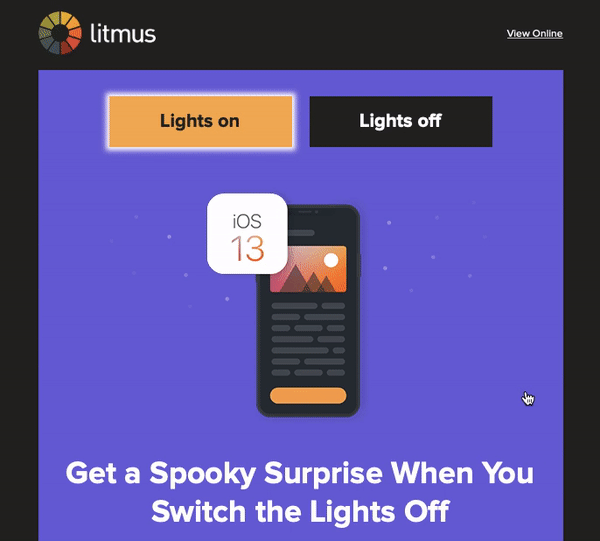 (Source: Newsletter email from Litmus)
With this spectacular email, they notified its users that now they can test/preview their emails on iOS13 dark mode.
Type of gamification elements:
Checkbox (checked pseudoclass) — CSS.
Works on:
Apple devices;

Outlook for Mac;

Windows Mail;

Yahoo Mail;

AOL Mail.
4. 14 PowerPoint Presentation Tips to Make More Creative Slideshows [+ Templates] — Clifford, HubSpot Marketing Blog
Most people love puzzles, riddles, quizzes.
I'm sure you're not an exception.
Must confess, I was anticipating HusSpot's emails for these quizzes.
Like we said above, quizzes should not require deep knowledge in any industry, or any science.
HubSpot did not give any prizes to those users who gave correct answers. But the fun of this particular gamification in marketing was that you would always know whether you guessed/knew the right answer.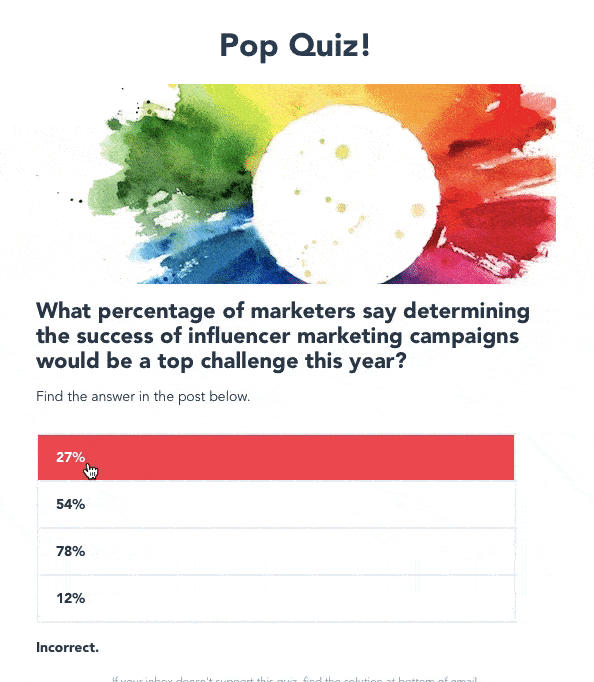 (Source: Newsletter email from HubSpot)
Type of gamification elements:
Text overflow — CSS.
Works on:
Gmail desktop and mobile devices;

Apple devices;

Outlook 2000-2003;

Outlook for Mac;

Outlook.com;

AOL Mail.
5. Here's a gift just for you… — 1973
When it comes to greeting cards on big holidays — there's no need to give real gifts, coupons. But a true wish will make your recipients' day.
Don't hesitate to implement your brave gamification ideas for emails during the Holiday season.
Users are so likely to love them.
(Source: Really Good Emails)
Type of gamification elements:
Checkbox (checked pseudoclass) — CSS.
Works on:
Apple devices;

Outlook for Mac;

Windows Mail;

Yahoo Mail;

AOL Mail.
6. Discover more with the BBC — BBC
Of course, BBC could have announced its series of programs about animals by just listing the animals they were going to show on their program.
But it would not build this excitement and anticipation among readers.
BBC tells its subscribers, per their click on a certain animal, what part of the animal's life they are going to talk about.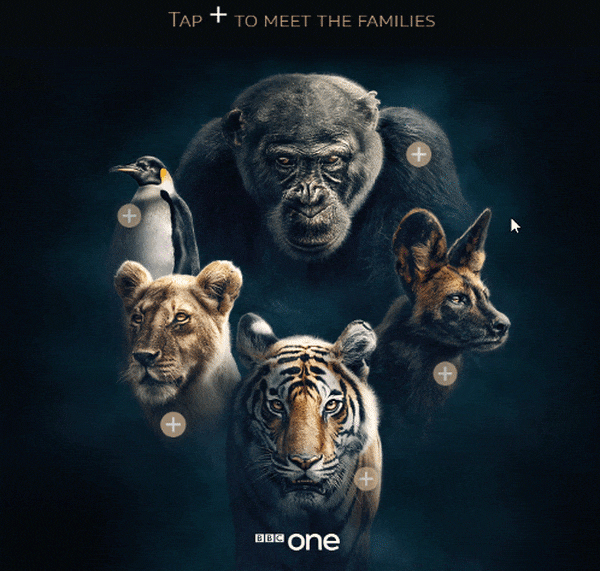 (Source: Really Good Emails)
Type of gamification elements:
Checkbox (checked pseudoclass) — CSS.
Works on:
Apple devices;

Outlook for Mac;

Windows Mail;

Yahoo Mail;

AOL Mail.
7. Guess where we're going — Tom Raffield
Tom Raffield and his creative team puzzled their users with the question "Guess where we're going".
Instead of regular riddles and quizzes, they came to the rollover effect — users had to place a mouse pointer over every image to find some helpful hints.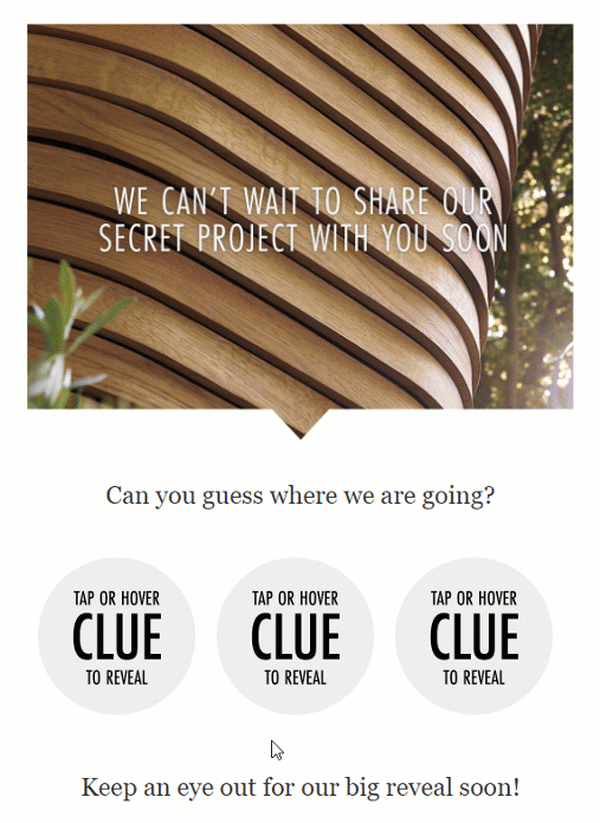 Not only did this gamification email impressed recipients with its creativity, but it made them anticipate the next email.
And what is also important — the brand virality increased.
Type of gamification elements:
Rollover effect.
Works on:
Desktop devices only:
Yahoo! Mail;

Ukr.net;

AOL;

Gmail on desktops;

iCloud Mail;

Outlook 2003;

MacOS Apple Mail.
Important:
You can easily implement an image rollover effect in your newsletters with Stripo.
Please, watch this short video tutorial for more details on how to use rollover with Stripo.
8. Find your special gift — Stripo
We did not send this email out. It was built just as an example to show that the rollover effect can be used in multiple ways and for various reasons.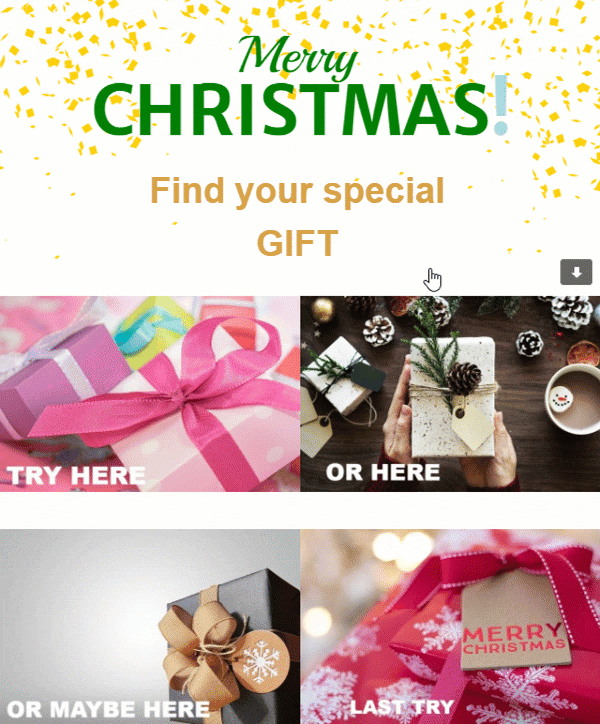 You can always hide presents, hints, product descriptions, etc. by using the rollover effect. Come to this trick whenever you find it reasonable.
Important:
Rollover effect has been developed for desktop devices only — on mobile screens they will see the primary images/first frames only.
Thus, users will not be able to play your games on their smartphones and will not see details/descriptions, etc.
It means we need to build a fallback version for mobile devices.
To do so, you need to:
build two rows with images;

apply our rollover effect to the first row images;

activate settings for this specific structure/row by clicking the "Structure" label in the template;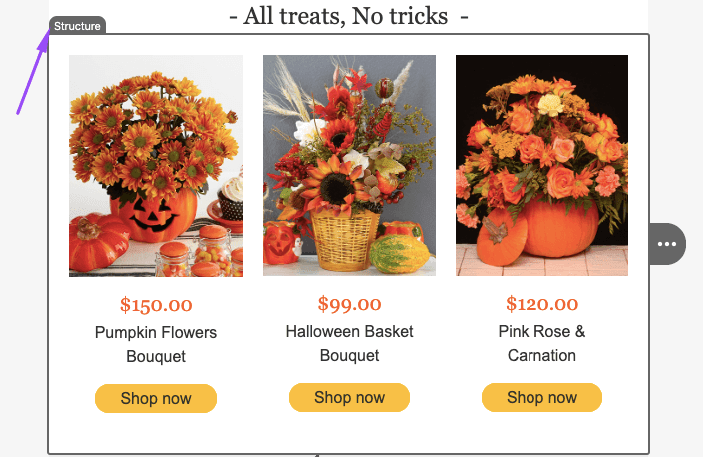 now enable this row for desktop devices only by clicking the "Hide element on mobiles";

upload primary/meaningful images to the second row;

activate the row/structure settings;

enable this row/structure for mobile devices only by hiding this element on desktop devices;

9. Don't Miss Your Deal ☀ ? ? ? — Universal Orlando Resort
Universal Resort found an interesting way to present discounts.
Users have to tap the key to unlock their personal offer.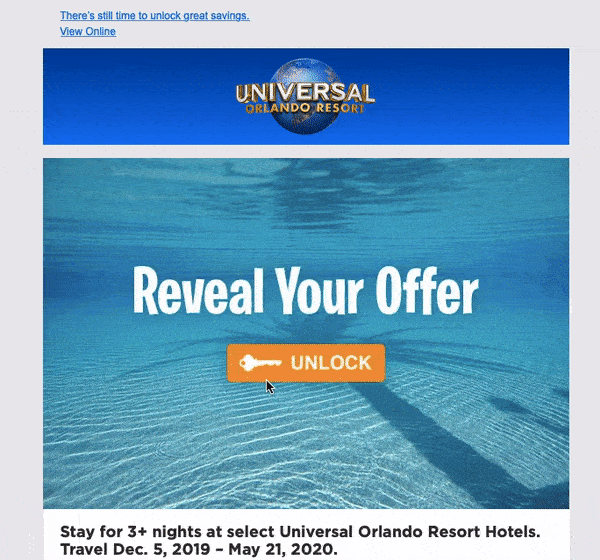 (Source: Newsletter email from Universal Orlando Resort)
Type of gamification elements:
Checkbox (checked pseudoclass) — CSS
Works on:
Apple devices;

Outlook for Mac;

Windows Mail;

Yahoo Mail;

AOL Mail.
10. Win free tickets — Stripo.email
One more made-up email.
For our example, we used photos of three cities which we will attend this Spring. You can use product items, photos of your office, colleagues, etc. Inbox Marketing, for instance, used photos of Christmas tree and palms :)
Ask users to match image pieces so that they make the necessary/meaningful photo.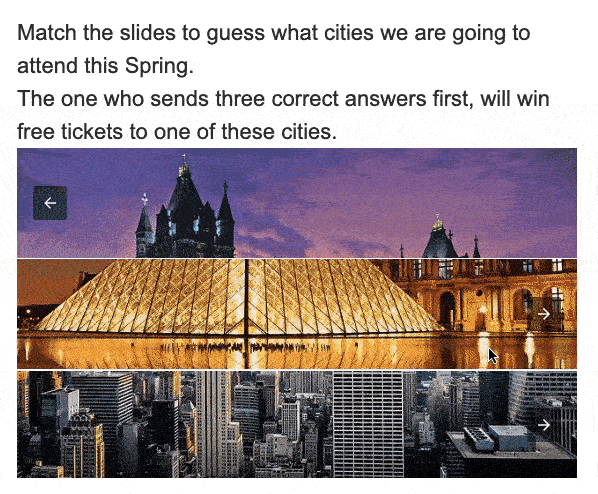 Users are likely to play this little game either for a prize or just for fun.
The way it's done:
you slice 2-3-4 photos into three pieces each;

drag three AMP carousel blocks into your template;

upload slices of photos in a random order to each row so users will have to slide them to build the necessary photo;

be sure to disable preview for each carousel;

those carousels will be by default shown only to those users whose email clients support AMP;

so now you have to build a fallback — just build three banners in a row if you need to present 2-3 photos — and include the entire structure in the HTML version only.

Be sure to preview your email.
Final thoughts
Gamification in email marketing does increase CTR and CTOR.
You should not come to this trick too often — however, the frequency is up to you.
Set clear and achievable goals otherwise, recipients will not play those games.
Gamification does not require deep knowledge in coding — Stripo provides you with drag-n-drop blocks and multiple controls to implement gamification in emails effortlessly in literally no time.
More and more email clients now support interactivity and AMP technology — this means that the vast majority of your recipients will be able to interact with your emails.