28 April 2021
10 Best Practices to Create Survey Invitation Emails
You want to improve your business strategy and you are full of energy to make it better. To know which way to go you start sending out survey emails to your clients, but hardly ever receive any response? No wonder because the average customer survey response rate is about 14%, and only big world-famous companies may reach the 25% point.
In this post, we'll show proven ways to increase the conversion rate of online survey email invitations and share the best, in our opinion, examples.
And will provide you with some ready-to-use templates.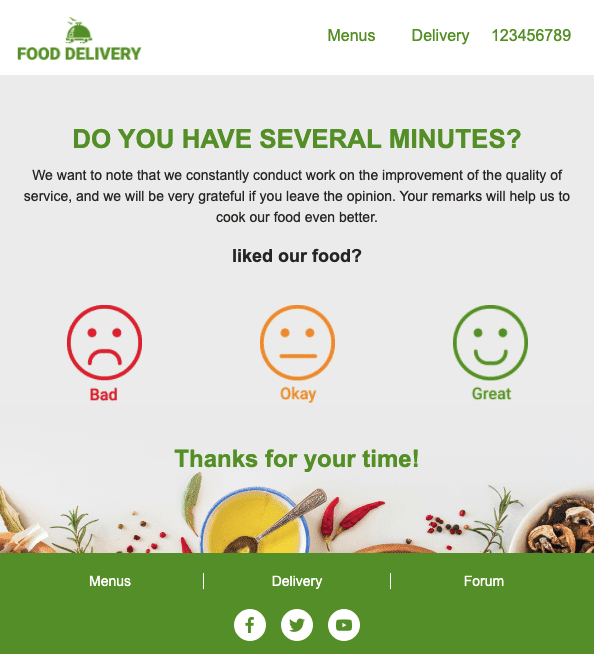 10 best practices to send better survey invitation emails and increase your survey response rate
A survey email is a questionnaire sent to existing customers. How many questions should they consist of? Depends on you.
Fortunately, all survey messages have similar features, and similar purposes — to check out customer's satisfaction, and they all are quite alike.
1. Offer discounts and coupons
People normally are not really interested in filling surveys out. But you can persuade them to do it by offering a discount. Let it be 15% OFF for the next purchase, or anything like that. Or you can also offer them a coupon.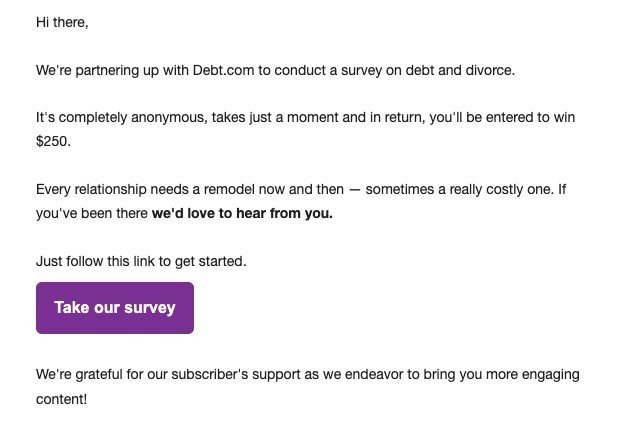 (Source: Email from MoneyWise)
2. Keep the survey short
Why short? The shorter the questionnaire is, the more chances your clients will respond to it. A good way to keep the survey short is bringing no more than 4 questions. People will love it that you appreciate their time.
If the invitee has recently experienced your products or service, the preferable form here will consist of just one question: Did you enjoy the visit? Or how likely are you to recommend us to your friend?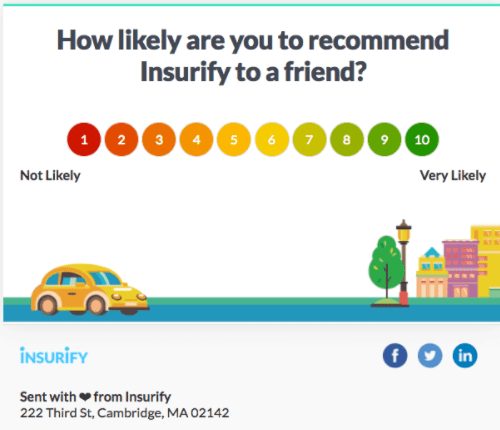 (Source: Really Good Emails)
Such short questionnaires aka NPS show the highest conversion rate. Normally, the response rate for NPS emails is about 30-40%.
If the answer is positive, then do not reply to this message. But if the answer is negative, it would be reasonable to send a longer survey with 4-9 questions.
Sometimes you need to create a longer questionnaire with more than 10 questions. When long surveys are a must? For educational programs, like online course platforms, for those who host webinars and conferences, and for those who conduct investigations, like Litmus. In this case…
3. Mention how long the survey might take your customers
If you want people to answer your questions, you need to tell how long it will take them to do so. If the survey is long and may take 20 minutes, be honest. Say it!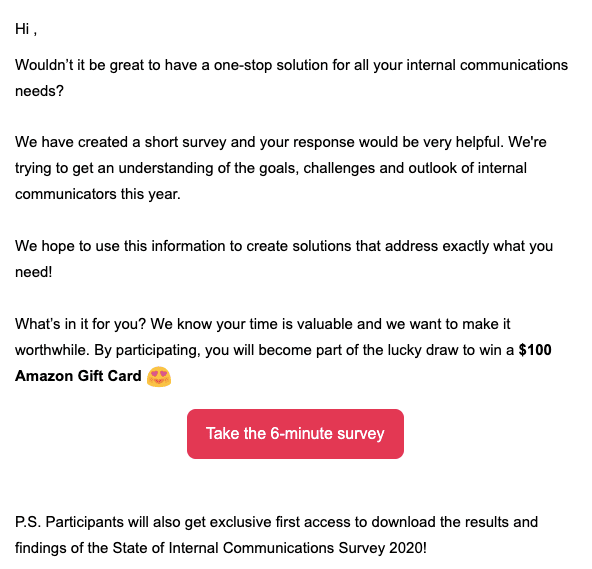 (Source: Email from Contact Monkey)
4. Let users know soon the survey will be closed
Speaking of time, be sure to mention the expiry date. Sometimes people postpone filling out the forms and want to do it in the evening later that day or at the weekend when they have some spare time. Consequently, it will be really nice of you to inform your clients how long the survey is available. Especially, if this is a long one.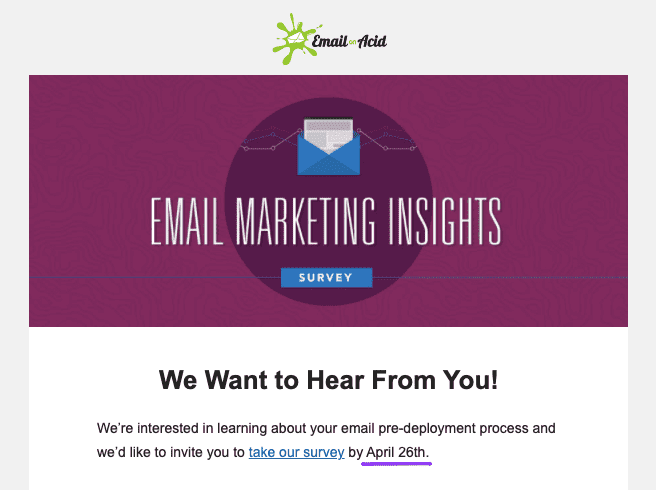 (Source: Email from Email on Acid)
Please be advised: After the expiration date, the survey link/website page should inform your clients that the survey is over.
(Source: Email from Litmus)
5. Be sure to share the results
When people spend their time doing something, or when they vote for some changes, they naturally want to hear the results. Promise them at the beginning of your survey invitation email that you will share the results.
And then be sure to share those results once you have promised.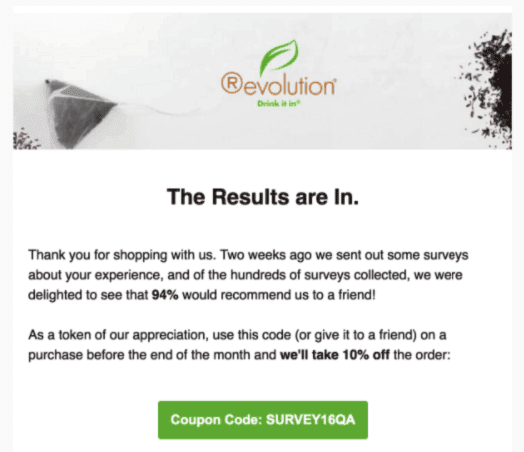 (Source: Really Good Emails)
6. Add photos of the products you are asking recipients to review
For sure, you are not the only online store people shop with.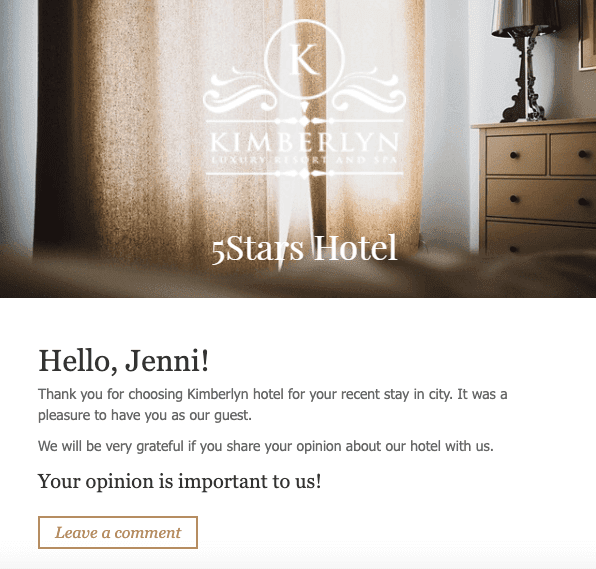 By adding photos of recently purchased products, you will remind recipients of what exactly you are talking about.
7. Send a survey invitation reminder
I normally open an online survey with the intention to complete it. But quite often I get interrupted and do not complete the survey, and of course, by the end of the day, I forget I wanted to do it.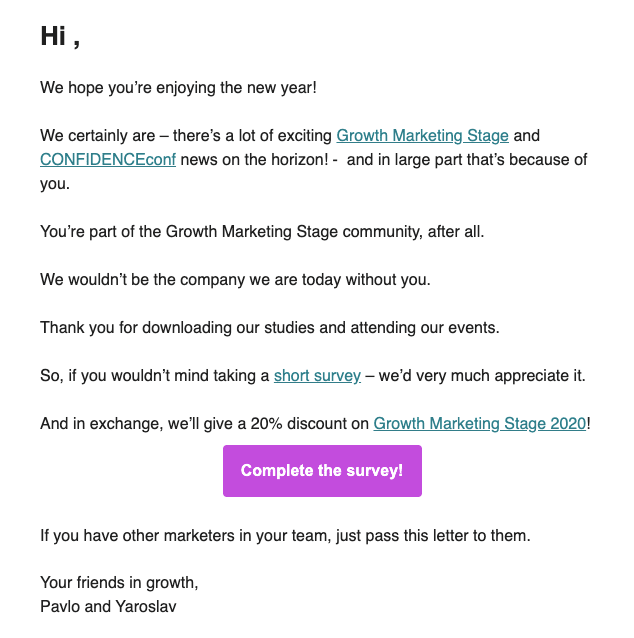 (Source: Email from Growth Marketing)
Always send a reminder if you want to collect as many responses as possible.
8. Show your gratitude
Always thank customers for what they do. First of all, in order to be polite. Second of all, people need to feel appreciated. Because in fact, by completing the survey they did us a favor. Third of all, this way we let them know their vote has been accepted.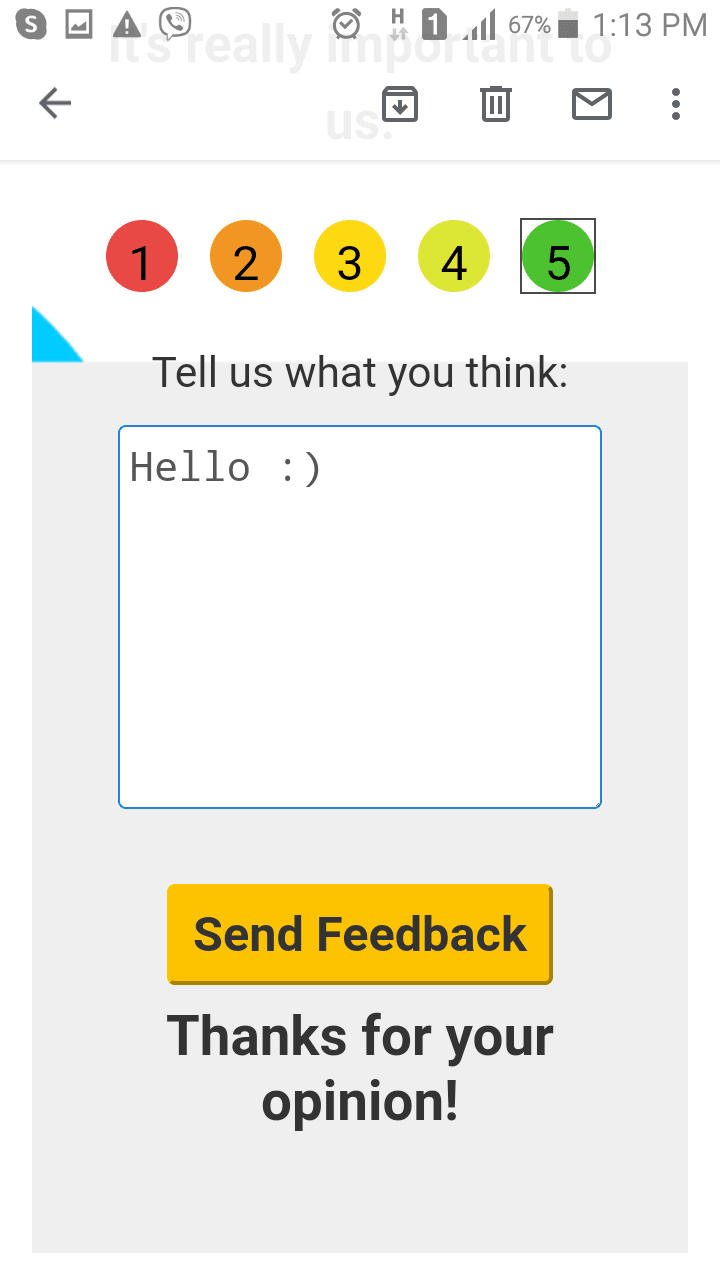 (Source: Stripo email template)
9. Explain the purpose of the survey
Let subscribers know you run this survey for them. Of course, it will work only if you really share useful information with your readers.

(Source: Email from Neil Patel)
And intros like, "I would like to know" will not do.
10. Embed surveys in emails
In some blog posts of ours, we already shared the results of our test:
AMP forms, embedded in survey invitation emails, worked 5.2 times better than those emails with a link to external forms.
Please be advised that you can easily build such forms for your emails with Stripo.
Survey invitation email subject lines
Now that you know for sure what ingredients you added to your emails, you may thoroughly think about the subject line.
It's a commonly known fact that an email subject line is one of three key factors that determine whether subscribers will open your emails.
Subject lines are to be:
highly descriptive — explain the reason why you are reaching out to customers;

personalized — let users know the questions will be about a particular product item they are familiar with. And address by name. According to studies, conducted by Retently, addressing by name in the survey invite subject lines increases OR by 30%.
Examples of survey invitation email subject lines
Maybelline — We want to hear from you!

GetResponse — We'd love your help! Fill out the quick survey and help us make GR better.

Adweek — [SURVEY] B2B Data-Driven Marketing.

Practical Ecommerce — Please Take Our Short Reader Survey.

Hubspot — Take Our Survey on Customer Support and Service Salaries.

Slack — Help us improve Slack by taking this survey.

Insurify — Thank you + Quick question.

Taylor Stitch — Please, review your recent purchase.

Netflix — Netflix values your opinion.

The Frye Company — $50 for your thoughts.

Thumbtack — Tell us what you think about Thumbtack in 30 seconds.

Pinterest — Hanna, got a sec? Give us feedback on…

Ann Handley, MarketingProfs — Reminder: Marketer Happiness Report Survey

Neil Patel — I need your help.

MoneyWise — Take part in a short survey and you could win a prize.

ProductPlan — Take our 2020 Product Management Survey.

MarketingProfs — Your Expertise Requested—10th Annual Content Marketing Survey.

Xbox Research — Forza Ongoing Sentiment Survey.

Mailgun — Questions about Mailgun - can you help?

Dotdigital — Survey: What are your current business challenges?

Email on Acid — We need a little help with our New Year's resolution…

Ann Handley, MarketingProfs — Your Expertise Requested—11th Annual Content Marketing Survey.

Adweek — [SURVEY] What's Your Programmatic Strategy?

Doug Whiteman, MoneyWise — Help us with a survey and you could win a prize.

Jim Semick — Take our 2021 Product Management Survey.
Important:
Please be advised that you can set subject lines and preheader in Stripo.
How to make a survey invitation email
There are four major types of surveys in emails:
Embedded forms.

Links to questionnaires.

Images/icons with links to them.
1. Embedded forms
Benefits of embedded forms:
they noticeably increase response rate;

you can see the answers right away;

AMP form shows who exactly responded to your email and how exactly users rated your services.
Stripo allows you to embed Google forms and innovative AMP forms.
AMP forms
AMP forms allow recipients to rate you — your service, your products, etc. — and leave a comment directly in email.
Like we said above, our tests showed that the ability to fill out the form in emails with no extra moves increased our response rate by 5.2 times compared to links to external forms.
How to add AMP forms in emails
There are three ways to do that.
Way 1. By building open AMP Forms from scratch with our AMP Form Drag-n-Drop block
Users will be able to share their feedback directly in emails.
For details on how to do it, please refer to our "Build AMP Forms for Emails" blog post or watch our short video.
Please be advised that you will be able to see users' responses in your Stripo account, the Data Service section, or in your custom Data Storage. You may collect responses in both places if you like.
Way 2. By building AMP Forms with ratings by using templates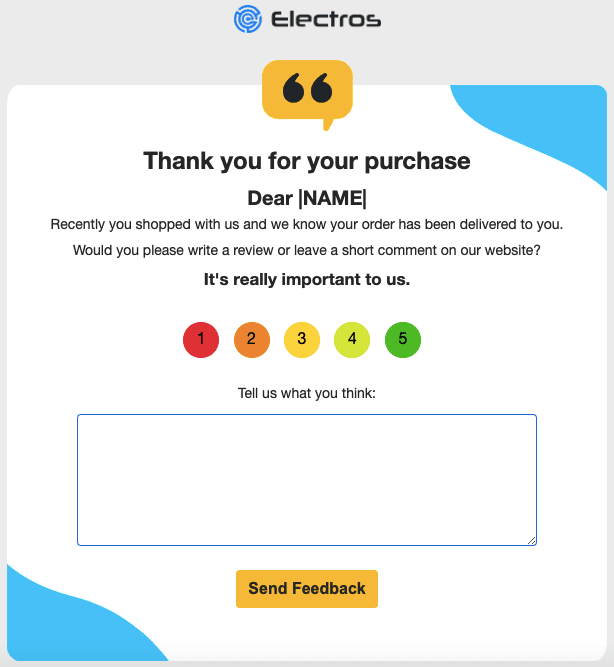 To let users rate you in emails, you need to:
open this template in your Stripo account;
create a new Data Service as shown here and copy its URL;
open the form's code by clicking the AMP HTML sign in the template;
replace the underlined link with the URL to Data Service you've just created;

if you want to see the name and email address of the respondent, please embed the code given below between the </label> and <br> lines in the form code in the survey template.

<input type="hidden" name="email" hidden value="%EMAIL|%">

Way 3. By using prebuilt AMP survey modules
You let users rate and comment on your services directly in the email.
We've prepared 10 Modules to help you easily collect NPS feedback.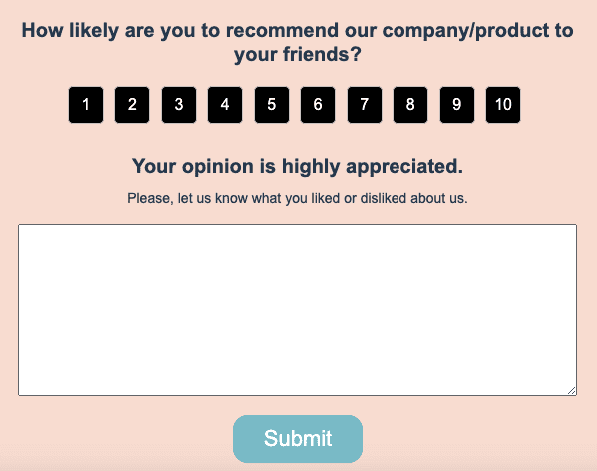 Their design and content differ. But each of them has a user manual where we explain how to use it.
To collect NPS with the help of these modules, you need to:
go to the "Modules" section;
in the "Pre-built" tab, click on the Filter icon to view the NPS AMP Modules;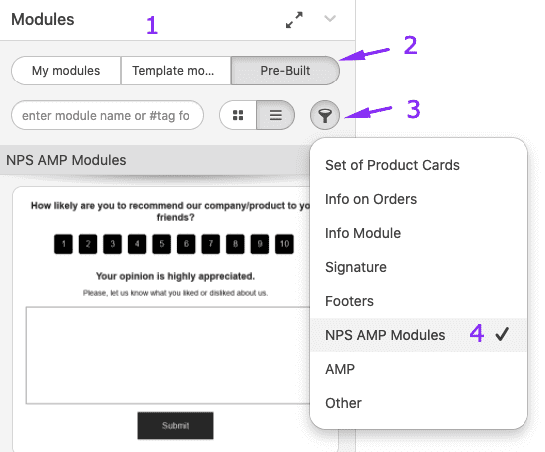 choose the one you like and pull it into your template;
customize the Module according to your tastes and needs;
create a new Data Service (endpoint) to connect it your email for storing users' responses;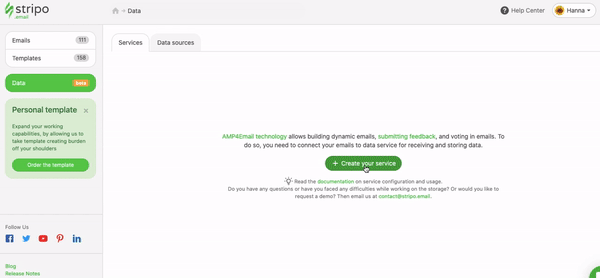 copy its URL;
paste it in the Module code;

replace the value given in the "Quotation marks" with the Email Address merge tags provided by your ESP. If you do this, you will know who exactly rated you and shared feedback in the email;

remove the "User Manual Guide" part from the module before you send out the email to users;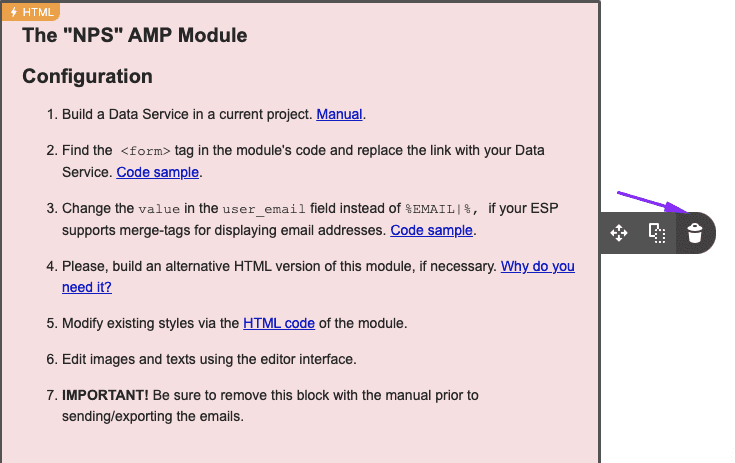 to check users' responses, download the CSV file in the Data Service tab in your Stripo account.

Email clients that support these forms
AMP forms work in Gmail on desktop and mobile devices, in Yahoo, and in Mail.ru both mobile and desktop devices.
AOL.com will support these forms soon too.
Important to note:
All users, who do not see the AMP form, will see the fallback — the template we previously shared with you already contains the AMP form and a fallback survey invitation button (you will only need to insert a link to your website feedback page, or a Google form).
As of this June, you may collect users' responses in your Stripo account, or transmit them to Zapier, or even Google Spreadsheet. In this post, we show in detail how to activate Stripo Data Storage or connect your AMP forms to your Google Drive.
Google forms
Google forms are easy to work with. Google already has free templates that you can customize and use. Apply your fonts, add images to the questions, or change the header background. Google even allows inserting videos into the survey. You can add as many questions as you want. Once you have created the survey form, export the email to your ESP. Google forms are free of charge.
How to embed a Google form in emails
create Google form;

prior to sending the form to your Inbox, make sure to tick the "include in email" checkbox;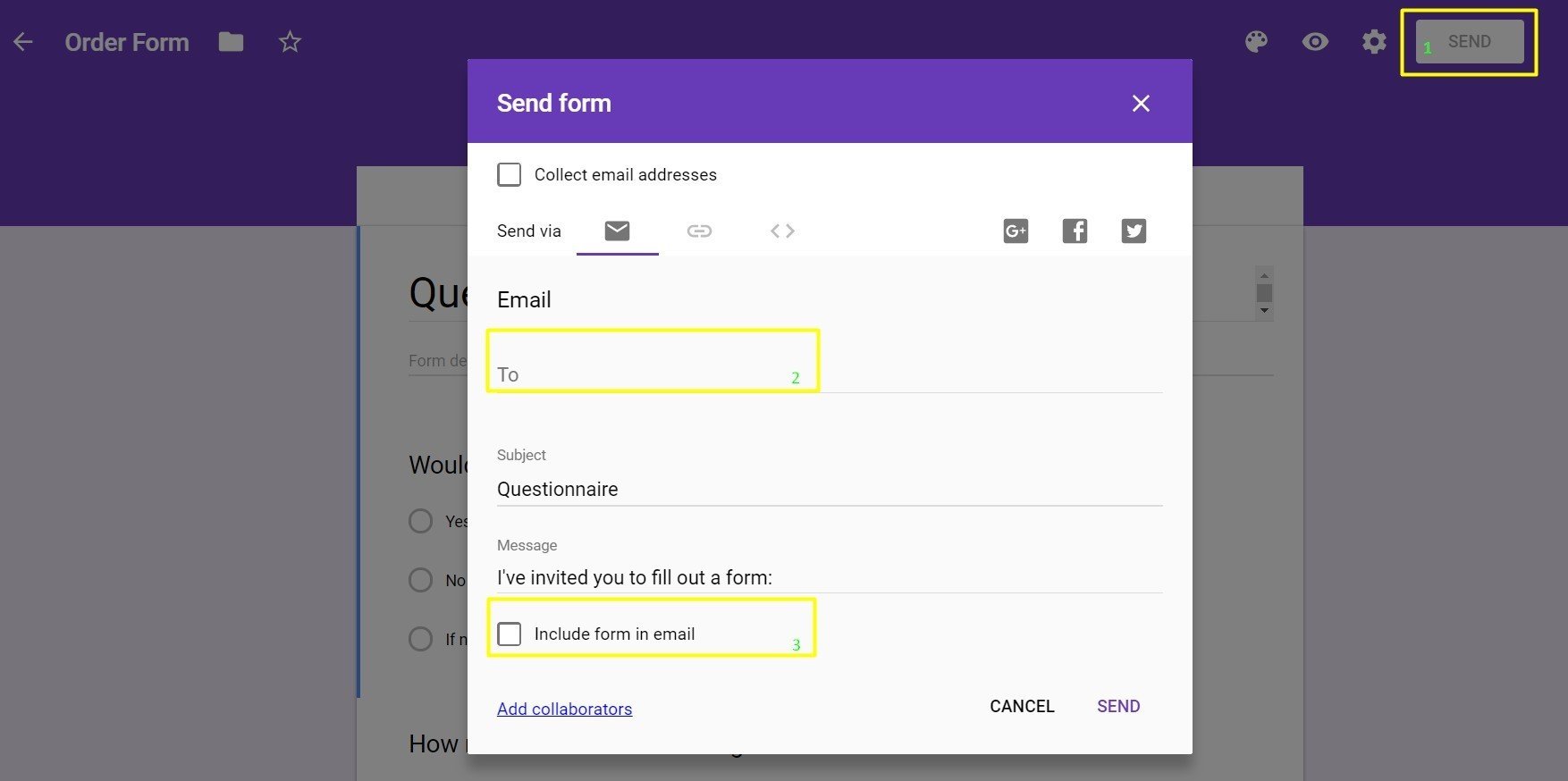 open the email and with the right-click select "inspect";

search for the table align="center" line, copy it;

in Stripo, pull the basic HTML block directly in your survey invitation email sample;

replace the "insert HTML code" with your embed code.
Done!
Email clients that support these forms
This email survey works well in Gmail, AOL, Yahoo! Mail, and Rambler.ru in Google Chrome, Mozilla Firefox, Safari, Opera. It works on desktops only.
Mobile users and those recipients who use other email clients will see the link to the survey. They might also be directed to the Google Form once they fill out the form and click the "Submit" button (in Mail.ru, Apple Mail).
2. Links to questionnaires
Benefits of these questionnaires:
They are totally web-safe since they are represented as URLs wrapped in CTA buttons.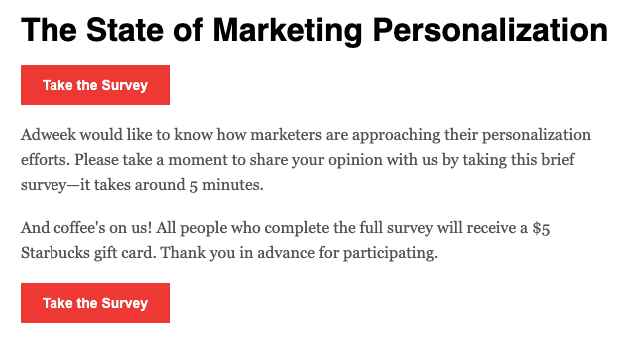 (Source: Email from Adweek)
You may build a questionnaire either with Google form, or SurveyMonkey, or build one on your website, or even your ESP might build one for you and provide you with a link.
How to add these questionnaires in your emails
Just as a regular link you use in buttons.
Make sure the CTA button is noticeable and its CTA copy is clear and convincing enough.
3. Images/icons with links to them
Use icons or images when asking users to rate your services.
Benefits of images/icons with links:
works in all popular devices and email clients;

easy to collect data and analyze responses.
This survey request email sample shows how imagery can be used for surveys.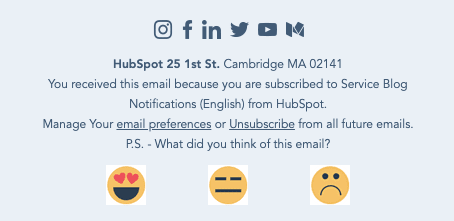 (Source: Newsletter email from HubSpot)
How to add this imagery in your emails
drag a structure with a necessary number of columns. Please be advised you can add up to 8 of them with Stripo;

pull the Image block into each column;

upload images/icons;

add proper links to each icon;

be sure to enter Alt texts to all images — if images are blocked in an email client, users will know what specific icon they are clicking on.
Best time for survey invitation emails
According to SurveyMonkey, the best days for questionnaires are Mondays and Tuesdays. While on Wednesdays and Fridays marketers are likely to collect the lowest number of responses.
But still, you/your ESP should analyze your customers' behavior to find out what is the best time for your survey invitation emails.
5 survey email invitation examples
I find the examples below interesting enough.
Hope you also will find them inspiring and useful.
1. Annual report — Stripo
This email contained an embedded AMP form. Our recipients could share their opinion about us directly in this email.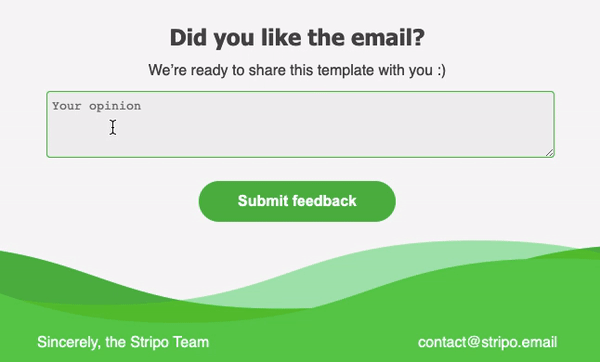 We ran an A/B test. And, as we said above, the AMP form brought us 5.2 times more responses than the traditional link to Google form.
2. Take our 2021 Product Management Survey — ProductPlan

(Source: ProductPlan)
This email is simple, the company in its subject line let me know the goal of the survey. And they warned me how long it was going to take me to complete the survey.
3. Take the 2019 State of Email survey — Litmus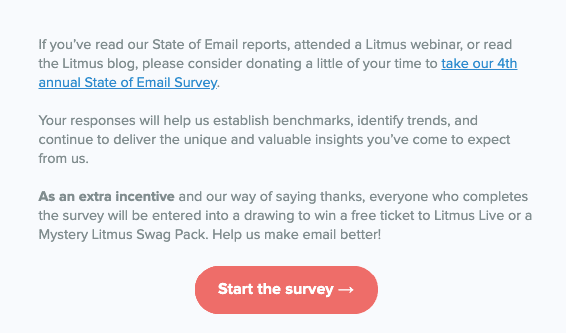 (Source: Litmus)
I loved the intro — Litmus reminded its audience that we all use their statistics. Pretty convincing reason to take the survey, isn't it?
4. Survey says... — Really Good Emails
(Source: Email from Really Good Emails)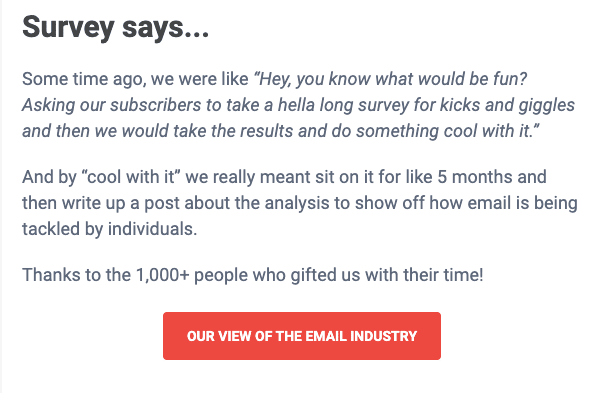 Really Good Emails shared the results of the survey. Loved it because only some companies actually do that.
5. Gift card for your thoughts on Campaign Precheck? — Email on Acid
In fact, when a company improves its service, it does a favor for its users. Nevertheless, it won't hurt if they offer a coupon or a gift card for a review.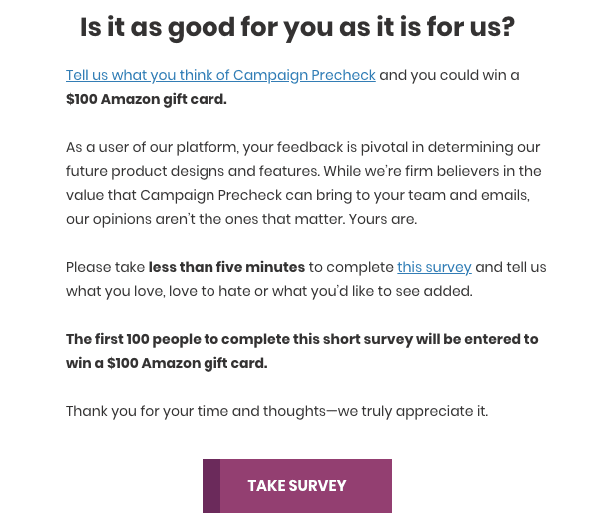 (Source: Email from Email on Acid)
Email on Acid was the first tool to check emails for accessibility. This feature made them extremely useful for all email marketers. However, Email on Acid ran a survey where asked users for their opinion on what they should improve in their testing tool.
Final thoughts
We have analyzed best practices to improve the survey invitation emails and provided the best email survey invitation examples. We are sure that sticking to these rules will help you reach the goal — increase the survey invitation responses. Once you collect this information from your users and analyze it — you have more chances to boost your business and make your services/emails more relevant.
I sincerely wish you the best of luck in your future endeavors.