04 July 2022
Email Marketing News of May-June 2022
It's already a hot summer outside, and it's time to relax in the sun, but marketers are working tirelessly, and the email marketing industry is no less hot right now. We decided to collect the latest news for May and June for you to be aware of everything that is happening in the email marketing industry.
This event lasted from May 16 to 18 and featured a long list of industry leaders and respected speakers such as Chad White, Lou Cohen, Michael Donnelly, and many more. The following topics were on the agenda:
email content & copywriting boot camp;

email's role in the tech-driven privacy shift;

the biggest changes that impact the email marketing channel;

how to leverage identity to create emails your customers want to open; successful career for email marketers;

and many others.
If you missed this event, don't worry. On the official website, you can watch presentations and recorded speeches.

(Source: Ana.net)
This conference was held live on June 7 and was also marked by a large number of speakers and specialists from well-known companies such as:
Tesco;

Vodafone;

Barclays;

Savills;

Post Office Ltd;

and many others.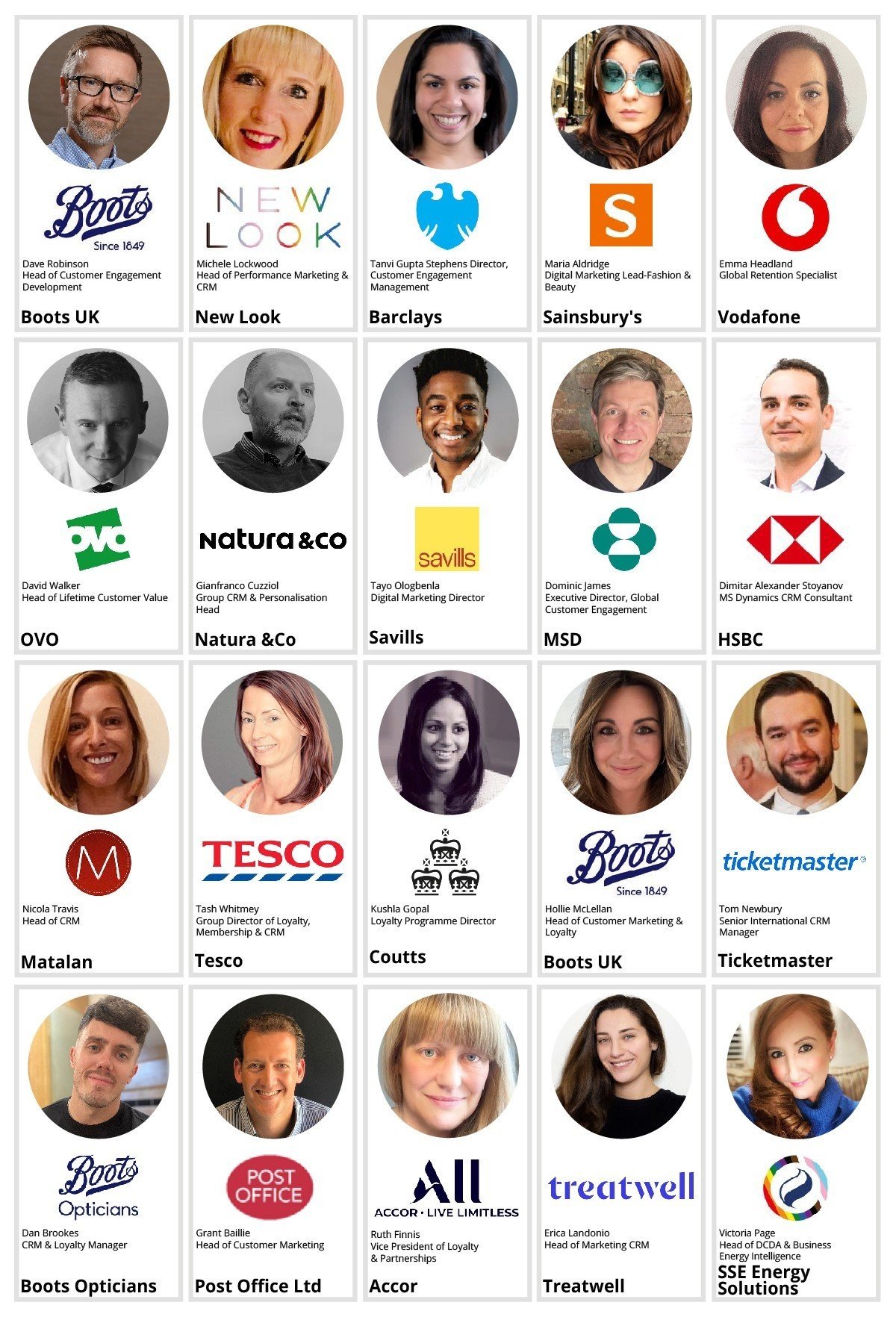 (Source: The Email Conference)
It would seem that companies are completely different from radically different domains. However, this event united them with the following agenda:
tips for improving customer engagement;

game-changing retention strategies;

marketing personalization approaches;

ways to create top-notch marketing content.
All speakers shared their insights and real-life experience with world-class companies' marketing strategies, making this conference a treasure trove of useful information. Unfortunately, this event was not recorded.
However, do not be upset because there are many more events ahead of you and a general conference related to email marketing and marketing, which you can read about in our digest.
You might also like
Top Conferences on Digital and Email Marketing 2022-2023

One of the most popular and famous events in the field of email marketing took place in London on May 27-28. This conference was full of useful tips and strategies for email marketing and all kinds of marketing that you can apply to your business. The event was attended by industry leaders like:
Mark Robbins;

Gavin Laugenie;

Komal Helyer;

and others.
Those present at the event could attend presentations on the following topics:
understanding and testing accessibility in email;

the SMART email marketer's mindset;

making marketing meaningful;

and many others.
This event has earned a lot of rave reviews due to its atmosphere, a lot of insights, and a strong pool of speakers.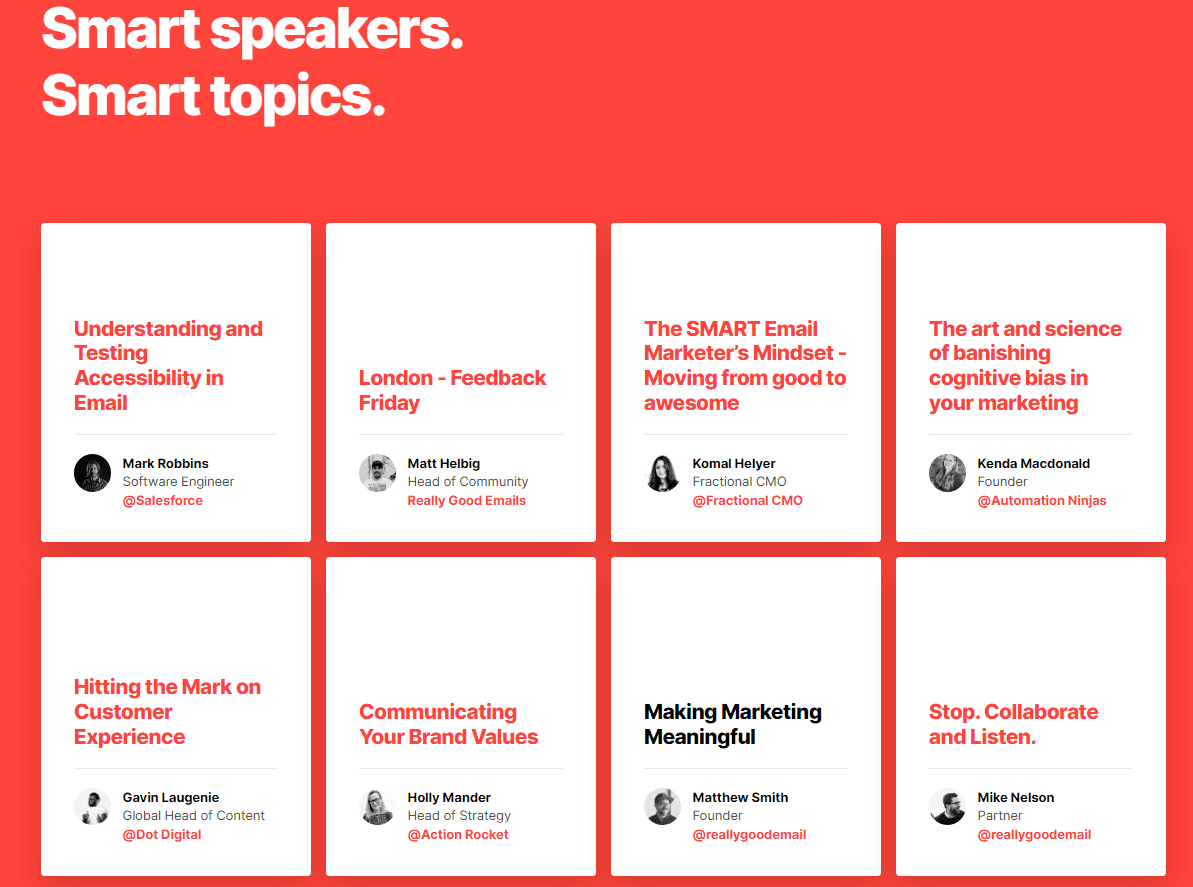 (Source: Unspam)
On June 20-22, in the very center of entertainment in America, namely Las Vegas, there was a wonderful event that was extremely useful for all email marketers. Thanks to a powerful set of marketers and entrepreneurs, the conference was able to please those present with presentations on the following topics:
ways to improve email marketing with smart metric analysis;

tips for creating subject lines that pop in the recipients' inboxes;

innovations in email marketing to attract attention;

Essential requirements for email marketers in 2022.
Software company Emplifi recently conducted a study whose results are unlikely to appeal to email marketers.
The company conducted surveys to understand the popularity of various ways customers interact with business and found that two out of three respondents prefer to use social media during the buying process over any other means (which includes communication via email). Just 12% of Gen Z consumers prefer other ways to interact with brands (emails, contact forms, and so on).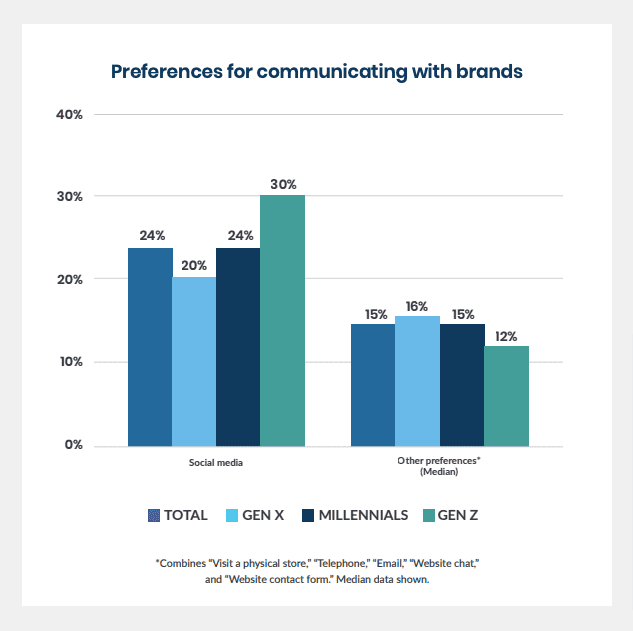 (Source: Emplifi)
One explanation for this performance is that customers use social media to get quick answers and advice before they buy and get quick support after (which may not be a brand strength regarding email interactions). So fellow email marketers, work towards speeding up email responses and enhancing your email engagements if you want to develop in this direction in your marketing. This report also contains a lot of useful information about the popularity of social networks when interacting with customers and much more.
The customer engagement platform Moengage has published an extensive benchmark to show email marketers which email types have the best metrics.
In total, the report stated four main metrics:
unique opens;

Click To Open Rate;

unique CTR;

conversion rate.
More than 5.3 billion email marketing campaigns from such domains as Banking and Financial Services, Online Shopping and Retail, Media and Entertainment, and Lifestyle Services were considered in this work. In addition, the company studied the performance of email campaigns from regions such as North America, Europe, India, the Middle East and Africa, and Southeast Asia.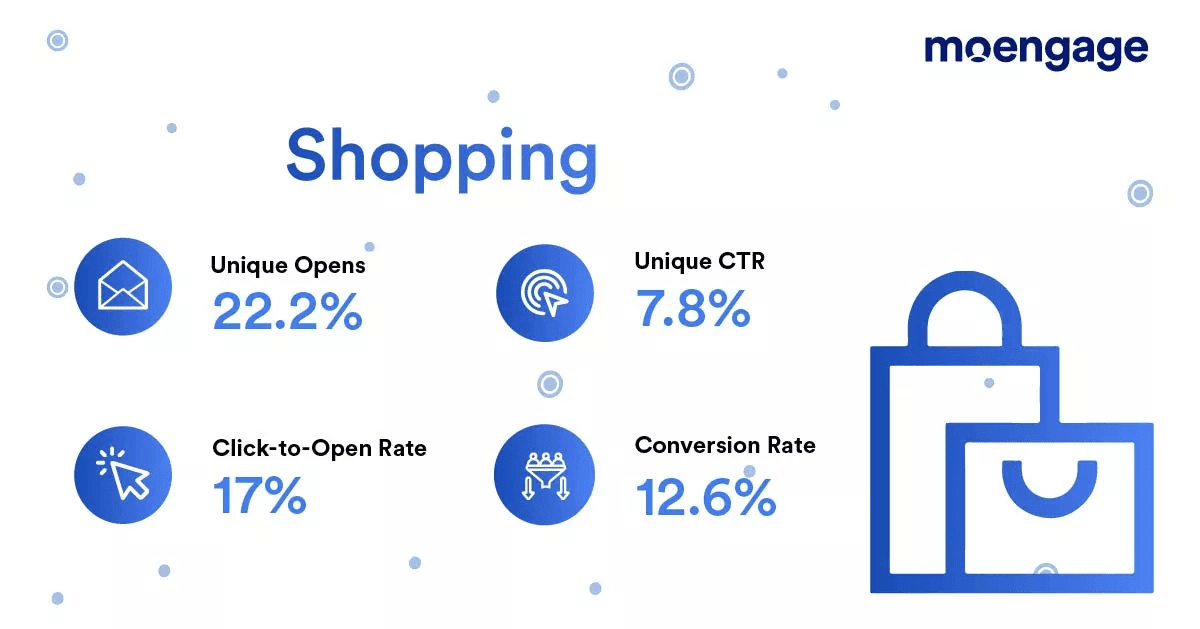 (Source: Moengage)
The entire report has an extremely detailed breakdown by email type and clearly demonstrates the impact of different email types on recipients. To get acquainted with the report, you just need to register, and you will receive it for free.
Before buying email marketing software, companies often analyze the cost-effectiveness of such investments. To make life easier for marketers and save them from the pangs of doubt, MarchTech has published a list of 9 questions to answer before investing in enterprise email software:
Do you have the right human resources?

Is your customer data scattered across different repositories?

Do you have customer knowledge gaps that you can fill with the new software?

Are you compliant with CCPA, GDPR, and other data privacy regulations?

Do you have C-level buy-in?

Can you invest in staff training?

Do you need to share data and reports with non-email marketing staff?

Have you established KPIs and a system for tracking, measuring, and reporting results?

Do you have realistic expectations?
To read the full article, you can click on the link in the title to learn more about these questions and how you should answer them.
Email marketing platform GetRepsonse has published a detailed benchmark for the most important email metrics in the world. The company analyzed more than 35 billion emails, but the results were not encouraging. The overall performance of key email metrics has dipped around the world. For example, the average open rate decreased from 22.15% to 22.02%, while the decline in the click-through rate is even more pronounced: a drop from 3.43% to 2.13%.
The reason for this drop remains to be seen, but one suggestion is that recipients have begun to view email campaigns differently. Marketers need to analyze their email campaigns and ensure that the emails are in the right tone and offer many benefits.
You can read the full study at the link in the title.
Spiceworks put together a short article that collected four major email automation tweaks that will help your emails perform better.
The main tips are as follows:
Split welcome series emails by click activity to provide more personalized offers based on this data.

Split cart abandonment by cart total for deeper analysis and cart abandonment reduction.

Split cart abandonment by purchase history to change cart abandonment email strategies based on customer behavior.

Use SMS in your email marketing automation for an additional customer interaction channel.
The article is extremely interesting, and we encourage you to read it to apply these simple practices to your email marketing strategy.
Wrapping things up
These two months have been full of various useful conferences and interesting news in the email marketing industry. We never cease to keep our finger on the pulse and follow the news so that you receive only the most interesting and useful information in the field of email marketing.
While we wait for new developments, you can upgrade your email creation process with Stripo.