Any company is the employees who work in it. The cohesion of their work, skills, and knowledge help to implement the ideas of senior management and set in motion the locomotive of business. Managing all employees is not an easy task, and one of the aspects of management is a performance review process. And the more subordinates you have, the more difficult it is to talk to everyone and tell employees about their successes or failures.
To facilitate this task, there are performance review emails. In this article, we will explain what they are, when is the best time to send them, and give tips on creating such emails. So, without further ado, let's get started.
What is an employee performance review email?
An employee performance email serves to manage the performance of employees within a company. Often such emails are created by department heads for their employees, and each email evaluates the effectiveness of their work since the last check.
Implementing such emails into practice allows you to declare employees' effectiveness, recognize their contribution to the company's success, and provide an instant feedback mechanism. In addition, such emails can show employees areas where they can improve, skills that need to be acquired, and tips or suggestions for achieving these improvements.
When is it wise to send an employee review email?
As is already clear from the subject of the email itself, you will have three scenarios when you can create and send it:
Replacing a formal review employee. If the manager does not formally certify employee skills, the manager often writes a review email. Such an email might cover the employee's strengths and weaknesses since they were last checked.
Recognition of employee achievement. Department managers can also write performance emails to recognize an employee for achievement to formally recognize the employee and their contribution to a given task.
Sending an alert to an employee. Before sending such an email warning, the manager usually informally discusses with the employee the behavior in the workplace or poor performance. If their performance does not improve, some managers prefer to send a warning of further consequences. Usually, this happens before taking more serious actions.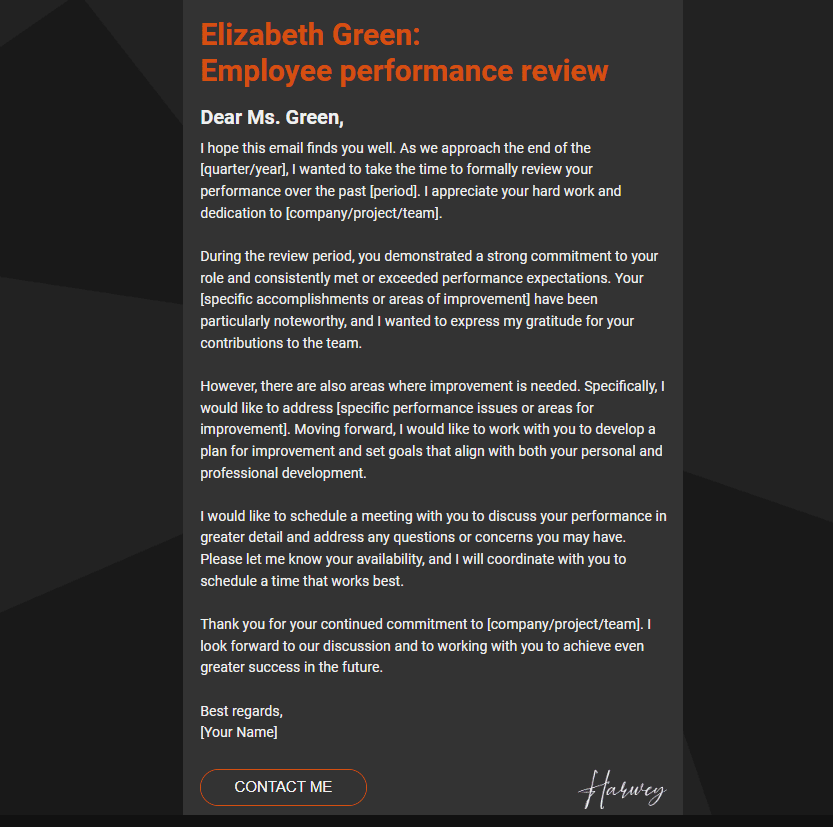 Tips for creating a perfect performance review email
If you have never practiced sending performance review emails, then at first, it will be challenging to decide on the format, content, text style, and other aspects of the company's internal newsletter. We collected a few tips that will help you quickly create the perfect upcoming performance review process email template for later use to evaluate the performance of company employees.
Tip #1. Greetings are essential
Any formal email starts with greetings, and so should yours. Because this is a professional email newsletter, your greeting should be formal and starts with the employee's name. For example, "Dear Mr. Jones." This approach lets your employees know that the following information in the email applies to them.
Tip #2. Explain the reason for your email
Performance review is an important event, so in the first paragraph of your email, you should write why the employee received this email. It is essential to discuss why this email is necessary for the employee to understand the situation and what will be discussed further in the email. It is possible that the employee has achieved some noteworthy success or took a leading part in completing a significant project. Or the performance of the employee may have dropped to an unsatisfactory level.
Whatever the reason, it must be highlighted in the email. In addition, it is worth indicating the period of time that you took when assessing the level of employee performance.
Tip #3. Implement numerical assessment for employee skills
Evaluating an employee's performance using digital scales is a fairly effective method of conveying information. When creating such an email, you can set a performance measures scale that explains what each numerical value means when grading different categories of work, skills, etc. For example, if you rate on a scale of one to ten, try writing down what each specific number means. A ten can mean that an employee's performance in this aspect is beyond praise, while a five is an average result that can meet your expectations.
Once you've mapped out the grading scale, you can define performance categories for grading. The quality of work, communication skills and professional knowledge, soft skills, and so on that are often evaluated. For each category, provide a numerical score using the scale you created. Next to each assessment follows why these particular aspects of the work were rated with such a figure.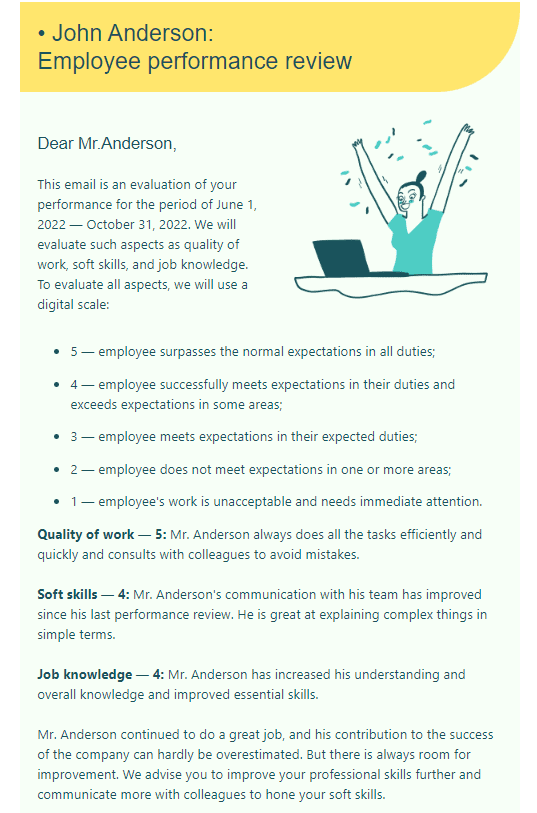 Tip #4. Add comments from a supervisor, department lead, or HR team
This section is explanatory, where you can describe in detail why the employee's performance was evaluated this way and give honest feedback. The length of the section may vary depending on the number of comments you want to make. However, the separation of information will be important. Take one block to highlight the employee's strengths and praise the areas where they excelled. In addition, be sure to tell the employee about improvement areas and how they can master their skills.
You can end this block with a brief conclusion and mention that the employee can contact you if they have questions regarding the email and performance review.
Tip #5. Add professional closing for your email
So, all important aspects of the work were discussed, and the feedback was given in the email. It's time to say goodbye. However, it has to be done right. The formal end of the email should be "Best regards," "Respectfully," or "Sincerely," followed by your name or the name of the department lead who conducted the performance review.
If your company still uses paper copies of emails, leave enough space between your signature and your typed name so that you can sign by hand. If the employee receives the email, there is no need to leave this extra space in the email.
Tip #6. Proofreading is a must
So, the copy of the direct report of performance is ready, but do not rush to press the "Send Email" button. Proofread the entire email several times and ensure there are no mistakes, typos, or other oversights in the text. In addition, ensuring that you said everything you wanted in the email and conveyed your thoughts as you originally intended is vital. After you ensure the email is ready, send it to the employee.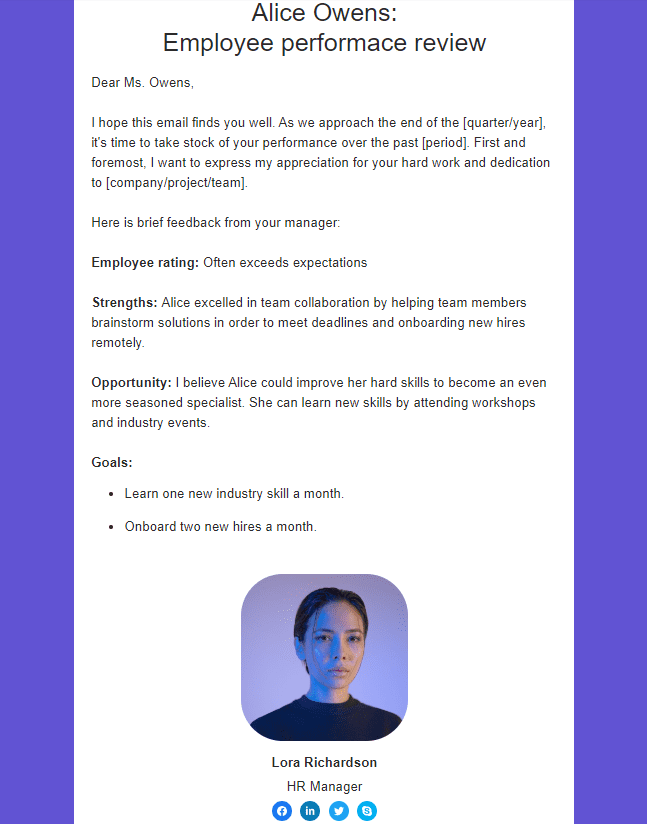 Performance email structure
We talked about the basic tips for creating a performance review email. Putting them all into practice, you will receive an email with the following structure:
Dear [Employee name]
[Short introductory paragraph to describe that this is a performance review session email and the idea that all job performance will be judged on a digital scale].
[Number] — [Explanation of what that number represents in relation to employee performance and skills].
Important to note: depending on your rating scale, there can be as many such paragraphs as you like. Therefore, we will move on to the next part of the email.
[Performance category] — [Number]: [Explanation of why this category was given a rating].
Important to note: again, there can be as many paragraphs as you like, as each company's performance review is unique, and the number of aspects of work that are scored can vary.
[Your comments or comments from the head of a department about the strengths and weaknesses of the employee, behavior traits mentioned, and tips for improving performance].
[Final paragraph closings for the entire performance review process and with contact information].
Best regards,
[Your full name or the person who conducted the performance review].
Performance review email sample
To help you quickly create feedback emails, we created a sample email text you can use and change as you wish.
Dear Mr. Anderson,
This email is an evaluation of your performance for the period of June 1, 2022 — October 31, 2022. We will evaluate such aspects as quality of work, soft skills, and job knowledge. To evaluate all aspects, we will use a digital scale:
5 — employee surpasses the normal expectations in all duties;
4 — employee successfully meets expectations in their duties and exceeds expectations in some areas;
3 — employee meets expectations in their expected duties;
2 — employee does not meet expectations in one or more areas;
1 — employee's work is unacceptable and needs immediate attention.
Quality of work — 5: Mr. Anderson always does all the tasks efficiently and quickly and consults with colleagues to avoid mistakes.
Soft skills — 4: Mr. Anderson's communication with his team has improved since his last performance review. He is great at explaining complex things in simple terms.
Job knowledge — 4: Mr. Anderson has increased his understanding and overall knowledge and improved essential skills.
Mr. Anderson continued to do a great job, and his contribution to the success of the company can hardly be overestimated. But there is always room for improvement. We advise you to improve your professional skills further and communicate more with colleagues to hone your soft skills.
If you have any questions about this performance review, please contact me, so we can set up a time for a performance review meeting. My direct number is 382-689-721. Thank you for your hard work. You are truly a valued employee.
Regards,
Jane Grimes
Wrapping up
Performance reviews are an important part of an employee performance management system, and your email marketing needs to be top-notch for this. We told you exactly what emails look like and how to make them. However, we can also help you create emails during performance review time.
Was this article helpful?
Thanks for your feedback!