Corporations cannot ignore employee communication in these remote-oriented days. Stripo will help you design attention-grabbing and customized emails for your coworkers ;).
Our internal newsletter templates cover a variety of subjects, from welcome emails to company event messages. Stripo makes your emails responsive, professional, and visually appealing.
What is an internal email?
An internal email is a type of corporate internal communication that is intended to control work coordination and the creation of a positive base for relationships within the entire organization.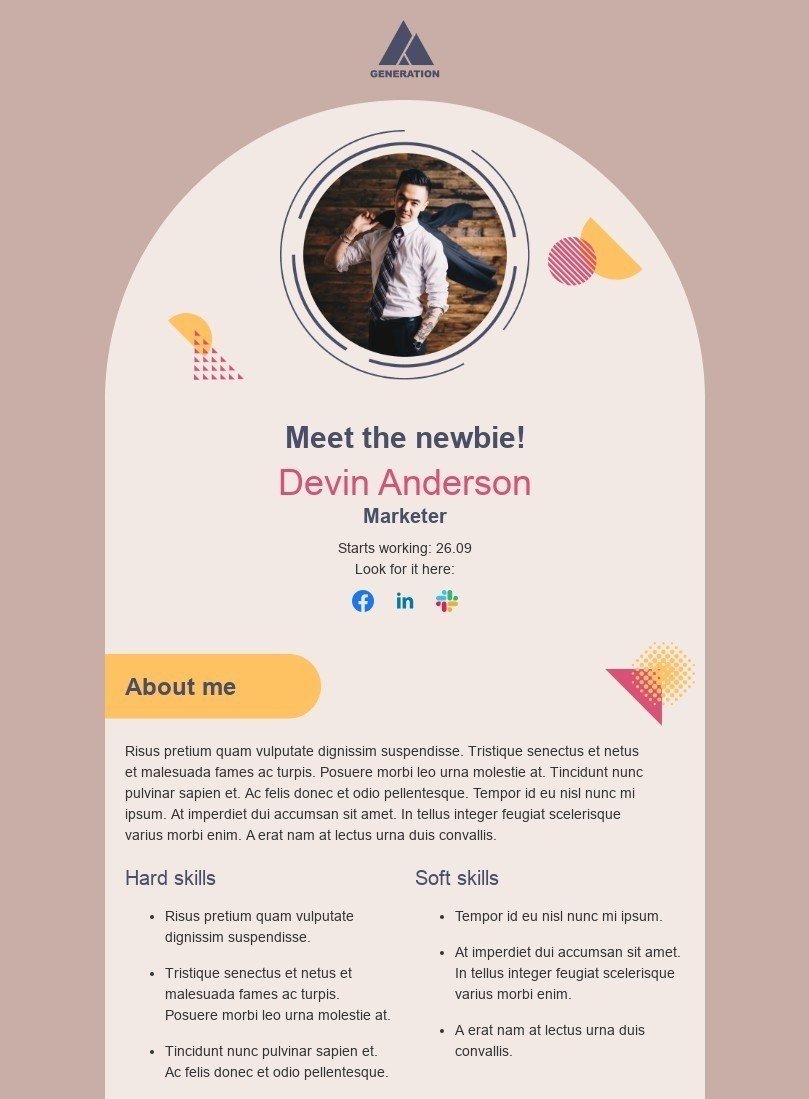 (Source: Stripo template)
In other words, it's a template-based notification that you can send to your colleagues, top management, or anyone else in your company to announce upcoming events. The main goal of internal email templates is to make it easier for you to create a clear and concise message for the whole institution on any relevant information.
Reasons to use internal emails to communicate with your team
A safe work environment is one in which a company interacts effectively with its employees and where coworkers chat with top management or with one another in a friendly manner. This is where good internal communication email templates can come in handy. As a result of launching an internal newsletter, you will be able to:
Engage your team members
Staff engagement will encourage employees to work harder and become more proficient. They will gain confidence, feel like they belong to the group, and get deeper knowledge that might excite them about their work.
Stay connected with employees from anywhere and on any device
If you're working with an international team and need to send out an employee announcement email, just fill out an internal email template with all the important details. Keep all employees informed of the latest news regardless of where you are. Stripo's email templates are also mobile-optimized, so your colleagues can read your messages on any device.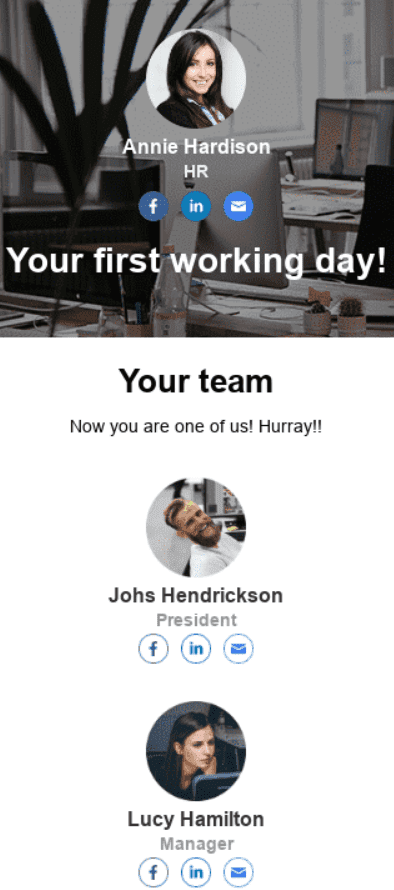 (Source: Stripo template)
Segment your messages for certain employee groups
Do you need to inform team members about policy changes for sick leaves or specifics on an upcoming event for the managers' team? Whatever segmentation you require, including an employee performance review or important information for a specific department, may be added to the company newsletter segmentation.
Track your email performance
Improve communication by determining which emails performed better than others. Internal emails help you track each message's efficiency so that you can make necessary changes for better performance in the future.
Collect feedback from your staff
Feedback not only helps you improve staff performance but also allows you to see the innovative future of your business.
Gain insights into what your coworkers like and dislike about their workplace. Perhaps they have some new development ideas? Effective communication through internal newsletters is the key to your success!
Internal emails: types and examples
Depending on the subject of your message, there are various types of internal email templates: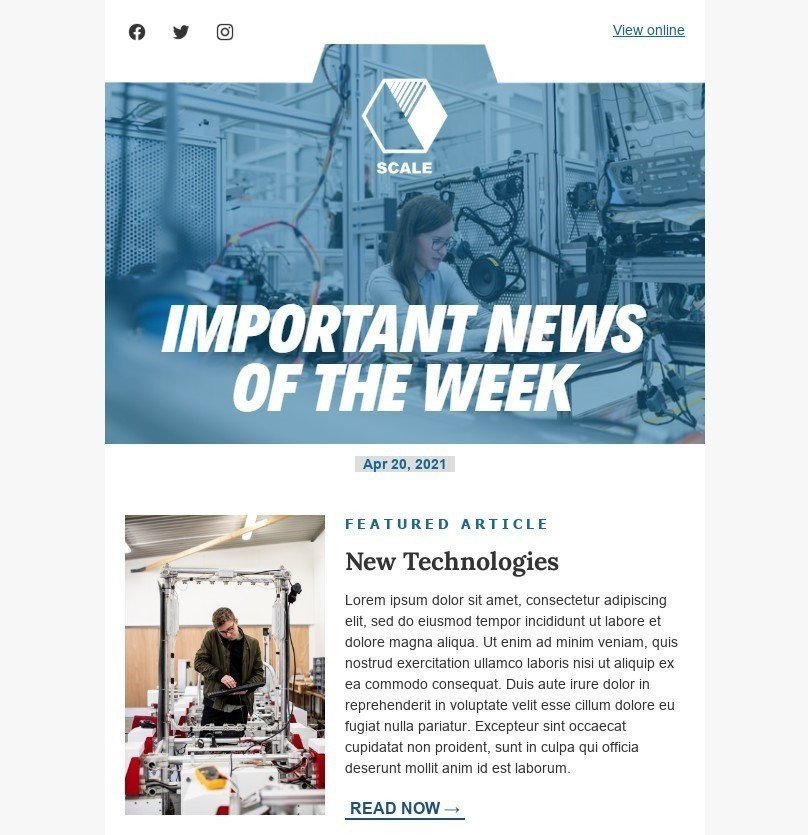 (Source: Stripo template)
This weekly newsletter email template helps you share important information with your team. Here you can outline a brief description of the last policy changes in your organization, announce any other important messages, and inform employees about a company event.
Newsletter templates save time and spread up-to-date info about your industry. You can even create your own business blog for internal usage.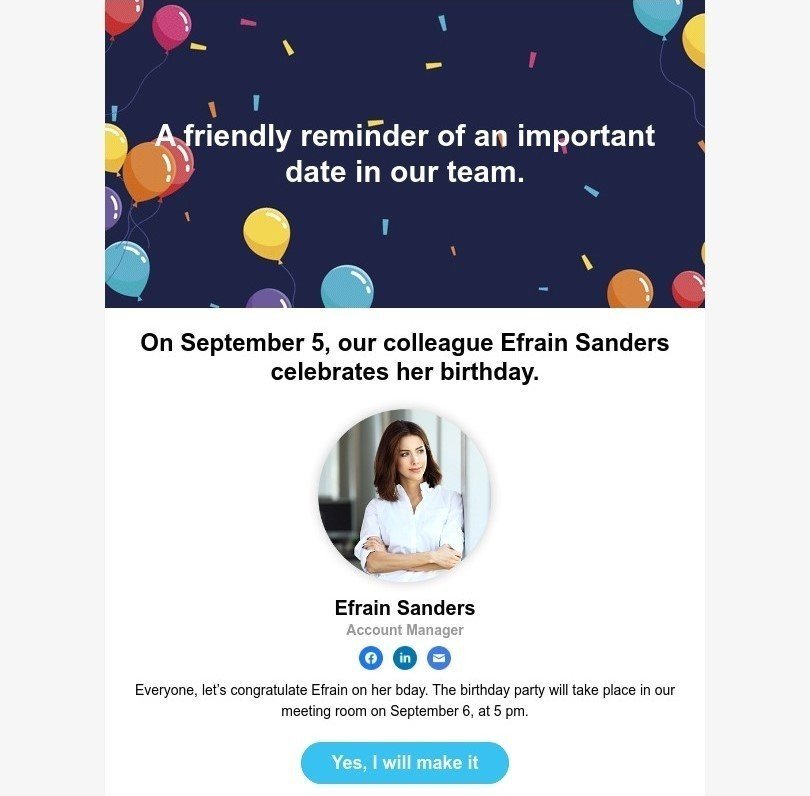 (Source: Stripo template)
Using this template, employees or the CEO of a company can provide information about an upcoming event, such as training, a conference, or even a celebration. It allows team members to learn about the event's date, time, and goal. Fill out a template with a quick agenda of your event to keep all employees on the same page.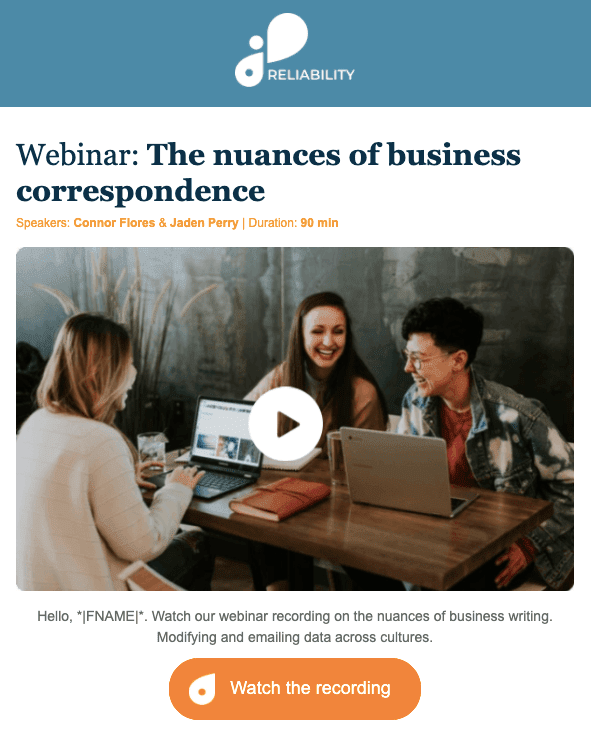 (Source: Stripo template)
While in company event email templates you can announce upcoming meetings or events, invitation emails are created to invite every employee to the exact event.
Here you can mention the date, time, and goal of your event once again. It's also a good idea to work on a brief list of reasons to join the event to engage employees even more.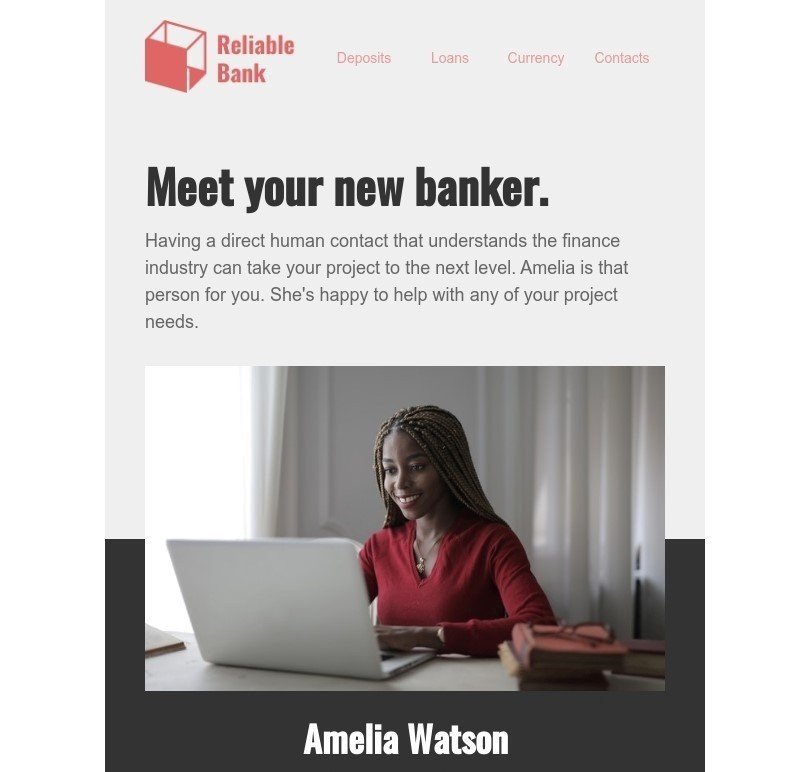 (Source: Stripo template)
Managing a large company makes it more difficult to introduce each new hire to every colleague personally. Hence, to make proper communication, you can use a new employee announcement email. Here you can include an employee's name, a brief description of their previous experience, and a current job title.
Employee onboarding announcement is vital for internal communication because every department is linked to others, so staff members will know who to reach in case of any situation.
How to build a responsive internal email: best practices
Of course, we won't leave you hanging without illustrative examples and Stripo hints for the best employee engagement ;). Here we go.
1. Work on attention-grabbing subject lines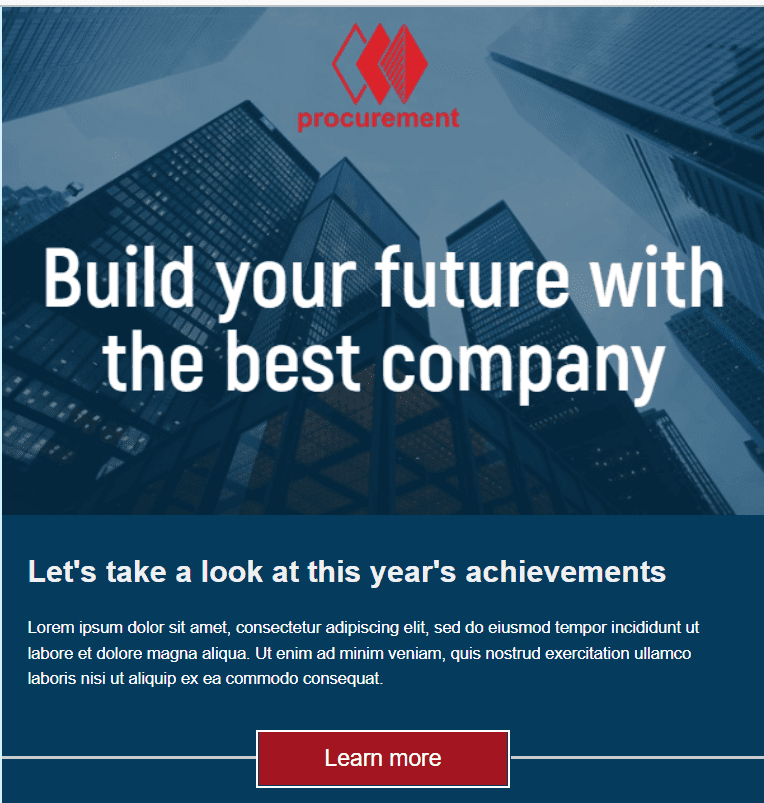 (Source: Stripo template)
A subject line is one of the most important aspects of any business email message. To entice the recipient to open a message, your subject line should summarize the email's purpose in a few words. Make them eye-catching and creative, but get straight to the point.
In the article below, we have handpicked 100+ catchy email subject lines for your inspiration:
2. Personalize your emails
Sharing is caring. It's crucial for your organization to show how you value each coworker through your company newsletter templates. Make each staff member feel valued and appreciated.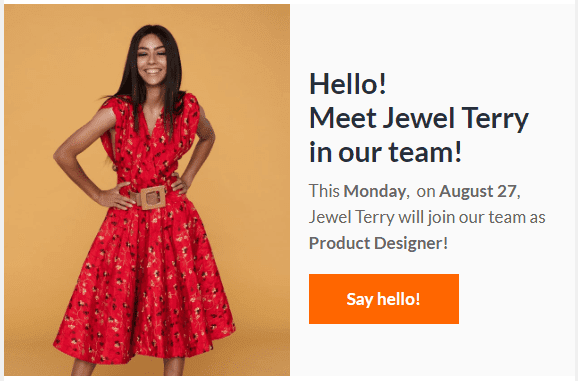 (Source: Stripo template)
By creating a friendly environment at work, you can affect employee engagement and productivity. To make your emails personalized, you can congratulate each employee on their birthday, address them by name in your newsletters, or come up with festive emails to celebrate their milestones like work anniversaries.
3. Add eye-catching visuals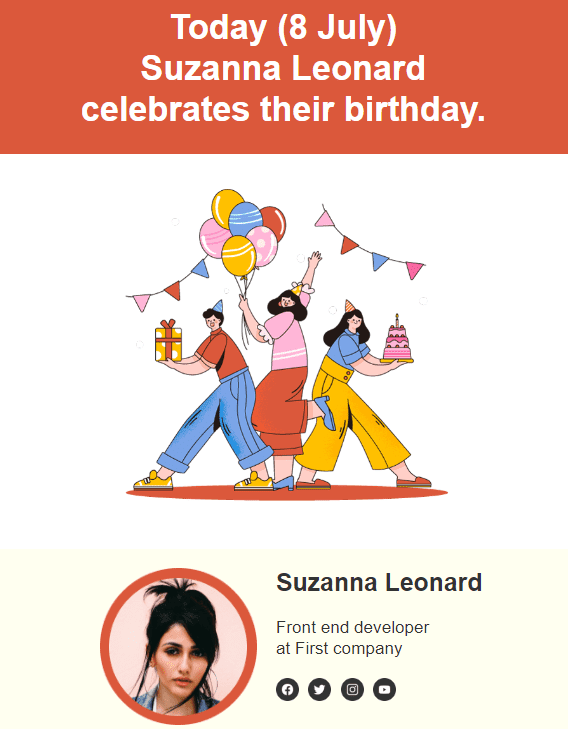 (Source: Stripo template)
Make your internal email template vivid and attractive by inserting relevant entertainment elements. With Stripo, you can add a banner, GIF animations, video, or even a game to make your email memorable and attractive. Make your employees excited about your emails!
4. Share relevant and helpful content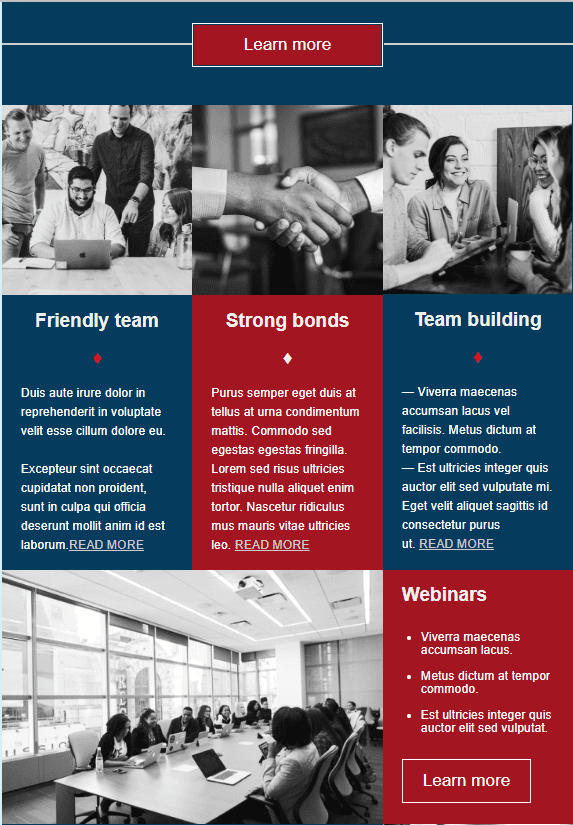 (Source: Stripo template)
Highlight the most recent company updates and distribute them to your colleagues via newsletters. Most businesses prefer to design such messages as a weekly digest. You can also equip your emails with different blocks by choosing the preferred structure type in the "Content" section.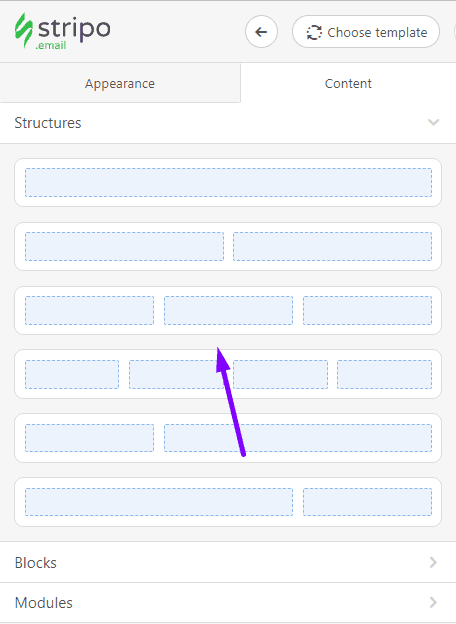 5. Include a clear call-to-action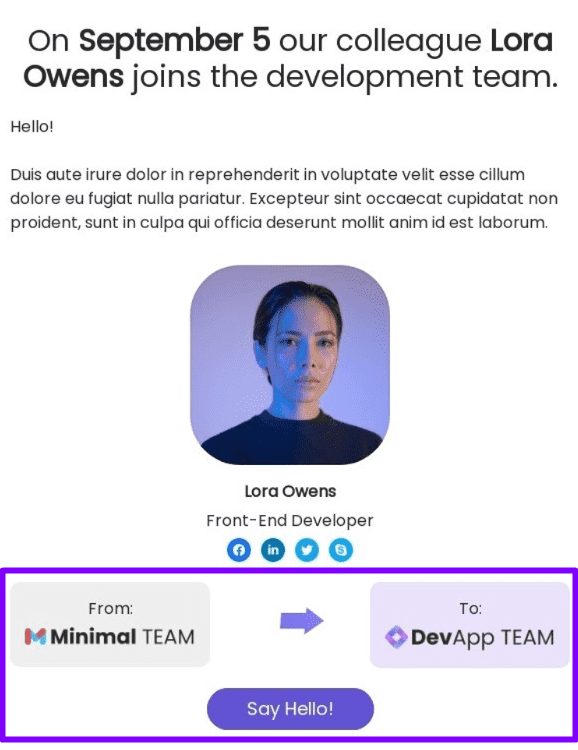 (Source: Stripo template)
A call-to-action is an important aspect of any online communication that increases the average clickthrough rate (CTR) and helps you use email templates more effectively. Call-to-action links and buttons indicate what users should do next.
Stripo can help you create clear and interactive CTA buttons in a couple of moments. Check out the article below to learn more about email call-to-action best practices:
6. Design a brand-consistent signature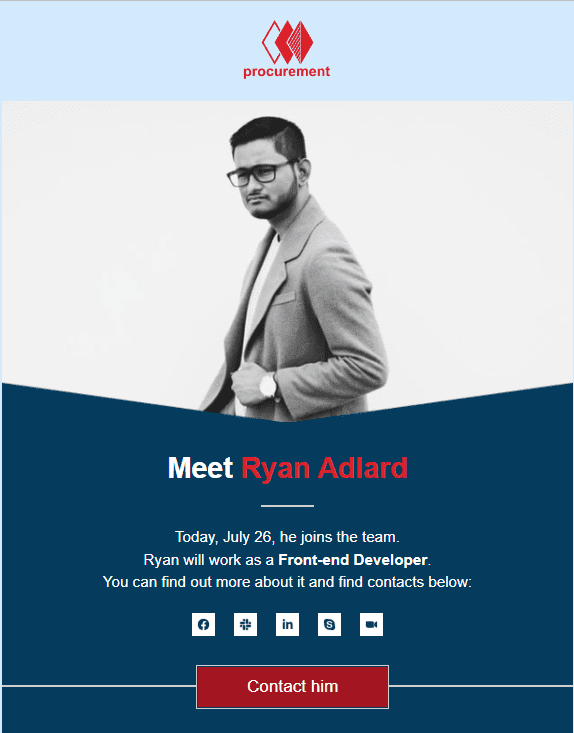 (Source: Stripo template)
Brand consistency allows you to be easily identified and makes your internal emails stand out from the crowd. Understanding your brand image, in tandem with Stripo email design platform, will help you create memorable email templates for your employees.
You have to establish and stick to a recognizable and distinct style, company logo, color schemes, and fonts when it comes to visual elements in your internal communication. With Stripo, you can also generate a Brand Guidelines kit within a few minutes.
7. Encourage employee feedback by using forms
We've already mentioned above that feedback is a big part of the communication between management and employees. Motivate your team members to share their thoughts by implementing a feedback form in your internal emails.
Check out the article below to learn how to build AMP forms for emails:
Wrapping up
Internal communication is crucial to maintain your company culture and keeping your employees up to date. Stripo is at your help if you need to tell team members about a company event or are searching for a new employee announcement template.
Now it's time to explore our library, find the perfect match, personalize your template, add it to your internal daily communication with a single click, and share it with the entire organization.
Join over 800K users
Start for free — upgrade anytime