On the eve of Valentine's Day, not only couples in love are racking their brains over gifts for each other, but marketers have a headache in the process of coming up with email campaigns. This holiday, email marketers not only want to congratulate their audience on this holiday but also advertise their services in a special way.
We in Stripo also thought for a long time about how to diversify the email newsletter on this day and came to the conclusion that gamification rules the show. And the results of the gamified Valentine's Day email were impressive. In this article, we are going to look at our own experience with email gamification for Valentine's Day.
Preparation
We decided to prepare thoroughly for this holiday and create a really memorable email with an AMP game inside. However, in addition to surprising our audience, our goal was to:
test the impact of gamification on our own email newsletters;
increase OR, CR, and CTR of our newsletter;
grant our audience promo codes for the Annual plan upgrade;
encourage people to delve deeper into the topic of gamification by downloading our gamification eBook and enrolling in an online Academy to learn how to create gamified emails.
After a long brainstorm to find an idea for a future email game, we settled on a puzzle game because:
game design for this kind of game is quite simple;
the game will not take much time for the recipients, which in theory, should increase the completion rate;
the game has simple rules that everyone can easily understand.
The game
So, we are happy to show you our AMP email game for Valentine's Day. This is a puzzle where you need to look for words among the letters. The rules are pretty simple. You need to find 3 words of letters vertically or horizontally related to email marketing, email templates, and Stripo in order to find out what kind of cupid you are. The letters you choose become red when you click on them. Once you find all the words, you need to click on the "Determine" button in order to check if the correct words are found.
If all the words are correct, you will see an art with a cupid and an explanation of which cupid you are. However, that's not all. In addition to interesting information, the recipient also receives a promo code for a 20% discount on the annual Stripo plan upgrade. If words are incorrect — nothing will happen and you can try again.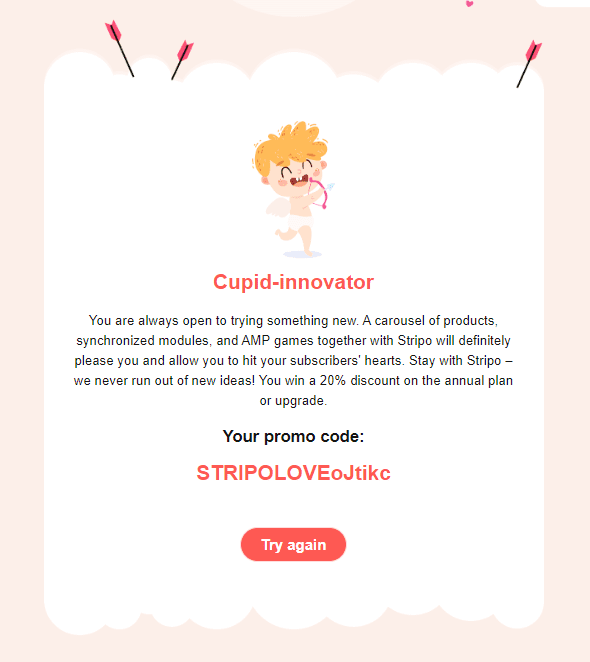 It would seem that this is the end of the game, you can close the email. However, we have also added special buttons that will be useful for recipients who want to get a better understanding of AMP and create email games. The recipient can easily download our gamification eBook and enroll in our Academy, where Stripo professionals will teach how to create the same email games for newsletters.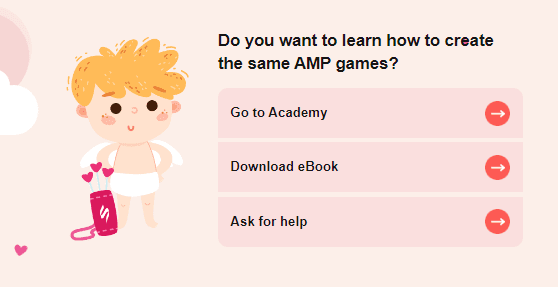 If you want to play around with this email, we provide you with a link to its web version. Besides that, in our eBook, we talked about other gamification experiences and puzzles in emails. If you want useful insights — we advise you to read.
The results
It would be a crime to make such a beautiful gamified email and not measure its effectiveness. After the holiday newsletter, we were pleasantly surprised by its results:
OR was 37.5%;
Click Rate reached 4.2%;
CTR was 11.1%.
And these are excellent indicators because the average performance of non-gamified emails is usually:
OR is about 23%-25%;
CR is approximately 0.5%;
CTR is around 1.1%.
However, these are not the only results we want to share. We also wanted to distribute our eBook and invite people to take our email creation Academy in Stripo, and the results were:
our eBook has been downloaded 29 times;
more than 40 registrations in the Academy;
as a nice bonus, we got 3 organic reviews on Stripo.
Wrapping up
As you can see, our gamified newsletter was a success. We not only provided our audience with an exciting game but also invited them to delve into the topic of gamification and learn how to create the same impactful email games for their own campaigns. And we also invite you to try to build something similar in Stripo.
Was this article helpful?
Thanks for your feedback!