Table of contents
Brief History of Veterans Day
How to write inspiring messages on this occasion?
Veterans Day email design ideas
Wrapping up
1.
Brief History of Veterans Day
November is almost here, Happy Veterans Day!
Even though it's not one of the most popular holidays for shopping, it's still an important day for email marketers and a great opportunity for retailers to reach out to their customers. Why?
Because it gives your customers a break from the endless Black Friday messages that characterize many email campaigns in November. Plus, you can tie it to a promo email or send a simple and sincere message.
In this article, you will find the most effective tips and email design ideas to make your Veterans Day messages memorable and appealing.
Brief History of Veterans Day
The meaning of Veterans Day has changed over the years. It began as Armistice Day, recognizing Nov 11th — the day that France signed an armistice agreement with Germany ending World War I. But after World War II and the Korean conflict, it became more widely celebrated around America to honor all veterans for their service in defense against foreign invaders or internal mischief-makers alike.
So this holiday is mainly about showing gratitude to those who served and made a sacrifice in the name of freedom.
How to write inspiring messages on this occasion?
Here are some tips on creating efficient Veterans Day messages.
Make your email meaningful and based on honor
Many brands are used to sticking to the standard "Veterans Day Sale" theme. But wouldn't it be better to spend a little more time coming up with an email that says "Thank You" more sincerely and yet effectively?
You don't have to write an essay. A headline and a heartfelt copy will be enough to express all your thoughts in your Veterans Day message. Through your text, try to show that you remember their sacrifice for freedom.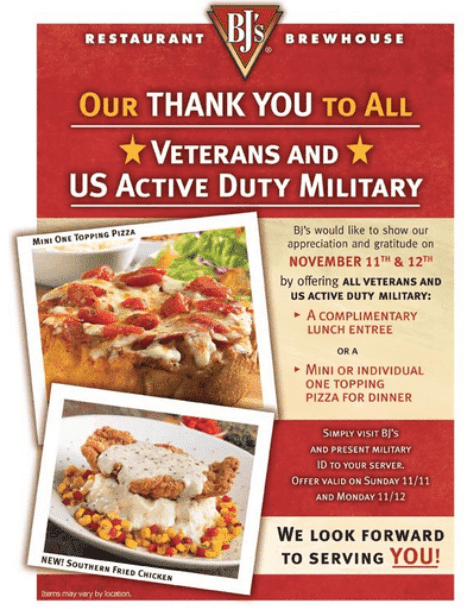 (Source: Email from BJ's Restaurants)
Try to show your appreciation for veterans by giving them a gift they can enjoy year-round. Showing gratitude is the best way to make someone feel good about themselves!
Make sure you clearly communicate the eligibility requirements for your Veterans Day promotion and discounts so that no one is left out. For example, a customer has to show a military ID card when purchasing your product to get a discount.
Add information on when the sale starts and ends, and what are the terms for using the discount. If you forget to mention all the details, you might get frustrated clients and this never ends well.
Tell an inspiring story for the Veterans Day message
Veterans Day messages are a great opportunity to share some gripping stories. This way you show your support to soldiers and inspire others to talk about it. For example, tell how you've helped other veterans. A few lines about yourself and how your company helps country heroes can't hurt!
For example, Starbucks shared its story of how the company helps veterans and their family members by hiring them and providing all opportunities for growth and the veterans' stable future.
This is not about bragging but showing that the company is always there to support. And this is worth mentioning.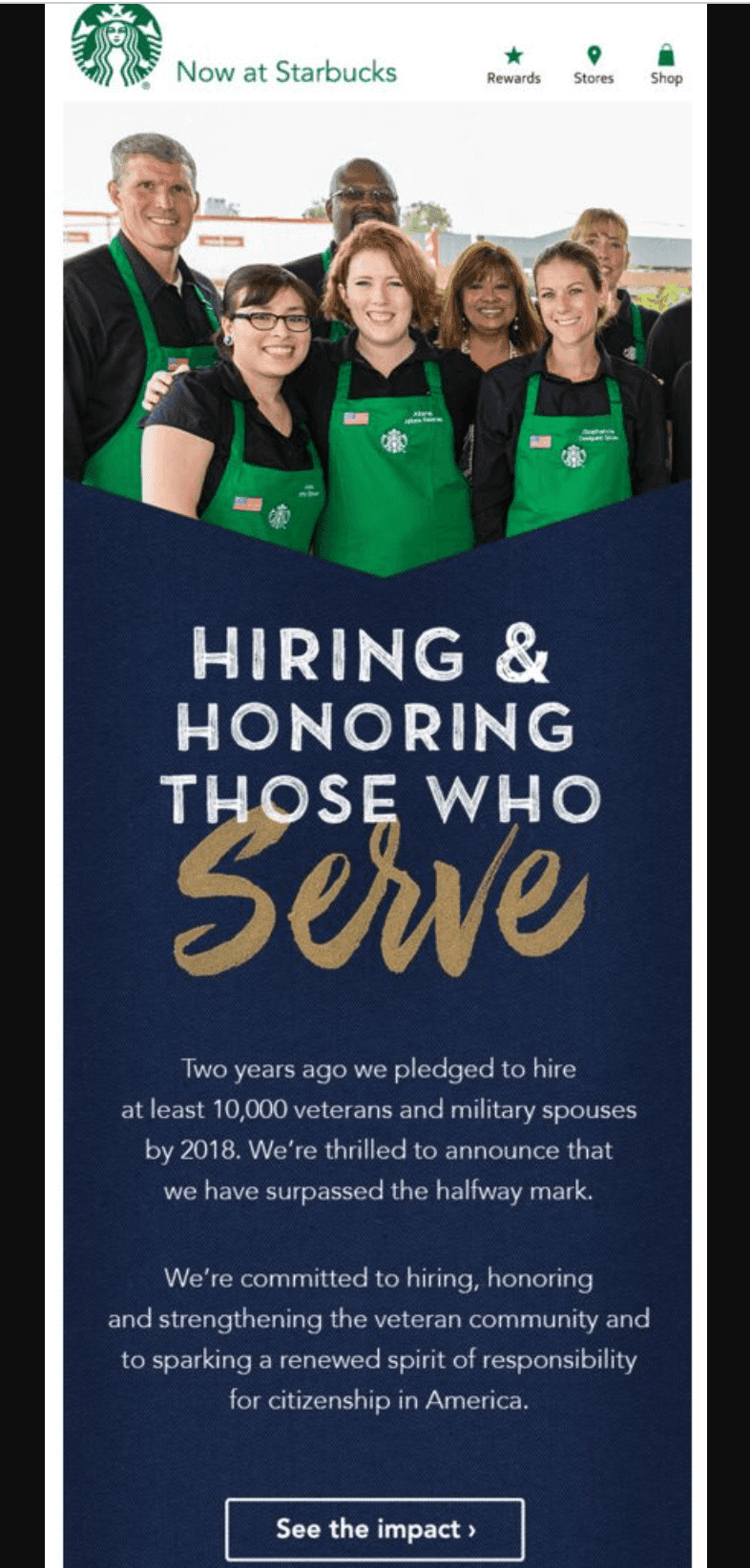 (Source: Email from Starbucks)
The point is that the story will help bring your email to life and keep readers interested.
Tell a little backstory to grab your readers' attention. Describe the key details. Even though the message primarily promotes your brand's products or services, the focus is still on the story.
Remember about diversity
Did you know that about 1.66 million veterans in the United States are women? But most of the images in Veterans Day messages focus on men. So look for images that reflect gender and racial diversity among military members. This is actually very important! Show that you're proud of everyone and very grateful for keeping the country safe.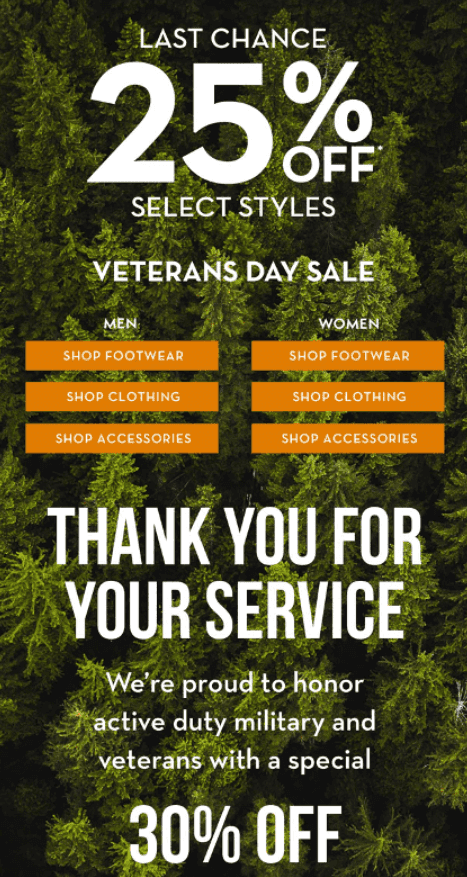 (Source: Email from Timberland)
Veterans Day email design ideas
Now that you are aware of the most effective tips to build a successful Veterans Day email campaign, let's take a look at some design ideas for your inspiration.
Noticeable and patriotic message
This is where the classics come in. The image of the U.S. flag is perfect for your messages. You can use it as a detail, but not as a background. In general, don't overdo it. You can also add other well-known elements of the country like stars, eagles, and the Statue of Liberty.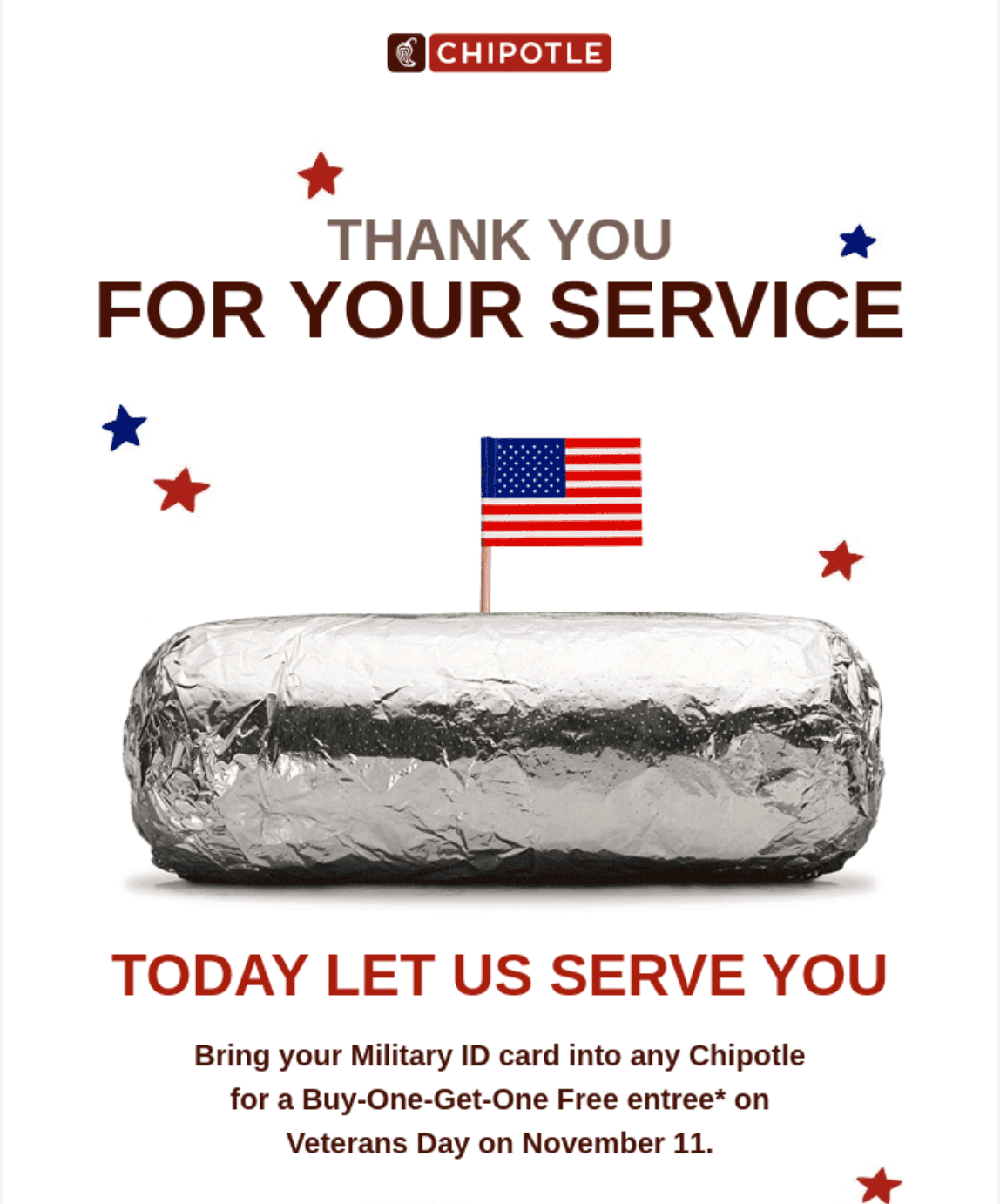 (Source: Really Good Emails)
If your product is famous for its place of origin, you can add a silhouette of its city or a mascot of a specific state.
Also, you can brainstorm with your marketing team and think of some additional benefits that veterans can get. For example, instead of selling just a burger, the fast food company can offer email subscribers to gather at their restaurants to meet with friends who served and share a moment of holiday and reunion on this day over a free burger. Sounds more interesting, meaningful, and appealing, right?
Sincere and restrained email
Humor is a great tool, but this is Veterans Day. And this is not a good time for scintillating jokes.
Use humor only if you also served and are well aware of some inside jokes for military members which won't be offensive in any way. Or you can add some military terms/jargon. But again, don't overuse it.
It is best to remain serious, both in text and in email design. Focus on the sense of this day. Let your email spread gratitude for the bravery veterans showed.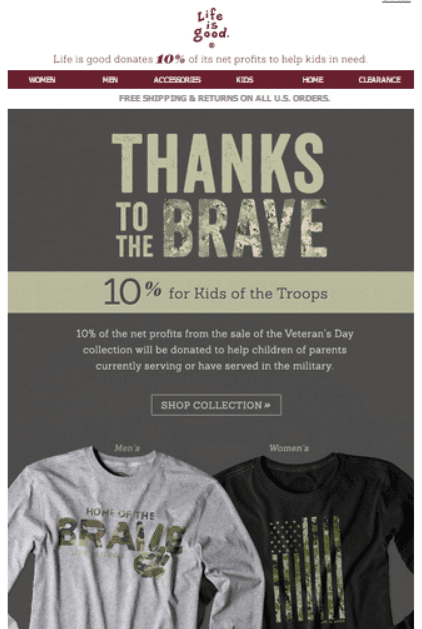 (Source: Email from Life Is Good)
Donations for military veterans
It's always crucial to help those who sacrificed so much for our freedom. In the example below, a company offers subscribers a 15% off coupon and donates 5% of all the savings to help wounded warriors.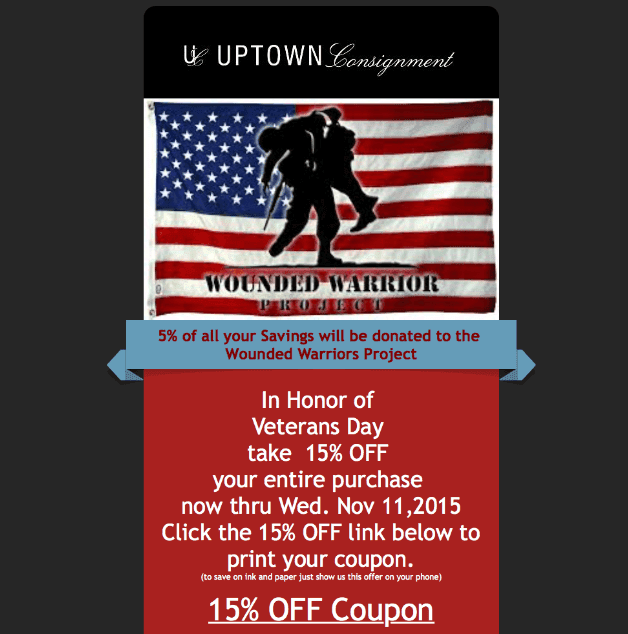 (Source: Email from Uptown Consignment)
Wrapping up
What's really necessary for creating a Veterans Day email is staying true to your brand's values while still offering a meaningful message.
Sincerity is important in Veterans Day messaging. If you don't believe your brand has a relevant message, it's better to do some research and brainstorming before sending out your email to subscribers.
Was this article helpful ?
Thanks for your feedback!