Promotional emails are meant to drive and increase conversions. But do they really show impressive results? After reading this article, you will be well aware of the tips to create a promo email that converts and will and get inspired by the best promotional email examples. Even if your promo email templates are pretty effective, do not miss out on a chance to improve your promo campaigns.
Ideas and recommendations on how to make a promotional email that converts
In this section, we are going to talk about general recommendations that are applicable to all promo emails.
1. Value offer
Think it over thoroughly!
No matter how good and appealing your design is, a promo email starts with an offer. And in a way, this offer determines the email design, on the subject line, as this is going to be the core of your entire campaign.
For instance, if you provide customers with discounts on several items, it would be relevant to showcase them. Or if you promote a new line of accessories for gadgets or apparel, why not show the prospects on how to combine the first with the stuff they previously bought from you.
Brighton's trick was to display 6 possible ways to wear some items of their new collection. Btw, the subject line said, "6 Layered Looks To LOVE".
2. Segmentation
Now that we know what we are going to promote, we can finally choose which group of our subscribers to send promotional emails to. Normally, we divide customers by region. But doesn't work for online stores, it works for concerts and seminars only.
Segment your customers by their interests. How do you know about them? When newcomers get registered with your website and "tick" agree to receive your newsletters, ask them to answer your questionnaire or take a short survey.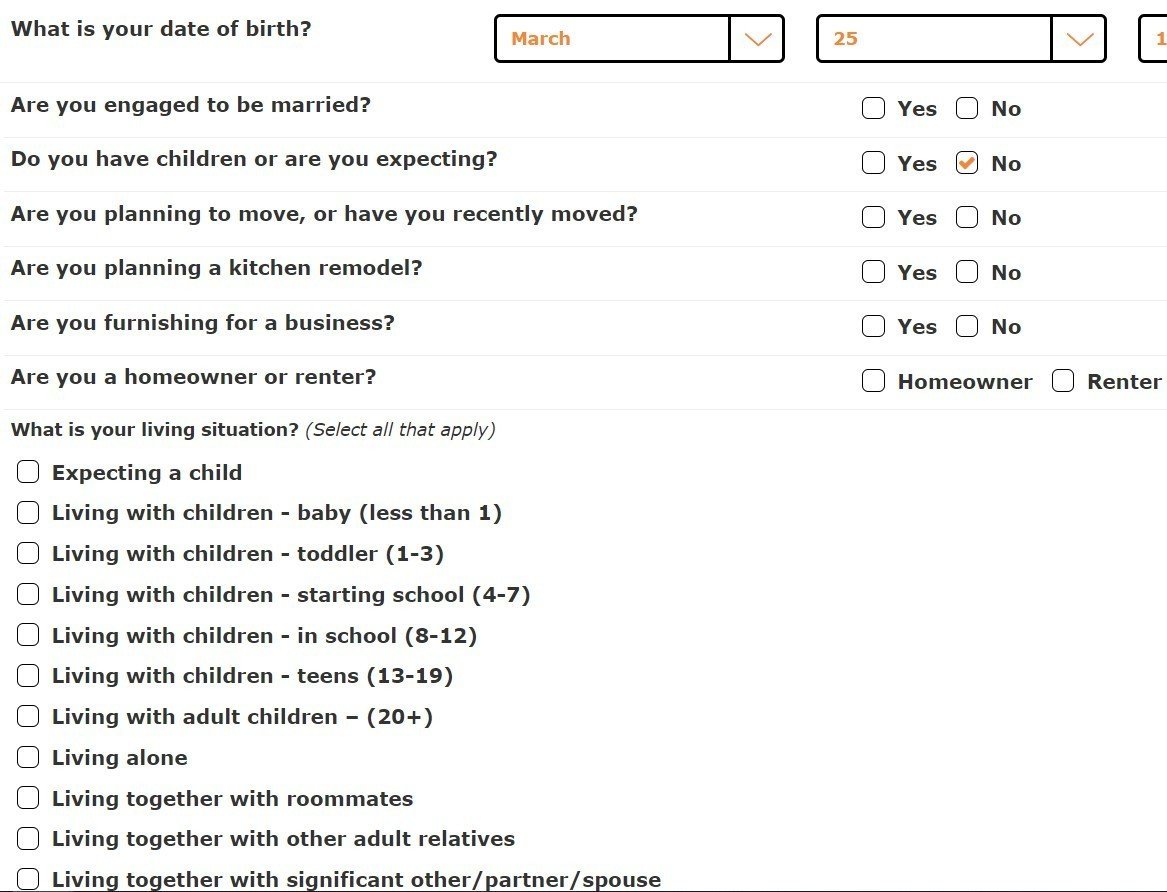 Ikea in their survey ask me if I have any kids, their age and, what I especially liked, they inquired after my preferences in furniture styles.
Whenever you "tick" a yes in their form, you see another question.
3. Subject line
The subject line is a key factor that determines whether recipients will open your email or not.
Some sources say that words like "sale", "discount" and "off" are spammy and won't increase the open rate. But in fact, these words significantly improve open rate especially when subscribers know that the sale is dedicated to a holiday or when the subject line is personalized.

Gap Factory not only notified about the sale, but also urged its readers. Many people are more likely to open promo emails with such subject lines.
4. Copy
Copy matters a lot! Be concise yet expressive. Critical for invitations and product launch announcements. Pick the best words to describe your product and to appeal to emotions.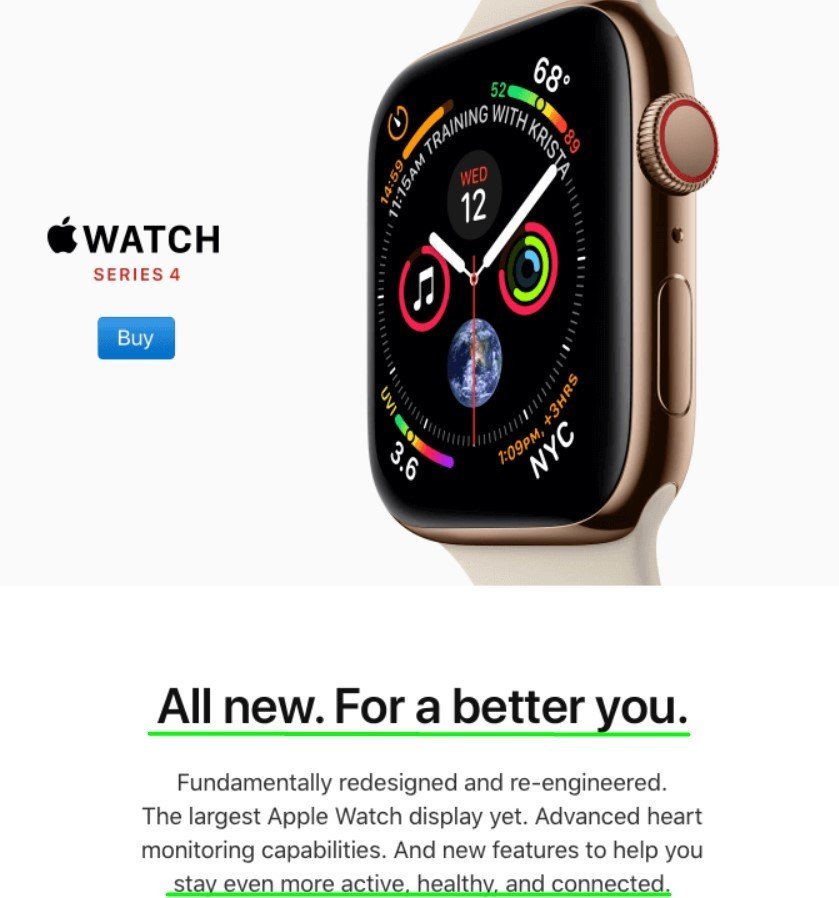 Better me, healthier me, connected me — sounds perfect.
The font size should be 16 px at least. The best font color is black. In order to stick to email accessibility requirements, set beige is as a background color.
5. Appealing to emotions
Did you know that 95% of purchases are made unconsciously? This is the reason why all high-converting promotional emails appeal to emotions. Emotions can be of a different kind — vanity, happiness, tranquility, love, etc.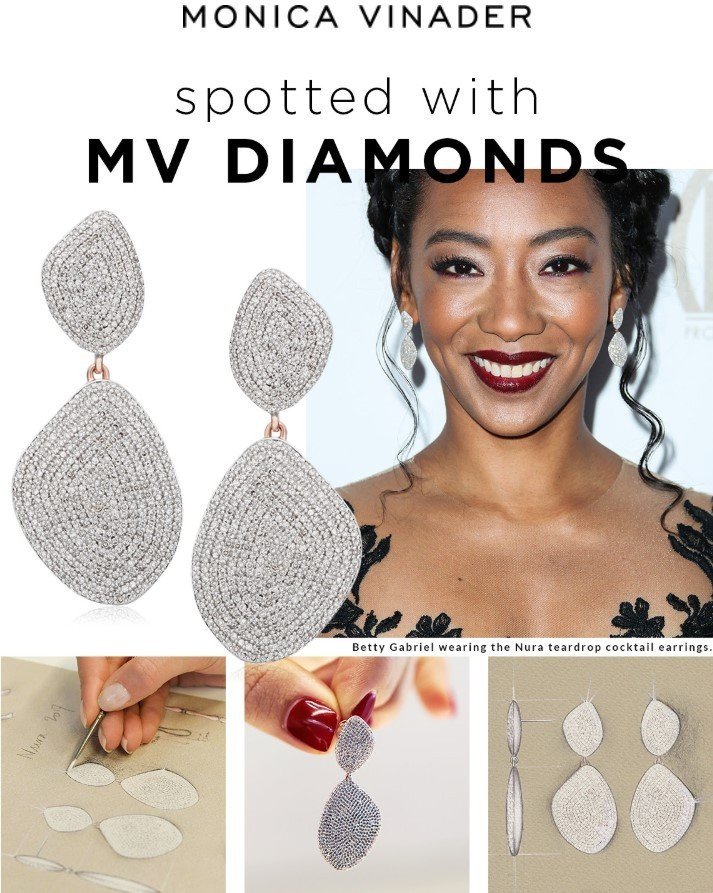 Many women would love to wear exactly the same jewelry as prominent people do. Why not boast that stars like Betty Gabriel have been spotted wearing your diamonds?
For more info on how to evoke emotions to shop from you, read in this post.
6. Email design
The plain text format can be appropriate for event-triggered emails, but even here the HTML format is preferable. As only by sending HTML emails, you have an opportunity to showcase your products, introduce presenters to recipients, and specify which items they can buy at low prices.
In order to create a really effective promo campaign by using free HTML email templates, we should know what particular type of promo email this is going to be to focus on the right elements.
They can be divided into five conditional groups:
sale emails — general or personal discount;
seasonal emails — holiday and situative promo;
announcement emails — product launches;
invitation emails — webinars and concerts;
introductory emails — normally, goes with welcome emails.
Sale emails
Sale and discount emails' mission is to notify customers about an upcoming sale. Consequently, the focus is on the numbers.
Normally, brands mention the amount of the discount in the subject line and place the numbers on a banner image.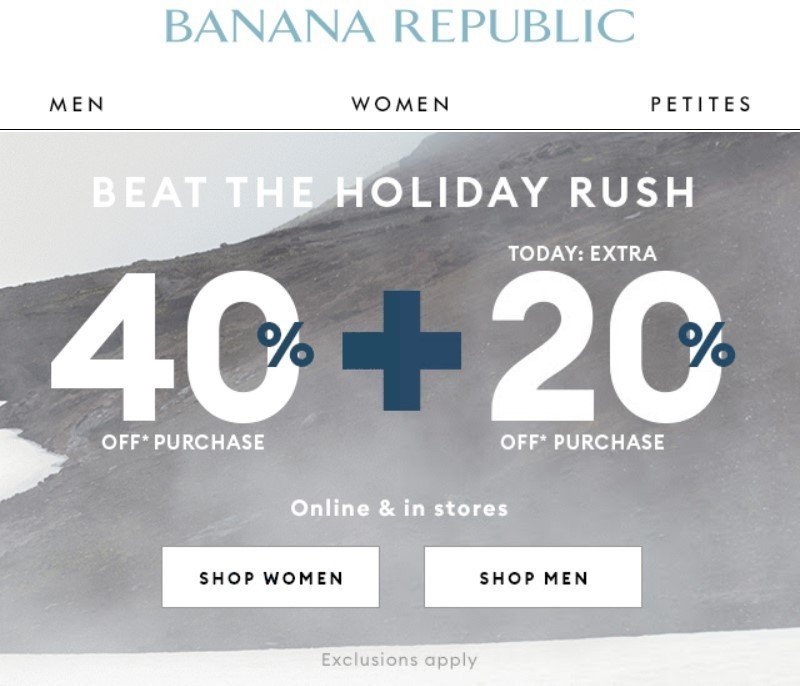 If you do not offer a discount on an entire assortment, but only on some special items, it would be great to display them to customers.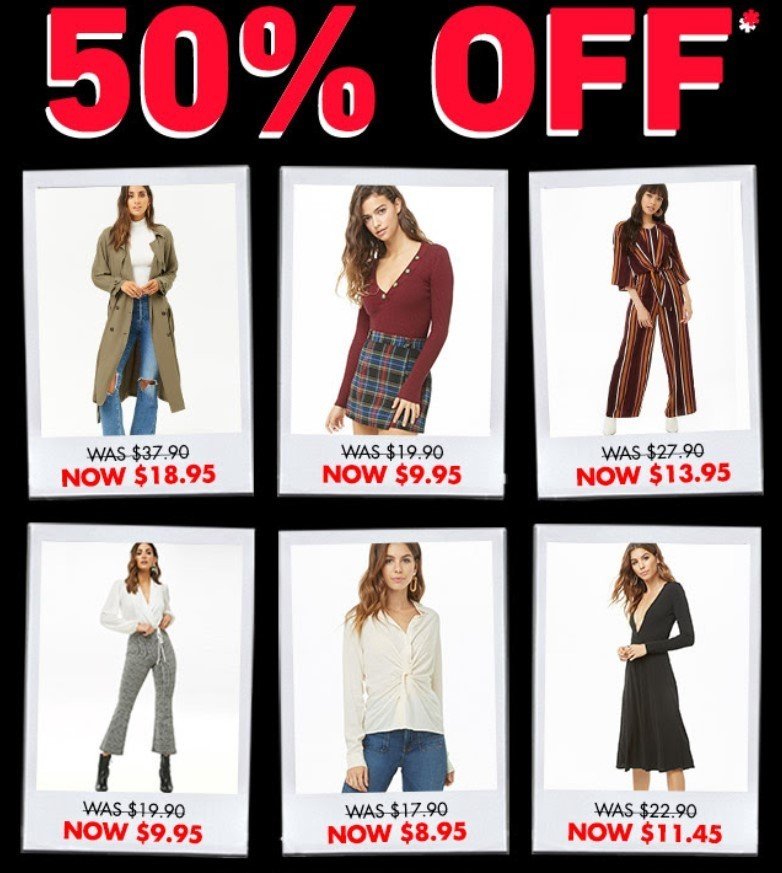 Note: to draw attention to the expiration date, you can either specify the dates or use a countdown timer, which you can add in your emails with Stripo in no time.
Seasonal emails
We all know that subscribers wait for holidays or a new season start. On holidays, we show our appreciation to them by means of generous or unusual offers, greetings, personal discounts. But this all is wrapped in a beautiful design. For seasonal emails, the focus is on the thematic design and decorations.
If this is a Christmas email, for example, don't hesitate to add snowflakes, Santa and his deer in emails. Most companies even decorate headers and footers.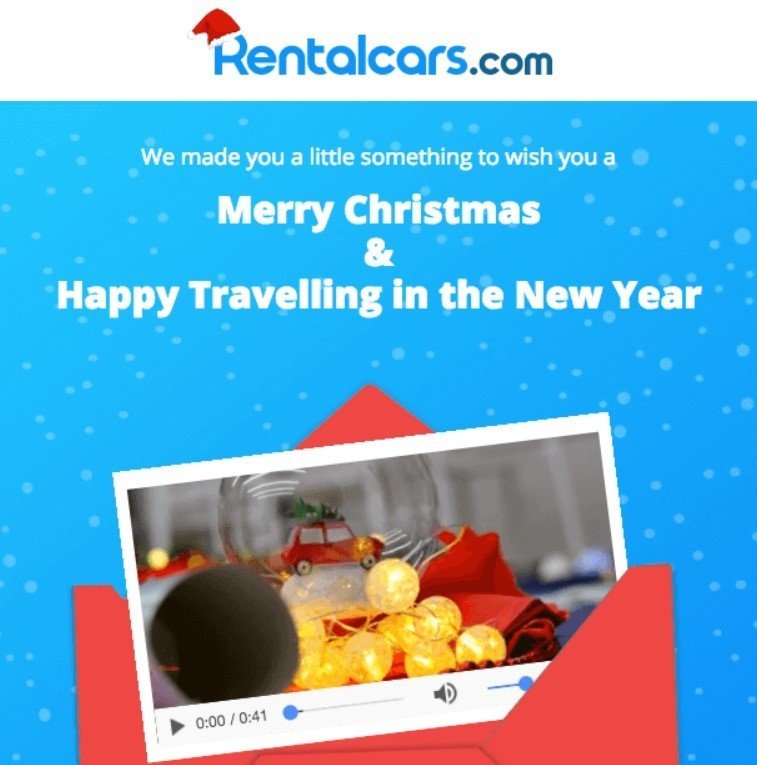 But avoid making your email as an entire greeting card with text over an image as the chances are your subscribers will see nothing if an email client will not show this image to your recipients.
Slice your email into pieces. Alternate text and images. But if you want it to look like a card with greetings or an invitation to celebrate New Year Eve at your restaurant, just set a background image to the entire email. Even if an email client does not display it, your customers will see the copy. Besides, you can always set a background color similar to the background image as a fallback.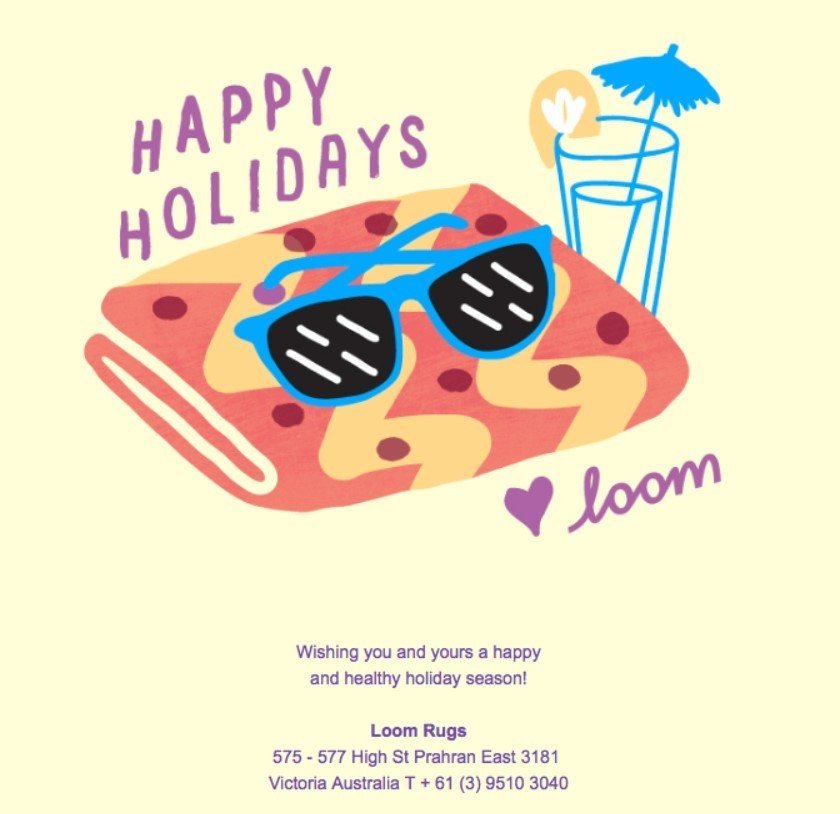 Announcement emails
In product launch announcement emails, the focus should be, certainly, on the product itself. Normally, it takes 3 to 5 to make your product really anticipated.
Order of emails in the sequence:
a teaser email — you only announce that something huge is going to happen;
you reveal what it's going to be and specify one or two distinguishing features of the product;
you mention one more feature;
you set the dates and start pre-order;
you finally launch it.
Stick to the rule of three to better showcase the product's features.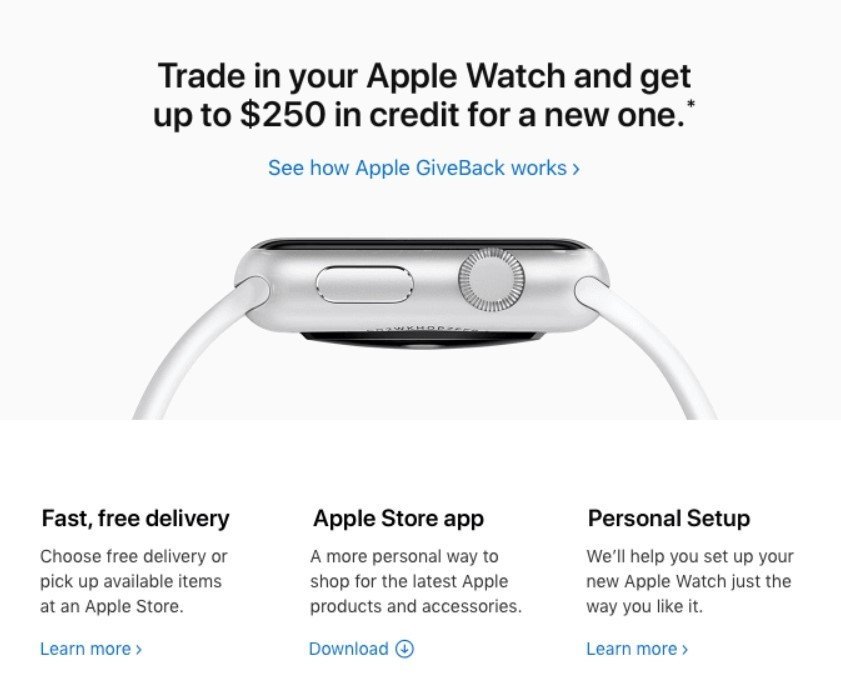 As for a new collection announcement, it normally goes in one or two emails, yet some companies make 5.
In order to promote at least a few new items, you may create a GIF banner and add it in your email, or implement image rollover effect.
GIFs work better when you want to showcase a few items at once, while rollover works best for showing a close-up or the back of a piece of clothing.
Invitation emails
Certainly, in webinar invitation emails, the focus should be on the participants if they are prominent, or on the problem, if it's huge.
An embedded video is a good way to introduce the panelists.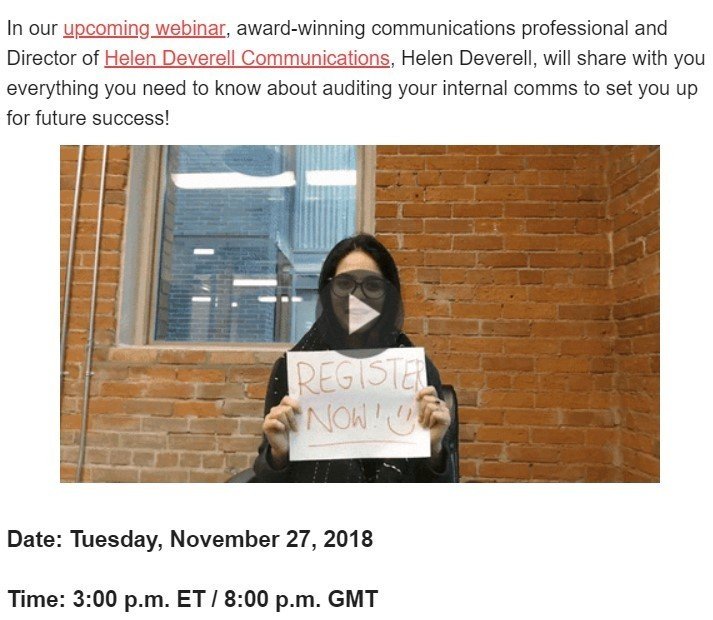 Note: make sure to provide recipients with key information, like date, time, time zone and duration.
Those who reserved their seats would love to receive a reminder email from you, or even two if you announce this even a week prior to the very event.
Introductory emails
A welcome email where you introduce your brand to a new subscriber is also called an introductory promotional email.
Either include a video where the CEO of your company explains how it all started, or a video when the whole team greets a newcomer.
But the most common one is when a brand just places two or three product items on one banner, then adds button.
We, guys, need to stand out! This promotional email example by Everlane is just great!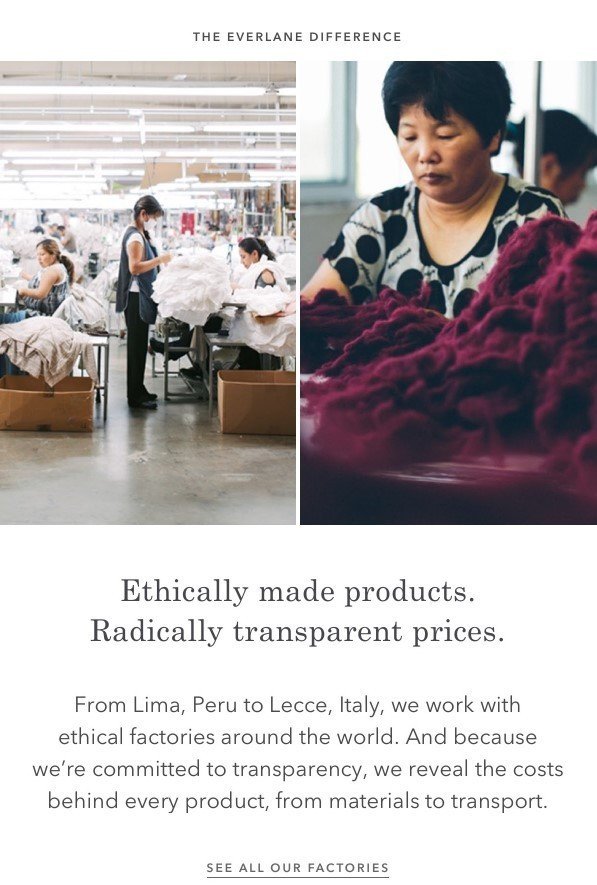 Why not tell your prospects they are gonna be treated differently? Let them know what distinguishes you from other brands!
All the aforementioned design tricks will help you write promotional emails your recipients will fall in love with!
Best promotional email examples
I tried to choose just one best example of each group.
1. Sale emails
We all like it when everything is clear, but we love mysteries even more. This way you draw customers attention to the very sale, you make them want to click the banner.
The way it is done: it's not a gamification email. This is just a simple GIF with a link to a proper landing page.
2. Seasonal emails
I could not choose the best one, as they all are amazing. But I managed to choose only two.
Best copy
Nokia wins hearts with this touching copy.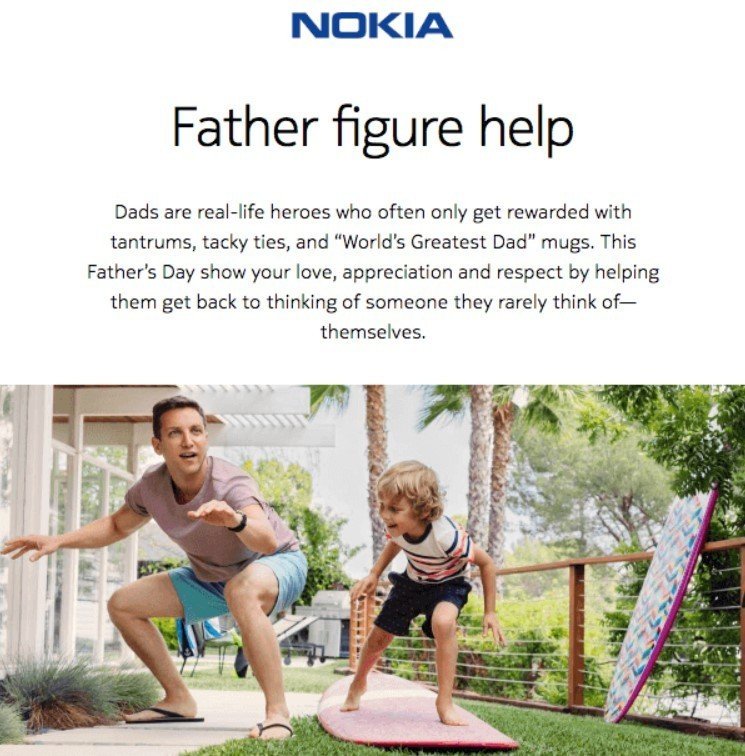 And this photo just complements the text.
The most emotional photo
The more emotions the photo evokes, the more chances recipients would love to possess the product pictured on the banner.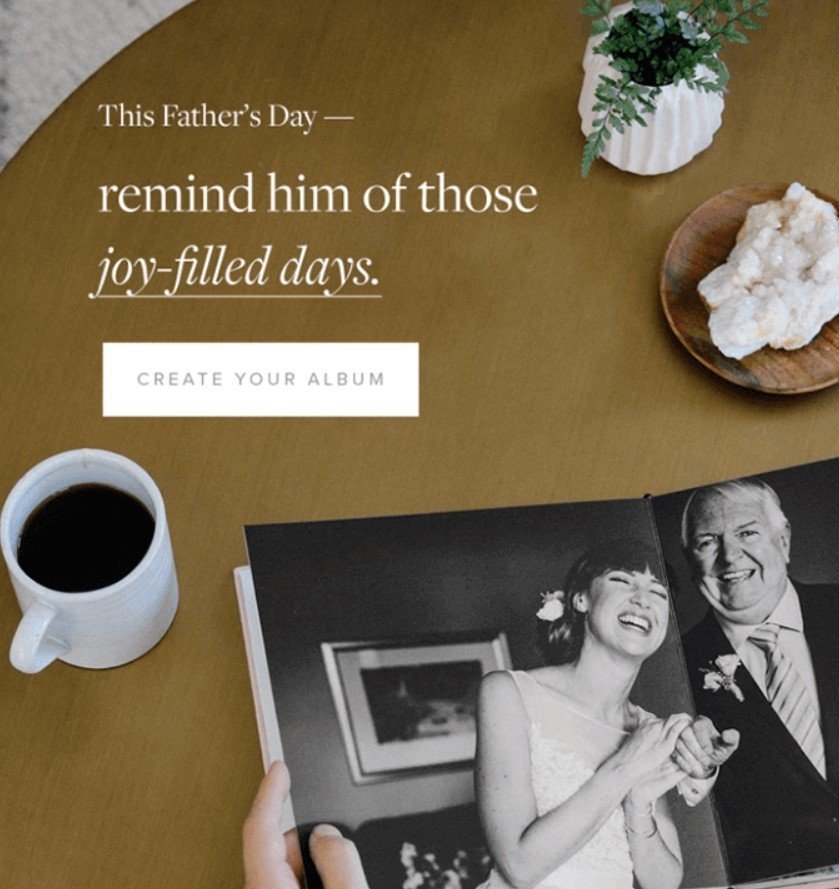 The lucky ones have sweet memories from their childhood. And we'd love to bring them to parents, too. Especially, if we don't get to see them often.
This is about Father's Day, again. I wish we would do the same for Mother's Day.
3. Announcement emails
Regal made a perfect product launch announcement email. They used pretty emotional photos of happy people on the boat. And they took a short video of a boy whose dream was to drive that boat.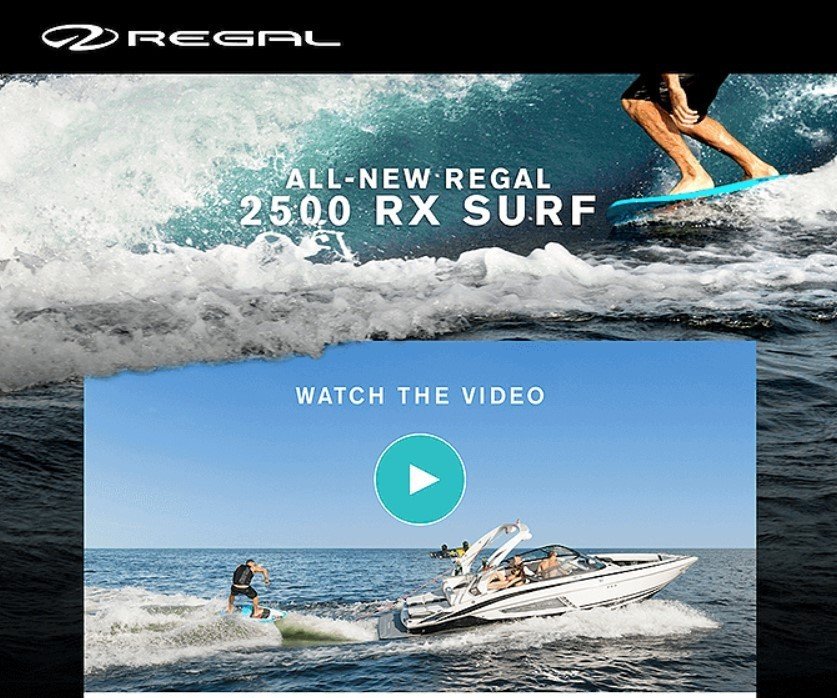 That's simple, yet awesome.
4. Invitation emails
Today, stars have websites, pages on Instagram, etc. And fans subscribe to the newsletters to be always updated.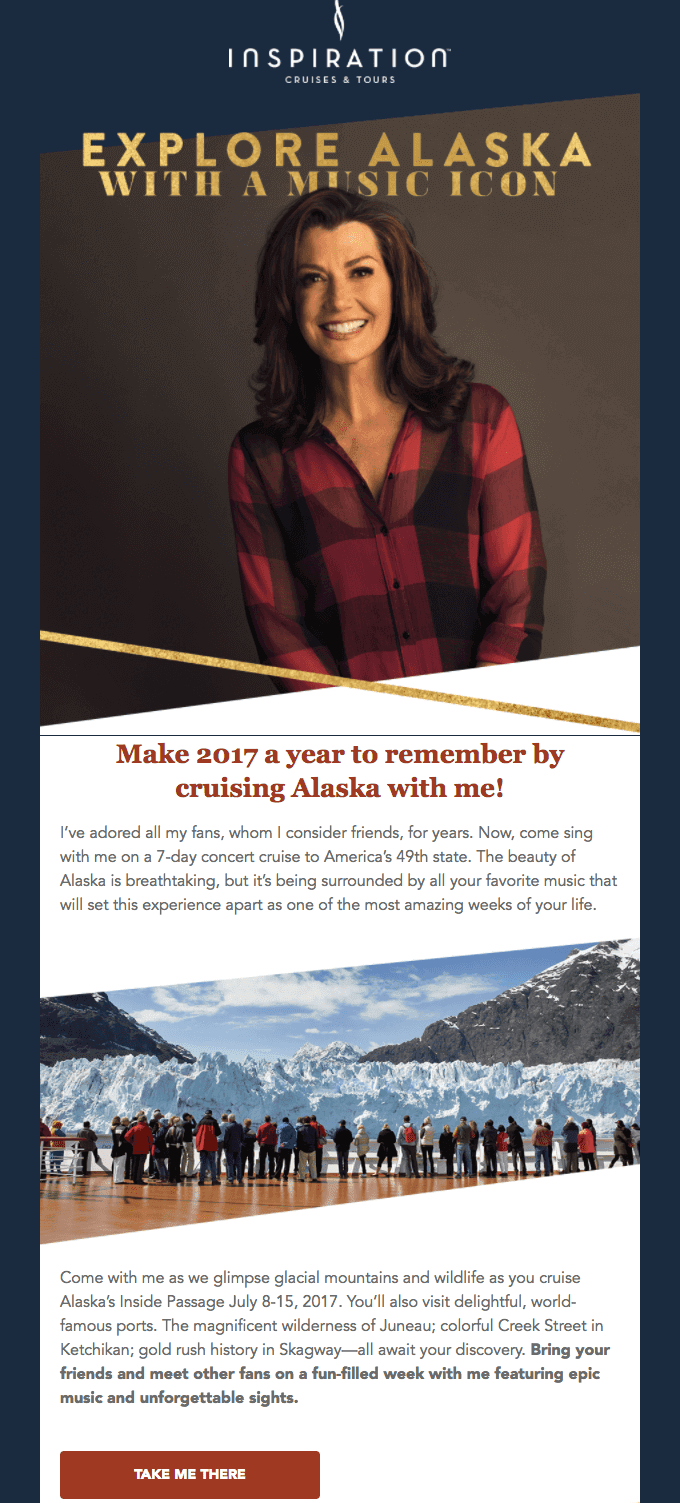 This singer not only invited to attend her concert, but also invited us to visit Alaska. She shared some photos of its beautiful landscapes. And CTA copy "Make a year to remember" convinces us at least to consider this cruise.
You are welcome to use our prepared promo email templates in order to create a promotional email in no time. All you'll have to do is just to replace links, add your company'ss logo and insert photos of your products — the email is ready to be sent to indulge your recipients.
If you have any questions, please feel free to ask via Facebook or email.
Was this article helpful?
Thanks for your feedback!