05 March
10+ Best Free Email Template Builders for 2020
Do all email template builders seem alike? You are now confused about which one to choose to create the best HTML email templates? No wonder, as there are so many of them.
We are going to survey the most popular ones to find their distinguishing features. I will try to create the same template in any of the editors with the same media files. Let's see if the builders differ.
For a survey, we have picked Stripo.email and its competitors: Topol.io, Campaign Monitor, AWeber, Mailchimp, Taxi for Email, MailStyler 2, Mosaico.io, BEE Free, Postcards by Designmodo, Chamaileon.
Important to note: We will review only those options and features that are accessible with the Free subscription plan.
Stripo.email is one of the best free email template builders, a next-generation editor. It's listed on Google's amp.dev page as the first drag-n-drop AMP email builder.
Stripo is an independent tool, embedded in multiple ESPs, CRMs, and other SaaS products. Our blog comprises many articles that explain how to build effective promo and transactional templates, how to design interactive emails, and some articles are about marketing trends.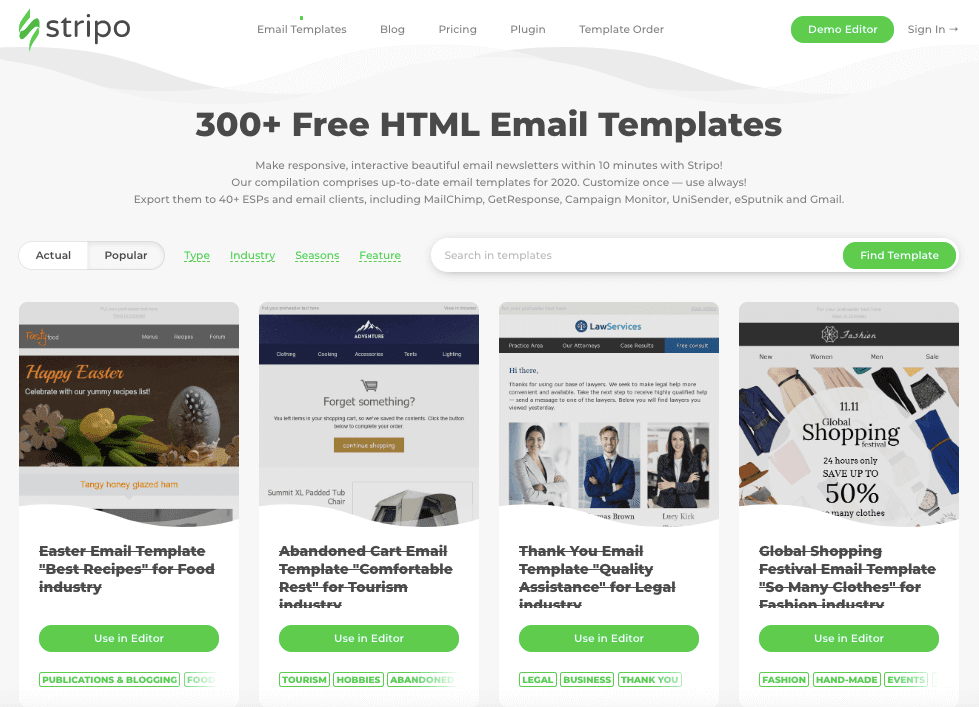 Stripo offers over 350 ready-to-use templates.
Stripo is a drag-and-drop and HTML email template builder. You can use both versions simultaneously — design the visual elements, insert images and videos in the drag-and-drop editor, aka WYSIWYG, and see the changes right away.
Not only does Stripo.email help create responsive templates but also enables you to choose which elements to display on mobile devices, and which are to be hidden.
Export:
We enable you to export email templates to more than 40 ESPs and even email clients in 1 click.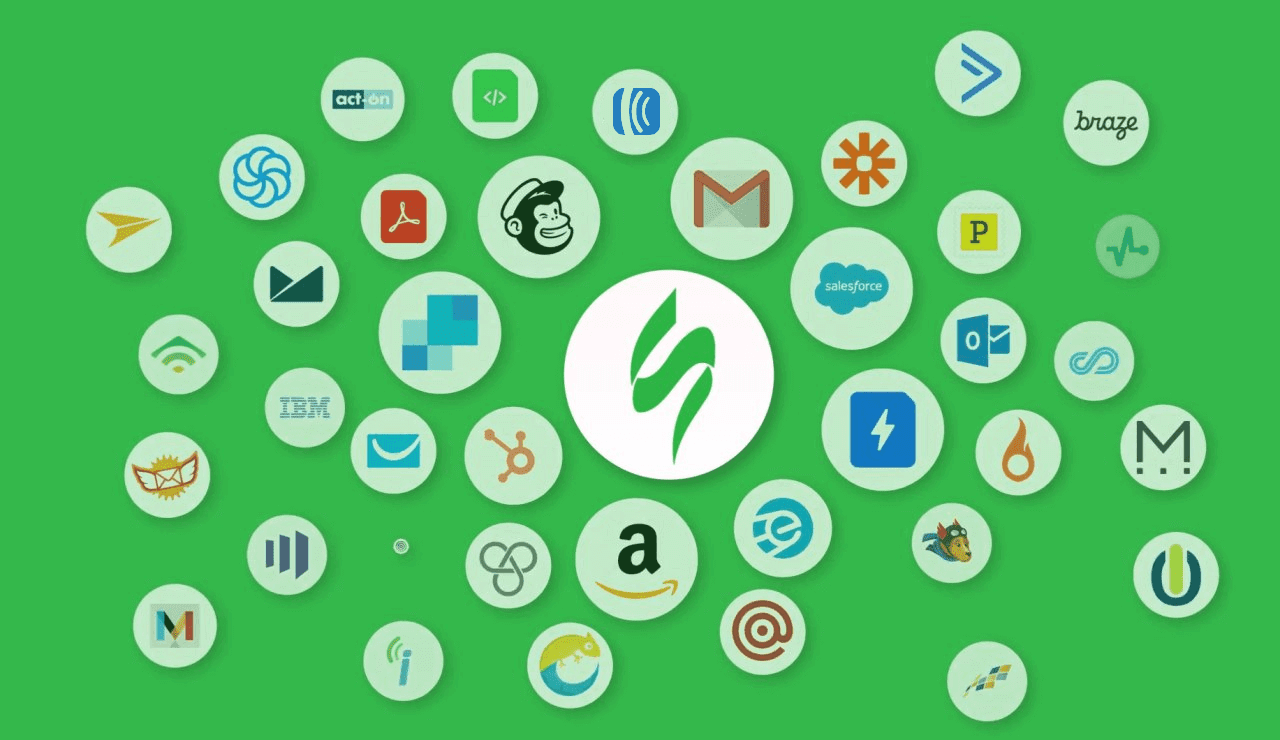 (list of ESPs that Stripo are integrated with is constantly growing)
I can mention many exclusive features that Stripo editor is proud of, but I need to highlight only a few of them. So I chose the following ones…
Builder's unique feature:
code validator for AMP emails;

smart-elements to reduce the time for creating multiple products' cards;

personal content library — you can save separate modules to reuse in the future newsletters;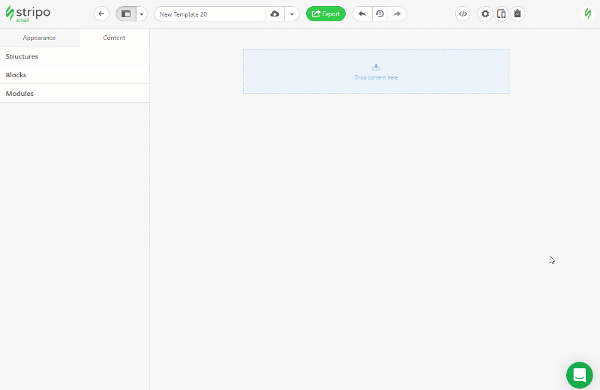 writing copy over banners without using Photoshop or any other photo editor;

integration with Email on Acid to enable our users to test emails prior to sending them to valued customers;

embedded micro tools for building interactive elements right in the editor in no time;

open HTML code editor — make changes to email code/code emails from scratch and see the results right away in our WYSIWYG editor;

Stripo enables you to use both D-n-D editor and HTML editor at once — use blocks and customize individual elements to reduce time on building custom emails;

synchronized modules — ability to edit/update certain elements/information across all templates at once.
This all makes Stripo one of the best HTML email builders.
For more details on how to build AMP emails in Stripo with no coding skills, please refer to this blog post.
2. Topol.io
Topol.io is an independent email template builder, a part of the MJML community, which provides emails' correct display on most mobile and desktop devices. If you are using a free account, Topol.io offers 8 basic blocks that you can pull into your template. When using a prepaid account, you will have 11 blocks.
You can easily edit images right in the editor.
Topol.io offers 7 pre-designed templates.
Export:
You can export emails as HTML only. Then you will need to import/insert this code into your ESP. Once imported, you will be able to edit only the HTML code of your email.
Builder's unique feature:
Anytime you come back to Topol, they suggest that you start from the point where you stopped. That is pretty convenient.
3. Campaign Monitor
At first, I wanted to survey and compare only those best email templates builders that are totally independent. But in fact, it would not be fair probably to omit embedded editors, which are part of ESPs. That is why I decided to write a few paragraphs about built-in editors.
CampaignMonitor is an ESP, part of the CM Group. I have not tried to send out newsletters with them. But the newsletters that I receive from them are just amazing.
They offer over 80 pre-designed email templates.
Export:
None needed. You can send emails via this email service provider.
Builder's unique feature:
Its absolutely unique feature is — the ability to create and set mobile-friendly surveys right within the editor with an unlimited number of questions.
4. AWeber
AWeber is a powerfully-simple, leading email marketing platform for small businesses.
Its drag & drop email builder has 15 blocks/elements.
AWeber's blog is rich with diverse educational articles.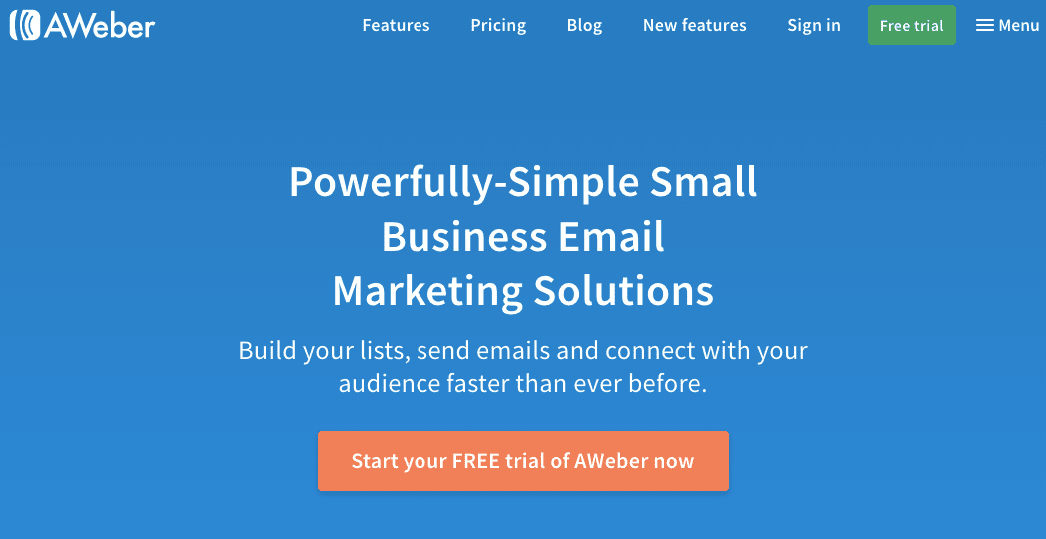 AWeber also offers over 700 different pre-designed email templates.
Export:
None needed. If you like, use this platform for reaching out to customers.
It is integrated with Stripo. Deliver email from Stripo to AWeber with just 1 click.
Builder's unique features:
drag-n-drop AMP carousel. AWeber allows you to add AMP image carousel to your emails with no email coding;

AWeber Smart Designer — a free, intelligent design assistant automatically builds amazing-looking email templates in seconds, with your existing branding. By analyzing your website or a social media account for logos, imagery, and colors, AWeber Smart Designer will create a gallery of custom branded email templates for you to choose from.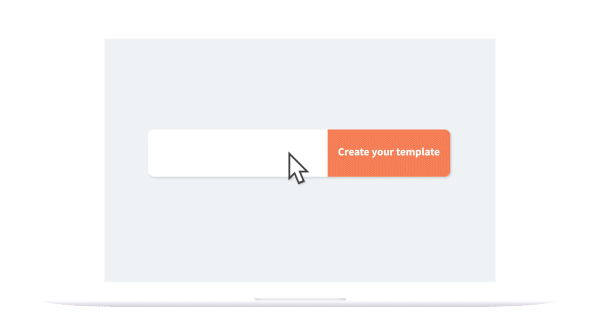 (Source: AWeber)
5. Mailchimp
Mailchimp is one of the few world-famous ESPs.
It is said to be one of the best solutions for small businesses.
Its blog is mostly about ESP's new features and its employees' experiences.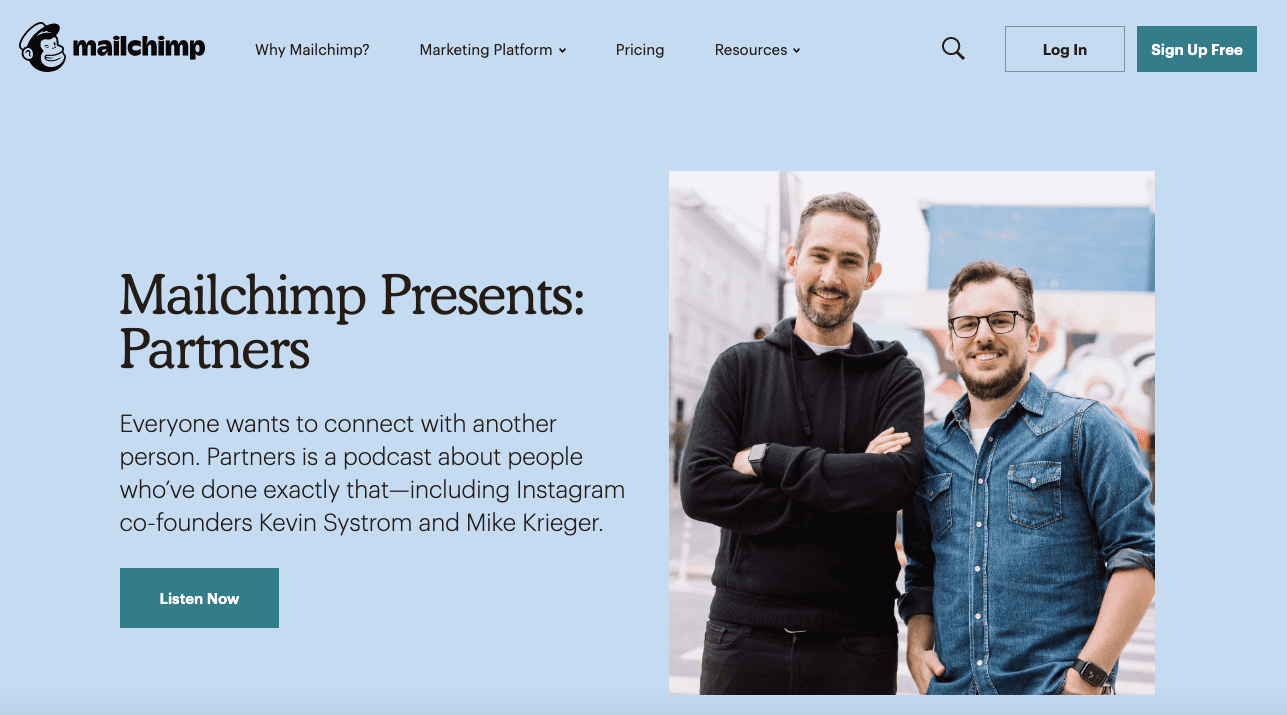 They provide support 24/7.
Mailchimp offers about 100 templates.
Export:
None needed. Send emails via this email service.
You may also deliver email templates that you build with Stripo to Mailchimp with 1 click for our advanced integration. All email templates remain totally editable.
Builder's unique feature:
the "share through socials" option. Only a few editors allow it;

ability to create landing pages.
For more detailed information regarding Mailchimp embedded editor, refer to our How-To article.
6. Taxi for Email
This email template builder was founded in 2012 and is a member of DMA. Their blog is dedicated not only to email marketing but to digital marketing in general.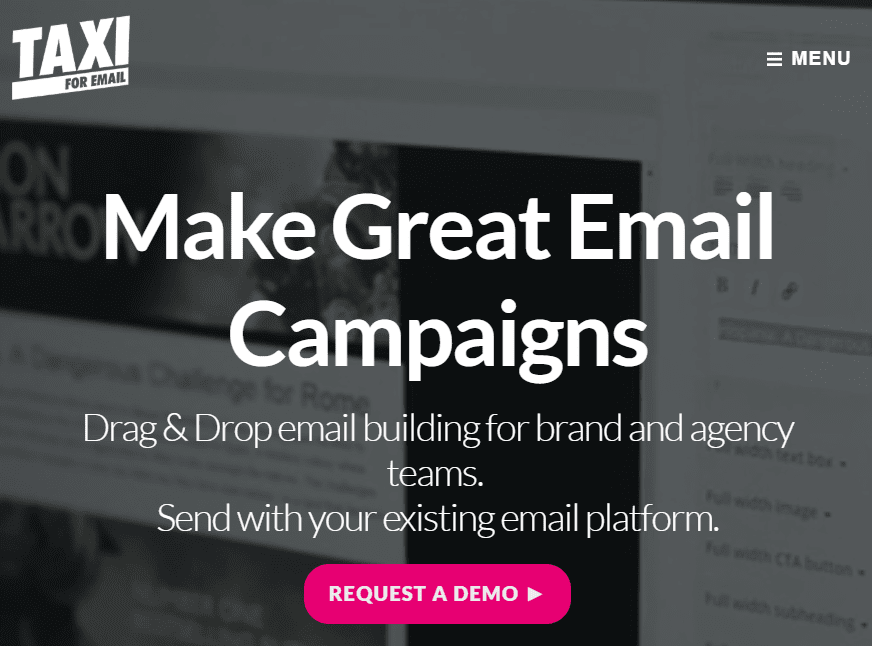 No templates found. But they offer hundreds of ready-made modules to use.
Exports:
You can export emails directly to 19 ESPs.
Builder's unique feature:
translator. Its editor automatically translates your email into a few set languages. Also, you can add up to 10 colleagues to send test emails to and save them in the base;

also Taxi for Email offers direct export to Litmus to test your emails with. This option requires you to have an account with this testing tool.
7. MailStyler2
Let me clarify that their website's new address is newslettercreator.com. You can use both names to find the tool on the web, as the site was recently updated.
It is said to be the best email editor that can be used offline. You need to download the tool to work with it. Some time back, it worked on Windows OSs only, now you can use MailStyler on Mac as well.
Mailstyler2 does not offer any blog for instructions or news in the world of design. But in the tab "Videos", you can watch their tutorial on how to use the tool.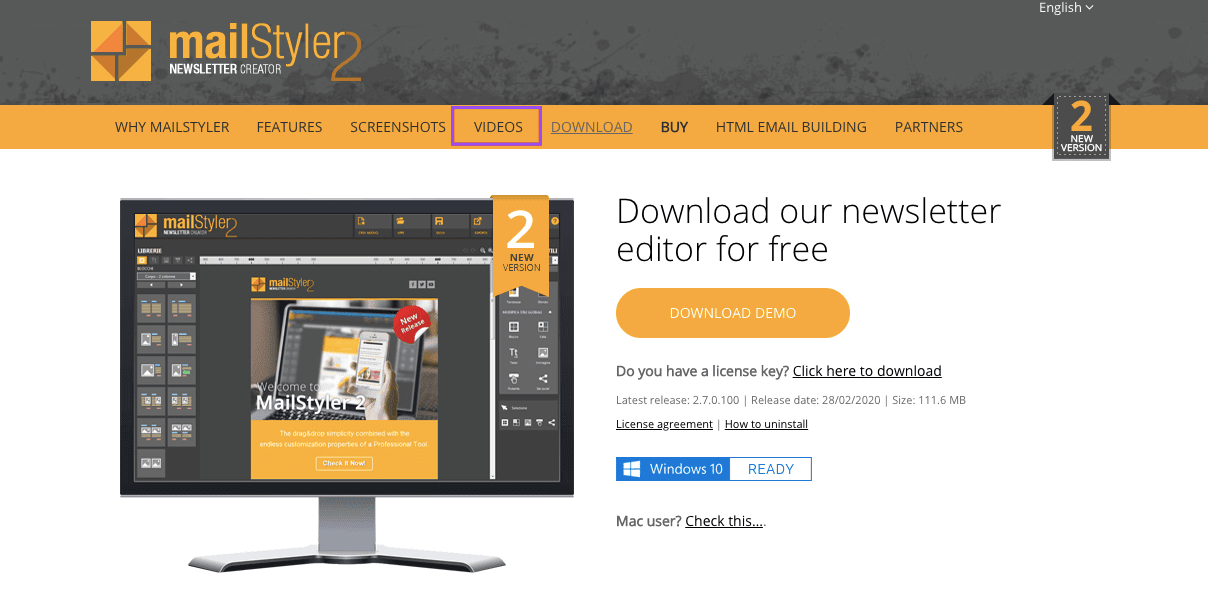 Mailstyler2 offers 9 pre-designed templates.
Many of the features are available only after purchasing the pro- version.
Export:
you cannot export your templates until you buy a Pro version of MailStyler. No opportunity to even send a test email to yourself.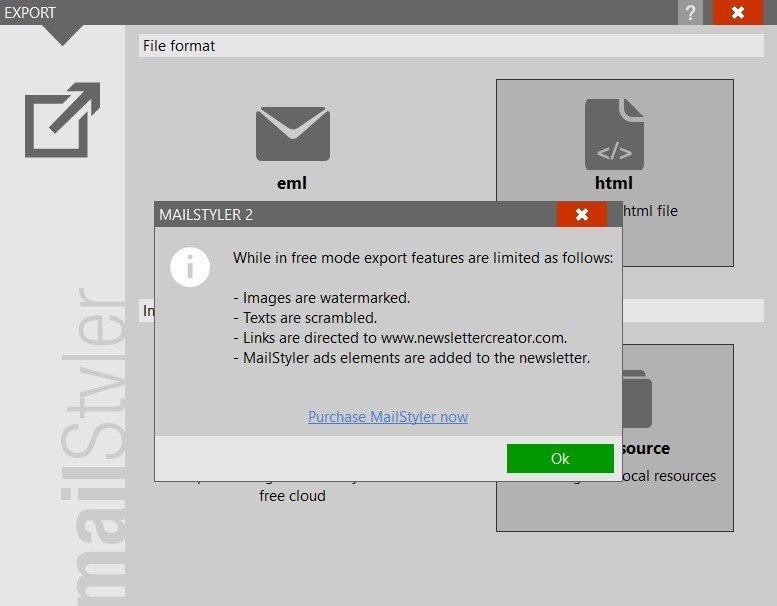 Builder's unique feature:
you can weigh the HTML of your email. I loved it a lot. As some email clients have their limits to the HTML size. It should not overcome 100 KBs.
8. Mosaico
Mosaico, an open-source template builder, is considered the best email design software of a kind. It is a product of the Italian VOXmail group, founded a few years ago.
Its blog is not updated on a regular basis. But there you may find some useful materials regarding email clients and Mosaico releases.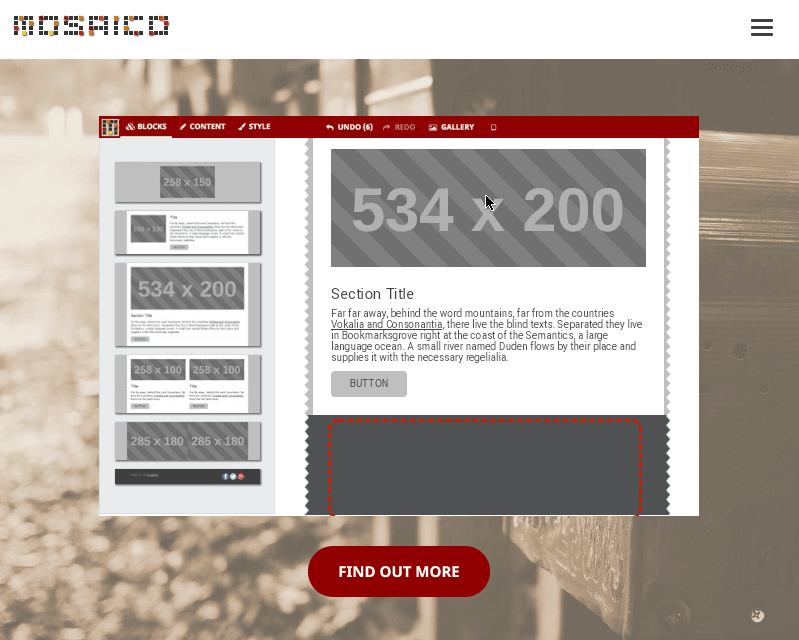 It does not offer any pre-designed templates with images and backgrounds. But there you can find two structured templates. Use them to start working with the editor.
Export:
You can download the designed template as an HTML file only. After export, in the ESP you can edit text and images of your template.
Builder's unique feature:
This is not a typical drag-and-drop editor. You do not need to even drag the blocks and containers. You simply click the block in the tool panel and it appears on your scratch.
And I also loved that they offer a manual on how to use the editor once you choose a scratch-template to start with. You do not need to surf the website.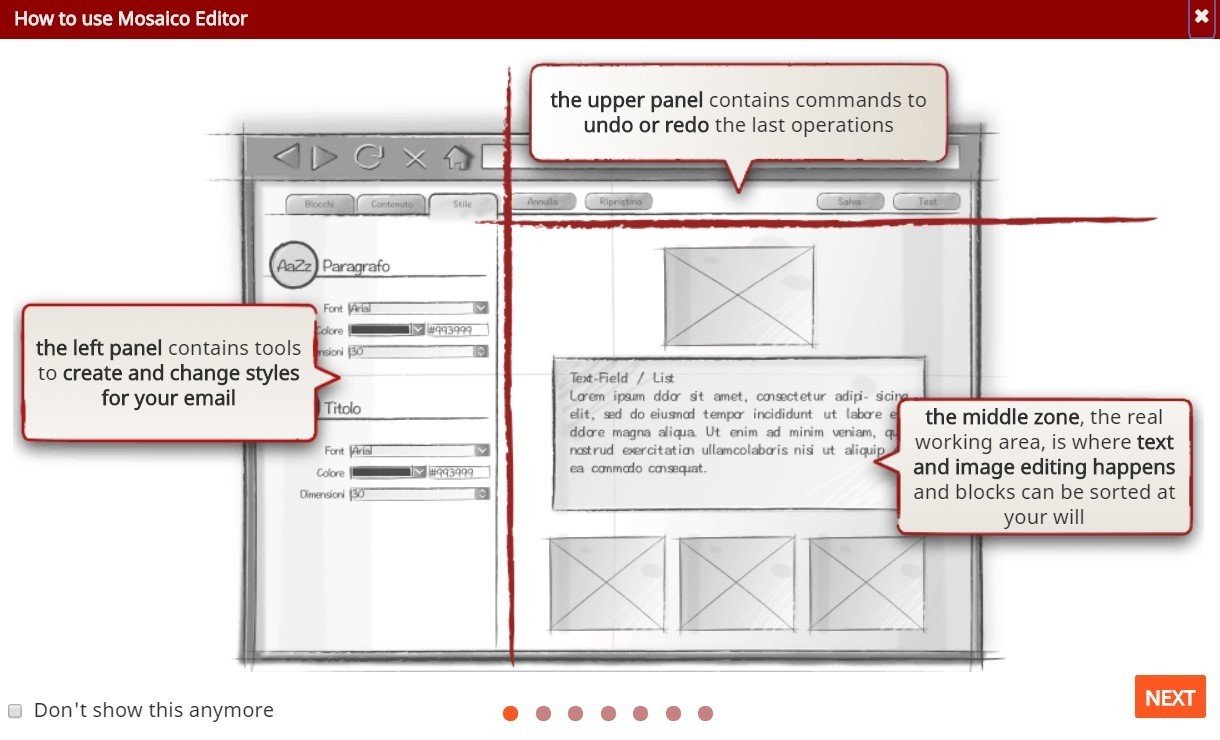 9. BEE Free
BEE Free is a responsive email template builder that allows you to create mobile-ready templates for your newsletters. It is a product of the MailUp group. It is embedded into some SaaS applications. They offer a blog for inspiration and new design ideas.
It has about 150 predesigned templates available (+ prepaid ones).
Export:
A free subscription plan enables you to send a test to any email address you need or download your template as HTML with images. No direct export to an ESP on this stage.
Builder's unique feature:
anytime you come back to BEE Free, they suggest that you start from the point where you stopped. That is pretty convenient;

integration with Giphy — it does not allow you to use GIFs, but this option provides you with stickers.
10. Postcards
Postcards is the product of Designmodo. It's not a regular drag-n-drop email template builder as it does not offer basic blocks. It offers content modules!
You pull them into your HTML newsletter email.
For those users with the free subscription plan, they just offer 1 module from each content group (1 header, 1 footer, 1 1 call-to-action — you can them as many times as you want when working with one email template, but you will be able to use a content module with different email design).
Export:
You can export emails to HubSpot and Mailchimp for free, or download your email as an HTML file.
Builder's unique feature:
You cannot build your own template from scratch. You need to mix existing modules. Which are customizable, but with certain restrictions.
11. Chamaileon.io
Chamaileon is a new drag-n-drop email editor created by the EDMDesigner team. The latter had been providing online service for more than 7 years so far, while the former was founded at the beginning of 2018.
Its blog is dedicated to discovery in email marketing, email design ideas, and trends.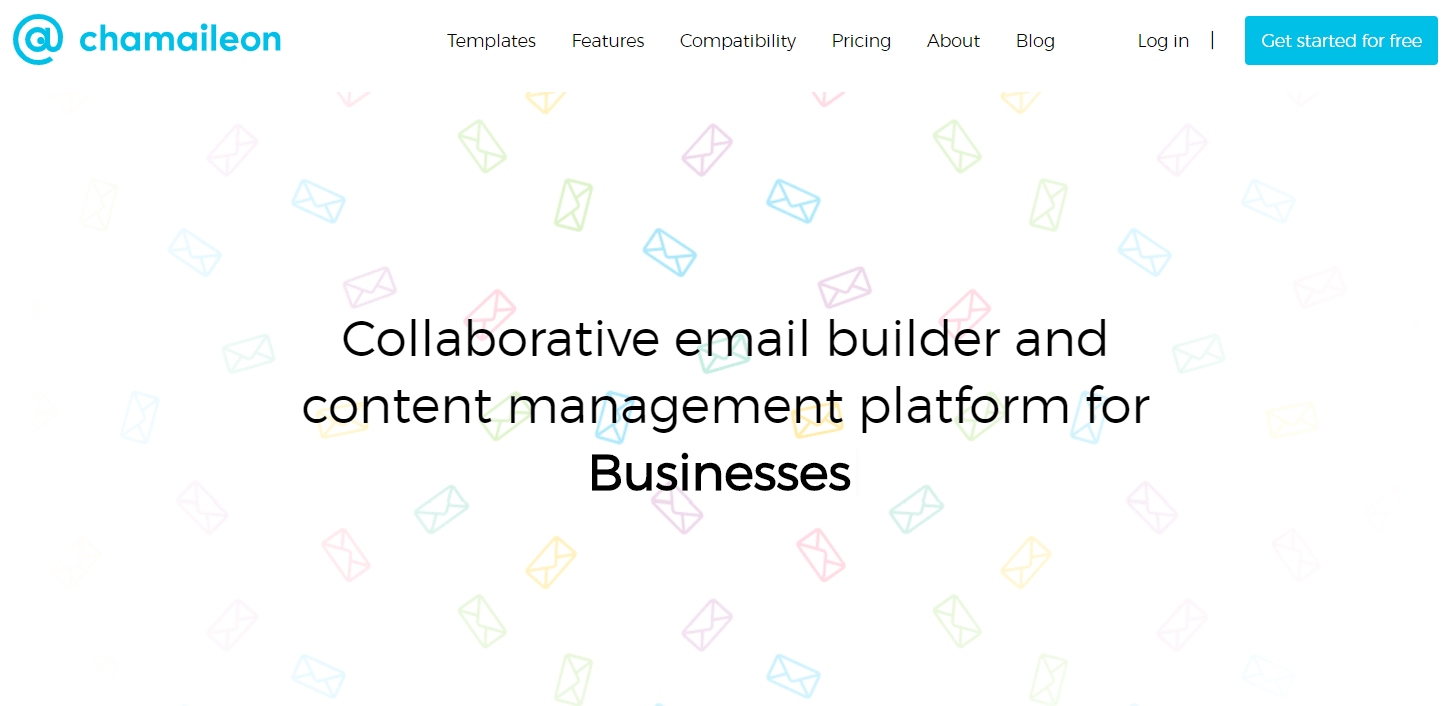 Chamaileon builder offers more than 100 email templates. You can save email template modules (they offer about 500 of them) to your library and re-use them in new emails. If you are a professional, you can either start an email from scratch or import your existing one as an HTML code.
Export:
As HTML files, up to 5 exports pers month with the free subscription plan, while they offer to acquire integrations with ESPs for a certain monthly fee with unlimited HTML exports.
Builder's unique feature:
You can add and save email addresses of your colleagues in order to send them test emails without entering their addresses when working on and testing a new template. A pretty convenient way to approve emails with colleagues.
Just for your information:
InkBrush is not working anymore.
Stamplia is not working anymore.
Knowtify was recently acquired by Kissmetrics.
Comparison tables
Please, take a look at our table where I compared some specific features of 3 s mentioned above: BEEFree, Topol, and Stripo.email.
Why them? Because in my mind, they are the best ones in the industry.
There are many criteria for comparing the template builders. But I chose the most important features which should be appropriate for the tools of this kind.
Features necessary for working with and editing media files:
writing text over a banner;

embedded photo editor;

inserting GIFs and videos;

a bank of free images;

interactive elements;

AMP elements.
Stripo.Email
BeeFree
Topol
Working on Email Design and Media Files

Writing text over banners
+
–
–
Placing additional images over banners
+
–
+
Editing images right in the editor
+
+
+
Bank of free images
+
+
–
Ability to insert videos
+
+
+
Ability to insert custom HTML code
+
+
–
(only in prepaid version)
Built-in countdown timer
+
–
(but you can embed one as HTML code)
–
Advanced integration with ESPs, file storage and of course smart-elements are obligatory tools for work automation, as work automation is a number 1 time-saving recipe in today's fast-paced world:
Stripo.Email
BeeFree
Topol
Work automation

Content modules storage
+
–
–
Export to ESPs and email clients
+
45 ESPs, HTML, AMP HTML and PDF with free subscription
+
as HTML for free plans, 10 ESPs with a prepaid account
Ability to save email elements to the personal library
+
Save element, modules and entire emails
–
(entire templates with prepaid version)
–
(entire templates with prepaid version)
Ready-to-use email templates
350+ including interactive ones
150
–
Ability to edit multiple templates at once
–
–
Final thoughts
We have just reviewed the best email template builders for 2020, and have thoroughly surveyed the advantages and disadvantages of each of them. And now you only have to decide which one to use according to your specific needs.
We hope that any of the aforementioned best free template builders will meet your current needs. Here are the recommended functions a modern 2020 template builder should offer. Take them into consideration when choosing one:
responsive web design (RWD) as ~50% of emails are opened on mobile devices;

access to edit HTML and CSS codes for embedding interactive elements and AMP elements;

a wide range of ready-to-use templates;

templates adjusted to most world-famous ESPs — integration with ESPs and CRMs;

work automation to save your time;

file storage to save your editable content modules/blocks for further use.
No matter if you consider Stripo.email or any other editor mentioned above to be the best email builder software, I sincerely wish you highly effective newsletters.